The ultimate Keto Chicken Thighs recipe has arrived! This one-skillet dinner recipe packs a ton of flavor with minimal prep. We used roasted red peppers and goat cheese to transform boring old chicken thighs into a five-star menu item. Make this for the entire family tonight.
Why we Love Baked Chicken Thighs
Baked chicken thighs always ensure a juicy piece of chicken, and there is nothing worse than dried out chicken for dinner. We always follow the same method when it comes to cooking chicken thighs no matter what the recipe calls for. Our go-to method:
​Heat a large enough skillet over medium-high heat so the thighs aren't on top of one another.
With a little oil in the pan, cook the thighs 80 percent of the way through on the stove top, about four minutes each side. You want a crispy exterior.
Finish off the thighs in the oven at 350 degrees F for 10-12, until fully cooked through.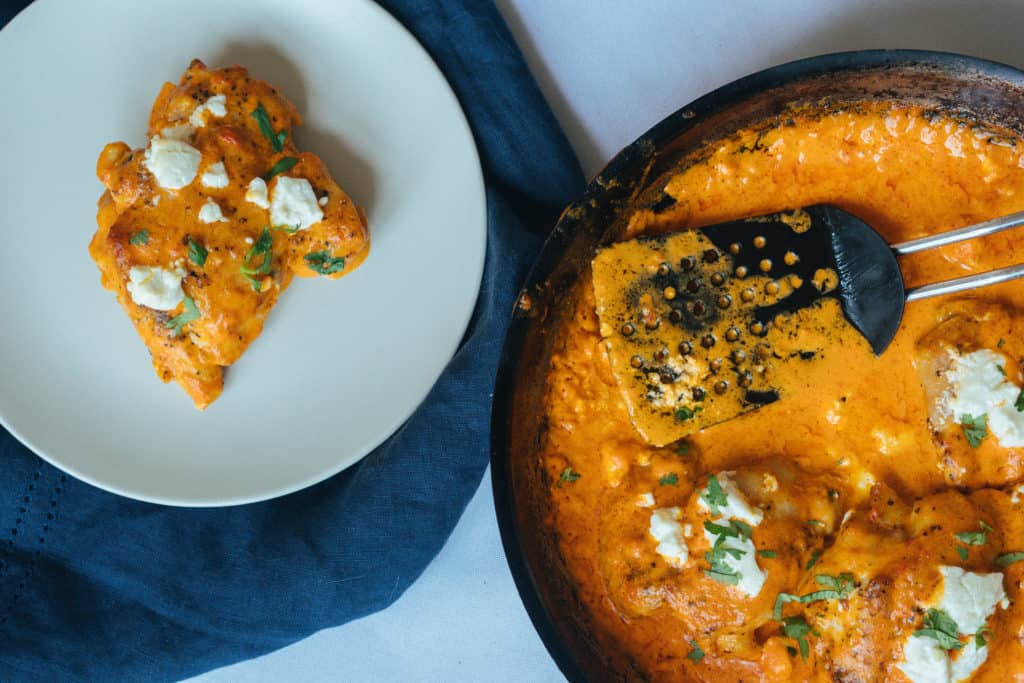 I promise you, the end result is always a juicy chicken thigh and this recipe is no exception. Topped with a flavorful sauce and creamy goat cheese, you can't go wrong!
What Makes This Sauce So Special?
Honestly, not much. It's four simple ingredients and it's delicious every single time. Just make sure you check the label when buying your roasted red peppers. Always look for roasted red peppers in water! You can even change up the seasoning to your liking, but I've found that just a couple garlic cloves makes all the needed difference. The peppers are packed with flavor and you don't want to minimize that with too many added seasonings.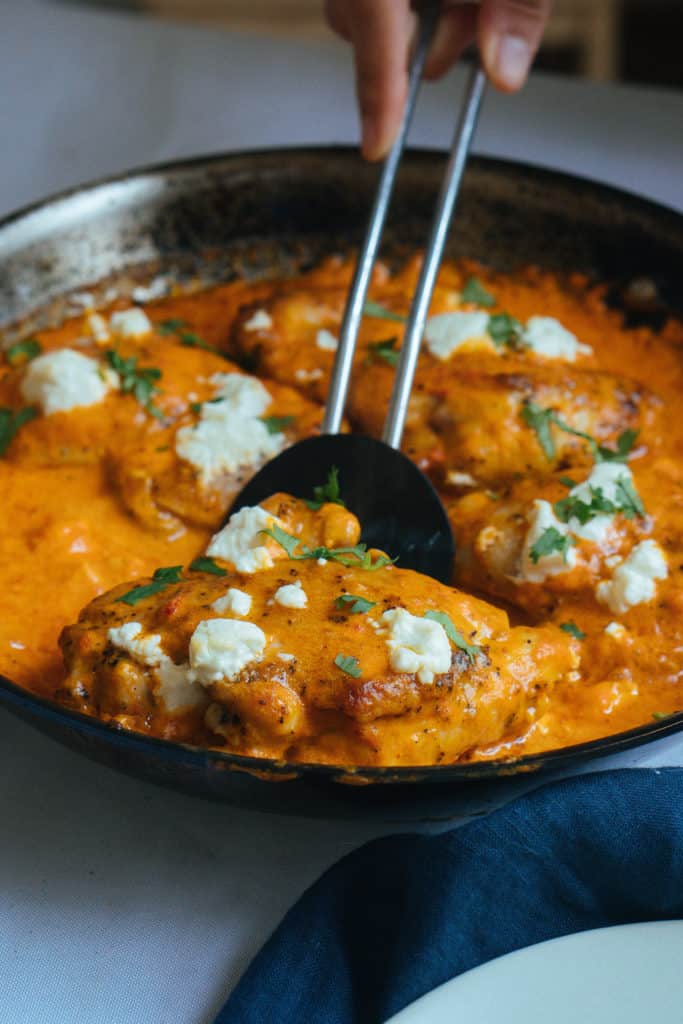 Keto Chicken Thighs in Red Pepper Sauce!
If you're new to roasted red peppers, like Matthew was before this recipe, then today is your lucky day! This recipe is by far one of our simplest recipes to make and will win the entire family over. This recipe is also very budget friendly and minimal in the ingredients department. Give this Keto Chicken Thighs recipe a try tonight and let us know what you think!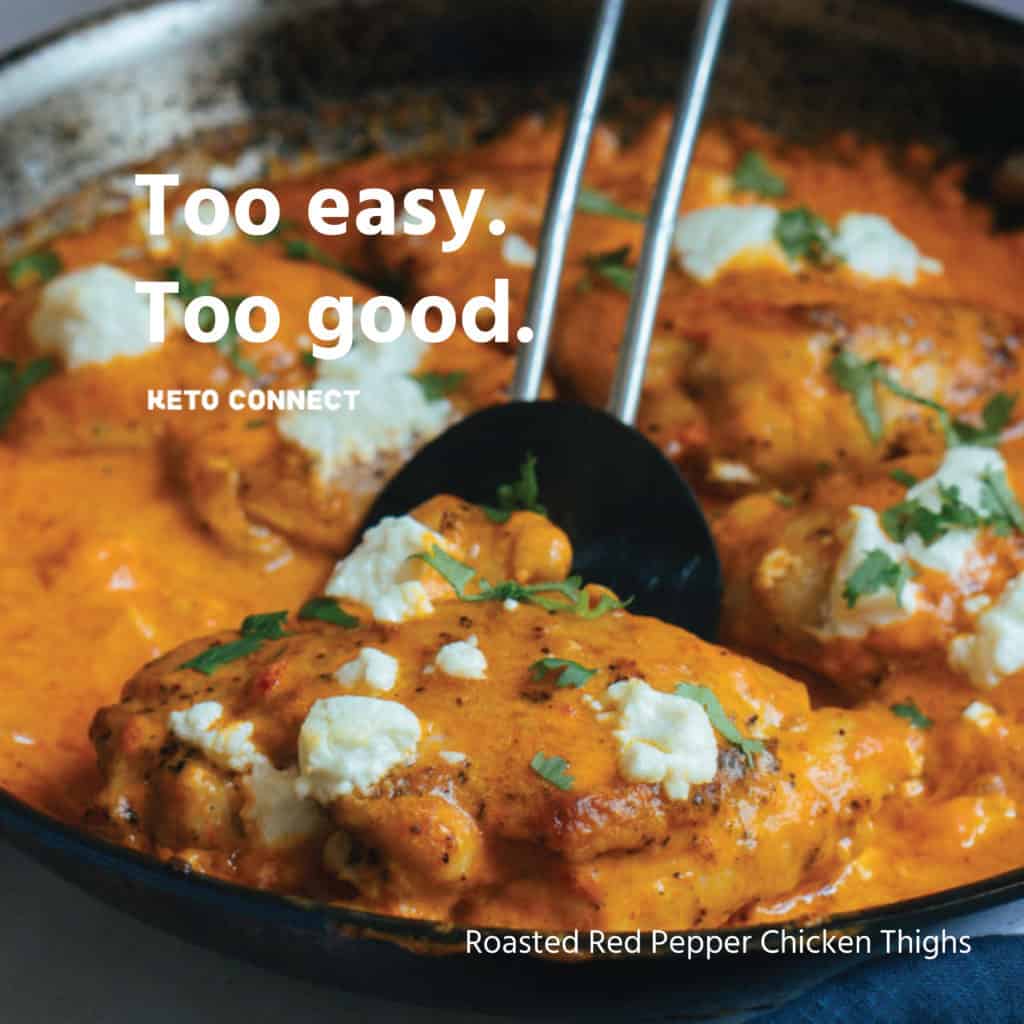 Recipe can be quickly added to MyFitnessPal – Search "KetoConnect – Keto Chicken Thighs"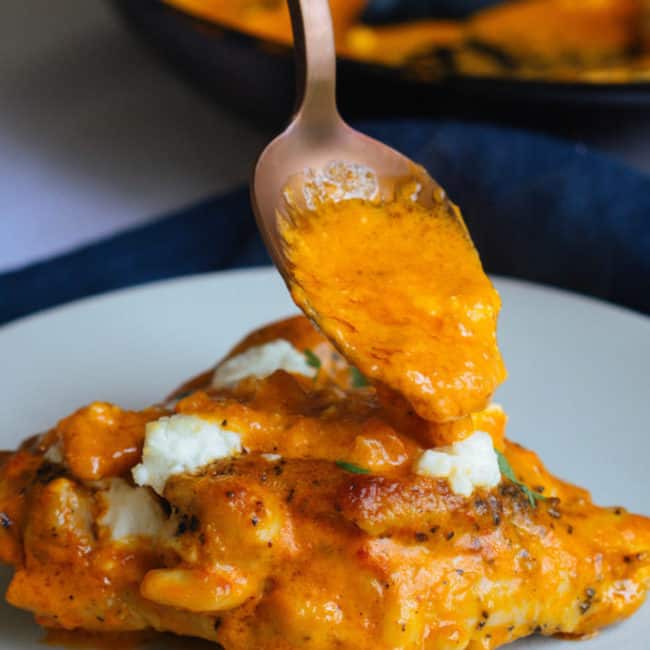 Roasted Red Pepper Chicken Thighs
Crispy chicken covered in a rich and creamy red pepper sauce then sprinkled with goat cheese.
Total Time 25 minutes
Servings 4 people
Calories per serving 479kcal
Prep Time: 5 minutes
Cook Time: 20 minutes
Ingredients:
Roasted Red Pepper Sauce
2 cloves garlic
2 tbsp olive oil
1/2 cup heavy cream
Instructions:
Preheat your oven to 350 degrees and heat a large skillet to medium high heat.

Add the thighs to a large mixing bowl and season with salt and pepper.

Add coconut oil to the hot skillet and lay the thighs in the skillet. Cook 4-5 minutes on each side.

While the chicken is cooking, make the sauce. Add the roasted red peppers, garlic cloves and olive oil to a blender and pulse until pureed.

Add heavy cream to the sauce and blend once more.

Once thighs have cooked through most of the way, remove from heat and pour the sauce over the thighs. If desired, flip the thighs over to fully coat them.

Crumble goat cheese on top of the thighs and place in the oven for 10-12 minutes.

Garnish with fresh parsley and serve immediately!

Best stored in an air tight container in the fridge up to 5 days.
Notes
Net Carbs: 2g
Serving Size: 1/4 portion
Nutrition Facts
Roasted Red Pepper Chicken Thighs
Amount Per Serving
Calories 479 Calories from Fat 306
% Daily Value*
Fat 34g52%
Carbohydrates 2g1%
Protein 38g76%
* Percent Daily Values are based on a 2000 calorie diet.
Written By