Forget about all of your old holiday desserts because we've got your new favorite dessert recipe and this one takes the pie! Drinking egg nog around Christmas time has always been tradition, but what if we took that tradition to the next level and created an eggnog pie? Well, we did it, and it's low carb and super easy to make! Check out the video and make it this Christmas for your family and friends.
We've Got Christmas Pies!
There is nothing more exciting to me than walking into someones house, whether it be my own or Matt's Aunt Debra's, and seeing home made pies. This year at Thanksgiving all Aunt Debra had was pumpkin… boringggg. If you want to impress and excite you need at least two different pies, and we've got all the pies you need!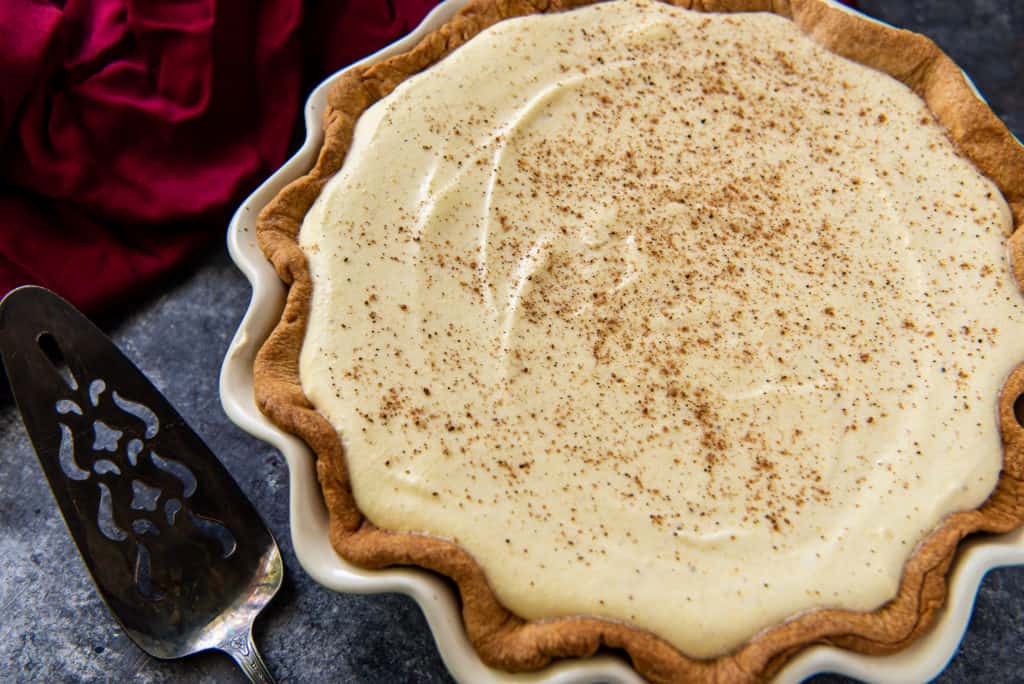 Simple Pie Crust
The key to any good dessert pie is starting with a simple and slightly sweet pie crust. We've got the 'perfect every time' pie crust for you in a sweet and savory version!
For a recipe like this where no baking is required for the filling you always want to bake the pie crust all the way through. Traditionally, with other pies where you bake the entire thing (like our pecan pie) you only have to partially bake the crust, but for this recipe we doubled the bake time to ensure it was cooked through.
No-Bake Filling
Aren't the best desserts the no bake kind? Easier preparation and quicker to eat! All that is required for this recipe is mix, fill and chill prior to serving. You can even get the kids involved.
What makes this filling no bake is the use of gelatin. Gelatin powder (note that is a pork or beef product) creates a gelatinous like consistency so whatever liquid it is used in will be more likely to hold it's form. Another great example of this is Jello! Once the filling has chilled slicing into it will be smooth and each piece will hold it's shape upon serving.
Raw Egg Yolks
You may be turned off at the thought of consuming raw yolks, but it's important to note that the consumption of raw yolks, raw anything as a matter, is overblown. The risk of getting salmonella is very very low.
When we buy our eggs, especially when looking to consume them raw, we make sure we buy good quality eggs. That in itself assures me I have nothing to worry about when consuming raw eggs either in this delicious eggnog pie or in my morning bulletproof coffee!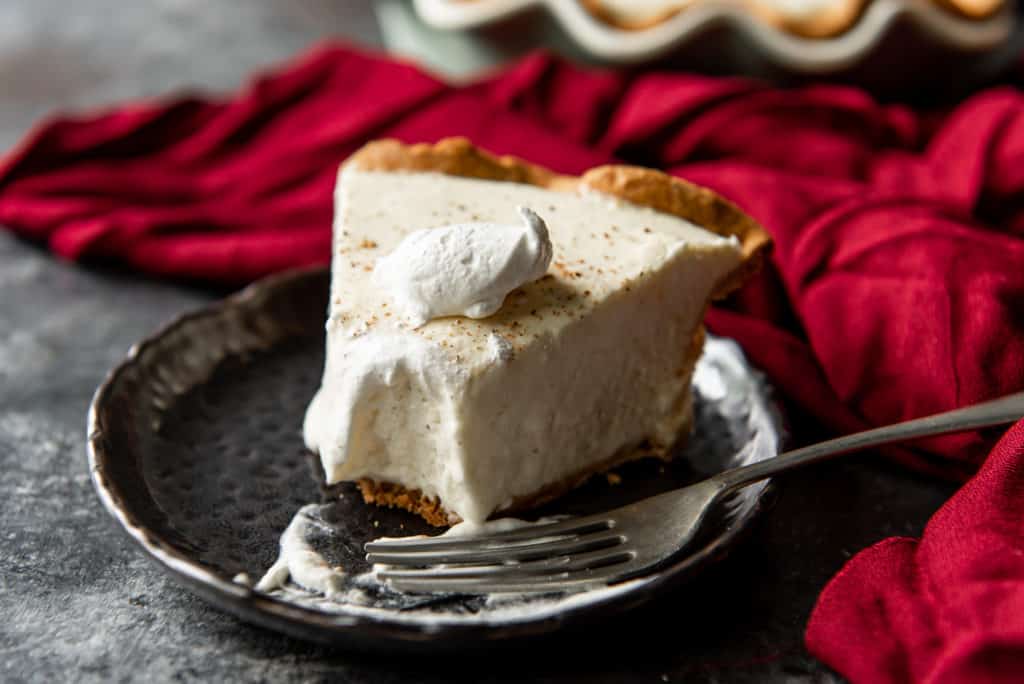 More No-Bake Desserts!
Even though no bake can be taking the easy route, it doesn't mean the desserts will be any less delicious. We've got a few that we think you should give a try before you preheat your oven!
We've taken all the hard work out of dessert this year with this easy, no-bake eggnog pie. You'll have more time to focus on making sure your turkey or ham doesn't come out dry and to enjoy with family and friends!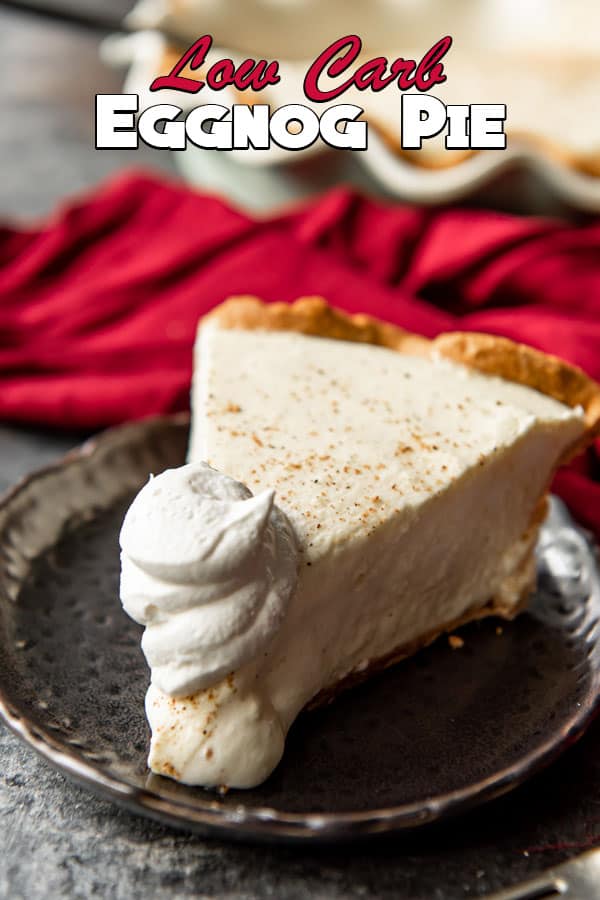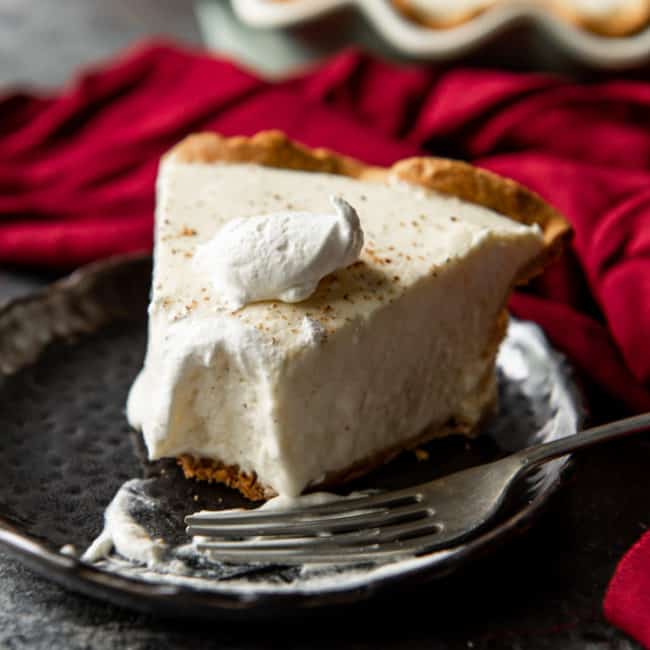 Eggnog Pie
A smooth and silky pie filling made with all the seasonal notes of egg nog including rum extract and nutmeg.
Servings 8 servings
Calories per serving 410kcal
Ingredients:
Low Carb Sweet Crust
Instructions:
Low Carb Sweet Crust
Bake your crust all the way through for about 18-20 minutes. Watch edges so they don't burn. Allow to cool completely.

Note: blog post for sweet crust indicates 8-10 minutes to partially cook through, but since we won't be baking the crust again we want it all the way cooked through prior to adding the eggnog filling!
Filling
In a large bowl beat egg yolks with a hand mixture for 1-2 minutes. Add in erythritol, stevia, rum extract (if using), and nutmeg and mix until combined. Set aside.

In a medium bowl add 1/2 cup warm water and 1 tbsp gelatin powder. Set aside and let it bloom for 3-5 minutes.

While the gelatin is blooming whip the heavy cream to stiff peaks in a large bowl.

Once gelatin has bloomed (it will be obvious) microwave it for 10-15 seconds so that it melts into the water.

Add the gelatin mixture to the egg mixture and whisk until fully incorporated. Fold the egg mixture into the whipped cream.

Transfer the eggnog mixture to the cooled pie crust and smooth out using a spatula. Garnish with additional nutmeg, if desired.

Refrigerate for 4 hours prior to slicing and serving. Best stored in an air tight container up to 5 days.
Notes
Net Carbs: 3g Serving Size: 1 Slice Yields: 8 Slices
Nutrition Facts
Eggnog Pie
Amount Per Serving
Calories 410 Calories from Fat 351
% Daily Value*
Fat 39g60%
Carbohydrates 6g2%
Fiber 3g12%
Protein 9g18%
* Percent Daily Values are based on a 2000 calorie diet.