This keto tuna casserole is the perfect rich, creamy, and hearty comfort food for when you're pressed on time. It's simple and flavorful, all while using a few ingredients you probably already have at home.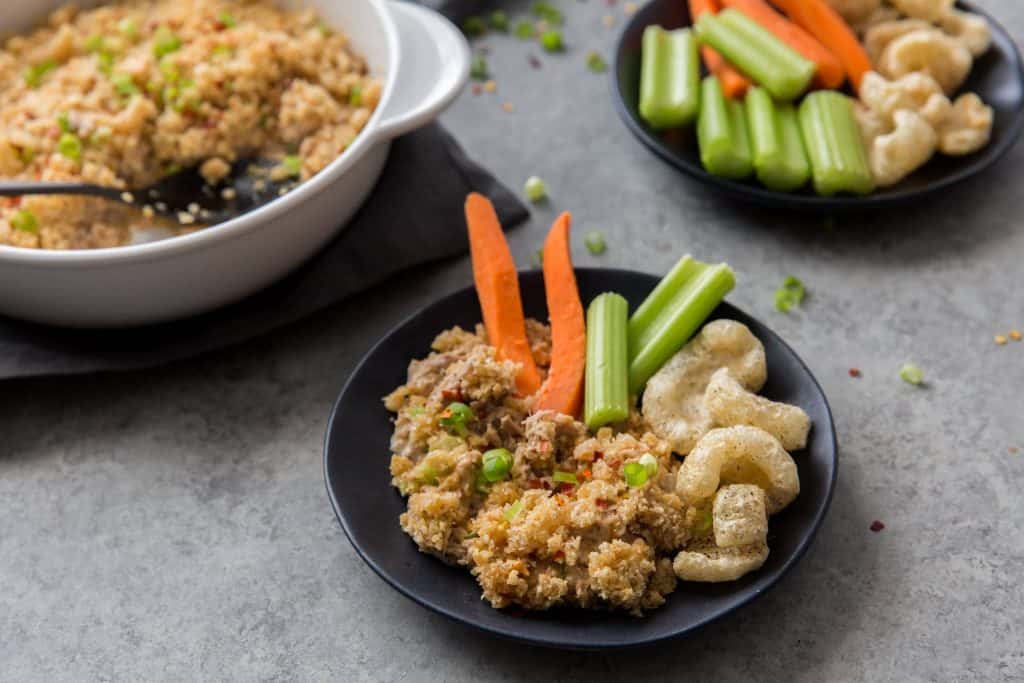 Benefits to Tuna
Tuna like most fish, have high levels of omega 3's(1). The standard American diet is high in omega 6's from things like plant oils which can cause inflammation. A diet rich in omega 3's can help to counter balance some of those omega 6's and reduce overall inflammation.
Picking a Tuna
Including tuna in our diet is great, but what tuna should you pick? There are tons of tunas on the market, so we made it easy and broke down the best canned tuna to buy.
Packed in Water or Oil?
For starters no matter which tuna you choose it should be packed in water. The one exception is tuna that's packed in olive oil. However, most canned tuna is packed in cottonseed, sunflower, or soybean oil. These oils are high in omega 6's and negate all the benefits you obtain by eating fish.
Albacore or Chunk Light?
Tuna is normally a big fish meaning it eats more mercury during its lifetime. If you can find tuna marked chunk light or skipjack you are better buying those because they are a smaller tuna specie(2). If you don't eat tuna often you are probably fine eating albacore, but if you are trying to watch your heavy metal consumption it is something to consider.
Adding Noodles to Low Carb Tuna Casserole
This keto tuna casserole is cheese filled and packed with flavor, but skips the noodles to keep carbs low. This recipe is 0 net carbs which is ideal for a keto diet, but if desired leaves room for a keto noodle substitute. Some of our favorites are zucchini noodles or black bean noodles that are 8 net carbs per 2oz serving size. When covered with tuna and cheese you won't even be able to tell they were made with beans!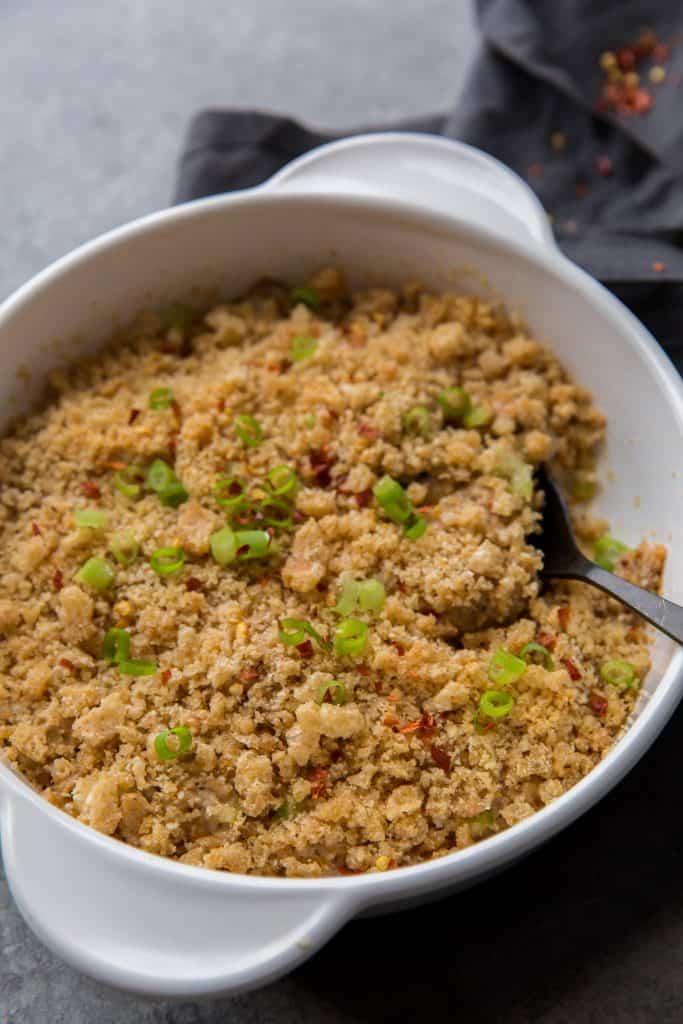 Tips for Making Tuna Casserole Keto
If you're running into issues while making our recipes or just want to know how to make this tuna casserole better, check out our casserole tips.
Drain the Tuna
By far the #1 tip to making any tuna casserole is draining the tuna meat. Excess water or oil will result in a runny recipe that doesn't hold its creamy cheese base. While it only takes 20 minutes total time, you may find the recipe takes extra long to bake all that excess water off.
Substitute Tuna for Canned or Pulled Chicken
This is a high protein recipe clocking in at 15g protein and 14g fat. If you don't have canned tuna or don't like canned tuna, the next best option is going to be canned chicken. The total time of 20 minutes won't change, but your recipe will have more of a delicious cheese and chicken feel to it. This is also a great option for those with picky kids, because if you mix half chicken half tuna they probably won't even taste the fish!
Just in Time for Lent
Lent 2021 is just around the corner and before you know it, it will be fish Fridays! Just because you can't eat traditional meat doesn't mean you shouldn't eat low carb keto recipes. This gluten free keto tuna casserole will be a hit on Fridays. It's so good you won't even feel like you're missing out on meat!
Keto Seafood Recipes
There are tons of delicious low carb keto fish recipes out there. Some of our favorites are:
An Ahi Tuna Poke Bowl– Fresh marinated tuna a top greens and cabbage. All topped with sauce, avocado, and sesame seeds. This low carb tuna recipe is sure to spark your new love for poke.
Keto Salmon Curry– A rich and creamy dairy free coconut sauce smothered on fresh salmon. Use it to top zucchini noodles or cauliflower rice for a keto friendly dinner idea.
Creamy Shrimp Scampi– Another low carb baking dish recipe. Toss a few ingredients together and this seafood scampi is done in under 20 minutes!
Whether you are skipping meat for Fridays, a pescatarian lifestyle, or just trying to up your seafood consumption, we have the perfect recipe for you. Check out all the seafood recipes on our blog to find your perfect dish.
Making Keto Tuna Casserole
This low carb tuna casserole is our childhood comfort food re-imagined. We removed the carbs and instead packed it with healthy fats to make a rich and nutrient dense source of protein. There are tons of variations and substitutions with this keto tuna casserole that you can make, but the basic version is by far our favorite.
Equipment
This recipe is designed to be super simple because everyone knows tuna casserole is one of those- last minute, throw together dishes we always regret not making enough! All you will need is a large mixing bowl and a small casserole dish.
Ingredients
Part of what makes comfort food so good is being able to make it whenever, with whatever you have on hand. To make truly good comfort food, you need a hearty meal, a rich base, and a simple but delicious concept.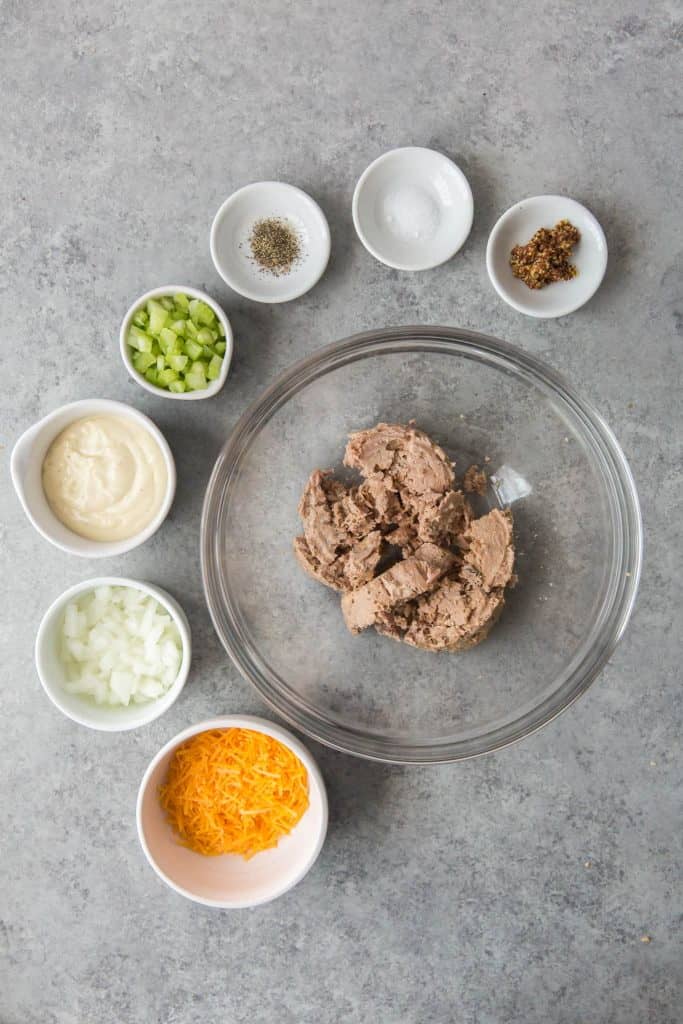 The Base
For the base of this hearty keto tuna casserole you will need two 5 oz cans of tuna. It is essential your tuna has had all water drained. A dish with too much excess water will be runny and soupy rather than rich and creamy. To make the creamy element you need mayo, shredded cheese (we used cheddar but feel free to use a blend of your favorites), salt/ pepper, and dijon mustard. If you don't have dijon mustard you can use yellow mustard, but the flavor of dijon mustard is far superior.
Additionally you will need your vegetables of choice. We used diced onion and celery, but there are a few other vegetable options. Some people use frozen peas, but the high net carb count per serving size (14g) wasn't worth it to us. Instead try green beans, broccoli, or cauliflower rice.
The Topping
Finally you will need a nutritious low carb topping. We used crushed pork rinds for a gluten free keto "bread crumb." We mixed this with melted grass fed butter and grated parmesan cheese.
How to Make Keto Tuna Casserole
Now it's time to put together your tasty keto tuna casserole! With 0 grams of net carbs per serving this recipe is the perfect way to eat healthy when you've spent all your carbs for the day. Or just want to save them up for our keto chocolate mug cake ? .
Begin by preheating the oven to 375°F. Next combine all the low carb casserole ingredients in a large mixing bowl. Make sure the tuna has been drained well before adding it in. Break apart the fish to avoid any big clumps and to let the mayo coat everything.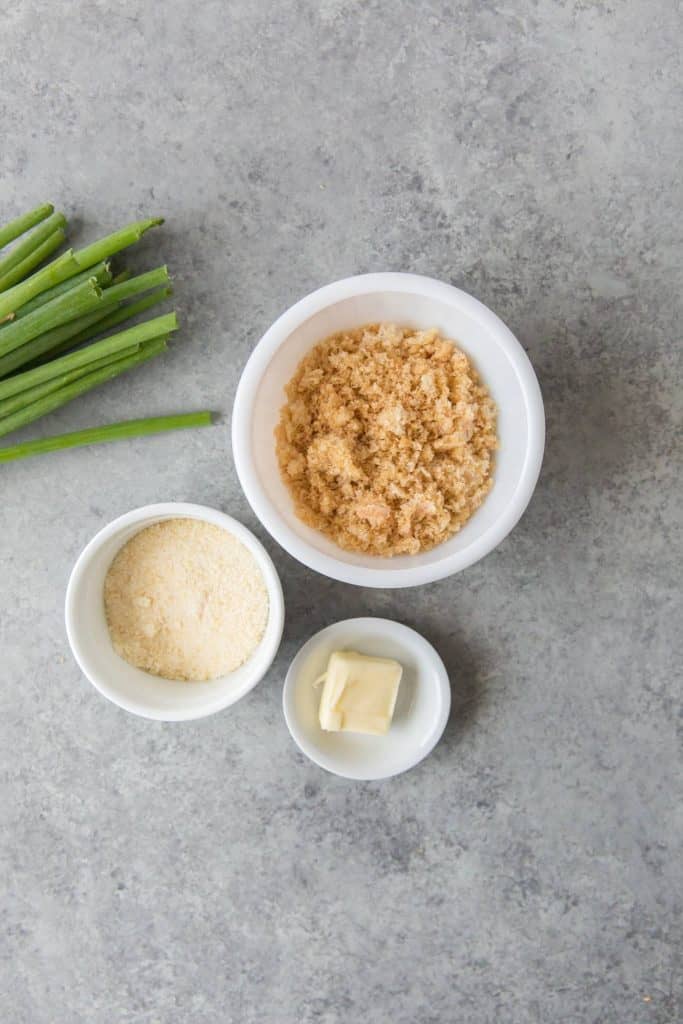 Grease your casserole dish and then transfer the tuna mixture into it. Once the mixture is in your dish, combine all the topping ingredients. Sprinkle the topping on your tuna casserole, adding extra parmesan cheese if desired.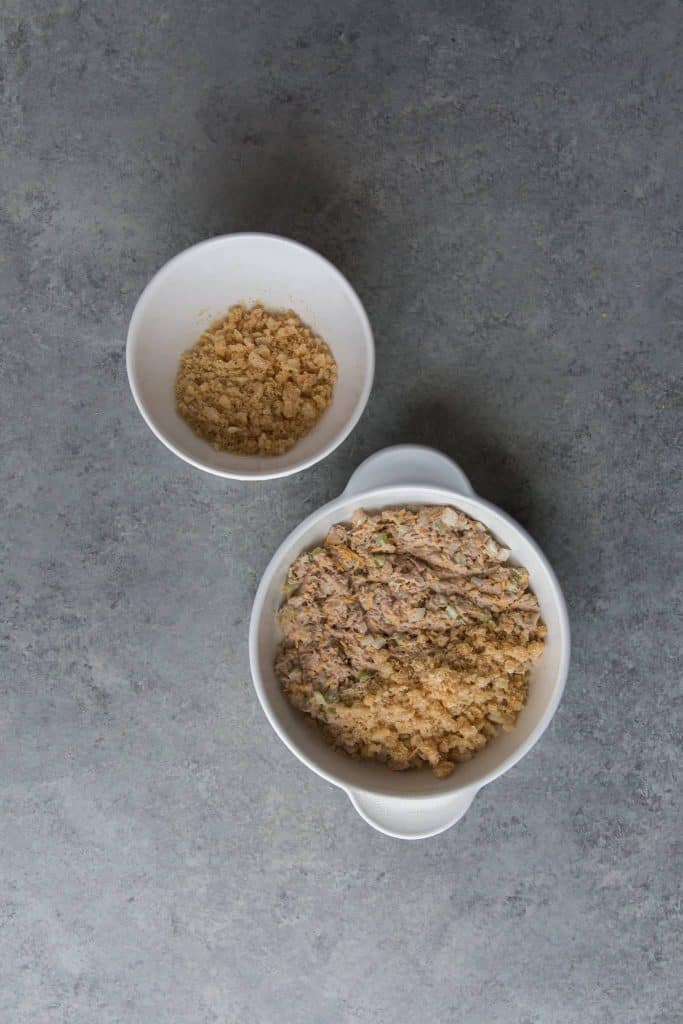 Bake the casserole for 13-18 minutes until heated all the way through, and the topping is browned. Sprinkle with green onion and serve with fresh cut veggies or pork rinds!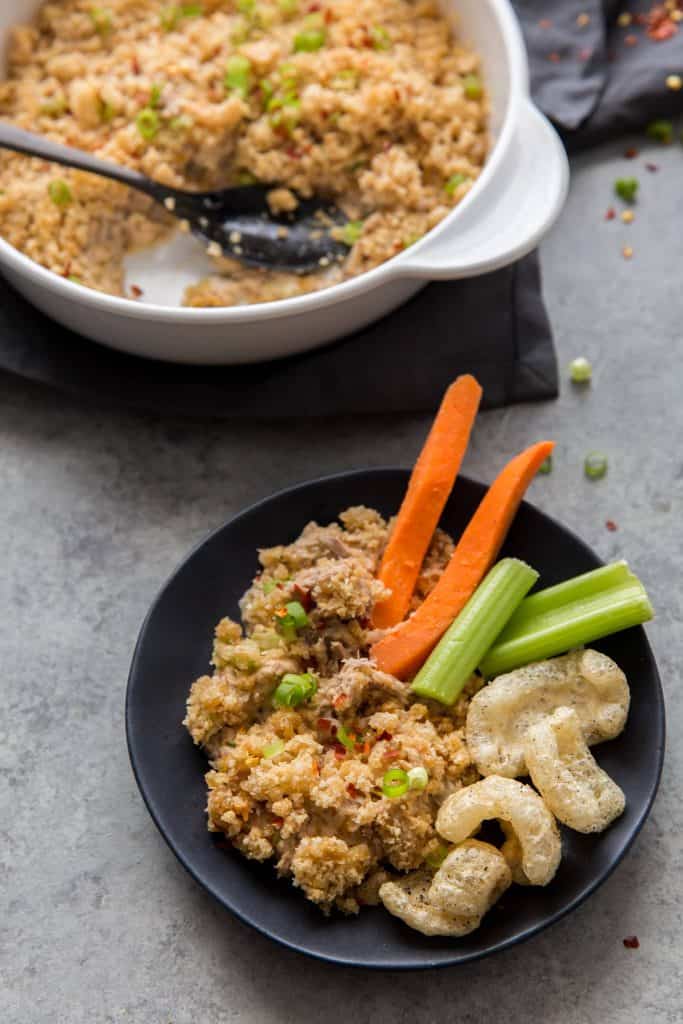 Storing and Freezing Keto Casserole
This low carb tuna casserole is a quick and easy to make recipe perfect for cooking in advance. Try making keto tuna casserole ahead of time and freezing it to enjoy during the week.
Storing
You can keep this tuna casserole in an airtight container in the fridge for 4-5 days. Fish goes bad earlier than other meats so we really wouldn't recommend eating it past 5 days in the fridge.
Freezing
For a make ahead meal, prepare this tuna casserole like normal and then freeze it. You can do this by freezing it in a plastic wrapped, and then aluminum wrapped baking dish, or an airtight container.
To reheat, let the casserole defrost in the fridge 24 hours in advance. Remove all plastic wrapping and heat in an oven safe dish at 350F for 20-30 minutes. Check that the center is warm before serving.
FAQ
Can I Use Fresh Tuna? – While fresh tuna steaks are delicious, we want the tuna to be cooked going into the casserole. It's best to have flakey tuna that mixes well in the sauce. If you want to use fresh tuna you would need to cook and then flake it all. We find it's just easier to use precooked canned tuna.
What Keto Veggies can I add? – If you want to bulk up this recipe with more keto vegetable options, we've got you covered. The traditional tuna casserole route uses peas, but one cup has 14 net carbs per serving and 8 grams of sugar. Instead try:
Riced Cauliflower- It bulks up the recipe and easily mixes in. Just make sure to cook the cauli rice first so it's not too wet. Excess water can make the casserole runny.
Broccoli florets- They absorb the fat and sauce beautifully making them a fantastic low carb option.
Zucchini Noodles- We discussed this above in the noodles section, but zucchini makes a great high fiber addition to this casserole giving you that tuna noodle feel.
How Many Carbs are in Keto Tuna Casserole? – Keto tuna casserole has 0 grams of net carbs and a solid 14 grams of fat! There is 1 gram of carbs and 1 gram of fiber, aka 0 net.
How to Make Keto Tuna Casserole Creamier? – Our keto tuna casserole recipe is rich and cheesy, but if you are looking for a creamier variety we've got you covered. Add in half a block of cream cheese and 2 tbsp of heavy cream to the mixture before baking. Cream cheese will add an extra thick and creamy element to this dish that regular cheese and cream can't. Make sure your cream cheese is softened for easy mixing, and that you check the carb count of the cream cheese before cooking. Sometimes the companies can be tricky and sneak in extra carbs.
More Casserole Recipes
We love casseroles and we know most families do too. Casseroles are quick, easy, and perfect to make ahead and freeze for a busy week. Try some of our other fast and tasty casserole recipes this week for dinner!
Keto Pizza Casserole– Oooey Gooey Cheesy casserole! With layers of meat, cheese, pepperonis, and olives this casserole really takes the cake, or pie, or well… Pizza pie?
Loaded Keto Cauliflower Casserole– This recipe is absolutely delicious! There is tons of cheddar cheese, bacon, and cauliflower packed into a baking dish and cooked in the oven to tender yet crispy perfection.
Low Carb Breakfast Casserole– This one's for all the breakfast lovers out there. The recipe is for an egg based casserole with heavy cream, sausage, broccoli, and cheddar cheese. It's a quick and easy to make breakfast recipe you can have all week. It works great for those on meal plans or living an on the go lifestyle.
Casseroles are a go to in so many busy families houses. Try a new casserole every week and see just how simple eating healthy can be! For more low carb casseroles check out the casserole page on our blog
Keto Tuna Casserole
This tuna casserole is a weeknight hit for our family. From start to finish it takes under 30 minutes and is packed with fat and protein. We know this dish will keep us full for hours and feeling great without any tuna noodle carb coma. Plus even kids love this recipe! A cheesy gooey casserole is the perfect way to get your kids on board with tuna and Omega 3's in seafood because they can barely taste it. Tip: If your kiddos are extra picky sub the tuna for half tuna half canned chicken so they taste the tuna even less, but are still get solid nutrition!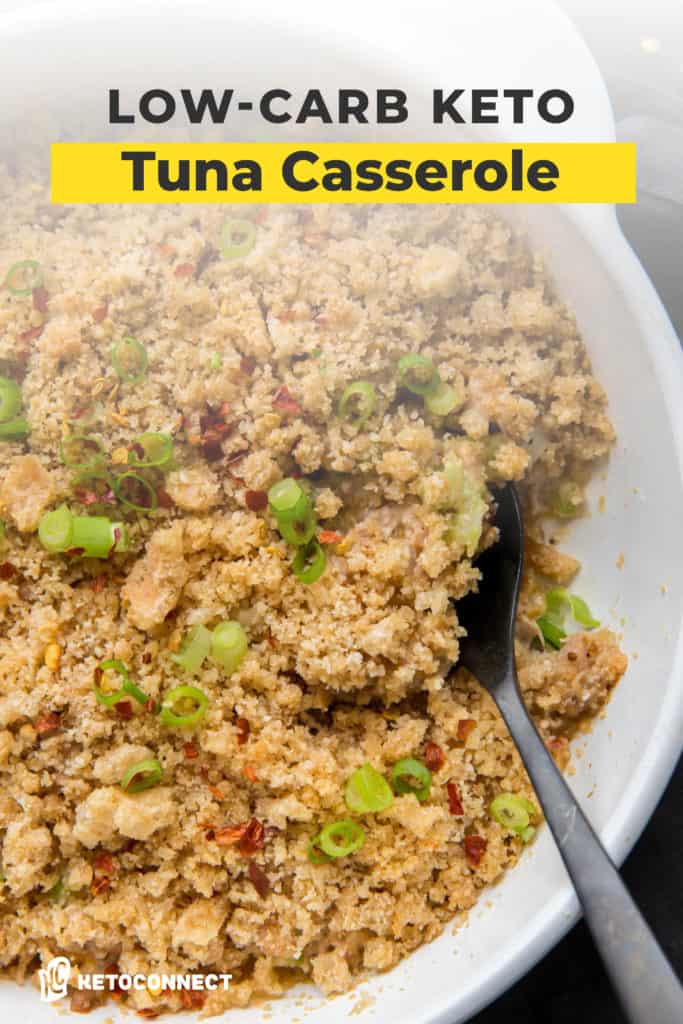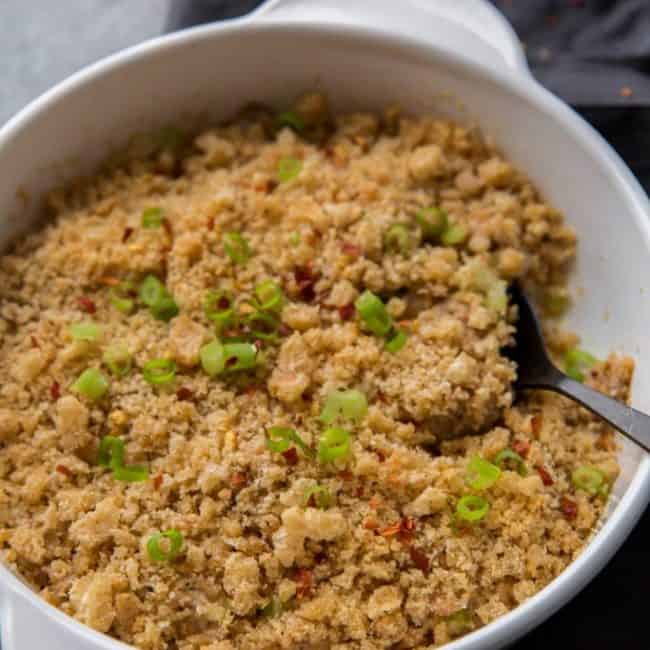 Keto Tuna Casserole
Our Keto Tuna Casserole takes less than 30 minutes to make and uses canned tuna and staple ingredients you'll have on hand for an easy weeknight dinner!
Servings 6 servings
Calories per serving 189kcal
Prep Time: 10 minutes
Cook Time: 18 minutes
Instructions:
Preheat the oven to 375°F and spray a small casserole dish with cooking spray.

In a large mixing bowl, combine drained tuna, mayo, cheese, onion, celery, mustard, salt, and pepper. Stir together until combined using a spoon.

Transfer the tuna mixture into the casserole dish.

Combine the ground pork rinds, parmesan cheese, and butter, and sprinkle the topping over the tuna mixture.

Bake for 13-18 minutes until heated through, and the topping is browned. Sprinkle with green onion and serve with fresh cut veggies or pork rinds.

Best stored in an air tight container in the fridge up to 5 days.
Notes
Net Carbs: 0g per serving
Yields: 6 servings
Nutrition Facts
Keto Tuna Casserole
Amount Per Serving
Calories 189 Calories from Fat 126
% Daily Value*
Fat 14g22%
Saturated Fat 5g25%
Cholesterol 40mg13%
Sodium 489mg20%
Potassium 111mg3%
Carbohydrates 1g0%
Fiber 1g4%
Sugar 1g1%
Protein 15g30%
Vitamin A 204IU4%
Vitamin C 1mg1%
Calcium 101mg10%
Iron 1mg6%
* Percent Daily Values are based on a 2000 calorie diet.
Written By