If you're anything like Matt than you love a good endless seafood option like the one offered at Red Lobster! Matt always got a creamy shrimp scampi and till this day raves about it. You're not always going to know what goes into your meals when eating out so we've made an at home version that you can whip up in no time to relive you endless seafood eating days!
Looking For An Easy Recipe For Shrimp?
One thing we always have in our freezer is uncooked, peeled and de-veined shrimp. It thaws pretty quickly, and cooks up even quicker for a weeknight meal.
Lately, I have been overdosing on shrimp and seasoning it up with curry powder and lime juice, getting wild with Asian flavors, like coconut aminos, rice wine vinegar, and sesame oil or going the classic blackened route!
If you're looking for something a little extra this creamy shrimp scampi is perfect for you! It's full of fat, protein and flavor!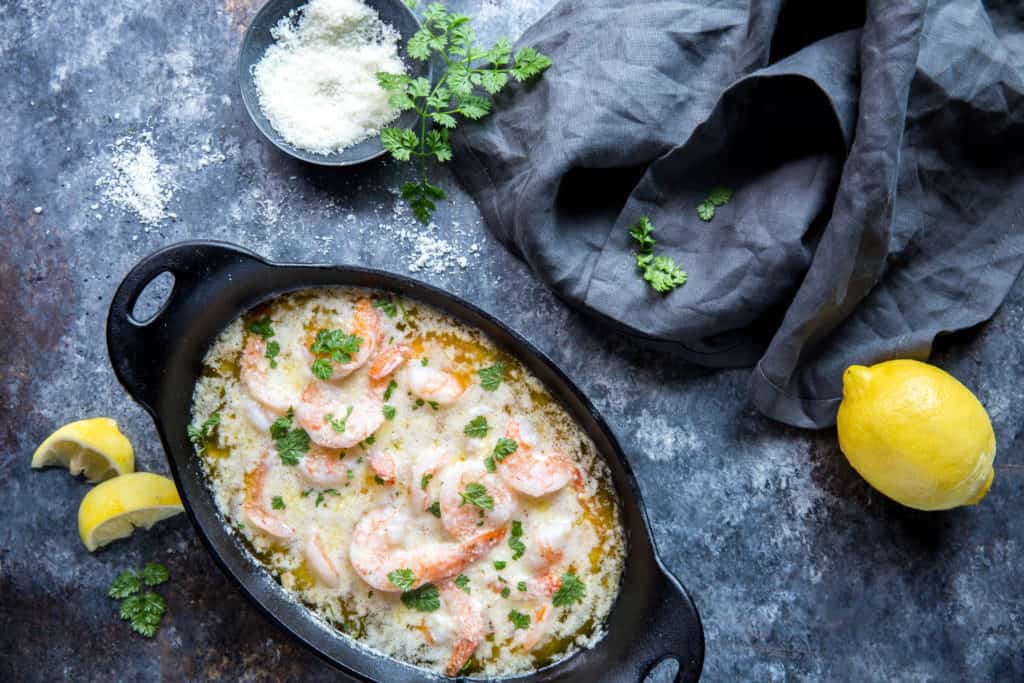 So, What Goes Good With Shrimp?
If you look up shrimp scampi recipes on the internet, you'll get a bunch of different variations, and while you may have been told seafood and cheese don't go well together this time they are wrong! Grated parmesan on top of the creamy, buttery shrimp is the perfect topping and it will pair perfectly with our red lobster cheddar biscuit remake! You can also make our coconut flour bread to help soak up some of the creamy sauce.
Low Carb Creamy Shrimp Scampi!
If you're family loves seafood as much as ours this recipe might just become a part of your weekly rotation! If you aren't a huge seafood lover, you can still make the creamy, buttery sauce to top your steak or chicken with. Either way you make it, this low carb creamy shrimp scampi will satisfy your taste buds!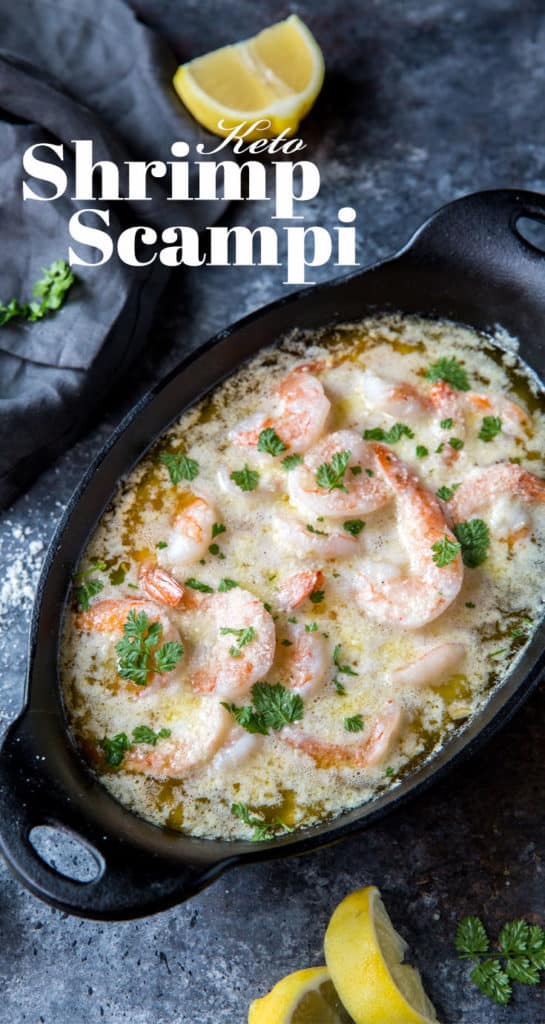 Recipe can be quickly added to MyFitnessPal – Search "KetoConnect – Creamy Shrimp Scampi"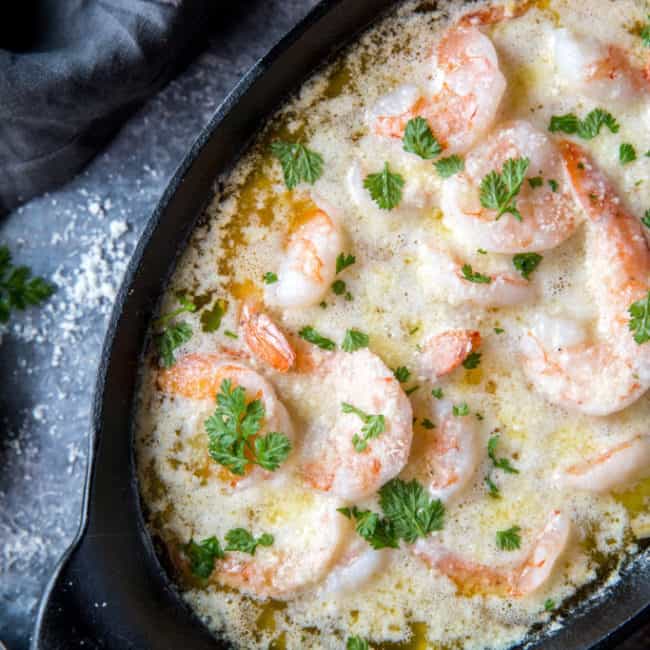 Creamy Shrimp Scampi
Tender shrimp cooked in a butter, garlic parmesan sauce.
Servings 4 servings
Calories per serving 370kcal
Prep Time: 5 minutes
Cook Time: 12 minutes
Ingredients:
1/2 cup unsalted butter
1 tbsp minced garlic
1 cup white wine (or chicken broth)
1 lb raw shrimp, peeled and de-veined
1/4 cup grated parmesan
fresh parsley garnish
Instructions:
Pre-heat oven to 350F.

In a saucepan add the butter and the minced garlic and saute until the garlic becomes fragrant.

Add the wine or broth to the saucepan and combine using a spoon.

Add the shrimp to a baking dish. Pour butter mixture over shrimp and top with parmesan cheese.

Bake at 350F for 10 to 12 minutes. Remove from oven, when the shrimp has turned pink.

Garnish with fresh parsley and serve immediately. Enjoy!
Notes
Net Carbs: 1g
Serving size: 1/4th recipe
Nutrition Facts
Creamy Shrimp Scampi
Amount Per Serving
Calories 370 Calories from Fat 234
% Daily Value*
Fat 26g40%
Carbohydrates 1g0%
Protein 25g50%
* Percent Daily Values are based on a 2000 calorie diet.
Written By