You've definitely had chocolate chip cookies before, but have you ever heard of Keto Chocolate Chip Cookie Bars? These delicious sugar free low carb dessert will take your taste buds straight to heaven! All of that without raising your blood sugar or kicking you out of ketosis.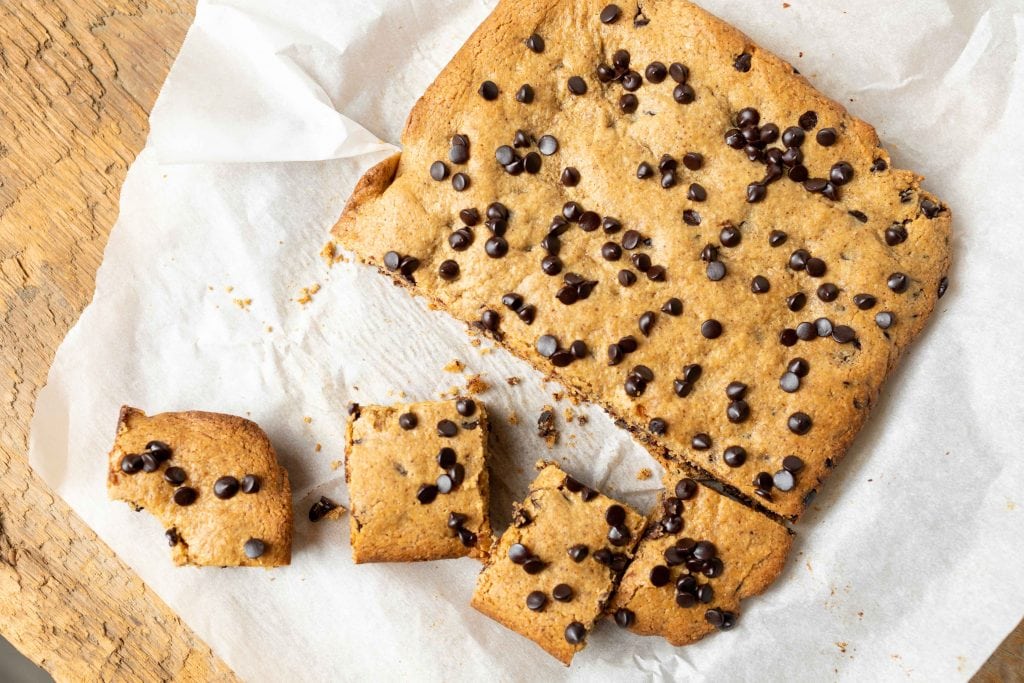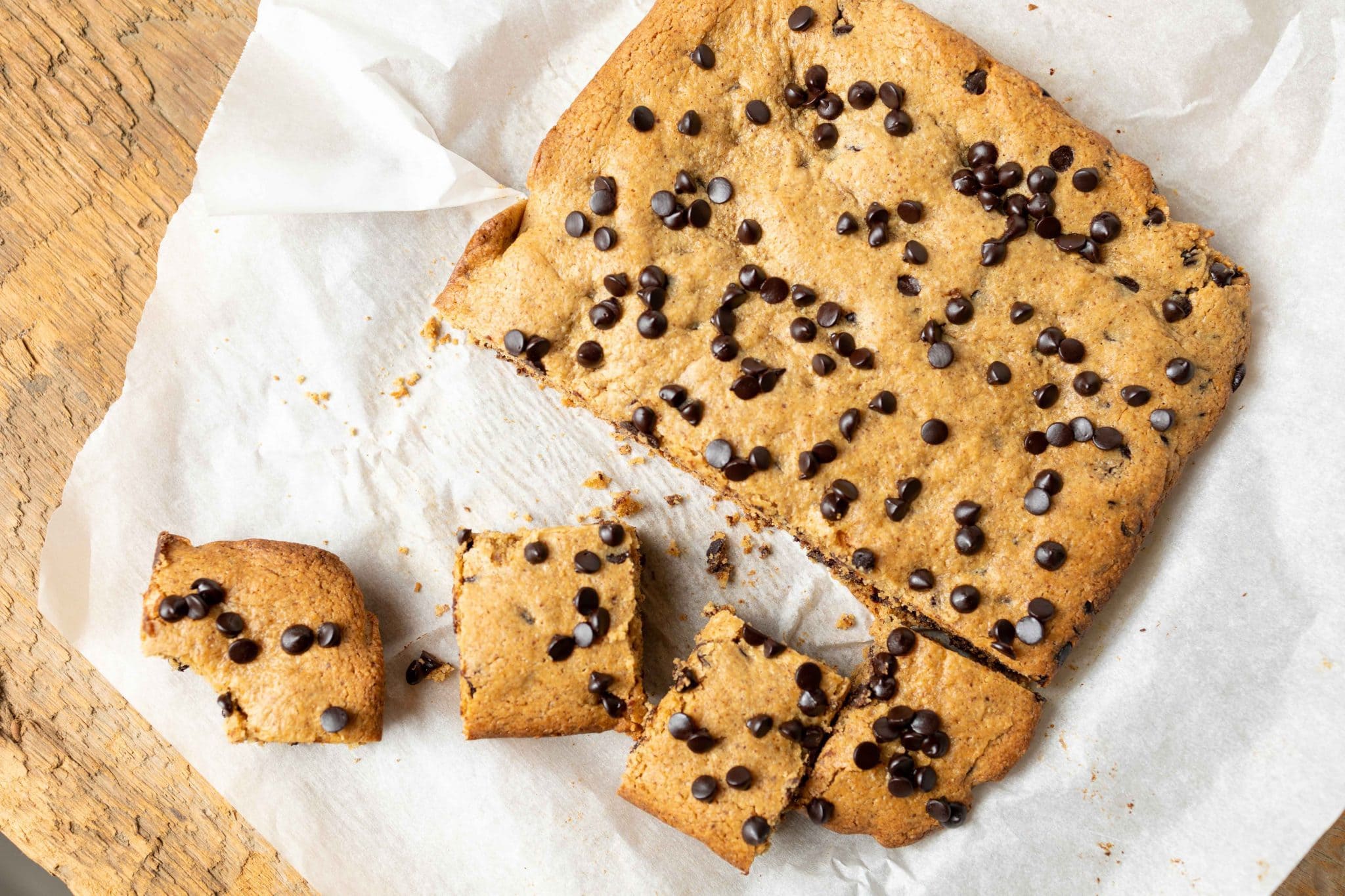 How to make Keto Chocolate Chip Cookie Bars
These keto cookie bars are everything you ever wanted in this reinvented version of a traditional chocolate chip cookie. Both chewy on the inside, and a bit crispy on the outside.
Take a look at the ingredients we used to make these:
Ingredients
Almond flour
As one of the most popular keto diet flours to bake with, almond flour is used in keto recipes all the time. It's high in fat, low in carbs and gives any sugar free keto treat delicate texture.
Remember, you can't replace almond flour with coconut flour and vice versa.
Coconut flour
We used a mix of both coconut flour and almond flour in this recipe to make our Keto Chocolate Chip Cookie Bars to give them the consistency and balance we want.
Baking powder
Remember to use baking powder and not baking soda – the latter needs an acid to be activated.
Swerve
We used this low carb friendly sweetener, but you can also use monk fruit sweetener if you like. I wouldn't experiment with liquid stevia, because the weight of the sweetener here adds a bit to the texture as well.
Almond butter
I honestly think adding almond butter to any keto cookie bars is the ultimate key to a chewy yet delicious texture. Take a look at our amazing Keto Pumpkin Chocolate Chip Cookies for example!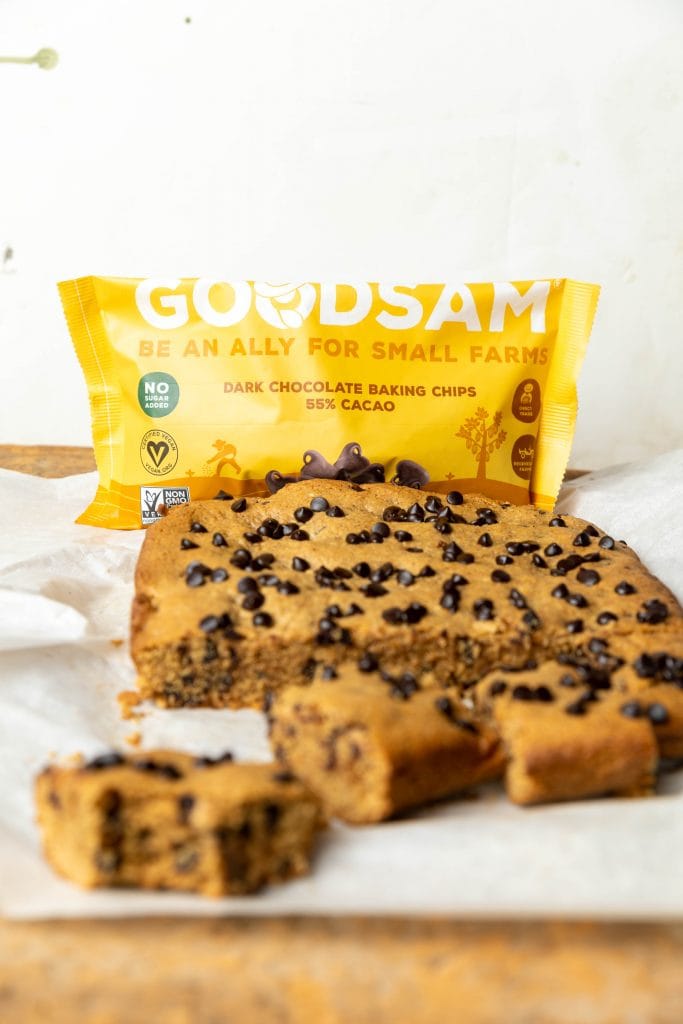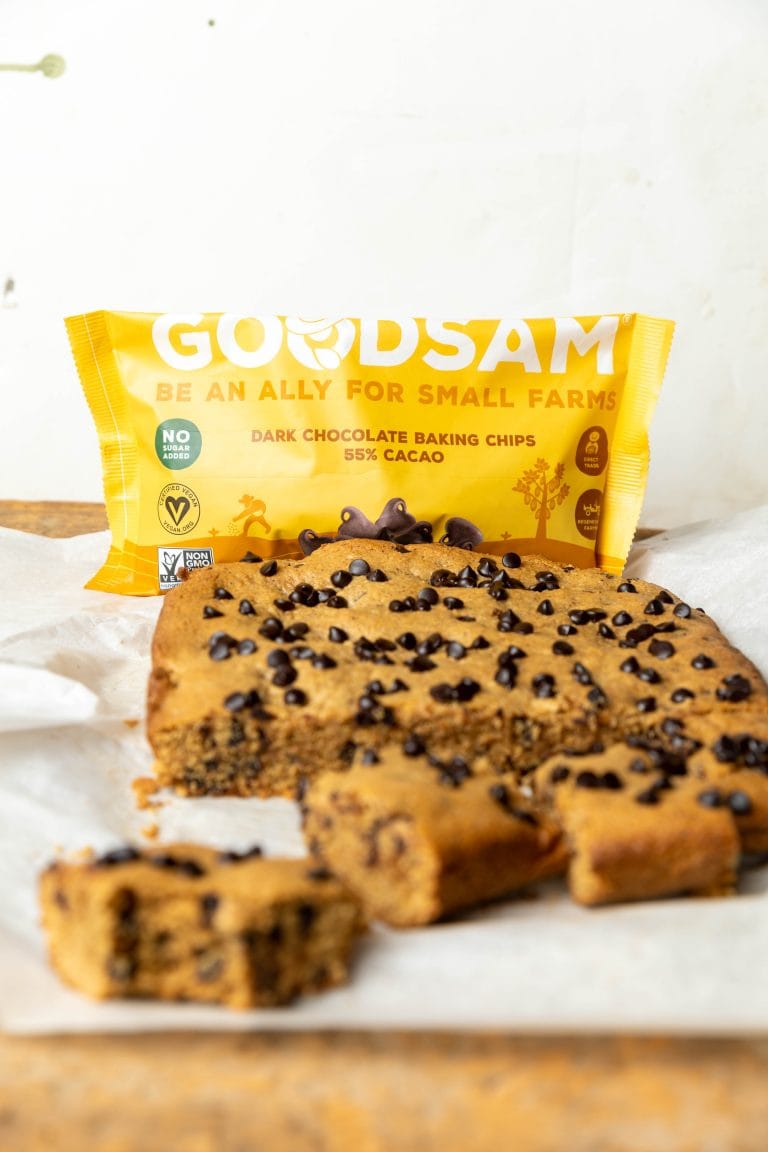 Butter
The organic, grass-fed kind is the best butter you can get. It has lots of health benefits and it will help your Keto Chocolate Chip Cookie bars become tender and give them just the right amount of that "chewy" texture.
Eggs
You want organic, room temperature eggs. In comparison to eggs right out of the fridge, warming them up a bit will help mix ingredients more thoroughly and evenly.
Chocolate chips
There's no Keto Chocolate Chip Cookie Bars without chocolate, so pick one that's keto and low carb friendly.
If you can't find one like that or order it on Amazon, visit your local grocery store and pick the darkest chocolate you can find with a high cocoa content. Regular chocolate chunks will work here as well!
Vanilla extract
We're opting for pure vanilla extract here. It's one of those ingredients I can't personally live without when it comes to keto dessert cuisine, and adding it to cookie dough is one of my favorite ideas as well.
Molasses (optional)
Although molasses is not keto friendly, we're only using a teaspoon in this keto chocolate chip bars recipe. You can leave it out, but we used it to elevate the taste and mimic brown sugar.
Still on the hunt for more chocolate chip keto desserts? You may also love our Keto Chocolate Chip Cookies, Keto Chocolate Chip Muffins, Keto Pumpkin Chocolate Chip Cookies as well as Chocolate Chip Zucchini Bread recipes. Enjoy!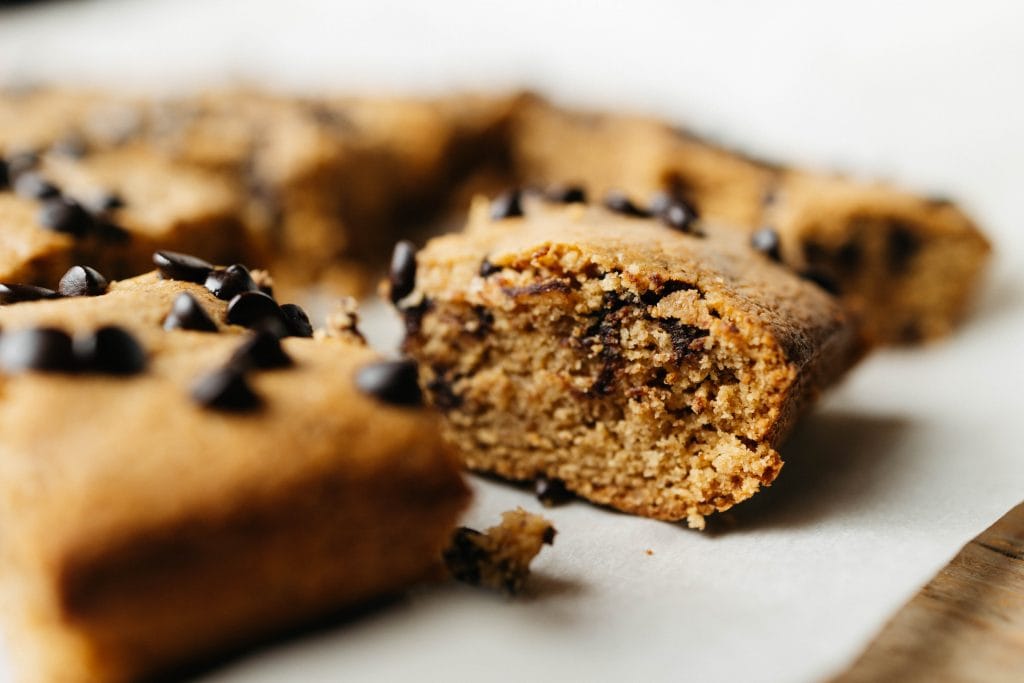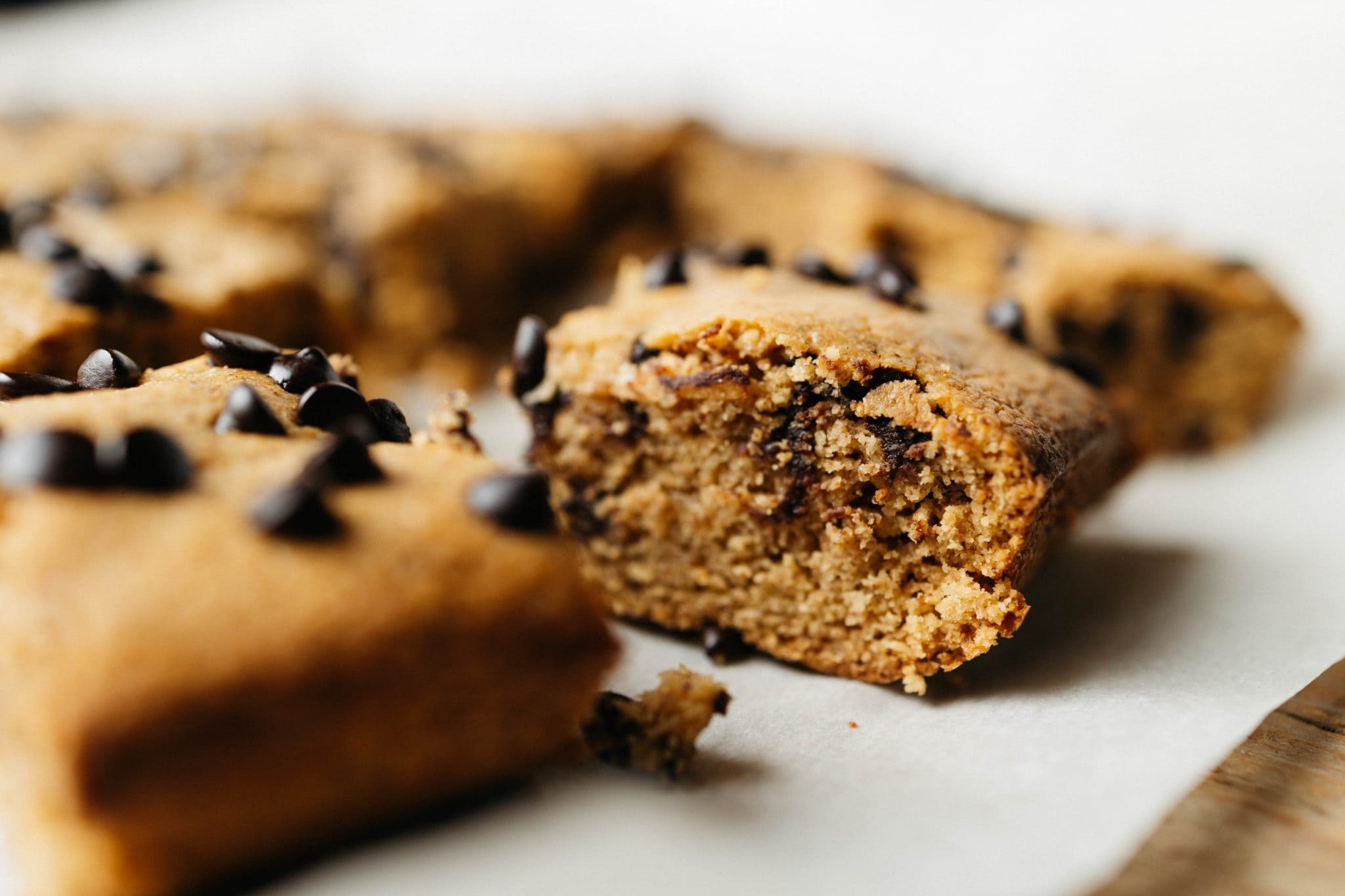 FAQs
Are chocolate chips keto?
Not all chocolate chips are created equal. Make sure to get sugar free chocolate chips, most preferably suitable for the low carb keto lifestyle and low in net carbs.
If you can't find chocolate sweetened with stevia, erythritol or monk fruit go for sugar free chocolate with the highest amount of cocoa inside.
How do I store Keto Chocolate Chip Cookie Bars?
You can store them in the fridge for up to 10 days. Depending on your preference, you might even like them more after they spend a night in the fridge – that's when they become a little chewier and a tad more dense.
To freeze, put your chocolate chip cookie bars between parchment paper and then in a ziplock bag or some kind of an airtight container suitable for freezing.
How did you like our Keto Chocolate Chip Cookie Bars?
Let us know how our keto chocolate chip bars turned out for you! Maybe you added some ingredients and the finished result tasted amazing? We'd love to get in on more ideas from your keto kitchen!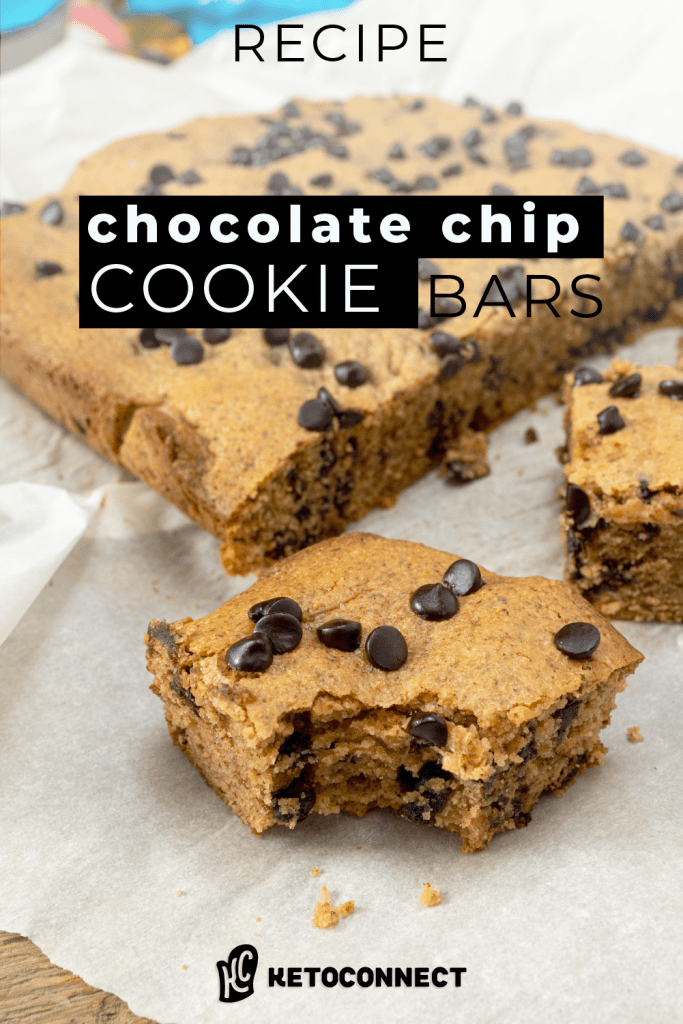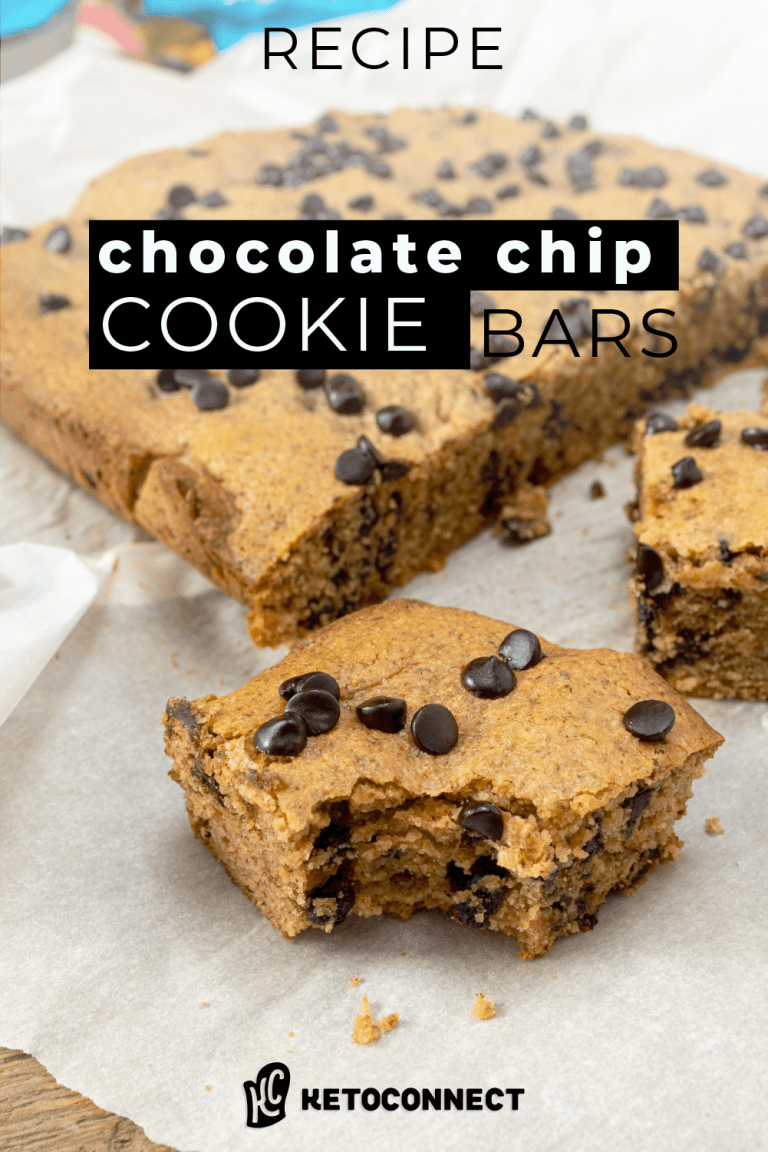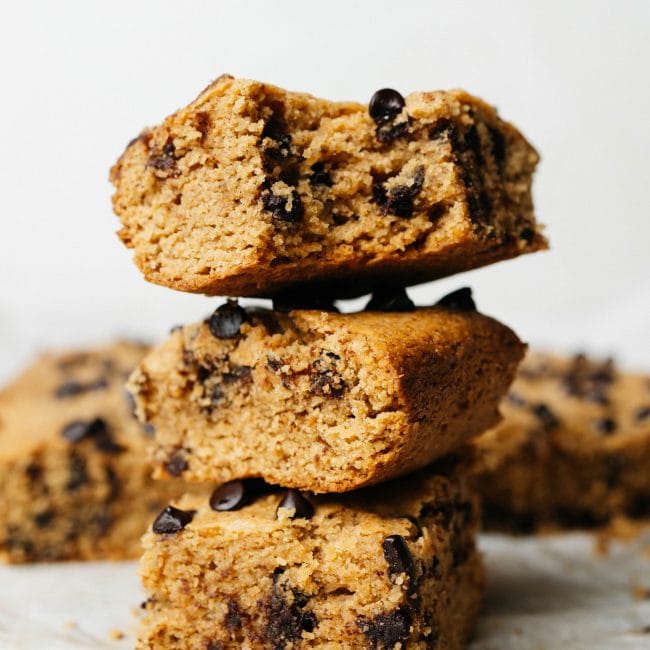 Keto Chocolate Chip Cookie Bars
These Keto Chocolate Chip Cookie Bars are low carb and sugar free! We promise, you and your family will love this recipe.
Total Time 35 minutes
Servings 12 servings
Calories per serving 208kcal
Prep Time: 10 minutes
Cook Time: 25 minutes
What You Need:
Mixing Bowl

Electric Hand Mixer

Parchment paper

Spatula

8×8 Baking Pan
Instructions:
Preheat oven to 350F

Line an 8×8 inch pan with parchment paper.

In a bowl combine the almond flour, coconut flour, salt, and baking powder. set aside.

Using an electric hand mixer beat the eggs and sweetener together.

Add the almond butter, butter and vanilla extract. Combine.

Add the almond flour mixture and mix until fully combined.

Fold in the chocolate chips with a spatula.

Pour the batter into your 8×8 baking pan.

Bake for 25-30 minutes or until the edges are golden brown.

Remove from the oven and allow to cool completely before slicing.

Stores in the fridge for 10 days or in the freezer for 3 months.
Nutrition Facts
Keto Chocolate Chip Cookie Bars
Amount Per Serving
Calories 208 Calories from Fat 171
% Daily Value*
Fat 19g29%
Saturated Fat 4g20%
Trans Fat 1g
Polyunsaturated Fat 2g
Monounsaturated Fat 5g
Cholesterol 37mg12%
Sodium 47mg2%
Potassium 132mg4%
Carbohydrates 7g2%
Fiber 3g12%
Sugar 2g2%
Protein 7g14%
Vitamin A 156IU3%
Calcium 91mg9%
Iron 1mg6%
* Percent Daily Values are based on a 2000 calorie diet.
Written By