Are you ready to make the best Keto Gingerbread Cookies? I can't imagine holidays without these!
I remember I always used to decorate these as a child and now I keep that tradition with my kids as well. They actually love the taste of gingerbread, so these sugar free gingerbread cookies are always a real treat for all of us.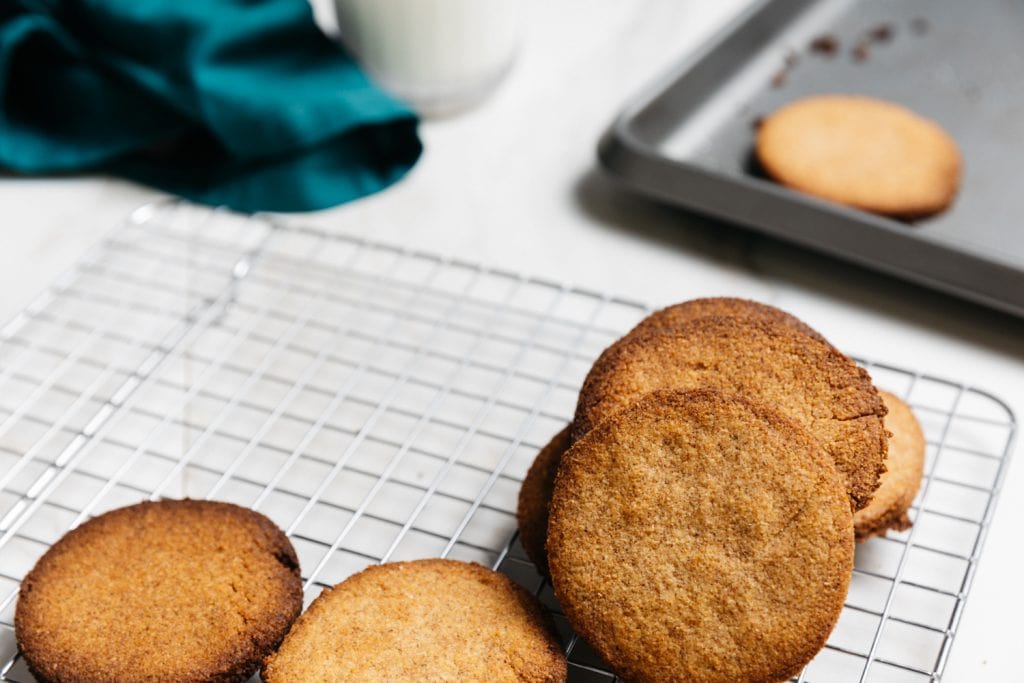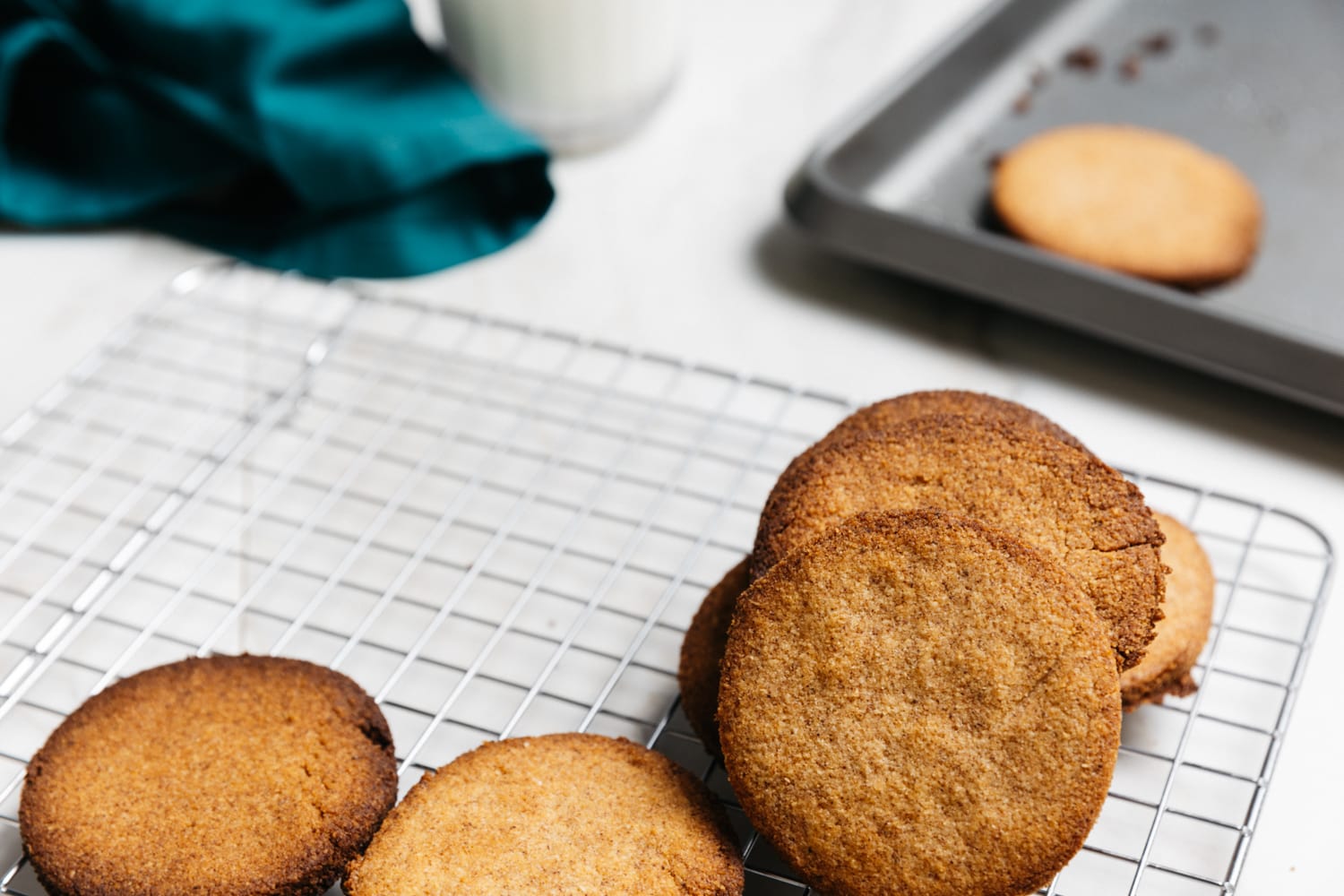 How to Make Sugar Free Keto Gingerbread Cookies?
There's no holiday cookies without gingerbread ones, even when you're following the keto diet! Around this time of the year, we love using warm spices in our baking. Cloves, ginger, cinnamon… you name it, we love it.
Take a look at the ingredients we used in this Keto Gingerbread Cookies recipe – remember to look at it carefully in case you wanted to swap some of them out.
Ingredients
Just like our amazingly simple keto bread recipe, these sugar free keto gingerbread cookies are low in net carbs and won't kick you out of ketosis! We only used healthy, low carb ingredients for this recipe so you'll be happy with the macros.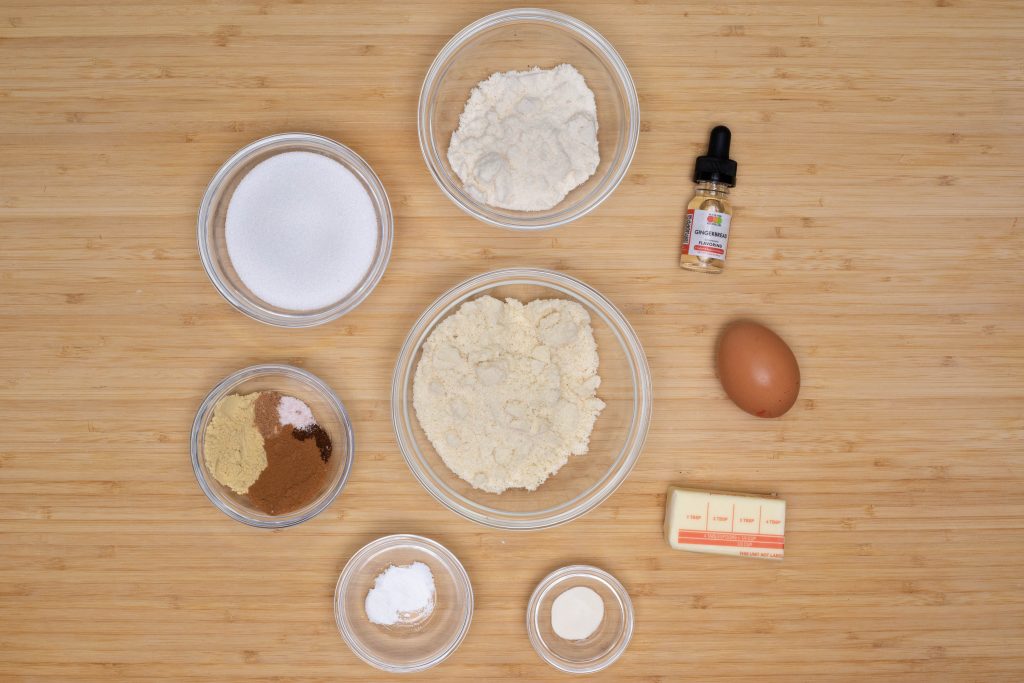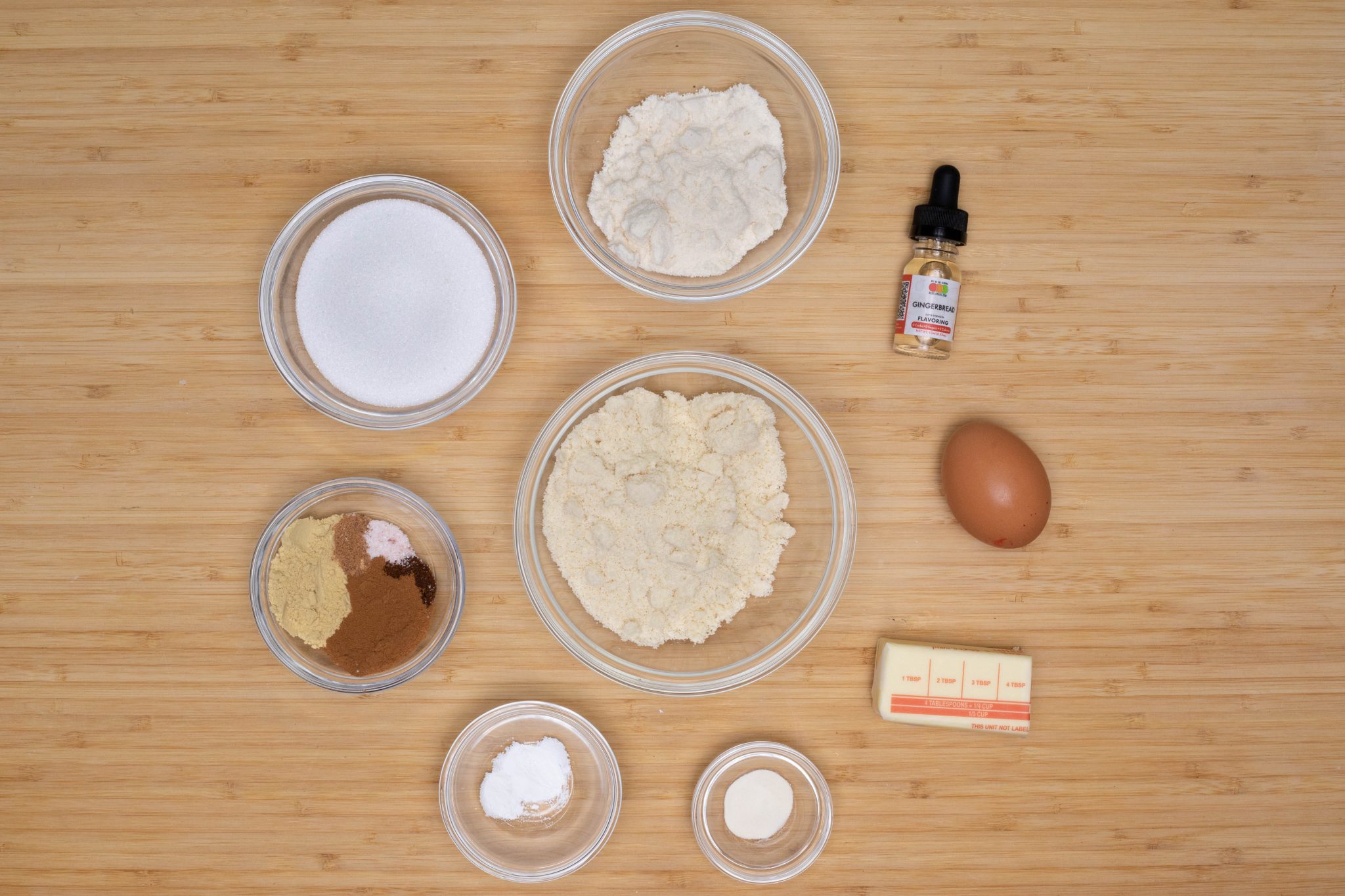 Almond flour
You've definitely seen this gluten free, low carb flour in all kinds of ketogenic recipes. It's high in fats and low in net carbs, which makes it perfect if you want to use it instead of regular all purpose flour.
Coconut flour
We're using a mix of almond flour and coconut flour for this Keto Gingerbread Cookies recipe. Mixing both is the best alternative to all purpose flour and will result in chewy Keto Gingerbread Cookies.
Keto sweetener
In this recipe, we're using half a cup of a keto friendly sweetener. I don't suggest using less or more because the amount will also impact the dough itself, but you can swap it for monk fruit sweetener if you'd like.
Try to stay away from xylitol as well since it raises blood sugar a tiny bit more than other keto friendly, low carb sweeteners.
Xanthan gum
We add a tiny bit of this ingredient to help our keto cookies hold their shape and consistency. In regular recipes when you're using all purpose flour, there is a lot of glucose to help with that.
Baking powder
Make sure you use baking powder and not baking soda – that one needs acid to work at all and we're not using any in this recipe. Adding this ingredient will help Keto Gingerbread Cookies rise a bit and make your cookies softer.
Butter
In this keto gingerbread cookie recipe we use 4 tablespoons of butter. If you're heavily lactose intolerant, you can swap it for coconut oil (same amount, solid state).
It worked in some of our previous recipes, but we personally haven't tried it in this one so no idea if the end result will come out similar. You might want to stick to lactose butter instead.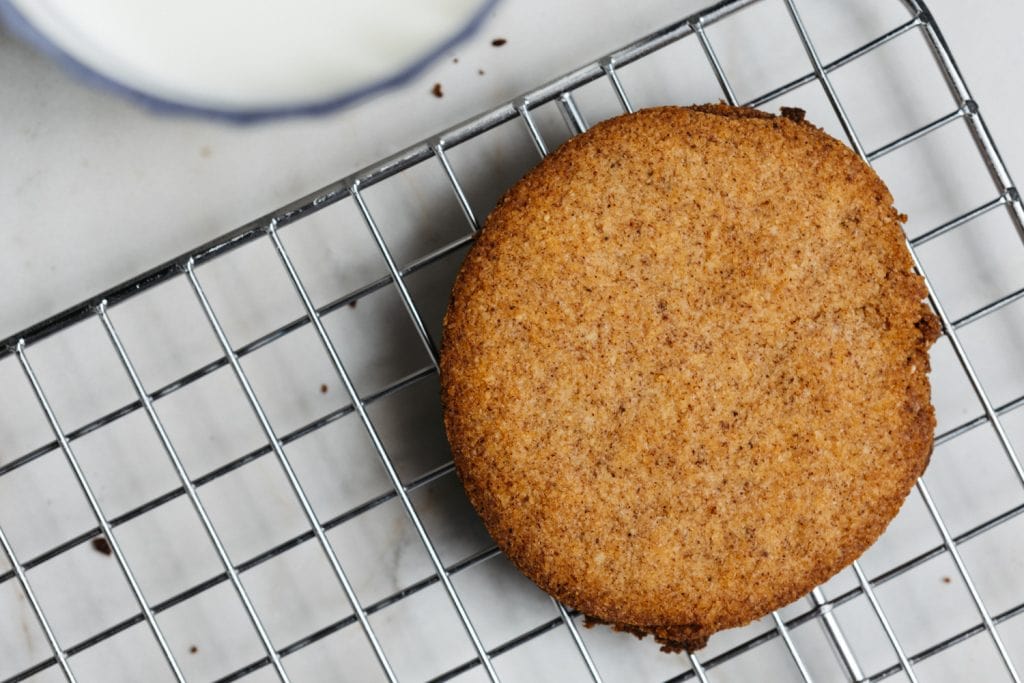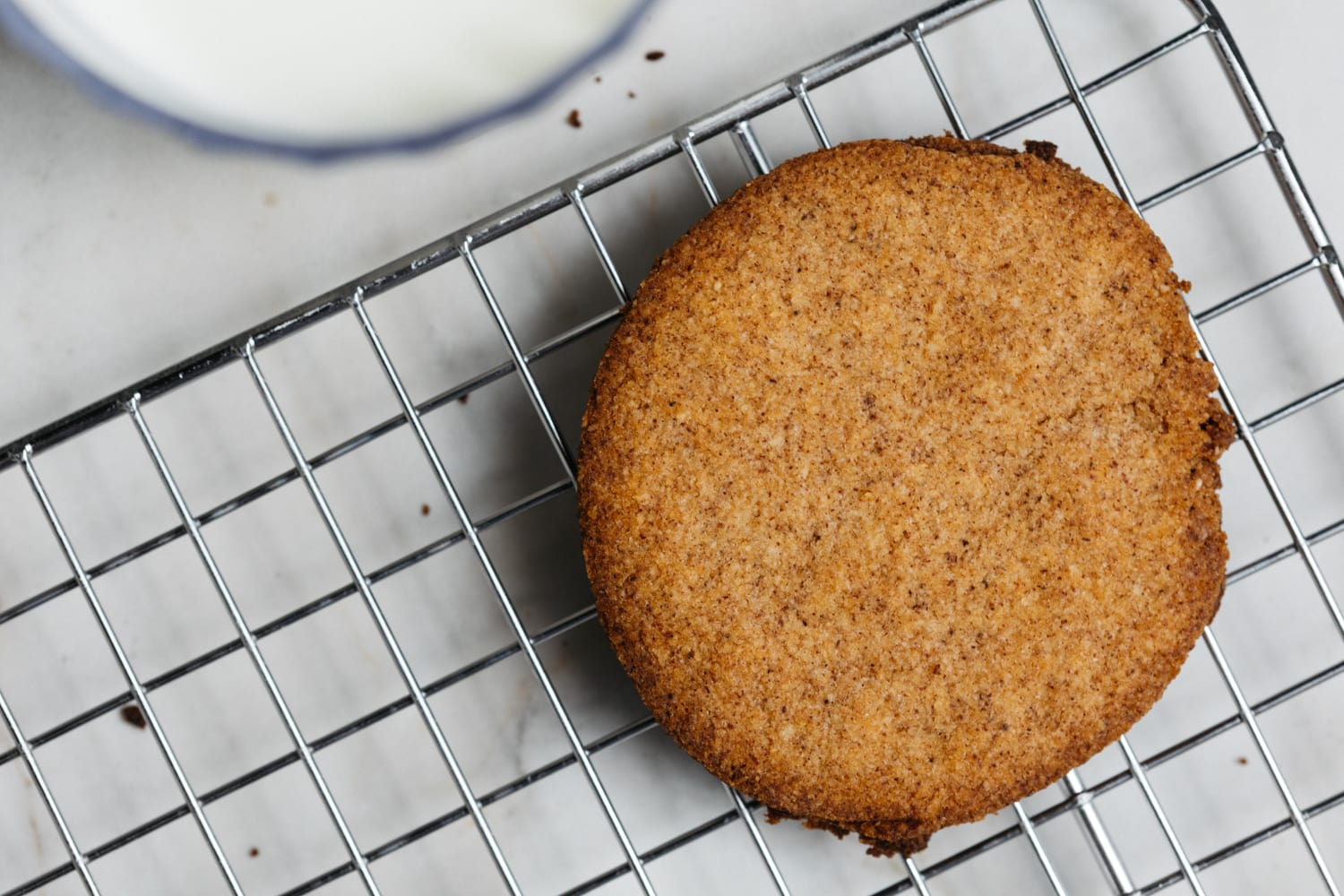 Egg
You only need 1 egg for this recipe. Although we're using coconut flour which is highly absorbent, we're balancing it out with butter here. Make sure to pick an organic egg and don't use a liquid egg substitute – it won't work for this Keto Gingerbread Cookies recipe.
Ginger extract
To add a more flavor, we're using 10 drops of a low carb, keto friendly ginger extract. You can add more or less to taste if that's what you prefer, however we found that amount to be absolutely perfect.
We highly recommend it for this recipe, however you can also use vanilla extract instead. Your gingerbread cookies will come out a little different in taste, but it's a good alternative.
Spices
Gingerbread cookies are usually made with a pre-made gingerbread spice, however most of the time those have a lot of sugar inside.
Instead, we decided to make our own mix with ground powdered ginger, ground cloves, nutmeg and cinnamon. It's seriously an awesome combo to try even in your morning coffee, it's absolutely delicious!
Step by step guide
Read below and follow our detailed step by step guide on how to make Keto Gingerbread Cookies. We've listed everything you need to make the entire recipe without any hassle.
Step 1: Combine butter and keto sweetener
First, grab a large mixing bowl and cream together melted butter and a keto sweetener until lighter in color. You want the sweetener to be dissolved as much as possible to avoid a gritty feeling under your teeth.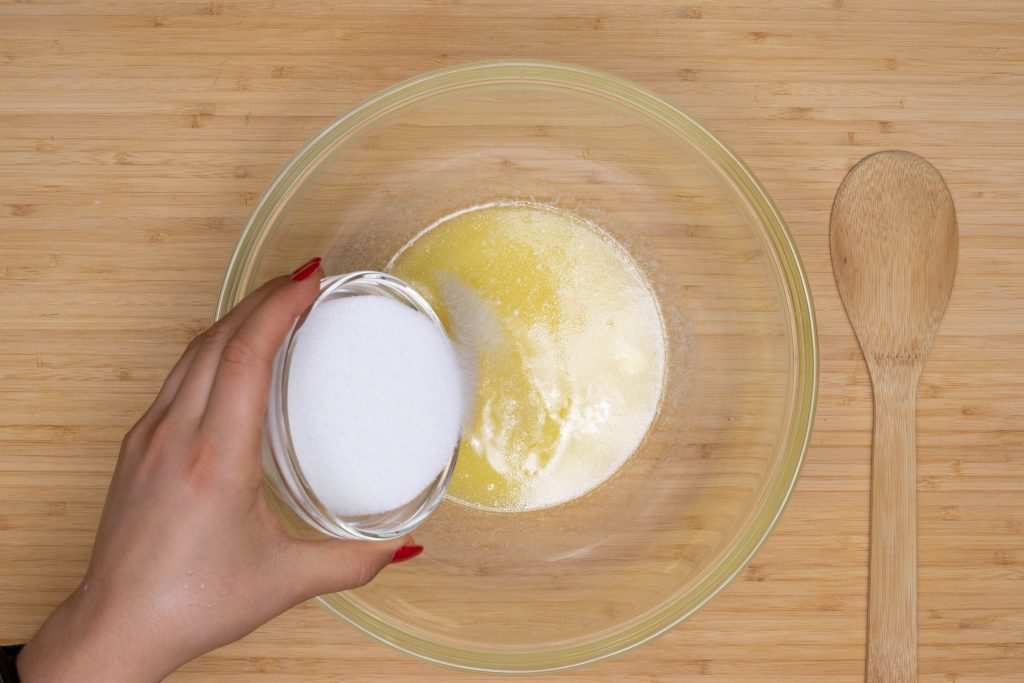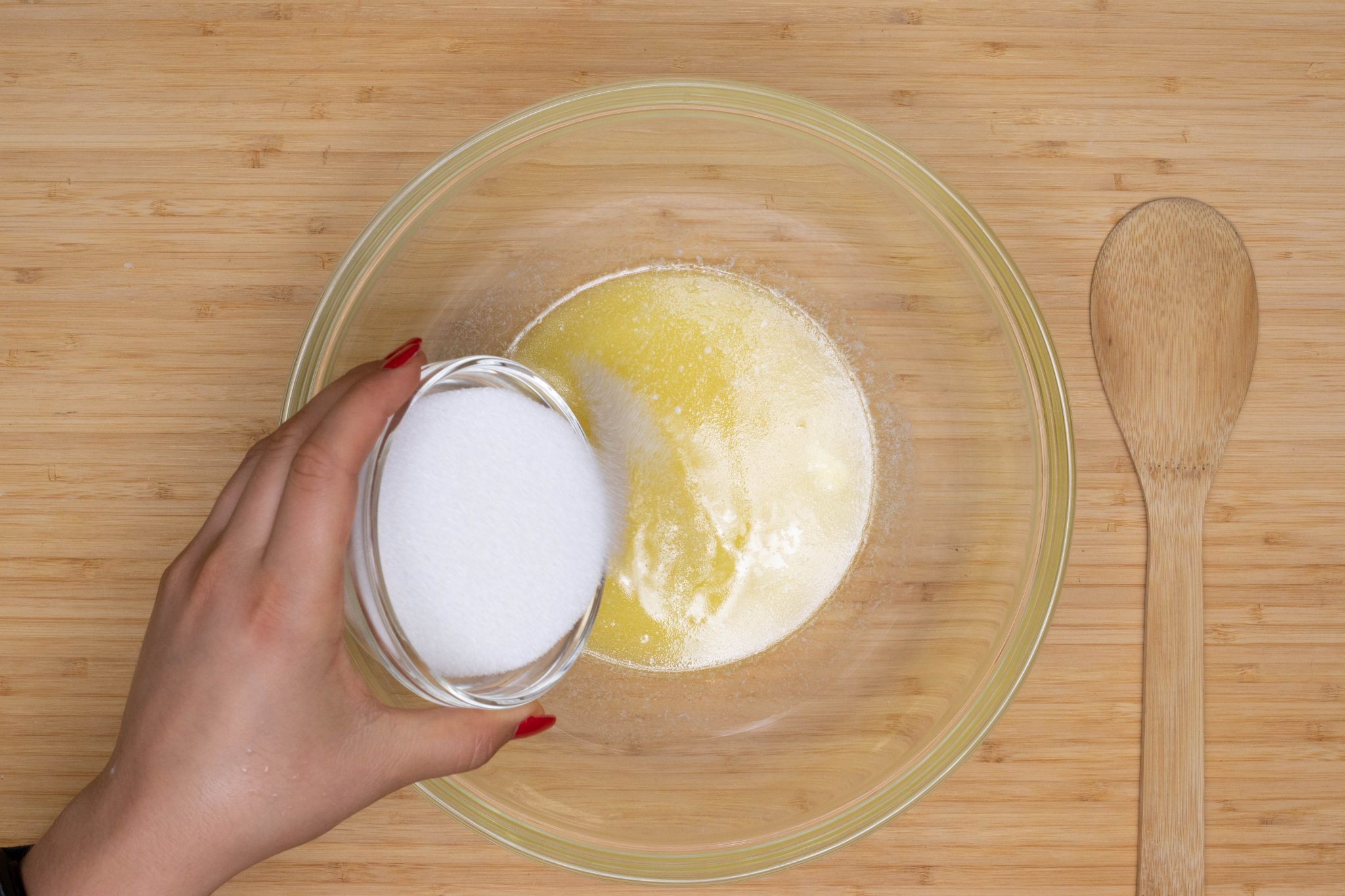 Step 2: Add an egg
Add in a whole egg and continue to mix again until combined. I can't stress this enough, but the more of a uniform consistency your batter will have, the better Keto Gingerbread Cookies you'll get in the end.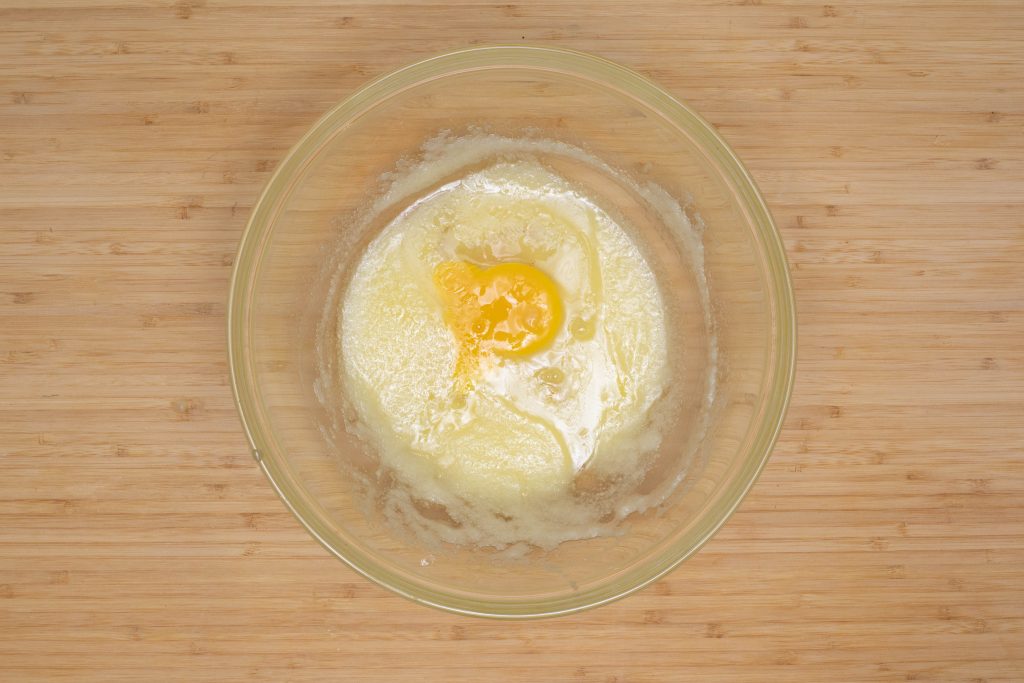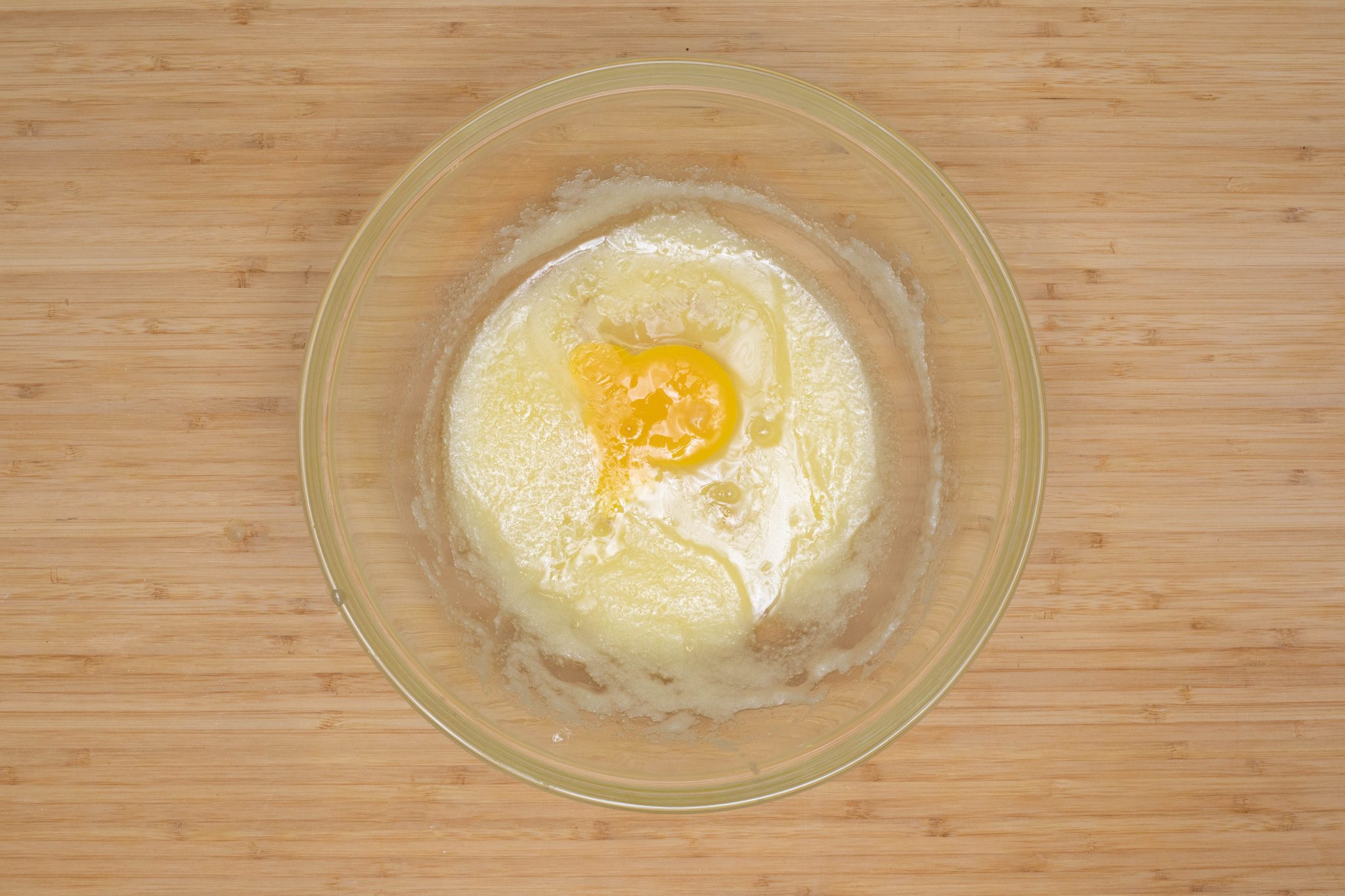 Step 3: Add spices
Add all the spices to your mixture – sprinkle in cinnamon, ground ginger, ground cloves and a pinch of salt. Again, mix until completely smooth. This is the moment I usually get absolutely hungry since you'll finally get to smell all the ingredients!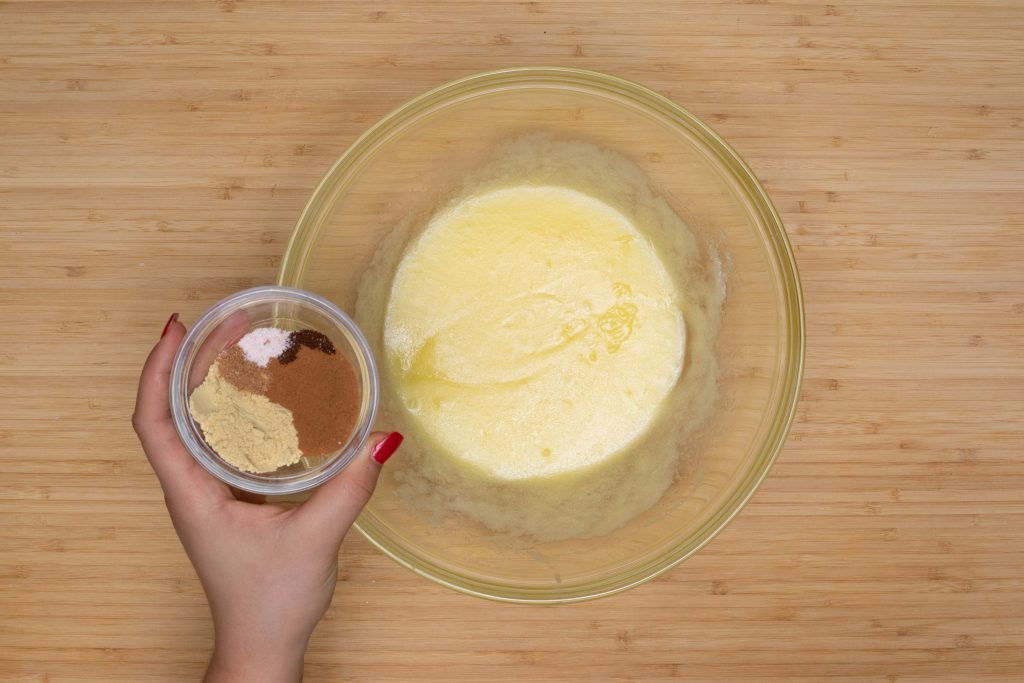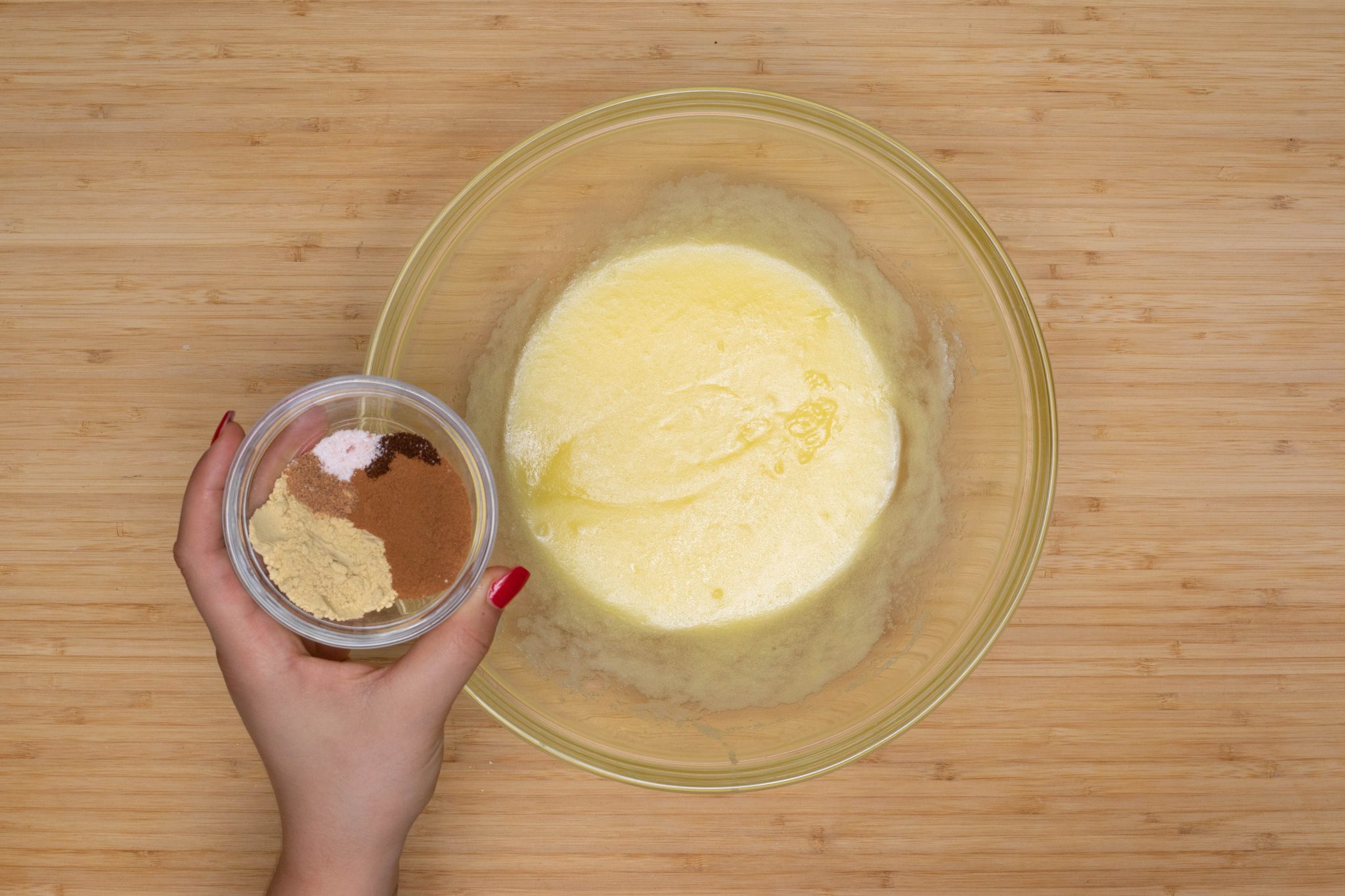 Step 4: Add dry ingredients
We're almost there with the dough! To your mixture, add Xanthan Gum, baking powder, coconut and almond flour. Stir it throughly to combine. You can also use your hands a bit to work it together into a ball.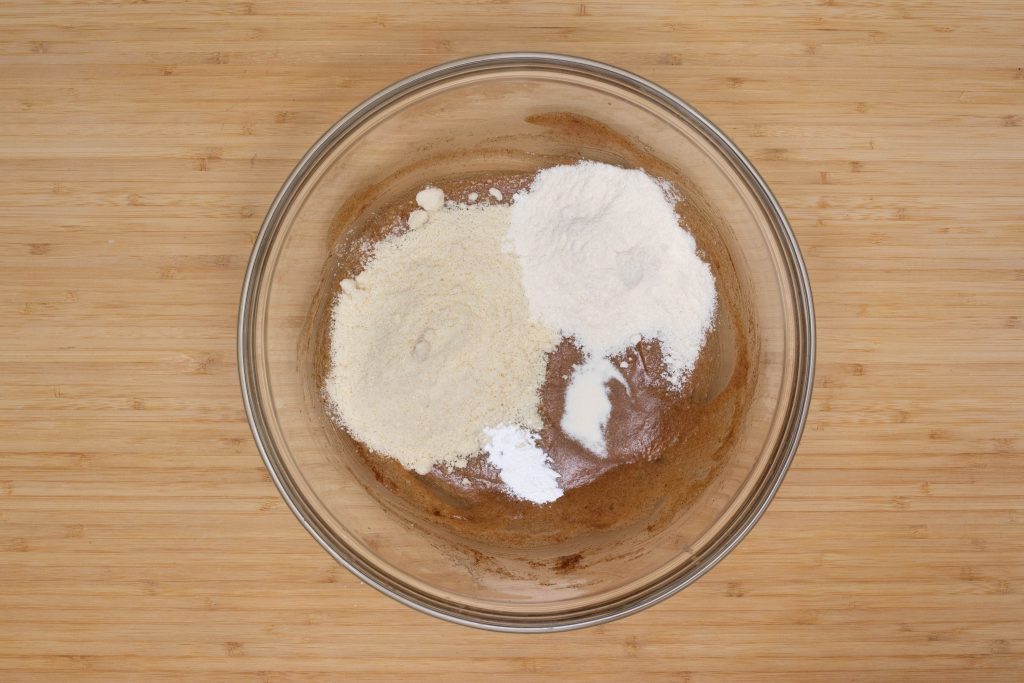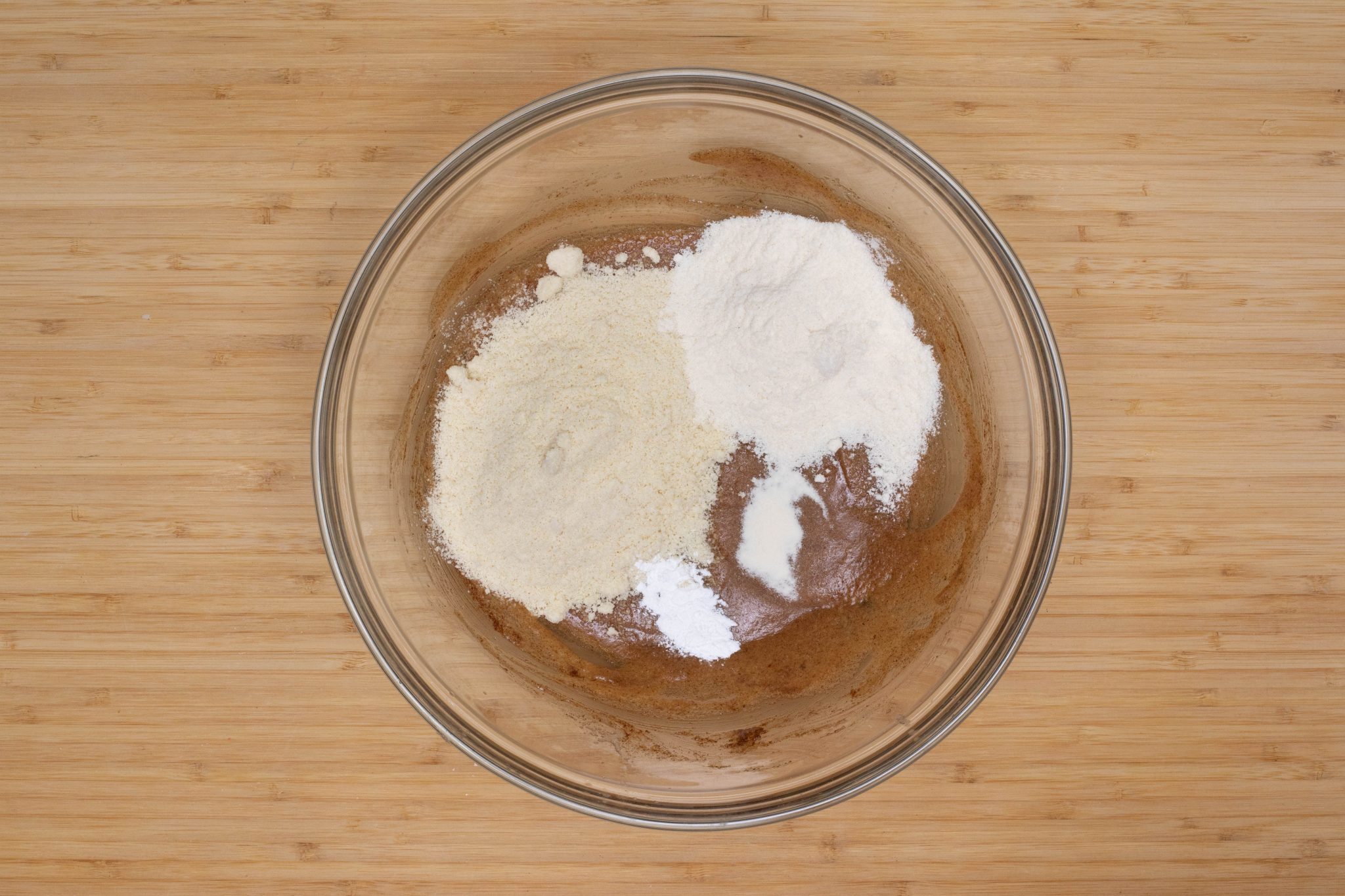 Step 5: Chill the dough
Place the dough in a plastic wrap and cool completely in the fridge for at least 45 minutes, preferably for an hour. Don't skip this step – it's crucial to roll out the dough later!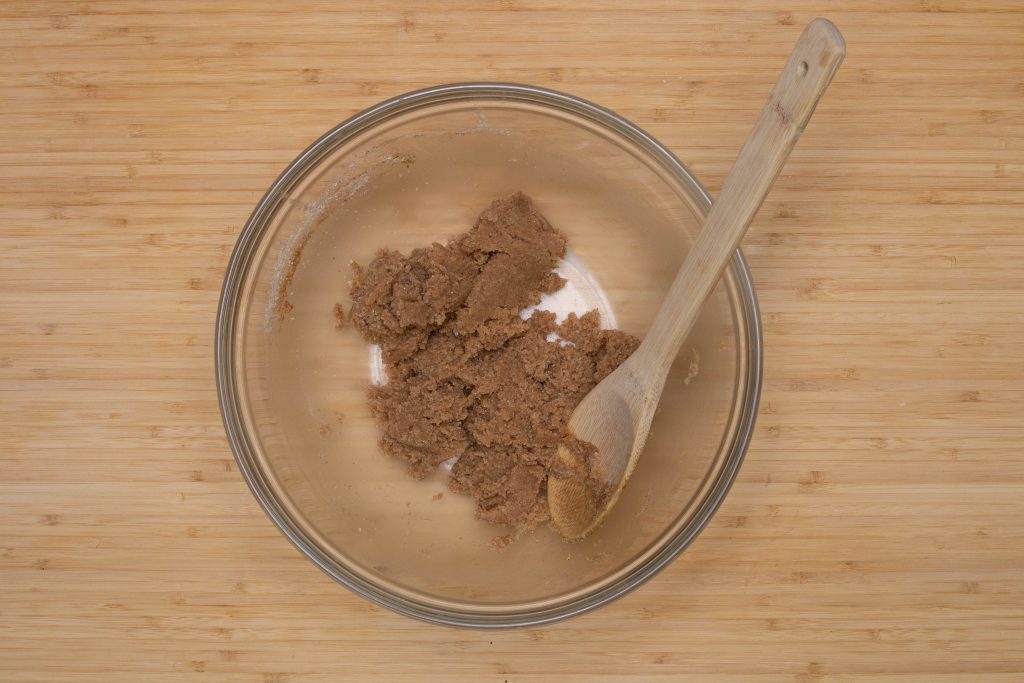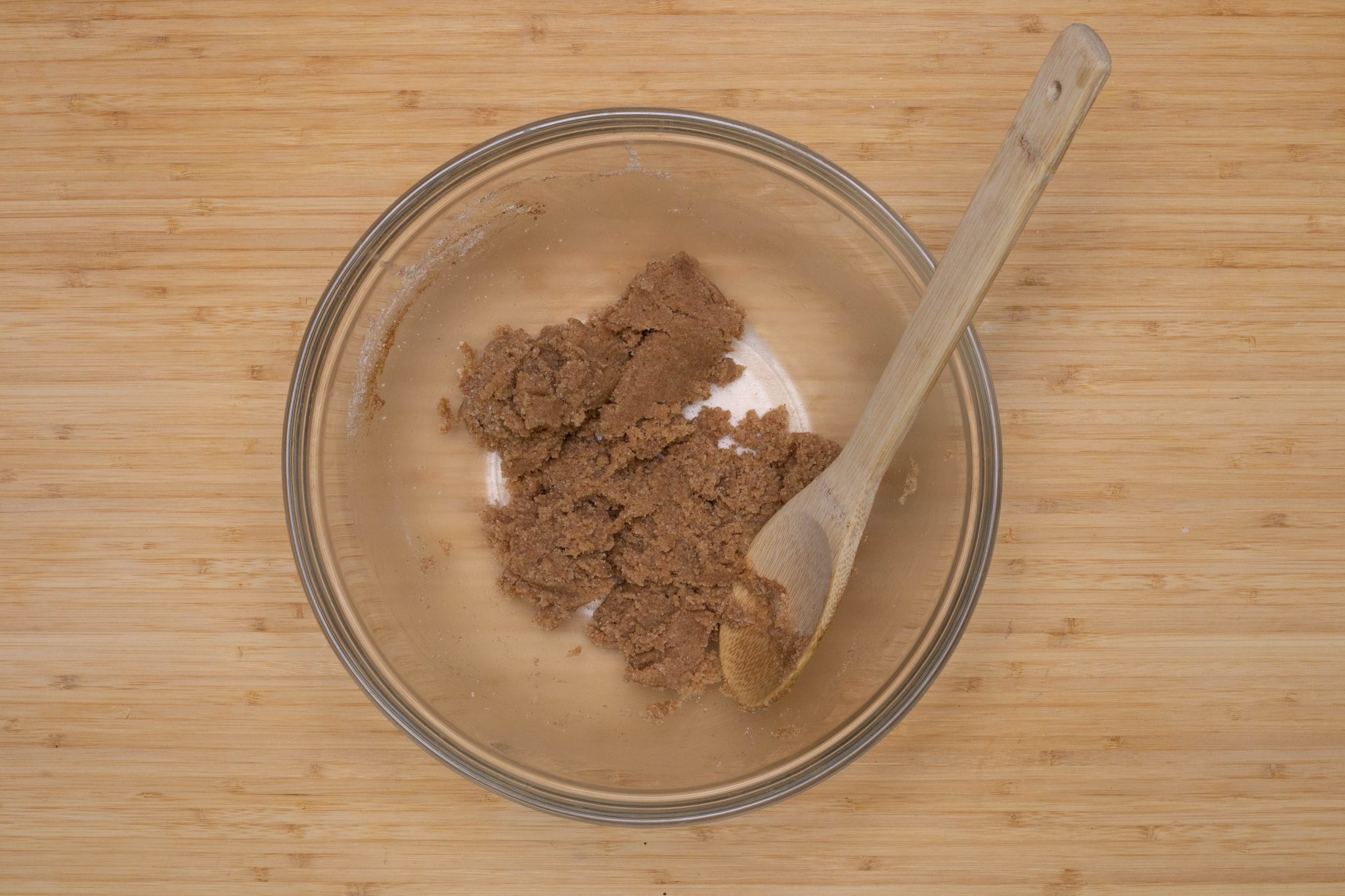 Step 6: Get the cookie craze going
Preheat oven to 350 degrees. Take two pieces of parchment paper and roll out the dough between the two sheets. You want the dough to be about 1/8th of an inch. Then, grab a cookie cutter of your choice and cut out the shapes. Keep in mind that these won't spread in the oven.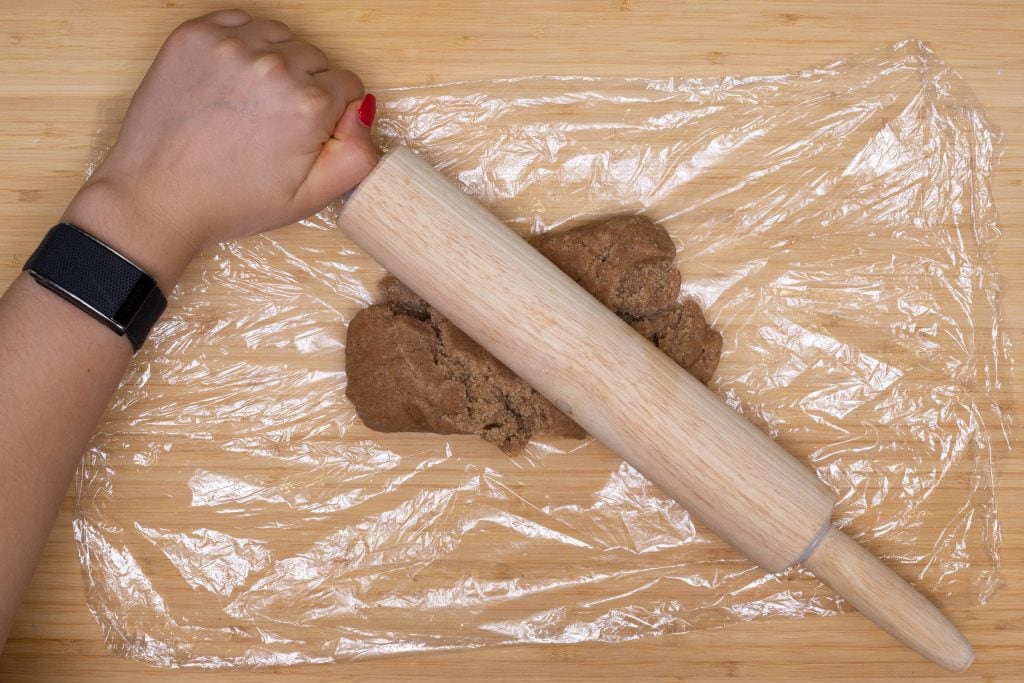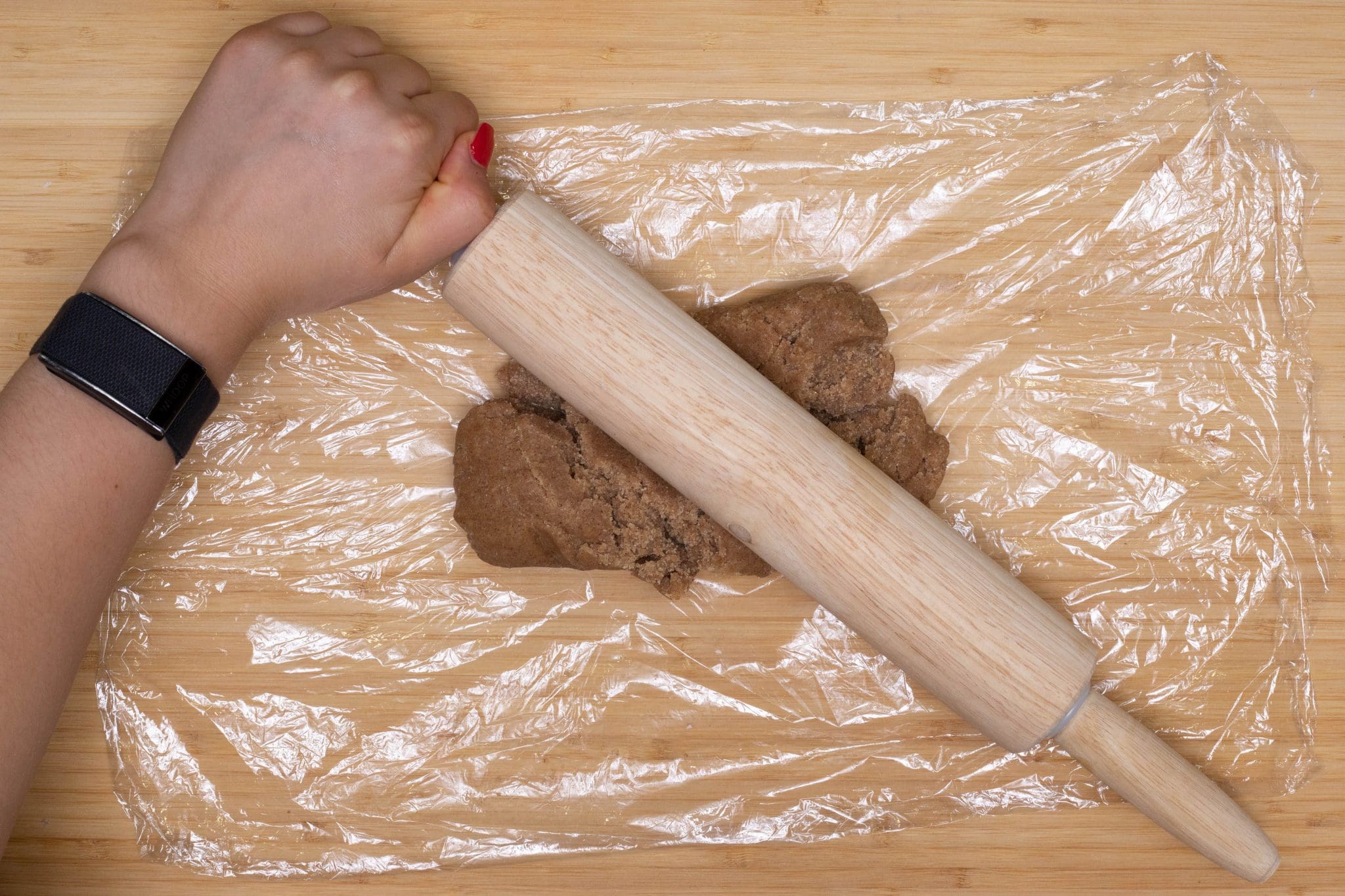 Step 7: It's baking time
Take a piece of parchment paper and place it on a baking sheet. Transfer your cookies to the sheet and bake for 8 to 10 minutes or until the edges are golden brown and the center is set.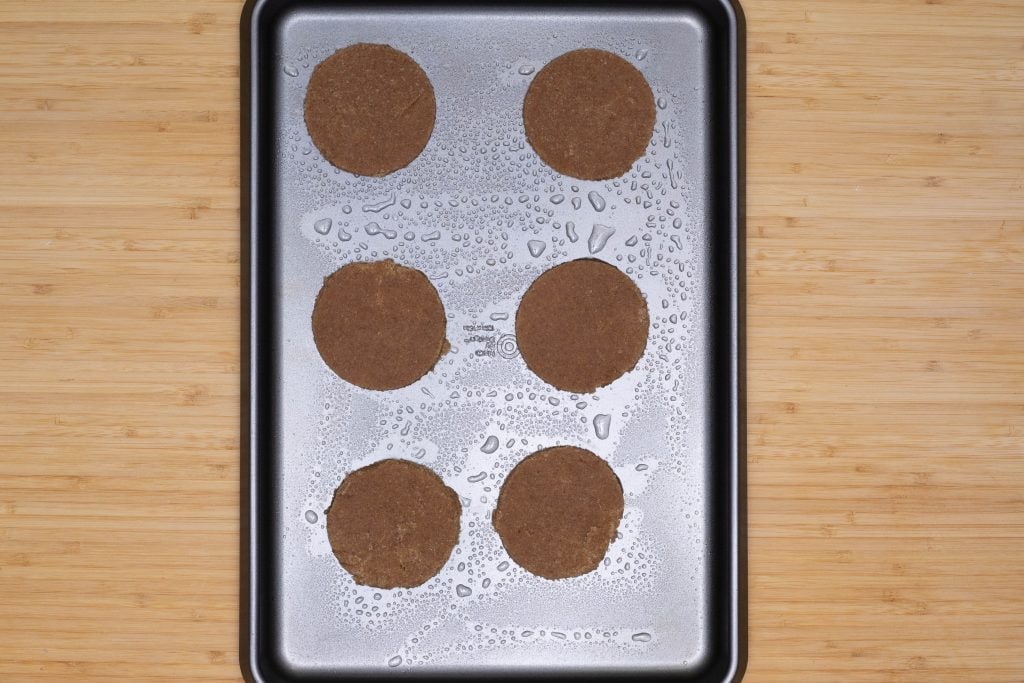 Step 8: Finish line
Take cookies out of the oven and transfer to a cooling rack using a spatula. This is important because it will allow the cookies to dry evenly on all sides and not break.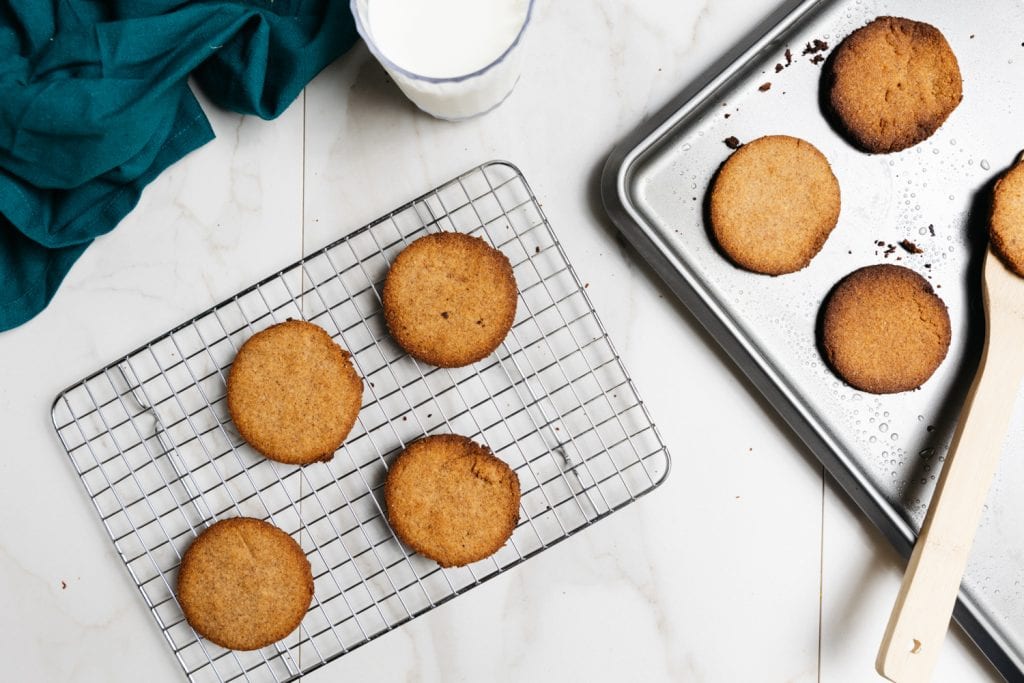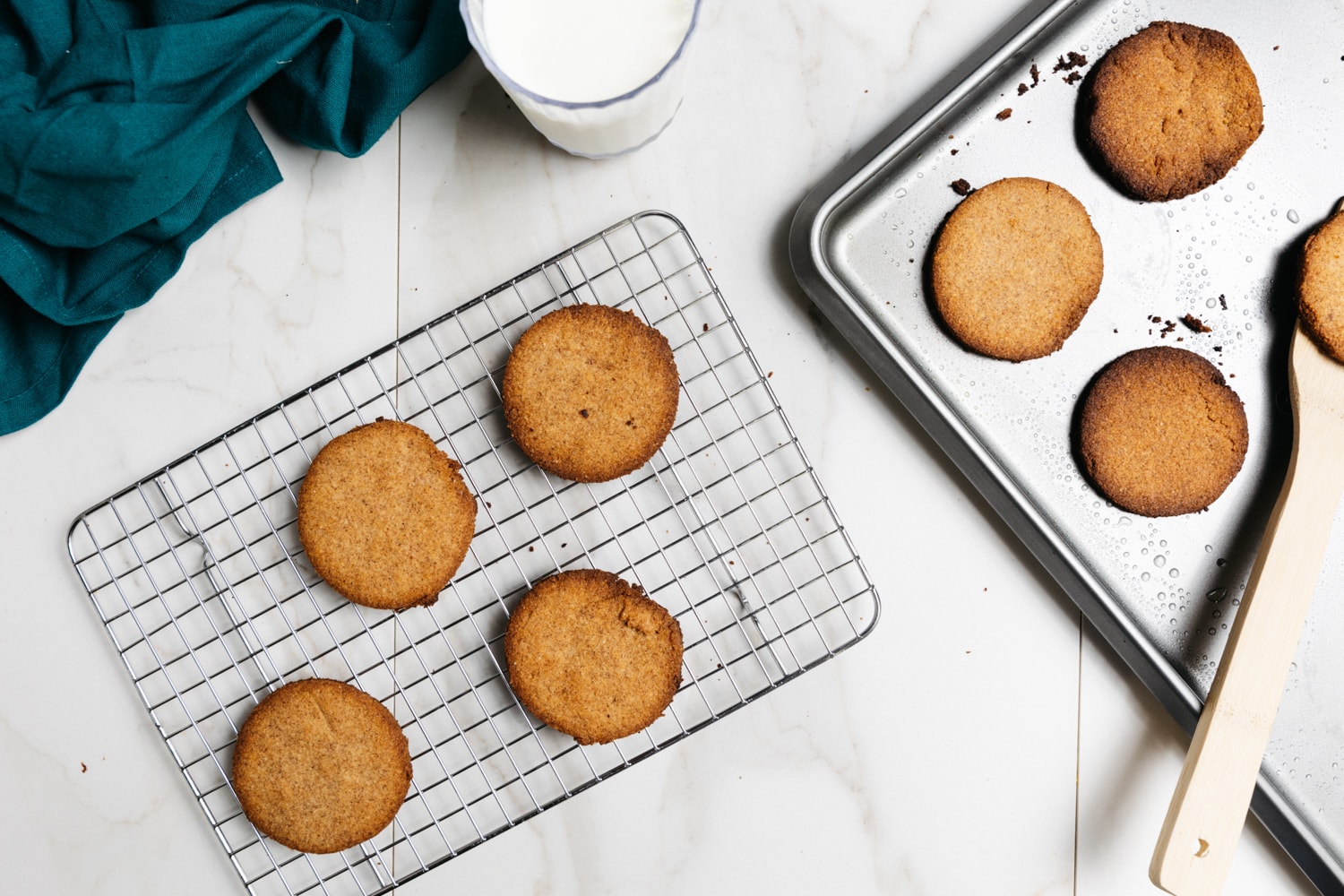 Ideas for decorations
You can decorate these Keto Gingerbread Cookies with anything you want, but just in case you needed some inspiration, here are a few cool ideas:
Melt keto friendly chocolate and coconut oil together, then dip gingerbread cookies and set aside to dry
Use a cookie cutter and make a small gingerbread house. Remember to keep the size small so it doesn't fall apart.
Make low carb frosting with cream cheese and softened butter.
Are you looking for more holiday baking recipes? Check out our list of the 12 Easiest Christmas Cookie Recipes!
FAQs
Any questions? Below you'll find a few most commonly asked questions readers have when making sugar free Keto Gingerbread Cookies. In case your question isn't listed below, ask us in the comments and we'll be happy to help!
Do I need to use both almond flour and coconut flour?
Yes! A combination of both will give you the texture you're looking for in a low carb gingerbread cookies recipe. We believe that a mixture of both in the correct ratio resembles all purpose flour the most.
Don't use just one – your low carb, keto gingerbread cookies will not come out right. Although both of these flours are keto and low carb friendly, they are absolutely different in composition and cannot be used in lieu of the other one.
Is xanthan gum healthy?
Although it doesn't sound healthy at all, xanthan gum is nothing more than a fermented carbohydrate. It's completely safe to eat and since it's used in small quantities, there is no need to worry about eating too much of it.
When used in low carb, keto recipes it helps to thicken whatever you are making and keep the texture and shape from changing. Simply put, it holds all ingredients in place.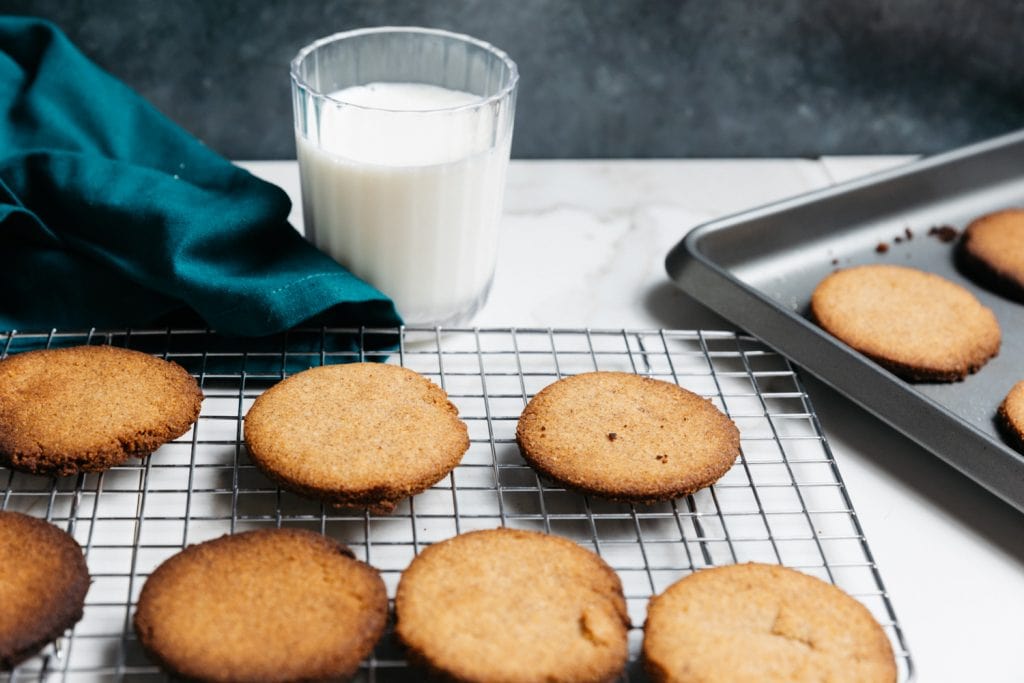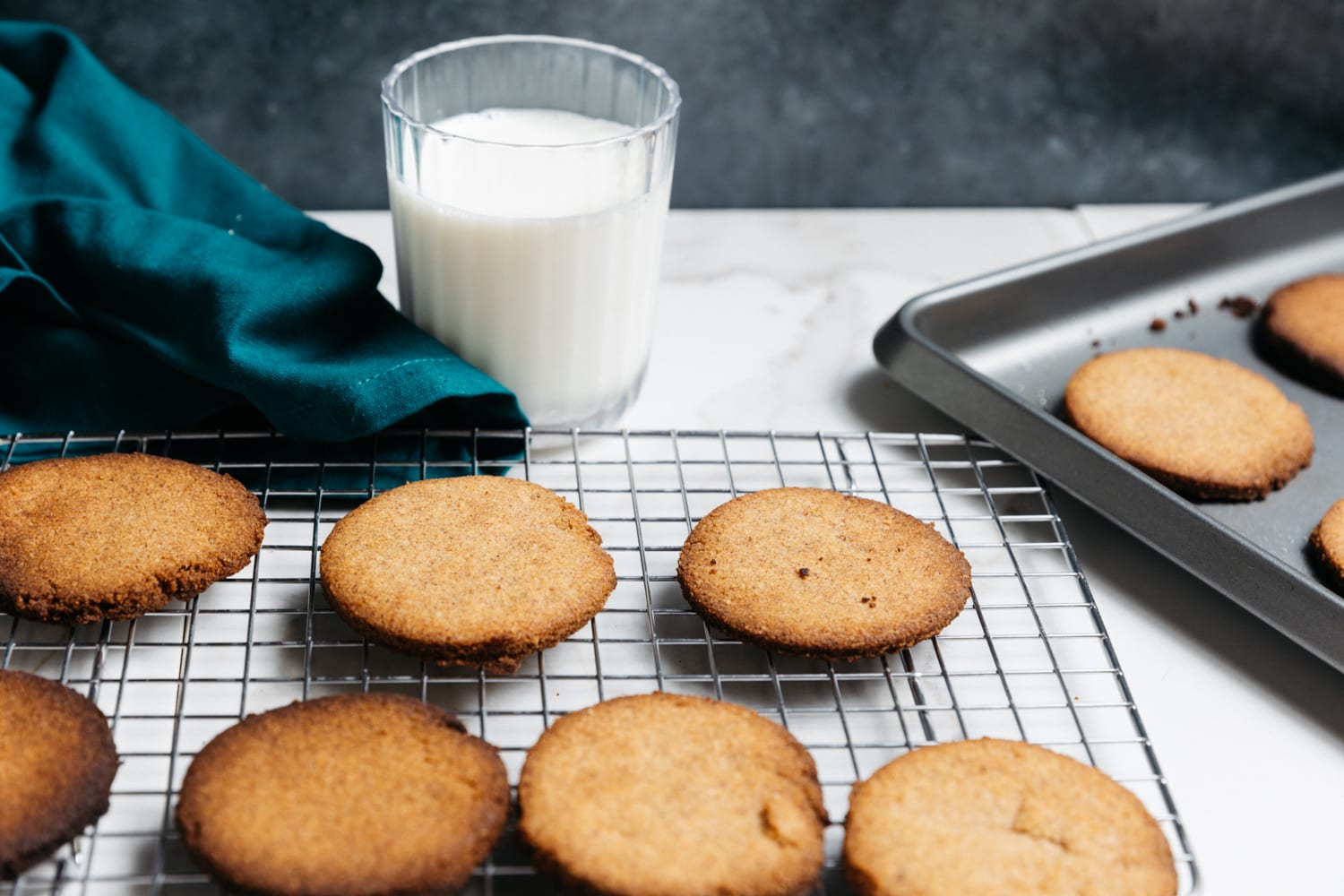 How do I store keto gingerbread cookies?
There are several ways to store these, but the best thing about this Keto Gingerbread Cookies creation is that you can store the pre-baked cookie dough in the freezer and simply defrost it whenever you're ready to bake them. That way you can always get them fresh in just minutes!
To freeze the cookie dough, wrap it in plastic wrap then keep it in the freezer for up to 3 months.
If you want to store them in the fridge, you can keep them in an air-tight container for up to 1 week. They will soften up a bit, but to be honest they're the best after spending the night in the fridge.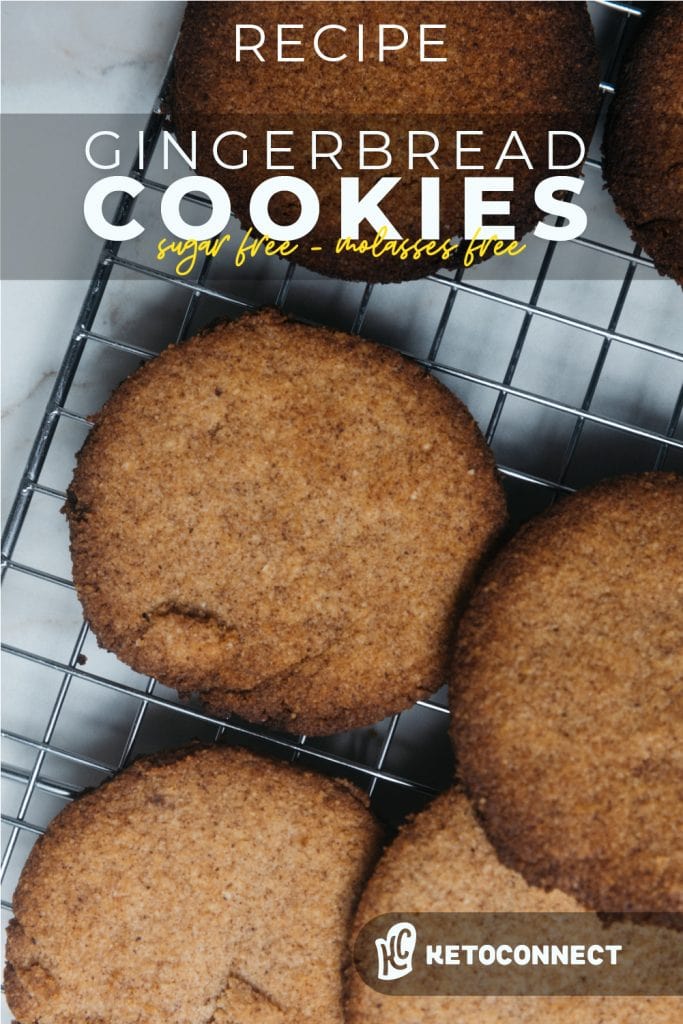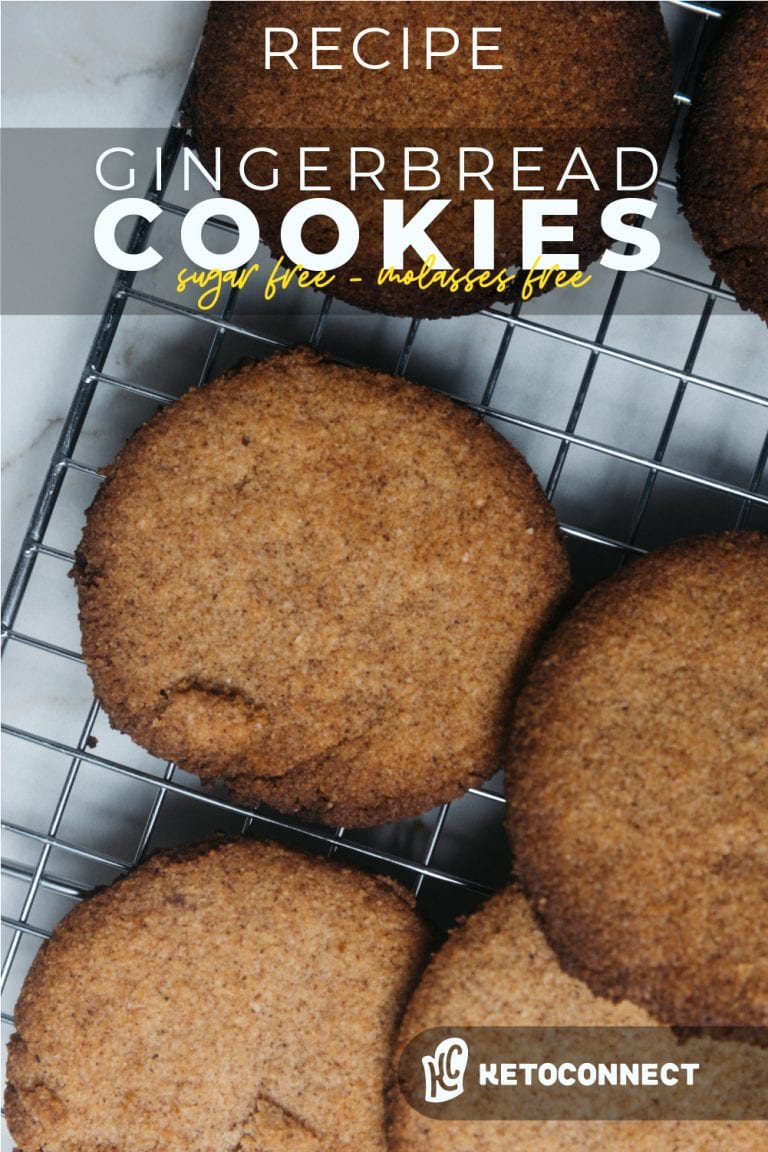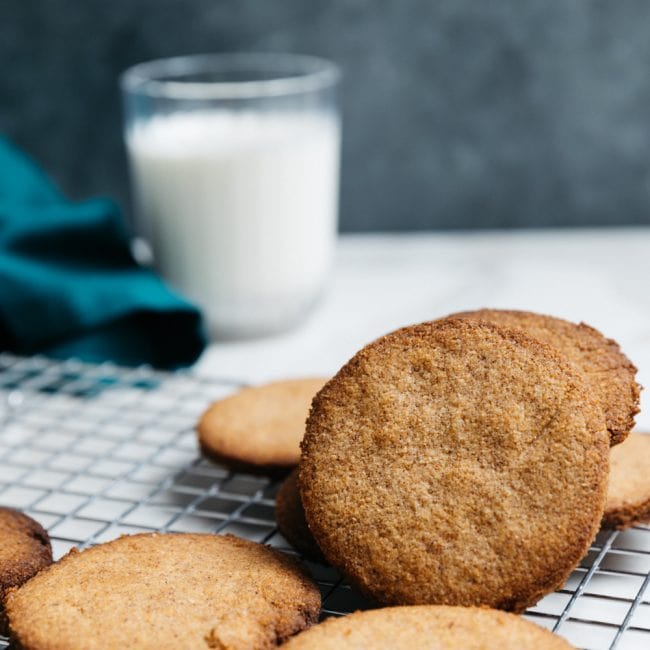 Sugar Free Keto Gingerbread Cookies Recipe
These delicious keto gingerbread cookies are a must have for your holiday season. They are also low carb and sugar free!
Total Time 1 hour
Servings 12 cookies
Calories per serving 78kcal
Prep Time: 5 minutes
Chill Time: 45 minutes
Cook Time: 10 minutes
What You Need:
Mixing Bowl

Plastic Wrap

Spatula

Cooling Rack
Instructions:
Melt the butter and cream it together with sweetener until lighter in color.

Add in a egg and mix again until combined.

Sprinkle in the cinnamon, ginger, cloves, and salt. Mix until smooth.

Pour in the xanthan gum, baking powder, almond flour, and coconut flour. Stir thoroughly to combine.

Place dough into plastic wrap and chill for 45 minutes to an hour.

Preheat the oven to 350 degrees. Roll out the dough to an 1/8th of an inch thick. Using cookie cutters, or a glass cut out a desired cookie shape. They will not spread in the oven.

Place cookies on a baking sheet and bake for 8-10 minutes, or until the edges are golden brown and the center is set.

Place cookies carefully on a cooling rack using a spatula to prevent breaking.
Notes
You can decorate these Keto Gingerbread Cookies with anything you want.
Nutrition Facts
Sugar Free Keto Gingerbread Cookies Recipe
Amount Per Serving
Calories 78 Calories from Fat 63
% Daily Value*
Fat 7g11%
Saturated Fat 3g15%
Trans Fat 1g
Polyunsaturated Fat 1g
Monounsaturated Fat 1g
Cholesterol 24mg8%
Sodium 46mg2%
Potassium 18mg1%
Carbohydrates 3g1%
Fiber 2g8%
Sugar 1g1%
Protein 2g4%
Vitamin A 138IU3%
Vitamin C 1mg1%
Calcium 21mg2%
Iron 1mg6%
* Percent Daily Values are based on a 2000 calorie diet.
Written By