Our healthy keto eggnog recipe is one of the best out there. It's creamy, sweet, and perfect to pair with dark rum or brandy for a traditional holiday flavor.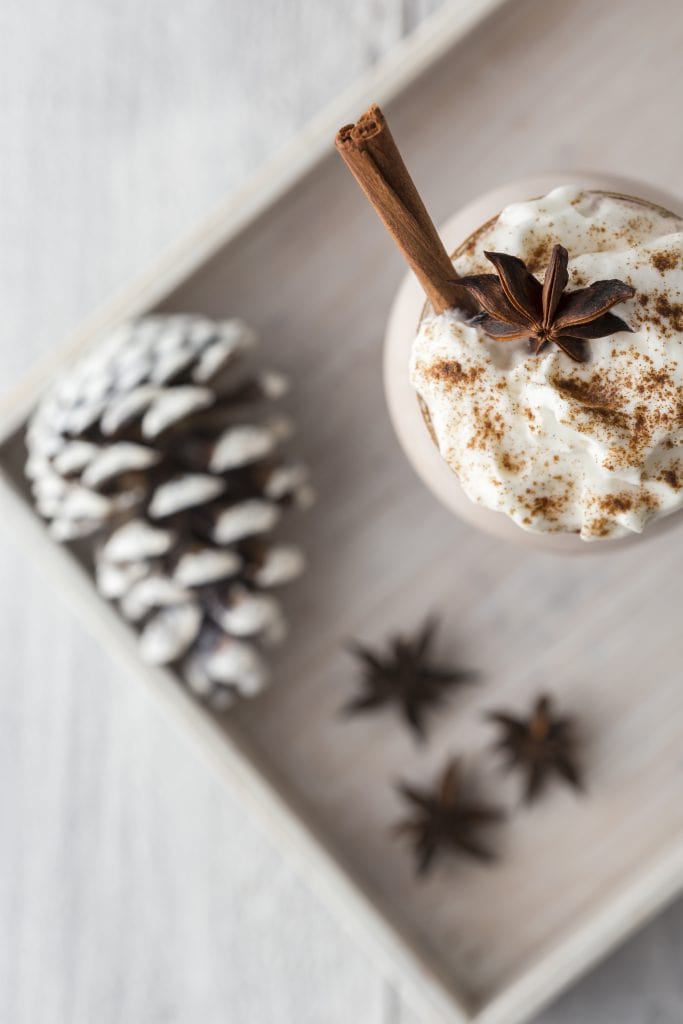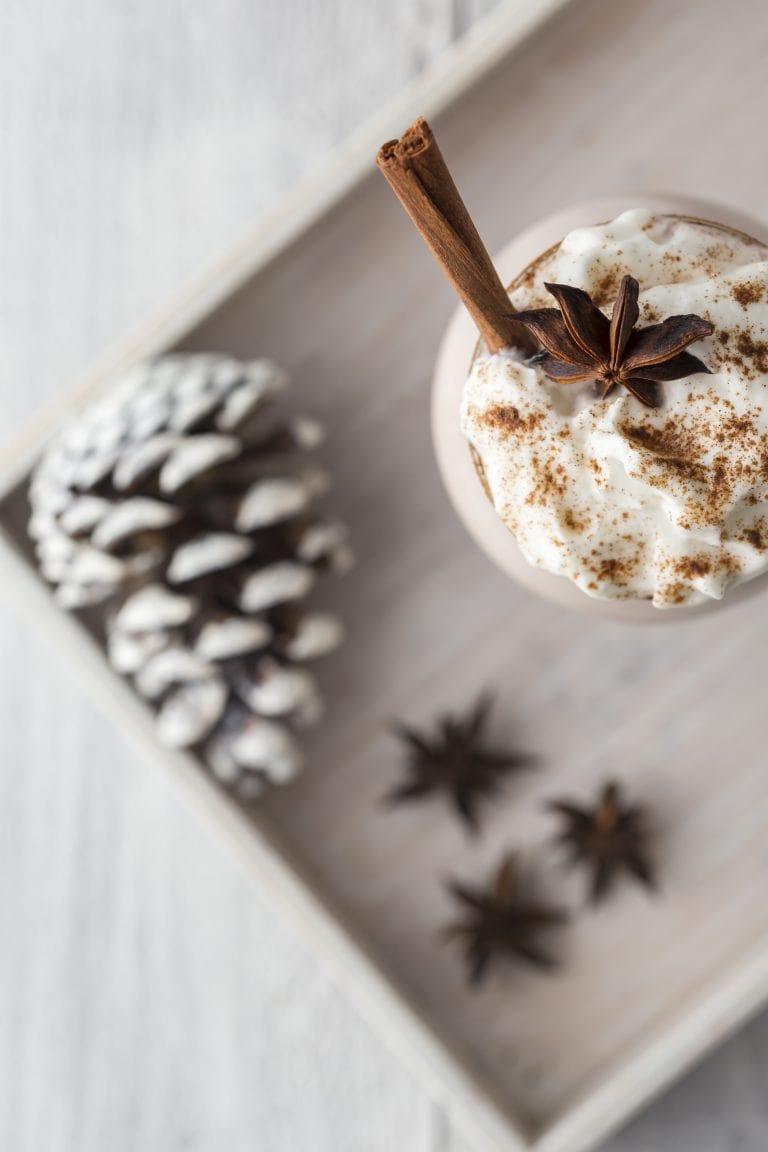 The Best Low Carb Recipe For Eggnog!
Eggnog is delicious all year round, but far from keto friendly. However, I found a simple way to mimic the milk that is normally found in eggnog, so that you can't even tell the difference!
If you use heavy whipping cream as the majority of the base and lighten it up with some flax, almond or cashew milk you'll get the perfect thickness for your eggnog. Aside from the milk, the rest is perfectly suited for a low carb diet, including the optional alcohol you add *wink face*.
Are There Carbs in Eggnog?
Not every creamy eggnog is made the same. A traditional eggnog recipe is loaded with sugar therefore adding lot's of extra carbs to what could be a good high fat drink.
Just half a cup of eggnog has 200 calories 100 of which are coming from carbs and sugar. There is 23 grams of sugar and 25 grams of carbs a serving.
Why is Eggnog so Bad for you?
While delicious traditional eggnog has quite a few unsavory ingredients. If the 23 grams of sugar weren't enough, it's good to note that most of this sugar is also coming from highly processed high fructose corn syrup. When consumed in excess corn syrup can lead to insulin resistance, obesity, type 2 diabetes and high blood pressure.
While alcohol isn't great for you, a little can be enjoyed on a keto diet. However, per holiday tradition most people drink alcohol in their already sugar filled store bought eggnog making it a double whammy of negativity.
Does Eggnog Have a lot of Sugar?
Classic eggnog has anywhere from 20-30 grams of sugar per half cup! That's 5-7.5 teaspoons of cane sugar, or worse corn syrup a serving.
That is why out low carb eggnog is sugar free made with powdered sugar that's keto friendly, gluten free, and sure to keep the net carbs down.
Is Raw Egg Keto Friendly?
Contrary to popular belief raw egg yolk is pretty keto friendly. Raw egg nutrition doesn't change from a cooked egg, so you can be sure that raw eggs are keto friendly.
However, the bigger concern is safety and prevention of salmonella. When making our creamy keto eggnog avoid using dirty, cracked, expired, or scratched eggs. These can have bits of bacteria enter your egg and make the sugar free eggnog dangerous.
If you're concerned about the raw egg you can always cook your keto eggnog to avoid raw eggs and raw egg yolks. First heat your heavy cream and flax milk in a saucepan. Remove it from the heat and slowly whisk in the lightened color yolks and swerve mixture, then the peaked whites. Once fully combined return to heat and heat through once more prior to chilling.
How to Make This Keto Eggnog Recipe
Ingredients
This chilled eggnog is simple to make and only has 5 ingredients to make the perfect gluten free keto recipe.
For this eggnog you will need 2 large eggs, separated into egg yolks and egg whites for the egg mixture. You will also need a confectioners style sweetener that's low carb and sugar free. For the flavor we used nutmeg like in traditional eggnog, but you can always use a bit of rum extract or actual rum for extra adult friendly flavor.
Finally this egg nog uses heavy cream cut with a nut milk to match the creaminess of regular milk, without the carbs.
We used flax milk, but unsweetened coconut milk, walnut milk, macadamia milk, or even plain unsweetened almond milk will work.
Making Sugar Free Eggnog
Our sugar free nog does not use a hot milk mixture to cook the egg like in most keto recipes. There are a lot of nutrients within an egg yolk, so we try to keep it as natural as possible. There will also be a cooking variation below if desired.
Being by separating the eggs into two medium sized bowls, yolks in one leftover egg whites in the other. Then use a whisk to beat the yolks until they have turned a pale yellow. Once it has lightened in color you can add the sweetener and mix again.
Now add the heavy cream, almond milk, and nutmeg to the yolk mixture. Whisk to combine and then set aside the egg mixture.
Using a hand mixer whip the egg whites until soft peaks form. Add in the final tablespoon of sweetener and whisk until the peaks are a bit stiffer.
Add the whites into the yolk mixture and whisk together until fully combined. Now it's the worst part of all keto recipes, being patient. Wait for the eggnog to chill for 3-4 hours.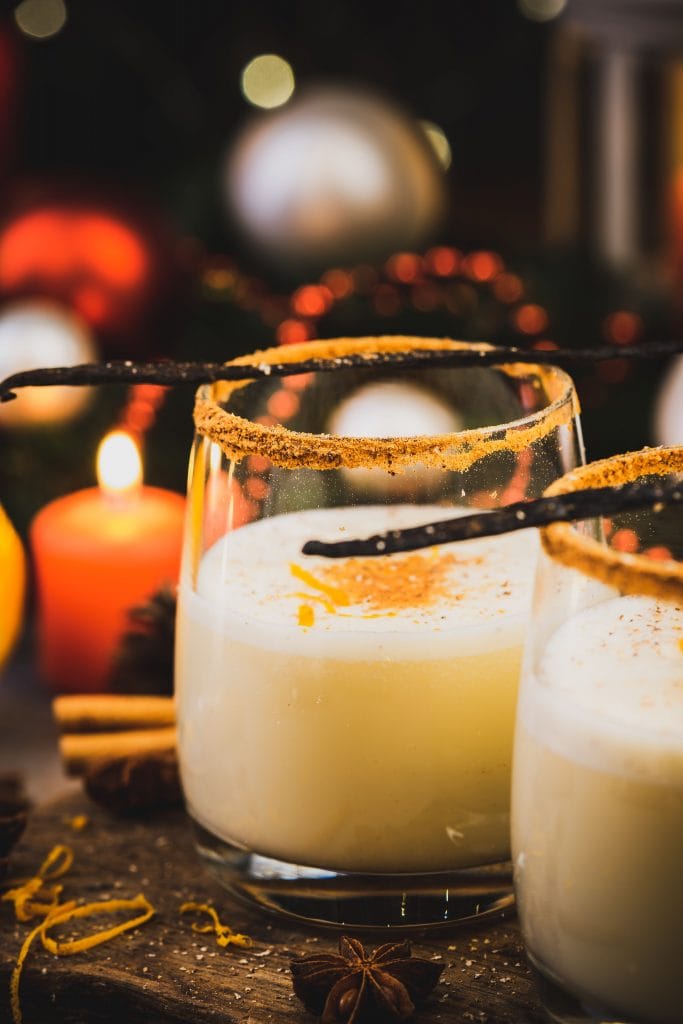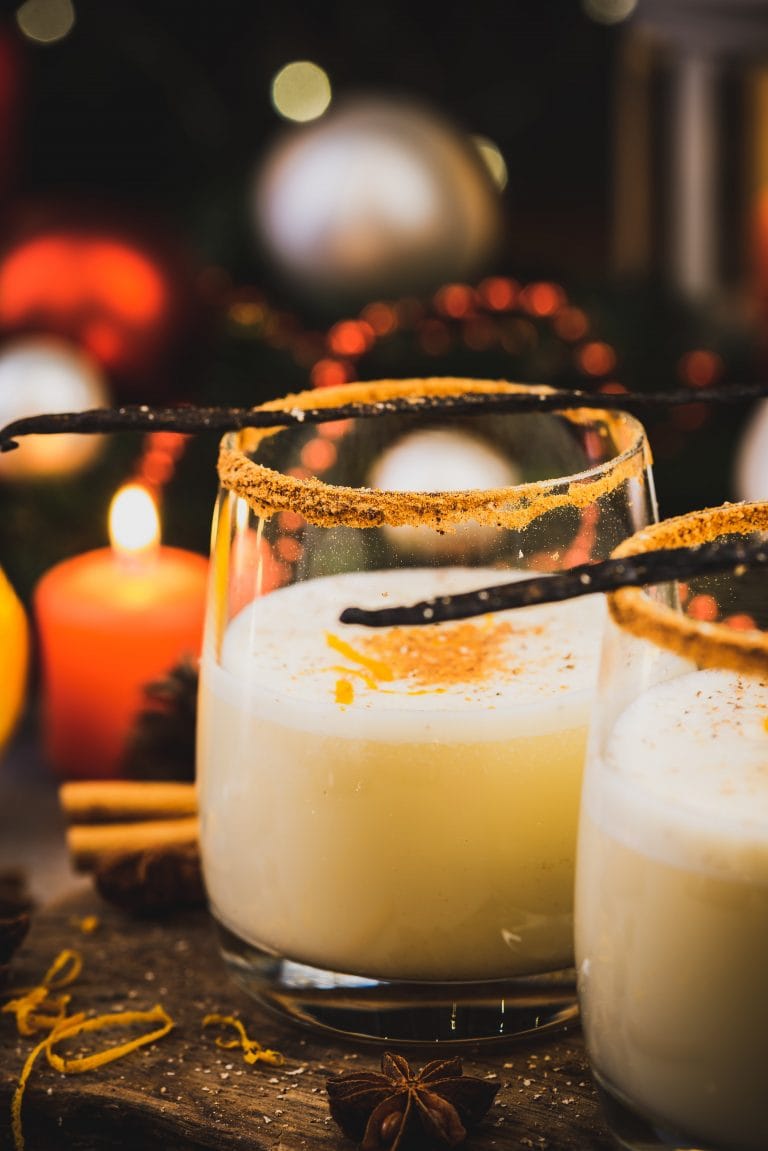 Cooked Eggnog
First heat your heavy cream and flax milk in a saucepan. Remove it from the heat and slowly whisk in the lightened color yolks and swerve mixture, then the peaked whites. Once fully combined return to heat and heat through once more prior to chilling.
Storing and Serving Sugar Free Eggnog
Sometimes the eggnog will separate due to the eggs and almond milk. Simply give the mix a little stir and you should be good to go!
We like to serve this drink chilled with a little whipped cream and optionally rum or vanilla extract. If you're over the age of 21 you can enjoy it with the real deal beneath your whipped cream.
Store this recipe in a mason jar or airtight container and prepare to top it with extra nutmeg before serving. Raw eggs will last 2-3 days, and the cooked version below will last up to a week.
Homemade Eggnog Is Always Better
I know eggnog is sold in stores nation wide during the holidays and it also seems like a great option for convenience when you are already going to be spending countless hours preparing the holiday meals. But, isn't homemade always better?
Not only will your friends and family be impressed, but you'll be doing them a favor by lightening it up on the carbs. Trust us, they won't even know the difference! We've made this recipe super simple to follow so you can even have the kids make it the morning of and let it chill in the fridge for a couple hours before the guests arrive.
More Keto Holiday Recipes
It's easy to make keto eggnog when following our recipe, but what about all the other delicious holiday goodies? Check out our healthy low carb keto Christmas recipes like:
Keto Snowball Cookies– Whether you call them teacakes, Italian wedding cookies, or Mexican wedding cookies you are going to love these healthy keto cookies. They're made with the perfect amount of nutty flavor and untoned sweetness from vanilla extract.
Eggnog Pie – Couldn't get enough f this sugar free keto recipe for low carb eggnog? Try our eggnog pie and serve chilled with whipped cream as an indulgent treat for this festive season.
Peppermint Chocolate Whoopie Pies – Whoopie pies are such an underrated great recipe to enjoy all year long. They store well in an airtight container so you can enjoy them in your ketogenic lifestyle whenever your heart desires.
We love eggnog don't get me wrong, but these other holiday treats are must try remakes of your favorite classics. If we can make eggnog keto what else can't we do!?
Keto Eggnog Holiday Recipe
I'm not sure who determined that eggnog is a recipe that only comes around during the holidays, but whoever they are shouldn't be allowed to make any more decisions.
This is now one of my favorite beverages and seems like an awfully good way to end any night of the year. It's thick, rich, creamy, and low carb. Could it get any better? Regardless of whether you are an eggnog drinker or not, you'll want to make this keto eggnog for your friends and family this holiday season!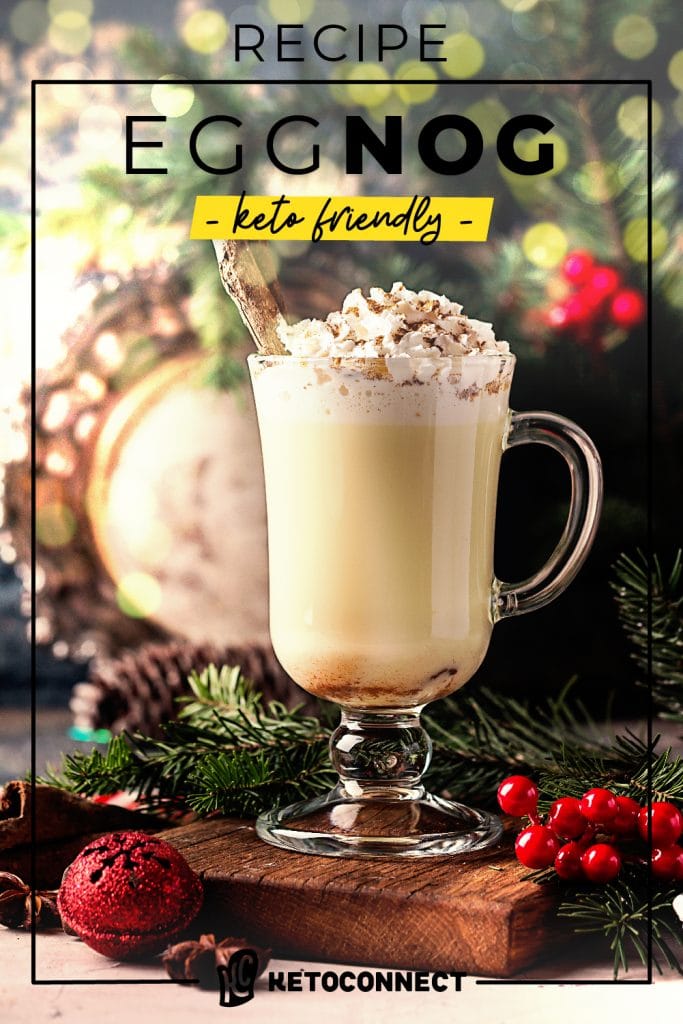 Recipe can be quickly added to MyFitnessPal – Search "KetoConnect – Keto Eggnog"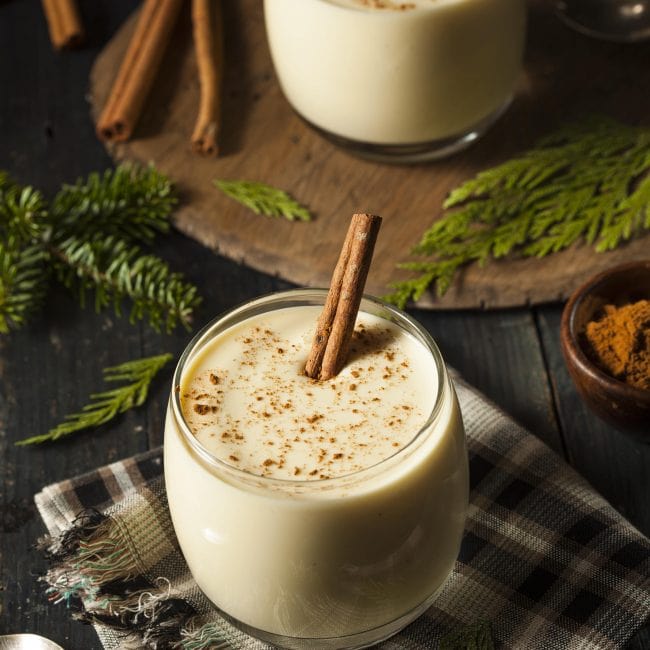 Keto Eggnog Recipe
This keto eggnog recipe is thick, rich, creamy and low carb.
Total Time 3 hours 10 minutes
Servings 4 servings
Calories per serving 189kcal
Instructions:
Separate the eggs into two medium bowls, and set the egg whites aside.

Using a whisk beat the yolks until they turn light yellow in color. Once the color has lightened add 3 tbsp of the confectioner sugar and mix again.

Add the heavy whipping cream, flax milk, and nut meg to the yolk mixture and whisk to combine. Set aside.

Using a hand mixer whisk the egg whites until you get soft peaks. Add the remaining tbsp of swerve and whisk until you get medium peaks.

Add the whites to yolk mixture and whisk together briefly until fully combined. Chill for 3-4 hours.

Once chilled the mixture will separate slightly so give it another whisk prior to serving. Garnish with additional nutmeg, if desired.
Notes
Net Carbs: 2g You can pair it with dark rum or brandy for a traditional holiday flavor.
Nutrition Facts
Keto Eggnog Recipe
Amount Per Serving
Calories 189 Calories from Fat 160
% Daily Value*
Fat 17.8g27%
Carbohydrates 2g1%
Protein 3.25g7%
* Percent Daily Values are based on a 2000 calorie diet.
Written By