Keto Alfredo Sauce for When You Miss Those Carbs
Pasta has never been one of my favorite foods, but boy, could I put down a lot of it when given the chance! My biggest weaknesses have always been cereal and any bread or roll I could lather up with butter, but as mentioned in a previous post by Matthew, we have mastered The Best Keto Bread on the Internet so we no longer miss it. However, for some reason I find myself missing pasta more than ever, and when I miss something I must recreate it keto-style which is exactly what we did. We present to you our Low Carb Fettuccine Alfredo with Blackened Shrimp and you won't be disappointed with this rich and creamy keto alfredo sauce.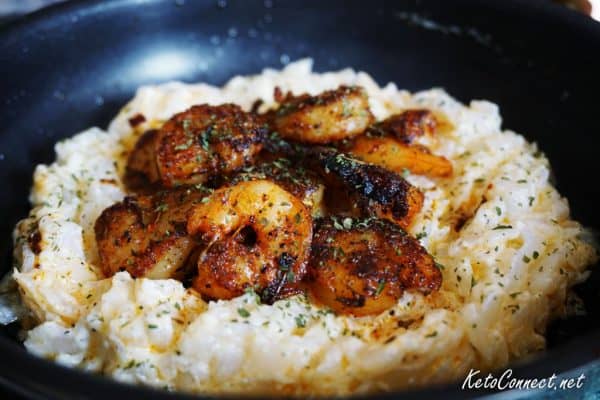 Keto Alfredo Sauce and Blackened Shrimp: The Ultimate Duet
Normally, Matthew and I collaborate on the entire dish – spoons and forks flying, spices spilling, feet stepping on other feet (human and cat). It's like a beautiful dance! But, this time we decided to compose the dish more like a duet. I performed the Keto Alfredo sauce and Matthew performed the blackened shrimp, and it worked just as beautifully!
Performer One: Keto Alfredo Sauce
I began the performance by pulling out the essential ingredients I would need for a traditional Alfredo sauce:
Cream Cheese
Butter
Heavy Whipping Cream
Parmesan Cheese
Garlic Powder
Salt and Pepper
I wanted traditional because I hadn't had a good Alfredo sauce in a while and the subtly of a traditional sauce would play the perfect pairing with the heavily seasoned blackened shrimp! In any musical composition, it's important to know who will be performing by your side so you can work your own strengths as well as the strengths of the second performer! I not only knew the second performer well, but I also knew how he worked in the kitchen and what he had planned for the shrimp, and this made my job a whole lot easier.
I added the ingredients to the saucepan one-by-one allowing each to incorporate into one another and tasting several times along the way. It's always important to taste your dishes prior to serving, especially sauces because they will likely be the centerpiece of your dish coating everything in sight! After letting the sauce reduce down, I had achieved perfection! I turned the heat down to simmer and patiently watched Matthew's performance.
Performer Two: Blackened Shrimp
Just like in any great duet, Matthew had already begun putting together the seasoning for the shrimp while I was perfecting the sauce. He opted to use:
Paprika
Garlic Powder
Onion Powder
Thyme
Cayenne
Salt and Pepper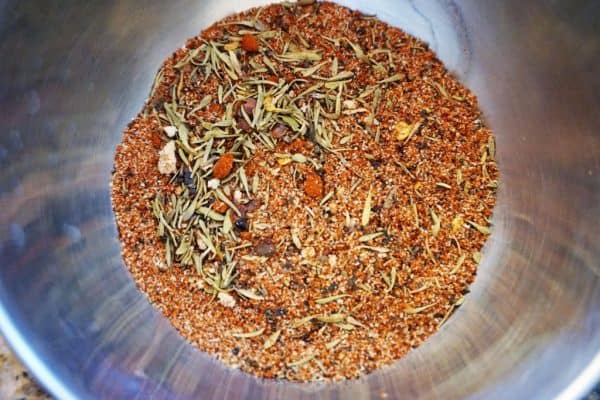 He coated the shrimp generously in the seasoning and placed them in a heated skillet as I continued to stir the Alfredo sauce. We were in perfect harmony at that moment. Several minutes had passed and the shrimp seared up and "blackened" just the right amount. We knew it would not only taste incredible, but would make for the perfect photograph.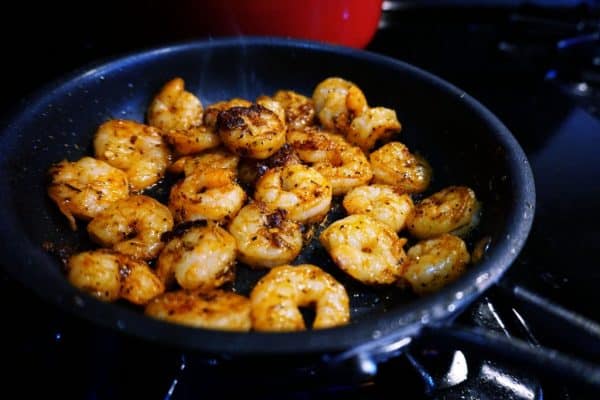 The Perfect Composition
The two main parts had been completed and set aside. We knew we couldn't use pasta, but we needed something that would give us the pasta feel. If you haven't discovered the zero-carb, zero-calorie noodle you've been missing out! There are multiple brands, but we used Miracle Noodles for this dish.
First, we rinsed and dried the noodles on paper towels. Second, we heated them in a pan for about 5-7 minutes to dry out them even further. The instructions on the package don't call for the second step we took, but we highly recommend it for these noodles. It helps to lose their jelly like consistency and odd smell. After they were completely dried out, we coated them in the Keto Alfredo sauce. It was glorious! We ended the performance by placing the blackened shrimp on the noodles and garnishing with parsley. All that was left to do was eat and enjoy!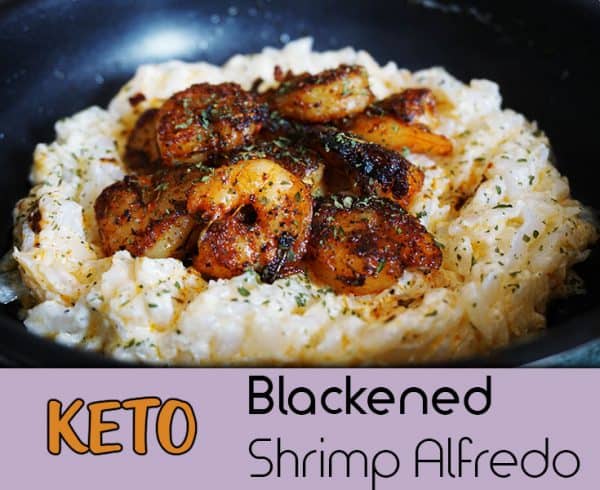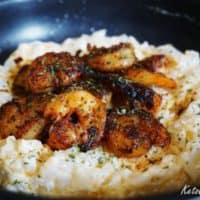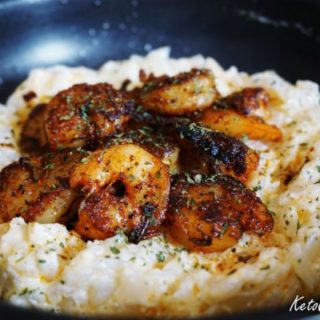 Low Carb Fettuccine Alfredo
A Low-Carb creamy pasta dish flavored with parmesan and topped with blackened shrimp.
Total Time 40 minutes
Servings 4 Servings
Calories per serving 250kcal
Prep Time: 10 minutes
Cook Time: 30 minutes
Ingredients:
Instructions:
Alfredo Sauce
Melt the butter and cream cheese in a small sauce pan on low heat.

Add the heavy whipping cream and parmesan cheese, and stir until fully combined.

Season with garlic powder, salt and pepper.

Rinse and dry zero carb noodles. Additionally, you can heat them in a pan on medium heat for 5 minutes (optional).

Pour as much as or little Alfredo Sauce over the noodles and combine well.
Blackened Shrimp Seasoning
Combine all ingredients in a bowl.

Coat shrimp in seasoning.

Add tbsp of coconut oil to skillet on high heat and place shrimp in pan.

Cook until tender and "blackened." Top the Alfredo and noodles with shrimp – Enjoy!
Nutrition Facts
Low Carb Fettuccine Alfredo
Amount Per Serving
Calories 250 Calories from Fat 180
% Daily Value*
Fat 20g31%
Carbohydrates 3g1%
Protein 13g26%
* Percent Daily Values are based on a 2000 calorie diet.
Written By