Fat Bomb Pasta!
Every once in a while I come up with an idea that I just can't let go. Megha hates when this happens, because no matter how much resistance she puts up I won't take no for an answer! This low carb pasta dish has been in my mind for months now and I've been patiently waiting for the opportunity to make it. Finally, that opportunity came and I took full advantage of it. This low carb pasta dish is one of my favorite dishes and I even got Megha to admit that it was a really good dish 🙂
Pasta is Back On the Menu
Just about everyone loves pasta, but it happens to be one of the first things you have to write off when starting a ketogenic diet. For the first few months of eating a keto diet we just accepted this fact. As time wore on we started experimenting with different low carb noodles and eventually came up with a good preparation method that makes these noodles yummy! If you've tried shirataki noodles before you are probably aware that they smell and taste very similar to an earthworm(not that I've ever tasted one). There are steps you can take(which are detailed in the above video) to ensure these puppies come out extra tasty!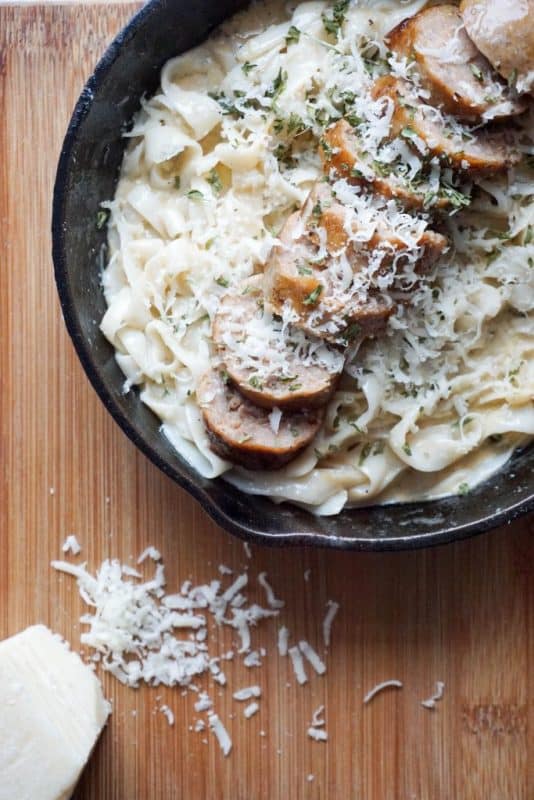 The Perfect Low Carb Pasta Sauce
After mastering the zero carb noodle, the rest was easy. Alfredo sauce and it's variants are perfect for keto! We didn't go traditional with this Alfredo sauce since we like to give things a spin of our own. We've now made this dish with Parmesan, Asiago, and Pecorino Romano cheese and I must say the Pecorino Romano version came out truly exceptional. All of them were good, so if you have one of the other cheeses available then you should definitely use that, but the Pecorino Romano was on point!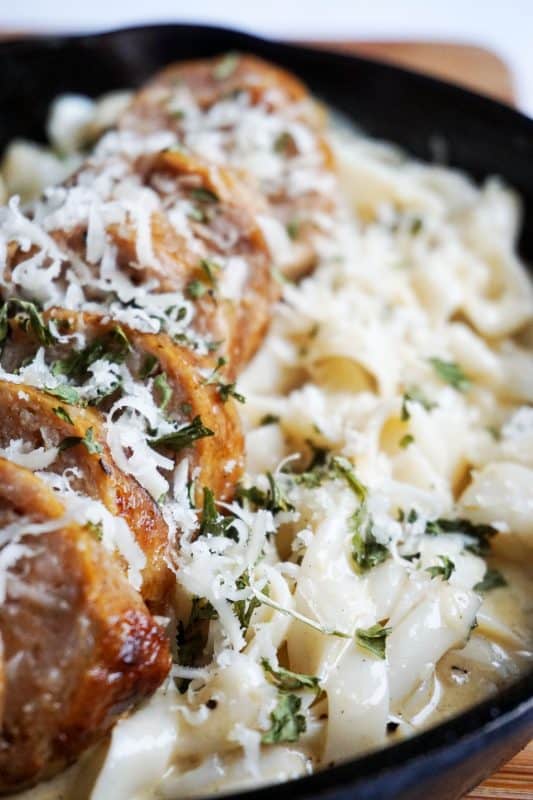 Protein Selection
In our quest to make this dish as fatty as possible we opted for a nice Italian sausage here, but anything will work. Meatballs, chicken, really any sort of protein you can think of. Another way you could take this dish is the top it with some extra cheese and bake it in the oven for a nice baked low carb pasta dish. Give it a try and let us know what you think!

Search "KetoConnect – Fat Bomb Pasta" On MyFitnessPal.com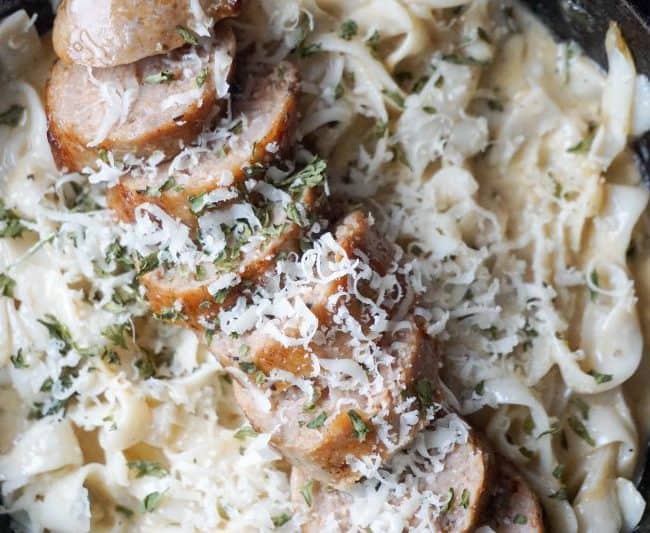 Low Carb Pasta | Italian Sausage
This low carb pasta dish is the perfect comfort meal and your whole family will love it!
Total Time 25 minutes
Servings 2 servings
Calories per serving 380kcal
Prep Time: 10 minutes
Cook Time: 15 minutes
Instructions:
Start by drying off the shirataki noodles as thoroughly as possible. First strain out all of the water, then pat dry with a paper towel, finally cook the noodles in a pan for 5-10 minutes to completely dry them. (Drying the noodles out is a key step in getting the sauce to stick to the noodles)

Cook the Italian sausage on medium heat until cooked through. Remove from heat and set aside.

In the same pan the sausage was cooked in, add cream and butter. Scrape the bottom of the pan to get all of the flavor from the sausage incorporated into the sauce.

After cream and butter are up to temperature, add the parsley and cheese. Mix thoroughly until cheese is fully melted.

Add noodle into the sauce and toss to coat.

Slice sausage and place atop the noodles. Top with additional shaved cheese and sprinkle with parsley. Enjoy!
Nutrition Facts
Low Carb Pasta | Italian Sausage
Amount Per Serving
Calories 380 Calories from Fat 306
% Daily Value*
Fat 34g52%
Carbohydrates 6g2%
Fiber 2.5g10%
Protein 12g24%
* Percent Daily Values are based on a 2000 calorie diet.