What's the secret to any great Italian dish? The tomato sauce! This Keto Spaghetti Sauce recipe is simple but absolutely loaded with flavor.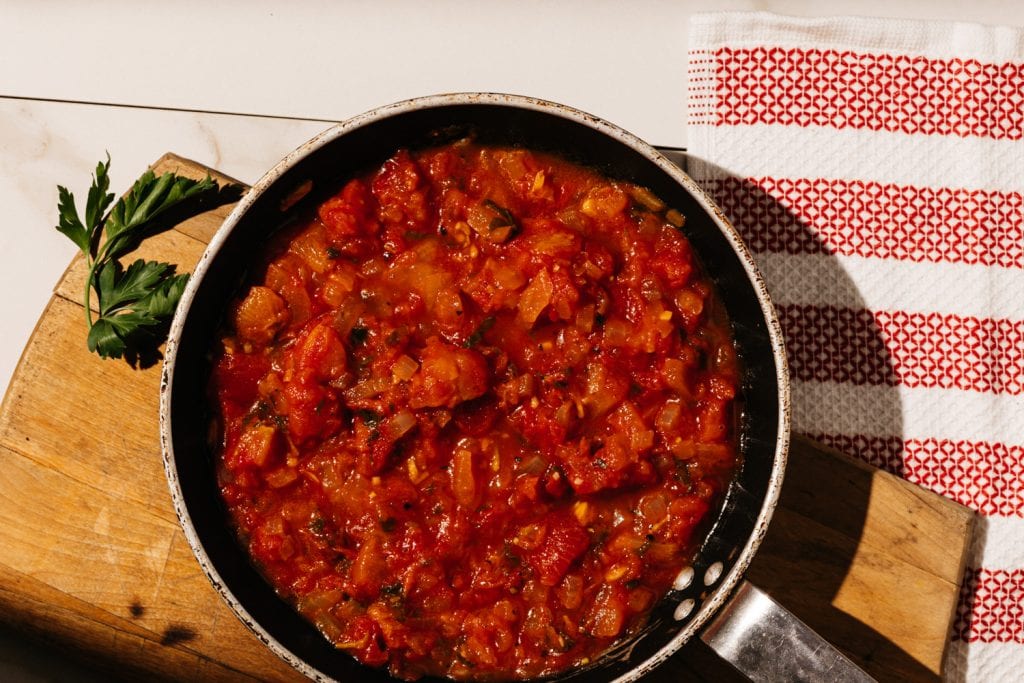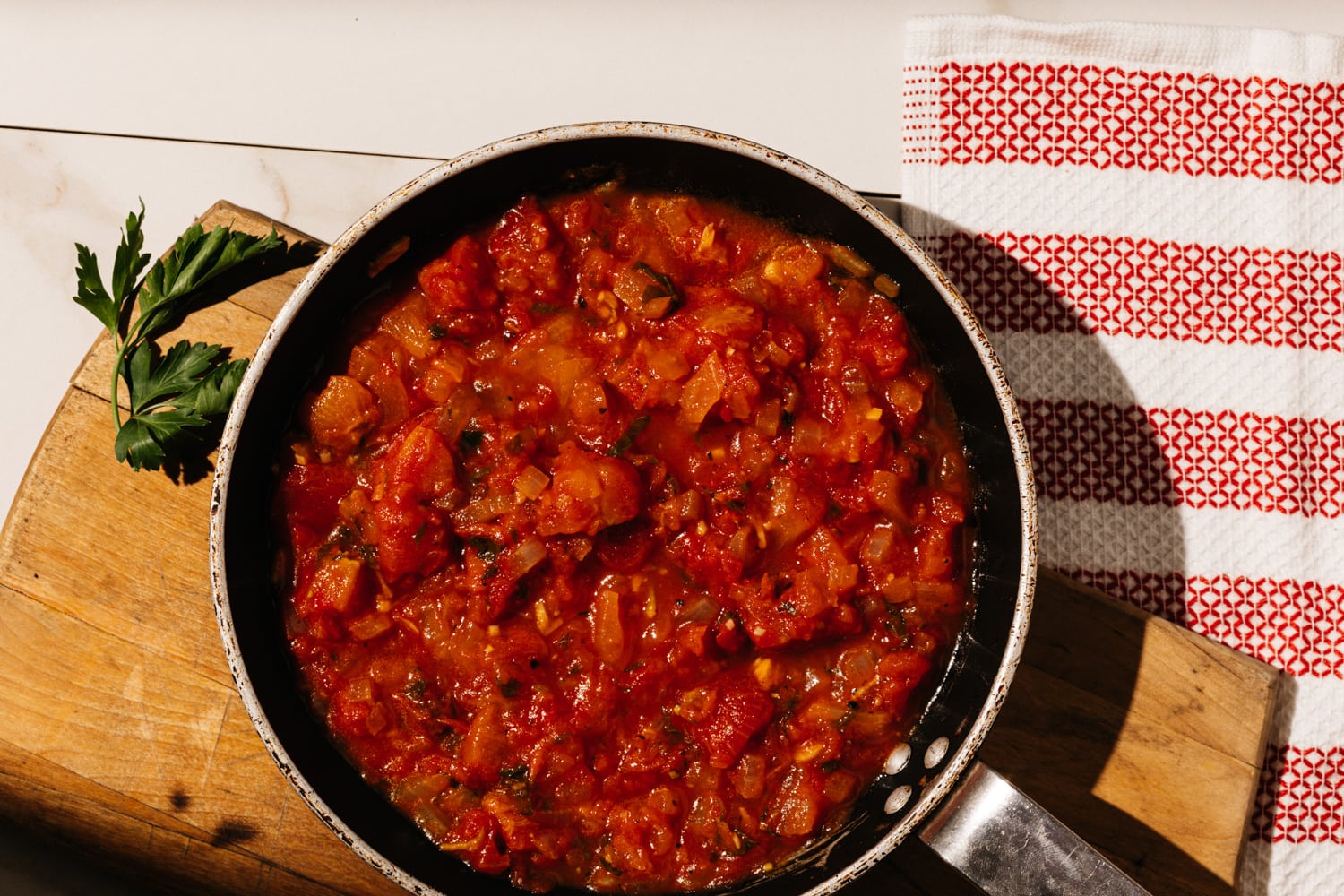 It's the perfect addition to keto-fied recipes like pasta and lasagna, and it won't require any fancy ingredients at all. Plus, it's the perfect made-from-scratch staple that's sure to impress dinner guests.
What You'll Need
This recipe is low on ingredients and even lower on equipment. You're sure to have everything you need in your kitchen already.
Here's what you'll want to grab:
A pot or large frying pan
A wooden spoon
A measuring cup
That's it! Feel free to grab some snazzy-looking jars for storage if you're planning on making an extra-large batch to store for later. Nothing says homemade like a ball jar, right?
How to Make Keto Spaghetti Sauce
Pour a glass of your favorite red wine and grab the basil – it's time to cook this delicious Keto Spaghetti Sauce recipe!
1. Cook the Onions
Add the chopped onion, garlic and oil to your pan. Cook over medium heat, stirring occasionally until the onions turn translucent.
2. Add the Tomatoes
Add in the herbs, water and all of the canned tomatoes. Stir to combine, making sure the herbs are mixed through.
3. Simmer
Leave to simmer over medium heat for 10-15 minutes. You'll know when it's ready because the tomato sauce will thicken. You can simmer for longer over a lower heat for a richer flavor, but this is totally optional.
4. Season and Serve
Remove from heat and add salt and pepper to taste. Serve right away over your favorite low-carb pasta, such as zucchini noodles or our famous Keto Pasta.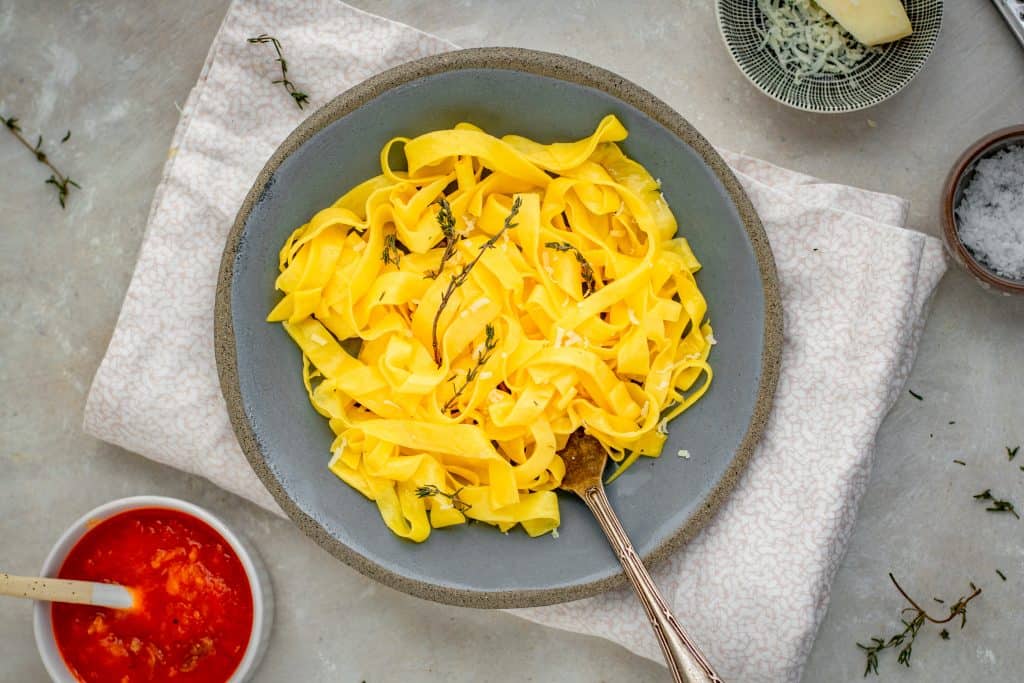 Common Questions
This recipe is super simple, but you might still have a few burning questions on your mind. Lucky for you, we're here to answer them!
Can You Eat Spaghetti Sauce on Keto?
Yes. And no. Well, it depends.
Can you eat our Keto Spaghetti Sauce? Yes! This recipe is super low-carb and created for people on a keto diet.
So what about store-bought spaghetti sauce? That's where things get a little tricky.
Unfortunately, many packaged sauces are loaded with added sugar. This means lots of extra carbs, which makes them not-so-suitable for a keto diet.
Yes, there are low-carb sauces that don't have added sugar. But while these are great in a pinch, they can often be expensive and hard to find. Even express shipping won't save you from tonight's dinner conundrum!
If you do opt for a store-bought pasta sauce, make sure to check the nutrition information to see how many carbs it'll add to your meal.
We might be a little biased, but we think homemade pasta sauce is way better than anything you can find in a jar.
Aren't Tomatoes Too High in Net Carbs for Keto?
Tomatoes are a fruit, which means they're a little higher in carbs than most low-carb vegetables. But that doesn't mean you have to avoid them on a keto diet.
Tomatoes can definitely be enjoyed in small amounts without blowing your daily carb budget. This recipe uses just one can of tomatoes over two to three servings, which is hardly anything to worry about.
Not to mention tomatoes are loaded with health benefits! They even contain potassium, an electrolyte that's super important to stay on top of if you follow a keto diet.
In other words, tomatoes are definitely a keto-friendly vegetable. We use them all the time in our Italian dishes. And in our opinion, a keto diet without tomatoes just isn't worth it!
Which Spaghetti Sauce Has the Least Carbs?
Again, we might be biased – but our recipe is our go-to for a low-carb tomato sauce with minimal net carbs!
If you are looking for a premade low-carb pasta sauce, we recommend Rao's or Yo Mama's brands.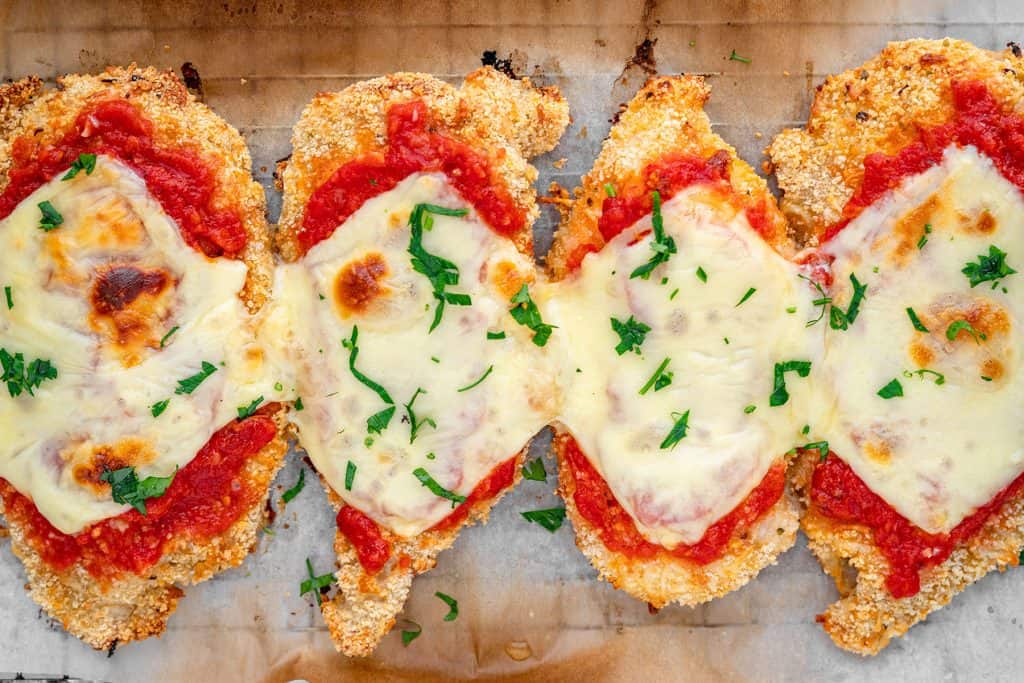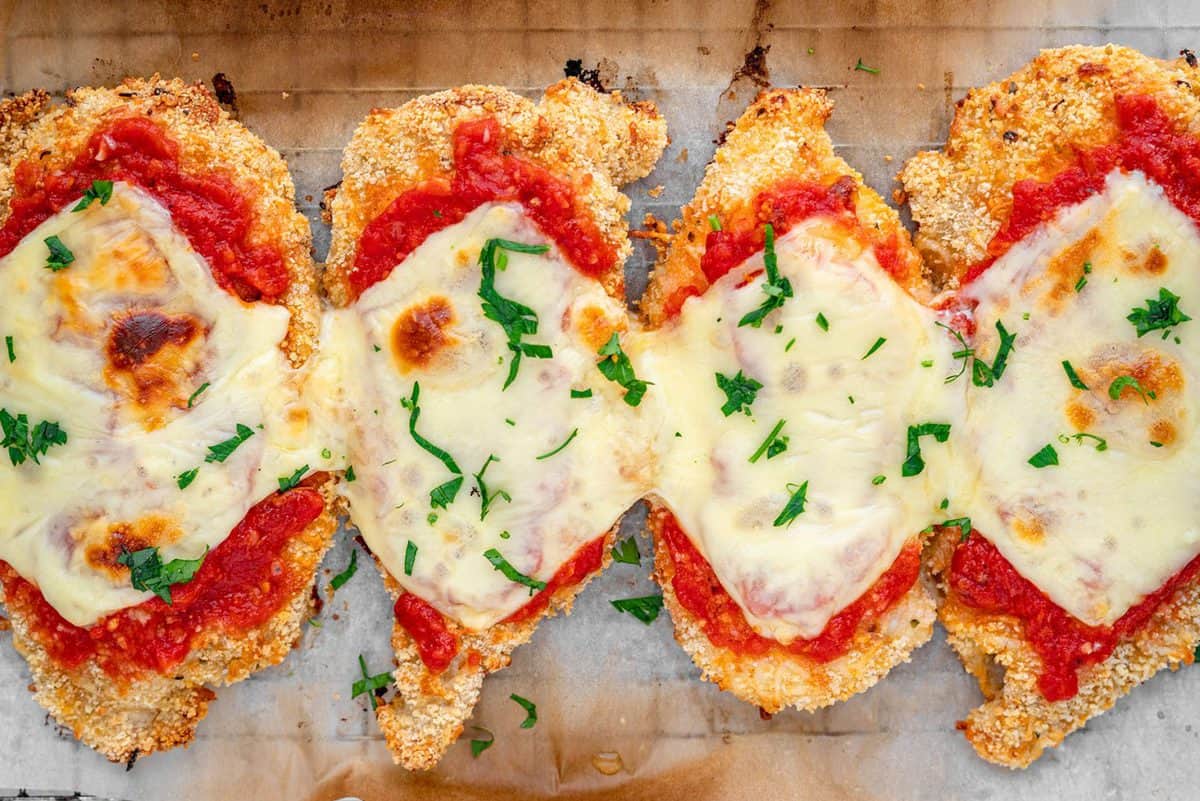 Can I Use Fresh Tomatoes?
Sure. We prefer using canned tomatoes to save on prep time, but you can totally chop up your own tomatoes and use these instead.
This also means you can hand-pick your own fragrant, on-the-vine tomatoes from the store for maximum flavor.
Just make sure you have the right amount of tomatoes for this recipe – that should be around 14.5oz.
Can I Sweeten My Spaghetti Sauce?
If you're used to having tomato sauce with lots of added sugar, you may find this one a little lacking in the sweet department.
Feel free to add a little keto-friendly sweetener while cooking, such as erythritol. A couple of tablespoons should be all you need.
Over time, your tastebuds will likely adjust to less sugar and, in turn, sweetness. This means you'll be able to enjoy foods without added sweetener, as well as taste the natural sweetness in plenty of ingredients – like the tomatoes in your low-carb spaghetti sauce!
Feel free to gradually dial back the sweetener until you don't need any at all. There's no need to go cold turkey on the sweetness right away – you'll get there eventually.
How Should I Serve My Low-Carb Spaghetti Sauce?
This pasta sauce can be used in any Italian recipe that calls for marinara sauce. See our related recipes section below.
Low-Carb Bases
If you want to keep things simple, serve right away over your favorite low-carb base. Here are some of our recommendations:
Spaghetti squash
Shirataki or "miracle" noodles
Zoodles
Hearts of palm noodles
This sauce also goes great over ground beef, meatballs or even a seafood medley. Spaghetti and clams, anyone?
Feel free to add in some extra low-carb vegetables, too. Our favorites are eggplant, mushrooms and spinach.
Low-Carb Toppings
Of course, you can't forget the toppings. These are also a great way to increase the fat content for your keto diet – as well as the flavor!
Here are some of our recommendations:
Freshly-shaved parmesan
Grated tasty cheese
A dollop of sour cream
Fresh basil
Spaghetti sauce, ground beef and spaghetti squash noodles topped with fresh basil? Now that's what we call an easy meal.
Extra Add-Ins
If you really want to elevate your sauce, you can try using some key ingredients traditionally found in Italian marinara sauce.
These include:
Capers
Anchovies
A dash of wine
Keep in mind that anchovies and even capers will make your dish a little saltier, so you might want to pull back on the added salt when seasoning.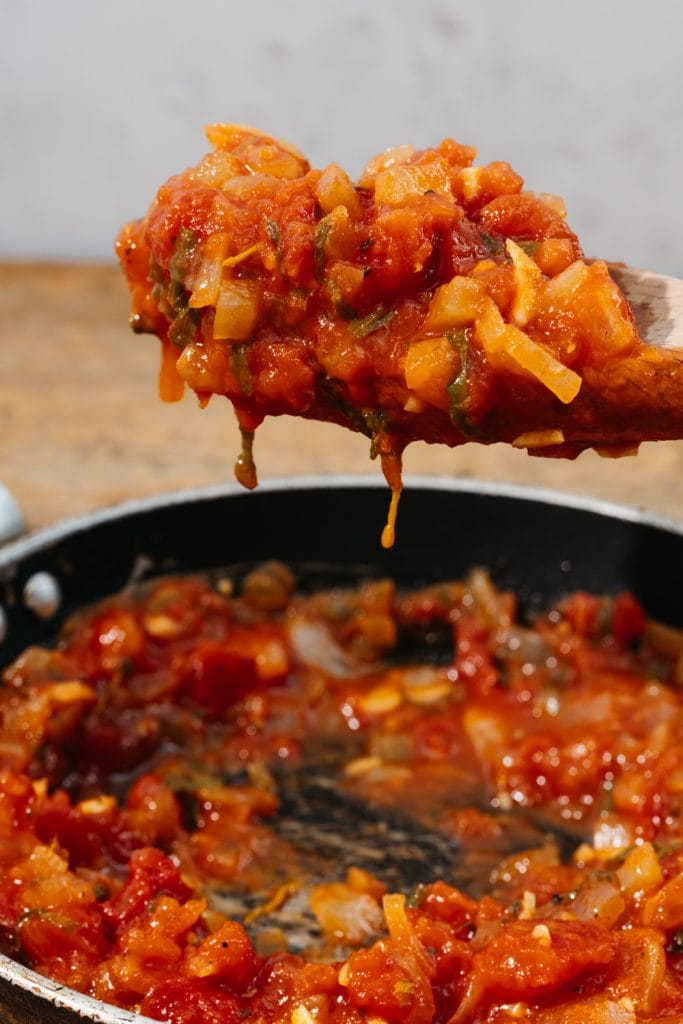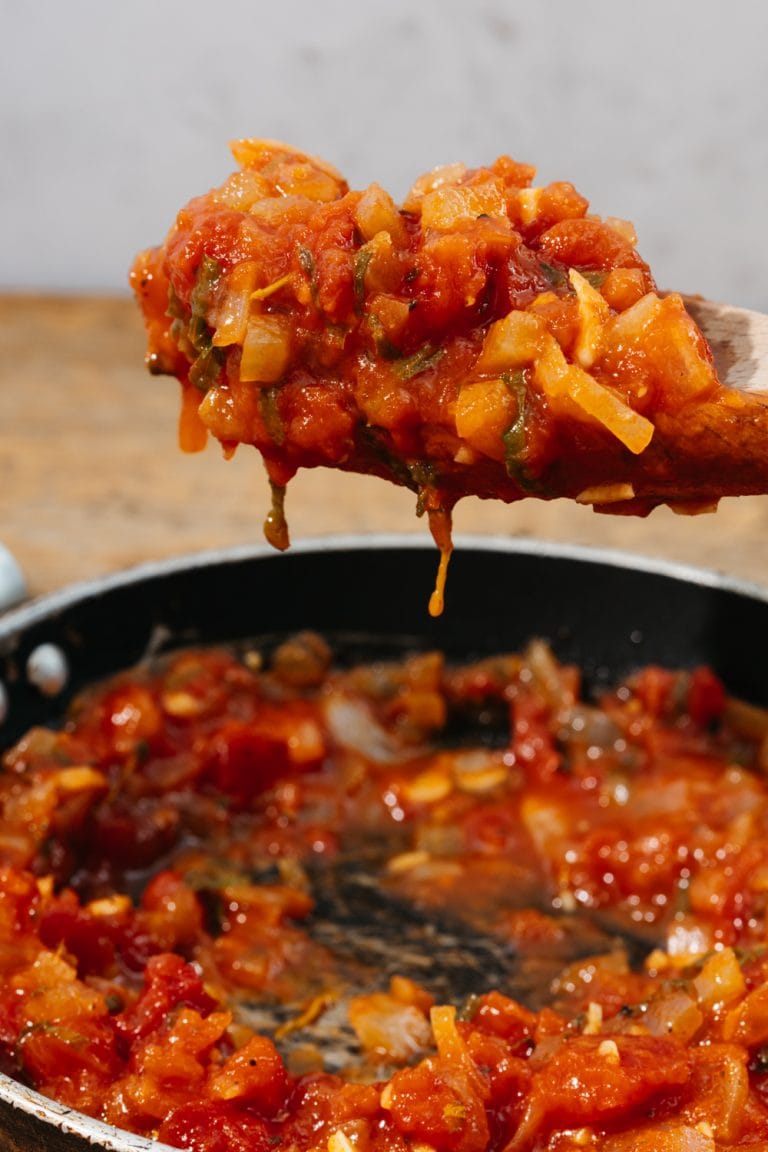 What's the Difference Between Spaghetti Sauce and Marinara Sauce?
Marinara sauce is a plain tomato-based sauce made with tomatoes, herbs and seasonings. Spaghetti sauce refers to a marinara sauce that contains added meat and vegetables – like the onion in this sauce recipe.
Afraid of eating onion on a keto diet because of the carbs? Don't be! Yes, onions are a little higher in net carbs. But our recipes keep the onion low so you don't have to stress over the added carbs.
Onions are also a rich source of many nutrients, such as antioxidants and gut-healthy prebiotic fiber. Think of it as a tasty way to add a little health boost to any Italian dish.
Can I Use Dried Herbs?
We recommend using fresh herbs if possible. This will give you the best possible flavor. Nothing beats the taste of fresh basil
Not to mention you'll feel like you're truly cooking from scratch.
However, you can use dried herbs if you really want to. Dried herbs are often much more affordable than fresh herbs, and there's less chance of any unused bits going to waste in the back of your fridge.
Or, maybe this is the excuse you've been needing to start your own herb garden! Did you know you can easily grow a pot of basil on a sunny kitchen windowsill?
Is This Spaghetti Sauce Vegan/Vegetarian?
Yes! Our easy Keto Spaghetti Sauce is totally plant-based, which makes it suitable for a vegan or vegetarian diet.
It doesn't contain any extra meat or dairy, so you can serve it over your favorite low-carb vegetables or meat substitute.
How to Store Your Keto Spaghetti Sauce
This recipe makes enough to serve two to three, so feel free to make extra to save for later.
Store in a tightly sealed container or jar and refrigerate once cooled. This sauce should keep for a solid two weeks thanks to the acidity of the tomatoes.
You know how lasagna tastes better the next day? The same goes for this easy Keto Spaghetti Sauce. That's probably because the herbs and vegetables have longer to "marinate", bringing out the strongest possible flavor.
All the more reason to make a little extra for later!
You can also freeze the sauce for later use. Portion out into smaller jars so you won't have to defrost one big batch later on.
When freezing liquids, it's super important to leave enough space at the top of the container or jar – at least an inch. This is because liquids expand when frozen, which can cause the container to break. No one wants shards of glass in their spaghetti sauce!
Your Keto Spaghetti Sauce should last up to six months frozen.
More Keto Recipes Like This
The great thing about this recipe is it can be used in so many different dishes. Check out some of our best Italian keto recipes and put that sauce to good use:
If you love keto Italian recipes as much as we do, make sure to check out our entire library here.
Conclusion
This delicious Keto Spaghetti Sauce recipe proves that your favorite dishes definitely aren't off the menu for a keto diet!
It's also a great recipe for making your very own sauce from scratch, with minimal time and effort. Let's be honest – store-bought, low-sugar alternatives can be expensive and hard to find. But with this recipe, you can enjoy your very own Italian fare using affordable, easy-to-find ingredients that taste even better than what you'd get out of a jar.
Did you make our Keto Spaghetti Sauce? We'd love to know! Comment down below and tell us what you thought, and make sure to tag us in your delicious Italian dishes on social media.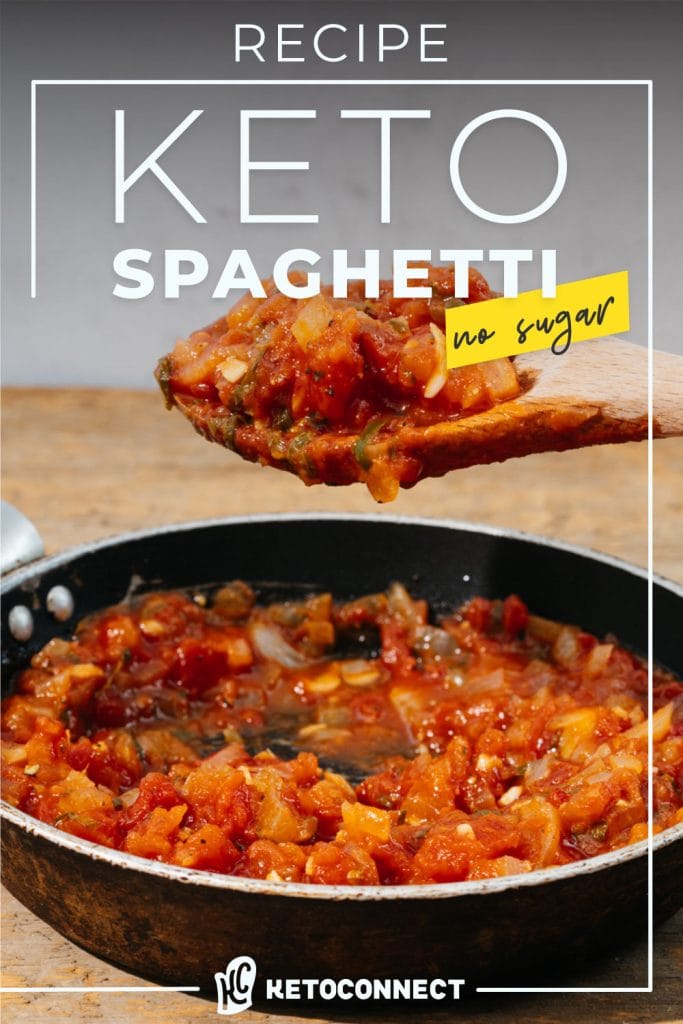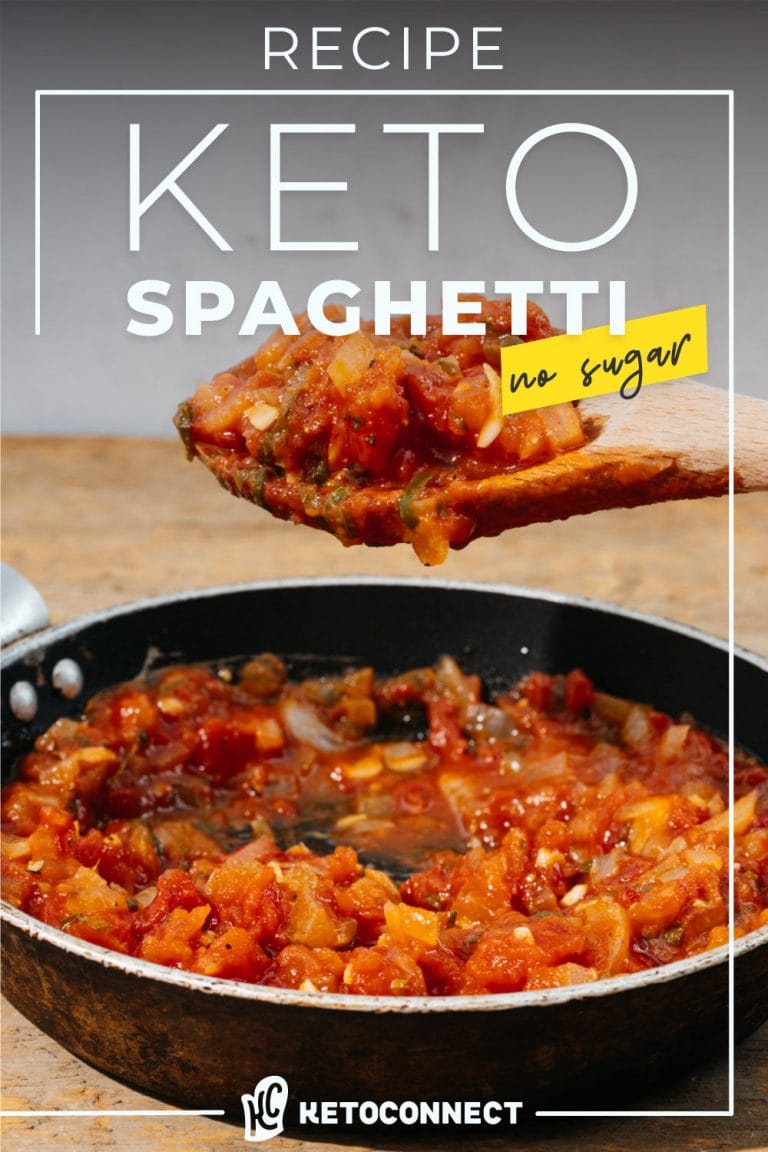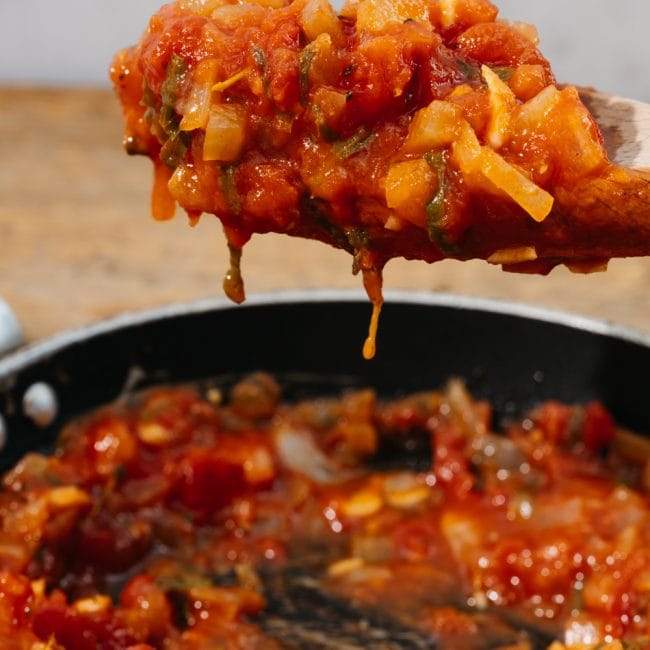 Keto Spaghetti Sauce Recipe | Sugar Free
The simpler the sauce the better. Let the quality ingredients shine in this keto spaghetti sauce recipe.
Total Time 20 minutes
Servings 3 servings
Calories per serving 52kcal
Prep Time: 5 minutes
Cook Time: 15 minutes
Ingredients:
1 tbsp olive oil
1/2 medium white onion chopped
2 cloves minced garlic
1/4 tsp fresh thyme
2 tbsp fresh basil roughly chopped
1 14.5 oz can Diced Tomatoes
1/2 cup Water
salt and pepper to taste
Instructions:
Add olive oil to a saucepan over medium heat. Once heated, add onion and garlic and cook until translucent, 3-5 minutes.

Add canned tomatoes, water and herbs.

Simmer over medium heat for 10-15 minutes, or until the sauce has thickened. Season with salt and pepper to taste.

Serve warm over keto pasta of zucchini noodles.

Store in a mason jar in the fridge for 5 days.
Notes
If you prefer your keto spaghetti sauce to be smoother you can use a blender to blend the sauce until smooth and uniform.
Nutrition Facts
Keto Spaghetti Sauce Recipe | Sugar Free
Amount Per Serving (1 serving)
Calories 52 Calories from Fat 45
% Daily Value*
Fat 5g8%
Saturated Fat 1g5%
Polyunsaturated Fat 1g
Monounsaturated Fat 3g
Sodium 3mg0%
Potassium 40mg1%
Carbohydrates 2g1%
Fiber 1g4%
Sugar 1g1%
Protein 1g2%
Vitamin A 79IU2%
Vitamin C 3mg4%
Calcium 12mg1%
Iron 1mg6%
* Percent Daily Values are based on a 2000 calorie diet.
Written By