The truth about burgers is that Matthew and I can eat them all day long! If we entered into a burger eating contest we would win first and second place. I would get first, of course, and Matt would follow as a close second, which is why we had to make a recipe out of our Jalapeño Burger.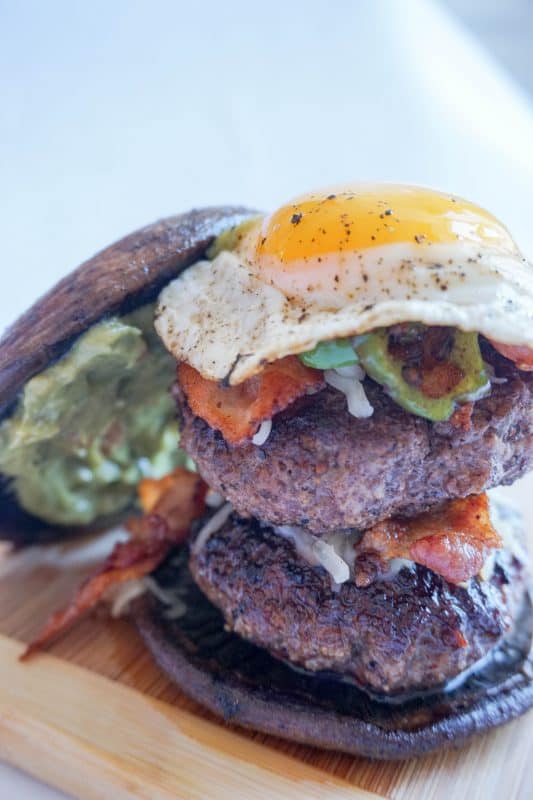 The times we do make burgers we DO NOT go easy on the toppings. It's kind of a slippery slope. You have the perfectly medium-rare patty, which naturally needs some cheese. Oh wait, but what about the bacon… and jalapeños for some kick! Ohhhh yes, fried egg is a must. And, of course you want a little cool down from the guacamole. And, don't forget to make it a double! That's exactly how it goes every time.
FREE PRINTABLE: Keto Food List
Join 150,000 others to get a FREE keto food list and new recipes every week!
Jalapeño Burger Recipe: Anyway You Like It
With this recipe we give you our essentials for a burger, but the real beauty is that you can top the burger with whatever you want or have in the house! You can go basic with some cheese and a lettuce wrap or you can throw in an egg, bacon and guacamole to kick up the fat and protein notches. It can be tailored to your liking and macros.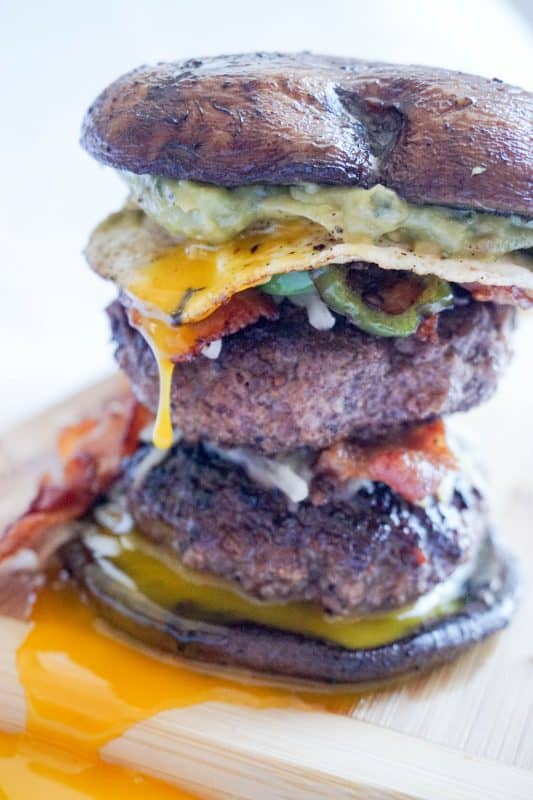 Normally, we go the lettuce bun route, but we wanted to try something a little more hearty. We thought the portobella mushrooms would be best seared up on a skillet and then pressed down to make them more bun like, and we were right! Raw mushrooms don't taste quite as good as they do when they are cooked down in their own juices.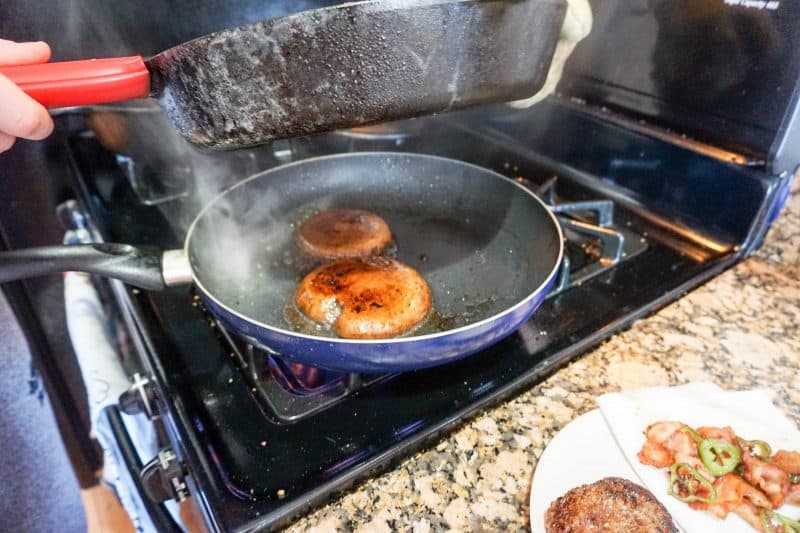 Jalapeno Popper Burger
If you're planning on cooking dinner for someone you're newly dating this probably isn't the best recipe to go with. Although it photographs beautifully, and tastes damn incredible, eating it is a whole other story. All we can really say is that it's going to be messy, but oh so worth every last bite!
However, if you are looking for a smaller bite of this ginormous burger for parties or just a more elegant take on this recipe you should give our Bacon Jalapeño Poppers a try – they are the same exact package in a smaller size!
Search "KetoConnect – Jalapeno Burger" on MyFitnessPal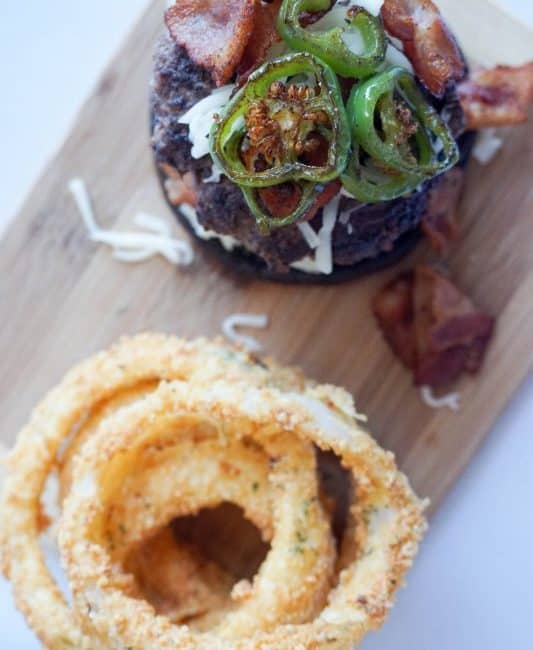 Jalapeno Burger
Make this juicy and tender jalapeno burger for dinner and everyone will be happy!
Total Time 25 minutes
Servings 1 jalapeno burger
Calories per serving 820kcal
Prep Time: 5 minutes
Cook Time: 20 minutes
Ingredients:
2 medium portabella mushrooms
2 4 oz ground beef patties
2 slices bacon
1 medium Jalapeno
1/4 cup Shredded mozzarella cheese
2 tbsp Guacamole
1 large Egg
Salt + Pepper
1/4 tsp garlic powder
1/4 tsp Onion powder
Instructions:
Start by forming the ground beef into 4 oz patties. Season with salt, pepper, garlic powder and onion powder. Set aside.

Roughly chop bacon, cut jalapeno into 1/8th inch slices.

Render bacon in a large pan on medium heat. When bacon is nearly done add in the jalapeno. Allow both to cook for 2 minutes and set aside.

Place hamburgers in the pan on medium heat with the remaining bacon grease. Cook to the temperature you like. Set aside and allow to rest.

In the same pan cook the portabella mushrooms. The mushrooms take 3-4 minutes per side. If your mushrooms are not very flat you can place a weight on top to flatten them out and make them more bun-like.

When the mushrooms are done, set them aside and begin assembling your burger while cooking the egg.

Cook egg on medium heat for 2 minutes for sunny side up.

Assemble the burger! Start with the bottom portabella bun. Then burger > cheese/jalapeno/bacon > burger > cheese/jalapeno/bacon > egg. Spread some guacamole on the top portabella bun and place on top of the burger. Enjoy!
Nutrition Facts
Jalapeno Burger
Amount Per Serving
Calories 820 Calories from Fat 504
% Daily Value*
Fat 56g86%
Carbohydrates 15g5%
Fiber 5g20%
Protein 66g132%
* Percent Daily Values are based on a 2000 calorie diet.