A lot of the time I know if a recipe is going to be delicious, but on occasion my expectations are far exceeded and these egg bites are an example of that! I didn't expect them to come out so moist and delicious – they are by far my favorite way to prepare eggs now. While it may be a little extra effort, it's 100% worth it!
What Makes Them Better Than Starbucks Egg Bites?
Well, to start, the carb count. Totally unassuming, the Starbucks egg bites come in at a whopping 9g carbs for two. What we thought was going to finally be a low carb option turned into quite the opposite. Why do egg bites with bacon and cheese have 9g carbs? Hmm, to name just a few suspect ingredients, they use skim milk, maltodextrin and rice starch. Carbs aside, our egg bites trump Starbucks on quality, taste and moistness every time.
You know exactly what is going into them and you can change up the add ins every time, and they are way more tasty and moist than the pre-cooked, reheated sous vide egg bites at Starbucks!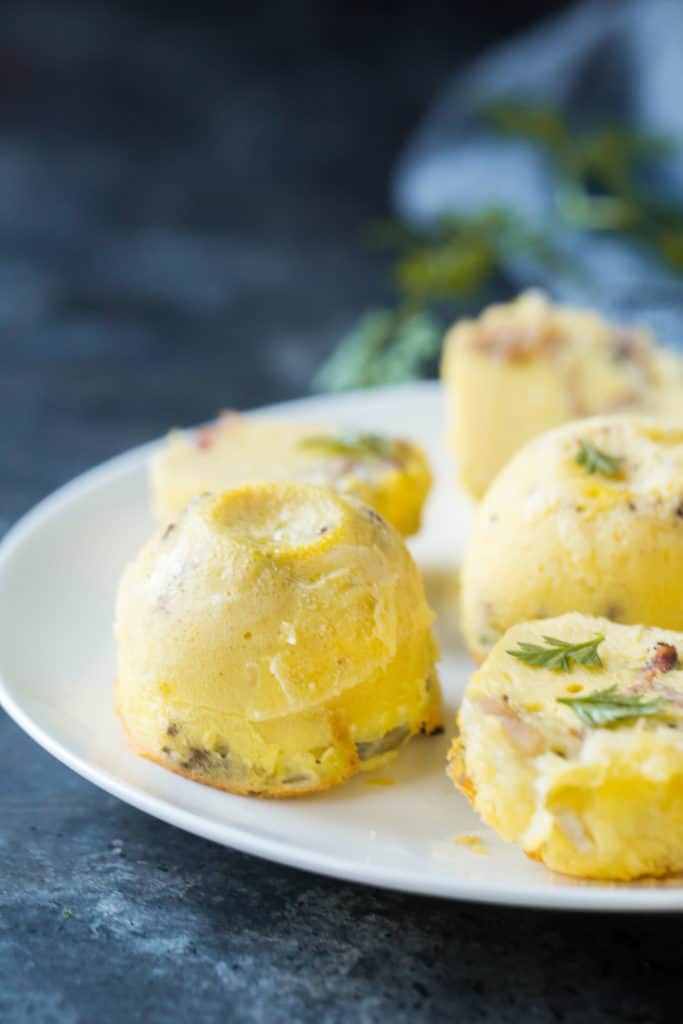 Keto Breakfasts Galore!
Pregnancy has turned me back into a breakfast lover! I used to wake up to a bulletproof and have my first real meal around 1 or 2pm. Now, I wake up hungry and more than half the time I reach for eggs! While they are really quick to scramble or fry up, I like to have these egg bites meal preped to quickly heat up and top with sour cream.Some other breakfast I have really been digging lately have been are macro muffins, low carb breakfast casseroles and keto oatmeal (my personal favorite)! We promise they won't let your breafkast cravings down.
Keto Egg Bites
It's easy to get tired of eggs, especially on a keto diet. Sometimes it seems like every recipe call for eggs and cheese and you are eating the same thing over and over, but we assure you these egg bites will put eggs back on the menu for you! Our egg bites are low in carbs, moist all the way through, delicious every time and better than Starbucks!

Recipe can be quickly added to MyFitnessPal – Search "KetoConnect – Keto Egg Bites"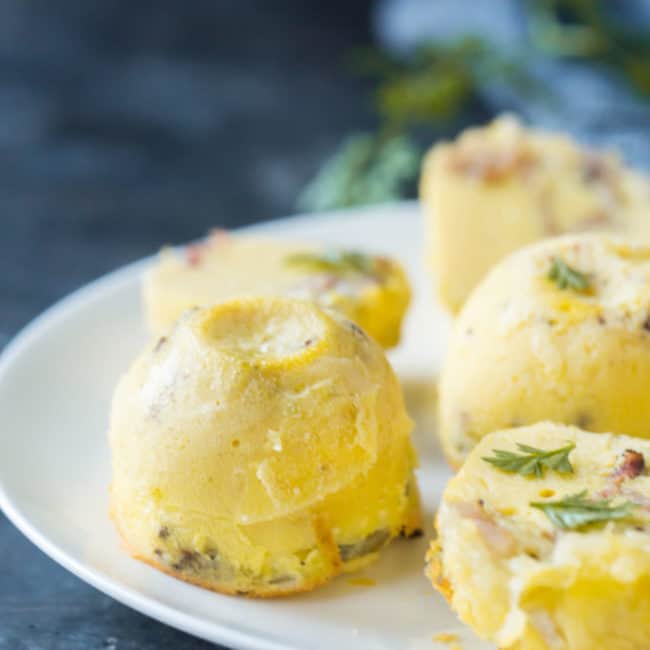 Keto Egg Bites
Perfectly cooked bacon and cheese egg bites, just like Starbucks!
Total Time 1 hour
Servings 6 egg bites
Calories per serving 148kcal
Prep Time: 10 minutes
Cooling Time: 10 minutes
Cook Time: 40 minutes
Ingredients:
6 large eggs
1/2 tsp pink salt
1/4 tsp black pepper
1/2 cup shredded gruyere cheese
1/4 cup onion, chopped
3 slices bacon, cooked and chopped
Instructions:
Pre-heat oven to 300F and generously grease a muffin tray/egg mold.

Whisk together the eggs, salt and pepper in a large mixing bowl.

Place the muffin tray in a large casserole dish that will allow the tray to fully submerge.

Evenly distribute the bacon, onion and cheese throughout 6 muffin cups and then evenly distribute the whisked eggs mixture over top.

Fill the casserole dish, surrounding the muffin tray, with water about half way up the sides and cover the entire casserole dish tightly with aluminum foil.

Bake for 35-45 minutes. Or until egg is completely cooked in the center. Allow to cool for 10 minutes before running a butter knife along the edges and popping them out.


Best stored in the fridge up to 5 days and reheated in the microwave!
Notes
Net Carbs: 1g per egg bite
Nutrition Facts
Keto Egg Bites
Amount Per Serving
Calories 148 Calories from Fat 90
% Daily Value*
Fat 10g15%
Carbohydrates 1g0%
Protein 11g22%
* Percent Daily Values are based on a 2000 calorie diet.