Finding delicious keto treats to curb that sweet tooth isn't easy. That's why the maker of Fat Snax cookies set out to create delicious low-carb cookies using healthy ingredients like coconut flour, almond flour, and grass-fed butter.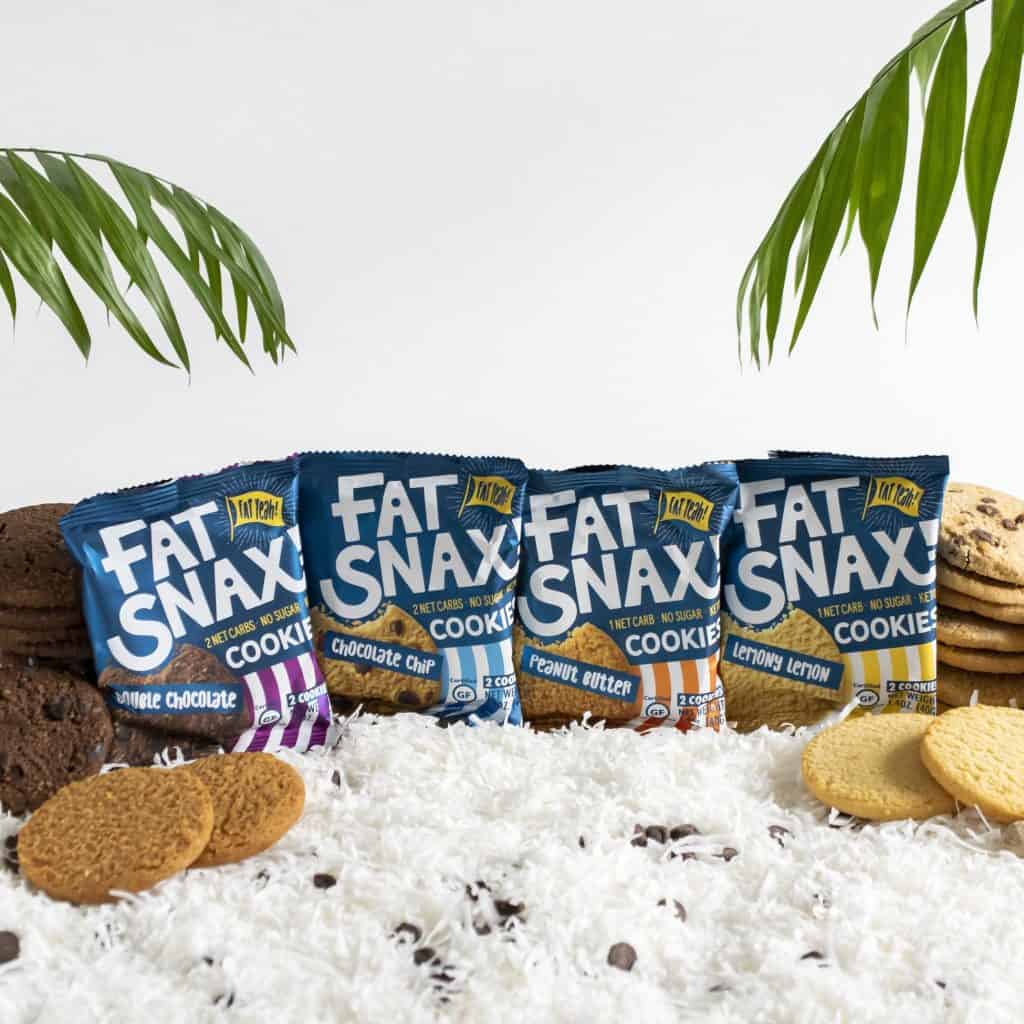 However, if you're a seasoned keto dieter—or you've done any diet at all, for that matter—you may know that healthy sweet treats are often hit or miss. It's not unfair to say that many products don't deliver on their promises.
So, how do Fat Snax cookies stack up (pun intended) to other keto friendly cookies and treats?
As it turns out, pretty favorably. Here's what you need to know.
Where Can I Buy Fat Snax Cookies?
Based out of New York City, the owner of Fat Snax cookies Jeffrey Freese aims to get his cookies into high-fat, low-carb eaters all over the country.
Currently, you can buy these keto cookies:
On Amazon (free one-day delivery with Amazon Prime)
The Vitamin Shoppe
Whole Foods
Walmart
You can also check out Fat Snax's Store Locator to search for other locations near you that carry their products.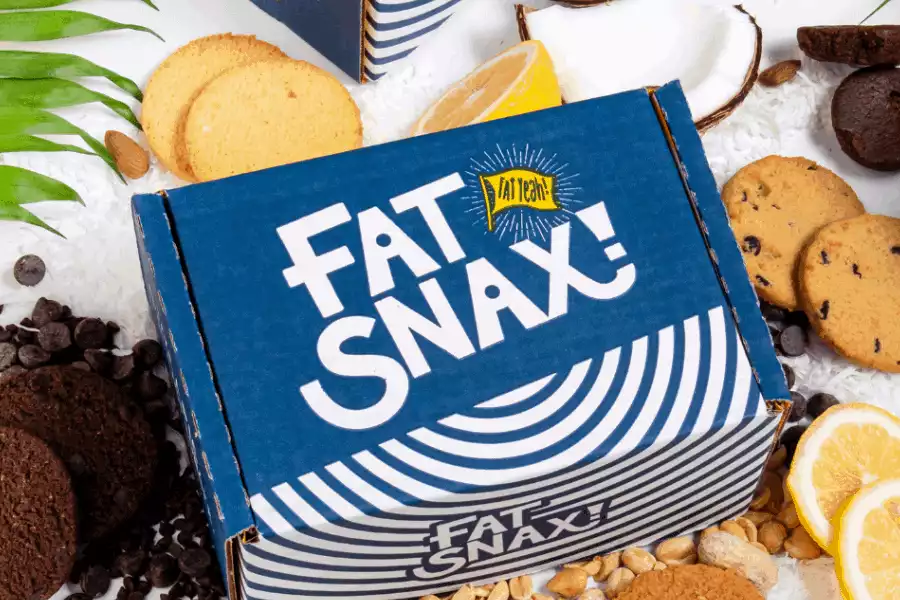 Fat Snax
3.7
Fat Snax doesn't have a huge selection of products, instead they focus on making a few items really well. Their chewy cookies are one of our favorite keto cookies on the market. Their new keto crackers are crispy and delicious.
Pros:
High quality ingredients
Great tasting
Buy Now
We earn a commission if you make a purchase, at no additional cost to you.
Fat Snax Cookies Nutrition Label
One Fat Snax cookie (regular-sized) contains:
Chocolate Chip Cookies– 100 calories, 8g of fat, 2g of net carbs, protein 2g
Double Chocolate Chip Cookies– 90 calories, 8g of total fat, 2g of net carbs, protein 3g
Lemony Lemon Cookies – 100 calories, 9g of fat, 1g of net carbs, protein 2g
Peanut Butter Cookies– 100 calories, 9g of fat, 1g of net carbs, protein 3g
Maple Pecan Cookies– 120 calories, 10g of fat, 1g of net carbs, protein 2g
Just keep in mind, there are 2 cookies per package.
Fat Snax also offers 3 types of mini cookies, which contain between 170 and 180 calories, 16g of fat, 1g of net carbs, and 4g of protein per 7 cookies. There are 14 mini cookies in each package.
You can easily search for stores that carry Fat Snax products (they make crackers and other low-carb bites, too) on their website.
How Many Carbs Are In a Fat Snax Cookie?
Each cookie contains between 1 and 2 grams of net carbs.
Net carbs are calculated by taking the number of carbs in a food and subtracting the amount of fiber and sugar alcohol. For example:
Their Chocolate Chip Cookies contain 6g of carbs, 2g of fiber, and 2g of sugar alcohol.
(6g of carbs – 2g of fiber – 2g of sugar alcohol = 2g of net carbs)
Sugar alcohols are taken into consideration because they help reduce the impact carbohydrates have once absorbed by the body.
Fiber helps slow down the absorption rate, keeping the glycemic index lower and helping users maintain blood sugar.
Keto dieters aim to keep net carbs to 20 to 30 grams per day. Even two cookies only contain up to 4g of net carbs, which makes them a keto-friendly option for treating your sweet tooth.
Are Fat Snax Good For You?
On the whole, yes. Fat Snax cookies are a great keto friendly treat for people trying to lose weight or get healthy with a ketogenic diet. They use high-fat, low-carb ingredients like almond flour, coconut flour, butter, and eggs to keep carbs low.
Part of making the ketogenic diet work for you is finding ways to make it sustainable.
If you eat Fat Snax a couple of times a week keeps your cravings at bay and allows you to stay at (or under) 50g of net carbs—and in ketosis—they could definitely be considered good for you.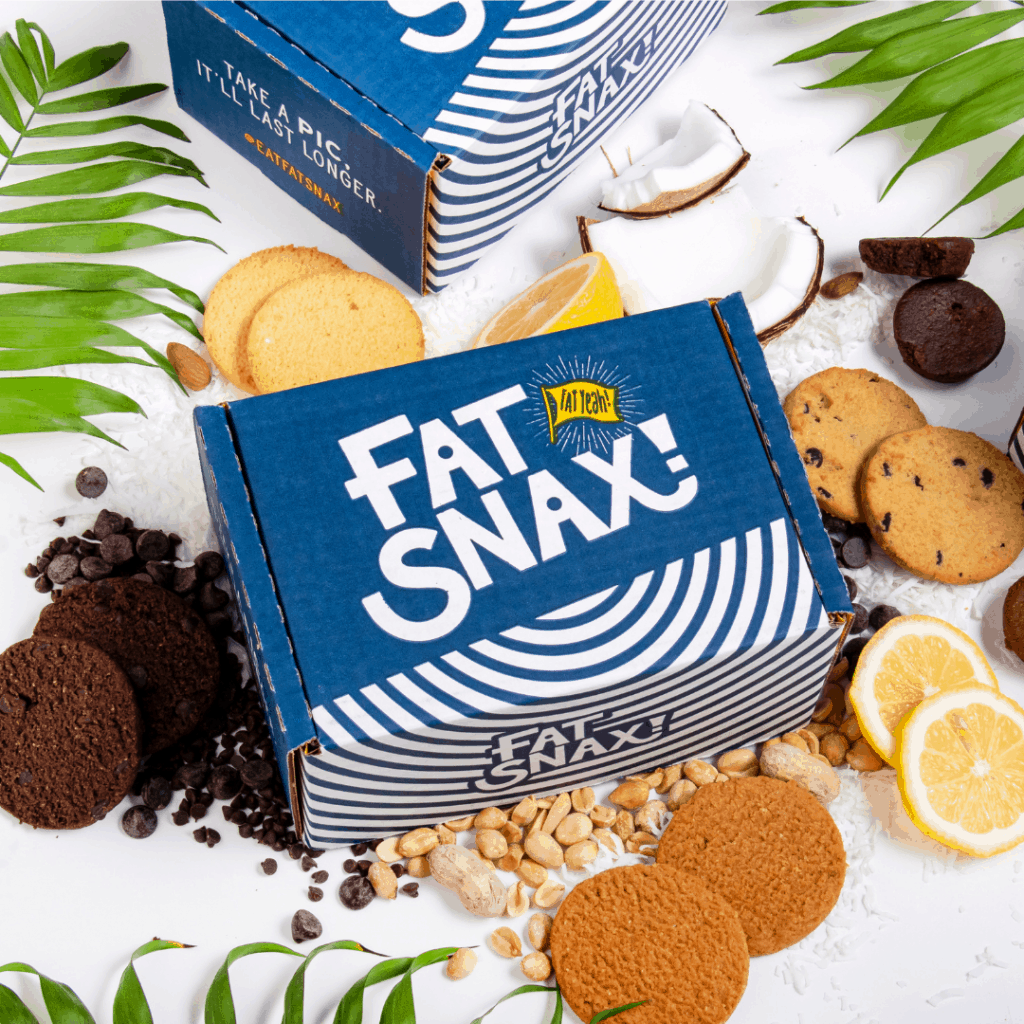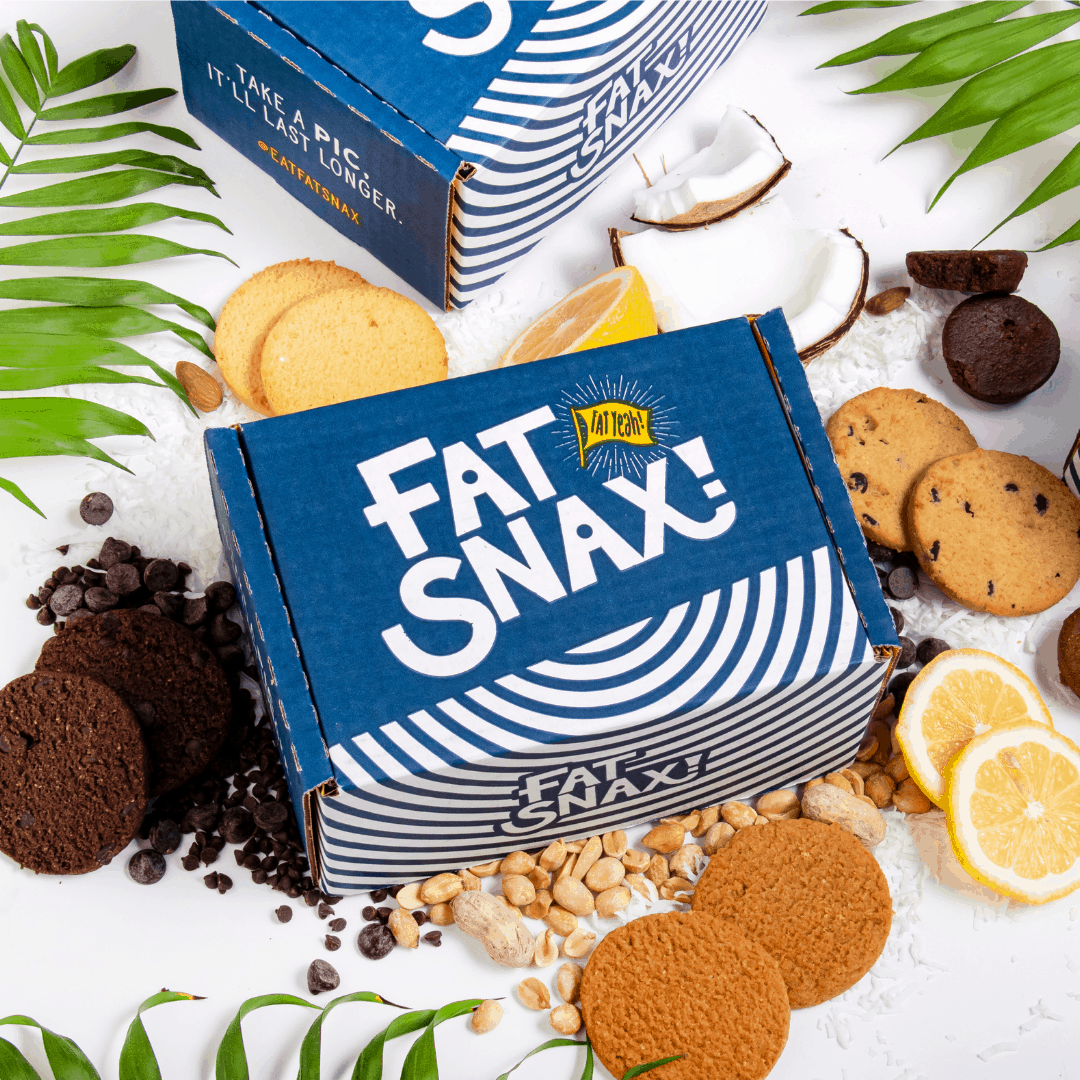 What to consider before buying
Here are some key things to consider before you purchase:
Made With Mostly Natural Ingredients
Generally speaking, they do a good job of using healthy ingredients to make their products. For example, here's the ingredient list for their Chocolate Chip cookies:
"Almond Flour, Butter, Chocolate Chips (Unsweetened Chocolate, Erythritol, Cocoa Butter, Stevia Extract, Sunflower Lecithin), Eggs, Coconut Flour, Sustainable Organic Palm Fruit Oil, Non-GMO Erythritol, Natural Vanilla, Non-GMO Xylitol, Xanthan Gum, Aluminum-Free Baking Powder, Aluminum-Free Baking Soda, Salt, Stevia."
Unfortunately, many keto-friendly cookie products are loaded with ingredients you can't pronounce.
But even the items that make the cookies sweet, like chocolate, erythritol, and monk fruit, aren't unhealthy or overly processed.
Taste
People who buy Fat Snax cookies tend to think they taste delicious, which is evidence pretty much everywhere they're sold.
Their website is home to more than 2,000 reviews averaging 4.5/5 stars.
They boast a 4/5 rating with over 6,000 Amazon reviews
They are now carried by major grocers like Whole Foods, Natural Grocers, and Walmart
Perhaps surprisingly, their Lemony Lemon cookie is often the highest-rated flavor.
More than one reviewer suggests the Peanut Butter flavor could use a little improvement.
Lower Carb
At 1 to 2 grams of net carbs per cookie, these treats are right at the top along with other competitors. The fact that they also taste good is almost like a bonus.
It's not uncommon for some low-carb cookie brands to contain between 4 and 10g of carbs per serving.
Kudos to Fat Snax for striking an ideal balance between nutrition and taste.
Several Options to Choose From
Compared to the other best keto cookies, Fat Snax has several options and flavors you can choose from. Their regular cookies come in six delicious flavors. Their mini variety comes in three.
The Mini Cookies are a solid option for those who like to satisfy cravings in smaller doses.
If you're a "popper"—meaning someone who'd rather snack on several delicious morsels instead of two big cookies—the mini versions could be the way to go.
Uses Erythritol and Monk Fruit Sweetener
Erythritol is one of the safest, most commonly used sugar-substitute sweeteners.
It contains about 60 to 80 percent of the sweetening potency of table sugar, which gives these keto friendly cookies a nice flavor without overdoing the sweetness.
Many of the best keto cooks and health experts also agree that erythritol is one of, if not the best low-carb sweeteners to bake with. Some sweeteners change flavors or harden when baked, which can ruin the final product.
Fat Snax cookies also contain a touch of monk fruit sweetener, which has a different flavor but is also safe to consume. Monk fruit is derived naturally from a tree native to southern China.
Grain, Sugar and Gluten-Free
Fat Snax keto cookies are grain-free, sugar free, and gluten-free, which is a great perk if you have allergies or sensitivities.
Their two main ingredients, almond flour and coconut flour, help keep this products this way.
Almond flour is a healthy keto staple that's full of monounsaturated fats, protein, and fiber.
Coconut flour, which is made from dried coconut meat, contains powerful medium-chain triglycerides (MCTs). Studies show MCTs can boost weight loss efforts and even promote ketosis.
Reasonably Priced
If you've been a keto dieter for a while, you probably understand that low-carb treats and substitutes usually cost a little bit more money. Especially ones made with real ingredients and no fillers, chemicals, and other questionable items.
Fat Snax cookies cost $29.99 for 12 packs (24 total cookies).
Compared to other keto sweet treats, you're paying about $1.24 per serving, which is pretty standard, if not a little lower than other low-carb treats or desserts.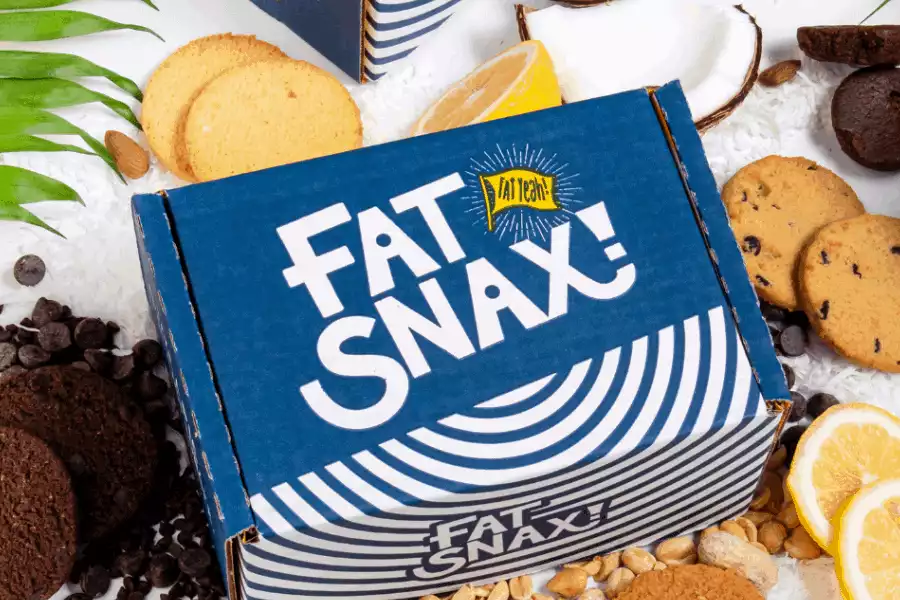 Fat Snax
3.7
Fat Snax doesn't have a huge selection of products, instead they focus on making a few items really well. Their chewy cookies are one of our favorite keto cookies on the market. Their new keto crackers are crispy and delicious.
Pros:
High quality ingredients
Great tasting
Buy Now
We earn a commission if you make a purchase, at no additional cost to you.
What To Watch Out For
A few things to consider about these cookies before you order include:
Overindulging. Too much of a good thing can easily become a negative. Just because their cookies are technically keto doesn't mean you should eat them all the time, and definitely not in favor of healthy fats, lean proteins, and low-carb veggies at mealtime.
Overeating the mini cookie variety. For those who like smaller bites or a convenient snack , Fat Snax mini cookies can be a good option. However, one serving contains more calories and carbs than the standard 2-pack. So be extra careful with the mini version on overdoing it.
Potential allergens. If you're allergic to eggs, milk, coconut or almonds, you should avoid these treats. Check each flavor's ingredients to be sure before ordering.
However, these tips and best practices apply to basically any keto sweet treat, not just these cookies.
If you're new to keto and trying to figure out how to make sweet treats work, try counting macronutrients for a few weeks.
This can help you get used to eating foods that keep you at or under 20g of net carbs per day while leaving room for indulgences.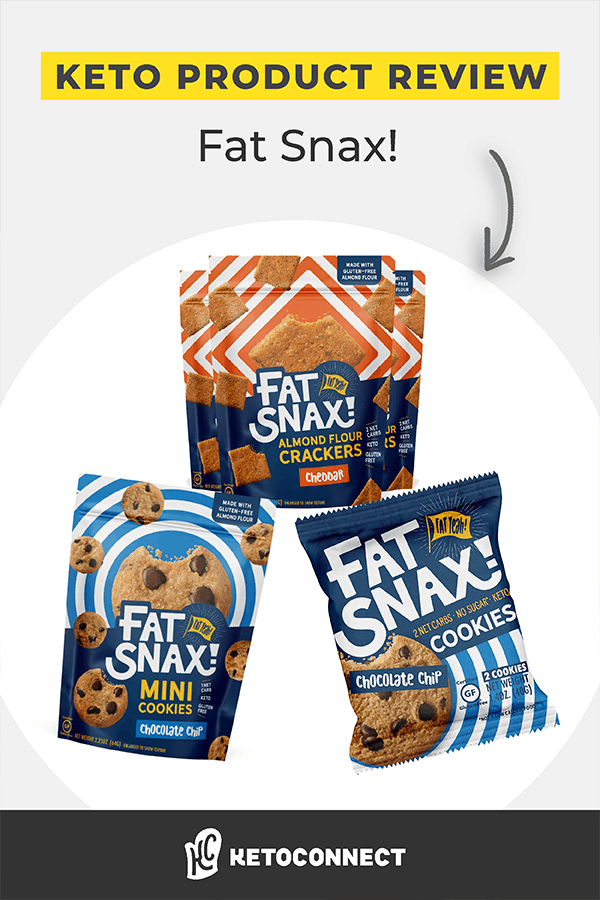 Verdict
Fat Snax cookies set out to make a healthy, delicious cookie that could help people stick with their keto diet and achieve their health and weight loss goals.
Overall, they've done a pretty good job of achieving this goal. There's a lot to like about their products.
They are made with mostly healthy and natural ingredients; they are lower in net carbs than many keto sweet treats; they come in a variety of flavors; they're grain and gluten-free; and best of all, they're reasonably priced.
If you're in the market for some keto cookies, give Fat Snax cookies a try. You have 6 different flavors to choose from, so you should be able to find one that you like.
More Keto Product Reviews
If you liked this full review, you are in luck because we have in depth reviews of the most popular keto products on the market today.
Best Keto Cereal Review
Ultimate Keto Meal Delivery Options
Greatest Keto Subscription Box
50 Best Keto Fast Food Options
Best Keto Protein Powder
Written By