Growing up in an Indian household, rice became a staple to all my meals. If it wasn't the main dish, it was definitely on the side.
Up until recently rice acted as the perfect, blank canvas that could be painted with different spices, proteins and/or vegetables. So when I turned to a keto lifestyle I knew I had to find an alternative! Cauliflower not only makes for the perfect substitute to rice, but it's packed with added nutrition that rice lacks!
Here's a Youtube Video for this recipe!

I immediately knew I had to share this recipe with all of you and add a touch of indian spice! Curried cauliflower rice will brighten up any dish and act as a nutritional, flavorful, and filling substitute to the rice component of any of your meals. Go ahead and give it a try 🙂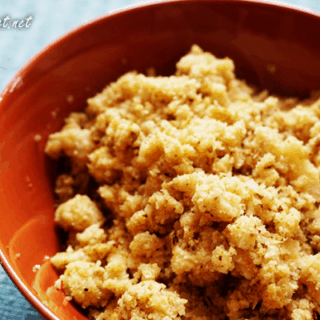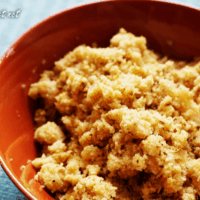 Curry Cauliflower Rice
Total Time 15 minutes
Servings 2
Prep: 5 minutes
Cook: 10 minutes
Instructions:
Roughly chop (or break off) half head of cauliflower into chunks

Pulse in food processor (or blender) until finely ground

Heat pan on medium-high and add 2 tbsp of coconut oil

Add cauliflower from processor (or blender) to pan

Add curry powder, cumin powder, onion powder, garlic powder, chili powder, salt and pepper

Mix well and let cook for 10 minutes