Keto Chicken Stir Fry is at the top of our 'easy weeknight dinners' list because it's easy prep, you can toss in any meat or veggie you have on hand and the best part, it's easy clean up! Your skillet will do most of the work and leave you with a tender, flavorful stir fry. Check out the video below to see how Matt whips it up.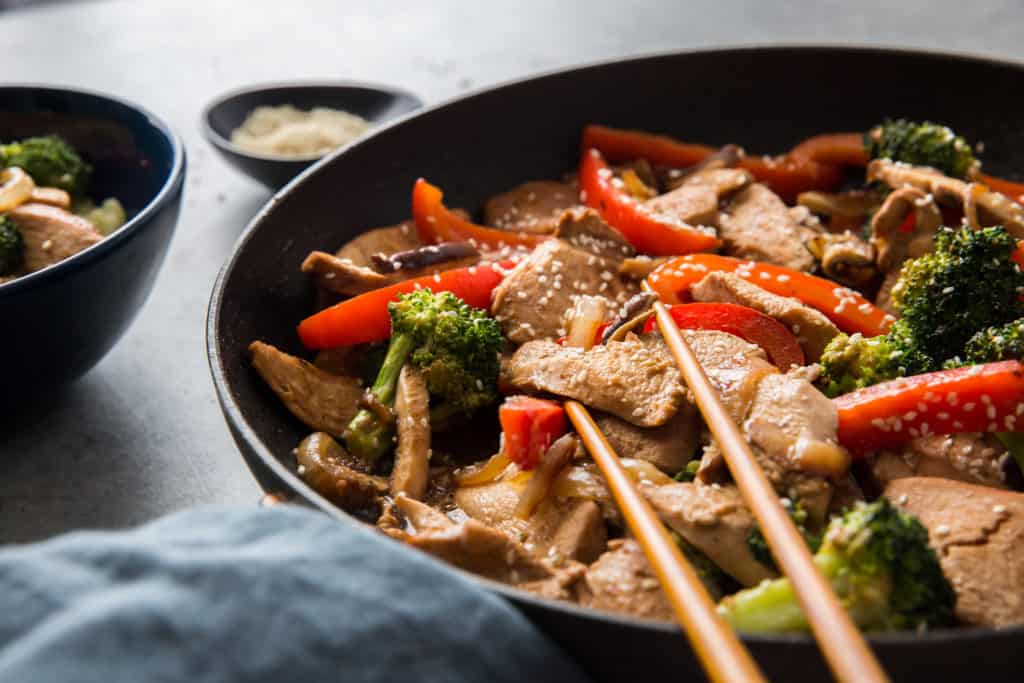 Why We Love Stir Frys!
It's easy to understand why we love one skillet stir frys, especially now that we are parents. You can use up any ingredients in your fridge on the verge of going bad, it never takes more than an hour to cook up and it's always delicious.
When I do my meal planning on Sunday nights for the week ahead I always throw in a quick to make chicken or beef stir fry. They never disappoint, and everyone in the family, including our 13 month old son loves them!
To Marinade Or Not?
In my mind this isn't even a real question you should ask yourself, unless you're crunched for time! Marinading meat adds a whole depth of flavor that tossing in spices while cooking doesn't add.
The acidity you add, in this case apple cider vinegar, allows the flavors to penetrate the meat as well as help to tenderize it. We always like to add some fat to our marinade if it doesn't already call for it. Finally, fresh ingredients is a must in our opinion. Powdered garlic and ginger just won't cut it when it comes to flavor for this dish.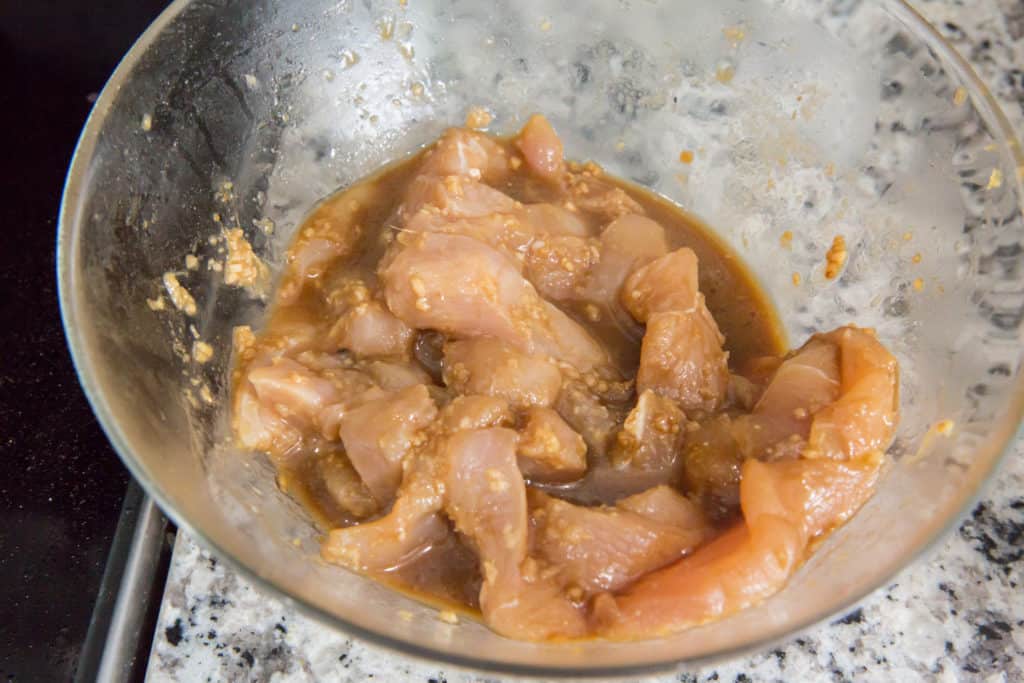 Be Patient With Your Stir Fry
Patience is probably the toughest virtue, wouldn't you agree? Particularly when it comes to waiting on food. With any stir fry or meal when you are cooking lots of ingredients that vary in texture you need to make sure timing is right and you cook for a long enough period.
For this stir fry adding in the veggies first allows them time to cook, release their natural juices and build a base. Broccoli in particular takes a while to cook so you want to get it in early.
Then, adding the chicken and marinade will add liquid to the pan to help soften the veggies and cook them at the same speed as the chicken. Stir frys usually cook anywhere from 10-20 minutes. Feel free to add in a splash of water if all liquid has evaporated and your veggies need more cook time!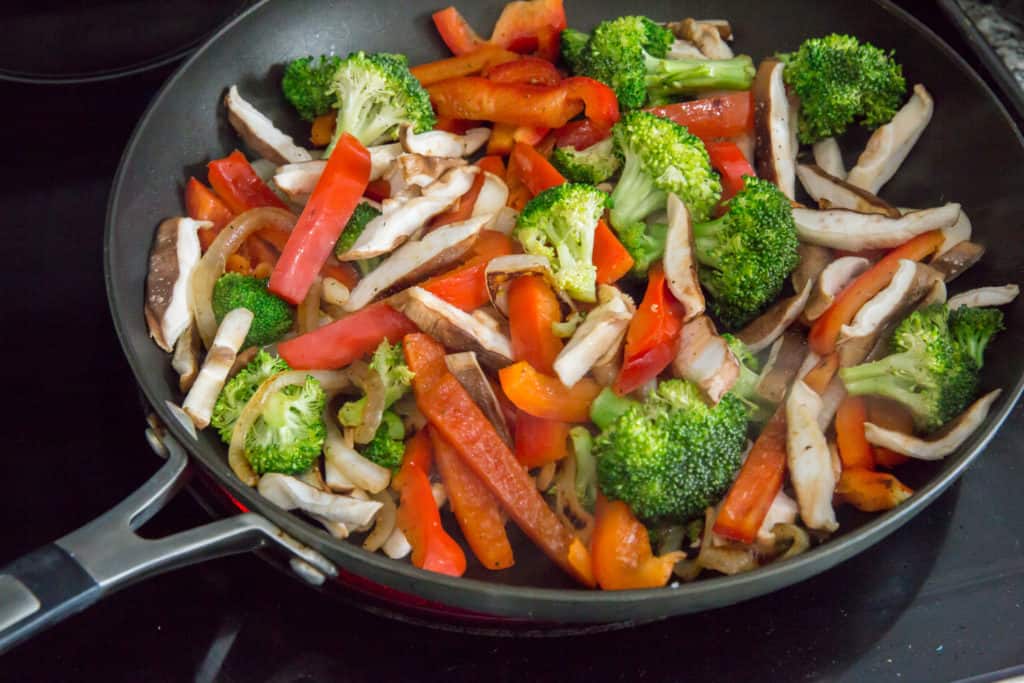 What Do I Serve It With?
This is simple! Our favorite way to serve it is on it's own. The veggies and the meat are enough to create a deliciously balanced meal. Aside from that some other great low carb options to serve this keto chicken stir fry with are:
Cauliflower Rice
Palmini Pasta (Megha's Fave!)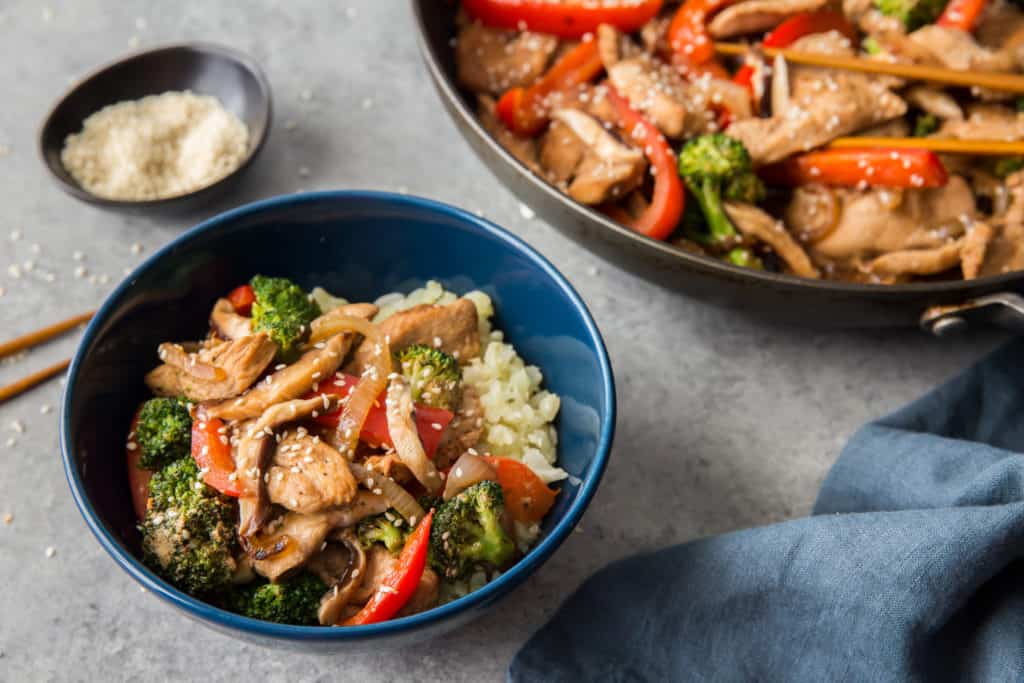 Keto Chicken Stir Fry
This keto chicken stir fry is what dinner dreams are made of. Packed with flavor and different textures for the perfect mouthfeel you need to give this a try tonight. Let us know if you give it a try in the comments below and what vegetables you swap in!
Want More Easy Keto Dinners?
We've got you covered every night of the weekend, plus weekends! Just head over to our food blog where we store hundreds of low carb, sugar free and gluten free recipes for any night, celebration or holiday! Some of our favorite easy keto dinners are: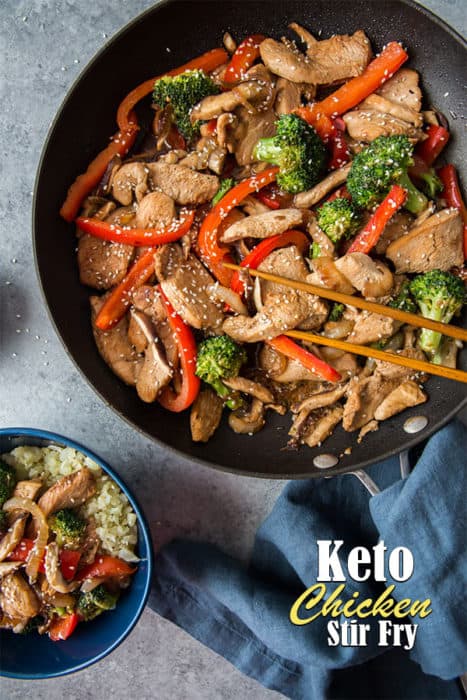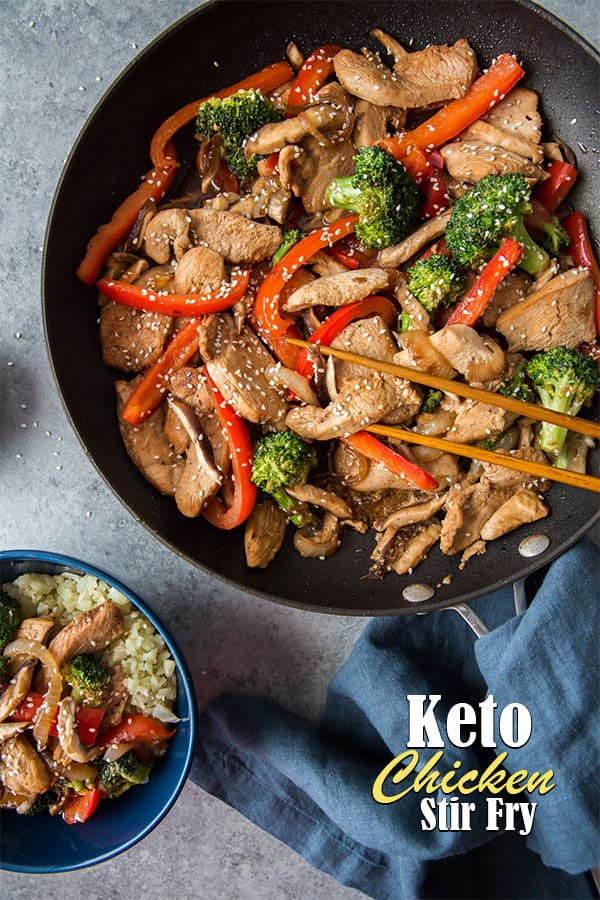 Keto Chicken Stir Fry
This Keto Chicken Stir Fry is tender, flavorful and easy to cook up in under an hour any night of the week!
Total Time 30 minutes
Servings 5 servings
Calories per serving 211kcal
Prep Time: 10 minutes
Marinade Time: 30 minutes
Cook Time: 20 minutes
Instructions:
Place sliced chicken, coconut aminos, garlic, apple cider vinegar, ginger, and avocado oil in a plastic zip top bag and marinate in refrigerator for at least 30 minutes.

Heat 2 tbsp avocado oil in a large wok or skillet set over medium-high heat, then add all the veggies and saute for 3-5 minutes until tender. The veggies will not be fully cooked through at this point.

Push the veggies to the side of the skillet and add the chicken along with the marinade to the pan.

Allow to cook and crisp for 2-3 minutes before tossing everything together. Allow to cook for 10-15 minutes until marinade has evaporated and everything is fully cooked through.

Taste and season with additional salt if desired.

Remove from heat and top with sesame oil, stirring to combine. Garnish with sesame seeds, if desired and serve immediately.
Notes
Net Carbs: 6g
Serving Size: 1/5th of recipe
Nutrition Facts
Keto Chicken Stir Fry
Amount Per Serving
Calories 211 Calories from Fat 90
% Daily Value*
Fat 10g15%
Carbohydrates 8g3%
Fiber 2g8%
Protein 21g42%
* Percent Daily Values are based on a 2000 calorie diet.
Written By