Cauliflower rice is a popular alternative to traditional rice since it's low in carbohydrates and calories, making it a great choice for those who are on a keto, low carb diet and weight loss journey.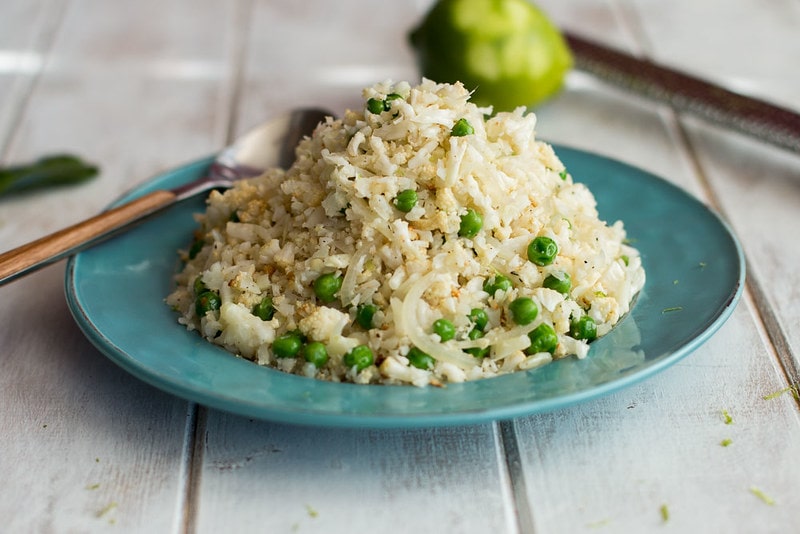 Since low carb diet is more and more popular, there are several Costco cauliflower rice review options available, but we'll be looking at one from Nature's Intent.
Nature's Intent cauliflower rice from Costco is shelf stable, so you don't need to deal with messy frozen cauliflower rice. I personally find it difficult to make sometimes as it turns out mushy quite quickly.
You can make it in the microwave, on the stove and even in an air fryer. It's a truly versatile veggie, while at the same time, easy to make and use as meal prep, quick dinner or at any time during the day.
How to Cook Costco Cauliflower Rice on the Stove
Since this cauliflower rice is nothing like frozen cauliflower rice, the cooking method is a bit different as well. It's more of a trial and error process if you've never cooked with shelf-stable cauliflower rice.
We like to heat up olive oil in a frying pan over medium heat, then add Costco cauliflower rice and fry for a few minutes until it turns al dente. See, it all depends on how hard or mushy you want it.
If you like it to be a little softer, instead of oil you can add 2-3 tablespoons of water and heat it up on low. Remember, the best cauliflower rice prep method is the one you love!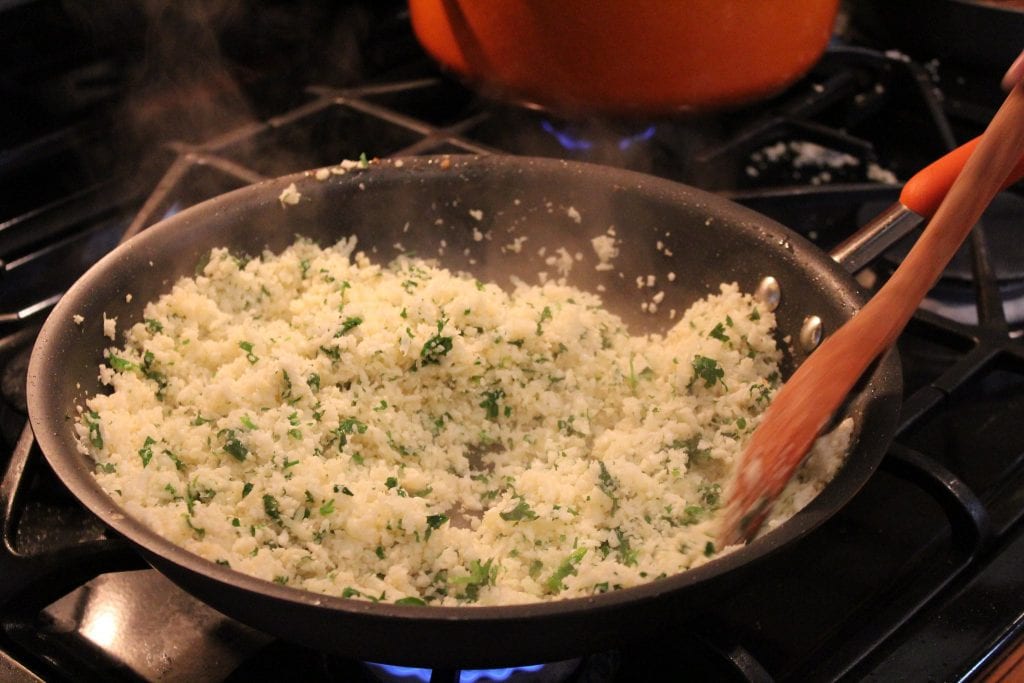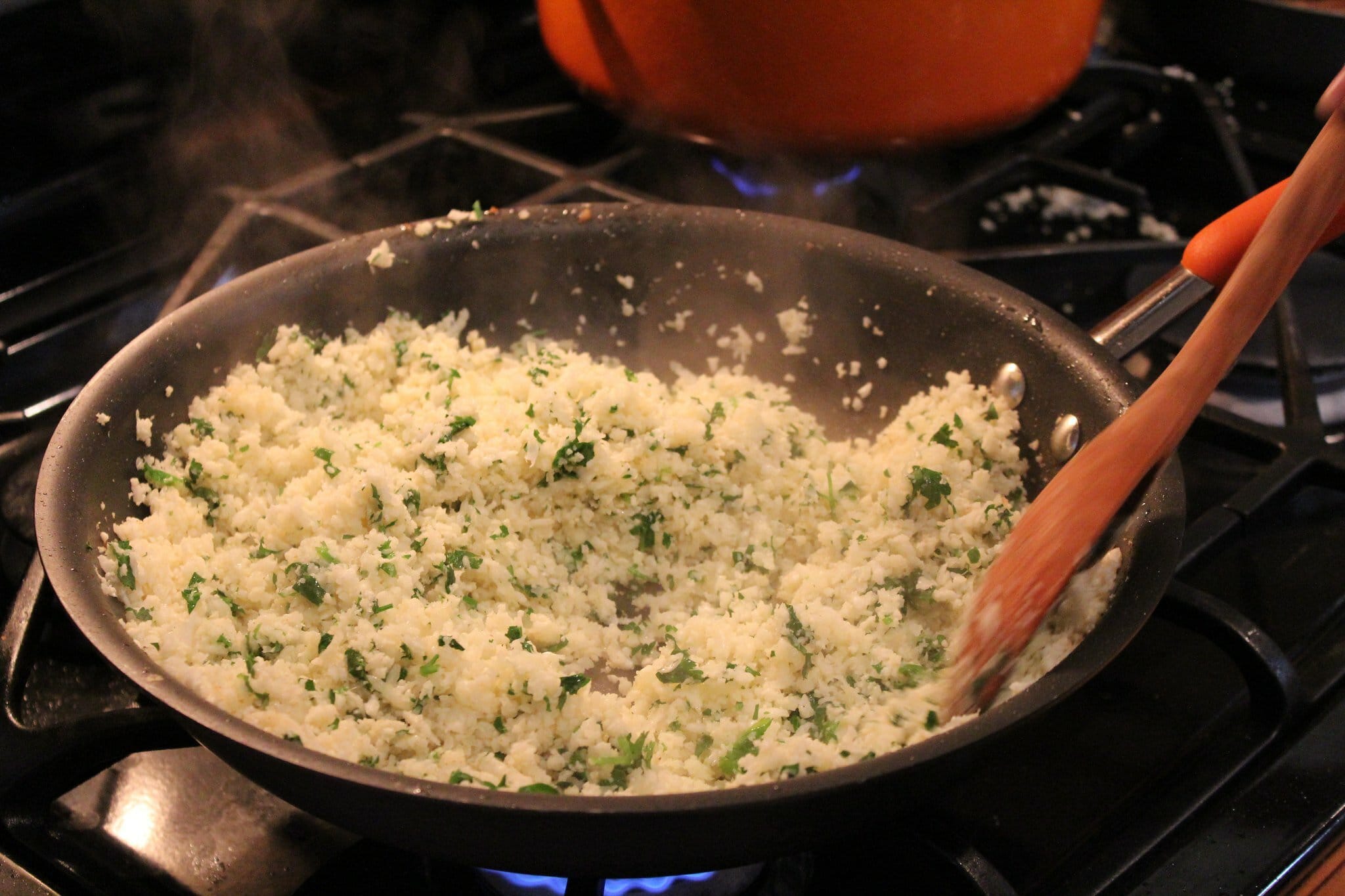 Costco Cauliflower Rice in Air Fryer
You can also cook riced cauliflower in an air fryer. Simply spray a metal baking pan with cooking spray, preheat the oven to 350 degrees and pop it in for about 15 minutes with a few tablespoons of water.
You can also throw other vegetables in to make a riced cauliflower stir fry, such as diced peppers, diced onions or other low carb ingredients. Try to stay away from corn or peas, they're not keto and will affect your daily carb count.
Don't forget seasoning as well, no one really likes bland food and the good thing is, you can make cauliflower rice tasty with simple ingredients like salt, pepper, sweet paprika or even curry.
How to Microwave Cauliflower Rice from Costco
The instructions on the box ask you to gently massage the package to break up any harder pieces of cauliflower rice clumped together, then tear a 2 inch vent at the top of the pouch.
Heat on high for 60 seconds, however microwaving times may vary depending on the appliance itself. Of course, handle with care – usually such pouches get really hot so I recommend taking it out with kitchen gloves just to be extra safe and prevent any burns.
How Does Costco's Cauliflower Rice taste?
Costco cauliflower rice is so delicious! I can't get enough of it to be honest, mainly because it's so much easier to cook than the frozen version. It's really hard to mess it up and get it mushy (which is something we don't like).
It has a mild flavor and a slightly crunchy texture. Did you know that when cooked, cauliflower rice contains more vitamin C than regular rice? You can use it for side dishes or as a base for stir-fries, curries and plenty of other recipes.
After all, cauliflower is a vegetable that can turn into so many different things it's mind blowing. If you're looking for a healthy alternative to rice, cauliflower rice is a really good option.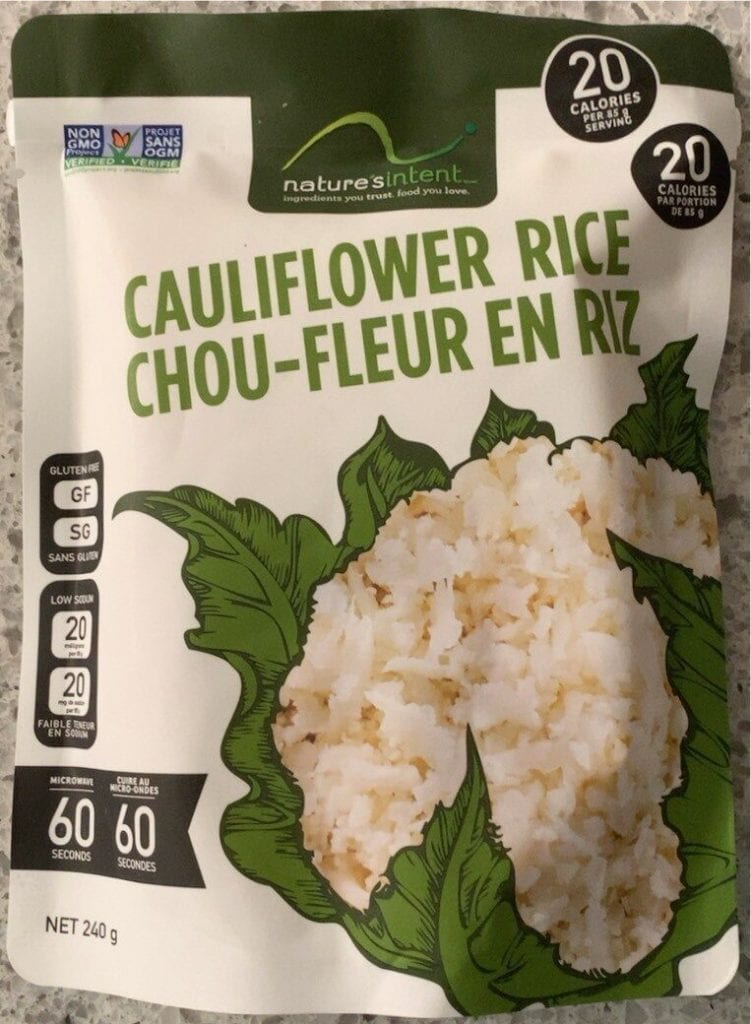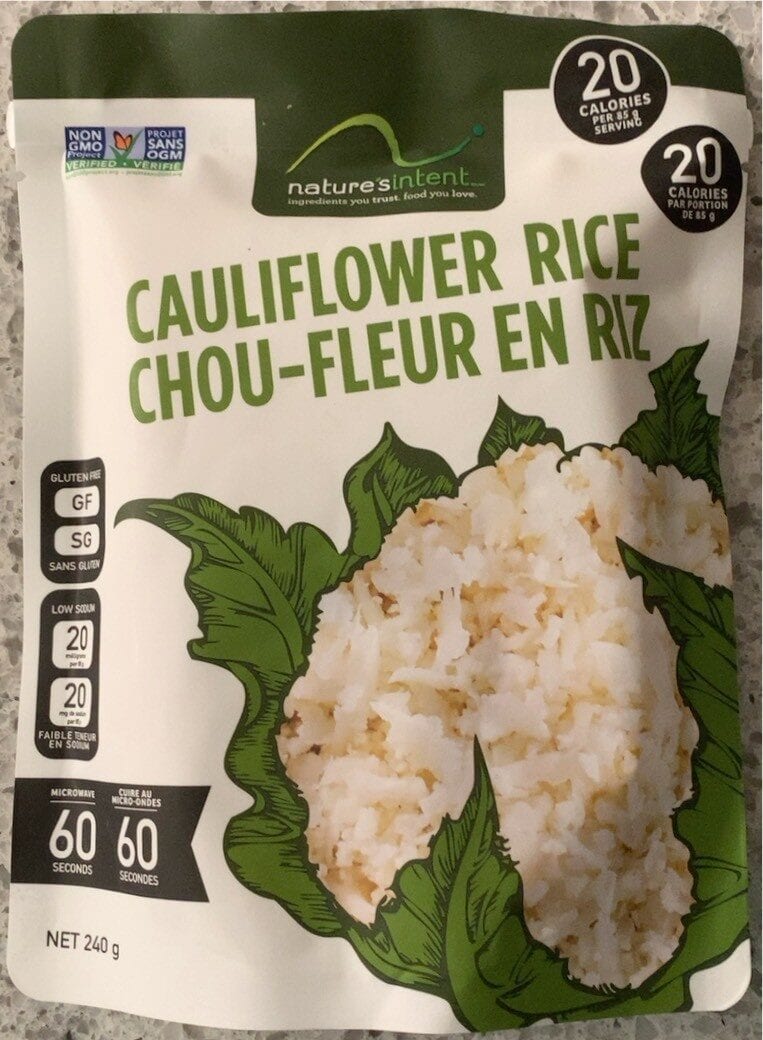 Costco Cauliflower Rice Ingredients
Less is more, right? This shelf stable cauliflower rice from Costco contains two ingredients only: cauliflower and lactic acid. No added sodium, no artificial ingredients.
What is lactic acid and why is it even there? Well, in this cauliflower rice package it's used to preserve the food, but you shouldn't think of it as a preservative.
Lactic acid is known to promote gut health since many types of bacteria that produce it are actually considered probiotics. Some of the most common foods that contain lactic acid are pickled vegetables, kefir, kimchi, sauerkraut and many more.
This ingredient also boosts nutrient absorption such as iron and act as an antioxidant and fight free radicals to reduce inflammation.
Cauliflower rice, which is the star of this product, contains 100% of the daily recommended amount of vitamin C in just one serving. In addition, cauliflower rice is also rich in vitamin K which is a fat-soluble vitamin and plays a key role in proper blood clotting, bone metabolism and balancing blood calcium levels.
Recipes using cauliflower rice
We have several delicious recipes on our website featuring riced cauliflower. From a simple cauliflower rice stir fry to stuffed peppers and even sushi, I'm sure you'll find a delicious dish you'd love to eat.
Keto Cauliflower Rice Stir Fry
You can swap fresh cauliflower in this recipe for the Nature's Intent cauliflower rice from Costco. This is a perfect low calorie side dish with ghee, eggs, sesame oil (although you can use a low carb sesame ginger sauce here for extra flavor), liquid aminos, some onion, garlic and spices.
This cauliflower rice stir fry takes only 30 minutes to prepare and one serving comes at 153 calories. Plus, with less than 8 grams of net carbs you surely won't kick yourself out of ketosis.
Keto Sushi
One of my favorite recipes of all time! I've always been a crazy fan of sushi, so creating this recipe with riced cauliflower instead of white rice was a must for me. In the original recipe, we've used raw chopped cauliflower rice, but you can use this one as well.
Just make it in the microwave and then cool it down, grab a nori wrapper and add avocado, cream cheese, cucumber, coconut oil and soy sauce. No bland food here, this recipe is well seasoned for sure and full of flavors. Less than 5g net carbs and 230 calories per serving.
Keto Cauliflower Hash Browns
Did you know you can use cauliflower rice to make keto, low carb diet approved hash browns? This recipe is also perfect for meal prep for the whole week. Simply swap the grated cauliflower for cauli rice and enjoy a perfect breakfast meal.
One serving is just 164 calories and 3.2g of net carbs. You can serve it with fried eggs, or put ground beef on top for a more hearty meal filled with protein.
Keto Stuffed Peppers with Ground Beef
Try out this easy recipe with red peppers and ground beef for a protein filled dinner with cauliflower rice. Stuffed peppers are usually made with white rice, but trust me when I tell you, swapping it for riced cauliflower won't even make a difference in taste.
All you need is about 30 minutes of your time to make this insanely good food! If you're the only person in your household, you can also make these for meal prep and eat it whenever you'd like.
How to make homemade cauliflower rice?
To make homemade riced cauliflower simply grate a head of raw cauliflower using a cheese grater, or grab a food processor if you have one. I truly recommend the second option, it will take you seconds to grate the whole cauliflower without any hassle.
You can then freeze it, store it in the fridge or cook it straight away. To cook it, heat olive oil over medium heat and add riced cauliflower, stirring occasionally. Once cooked, you can use it in tons of different delicious, low calorie recipes without all the carbs.
Make sure to check out our guide to Where to Buy Cauliflower Rice (+ Our Top Picks!).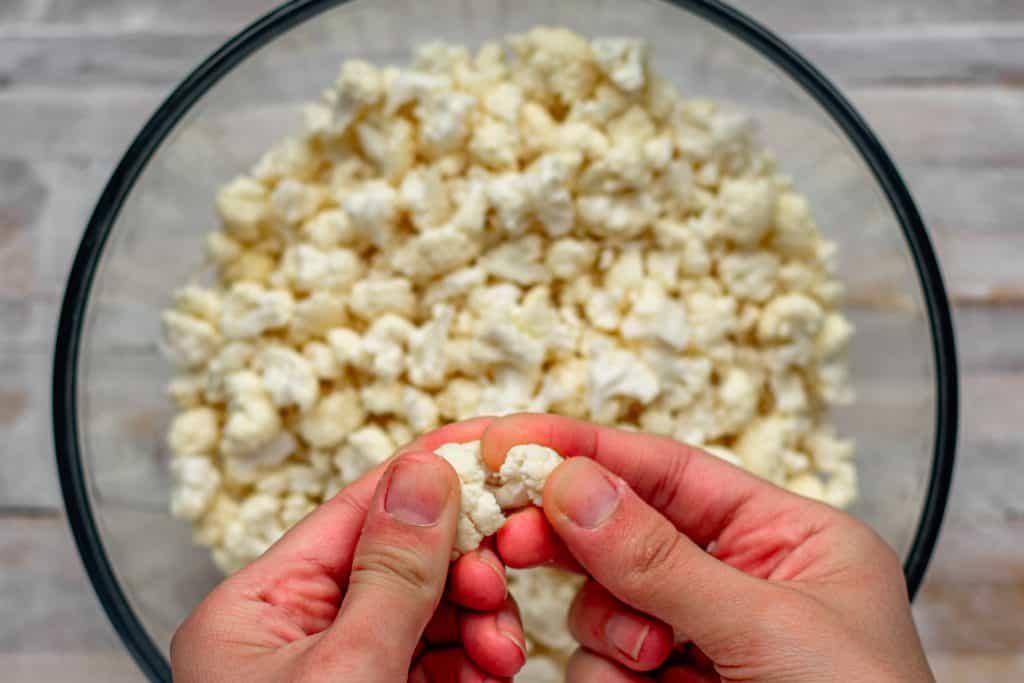 Costco Cauliflower Rice Review Final Thoughts: Would I Buy it Again?
I remember the days when cauliflower rice was a miracle to see in stores. There were maybe one or two brands that actually made it and rarely any food chain (including Costco!) wanted to carry it.
I'm glad that times have changed and now we have a huge variety of ketogenic foods to choose from. You can find fresh riced cauliflower, frozen cauliflower rice, a pre-packaged cauliflower rice stir fry with veggies, shelf-stable kind and so on. Ladies and gentlemen, we've got it all now!
I would definitely buy the Nature's Intent cauliflower rice from Costco again. The number #1 thing I love about it the most is that it's shelf-stable, so I can take it even when we're going away for the weekend where there's a kitchen or simply not overcrowd my freezer.
It's delicious, easy to prepare, contains all the nutrition facts on the label without any manipulative advertising. It's natural, doesn't contain additional sodium or unnecessary sugar. It's honestly my top grocery pick whenever I'm shopping at Costco.
Written By