It's sweater weather, guys! That means it's time for cozy soups to warm you up on cold days. This keto butternut squash soup is creamy, delicious, and low carb.
Around this time of the year, you can probably find butternut squash at every single grocery store in the country. It's a seasonal vegetable welcomed around the fall and throughout winter.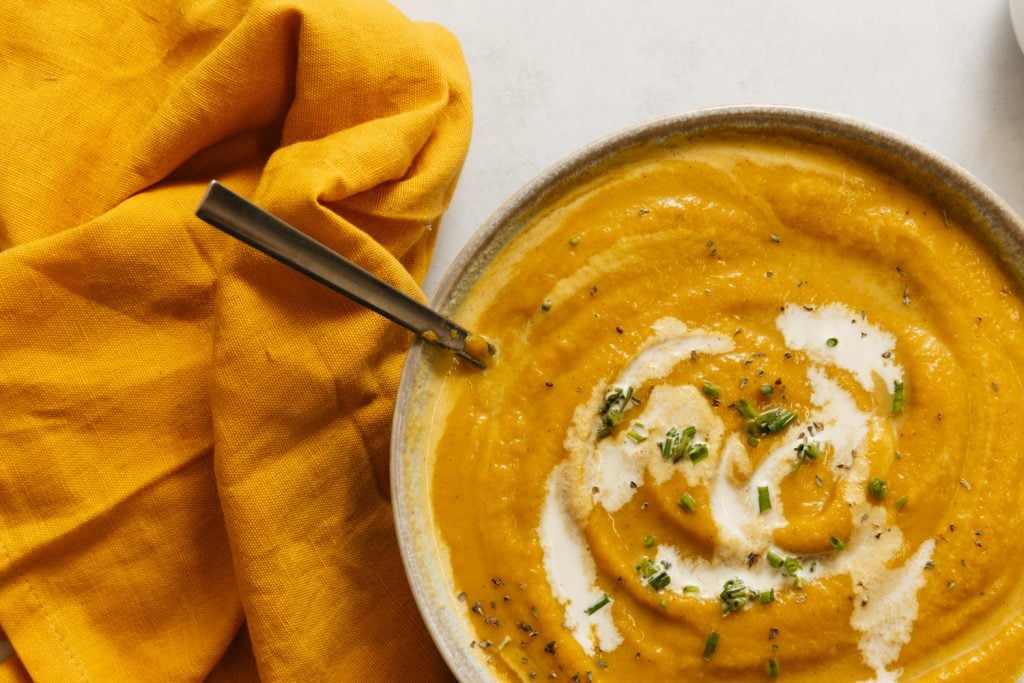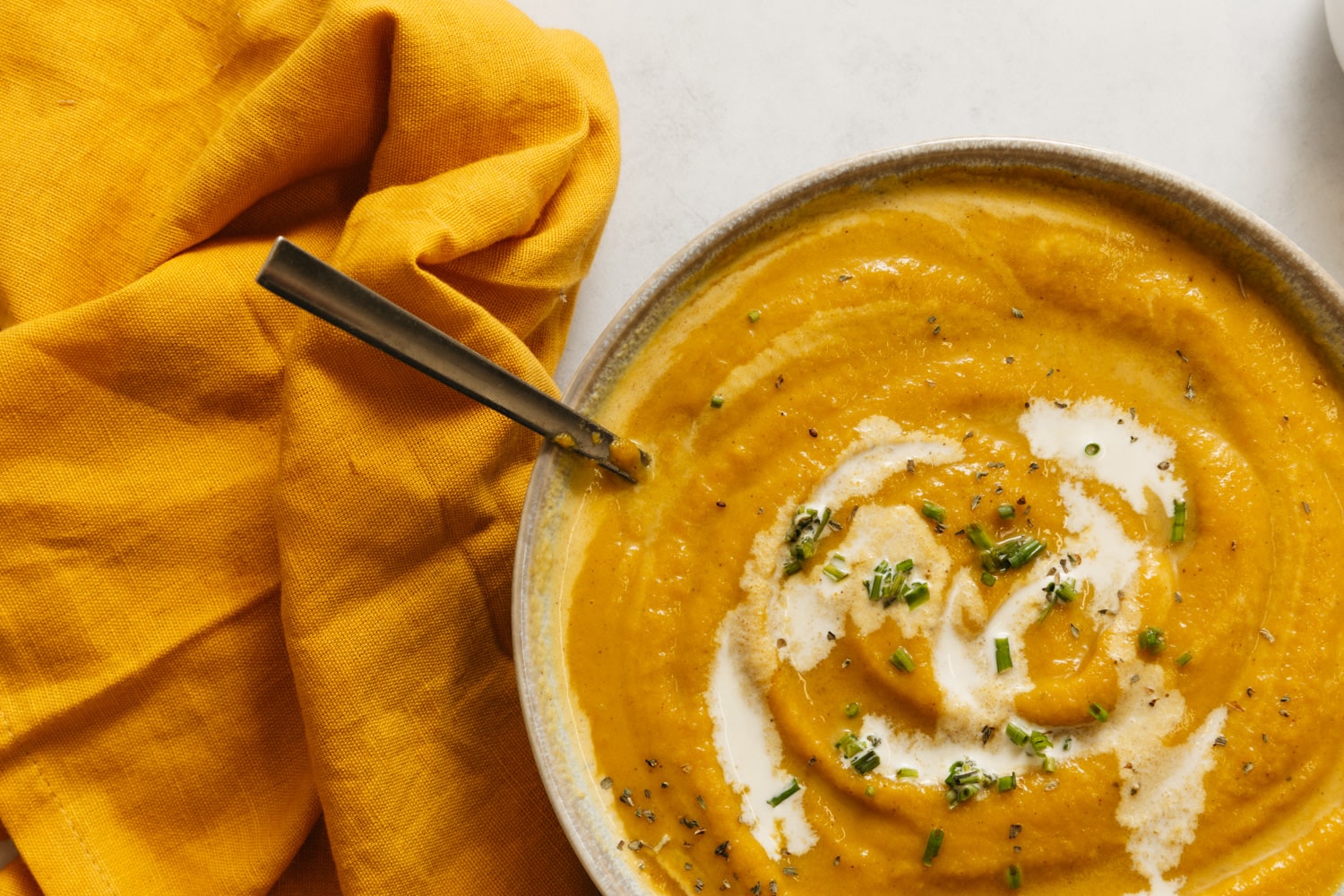 We're not really surprised since it's ridiculously versatile, easy to cook with, and most of all, healthy! You can make a bunch of different recipes with it such as soups, stews, and even desserts. And yep, it's low carb and keto. How cool is that?
We've decided to make a classic keto butternut squash soup with aromatic spices for an extra kick. Read on how to make it by yourself in the comfort of your own home!
How to Make Keto Butternut Squash Soup?
The only thing you might need to buy is the butternut squash itself if you don't already have it in your fridge. As per the rest of the ingredients, I'm sure they're somewhere in your pantry. Bring on the cinnamon, nutmeg, and cloves ladies and gentlemen!
Ingredients
Butternut squash – this seasonal vegetable is a wonderful source of vitamins and antioxidants. It also contains more potassium than a banana! Look for squash that has no soft spots on the skin or dark spots in general. Their skin is the number one way to see if you're buying fresh butternut squash.
Chicken broth – also rich in vitamins and minerals, it virtually contains no carbs. You can get the organic store-bought kind or make your own. If you'd like to keep this keto butternut squash soup vegetarian simply substitute chicken broth for vegetable broth.
Heavy cream – this is an optional ingredient, but if you're not lactose intolerant we'd recommend you add a splash or two to make a thicker soup. Can you leave it out or substitute it? Absolutely! You can always add full fat coconut milk or coconut cream instead.
Olive oil – you only need this ingredient to help the butternut squash roast for a bit in the oven. If you don't have any, you can use coconut oil. Keep in mind the taste might change a little bit.
Spices & seasonings – here is where it gets awesome. I've always said it that all kinds of herbs and spices are heavily underrated when it comes to the keto diet and the food we eat.
This recipe calls for a tiny bit of ground cloves and nutmeg to give the soup a rich and warm flavor; cinnamon, thyme, black pepper and salt. You can also add cayenne pepper or hot sauce if you like your roasted butternut squash soup extra spicy.
Step by Step Guide
Trust us, this will be hands down one of the best butternut squash soup recipes you've ever had. It's an easy soup recipe which perfectly combines all the fall flavors with fewer carbs than the traditional kind.
1. Preheat the Oven
Preheat the oven to 425 degrees and line a baking sheet with parchment paper. Grease it up a bit to avoid the squash from sticking to it later.
2. Prepare Squashes
If you've never dealt with squash – don't worry. To make this keto friendly soup you need to first cut squashes in half and microwave them for about 6-8 minutes and then let them cool down for about 10 minutes.
Next, you need to remove tops and bottoms and cut the halves lengthwise. Use a spoon to scoop out all the seeds and discard. Then simply take a sharp knife and remove the skin while keeping as much flesh as you can intact.
Then, cut the squash into 1 inch cubes and place on a previously prepared, greased baking sheet. Add peeled garlic cloves, toss in olive oil and then season with salt and pepper.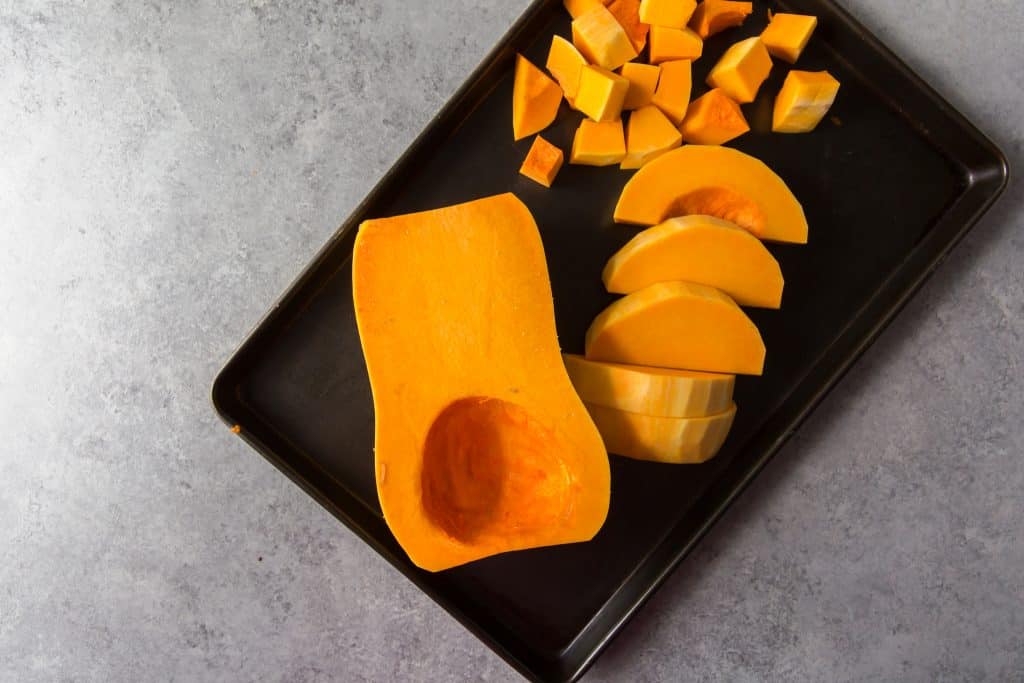 3. Roast it
Mix everything so it's coated well and bake for 40 minutes at 425 degrees.
4. Boil it All Together
Once squash is roasted and ready to go, remove it from the oven. In a large pot, bring chicken stock and spices to a simmer. Add cubed butternut squash and continue simmering on low heat for 40 minutes or until the squash is done cooking and turns soft.
5. Blend
Now it's time to blend! Make sure squash is soft at this point. You can use a handheld blender or a food processor to do this. This is also the time to add heavy cream or a dairy free alternative to make it creamier.
6. Serve
Almost ready! Serve this keto butternut squash soup with roasted garlic and thyme or simply throw on a garnish of pumpkin seeds. Enjoy!
FAQs
Is roasting butternut squash necessary?
It's a yes from us. The reason why is because roasting it will give your keto butternut squash soup an exceptionally rich flavor. If you decide to skip this part, the soup may come out more bland in flavor and won't have the traditional butternut squash soup effect we're going for.
Is low carb butternut squash soup healthy?
Absolutely, without a doubt, yes! Butternut squash has an awesome nutrient profile. Did you know that one serving of butternut squash has more potassium than a banana? It contains a lot of fiber as well which supports healthy digestion and helps those with gastrointestinal problems.
If that wasn't enough to convince you, butternut squash is also full of vitamin A, which supports eye health; vitamin C to strengthen your immune system and other powerful antioxidants that help reduce the risk of cancer and support bone health.
Can I freeze butternut squash soup?
You sure can! Wait until the soup is cooled down and then transfer it to airtight containers leaving at least an inch of space on top. If you're adding heavy cream to your soup, we'd recommend you freeze it before you do that. Dairy doesn't freeze well because of its higher fat content and may separate.
You can leave keto butternut squash soup in your freezer for up to three months. Then, all you need to do is take it out, thaw it and it's ready to go! You can also keep it in the fridge for about 3-4 days.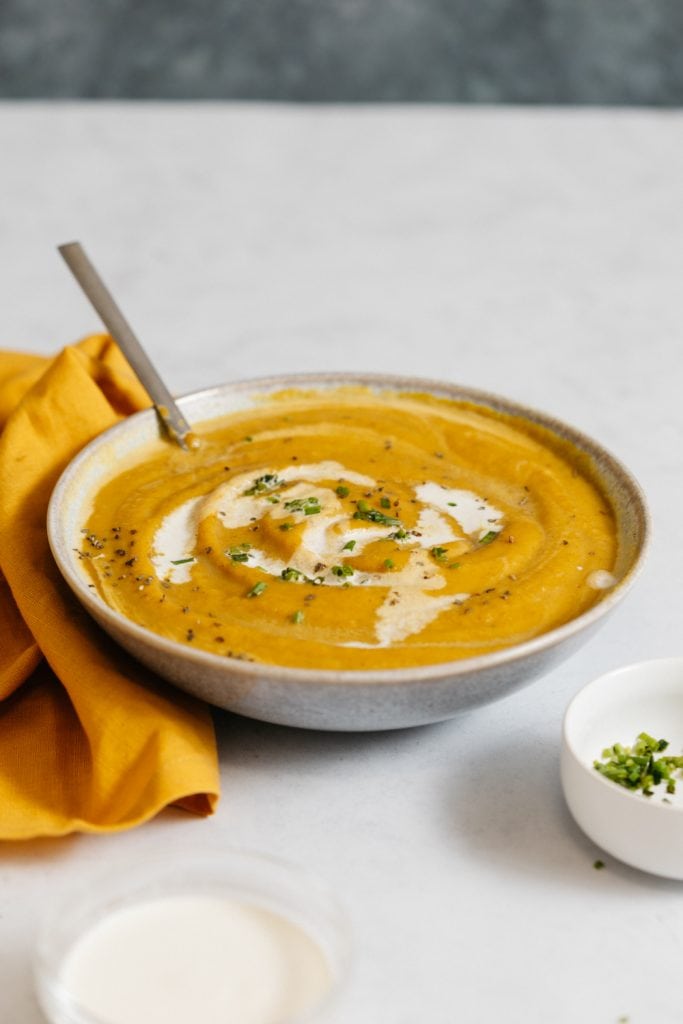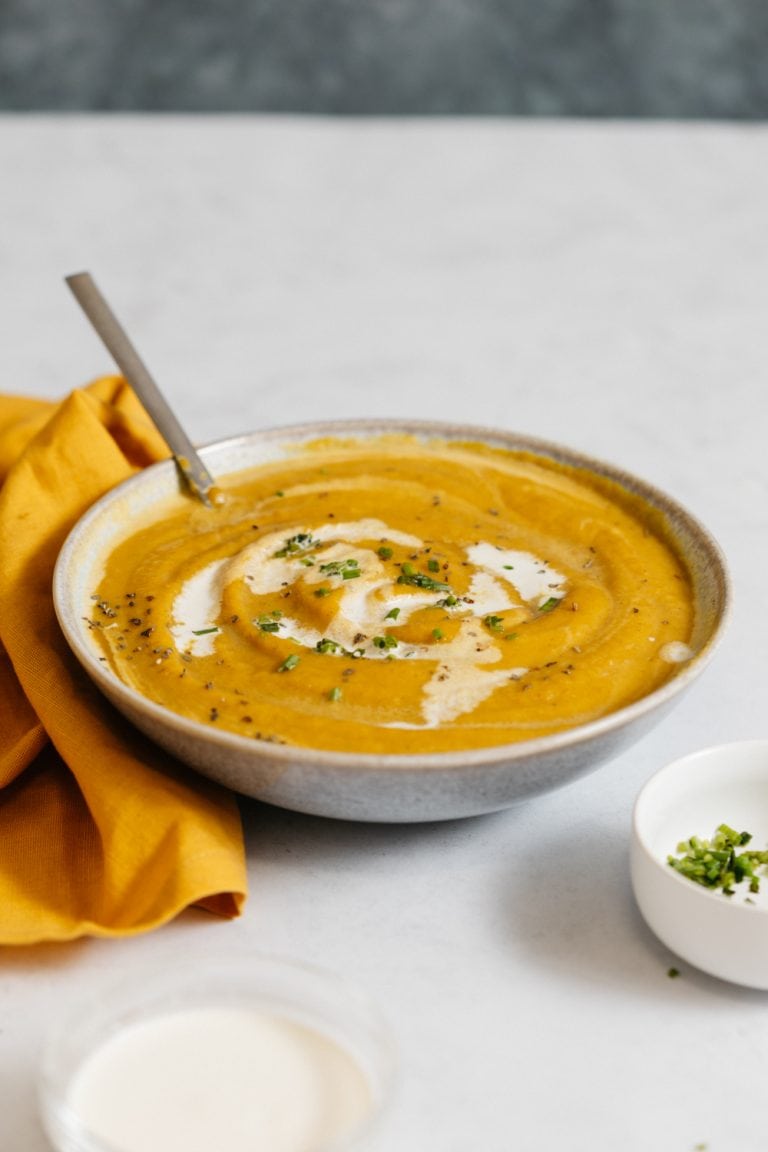 More Keto Soup Recipes
Let us know in the comments if you've enjoyed making this recipe or if you have any questions about it. Share it with your friends and family for an unbeatable, low carb butternut squash soup recipe for the colder months!
And last but not least, definitely let us know if you've added your own spin to it. We'd love to hear your feedback!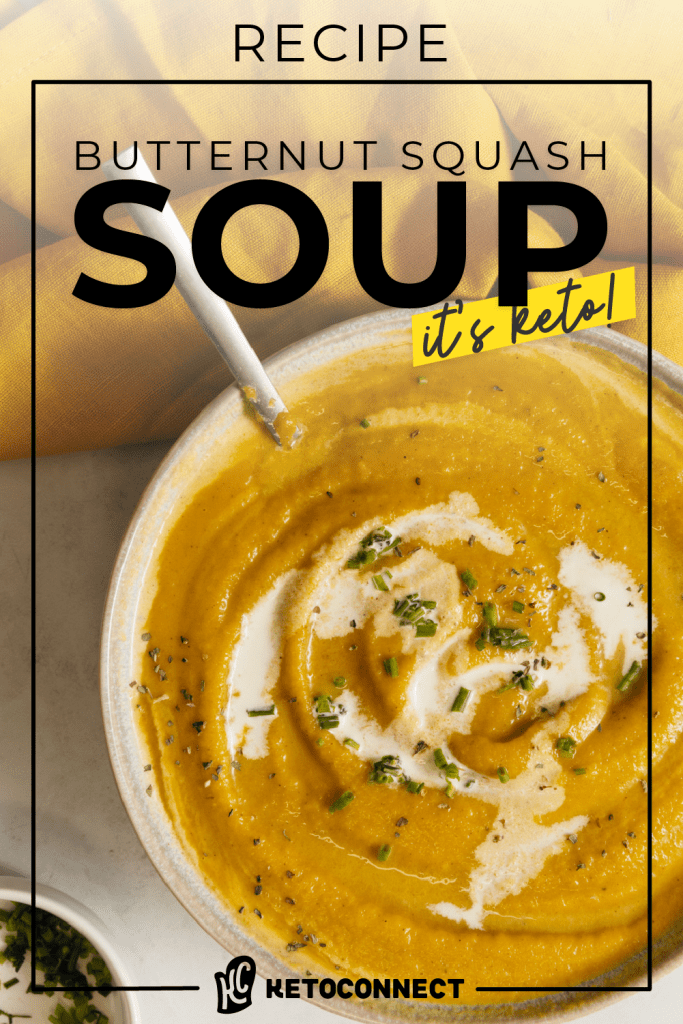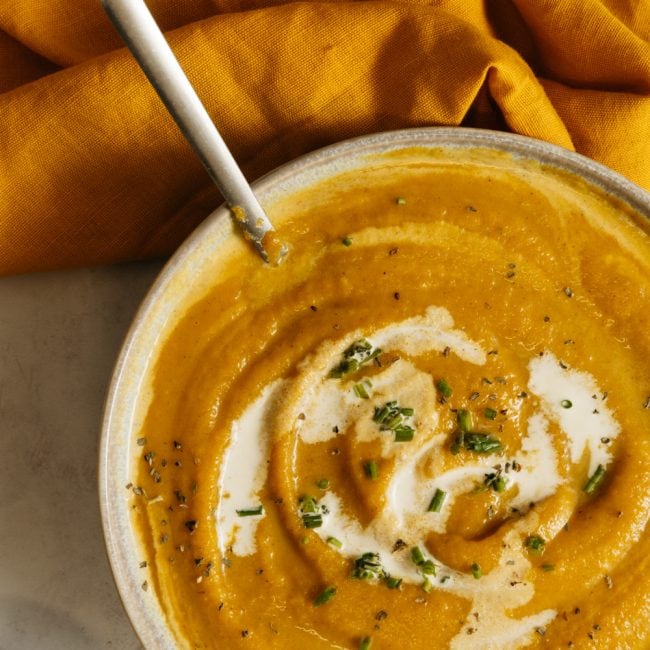 Keto Butternut Squash Soup Recipe
Learn how to make a classic keto butternut squash soup with aromatic spices for an extra kick. And make it by yourself!
Total Time 55 minutes
Servings 6 servings
Calories per serving 95kcal
Prep Time: 15 minutes
Cook Time: 40 minutes
What You Need:
Knife

Microvave oven

blender
Instructions:
Preheat the oven to 425 degrees.

Microwave each of the squashes for 6-8 minutes, remove from the microwave and allow to cool for 10 minutes.

Cut the squash in half widthwise and place it open end down on a cutting board. Slice from the top down to remove the skin all around.

Remove the tops and bottoms and then cut the halves lengthwise. Use a spoon to scoop out and remove all the seeds.

Cut the squash into 1inch cubes and place on a lightly greased baking sheet. Toss in the cloves of garlic (peeled) and season with salt, pepper, and olive oil. Mix everything together and bake for 40 minutes.

While the squash roasts, bring the spices and chicken broth to a simmer on the stove. Simmer for 40 minutes, or until the squash has finished cooking.

Once the squash has cooked blend the roasted squash with the simmered chicken broth and spices.

Serve warm with a splash of heavy cream and pumpkin seeds.
Notes
You can also add cayenne pepper or hot sauce if you like your roasted butternut squash soup extra spicy.
Nutrition Facts
Keto Butternut Squash Soup Recipe
Amount Per Serving
Calories 95 Calories from Fat 27
% Daily Value*
Fat 3g5%
Saturated Fat 1g5%
Polyunsaturated Fat 1g
Monounsaturated Fat 2g
Sodium 870mg36%
Potassium 628mg18%
Carbohydrates 18g6%
Fiber 3g12%
Sugar 3g3%
Protein 2g4%
Vitamin A 14894IU298%
Vitamin C 41mg50%
Calcium 83mg8%
Iron 1mg6%
* Percent Daily Values are based on a 2000 calorie diet.
Written By