Whether or not Halloween is just around the corner these Ice Cream Bites are a great way to enjoy a treat and up your fats for the day! Snickers was always my favorite candy to get when I was out trick or treating. There was something about biting into a chocolate coating and hitting caramel, peanuts and nougat all at once that really hit the spot for me! As we get older many of us try to re-live incredible childhood memories, and snickers happens to be one of my favorites! Watch me make them below.
The Best Keto Fat Bombs
In my opinion, snickers is the best candy so naturally I would think these are the best fat bombs! However, opinions aside, what makes these the best is how on point the taste is – they perfectly replicate snickers ice cream bars, and I know everyone has tried those! We've simulated it by creating three separate layers in the bites – a chocolate layer, a caramel and nut layer and a nougat layer. I assure you, despite it sounding a bit complicated to make, it really isn't and they are so worth it in the end!
Check out our list of the 17 Best Keto Fat Bomb Recipes.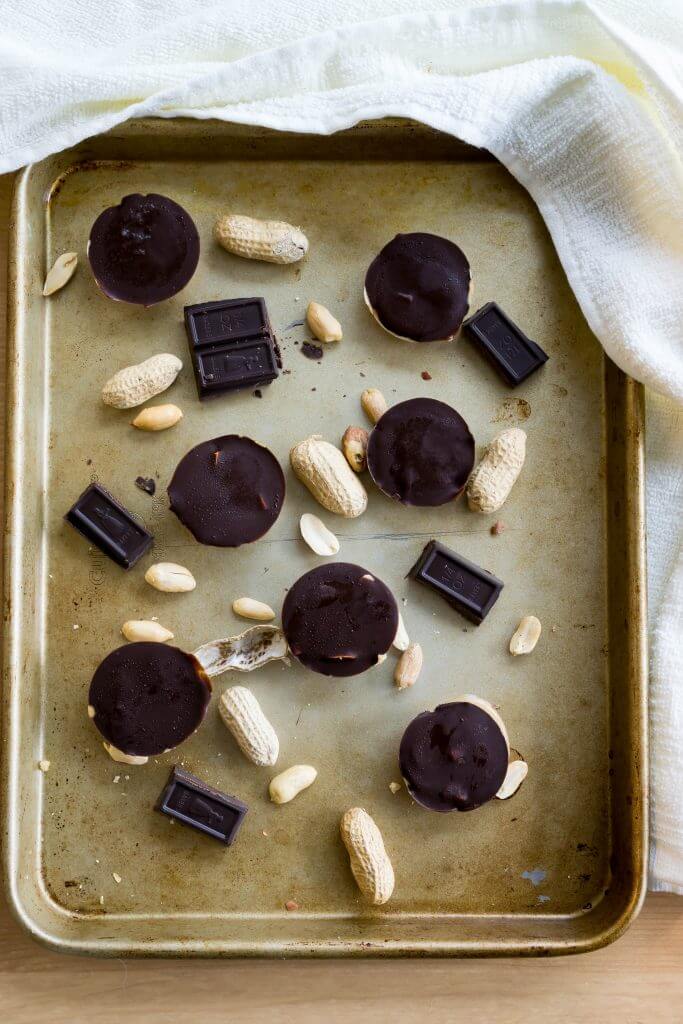 Low Carb Candy For Halloween!
Fall time is my favorite time of year and in that season lands one of the best holidays, Halloween! There is no other perfect way to celebrate than to make these low carb ice cream bites that taste exactly like snickers ice cream bars! There are so many candies out there, and a lot more easier ones to re-make into a low carb version, but I didn't want to give you something you could easily make at home yourself. For example, do you love Reeses' cups? Well, grab some low carb or sugar free chocolate, your favorite natural peanut butter, and maybe some liquid stevia, and you've got the ingredients for one! This recipe took a bit of testing and a lot of critique from Matt, but we nailed it and you'll want to try these out at home!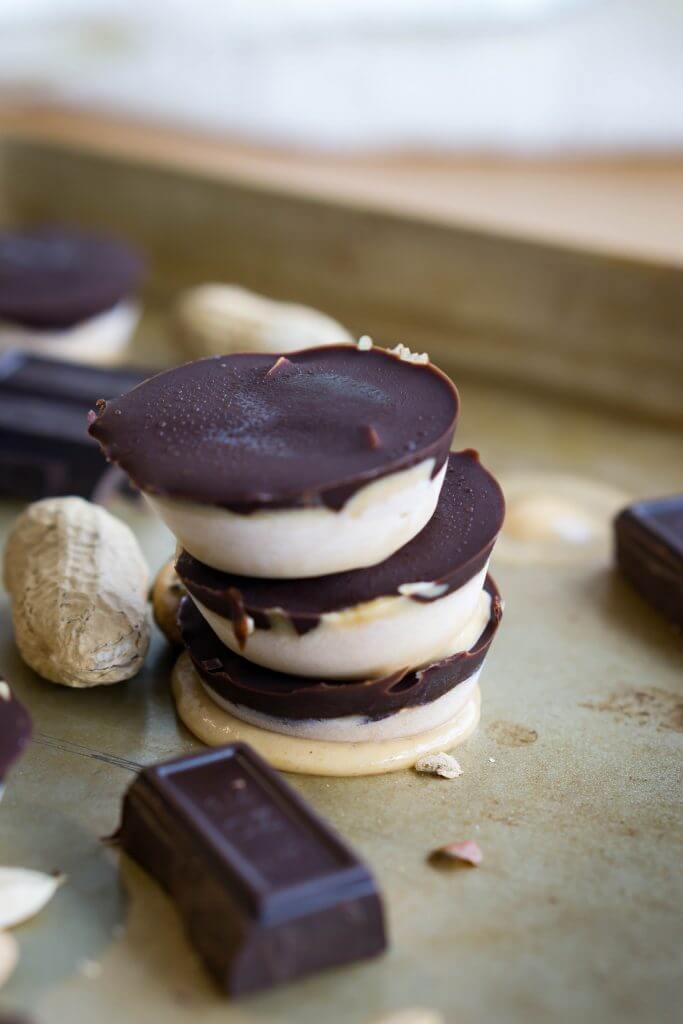 Snickers Ice Cream Bites
I have many friends who aren't big fans of Halloween. The whole need to dress up just brings on more stress than anything, and I nor my friends have ever been fans of being a sexy anything. I get it, but that never stopped me from making it all about the candy! These snickers ice cream bites allow my to not only re-live my favorite days of shoving candy into my mouth, but also open the door to my indulging in my favorite candy again, today. Whether or not you're a fan of snickers, I can almost guarantee you will love these ice cream bites!Tip: If you're not a fan of using the sugar free maple syrup, and we totally understand that, you can use 15 drops liquid stevia and 1/2 tsp maple extract to replicate the flavor and sweetness!
​Recipe can be quickly added to MyFitnessPal – Search "KetoConnect – Ice Cream Bites"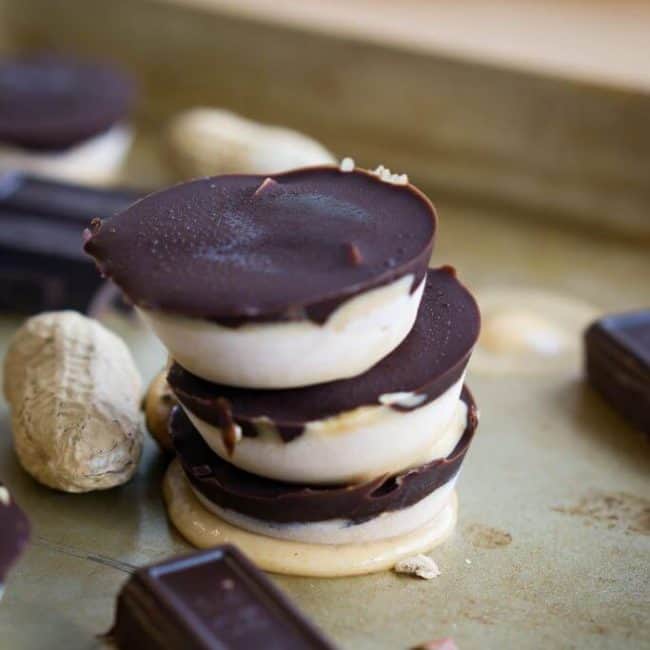 Ice Cream Bites | Snickers Fat Bombs!
Total Time 2 hours 5 minutes
Servings 8 Bites/Fat Bombs
Calories per serving 120kcal
Ingredients:
Instructions:
Bottom Nougat Layer
Put all the bottom layer ingredients into a bowl and combine with a whisk. Divide mixture between 8 fat bombs in the mold, place the mold on a baking sheet and place in freezer while you make the other two layers.
Middle Caramel Layer
Put the peanut butter and butter into a bowl and microwave for 30-45 seconds until the butter has melted. Combine using a spoon.

Add the maple syrup and combine. Set aside.
Top Chocolate Layer
Put the butter and chocolate in a bowl and microwave for 45 seconds and combine using a spoon to melt both together.

Add the liquid stevia and combine. Set aside.
Making the Fat Bombs
Pull the mold out of the freezer that already has the bottom layer setting. Divide the caramel layer among the 8 fat bombs, and top with peanuts, if desired.

Divide the chocolate layer among the 8 fat bombs – do not overfill.

Place in the freezer for at least 2 hours before removing fat bombs from molds and enjoying! If the bottom layer has not fully set and hardened allow to freeze longer.
Nutrition Facts
Ice Cream Bites | Snickers Fat Bombs!
Amount Per Serving
Calories 120 Calories from Fat 95
% Daily Value*
Fat 10.6g16%
Carbohydrates 3g1%
Fiber 1.6g6%
Protein 4g8%
* Percent Daily Values are based on a 2000 calorie diet.
Written By