We are big pancake people over in the Ketconnect household. Nothing beats a hearty, fluffy, buttery pancake, and that includes these Pork Rind Pancakes! They are basically zero carb (except for the seasonings) and extremely filling. You can make them as a main dish, side dish or prep them for the week ahead.
Pancakes Make The Perfect Side Dish!
The first time Matt made these pork rind pancakes and I gave them a try I immediately thought of the green onion pancakes I used to get at Chinese restaurants. So, of course I highly recommend you try these with some additional spices and green onions in the batter to give them even more life! They can be served as your main dish or as as side dish, replacing the corn bread, toast or carb-y side you used to eat.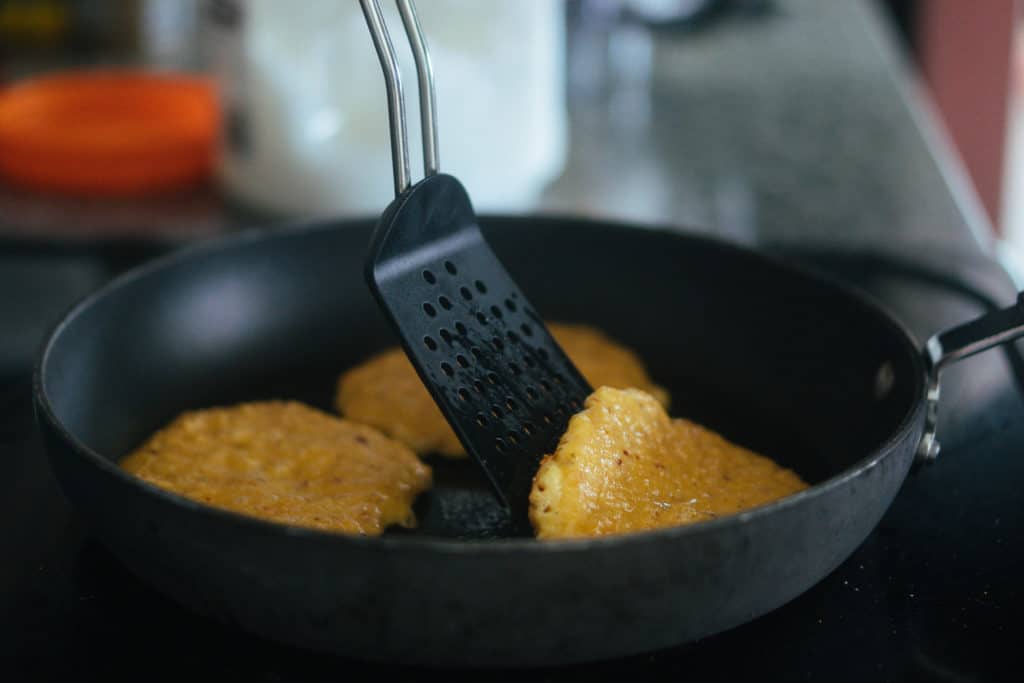 So, Are Pork Rinds Healthy For You?
Honestly, they are not something I would personally eat everyday. Once in a while for a movie snack or as something to munch on as I work at my computer they are fine, but there are much better sources of fat and protein! I would say making these pork rind pancakes would be great to pair alongside already nutritious meals, such as:
1. Low Carb Chili with Bacon2. Easy Pulled Pork3. Keto Chicken TendersOr, as seen in the picture below, you can just pile a stack of warm pancakes onto a plate and top them with butter to feed the animal inside! Just make sure these aren't the only foods you eat in the day.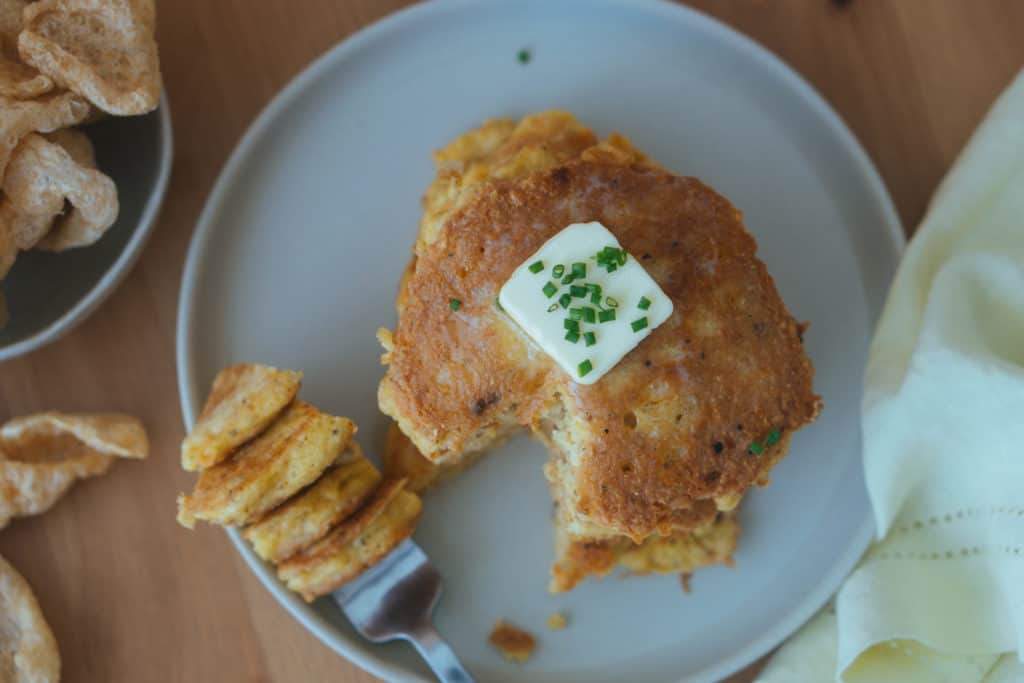 Zero Carb Pork Rind Pancakes
Pancakes are always a quick meal to whip up for the entire family. Just pair it with some eggs and bacon and you've got yourself a complete and nutritious meal. These ones will surprise and satisfy even your non-keto family and leave you feeling good with zero carbs under your belt. Make these pork rind pancakes with your own twist and let us know what you come up with by tagging us on Instagram!

Recipe can be quickly added to MyFitnessPal – Search "KetoConnect – Pork Rind Pancakes"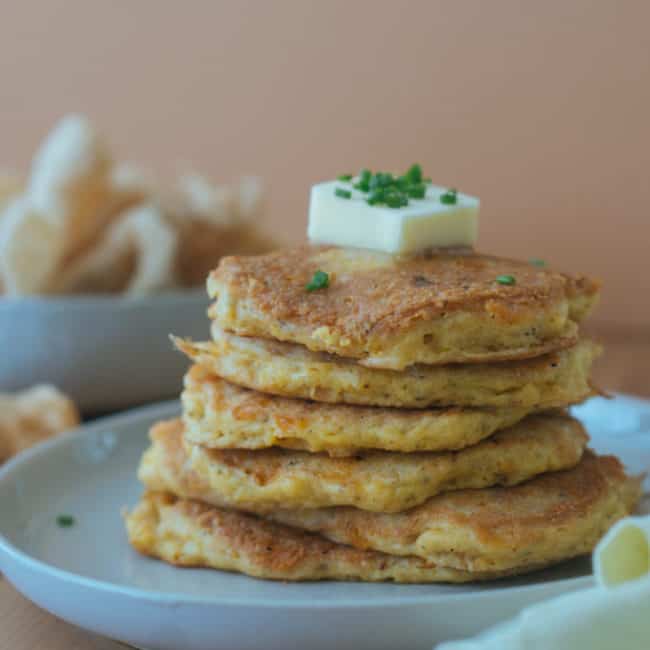 Pork Rind Pancakes
Zero-Carb pancakes made with pork rinds rather than flour.
Total Time 30 minutes
Servings 6 Servings (1 Pancake Per Serving)
Calories per serving 253kcal
Prep Time: 10 minutes
Cook Time: 20 minutes
Instructions:
Pulse the pork rinds in a food processor until finely ground.

Add in the baking powder, garlic powder, onion powder, red pepper flakes, oregano, salt and pepper, and cheese.

Pulse into fully combined.

Add in the eggs and milk and process until combined.

Heat a large skillet over medium heat and add coconut oil to the pan. Once heated, dollop on the mixture and spread out the pancakes to desired thinness using a spoon.

Once the surface starts to bubble it is ready to flip, about 2-3 minutes. Cook through on other side, an additional 30 seconds and set aside. Repeat until all batter is used.

We made 6 medium sized pancakes.

Store in an airtight container in the fridge up to 5 days!
Notes
The nutrition information listed below is per serving.
There is 1 pancake per serving.
Net Carbs: 1g (from seasoning)
Nutrition Facts
Pork Rind Pancakes
Amount Per Serving
Calories 253 Calories from Fat 183
% Daily Value*
Fat 20.3g31%
Carbohydrates 1g0%
Protein 15g30%
* Percent Daily Values are based on a 2000 calorie diet.
Written By