Have you ever tried a keto recipe that's so amazing you can't believe it's low-carb? This Keto Almond Flour Cake is one of them. It's light, fluffy and sweet, with a surprising zest thanks to the lemon. Despite such simple ingredients, this recipe is absolutely irresistible.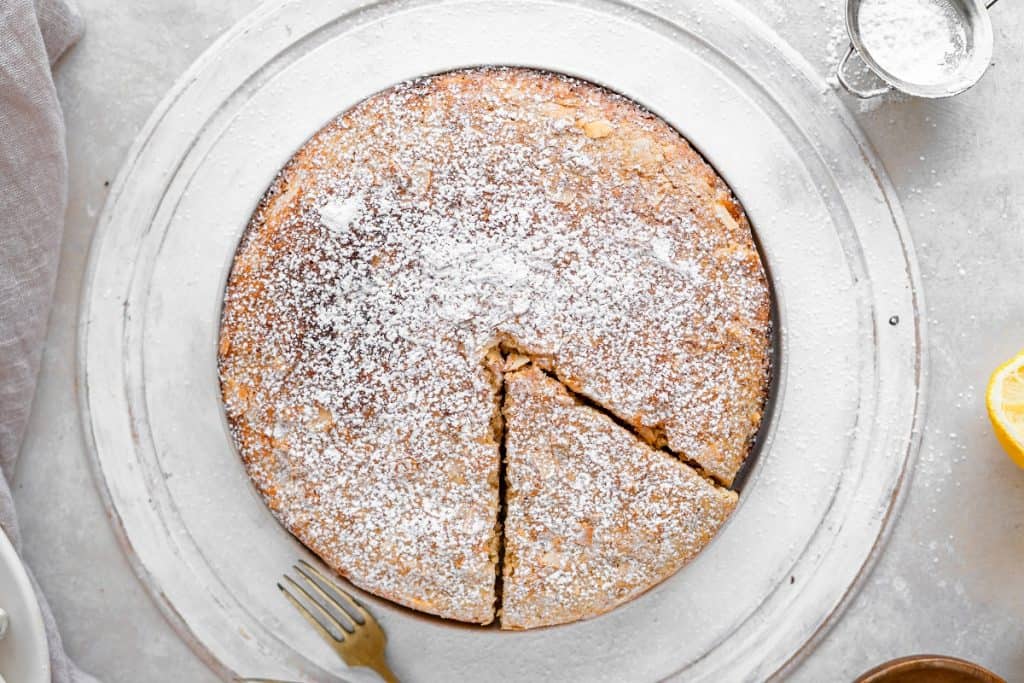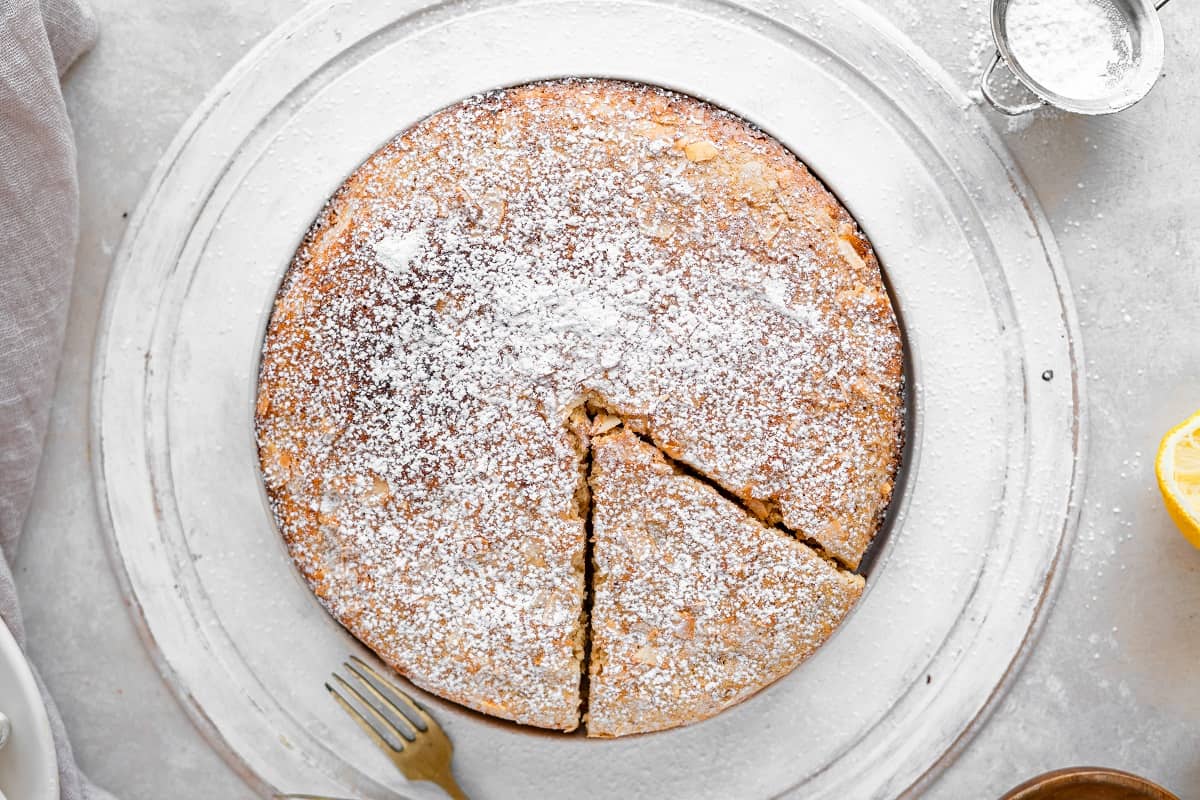 This golden brown cake is perfect for any occasion – from high tea to kids' birthdays! And with no sugar and such low carbs, it can even be enjoyed as a sweet morning treat. Our favorite part about this recipe? The sprinkle of sliced almonds!
A Keto Twist on Spanish Almond Flour Cake
Fun fact: this recipe is actually adapted from a traditional Spanish recipe called Tarta de Santiago, or Cake of Saint James. It dates back all the way to the Middle Ages.
While traditional flourless Almond Cake does use low-carb almonds as a base, it's also made with a lot of sugar. Luckily, we've managed to make Almond Cake low-carb. Check out this ingredient list.
Keto Sweetener
We've swapped out the sugar for our favorite keto sweetener, erythritol. We love this sweetener because it has no impact on blood glucose levels, and can be used as a sugar replacement in a 1:1 ratio in most recipes – no tricky math required! Feel free to use a granulated sweetener of your choice in this recipe.
Almond Flour
This recipe didn't actually require any flour substitutions to make it keto-friendly. Like many flourless European cakes, this cake is made with almond flour.
Unlike coconut flour, which can produce a dry batter, this makes it moist, fluffy and light. And unlike other almond flour-based recipes, the almond flavor can really shine through on its own.
Eggs
When it comes to keto recipes, the key to creating a light and fluffy dessert is the eggs. This allows the cake to get the perfect rise, without the need for baking powder, baking soda or any other leaveners.
This recipe uses separated eggs with beaten egg whites to create the ideal texture. This technique can seem a little tricky to master, but we promise it's worth the effort.
Lemon zest
Fruit is usually kept to a minimum on a keto diet, but the great part about using lemon zest in a recipe is you only need to use the tiniest amount. It also has a unique flavor from lemon juice or pulp, which means you don't have to worry about this sweet cake tasting sour or overpowering.
Not to mention that utilizing acids like citrus in your cooking is an incredible way to elevate a dish. Try adding a little lemon to one of your favorite keto recipes!
Sliced Almonds or Coconut Chips
Sliced almonds and coconut chips are both amazingly delicious, low-carb toppings to add an awesome layer of crunch to your recipe. They're also high-fat, which makes them super keto-friendly.
Not sure which one to choose? Almonds are great to complement the overall flavor of the cake, while coconut chips have an amazing natural sweetness to them. Bonus points if you toast them first!
Dairy-Free Keto Almond Flour Cake
Finding dairy-free keto recipes can be tricky – until now. This Almond Cake doesn't contain any dairy – not even butter!
Unlike other recipes, this one doesn't require any substitutions. You won't find any coconut cream, almond milk or coconut oil here. Instead, this cake stays perfectly moist thanks to the high-fat almonds and egg yolks.
Is This Cake Vegan?
While this Almond Cake recipe is gluten-free and dairy-free, it does contain eggs, which means it isn't suitable for a plant-based diet. The eggs are important for allowing the cake to rise and get that fluffy, springy texture without baking powder.
Almond Flour Cake – Better Than Chocolate Cake?
If you're a fan of dense, rich mud cakes or recipes that involve tons of chocolate frosting, you may be reluctant to try such a simple cake. But don't judge a book by its cover – this gluten-free recipe is seriously underrated. There's a reason people have been loving it for over 500 years!
So what makes it so amazing? First of all, it's light and fluffy. We promise you won't finish a slice feeling overly stuffed (though there's nothing wrong with a decadent slice of cake every once in a while!).
This also means it's a great recipe for any occasion. Feeling something sweet and satisfying after dinner? Need to whip up something impressive for guests? Creating your own high tea experience at home? This gluten-free Almond Cake is the answer.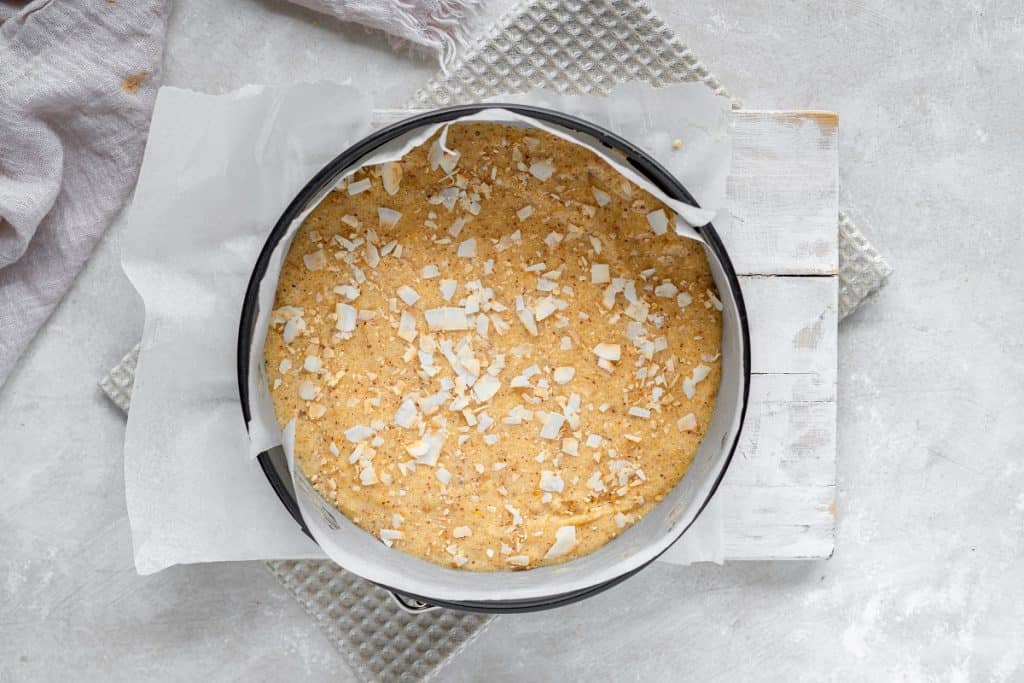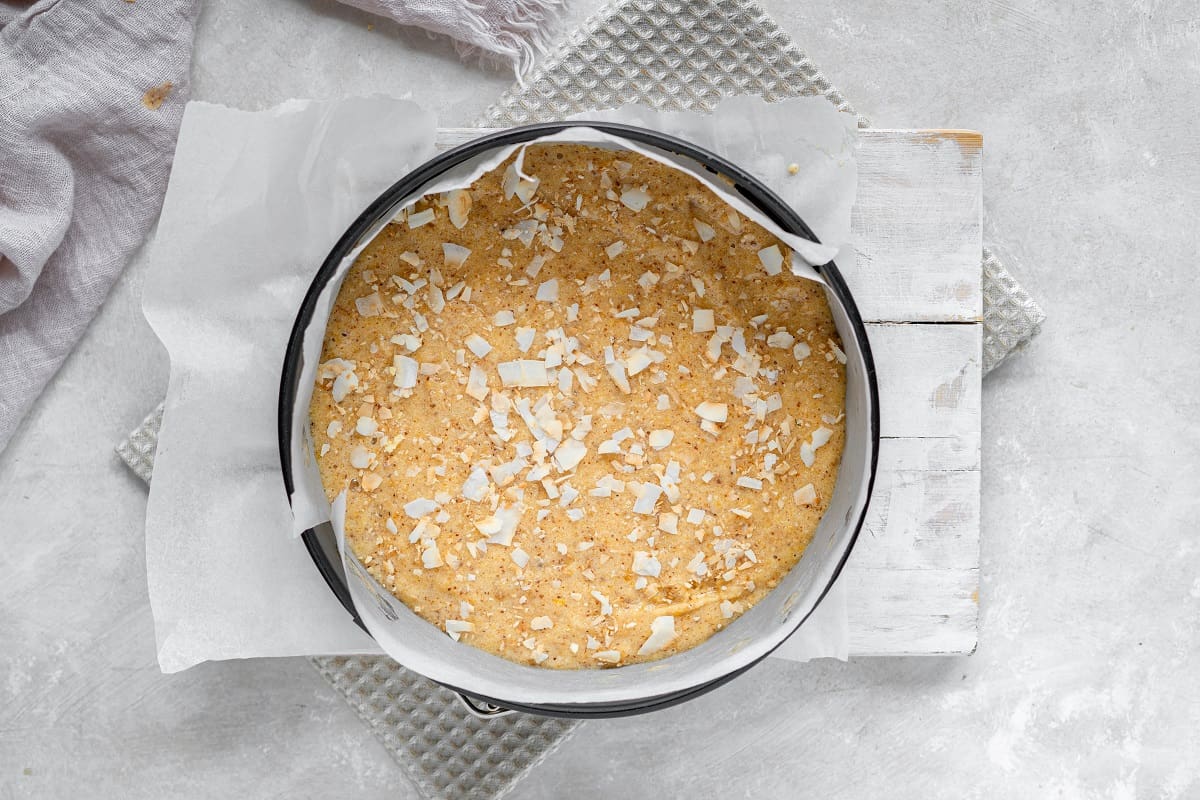 An Amazing Base Cake Recipe
If you want to get experimental, you could even use this recipe as a base and mix in whichever flavors or extra ingredients you like.
You can swap out the lemon zest for orange, vanilla extract or even cinnamon. Sometimes less is more.
While this recipe recommends sliced almonds or coconut chips for toppings, feel free to try contrasting flavors like shaved dark chocolate and sliced fresh berries.
Fun Flavor Ideas
Try adding in sugar-free sprinkles for a funfetti-style kids' birthday cake, mixing in a little cocoa powder to hit those chocolate cravings, or experimenting with matcha powder for something completely different.
Frosting Your Cake
Want to level up your Almond Cake? We've got frosting recipes for that! We recommend this buttercream-inspired 3 Minute Keto Frosting – or if you want to add another tangy flavor to the mix, this Simple Keto Cream Cheese Frosting is amazing, too.
Make sure to allow the Almond Cake to cool completely to room temperature before frosting to prevent any melting.
Our Tips and Tricks for the Best Almond Flour Cake
This gluten-free recipe seems simple, but it uses a couple of special techniques and ingredients to create the perfect cake. Don't worry – this recipe is still approachable for the novice baker.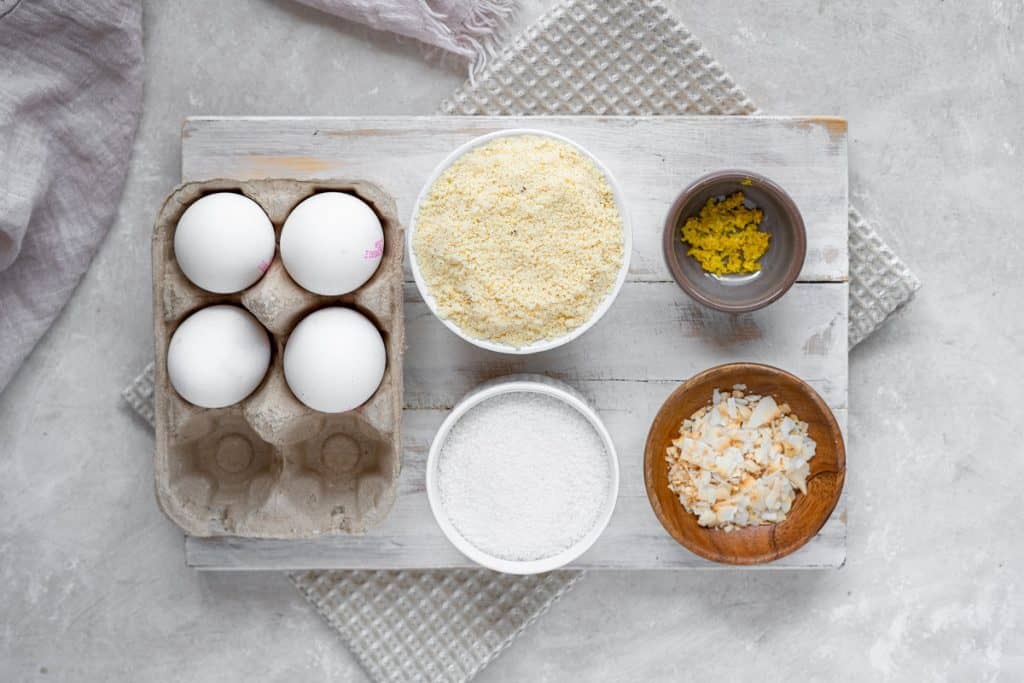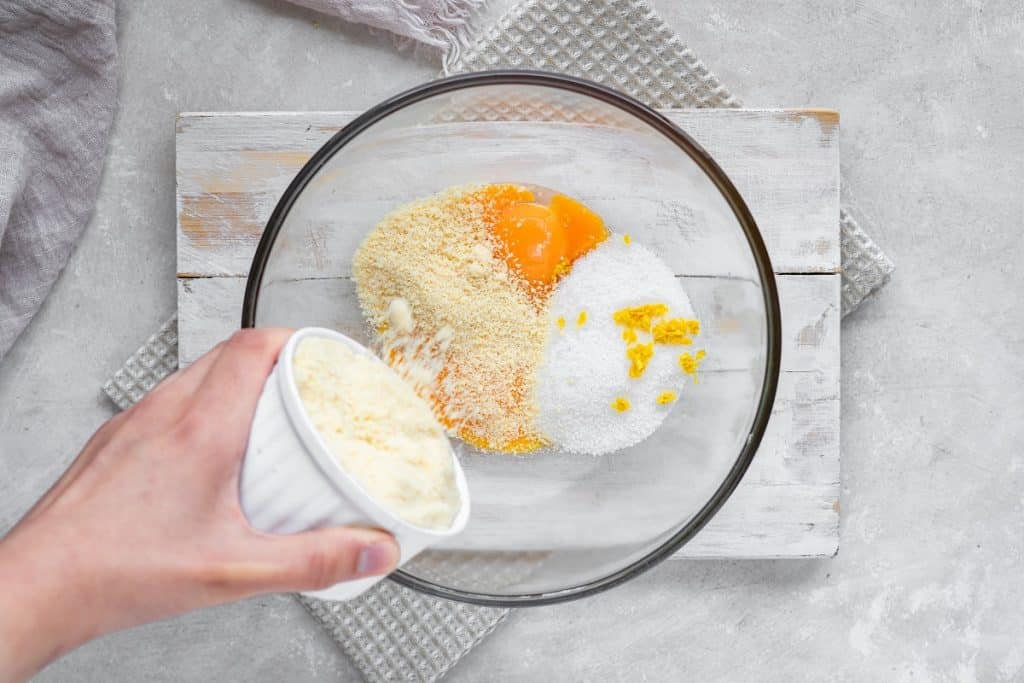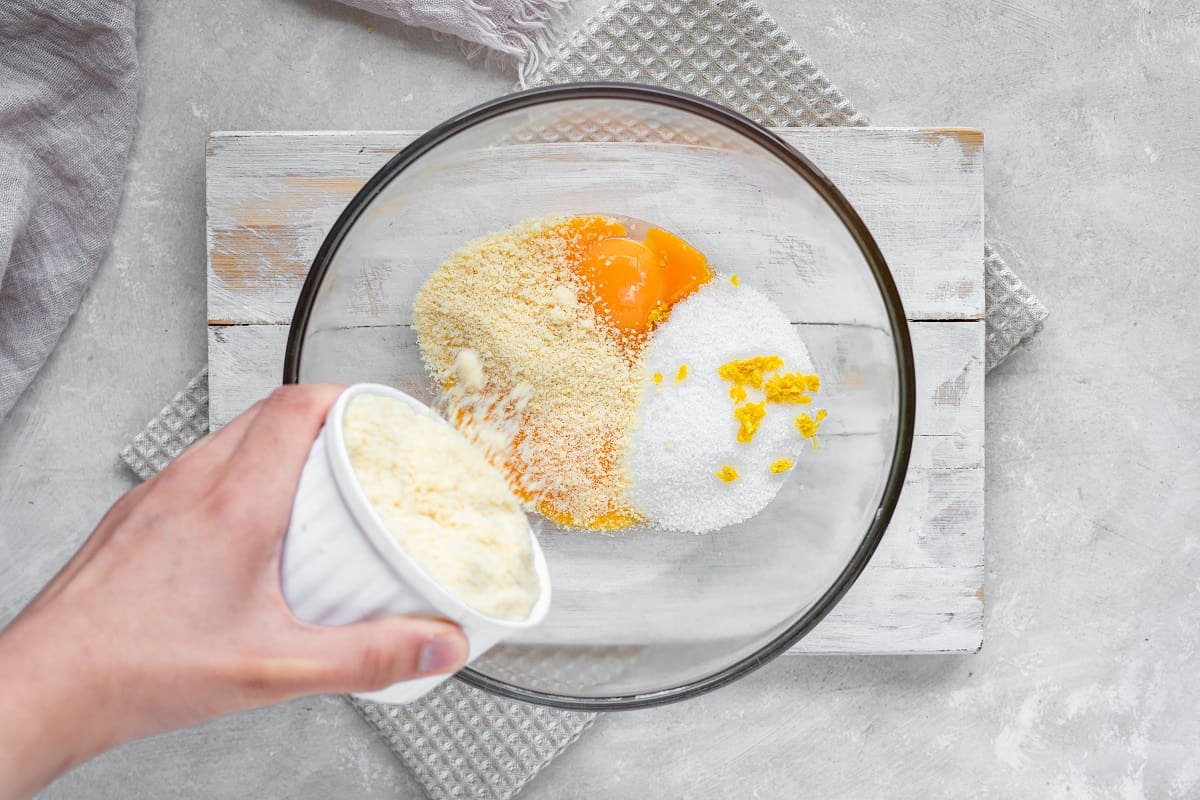 Separating the Egg Whites
It's a good idea to crack each egg over a separate container before adding the egg white and yolk to different bowls, just in case you accidentally pierce the yolk and contaminate your egg white mixture. This can make it difficult to beat the whites into peaks.
You can use the cracked eggshell, a special separator or just your fingers to separate the egg whites.
And while we've recommended beating the egg whites with a stand mixer, you can also use a handheld electric mixer over a large mixing bowl – or if you're persistent, a simple whisk.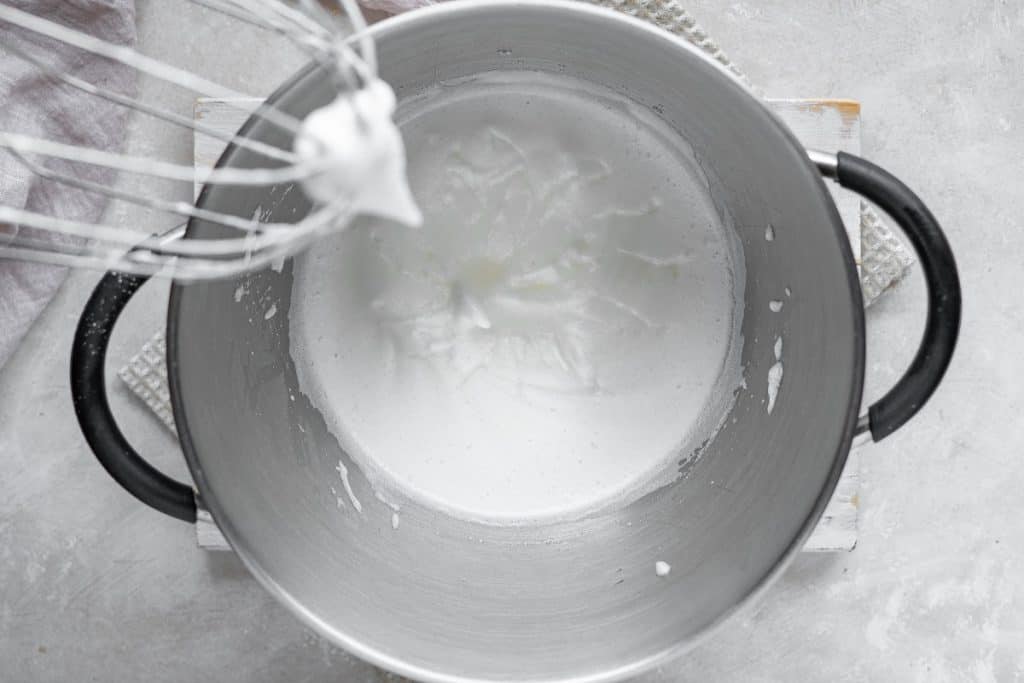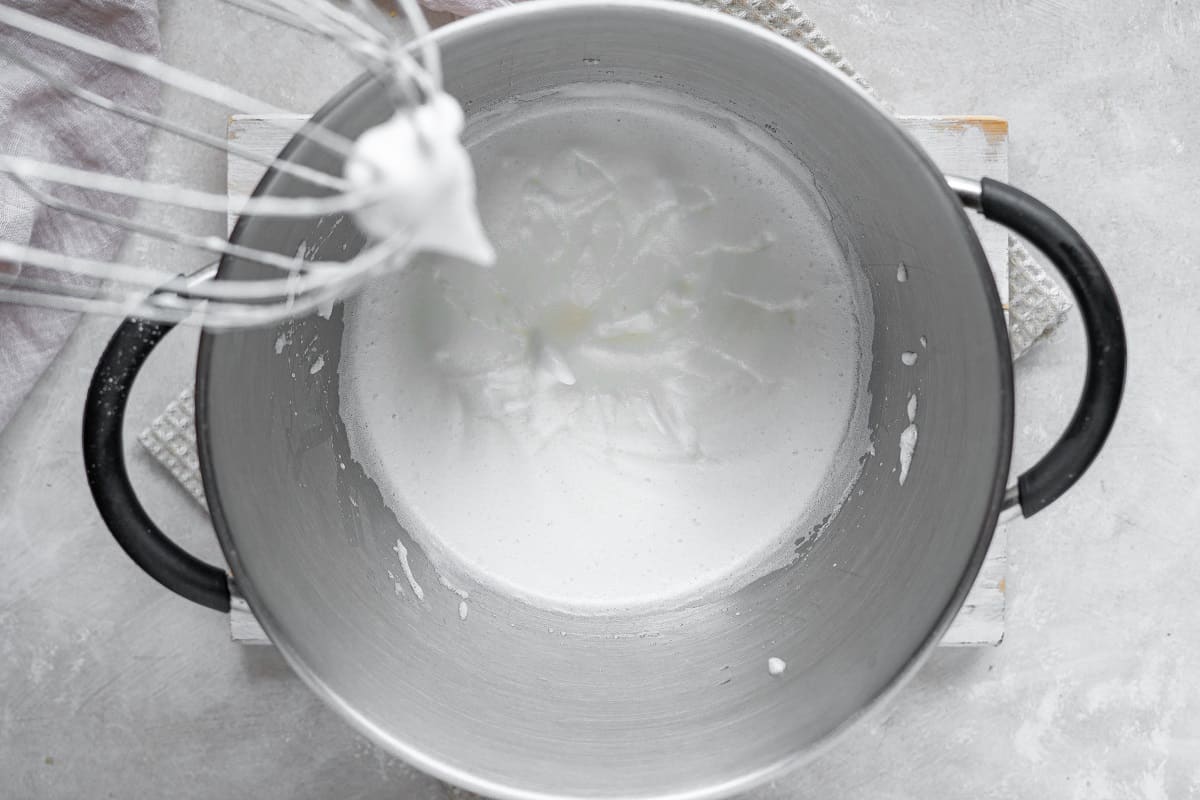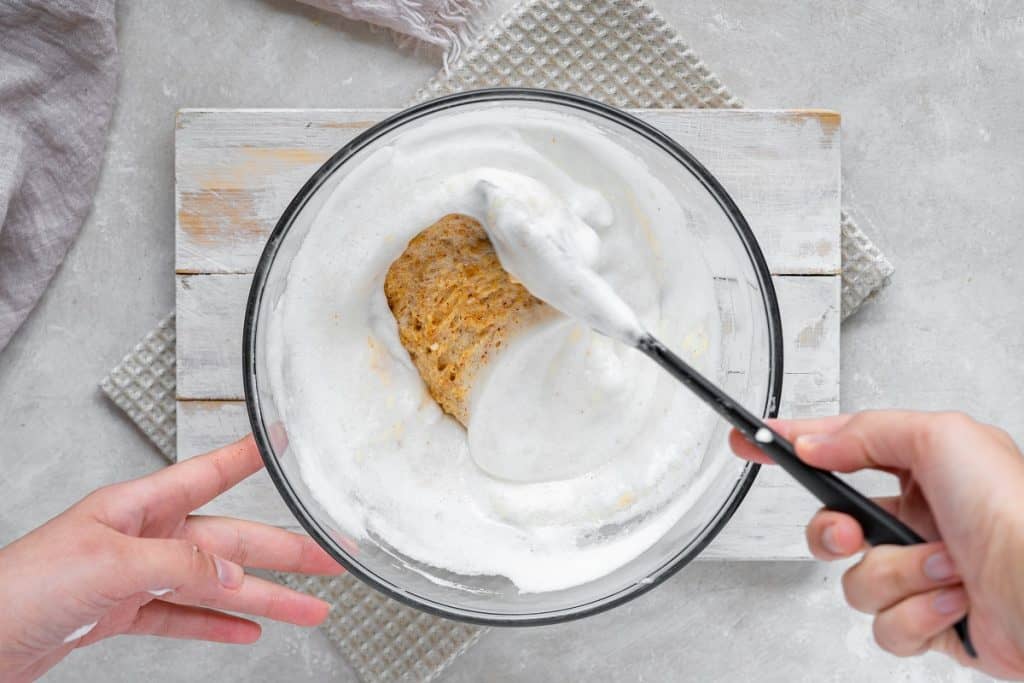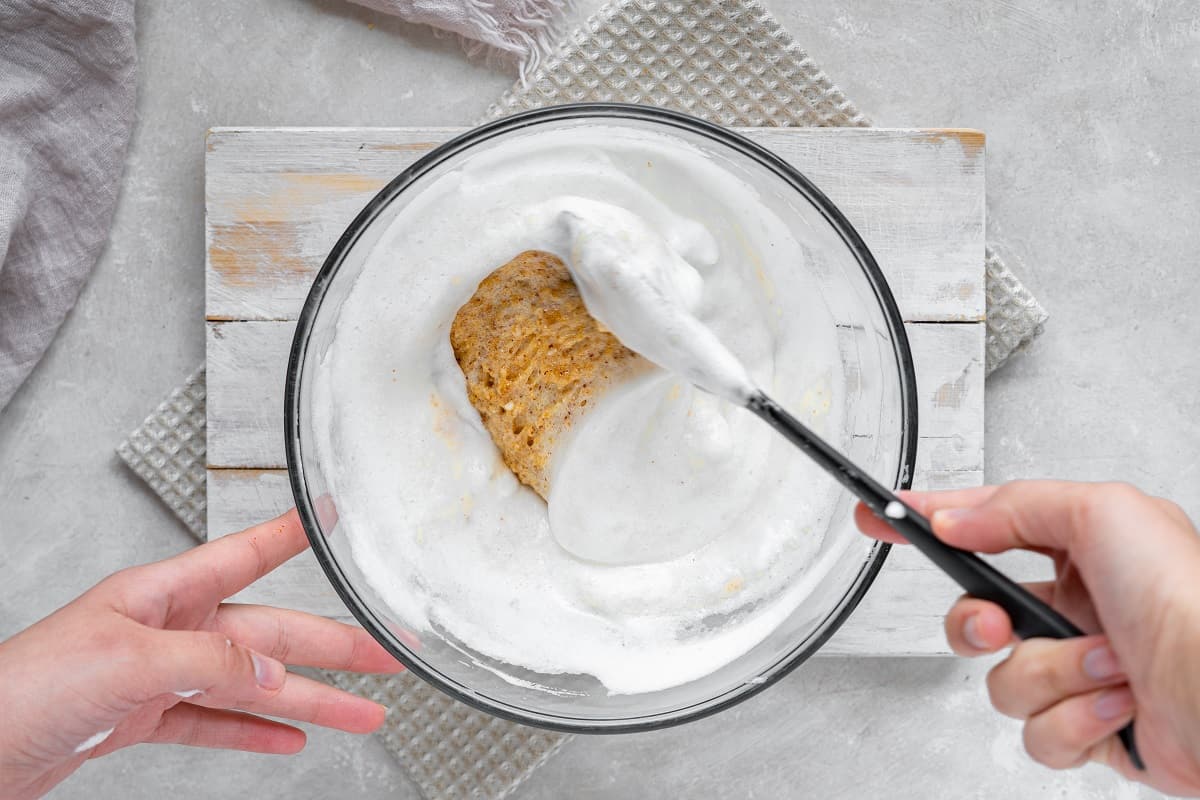 Choosing the Right Almond Flour
They may look the same, but when it comes to keto recipes, there's a big difference between almond flour and almond meal.
Almond flour is – you guessed it – finely ground to be very similar to flour. That means it's very fine and light in color. Almond meal, on the other hand, can be too coarse and "chunky", with dark speckles throughout.
A cake recipe like this requires almond flour to achieve the right consistency. It's a little pricier, but well worth the cost if you want to make unforgettable keto desserts.
Picking the Right Sweetener
We recommend using a granulated sweetener for this recipe. When it comes to baking with beaten egg whites, a granulated sweetener is what will help the cake to form as desired. Concentrated keto-friendly sweeteners, such as monk fruit and stevia, won't quite work the same.
Instead, use erythritol, allulose, or a blend such as erythritol and stevia, or erythritol and monk fruit.
Can't Find Keto Powdered Sugar?
Here's a tip for the powdered sugar: simply blend up your granulated sweetener of choice and voila – you've got powdered "sugar"!
Storing Your Almond Flour Cake
This Almond Cake stays freshest when stored in the fridge. You can also slice your cake into portions and freeze to enjoy later. Make sure you allow your cake to come to room temperature before cooling or freezing.
What to Serve With Almond Flour Cake
The best thing about this gluten-free Almond Flour Cake recipe is how versatile it is. It's the perfect thing to pair with just about anything!
Try serving with a scoop of Low Carb Ice Cream, or a dollop of our famous Keto Cool Whip. This cake also goes great with a side of keto-friendly fruit like raspberries, or some stewed rhubarb – a surprisingly sweet vegetable with low net carbs!
More Keto Cakes
Got cake on the brain? Give one of these keto cake recipes a try!
Olive Oil Cake. Yes, you read right – olive oil in a cake. This is another underrated keto cake, and one of our all-time favorites.
Keto Butter Cake. Gooey, buttery and oh-so-moreish, you won't be able to stop yourself from going back for seconds of this layer cake.
Keto Red Velvet Cake. Who doesn't love a good cream cheese frosting? This recipe also works great as cupcakes.
Delicious Almond Flour Cake
Light, fluffy and delightfully zesty, this Almond Flour Cake recipe is sure to impress any dessert lover – keto or not! With just a few simple ingredients that any keto baker probably already has in their kitchen, it's an underrated sweet dish you'll want to recreate again and again.
Ready to try this recipe for Almond Flour Cake? Grab your ingredients and let's make this cake.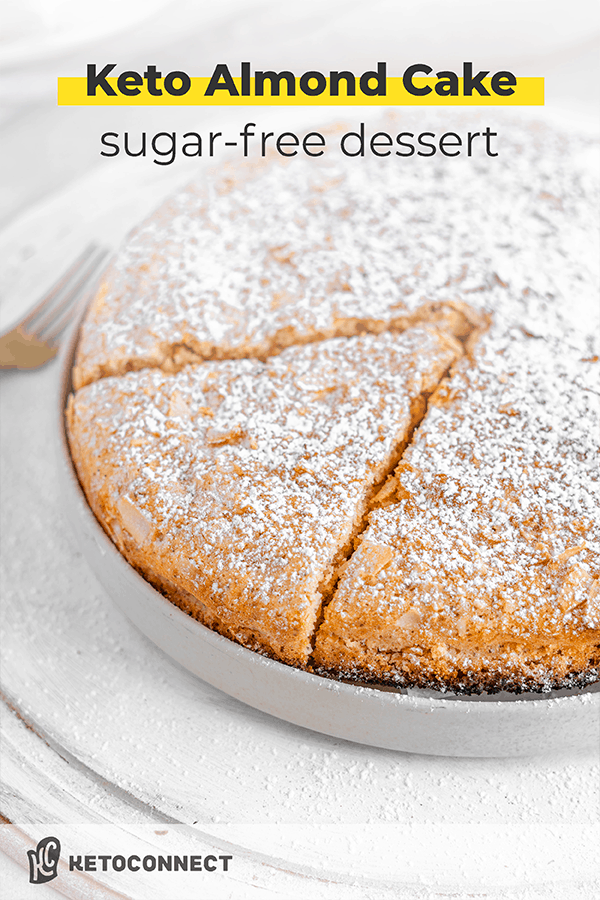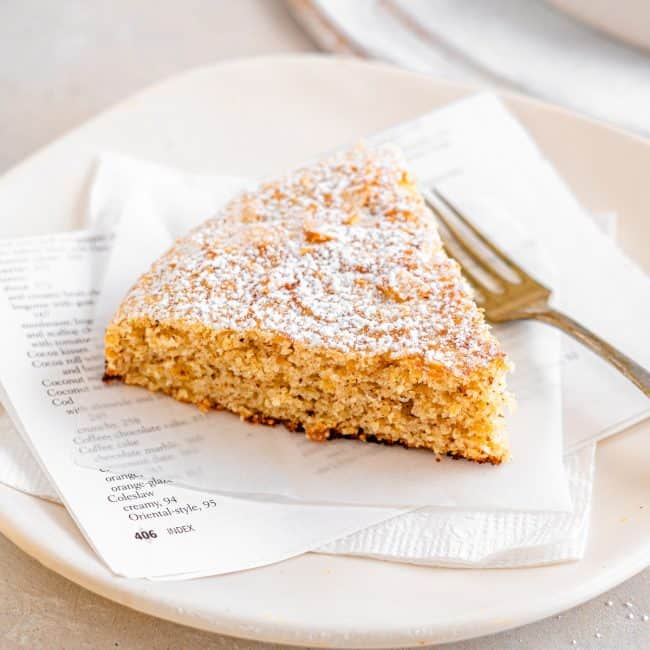 Almond Flour Cake
A delicious cake that is ready fast and made with only 4 ingredients.
Total Time 35 minutes
Servings 8 Slices
Calories per serving 155kcal
Prep Time: 10 minutes
Resting Time: 15 minutes
Cook Time: 25 minutes
What You Need:
8-inch round cake pan

Electric Hand Mixer
Instructions:
Preheat oven to 350 degrees F.

Line an 8 inch spring form pan with parchment paper, set aside.

In a bowl, mix together the almond flour, erythritol, and lemon zest. Add the egg yolks and mix until a tough dough form.

In a separate bowl, add the egg whites and beat until soft peaks are achieved.

Add half of the beaten egg whites to the almond flour dough, and mix well until the dough becomes looser.

Next, add the remaining beaten egg whites, and gently fold the mixture, being careful to not knock the air out of the batter.

Transfer the batter to the lined baking pan. If desired, sprinkle the coconut chips or sliced almonds on top.

Bake for 25-30 minutes, or until golden around the edges and tender in the center.

Remove the cake from the oven and allow to cool for 15 minutes.

Sprinkle with powdered sweetener and serve.
Notes
Net Carbs: 3g
Serving Size: 1 slice (cake yields 8 slices)
Toppings:
Coconut chips or sliced almonds ( optional)
Powdered sweetener of choice ( optional)
You can replace the lemon zest with orange zest, vanilla extract, or cinnamon for different flavors.
Eggs separate better when they are cold however, egg whites form stiffer peaks at room temperature.  
Nutrition Facts
Almond Flour Cake
Amount Per Serving
Calories 155 Calories from Fat 117
% Daily Value*
Fat 13g20%
Saturated Fat 2g10%
Carbohydrates 5g2%
Fiber 2g8%
Protein 8g16%
* Percent Daily Values are based on a 2000 calorie diet.
Written By