Looking for the best keto chocolate muffins recipe? You've got it! Made with only a few simple ingredients, you'll love this easy chocolate treat.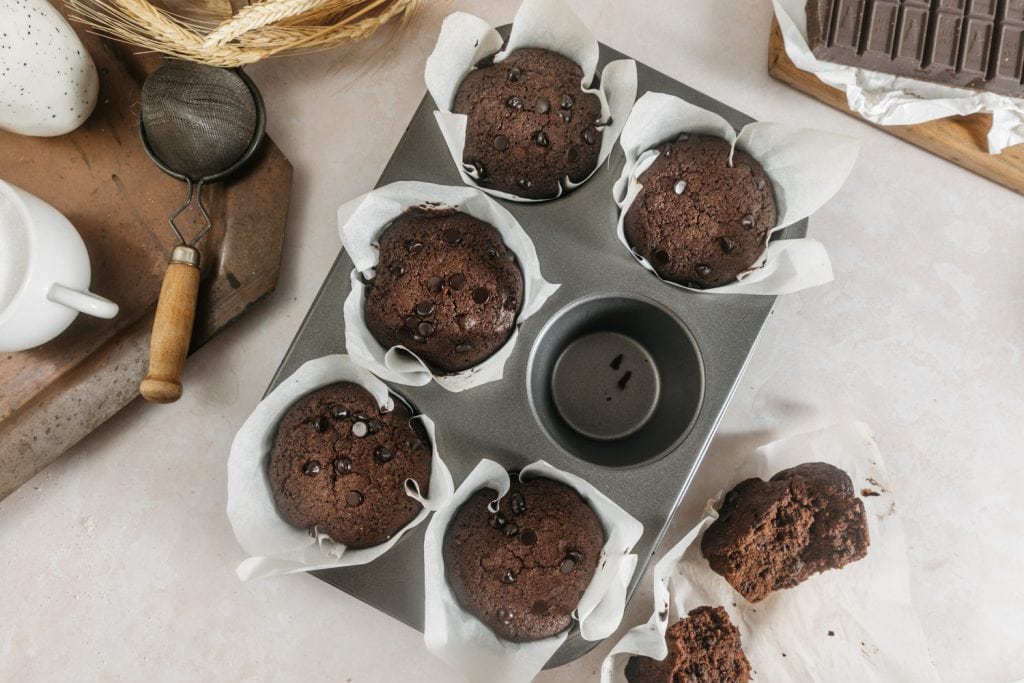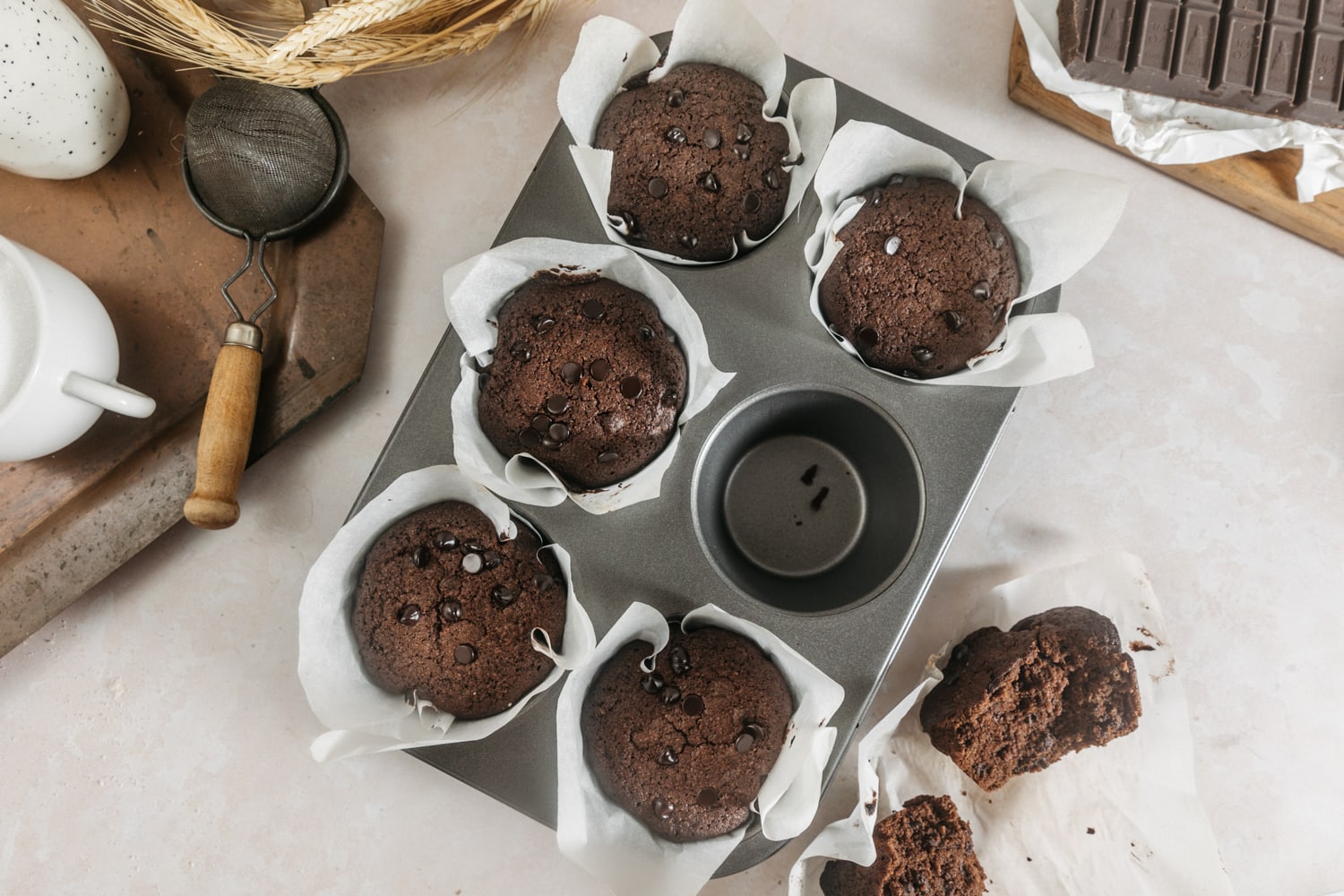 You can make these easy Keto Chocolate Muffins ahead of time and pack them up for lunch at work or simply leave them on your kitchen counter as a healthy keto treat. If you never made low carb muffins, it's definitely something you need to try. And it tastes very similar to the real thing!
The Best Keto Chocolate Muffins Recipe
I'm honestly glad I can eat low carb chocolate muffins because they're one of my favorite foods for a sweet breakfast. I'm a morning person, so you can only imagine that a perfect breakfast for me would be a combo of coffee and some kind of a sweet treat – in this case, chocolate chip muffins take the cake.
Ingredients
Although this is a dessert, trust me when I tell you it's in the "healthy recipes" bucket! Low carb, keto desserts can be full of nutrition and be a decadent treat at the same time. Here is a detailed list of all the ingredients used in one of our favorite chocolate muffin keto recipes:
Keto sweetener
If you've been a part of the low carb lifestyle for a while, you definitely came across ingredients such as erythritol, stevia or monk fruit.
In these keto chocolate muffins we used an erythritol blend. For best results, we encourage you to do the same. You can experiment with stevia, but be careful not to add too many drops. Again, it's better you stick with a solid keto sweetener.
Butter
Isn't everything better with a little bit of butter? In this recipe, butter is meant to give our keto chocolate muffins more flavor and help to retain the moisture inside. Otherwise, if there isn't enough fat in the recipe you'll probably end up with a dry and crumbly disaster.
If you are lactose intolerant, you can substitute butter for coconut oil 1:1 in our low carb chocolate muffins recipe. It won't be as tasty, but nonetheless it's the best alternative out there. Also, make sure you use unsalted butter.
Eggs
Using eggs in keto chocolate muffins is another secret to a moist and beautifully soft dessert. We use organic eggs and suggest you do as well since they are richer in vitamins A and E, as well as omega-3s.
Almond flour
One of the two most popular keto flours out there, in comparison to the regular all purpose kind, almond flour is grain free, gluten free and low in carbs.
Instead of coconut flour, we use almond flour due to its fat content and more of a moist texture when combined with other ingredients. Plus, it's much more airy because I find coconut flour to be much more dense and actually helpful in savory recipes.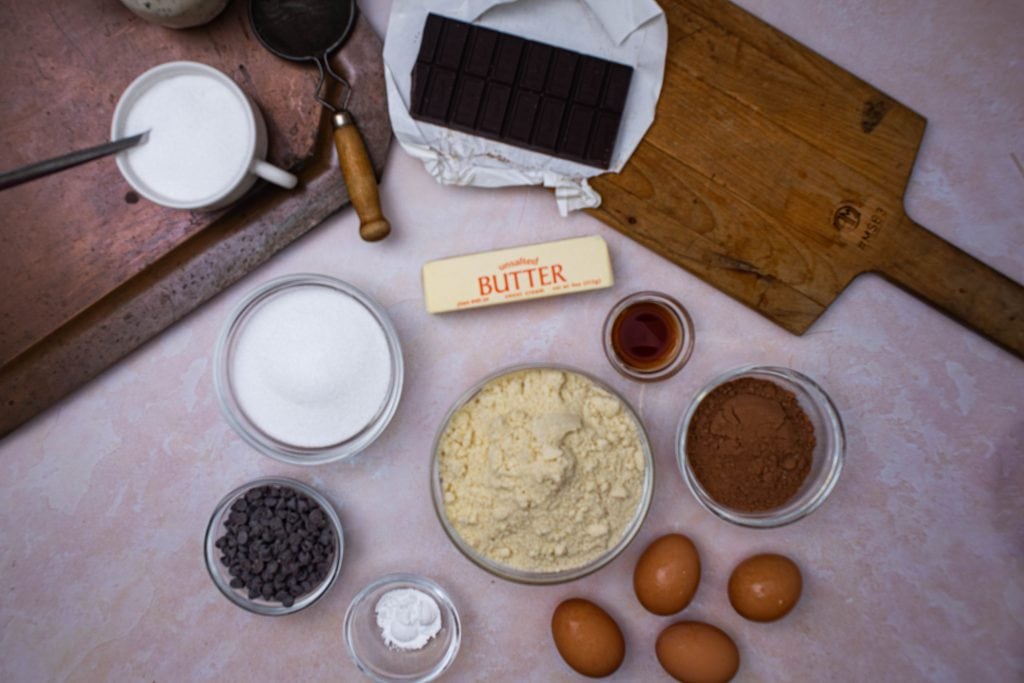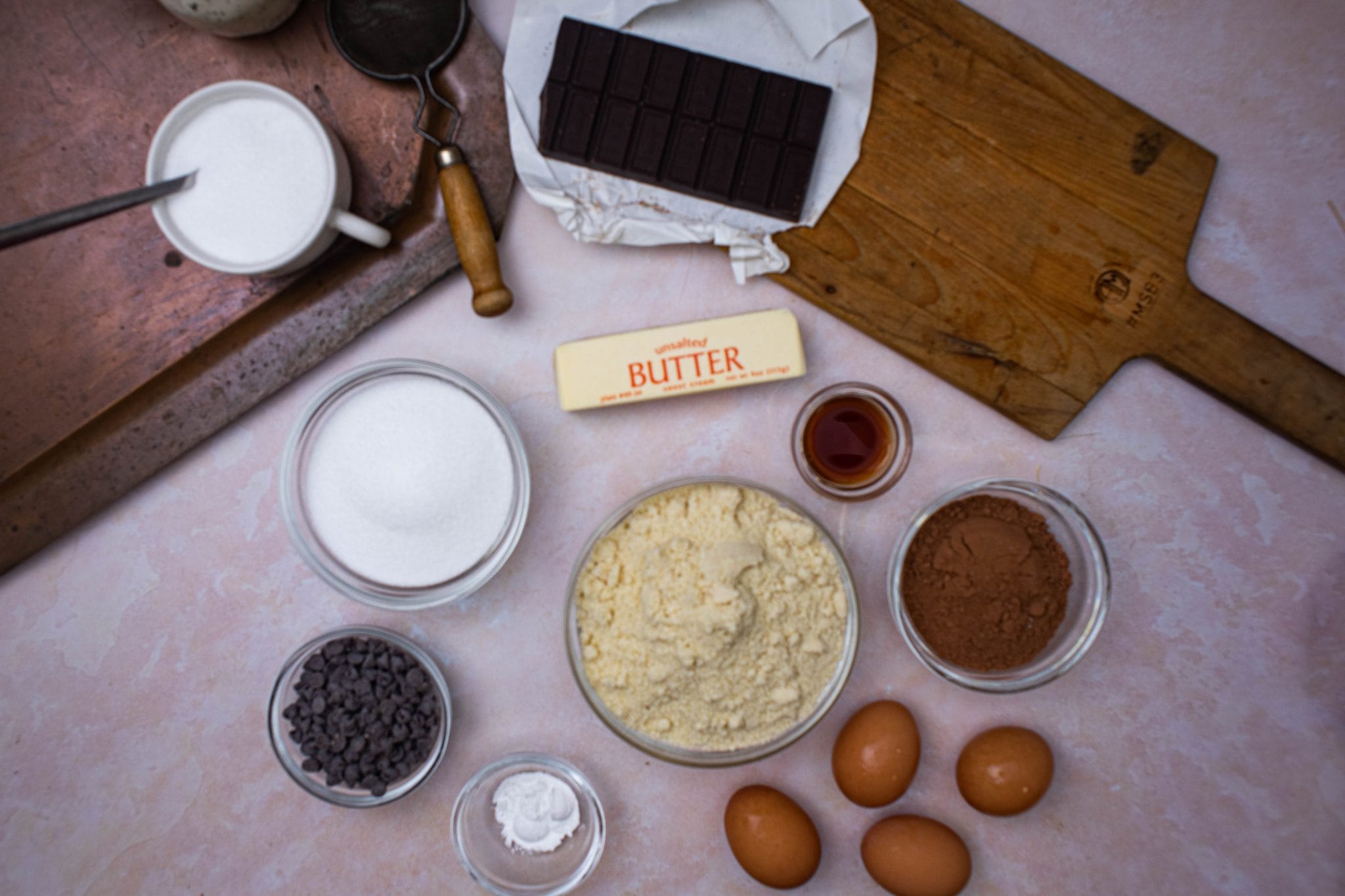 Cocoa powder
Look for one that has no added ingredients and no sugar. Unsweetened cocoa powder is used in low carb and keto recipes all the time. Just to throw in here a little fun fact, cocoa powder can strengthens the immune system, helps with muscle and nerve function and lowers the risk of heart disease!
Sugar free chocolate chips
These will give this keto chocolate muffins the oomph every chocolate lover needs. You can find sugar free chocolate chips on Amazon or at a grocery store with healthy stuff, however remember that not all sugar free chocolate is created equal.
The best ones are branded low carb and keto, but if you can't find them just go for any chocolate chip with the highest percentage of cacao in them. Anything over 85-90% should be fine, as long as there is no added sugar.
Baking powder
We used baking powder here to add the necessary lift to our keto chocolate muffins. Unfortunately, baking soda will not work here and you have to use baking powder. Otherwise, your keto muffins won't rise.
Vanilla extract
Isn't this ingredient a staple when it comes to baking? I can't disagree – I add vanilla extract wherever I can because I feel like it brings out the other flavors perfectly and it's just overall fabulous. Plus, I can't imagine any keto muffin recipes without it.
Pinch of salt
Salt in desserts… um, is there any logic to that? Yes, there is! A tiny bit of salt will enhance the flavor of the other ingredients and helps to balance out the sweetness of any dessert.
How to Make Low Carb Chocolate Muffins?
These chocolate muffins are easy to make, delicious and I can honestly say this is absolutely a great recipe.
Step 1: Prepare all tools
First, preheat the oven to 375 degrees. Take out muffin tins and line them with paper liners or use silicone muffin molds. You can spray them with coconut oil very lightly, but since there is a lot of fat in the batter already you can skip this step.
Also, take out a large mixing bowl, a whisker, spatula and a cooling rack.
Step 2: Combine wet ingredients
In a large bowl, mix together melted butter, vanilla, pinch of salt and keto sweetener.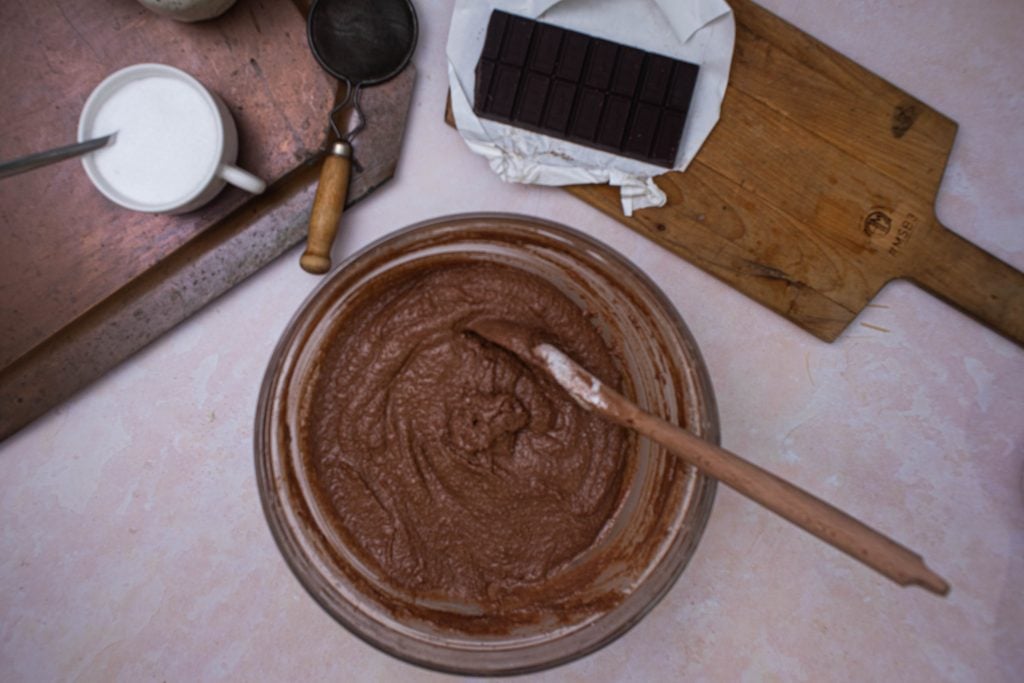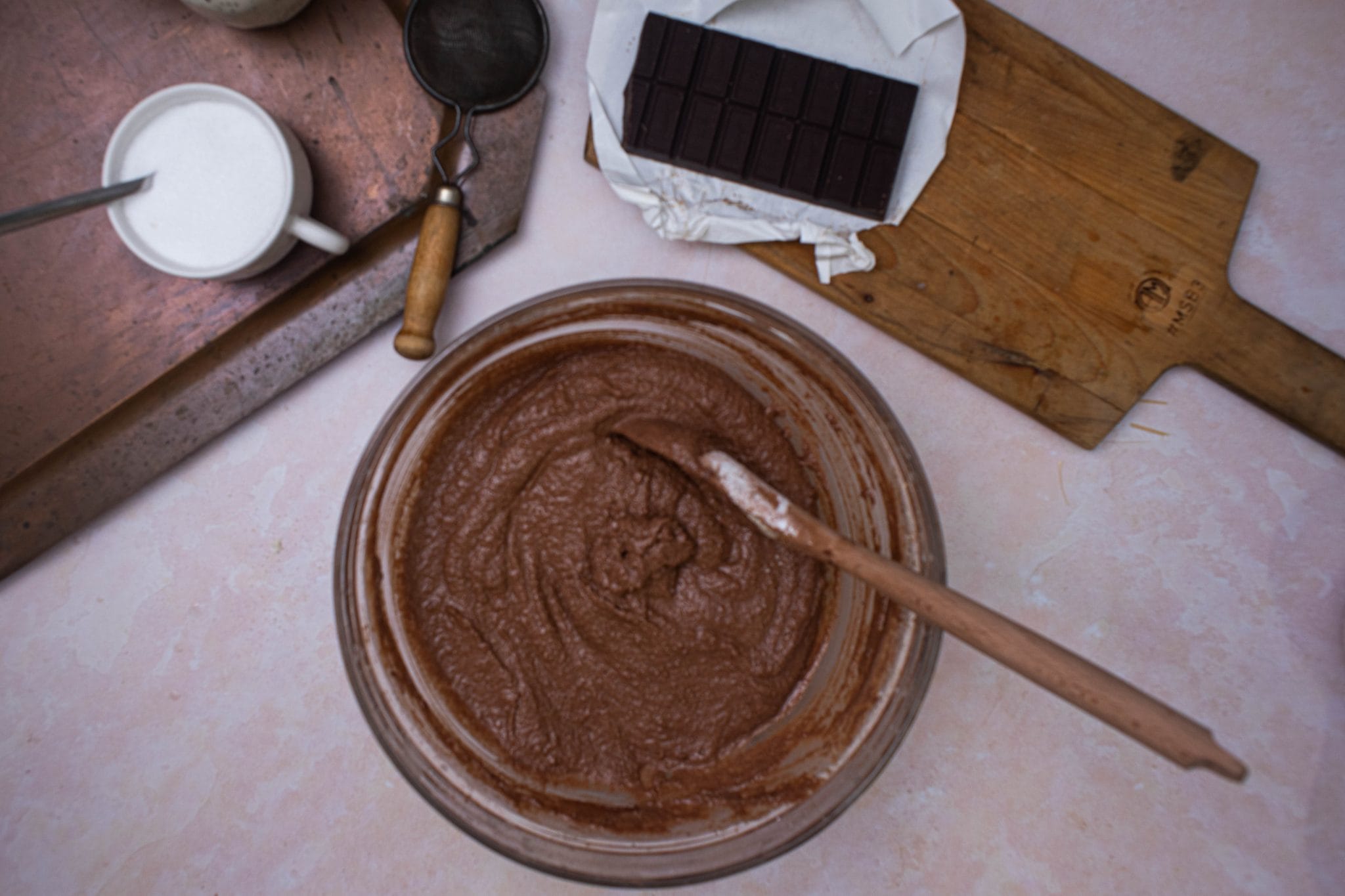 Step 3: Add dry ingredients
Once your mixture is uniform, add almond flour, cocoa powder, baking powder and chocolate chips. You want to fold all the ingredients evenly so that each chocolate chip is distributed throughout the whole chocolate chip muffins batter.
Step 4: Bake
Transfer to your muffin tins and bake for 25-35 minutes. Optionally, you can transfer the prepared muffin cups onto a cooling rack and top with more chocolate. Who doesn't like a double chocolate extravaganza?!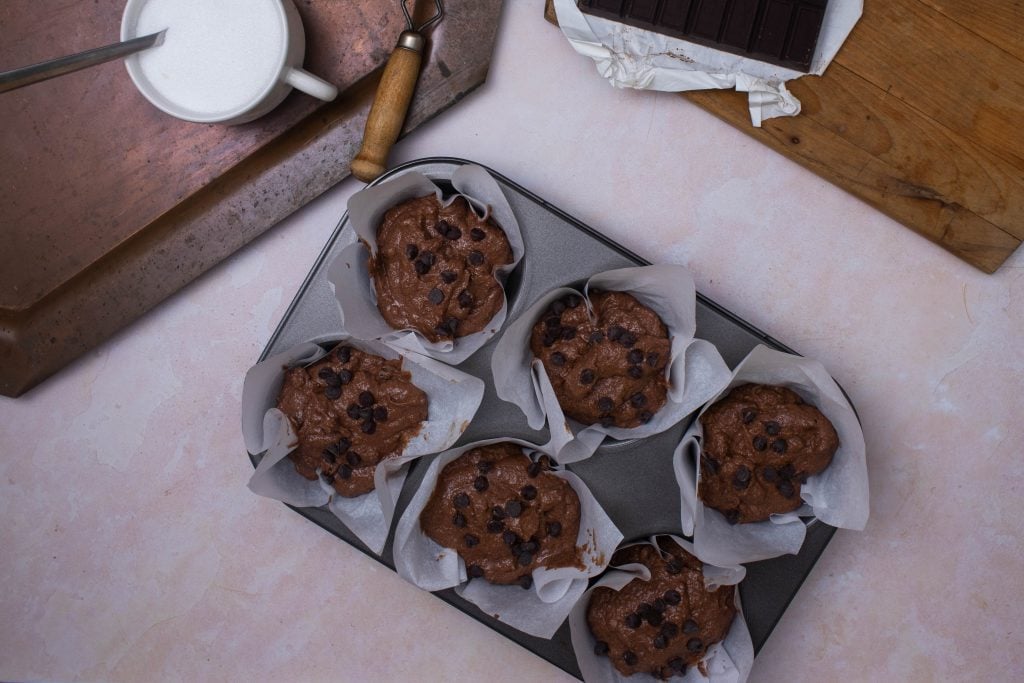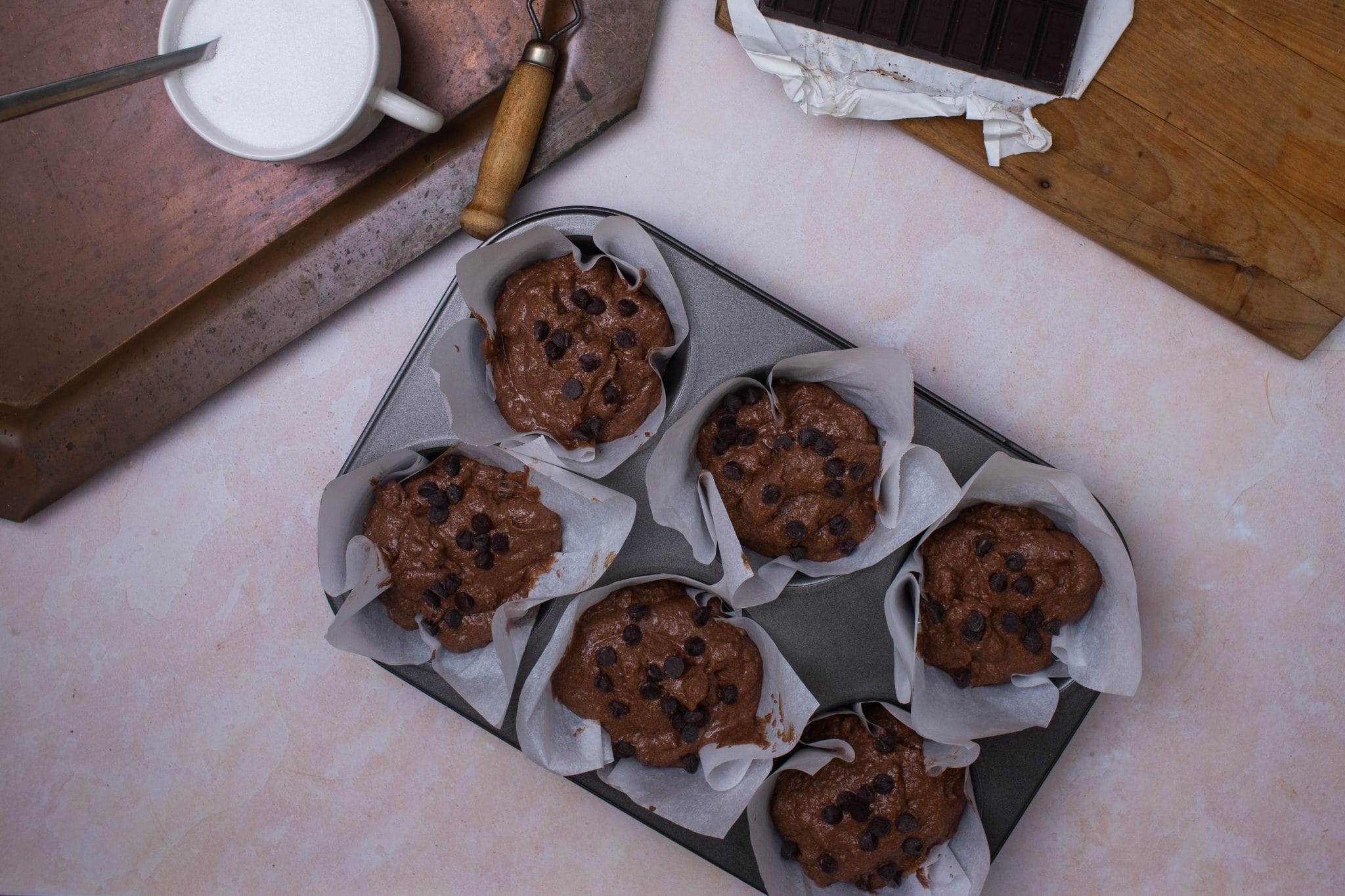 FAQs
We rounded up some of the most commonly asked questions we get from our readers when making keto diet recipes and dealing with keto baking in general.
Can I use coconut flour instead of almond flour?
Unfortunately, you can't substitute coconut flour for almond flour in this keto chocolate muffin recipe. Coconut flour is by nature much more absorbent, meaning it needs additional liquids to work.
This recipe would probably work with coconut flour if you added more eggs, more butter and maybe some heavy cream or almond milk but we haven't tried that version yet and we strongly advise you to go with our original recipe for keto chocolate muffins.
Can I use coconut oil instead of butter?
Yes you can, however there are some things you need to be aware of. You can replace it in the same exact quantity (use melted coconut oil), but adding it will slightly change the flavor.
Again, we're letting you know this is a possibility, however we haven't tried it ourselves. To our knowledge, whenever you use coconut oil instead of butter the texture of whatever keto muffins you're making will be a bit more crumbly and a tiny bit less moist.
How can I store keto chocolate muffins?
You can easily store them in the fridge in an airtight container for up to 4-5 days. I actually like them the second day the most because they're even more moist and chewy which is what I absolutely love.
Keeping them at room temperature is fine as well as long as you keep in mind that they might dry out a little bit and get crumbly within a day or two. I wouldn't hold them out for longer than 2 days.
When it comes to freezing, you can make a double batch and freeze it until you're ready to take them out for a bigger family or friend gathering. Make sure muffins are completely cool before putting them into the freezer.
Last but not least, I really find chocolate chip muffins to be one of the best foods for meal prepping. They're low in net carbs and go perfect with morning coffee or as an afternoon dessert. You can't go wrong with it!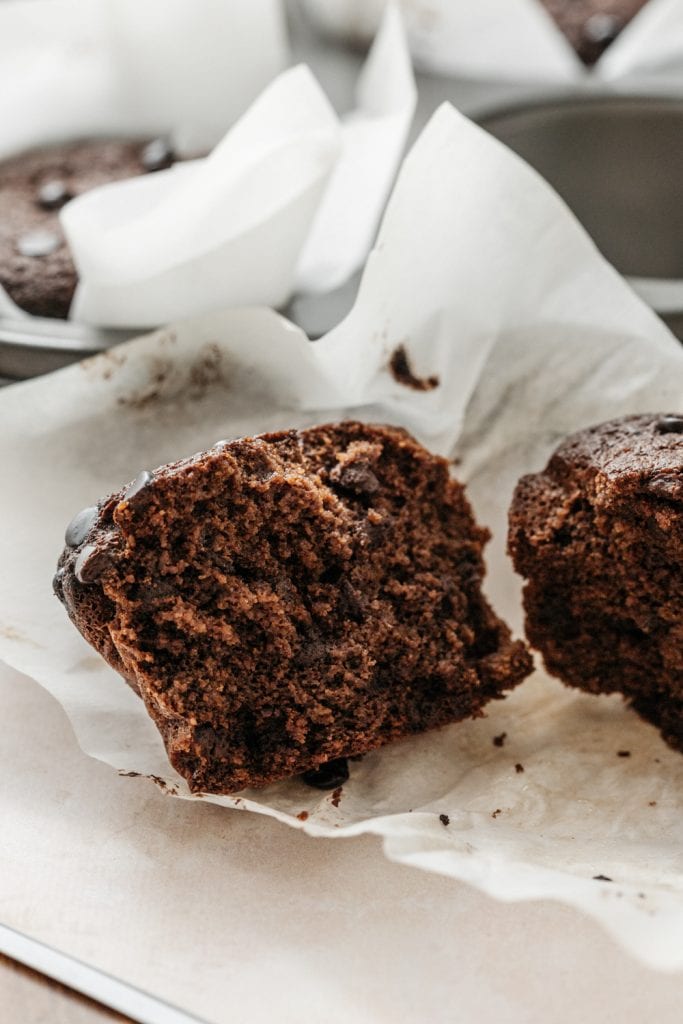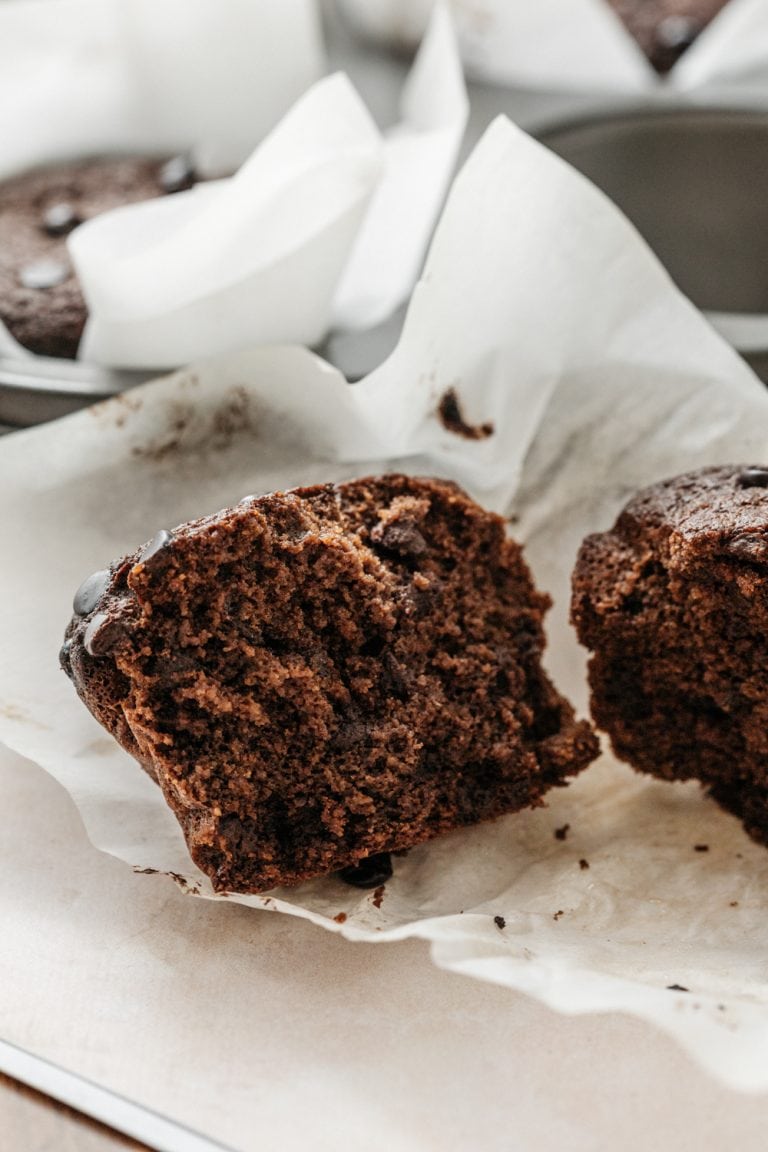 More Keto Muffin Recipes
If you're a muffin lover like we are, check out more of our popular recipes with all kinds of muffins:
High Fiber Keto Muffins – these are great for meal prepping, and obviously – have a lot of fiber to help you with digestion! One muffin is only 0.6g of net carbs which makes it a great treat to fill you up during the day without worrying about carbohydrates.
Keto Blueberry Muffins – I don't know about you, but there's something about blueberry muffins that I love and adore. Maybe blueberries itself? Not sure, but I love their softness and overall flavor. Plus, one muffin is only 3g of net carbs which makes it perfectly keto and low carb friendly!
Keto Pumpkin Muffins – even though pumpkin is THE flavor of fall, I love having these muffins around during the year as well. You can also make them dairy free by using coconut oil instead of butter. You can't go wrong with these, especially since they're 3g of net carbs per muffin.
Have you tried our keto chocolate muffins?
Let us know in the comments! We love your feedback and knowing what you liked and disliked about this recipe. Maybe you have a suggestion on how to make them or experimented yourself with adding or substituting ingredients? Leave a comment below!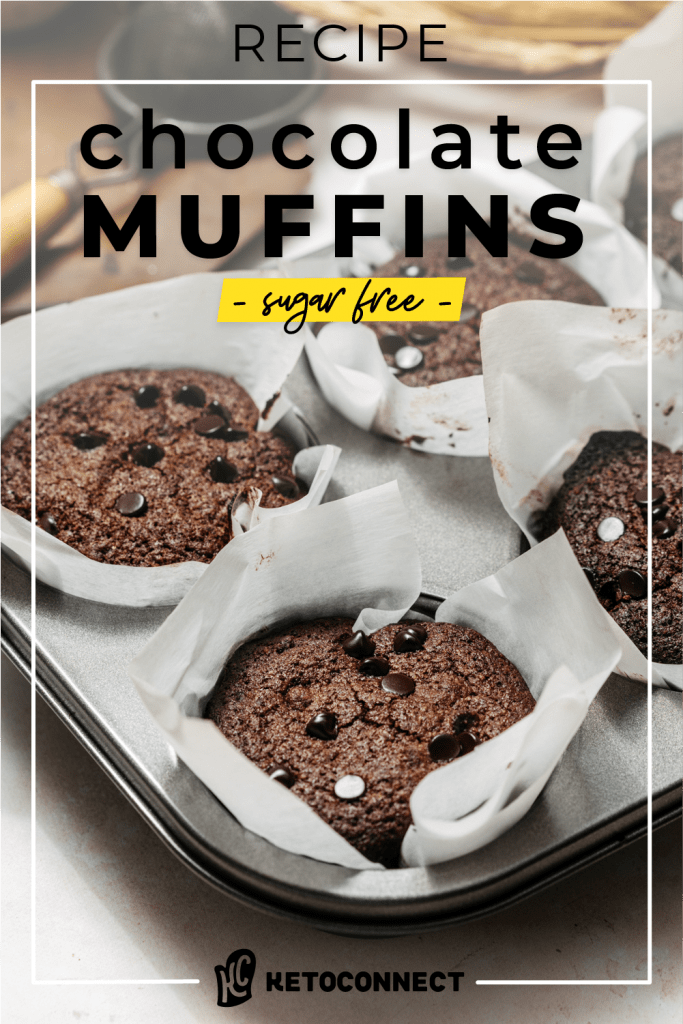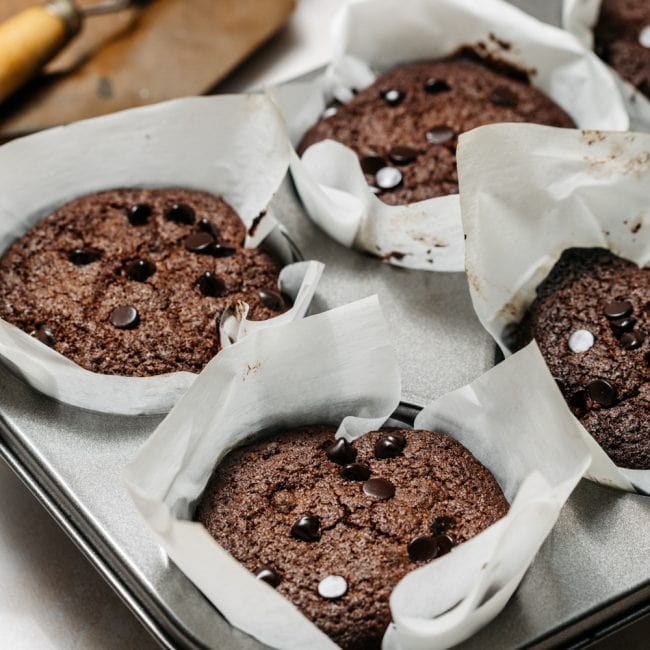 Keto Chocolate Muffins
These low carb chocolate muffins are definitely something you need to try!
Total Time 40 minutes
Servings 6 servings
Calories per serving 406kcal
Prep Time: 5 minutes
Cook Time: 35 minutes
What You Need:
Muffin tins

Paper liners

Mixing Bowl

Whisker

Spatula

Cooling Rack
Instructions:
Preheat the oven to 375 degrees

In a large bowl combine the melted butter, vanilla extract, pinch of salt, and sweetener.

Add in the eggs one at a time whisking in well.

Add the remaining almond flour, cocoa powder, baking powder, and chocolate chips. Fold together well to evenly distribute the chocolate chips.

Bake for 25-35 minutes.
Nutrition Facts
Keto Chocolate Muffins
Amount Per Serving
Calories 406 Calories from Fat 333
% Daily Value*
Fat 37g57%
Saturated Fat 12g60%
Trans Fat 1g
Polyunsaturated Fat 1g
Monounsaturated Fat 5g
Cholesterol 149mg50%
Sodium 177mg7%
Potassium 223mg6%
Carbohydrates 13g4%
Fiber 6g24%
Sugar 2g2%
Protein 13g26%
Vitamin A 625IU13%
Calcium 137mg14%
Iron 3mg17%
* Percent Daily Values are based on a 2000 calorie diet.
Written By