We took a traditional and delicious dish and amped it up a couple notches to create this flavorful Keto Shepherds Pie. With some easy swaps you can still indulge in this hearty, comfort food that is great for meal prep all week long. Feel free to have fun with it and change up the meat and veggies used in this classic dish!
A Low Carb Shepherds Pie Made With Beef!
We know a traditional shepherds pie uses ground lamb, but we hand some 80/20 ground beef on hand and wanted a higher fat content so we went with that. Of course you can swap in some ground lamb to stick to the classic preparation! This recipe, however, is all about breaking rules – we swapped out the mashed potatoes for a low carb, healthier mashed cauliflower with no sacrifice on the taste. We also left out the peas and swapped in some other lower carb veggies to give it the same hearty feel. Give it a try and let us know what you think!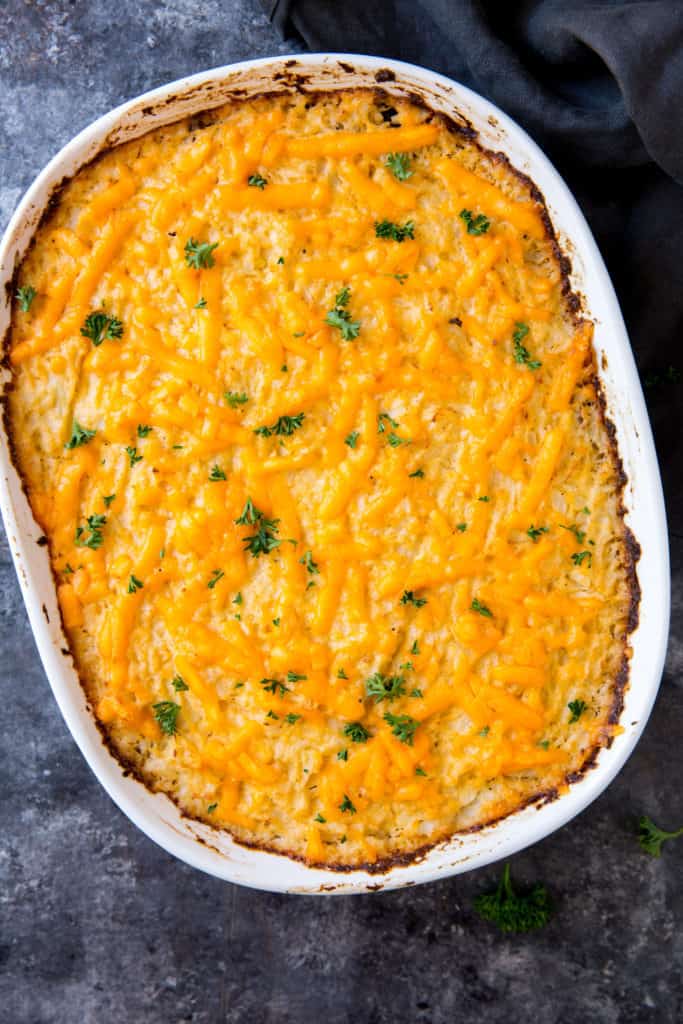 Who Doesn't Love Keto Pie?
When you hear the word pie you aren't normally thinking savory. Personally, my mind goes to pecan or apple! However, if you think outside of the box you can easily think of pies as savory, like our pizza frittata!However, if you're thinking sweet we've also got you covered with our low carb coconut cream pie and pumpkin pie cheesecake. We've also got the perfect sweet and savory pie crusts to have on hand when you're in need!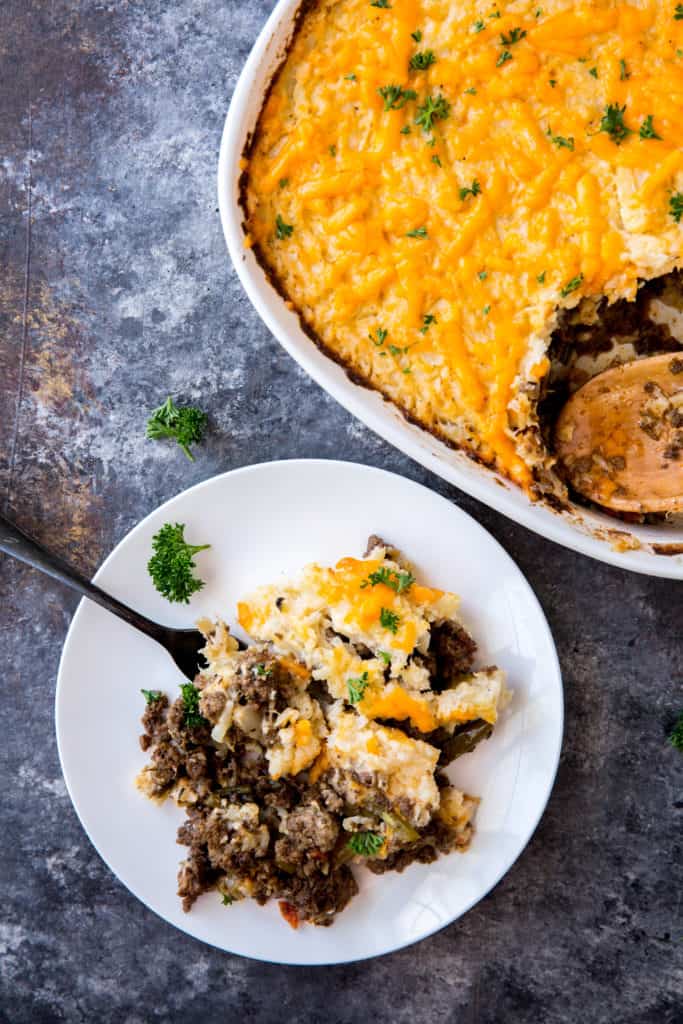 Keto Shepherds Pie
If you love your family and friends as much as I do, and I know you do, you will make this delicious, hearty, low carb dish for them sometime this week. It doesn't matter what season you're in, when it comes to comfort food like this Keto Shepherds Pie, it can eaten all year round!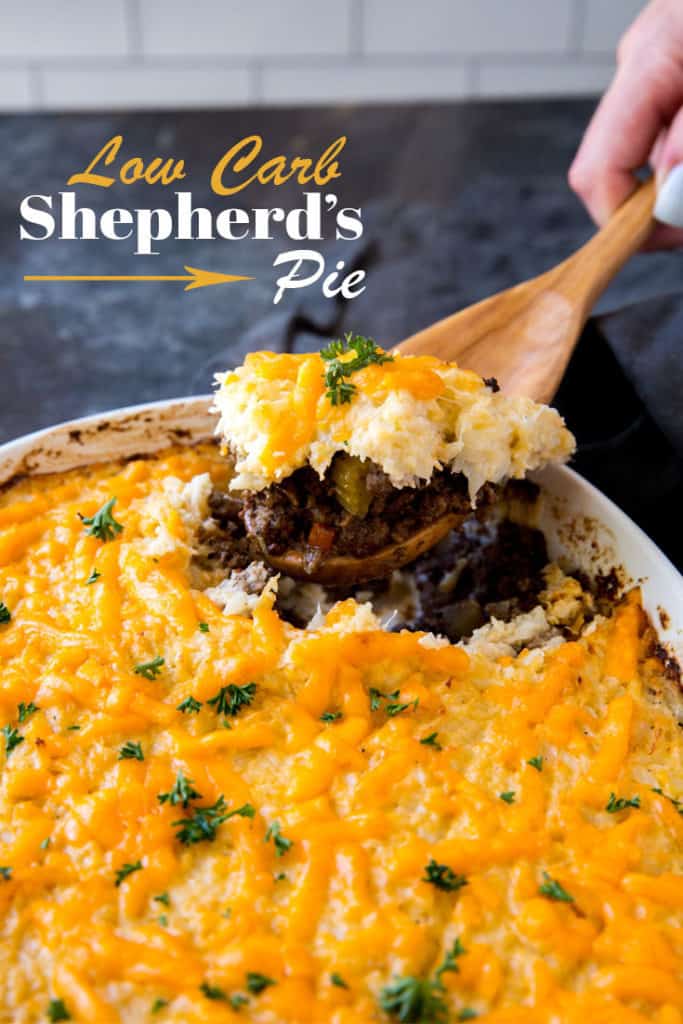 Recipe can be quickly added to MyFitnessPal – Search "KetoConnect – Keto Shepherds Pie"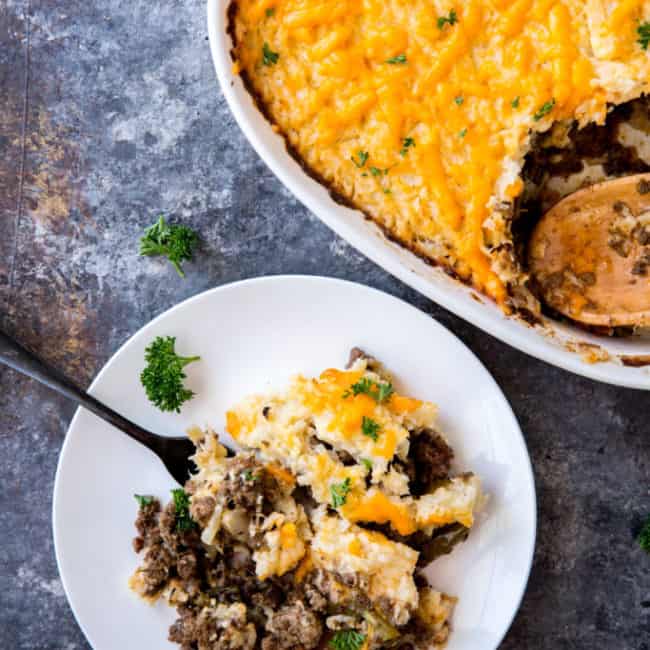 Keto Shepherds Pie
Shepherds Pie topped with cauliflower mash and filled with hearty beef.
Servings 8 servings
Calories per serving 350kcal
Prep Time: 30 minutes
Cook Time: 30 minutes
Ingredients:
Mashed Cauliflower Topping
1 large cauliflower head, cut into small florets, steamed (see video above on how to steam cauliflower)
1 cup shredded cheddar cheese
2 tbsp cream cheese, softened
2 tbsp heavy cream
2 tbsp butter, softened
2 cloves garlic
1/2 tsp pink himalayan salt
1/4 tsp black pepper
fresh parsley, garnish
Instructions:
Heat oil in a large pan over medium-high heat. Add beef (or lamb) and cook until no longer pink, breaking it up with a wooden spoon and stirring frequently, about 5 minutes.

Add diced onions, celery, carrots, garlic, and seasonings to the pan. Cook until the vegetables soften, about 5 minutes, stirring occasionally.

Add broth, tomato paste, and Worcestershire sauce to the pan, stirring until the paste dissolves. Reduce heat slightly and let it continue to simmer until the sauce thickens, about 15 minutes, before turning off the heat.

Preheat oven to 400 degrees F.

Place steamed cauliflower to a food processor or blender. Add ½ cup cheddar cheese, cream cheese, cream, butter, garlic, salt, and pepper. Puree until smooth consistency, scraping the sides as necessary (See video above for steps on how to steam the cauliflower).

Transfer meat and veggie mixture to a 2-quart baking dish, spreading it in an even layer.

Spread the mashed cauliflower evenly over the meat, then top with remaining shredded cheddar cheese.

Bake for 30 minutes, or until the peaks of the mashed cauliflower are browned. Remove from oven and cool slightly, then garnish with parsley, if desired. Serve immediately.
Notes
Net Carbs: 7g Serving Size: 1/8th recipe
Nutrition Facts
Keto Shepherds Pie
Amount Per Serving
Calories 350 Calories from Fat 225
% Daily Value*
Fat 25g38%
Carbohydrates 10g3%
Fiber 3g12%
Protein 22g44%
* Percent Daily Values are based on a 2000 calorie diet.