While Matt has never been a fan of chicken pot pie, having a Keto Pot Pie in our cooking arsenal felt like a necessary! It's delicious all year long and good enough for all friends and family, keto or not. We use a mix of onion, celery, carrots and mushrooms topped with a delicious low carb biscuit to bring this recipe to life.
Low Carb Biscuit v. Pie Crust?
​It's a tough choice to be made, but after having tried this keto pot pie, I think i'm officially a fan of the biscuit. Not only can I eating more than one biscuit, but it's guaranteed to come out right every time.
With a crust you have the concern of under baking, not having it crispy enough, or getting soggy when you store it for left overs. You can't store the crust separately like you can the biscuit! I also prefer a high filling ratio to crust/biscuit because that's where the good stuff is, so naturally I don't want a potential sub par crust covering up the delicious filling!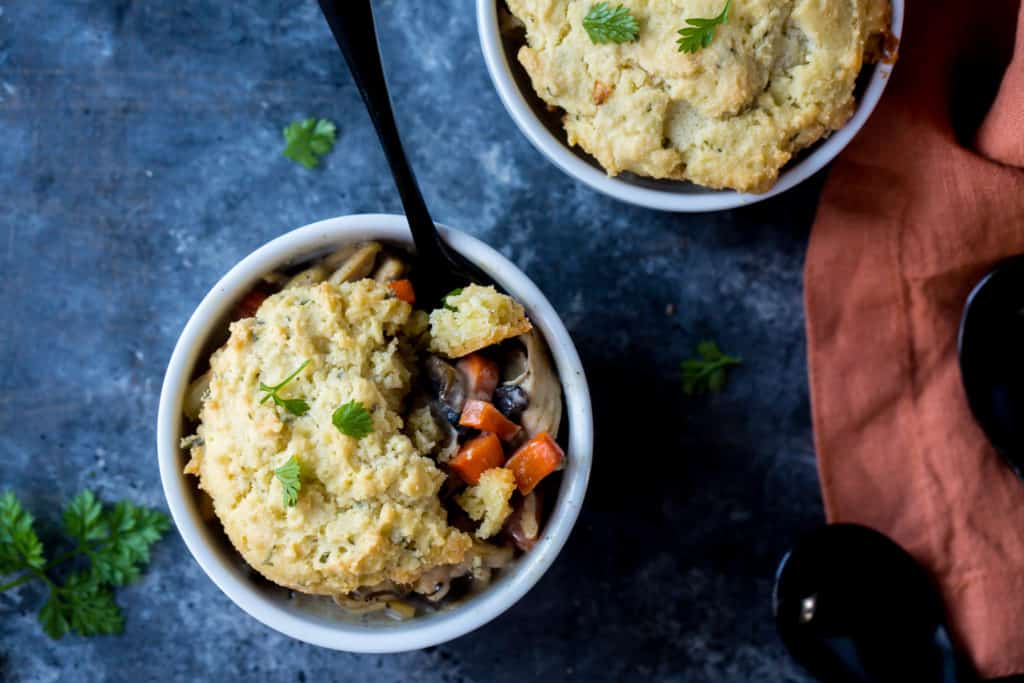 Cold Weather Calls For Low Carb Soups!
Although Matt is not a fan of soups whatsoever, they are one of my favorite forms of food. They are filling, comforting and combination of several flavors. If you are also a fan of soups, stews and chilis then we've got the recipes for you! My favorite in order:
Give any of the above a try and let us know what you think!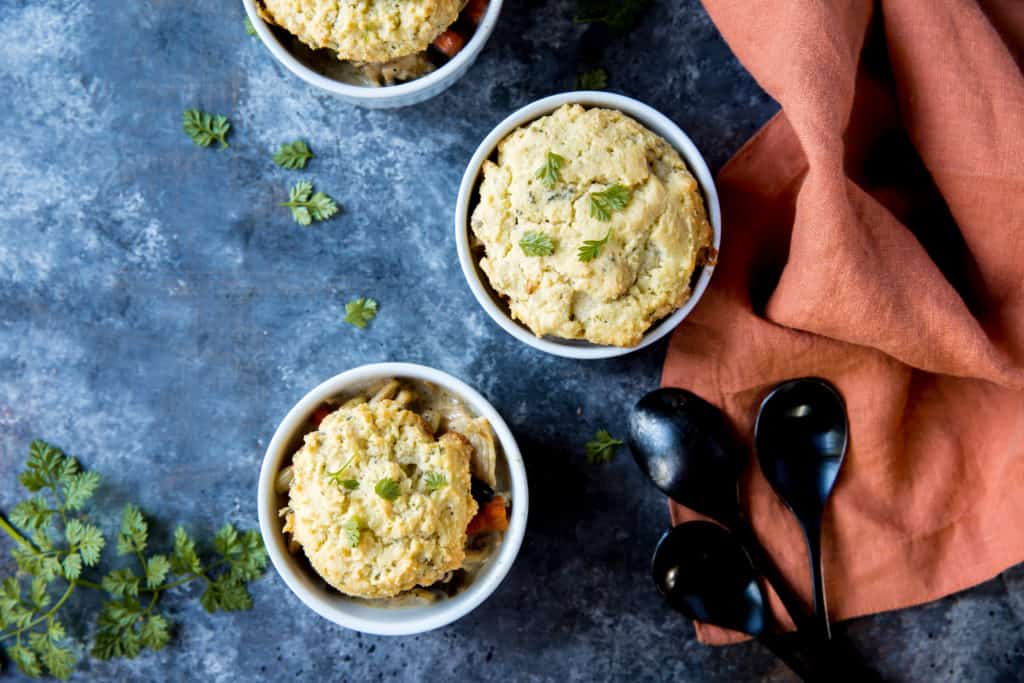 Delicious Keto Pot Pie
Prior to trying this recipe, Matt had never tried any sort of pot pie. I can honestly say he has converted to a keto pot pie loved. Naturally his favorite part is the biscuit, but that's the best part about this recipe. You can turn a classic into a low carb favorite and once everyone gives this Keto Pot Pie a try they'll have a favorite part too!

Recipe can be quickly added to MyFitnessPal – Search "KetoConnect – Keto Pot Pie"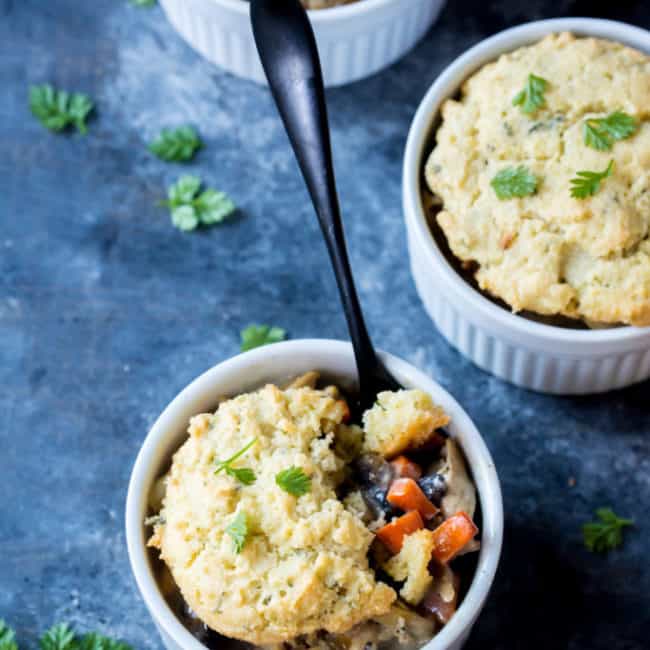 Keto Pot Pie
Hearty chicken pot pie topped with a low-carb almond flour biscuit.
Total Time 1 hour
Servings 4 servings
Calories per serving 420kcal
Prep Time: 15 minutes
Cook Time: 45 minutes
Instructions:
Keto Biscuit
Preheat oven to 350 degrees and line a baking sheet with parchment paper.

Melt the butter in a medium mixing bowl. Add the remaining ingredients and whisk until fully combined.

Divide the mixture into four using a cookie scooper or your hands and place on the lined baking sheet. Flatten slightly.

Bake for 15-17 minutes, until edges start to turn golden brown. Allow to cool for five minutes prior to handling and placing on top of pie filling.
Pie Filling
Heat the butter in a large skillet/pot over medium heat. Once the butter is melted, add the carrots, celery, onion, mushrooms and a little salt and pepper to the pan. Sauté until the vegetables are soft, about 5 minutes.

Add the chopped chicken, broth, heavy cream, thyme, and xanthan gum. Bring to a boil over medium-high heat and then reduce heat to low and let simmer for about 5 minutes until thickened and warmed through. Taste and season with salt and pepper as desired.

Stir in fresh parsley, then divide filling evenly between 4 (6-8 ounce) ramekins, leaving the top 1/4 in. unfilled. Place a biscuit on top of each pot pie and serve!
Notes
Net Carbs: 7g
Serving Size: 1/4th filling plus 1 biscuit
Nutrition Facts
Keto Pot Pie
Amount Per Serving
Calories 420 Calories from Fat 369
% Daily Value*
Fat 41g63%
Carbohydrates 10g3%
Fiber 3g12%
Protein 20g40%
* Percent Daily Values are based on a 2000 calorie diet.