Gone are the days where you're haunted by the fish sticks from your childhood. Who knows what was inside of them, right? It's time for adulting and opting for healthier fish, such as pan fried salmon. Even if you don't consider yourself to be a top-notch cook, this recipe is both easy and healthy.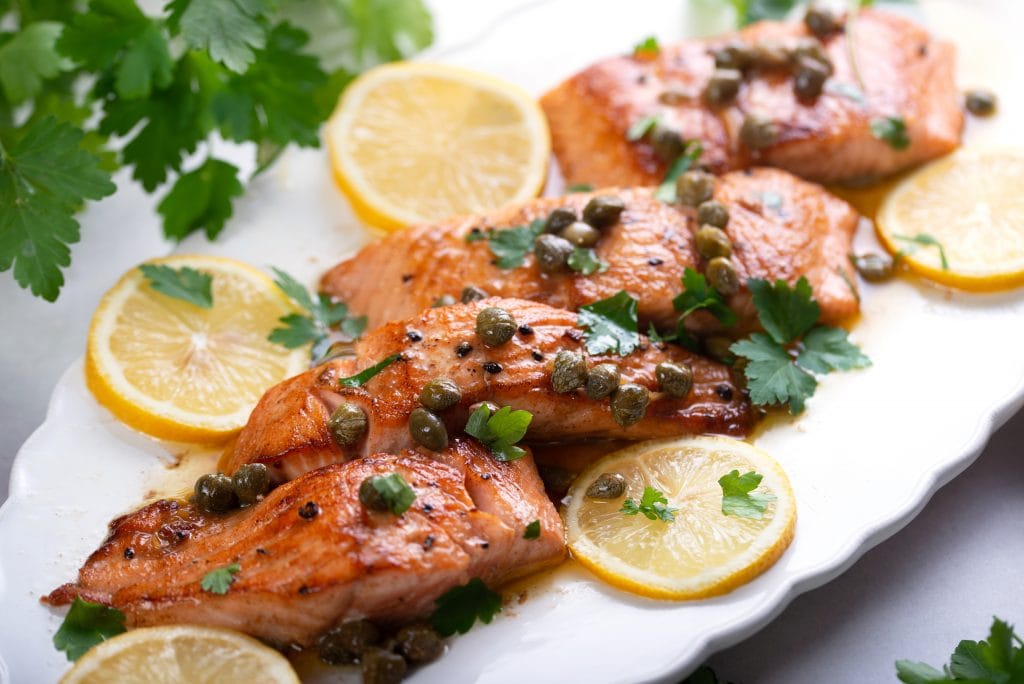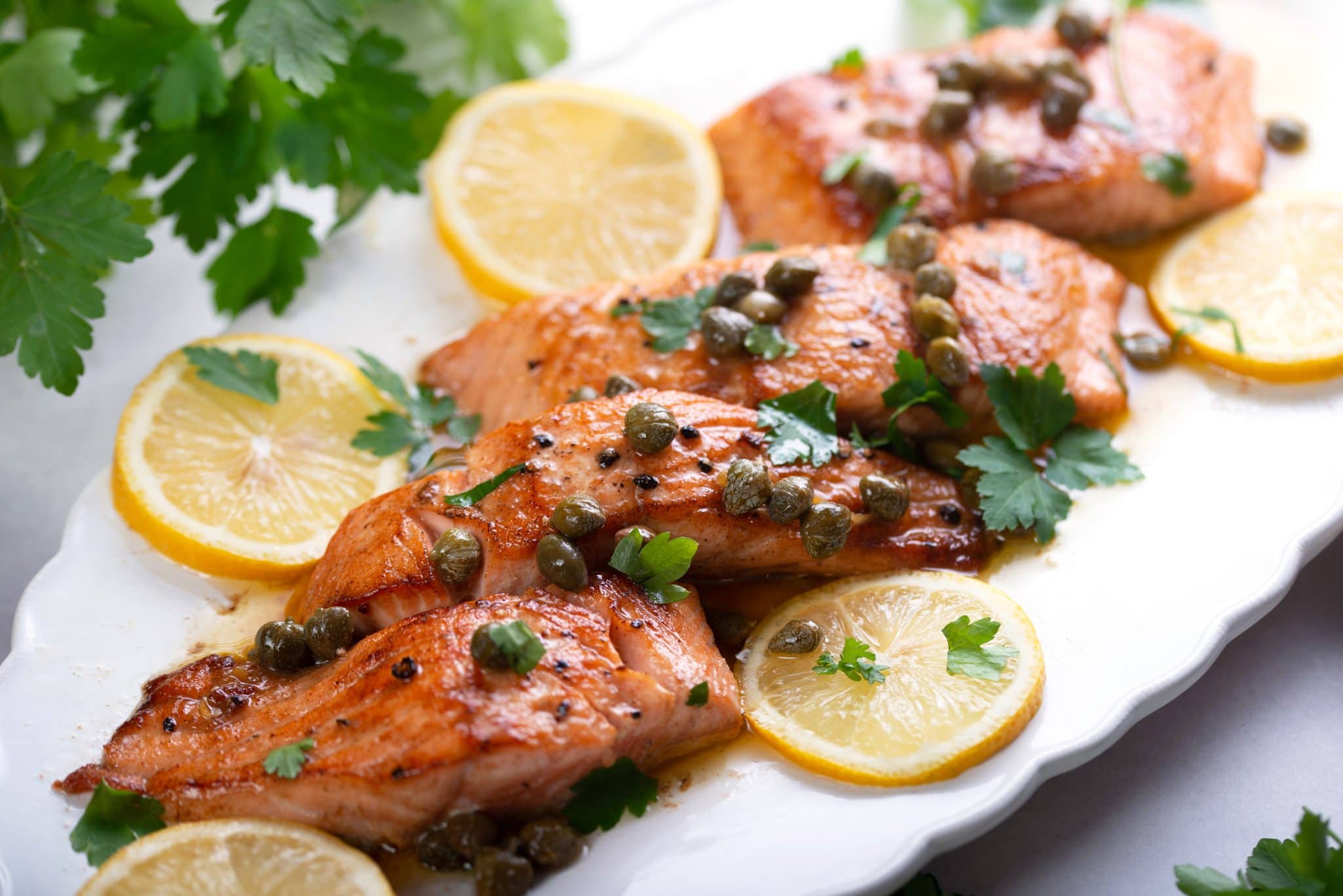 Although salmon isn't the cheapest fish out there (let's face it, it can get really expensive depending on its kind) it's totally worth eating thanks to all the nutritional benefits. Salmon fillets contain plenty of nutrients such as protein, omega-3 fatty acids, as well as B12.
This means better skin, hair and nails! Studies have also shown that eating salmon can prevent heart disease, improve cognitive function and in general, help you live longer. Given those facts, can other recipes even measure up in terms of deliciousness and health? Don't think so!
When it comes to cooking, pan fried salmon is simple to make, yet so full of flavor. Nothing quite compares to the taste of well cooked salmon fillets with perfectly crispy skin and flaky flesh. Trust me on this one and keep on reading!
How to make pan fried salmon
When it comes to seafood, salmon is one of the most popular options because it's healthy, nutritious, and easy to prepare.
Salmon has a mild flavor that pairs well with a variety of seasonings, making it a versatile choice for any meal. Whether you're grilling, poaching, or baking salmon, it's sure to be a hit with your family and friends.
Ingredients
This pan seared salmon takes less than 20 minutes for prep time and cooking time combined. All you need is a pan, salmon fillets, lemon and butter. Plus a few other ingredients to give this dish an extra oomph.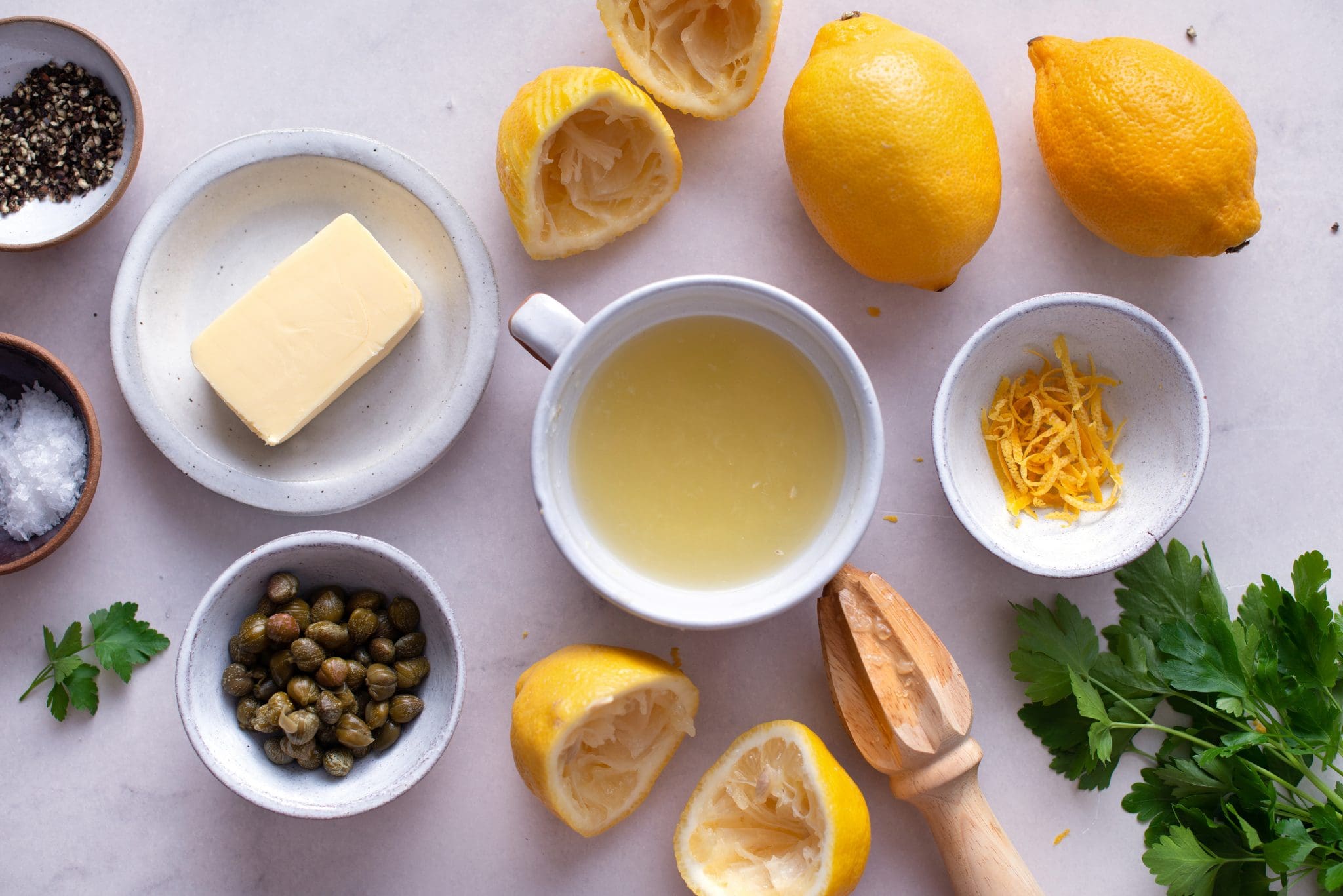 Salmon fillets
The first thing you want to do is to make sure your fillets are fresh. To see if they are, simply give them a poke. The flesh should spring back rather than leave a dent. Additionally, the flesh should have a bright orange, reddish hue with nice marbling. And no funky smell!
Butter
I'm the happiest person in the world knowing that butter is totally acceptable on keto. I honestly feel like it elevates the taste of any recipe, adds delicious flavor and helps create a crispy, golden brown crust.
Sea salt or kosher salt
When used correctly, salt can bring out the natural flavors of the fish when pan frying salmon. It helps to accentuate the salmon fillets' delicate flavor and creates a crispy exterior. Plus, it's also used to tenderize the flesh and prevent it from drying out.
Black pepper
Adding black pepper to pan seared salmon fillets is a great way to add a little bit of heat to the dish. It has a bold flavor profile, plus it's perfect for adding a bit of extra flavor.
Lemon juice
Both lemon juice and lemon slices help to keep the salmon moist and balance out the fatty content. Don't worry about making your pan seared salmon recipe too sour – we're only using four tablespoons here for delicious flavor.
Lemon zest
The best salmon recipe always goes hand in hand with lemon zest. Its layer contains tons of natural oils which are full of flavor and are not as acidic as the juice itself.
Capers
Capers are a delicious addition to pan fried salmon. They add a zesty, salty flavor which pairs perfectly with this rich, fatty fish. I know it's more of an acquired taste and not everyone loves them, but cooking them down a bit in the butter will help take away the briny, bold taste.
Parsley
Fresh parsley is so much more than just a pretty decoration – it has a number of health benefits. For example, parsley is rich in vitamins A and C, as well as iron and calcium. It's a versatile ingredient too, so sprinkle away as much as you want.
Step-by-step guide
Prepare and season salmon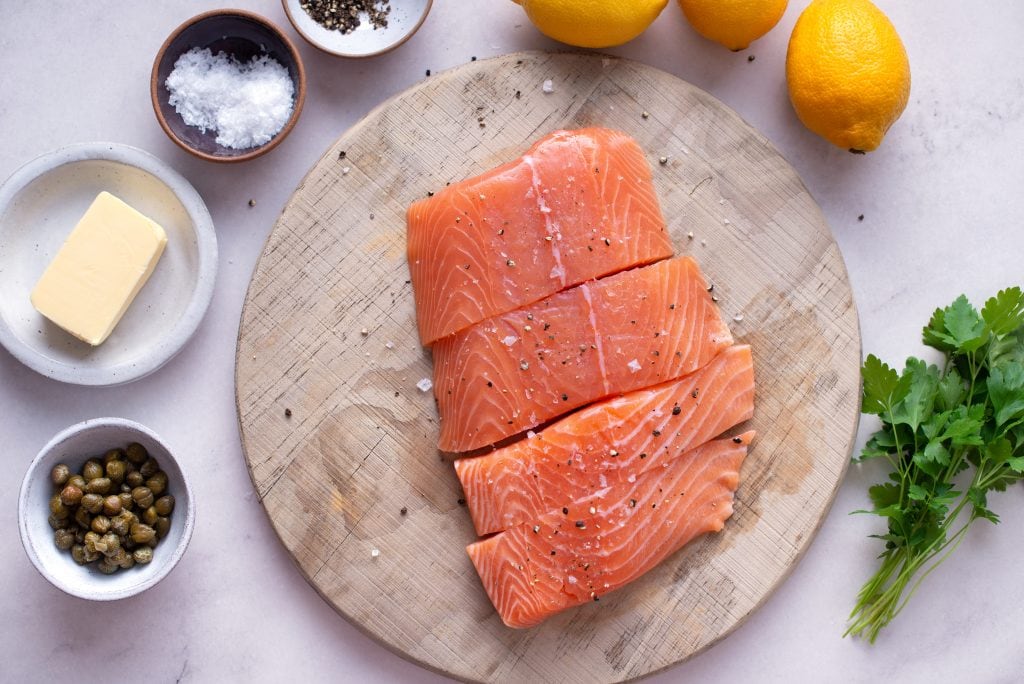 Take your salmon and pat dry with paper towel. This is a crucial step and will help your pan seared salmon skin get crispy. Generously salt and pepper on both sides.
Pan fry it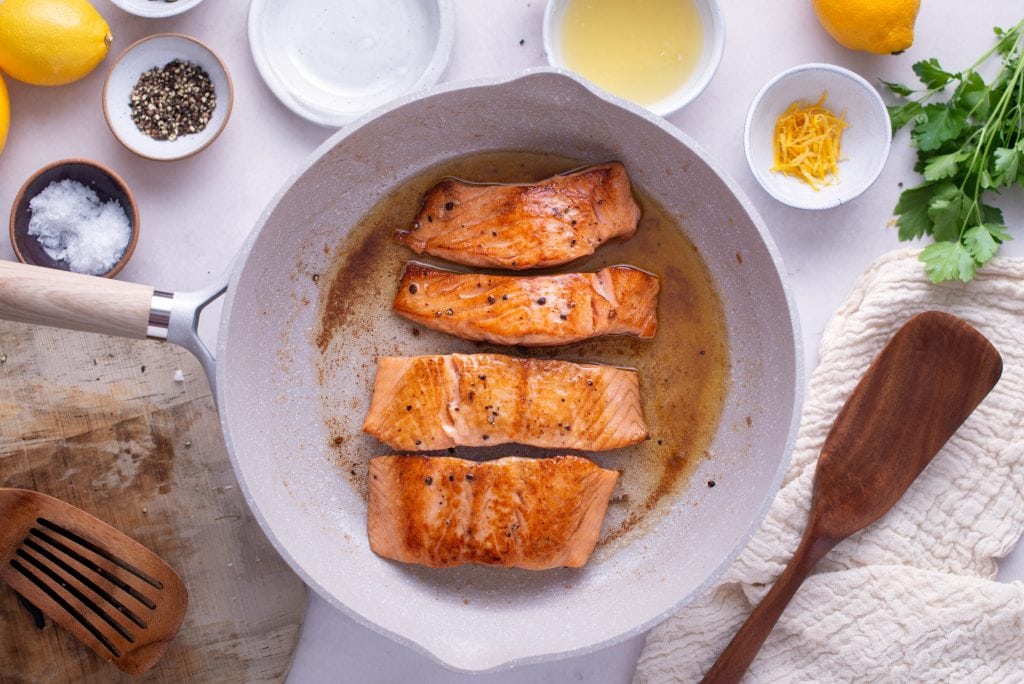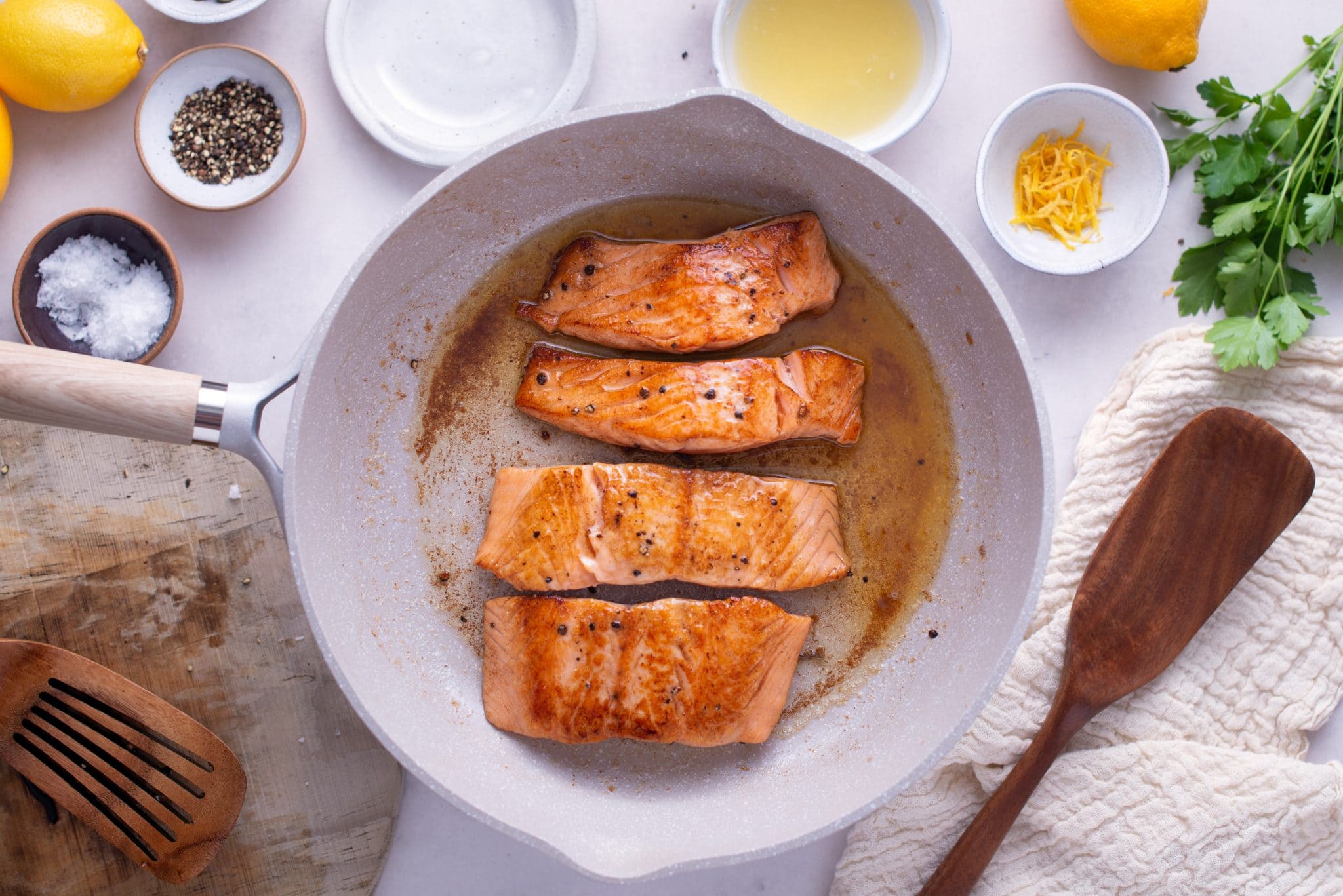 Heat up your skillet over medium high heat then add butter to melt. Let it brown a bit, making sure it doesn't burn. Then, make pan seared salmon by placing it skin side down. Carefully flip after 2-3 minutes on one side, continue cooking on the other side. Remove to a plate.
Make a sauce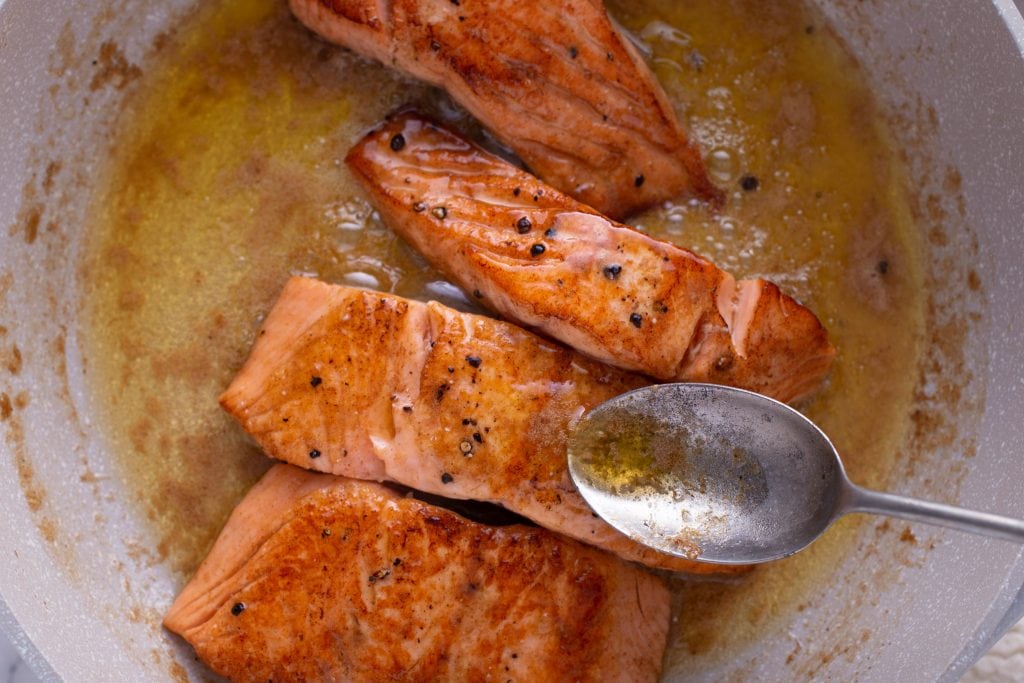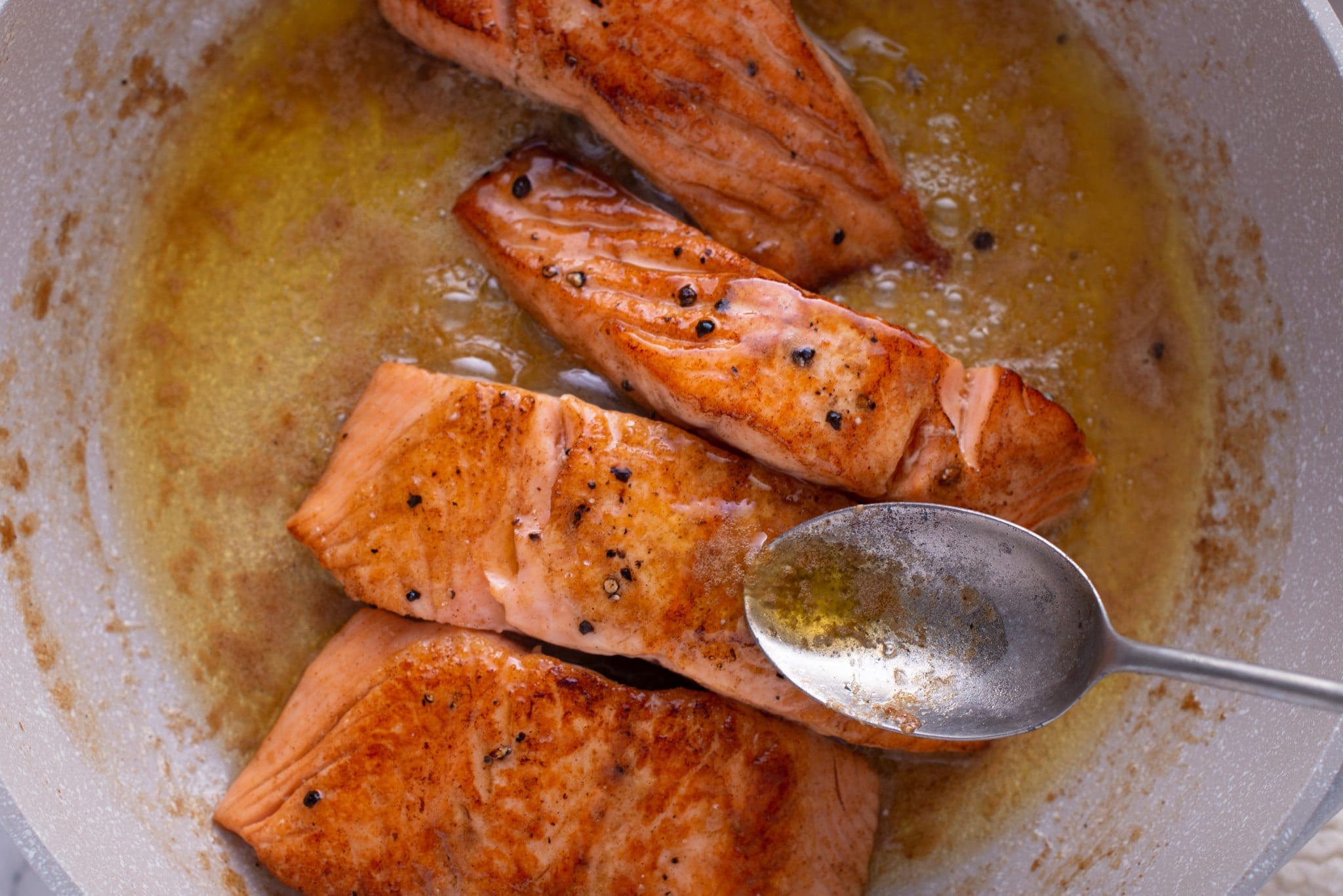 To make pan sauce, add lemon juice, lemon zest, salt and pepper. Reduce it a bit and taste it to see whether it needs a little more spices.
If you love salmon, but you're not too fond of the lemony taste, use half of the recommended portion of lemon juice and add wine instead. This will make the recipe a bit milder, but still delicious.
Finish searing salmon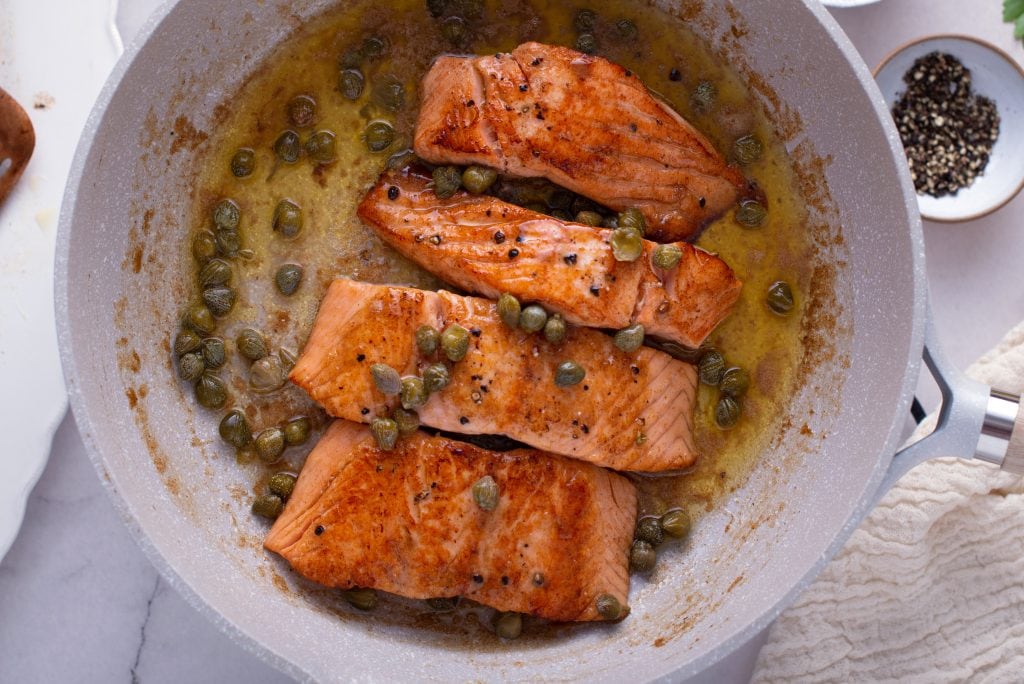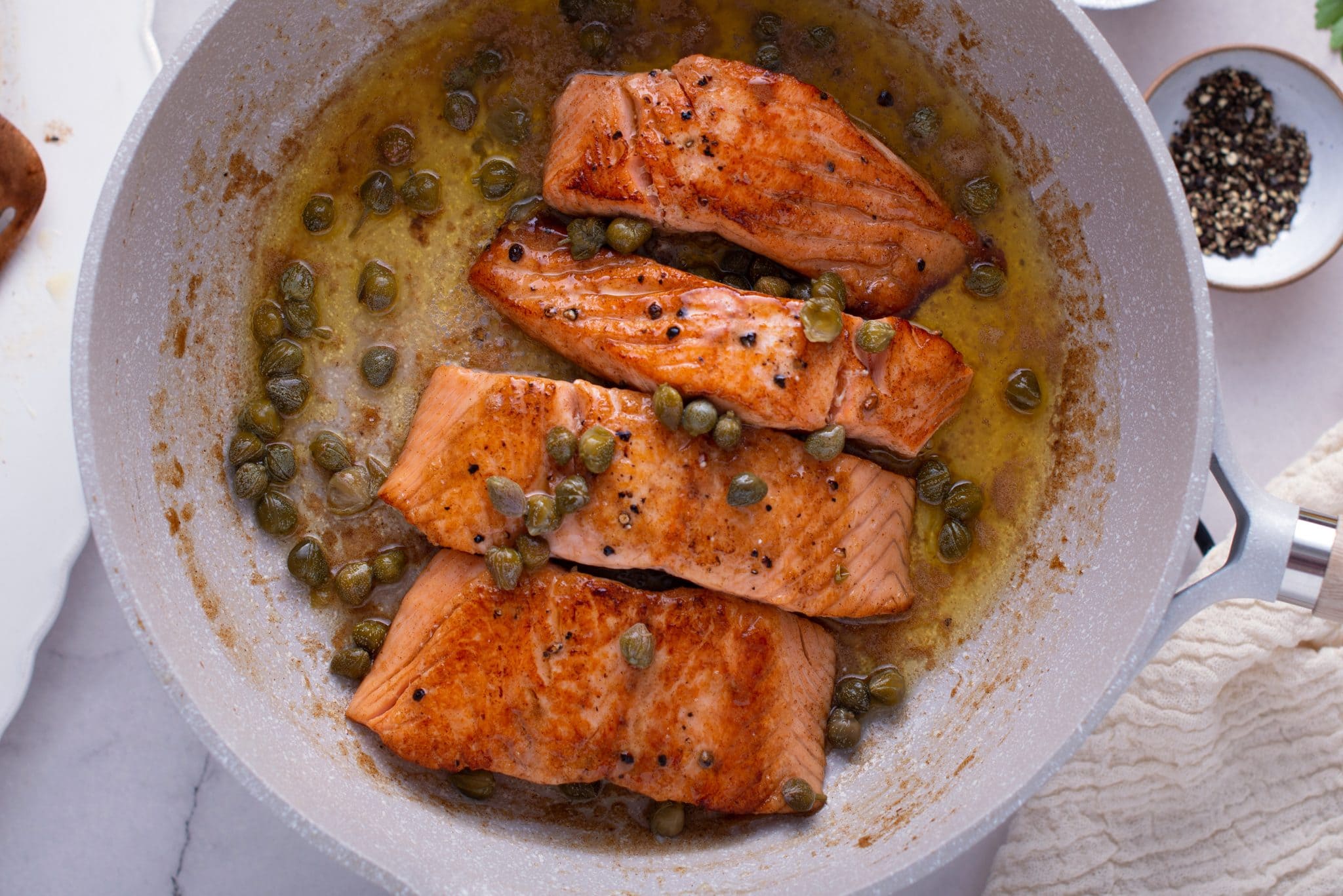 Place salmon back in the pan, flesh side up and skin side down. I recommend cooking it for another 3-4 minutes until internal temperature reaches 110-125˚F. Spoon the remaining lemon juice pan sauce over the salmon continuously.
Almost done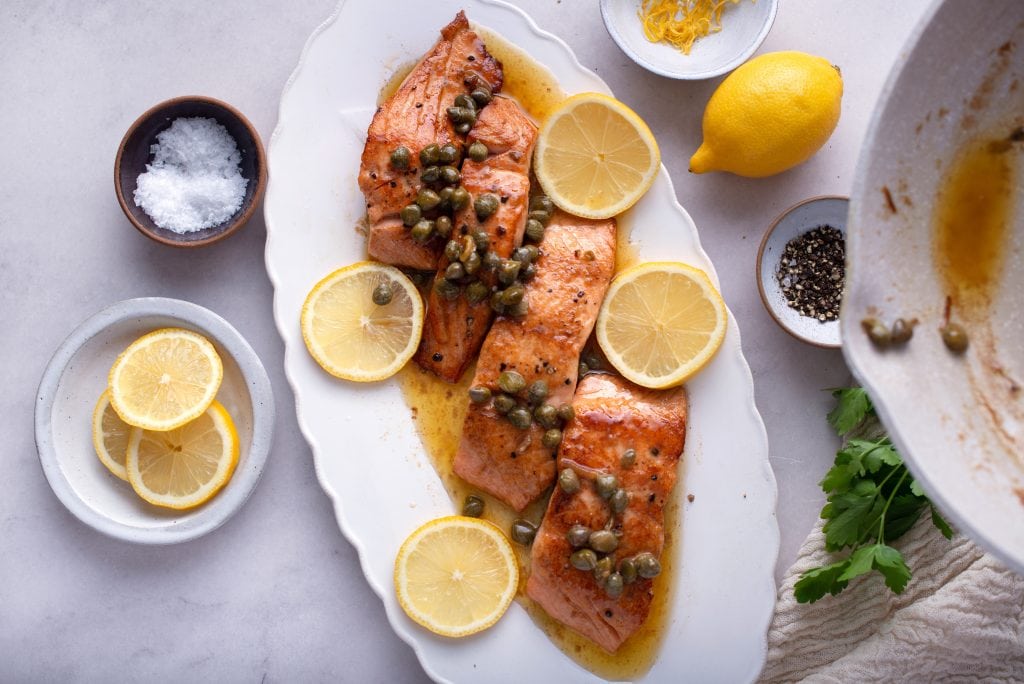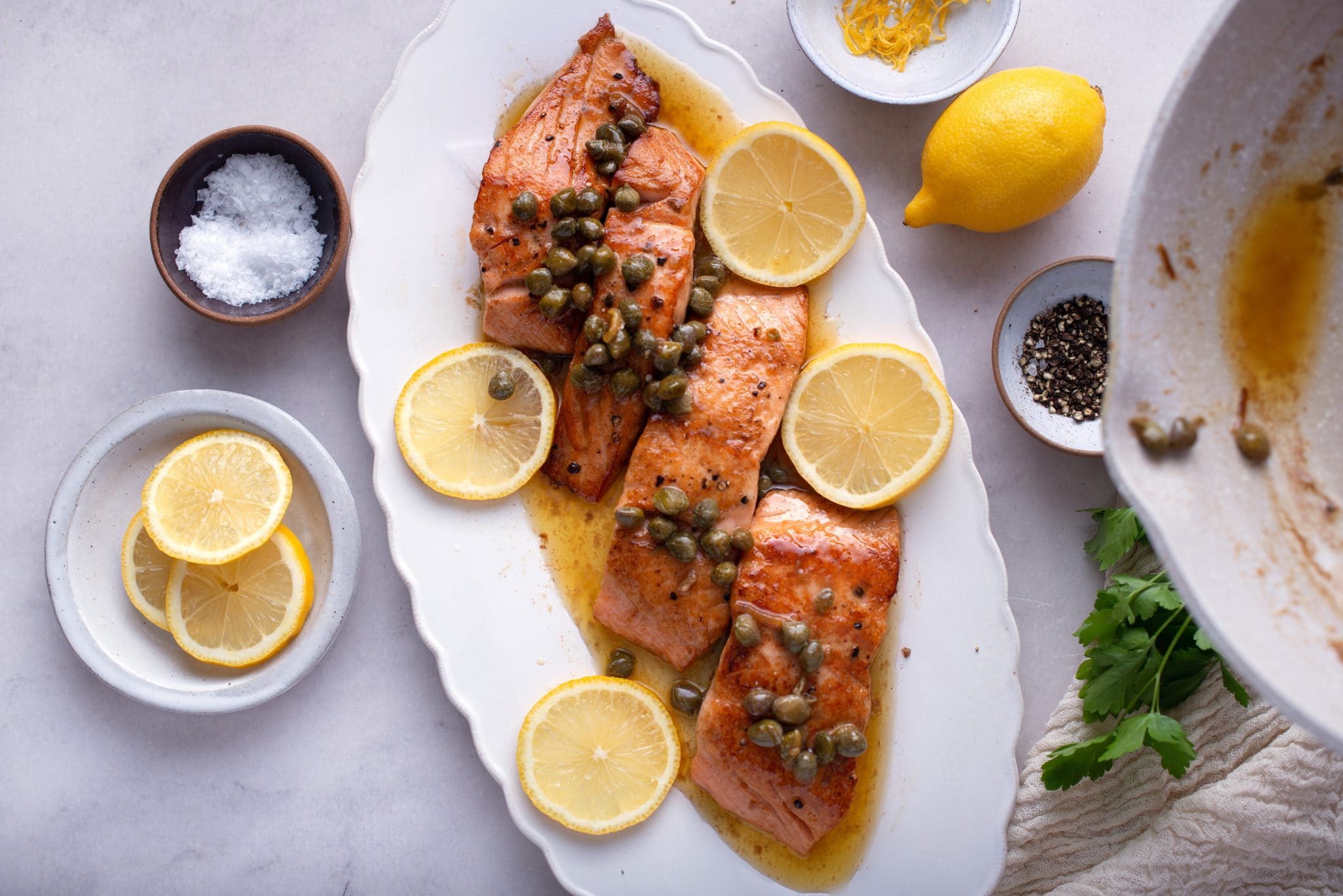 Serve with capers, garnish with lemon slices and flat leaf parsley. This dish is made of simple ingredients, but don't let that fool you – it's full of amazingness.
You can serve it with other keto, low carb side dishes such as Cauliflower Mashed Potatoes, Crispy Brussel Sprouts, Parmesan Garlic Roasted Mushrooms or Keto, Low Carb Coleslaw.
FAQs
Is pan seared salmon healthy?
As long as you're not using unhealthy vegetable oils, pan seared salmon is healthy and nutritious. While we used butter in this recipe, you can also sear salmon using olive oil.
Some people have digestive issues when it comes to frying and pan searing meals, and if you're one of them then opt for steamed salmon fillets instead.
How long should I cook salmon?
You should refrain from overcooking salmon to avoid chewy texture. Ideally, you want to cook salmon until its internal temperature reaches 110-125˚F. If you're looking it on medium high heat, 2-3 minutes per side is perfect.
Can I eat salmon skin?
Absolutely! I know it's an acquired taste, but in my opinion crispy salmon skin is what dreams are made of. You just have to make sure to pan fry it well and make sure the skin side gets crunchy and crispy rather than soggy and wet.
The secret lies in patting salmon fillets dry with paper towel and placing them on a hot pan. If your pan isn't hot enough, you won't get crispy skin.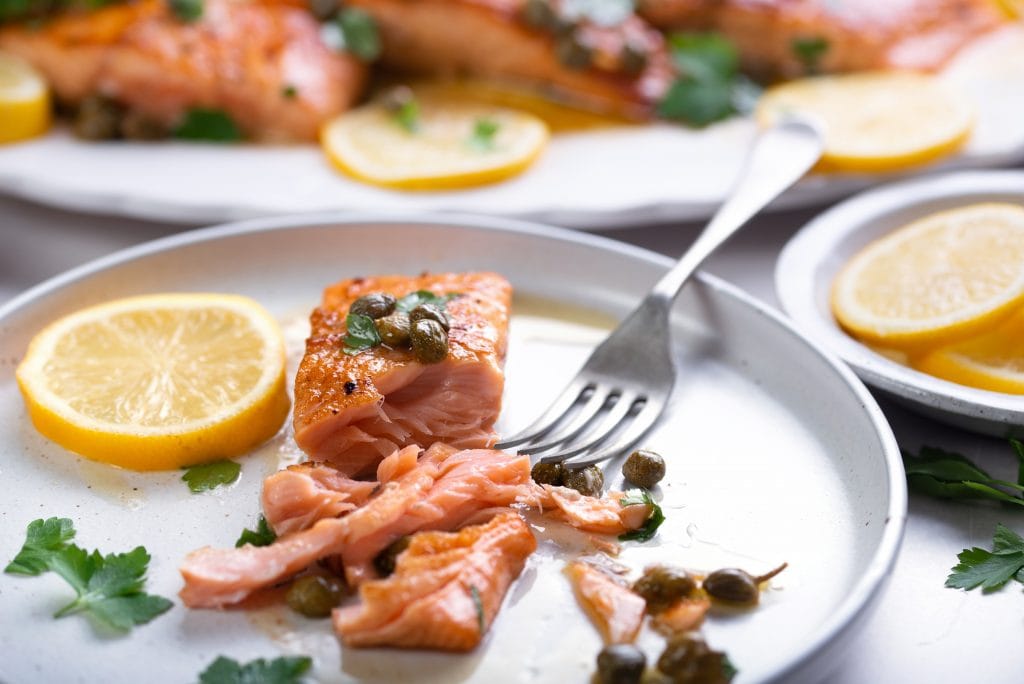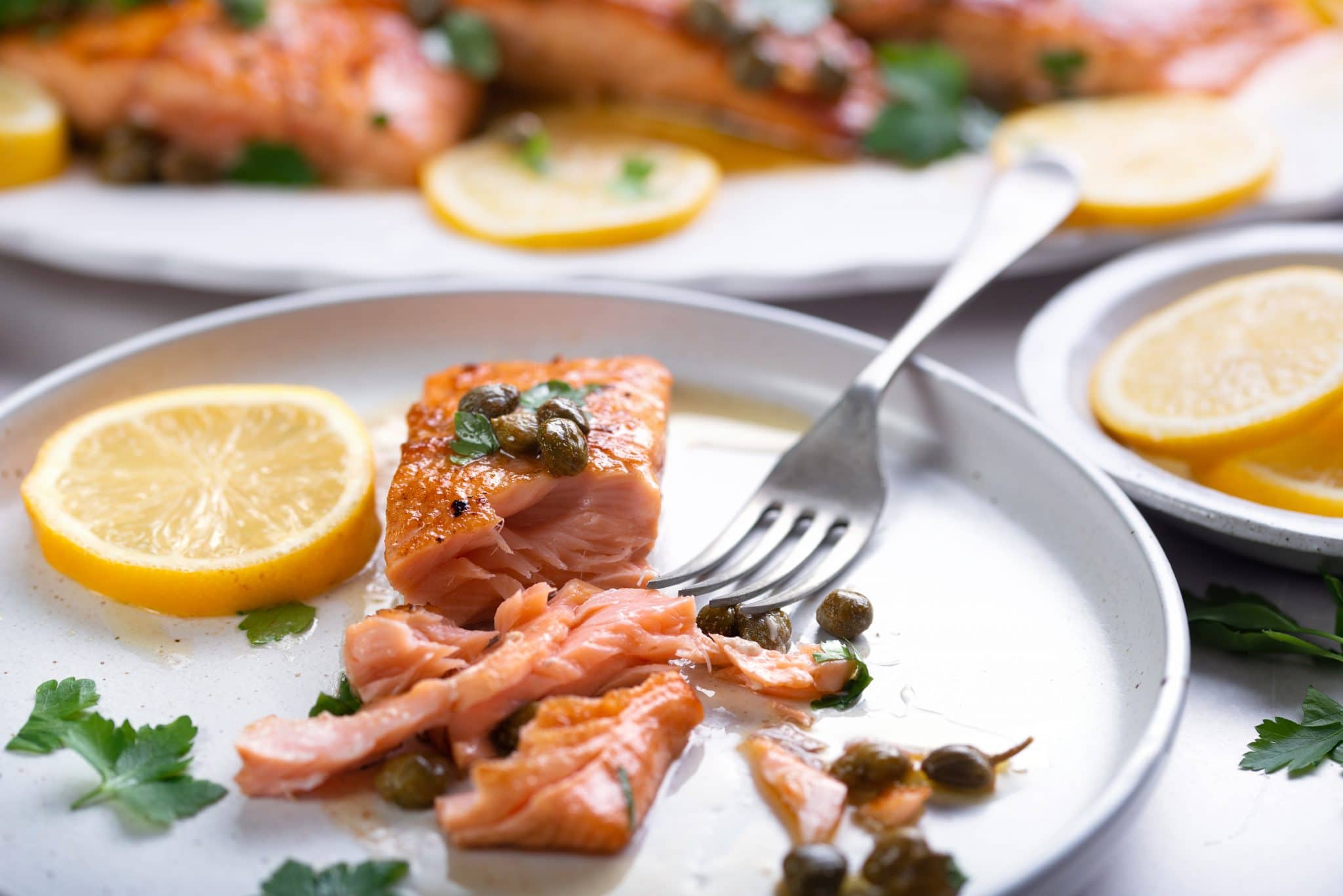 Is wild caught salmon better than farmed salmon?
Wild salmon are caught straight from the ocean, rivers and lakes which is their natural habitat. The risk of them being contaminated with harmful substances is nearly zero.
On the other hand, farmed salmon makes up about half of the salmon you see in stores today. It's much easier to produce it and then bring it to your shelf at the nearest store, however they're fed processed food from the moment they're born until they land on your table.
If possible, always opt for wild caught salmon. Just to give you a simple idea, even the U.S. Department of Agriculture states that a 3-ounce fillet of wild salmon has fewer calories and half the fat content of the same amount of farmed salmon.
Yes, fat is great on keto, but that's not the kind of fat we want since it isn't naturally made.
Are you a fan of salmon recipes?
Let us know in the comments what's your favorite way of preparing it!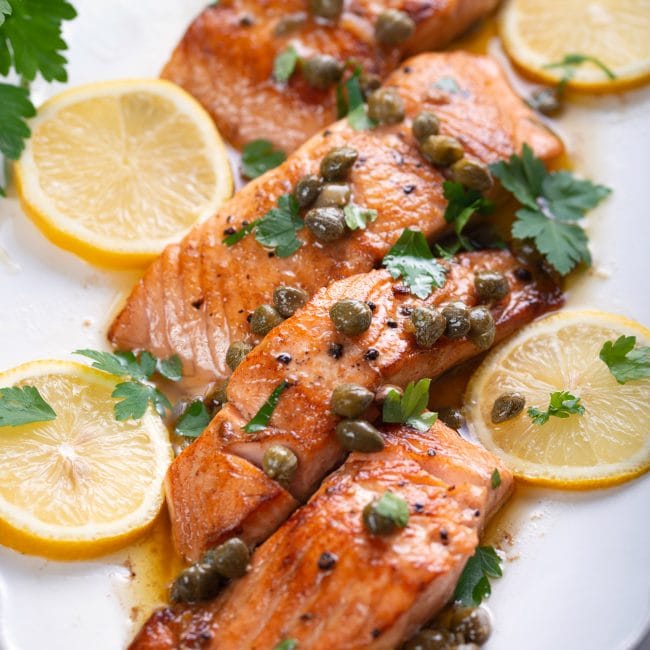 Pan Fried Salmon
Nothing quite compares to the taste of well cooked salmon fillets with perfectly crispy skin and flaky flesh.
Total Time 25 minutes
Servings 4 servings
Calories per serving 363kcal
Prep Time: 10 minutes
Cook Time: 15 minutes
Ingredients:
4 Salmon fillets skinless
60 g Butter
1/2 tsp Sea salt kosher salt
Ground black pepper to taste
1 lemon for slices 4-5 slices
4 tbsp Lemon juice
1 tsp zest
1/4 cup Capers
Flat leaf parsley for garnish
Instructions:
Season salmon with salt and pepper on both sides

Zest one lemon

Squeeze lemon juice, about 4 table spoons

Heat a skillet or sauté pan over medium heat and place butter to melt.  

Let the butter turn light brown and the solids sink to the bottom and turn brown. Your butter should be clear now.

Place fish in hot butter with a fish spatula. Note: Using the correct tools will ensure your fish doesn't break when you flip them.

Cook fish on both sides for 2-3 minutes until brown.

Remove fish to plate.

Add lemon, zest and salt and pepper to taste.  Reduce slightly.Taste the sauce to see if it needs adjustment with more butter.If you want the sauce less zesty, you can also use white wine and only 2 tablespoons lemon juice.

Place fish back in the pan, and finish cooking on medium heat while spooning sauce over the fish.  Note: Internal temperature should be 110-125˚F

Add capers before serving.

Remove fish and pour over sauce from the pan.  Garnish with lemons and flat leaf parsley.
Notes
Capers are excellent for keto because they are low in net carbs. They are also minimally processed and free of harmful ingredients.
Nutrition Facts
Pan Fried Salmon
Amount Per Serving
Calories 363 Calories from Fat 207
% Daily Value*
Fat 23g35%
Saturated Fat 9g45%
Trans Fat 0.5g
Polyunsaturated Fat 5g
Monounsaturated Fat 7g
Cholesterol 126mg42%
Sodium 766mg32%
Potassium 895mg26%
Carbohydrates 4g1%
Fiber 1g4%
Sugar 1g1%
Protein 34g68%
Vitamin A 465IU9%
Vitamin C 21mg25%
Calcium 37mg4%
Iron 2mg11%
* Percent Daily Values are based on a 2000 calorie diet.
Written By