Your childhood favorite recipe finally got a keto makeover thanks to low carb fathead dough. Each one of these Keto Pigs in a Blanket has just 1.6 net carbs, so you can enjoy a ton of these tasty party snacks.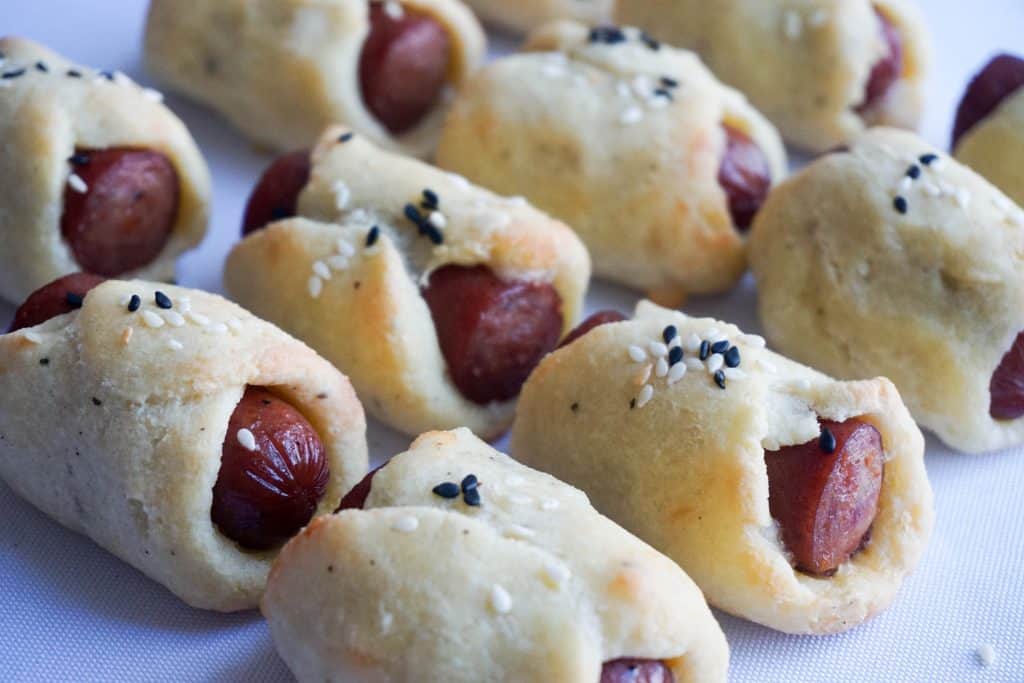 Hot dogs were a huge part of my childhood. From cutting them up and mixing into my macaroni, to boiling them on the stove and eating them for an after school snack. My favorite hot dog recipe of all time though has to be pigs in a blanket.
Before turning to keto I sought them out at all events. Although not the classiest of appetizers, they were by far the most delicious. Of course I had to remake them low carb style, and so I present to you Keto Pigs In A Blanket.
Are Pigs in a Blanket Keto?
While hot dogs are meat, their blanket certainly isn't! Traditional Pigs in a blanket are not keto because each little piggie pocket contains about 4 grams of carbs.
Meaning if you want to have enough to make a meal, you'll be well over your carb intake for the day.
How Many Carbs Does Pigs in a Blanket Have?
Like we said above traditional pigs in a blanket have about 4 grams of carbs a piece whereas our keto pigs in a blanket have 1.6 grams a piece.
You could eat almost four of these keto ones just to equal one of those!
The Crust | Keto Fat Head Dough
I don't think a recipe can get much simpler. It's a four ingredient crust that you quickly whip up and then wrap your piggies!
It resembles a fat head dough, but without the cream cheese which means less calories per pig. Once you've got the crust all you need to do is cut any hot dog of choice into pieces and wrap those babies!
They only take 30 minutes total to make which means you'll always have a go to, sorta classy, super delicious appetizer! And, nothing beats that.
What is Fat Head Dough?
Fat head dough is a traditional keto crust made most commonly with almond flour, cream cheese, cheese, and egg.
It's low carb keto friendly and super low in net carbs. Normally a recipes entire batch of fathead dough has under 6 grams of carbs.
Can I Make Fat Head Dough Dairy Free?
Sadly fathead dough is 90% cheese and cream cheese so there really isn't any good substitutions for it. You can try diary free products, but they often have fillers and water that won't allow for the dough to come together.
Instead you can use our keto pie crust (savory edition) and sub the butter for clarified butter/ ghee or coconut oil.
This dough will be a lot more flakey whereas fathead dough is chewy and fluffy, but it will still taste delicious.
How to Make Low Carb Pigs in a Blanket
Never made a pig in a blanket? Don't worry, it's super simple and will have you falling in love with hot dogs in no time!
Our pigs in a blanket recipe is designed to take less than 30 minutes to make so let's get cooking!
Ingredients
To make this low carb pig in a blanket recipe you will need high quality hot dogs, we used grass fed but any nitrate free brand should work.
Then you will need shredded mozzarella cheese, almond flour, an egg, baking powder, garlic powder, salt, and sesame seeds. These will be used to make the fathead dough.
Making Keto Pigs in a Blanket
To make this low carb recipe start by melting the mozzarella cheese in a microwave safe bowl and add the almond flour and egg. Mix well until combined.
Now add the baking powder, garlic, and salt. If the mixture starts to harden again you can pop it into the microwave for 10-15 seconds to loosen the cheese. Careful not to cook the eggs.
Form the dough into 12 equal sized pieces and roll them out. place the oval shaped rolls onto a baking sheet lined with parchment paper.
Place a "pig" (a hot dog cut into thirds) onto the dough and wrap the hot dog piece up like a blanket. Sprinkle the dough with sesame seeds and press them in. They should stick into the dough.
Preheat oven to 350 degrees and place the pigs in for 17-20 minutes, or until golden brown and cooked through.
Serve warm and enjoy.
Dipping Low Carb Pigs in a Blanket | Keto Sauces
Need something to dunk these little piggies in? Look no further, because our Low Carb BBQ Sauce is the perfect side. It's super simple to make and once again, your family won't know the difference.
Some more keto friendly sugar free sauce options are:
Keto Ketchup – Sugar free ketchup is a must whenever you have any kind of hotdog. There are different brands, but we find this one to be most popular amongst readers.
Noble Made BBQ Sauces – This trio is well worth the cost. Noble Made makes high quality products with quality ingredients that prioritize health and taste.
Spicy Mayo- This is super easy to whip up from home. Mix a few tablespoons of mayo with a teaspoon or two of siracha for the ultimate spicy kick!
Parties and snack time no longer have to be coupled with unhealthy snacks! Put this recipe to the test and make these Easy Pigs In A Blanket next time your family wants a snack. You're welcome!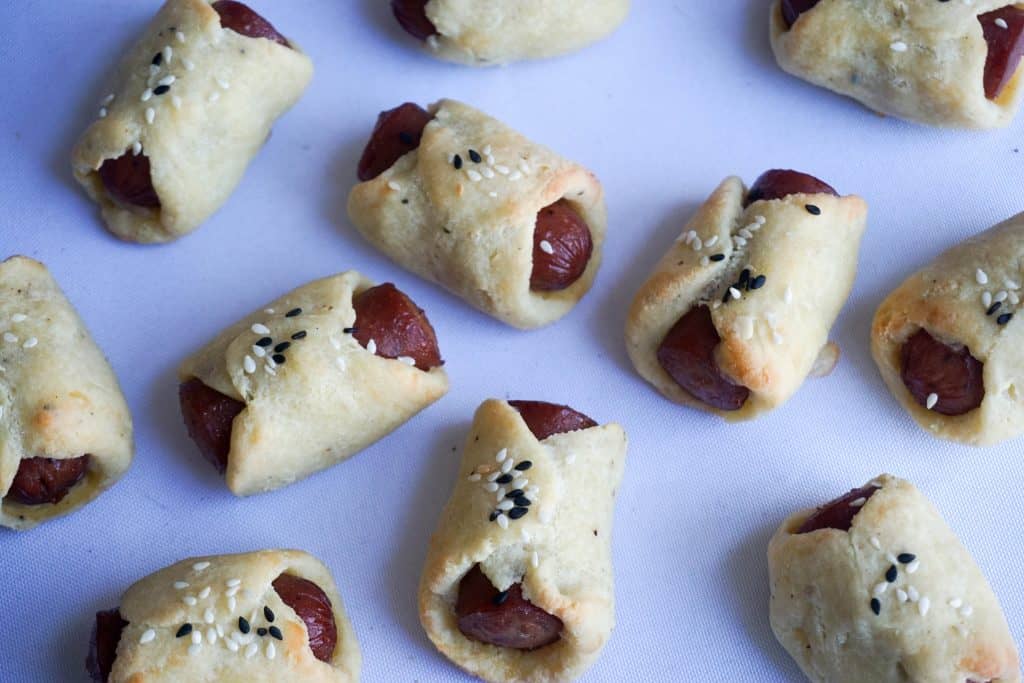 More Keto Appetizers
Want to make more tasty keto appetizers to satisfy your hunger? Some of our favorite recipes are:
Keto Chicken Tenders – One of the most popular recipes on our site are these keto chicken tenders. This delicate and crispy breading just can't be beat!
Keto Chips – Just two ingredients is all that's needed for the tastiest keto chips you will every make.
Keto Nachos – Learn how to make nachos in the easiest way possible.
We have tons of healthy low carb appetizers on our site to enjoy, these are just a few of our tastiest!
The Best Keto Pigs in a Blanket
The best part about this recipe is that no one in your family will know they are low carb, including the kids.
This recipe is extremely kid friendly so if you don't want to make 2 or 3 separate snacks to please everyone; these are your best option!
Make these Keto Pigs In A Blanket for your next party or snack time with the kids!

Search for "KetoConnect – Keto Pigs In A Blanket" in MyFitnessPal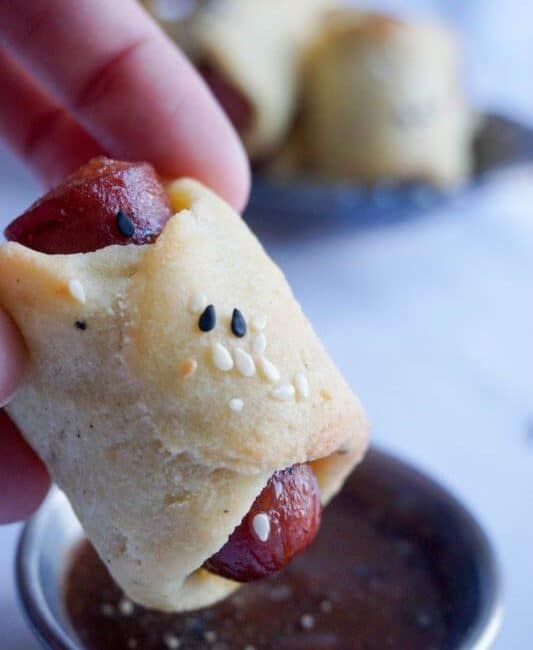 Keto Pigs In A Blanket Recipe
Try our keto pigs in a blanket as an appetizer or kid friendly after school snack.
Total Time 30 minutes
Servings 4 Servings
Calories per serving 332.25kcal
Prep Time: 10 minutes
Cook Time: 20 minutes
Instructions:
Cut each hot dog into 3 equal sized pieces and set aside.

Melt mozzarella in microwave and add almond flour and egg. Combine well.

Add baking powder, garlic and salt. Combine well.

Form dough in hands and split into 12 equal sized pieces and roll into dough.

Place dough balls onto a parchment lined baking sheet. Press each ball into oval shape.

Place each hot dog piece into the dough and wrap like a blanket.

Sprinkle with sesame seeds (press down so they stick to dough).

Place pigs in 350 degree oven for 17-20 minutes.

Serve warm and enjoy!
Notes
The nutrition listed is per serving.
The entire recipe makes 12 pigs in a blanket.
This recipe makes 4 servings which means that 1 serving is 3 pigs in a blanket.
Net Carbs: 5g
Nutrition Facts
Keto Pigs In A Blanket Recipe
Amount Per Serving
Calories 332.25 Calories from Fat 248
% Daily Value*
Fat 27.5g42%
Carbohydrates 7.25g2%
Fiber 2.25g9%
Protein 16.25g33%
* Percent Daily Values are based on a 2000 calorie diet.
Written By