This easy keto strawberry smoothie is simple to make and tastes delicious with both fresh or frozen strawberries. It has a creamy avocado base and a rich strawberry flavor that makes for a delicious and quick meal option.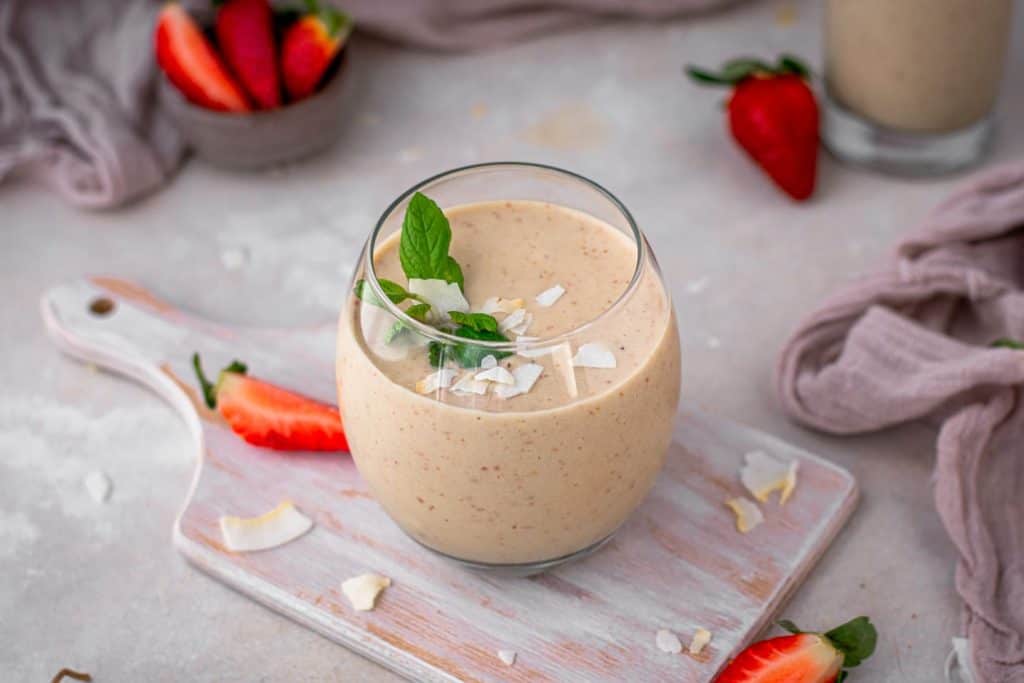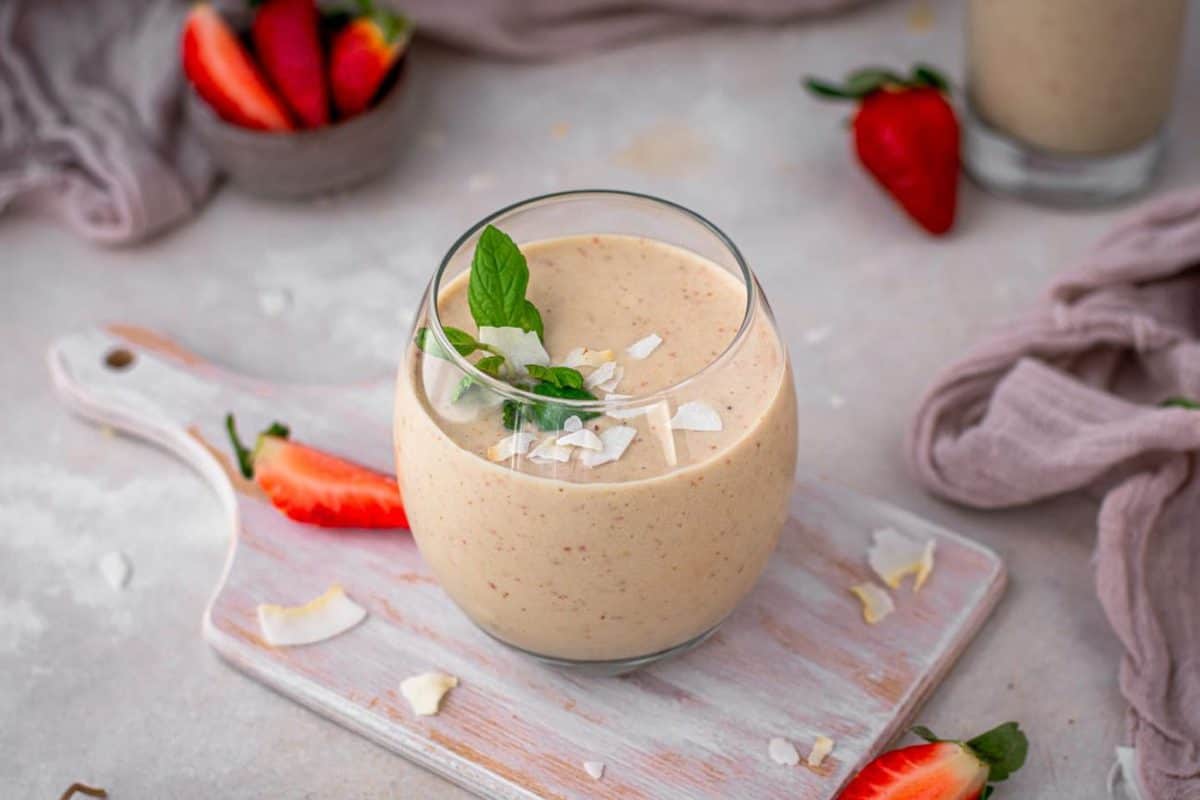 Protein Shake or Keto Shake?
A common misconception is that keto is high protein and high fat. Keto is low carb and moderate protein, so we wanted to make sure we made a smoothie recipe which fit those macros. Instead of using a ton of high protein ingredients, we chose to use high fat ones like avocado. Avocado is rich in soluble fiber making it a great way to get both macronutrients and micronutrients(1). Soluble fiber has also been known to help with digestion and blood sugar regulation to reduce the risk of diabetes (2).
If you want to have more protein in your keto strawberry smoothie to make it filling as a meal replacement, that is beneficial too. Check out our list below to find some high quality protein options that are easy keto additions to this strawberry smoothie recipe.
Protein Options
Protein can help to make a more satiating shake and is definitely recommended for smoothies that are being used as a meal replacement. Some easy keto protein additions are:
protein powder will be your best option on a dairy free keto diet.
Powdered Almond Butter– A vegetarian friendly protein source for this keto strawberry smoothie recipe would be powdered almond butter. It's creamy and nutty with 5 grams of protein for two tablespoons (4 net carbs).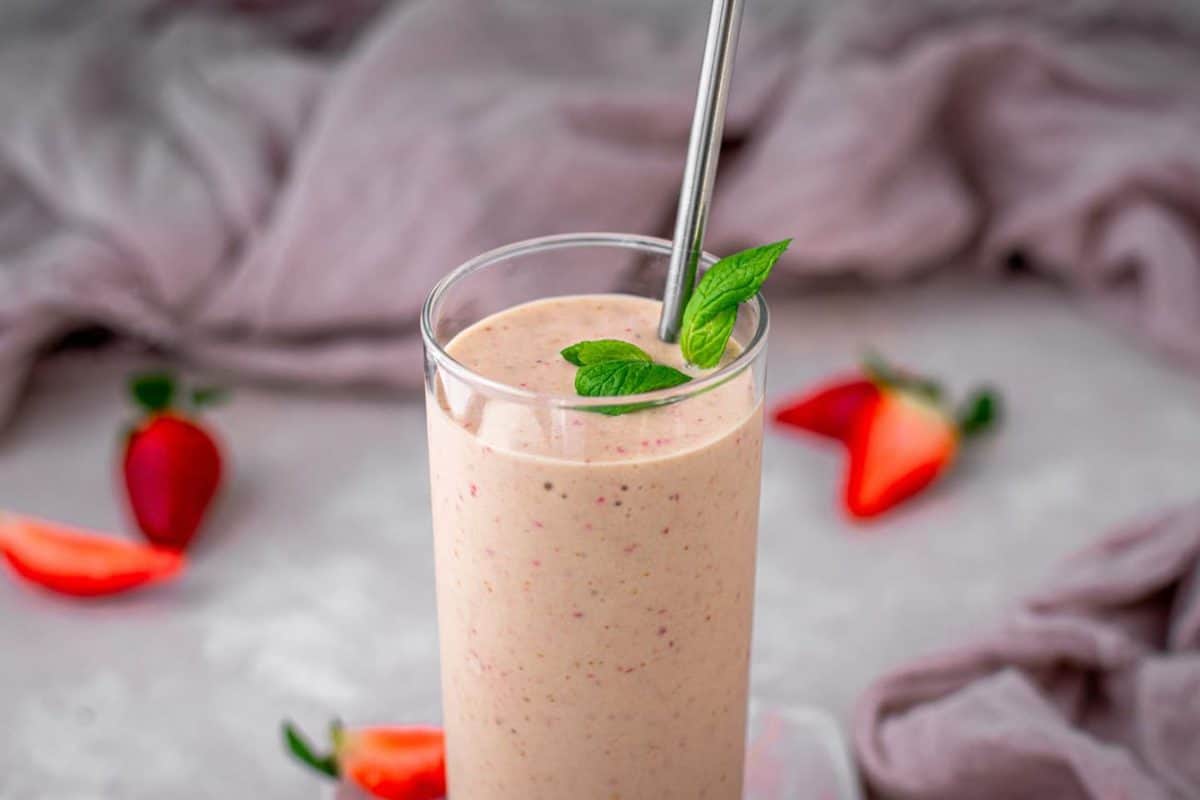 Fresh or Frozen Berries
Making a strawberry smoothie keto wasn't too difficult because thankfully most berries are already low carb. However, a common question we get about our smoothie recipes is whether or not the berries have to be frozen. You'll be happy to know that this keto strawberry smoothie does NOT require frozen berries! With any keto smoothie frozen berries are ideal, but not 100% necessary. The net carbs won't change only the texture will. Frozen berries tend to make a more sorbet ice cream like texture, whereas the fresh berries will make a thinner smoothie. The smoothie texture is really up to preference, but no need to stress about having a strawberry pint frozen up to be able to make this recipe.
Can I Use Mixed Berries?
The great thing about keto recipes especially smoothies, is that most ingredients are pretty interchangeable. We wouldn't recommend skipping the avocado for that creaminess, but changing a strawberry base to mixed berry one is an easy swap!
Keto Milk Options
Searching for the best keto milk option to put in your strawberry smoothie? We have quite a few healthy keto options you can try in our keto milk alternatives blog post. In quick summary though, some of the best low carb milk alternatives are:
Unsweetened Almond Milk- Insure that the almond milk you buy is sugar free in order to be keto friendly. Almond milk is usually very easy to find in many grocery stores in both the fridge isle and regular isles.
Unsweetened Cashew Milk- Sometimes cashew milk can be tricker to find, but is often in the refrigerated section. It's dairy free and low in both carbs and calories so you can enjoy it in many keto recipes.
Half and Half- This option does have dairy and can add up in carbs when consumed in high amounts. It's called half and half because there is half fat/ cream half milk (aka lactose sugar). A few tablespoons shouldn't be more than a couple grams of carbs, but it is something to be mindful of.
Unsweetened Coconut Milk- Coconut Milk is also dairy free and comes in a variety of forms. You can find it refrigerated, canned, and boxed on the regular shelves.
Heavy Whipping Cream- Heavy cream is a keto staple. It's high fat and low carb perfect for an ideal keto diet.
Any of these low carb milk options will work in keto smoothie recipes or baked goods. The higher the fat count (ex. heavy cream) the creamier your drink will be.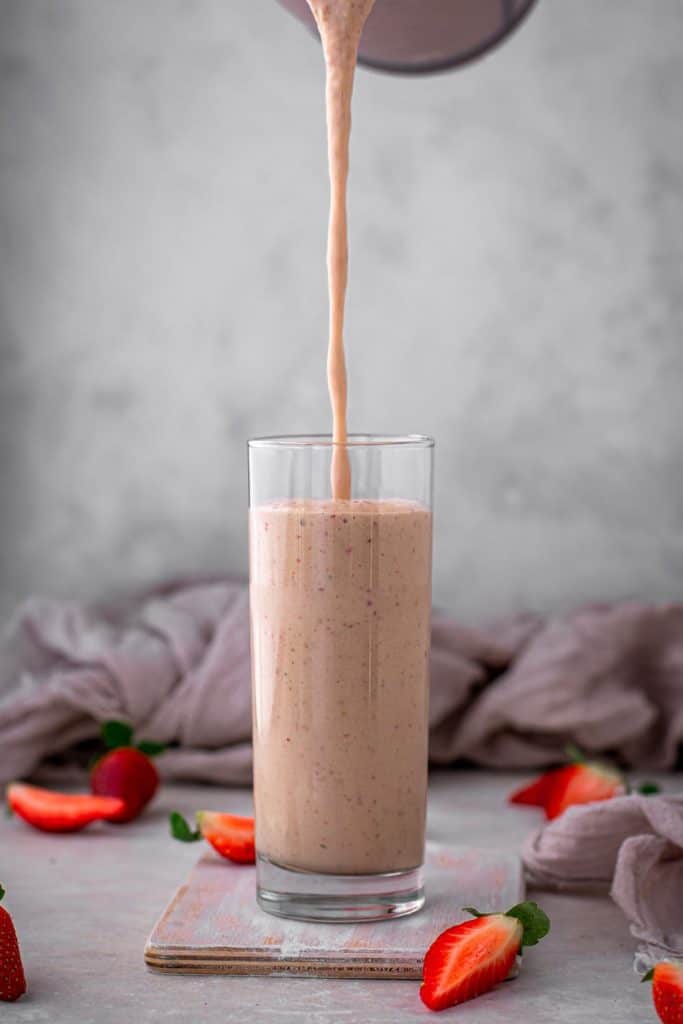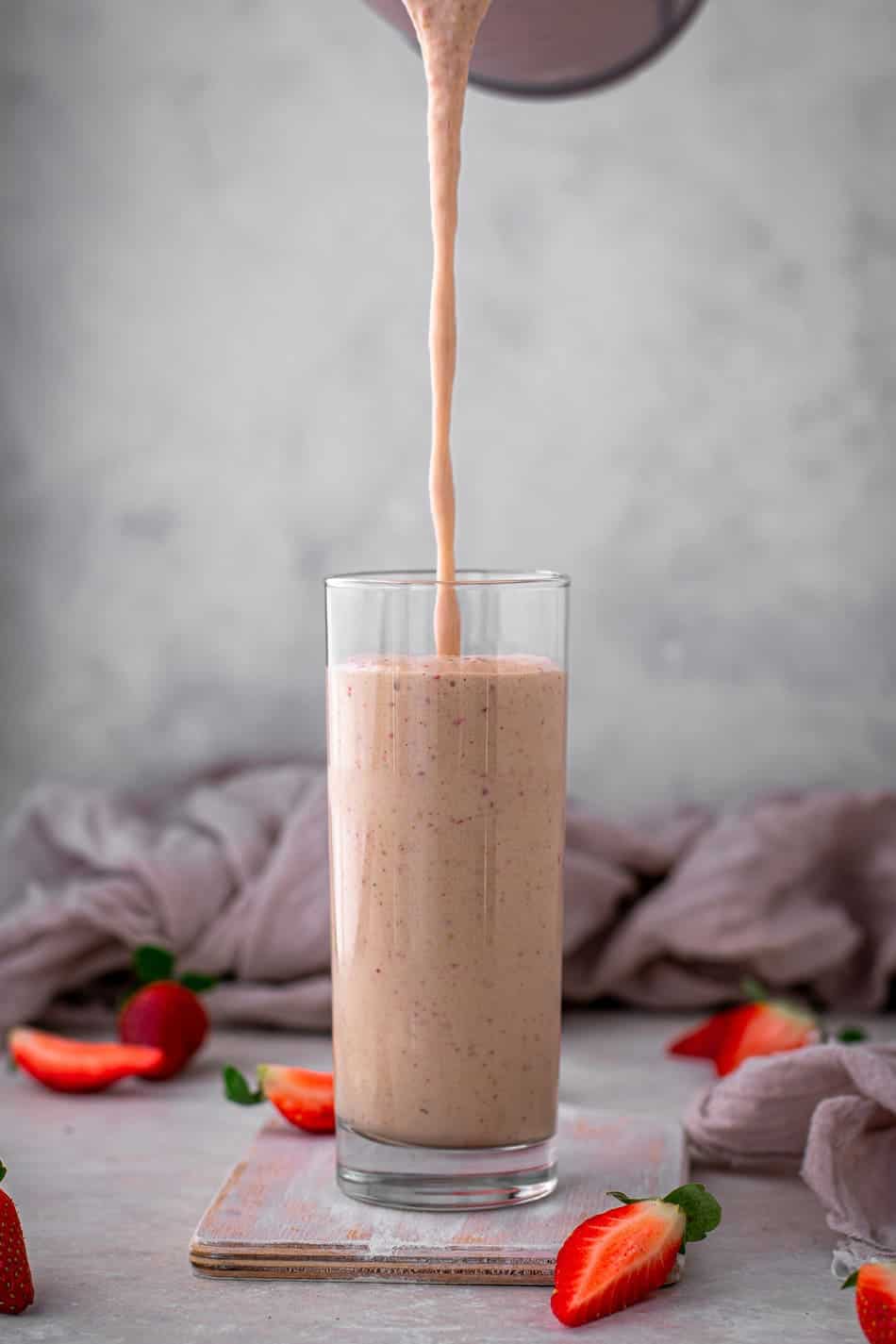 A Dairy Free Keto Strawberry Smoothie
Love dairy but it doesn't love you back? Don't worry, because this keto strawberry smoothie is super easy to change and adjust based on your diet preferences. We've used almond milk as well as heavy cream in the base and found both to work well in this recipe. This is thanks to the avocado used which can make even the plainest unsweetened almond milk smooth and creamy.
Other than the milk choice this low carb keto strawberry smoothie is completely dairy free! If you did want extra sources of dairy free protein and fat you can add:
A High Quality Protein Powder– We usually use zero carb animal based protein powders, but you can use a low carb vegan option.
Coconut Oil– Adding a tablespoon or two of coconut oil is a great way to bump up the fat in this recipe if your are choosing to use almond milk instead of high fat heavy cream
Coconut Cream– Canned coconut cream is another delicious high fat addition to this keto strawberry smoothie if almond milk is a little too thin for you.
Everyone loves easy keto recipes and smoothies certainly fit the bill. We never want anyone to feel like they can't enjoy a keto recipe just because they are dairy free. Enjoy this delicious keto strawberry smoothie recipe with our list of dairy free additions and substitutions.
High Fat Variations
If you're looking to up the fat in this keto strawberry smoothie, feel free to try some of our favorite low carb smoothie additions:
Cream Cheese– Cream cheese makes a delicious high fat option for all your sugar free keto smoothie recipes. It's gluten free, has great nutrition facts for keto, and tastes like strawberry cheesecake when you put the ingredients in a blender.
Coconut Cream/ Unsweetened Coconut Milk– Coconut cream or coconut milk works great as a high fat addition to this keto strawberry smoothie. They won't cover the strawberry flavor, but will add a little bit of coconut flavor for a more tropical keto friendly drink.
Heavy Whipping Cream– Heavy cream makes delicious keto strawberry smoothies that taste almost like ice cream milkshakes. Unlike unsweetened coconut milk, cream is thick and luxurious. It makes a super smooth and rich drink to enjoy as a keto breakfast, or try adding a bit of whipped cream on top for a sugar free ice cream shake dessert.
Nut Butters- While this keto strawberry smoothie does have almond butter, the amount per serving isn't huge and could definitely be bumped up. Add a hefty serving size of nut butter to your strawberry smoothies when you make this recipe as a meal replacement. It will add both fat and protein to help you stay full.
These are just a few high fat variations, but there are tons more options you can try. Smoothies are easy to make and super customizable meaning you can add whatever new ingredients and flavors you are feeling that day.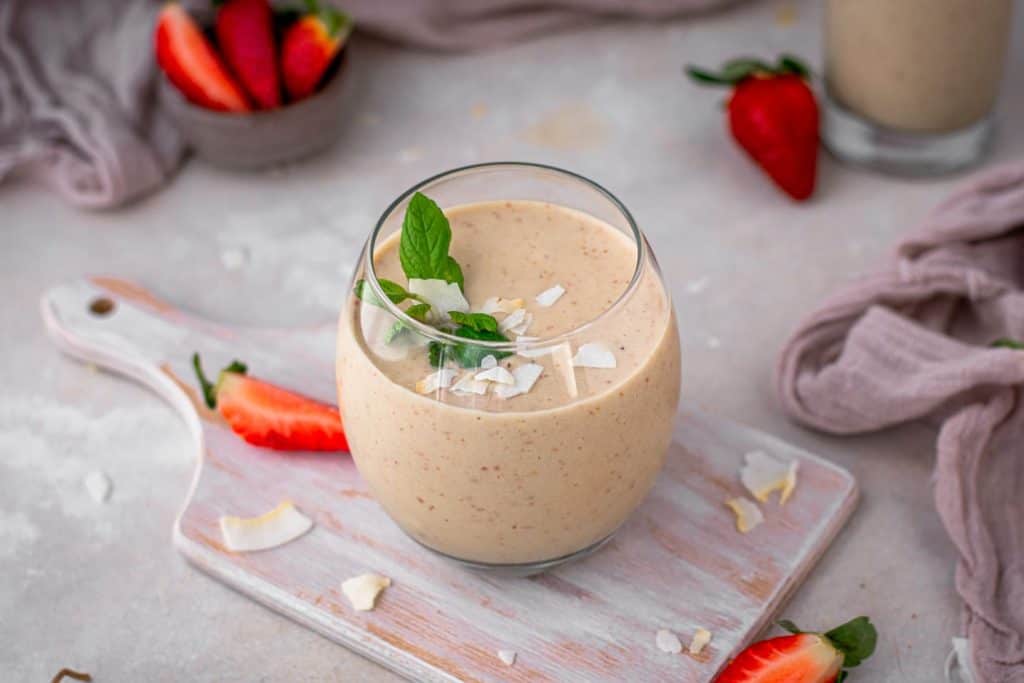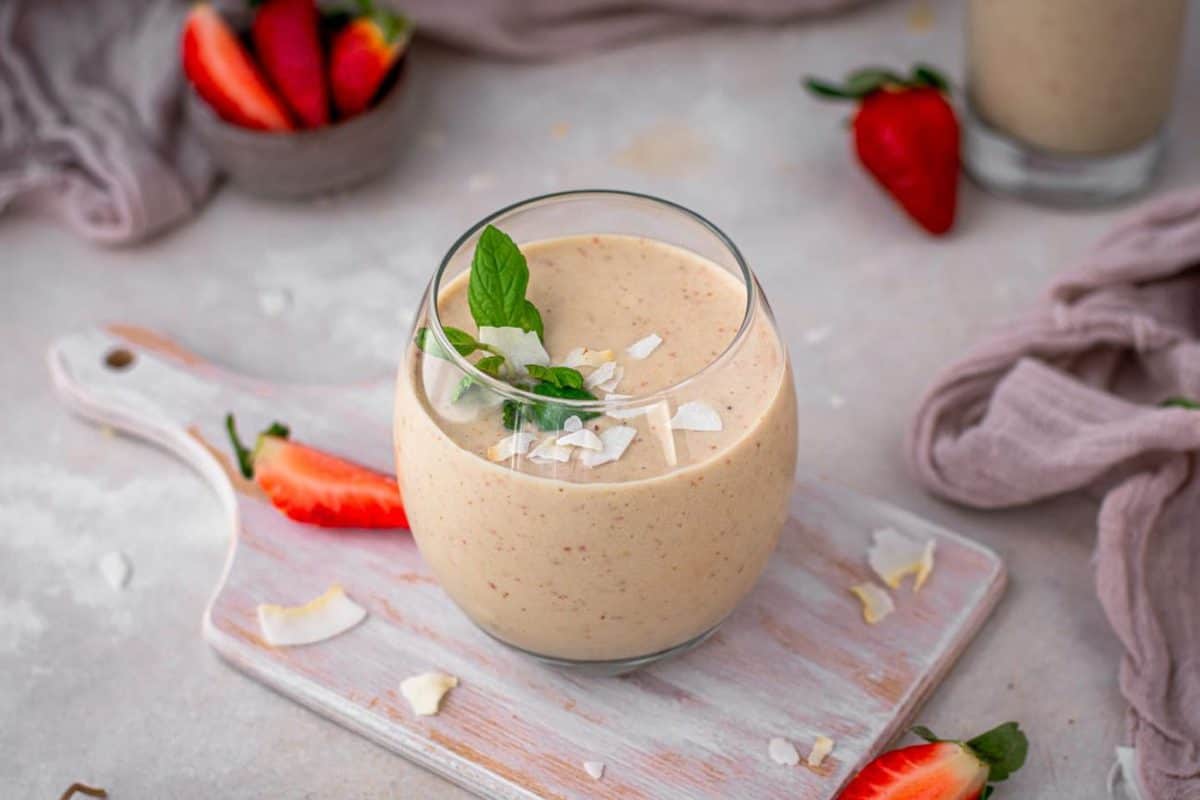 How to Make a Keto Strawberry Smoothie
Equipment
The only piece of equipment you will need for this keto smoothie recipe is a high power blender. The two most popular blenders are the Vitamix and Ninja Blender. Personally, we have the Vitamix and love it for keto smoothie recipes because it does a good job breaking apart all the ice cubes.
Ingredients
To make a strawberry smoothie keto you will need a sugar free sweetener (we used erythritol), low carb almond milk, avocado, almond butter, ice cubes, and frozen strawberries. That's it! This keto strawberry smoothie is super quick and easy to make so you can grab it and go out the door in under 10 minutes.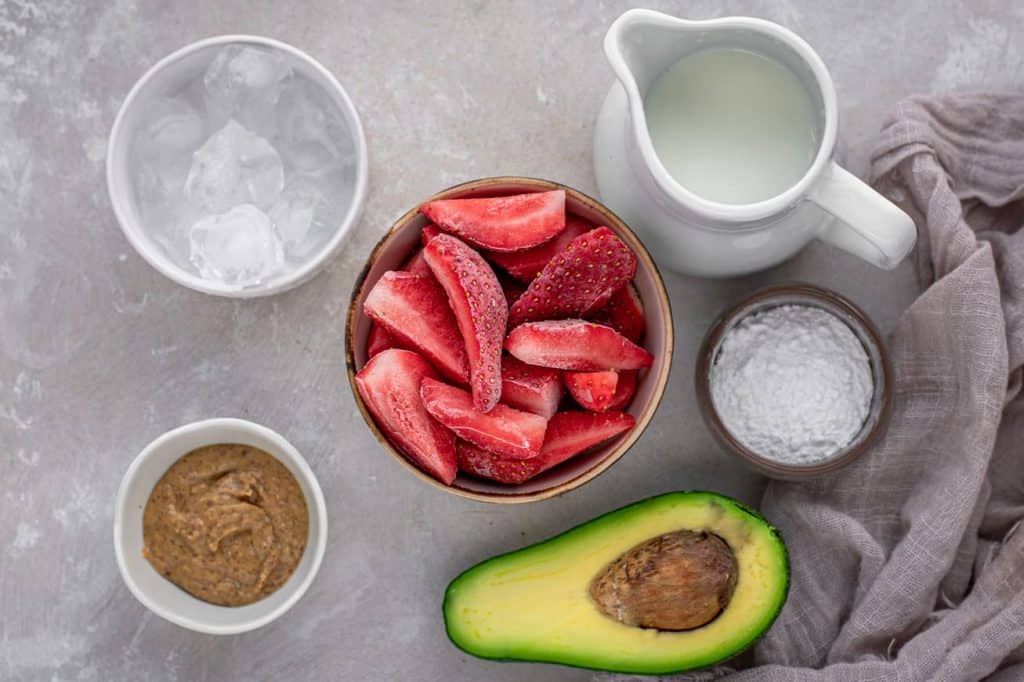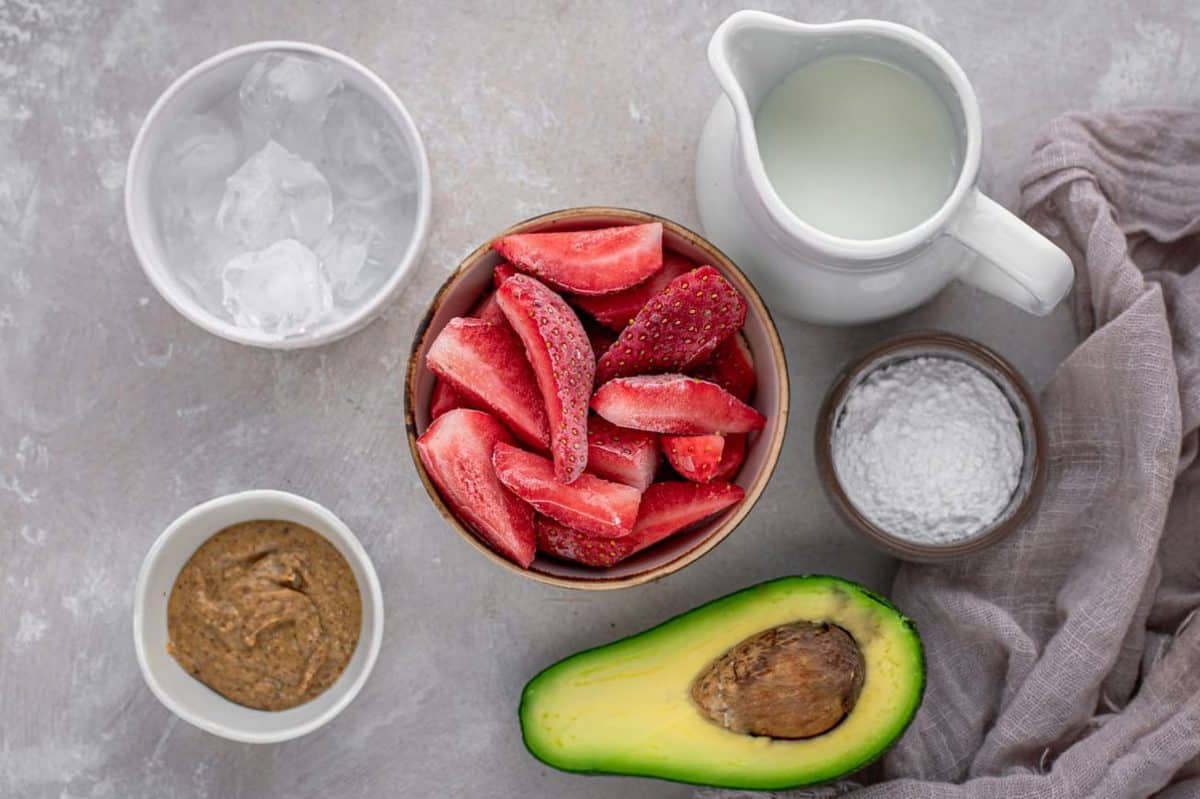 Making a Low Carb Strawberry Smoothie
To make this recipe simply blend all the ingredients together in your blender until smooth. Pour into a cup and top with any preferred additions. We love adding toppings like: whipped cream, fresh mint, chia seeds, or fresh strawberries. You can also blend in extra chia seeds for added fiber and crunch.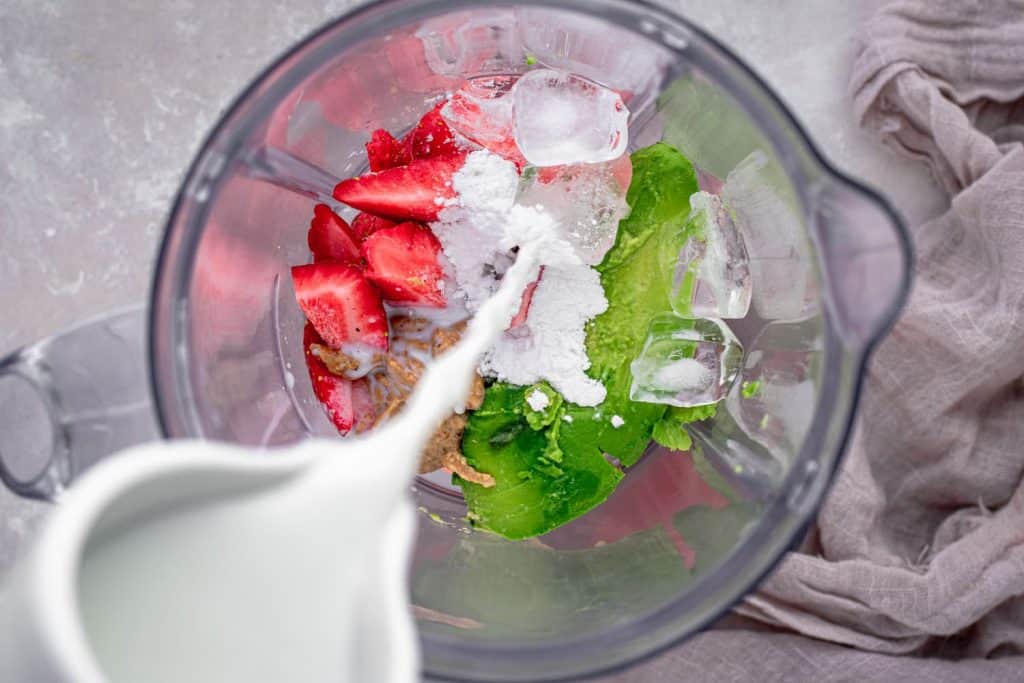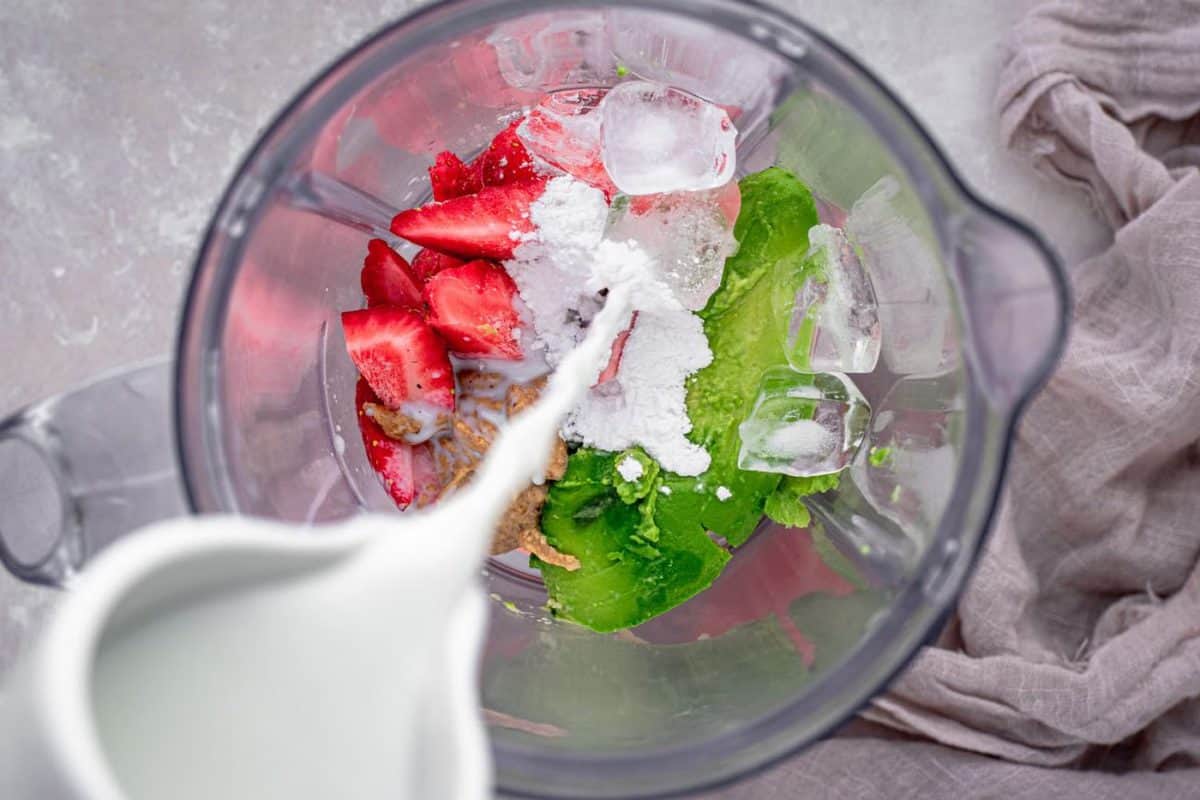 More Keto Smoothie & Shake Recipes
If you tried this recipe and are coming back again, check out one of our other delicious smoothie recipes to toss into your rotation:
Keto Blueberry Cheesecake Smoothie– This smoothie recipe only takes about 5 mins total time to make. It's rich, creamy, and tastes just like a sweet blueberry cheesecake.
The 5 Best Keto Shakes– If a strawberry shake isn't your vibe try one of our other 5 best low carb smoothie shakes. We have everything from refreshing lemon blueberry, to decadent and creamy tiramisu.
Nutritious vs. Delicious Keto Smoothies– Whether you are all about having the best tasting smoothie, or the most nutritious keto smoothie; we've got you covered. Our greens shake is sure to cover all your micronutrients on a keto diet. And our delicious shake on the other hand is sure to cover all those cravings!
Keto Strawberry Smoothie
With such low net carbs per serving you have no excuse not to whip up this simple yet delicious smoothie recipe. It works amazingly with both frozen strawberries and fresh berries, because the added avocado will make this low carb recipe smooth either way. We're sure this keto strawberry smoothie will become a staple in your low carb diet due to its simplicity and speed.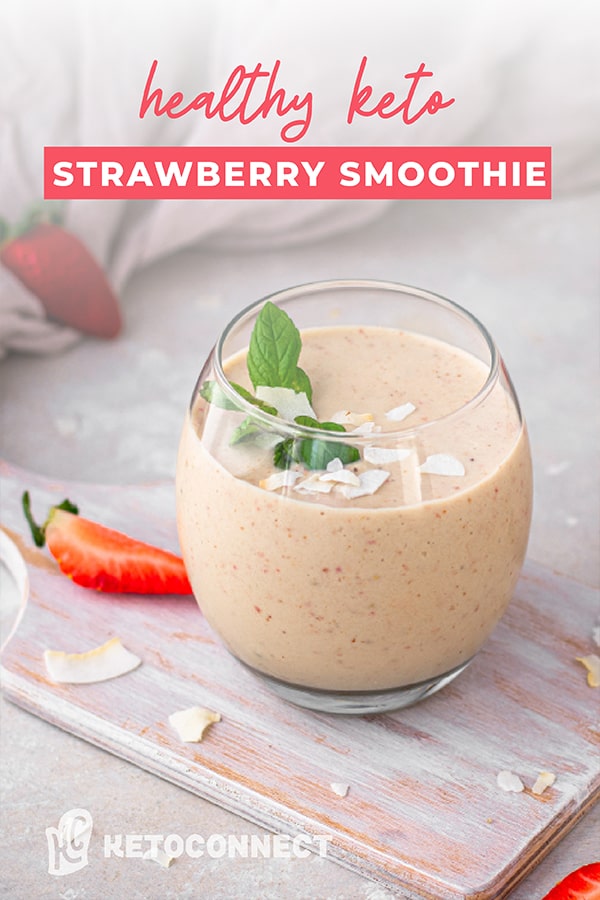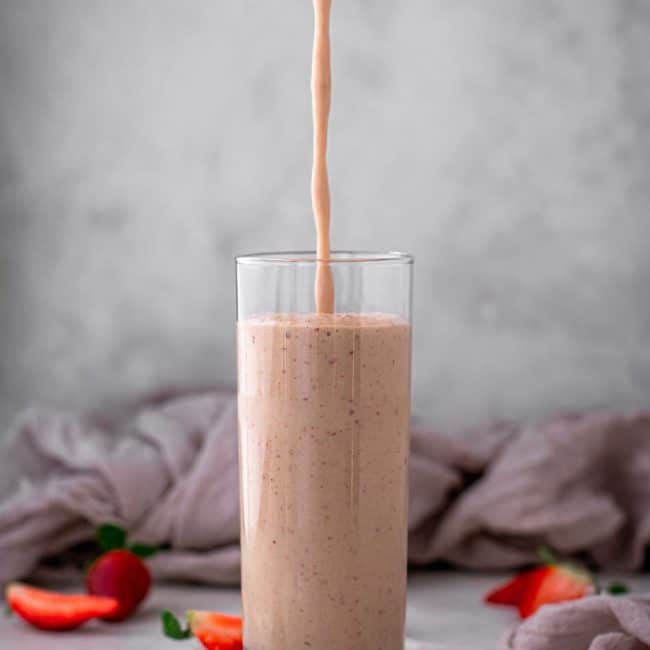 Keto Strawberry Smoothie Recipe – 5 Ingredients
Make this easy keto strawberry smoothie with just 5 ingredients. Your keto meals no longer need to be heavy and dense with this light and fresh smoothie recipe.
Total Time 3 minutes
Servings 1
Calories per serving 507kcal
Prep Time: 3 minutes
Cook Time: 0 minutes
Instructions:
Add the avocado, almond butter, frozen strawberries, heavy cream, sweetener and ice cubes to a blender.

Blend on high speed for 20-40 seconds or until the ingredients are evenly mixed. Serve and enjoy.
Notes
Net Carbs: 13g To use stevia in place of erythritol as a sweetener add 10-15 drops of liquid stevia.
Nutrition Facts
Keto Strawberry Smoothie Recipe – 5 Ingredients
Amount Per Serving
Calories 507 Calories from Fat 396
% Daily Value*
Fat 44g68%
Saturated Fat 10g50%
Cholesterol 41mg14%
Sodium 28mg1%
Potassium 970mg28%
Carbohydrates 26g9%
Fiber 13g52%
Sugar 9g10%
Protein 10g20%
Vitamin A 605IU12%
Vitamin C 95mg115%
Calcium 169mg17%
Iron 2mg11%
* Percent Daily Values are based on a 2000 calorie diet.
Written By