Lemon is one of my favorite summertime flavors because it can be light, refreshing and still indulgent. These Keto Lemon Cookies encompass each of those elements, plus they are low in carbs, so entirely guilt free! Check out the video down below to see how to make them step by step.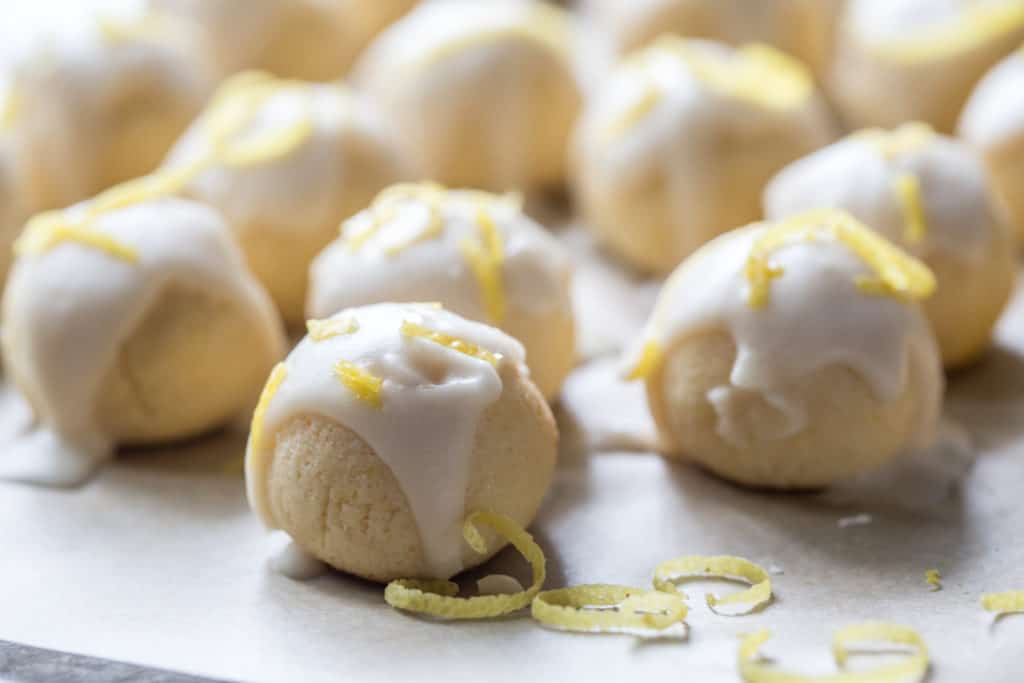 Let's Talk Lemons
Before we breakdown the step by step guide to making lemon cookies keto, we should address the elephant in the room… Lemons are a fruit, are lemons keto? Yes! Lemons while a fruit are low in carbs and very low in sugar compared to other citrus fruits like orange or grapefruit. The juice of one ENTIRE lemon only has 3.3 carbs. This recipe will use about 3 tablespoons for all 20 cookies. Lemons can be keto and are actually very beneficial to add into your diet.
Lemons are rich in vitamin C and good at helping with the absorption of iron(1). Normally a keto diet has a fair amount of red meat so adding extra iron absorption powers certainly isn't a bad thing.
How to Make Lemon Cookies Keto
Keto recipes can be a bit difficult to create, but thanks to us you won't have to do any of the guess work. We have the whole recipe laid out from tools and ingredients, to an in-depth description of the baking process. These sugar free keto friendly cookies are soft and dense perfect for a filling but yet light dessert.
Tools:
Thankfully this is an easy keto recipe that requires very few real "tools". You will need some bowls and a whisk, but aside from that it's really just basic kitchen equipment.
Baking Sheet– If you want to make these cookies, make sure you have a quality baking sheet. The prep time is fast but the little dough balls will need a baking sheet that heats evenly.
What You Need to Make Keto Lemon Cookies
Quality keto low carb baked goods start with delicious and nutritious ingredients. These cookies are no exception. To make lemon cookies and lemon icing, you're going to need all things lemon!
The Dry Ingredients:
1 cup almond flour- These keto cookies are gluten free because they use a blend of almond flour and coconut flour. We recommend finely milled almond flour for the best texture.
1/3 cup coconut flour- This helps to bind the cookies and keep their ball shape.
1 tsp baking powder- Baking powder gives a slight puff to these cookies.
1/8 tsp pink himalayan salt
1/4 cup erythritol– There are many different sweeteners mixed with erythritol like monk fruit and stevia. We prefer to buy just the plain erythritol for this recipe though so it stays consistent.
The Wet Ingredients:
4 tbsp butter, softened- We love grassfed butter like Kerrygold for its rich flavor.
1 large egg
4 tsp lemon juice- The fresher the better! Fresh lemon juice brings a nice zing to these cookies
1 tsp lemon zest- We like zest in these cookies because the oils in the peel add a subtle lemon flavor.
8-10 drops liquid stevia- You can sub this for liquid monk fruit, but we find stevia to be the best balance for cost efficiency and taste.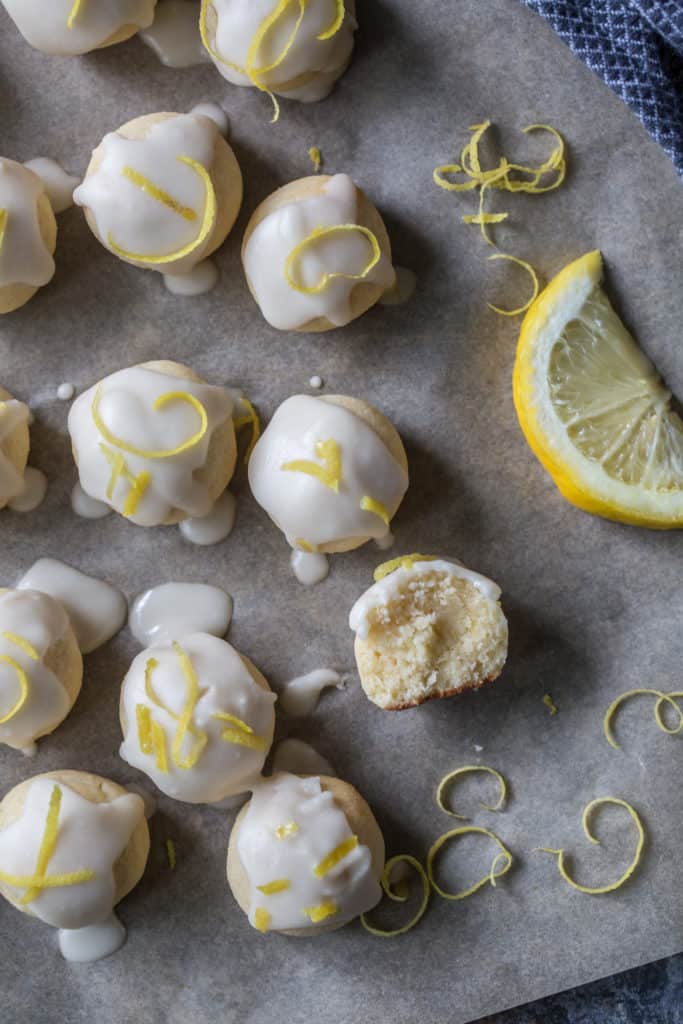 Making Low Carb Lemon Cookies
Begin by preheating the oven to 350°F and line a baking sheet with parchment paper.
In a bowl, whisk together the two flours, baking powder, and salt until combined.
In a separate bowl, beat the softened butter and erythritol until fully incorporated. You want the butter to be fluffier and a bit lighter in color.
Now add the egg and beat well. Whisking in the lemon juice, zest, and stevia soon after.
Once throughly combined, add the dry ingredients into the butter mixture, stirring until a soft dough forms.
Let the dough chill in the fridge for about 10 minutes to firm the butter up.
Roll the cold dough into small balls, about 1-1.5 inches in size (you can use a small cookie scoop for reference), and place on the baking sheet.
Bake for 10-14 minutes, checking to see when the outside of the cookie looks set. You can also check to see when they look golden on the bottom.
Making a Lemon Icing
Yes you saw right, this icing only has 2 ingredients and takes a whopping 2 minutes total time to prepare. Check out the full recipe below to make it!
Storing Keto Cookies
Lemon cookies are best stored in an air tight container in the fridge for up to 1 week.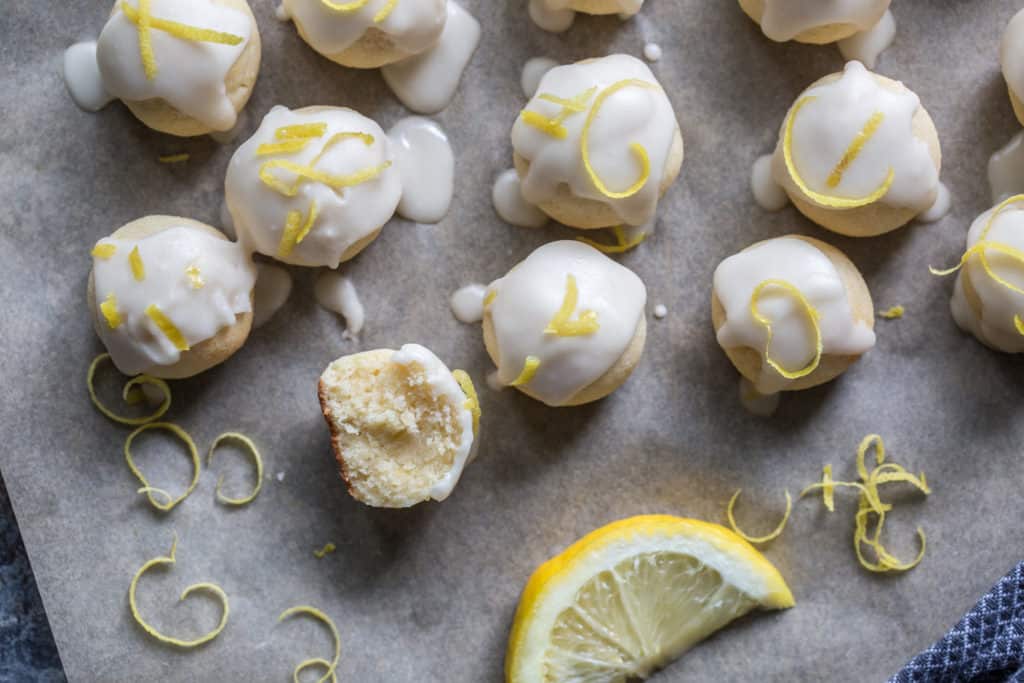 Tips to Make Keto Lemon Cookies
If you are running into issues while making these keto lemon cookies, or just want to make them the best you possibly can, read through our tried and true tips for the best low carb lemon cookies. We've also added a couple commonly asked questions incase you're wondering what makes these low carb lemon cookies so special.
Why Are My Keto Cookies Crumbly?
This is a very common question in all keto friendly cookies not just these low carb lemon cookies. There are two main reasons your cookies are turning out too crumbly. The first mistake we see is people trying to make low carb cookies with only coconut flour. Using just coconut flour alone instead of almond flour, or a mixture of the two, will result in a dry, dense and crumbly cookie.
The second mistake that I've also made myself is not being patient and picking them up too quickly. It's is crucial that you let your keto baked goods, whether it's cookies or bread loafs, cool entirely prior to handling. Almond flour and coconut flour don't handle that same way you're used to with a standard all purpose baking flour. They need the time to set completely before they are ready to eat.
How to get That Zingy Lemon Flavor (Bottled Lemon Juice?)
Everyone knows a little zing of sour paired with a sweet glaze creates an unbeatable dessert. So what should you use to create the best lemon flavor? In our low carb/ keto baked goods we always think the fresher your ingredients the better! This cookie dough uses a mix of lemon juice and lemon zest. The lemon juice provides a sour pucker element, while the oils from the lemon peel give a strong lemon flavor. We also use fresh lemon juice in the glaze instead of water to amplify the refreshing lemon flavors.
We have tried lemon extract, but found it to be not as pure tasting. However, you are welcome to try a few drops of lemon extract if you like the flavor. Fresh zest is normally preferred to a lemon extract. As for the lemon juice we again prefer it fresh. If you only have access to bottled lemon juice though, it will still work fine for the recipe.
Cookies That Hold Their Shape
I find it interesting when I pull a keto dessert out of the oven and it has held it shape instead of spreading like I expected. Sometimes that is the goal, such as with these keto lemon cookies, but often it's not.
So, what in this particular recipe causes the keto cookies to keep their shape? Once you get familiar with keto baking it's easy to know. The ratio of almond flour to coconut flour is super important in low carb baked goods. This recipe is a lot higher in coconut flour than other baked goods you might have made in that past.
With a higher ratio of coconut flour (1:3) these cookies maintain their shape. Coconut flour on its own is very dry and absorbent yielding dense, crumbly baked goods. However, in the case of these keto lemon cookies that's a good thing because the cookie balls won't spread when baking. We do have other deliciously dense cookies like our Walnut Snowball Cookies that don't spread either.
Getting the Perfect Sized Cookies Every Time
We are huge advocates for the beloved cookie scoop. It ensures that your cookies will be the same size every single time. Plus by having evenly sized cookies the 15 minutes cook time should finish all the cookies at the same time. No longer will you have to deal with some burnt cookies and some raw. Finally, if I haven't sold you on the cookie scoop hopefully this will: Evenly distributed cookie dough means perfectly even macros and net carbs!
Changing up the Flavors
If you tried this recipe and decided you want to change up the lemon flavor, that is 100% do-able. You can make equally delicious low carb/keto cookies with another citrus fruit. Some of our favorites are limes and oranges. Any citrus fruit should work, just know that the macros for carbs and sugar will change.
Oranges for example are not sugar free, and are quite a bit higher in carbs than lemons. However, the amount or orange juice you would use in this cookie dough is so small it won't really effect your blood glucose. Follow the same directions as with lemon but just sub the juice and zest for whichever fruit you prefer.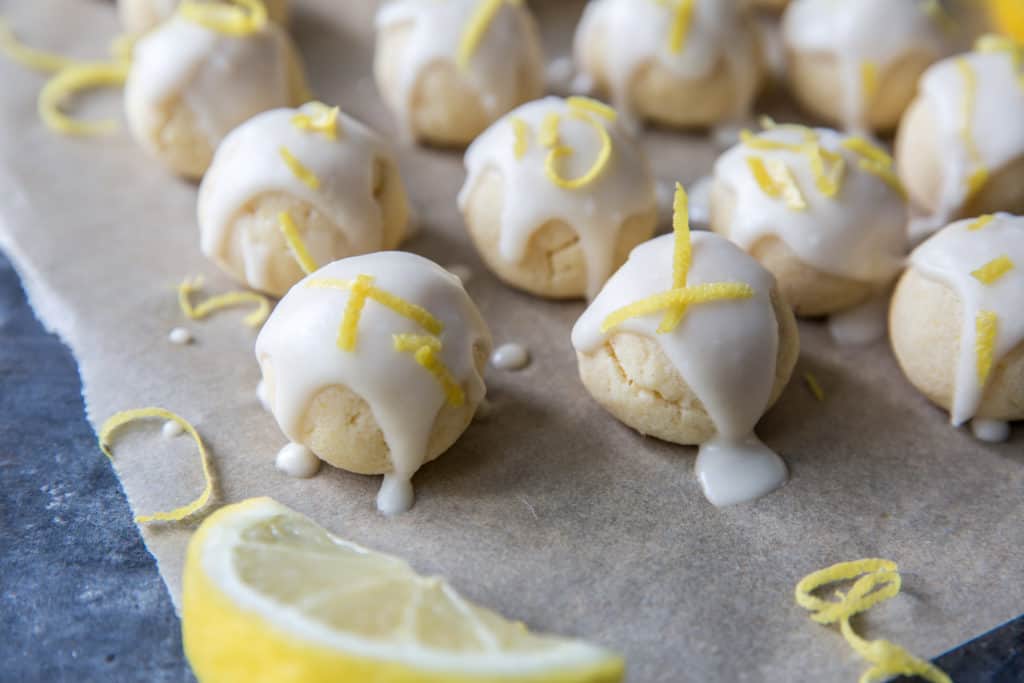 Quick And Easy Topping
Glaze and frosting can elevate any dessert to that next level of deliciousness. It's also very easy to make and only ever requires two, at most 3 components. This glaze for example is two ingredients and takes a couple minutes to whip up. It transforms these keto lemon cookies with no additional effort. Frosting is similar in ingredients and ease!
So, what does an easy topping come down to? Fat, plus sweetener, plus liquid of choosing (cream, water, nut milk). Sometimes you need just two and sometimes all three, but you can't go wrong with a simple topping to your dessert!
Low Carb Cookies
Before converting to keto I was a cookie fanatic! My personal favorite were golden Oreos and anything shortbread. Eating a sleeve of cookies with a glass of milk was standard for me throughout my childhood, so finding replacements has been my mission since day one.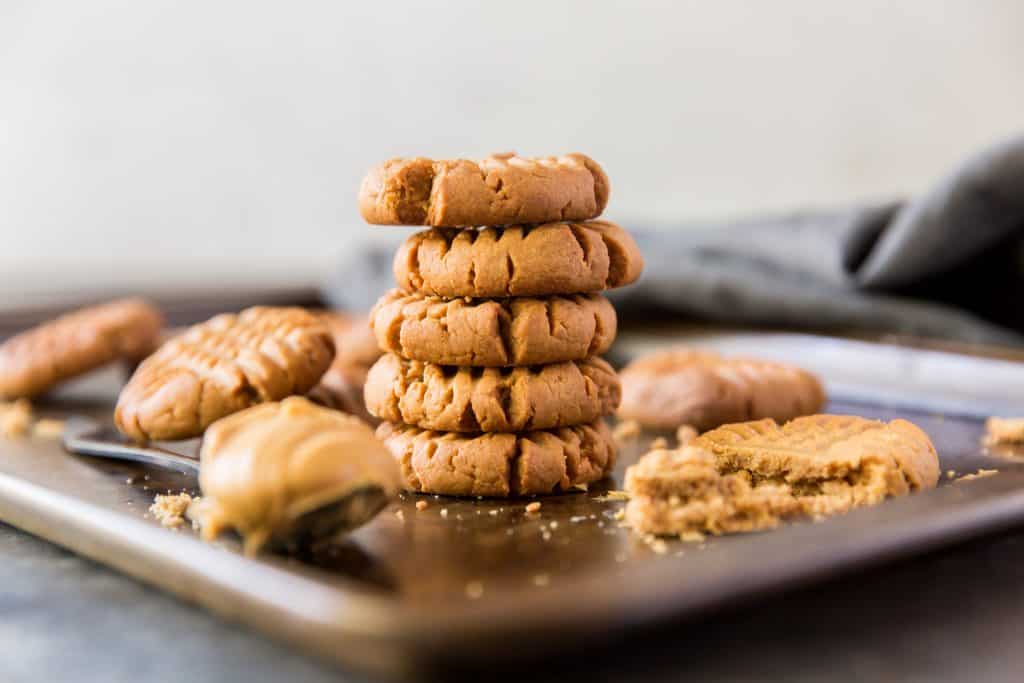 Some must try's from the dessert section of our food blog are:
That's just scratching the surface as far as cookies go. We've got lots more keto remakes and some you probably didn't even know you needed in your life!
Keto Lemon Cookies
Everyone needs an easy, summertime dessert in their arsenal and this is the one! The keto lemon cookies are bite sized for a quick grab and go treat and also freeze well so you can meal prep these for the week when cooking dinner is all you have time for. With or without the lemon glaze these keto lemon cookies are sure to satisfy that sweet and refreshing taste you crave during the summertime!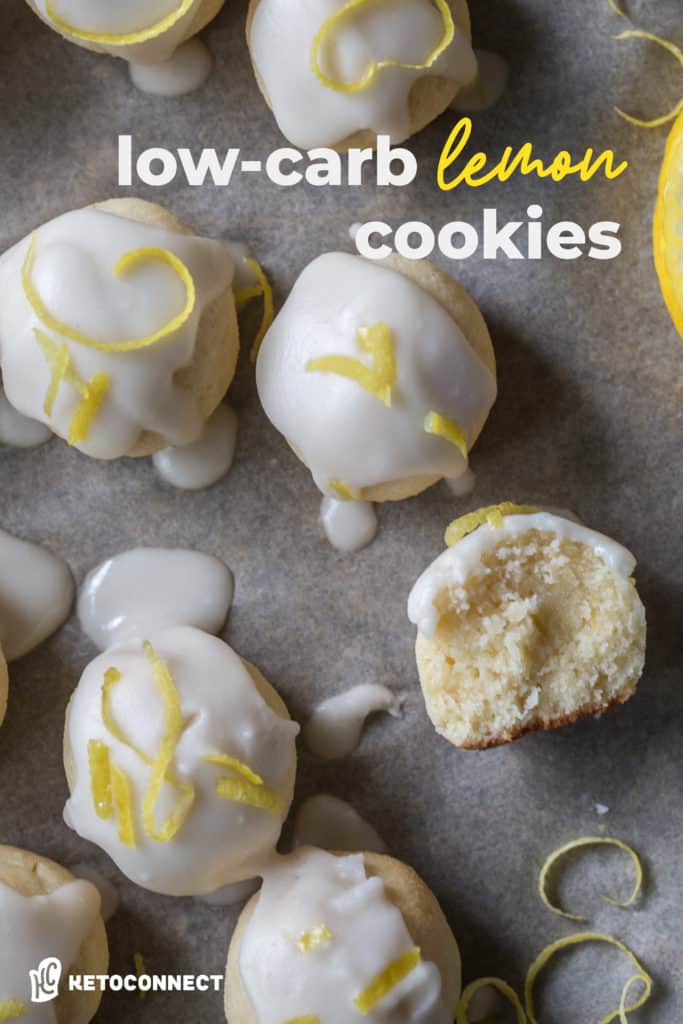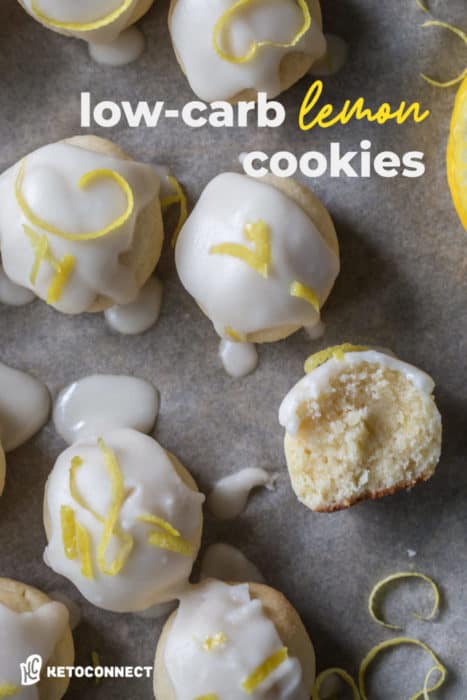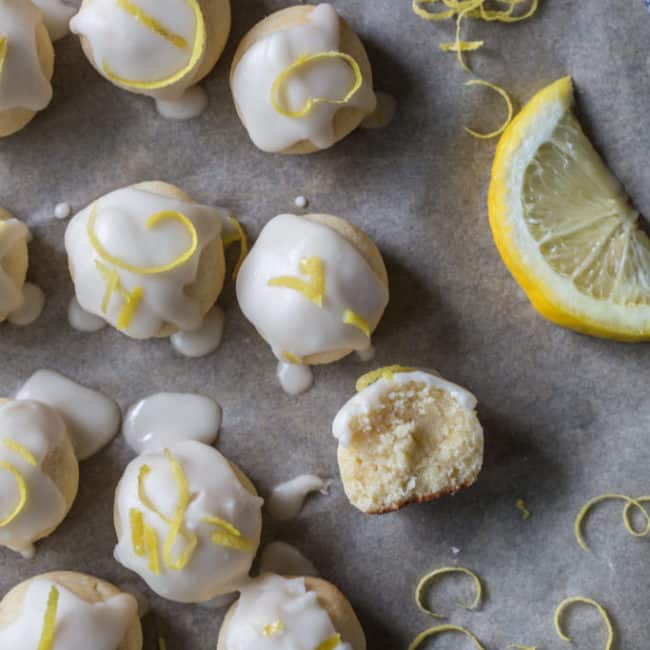 Keto Lemon Cookies
These keto lemon cookies come topped with a sweet, lemony glaze and are light and refreshing perfect for a summertime dessert!
Total Time 55 minutes
Servings 20 small cookies
Calories per serving 65kcal
Prep Time: 20 minutes
Cooling Time: 20 minutes
Cook Time: 15 minutes
Instructions:
Preheat oven to 350°F and line a baking sheet with parchment paper.

In a medium bowl, add almond flour, coconut flour, baking powder, and salt. Whisk until combined and smooth in consistency.

In a separate bowl, beat softened butter and erythritol until fully incorporated. Add the egg and beat well. Add the lemon juice, zest, and stevia, whisking until combined.

Add the dry ingredients and combine until a soft dough forms. Chill in the fridge for 10 minutes.

Roll the cold dough into small balls, about 1-1.5 inches in size, and place on the baking sheet.

Bake for 10-14 minutes, removed from oven and allow to cool while making the glaze.

Combine the powdered sweetener with 1 tablespoon lemon juice in a small bowl. Stir until smooth. Add additional lemon juice if needed. Spread on the cooled cookies.

If desired, garnish with lemon zest prior to serving. Best stored in an air tight container in the fridge up to 1 week.
Notes
Net Carbs: 2g per cookie ball
Yields: 20 cookie balls
Nutrition Facts
Keto Lemon Cookies
Amount Per Serving
Calories 65 Calories from Fat 54
% Daily Value*
Fat 6g9%
Carbohydrates 3g1%
Fiber 1g4%
Protein 2g4%
* Percent Daily Values are based on a 2000 calorie diet.