Lemon is one of my favorite summertime flavors because it can be light, refreshing and still indulgent. These Keto Lemon Cookies encompass all of that, plus they are low in carbs, so entirely guilt free! Check out the video down below to see how to make them step by steps.
FREE PRINTABLE: Keto Food List
Join 150,000 others to get a FREE keto food list and new recipes every week!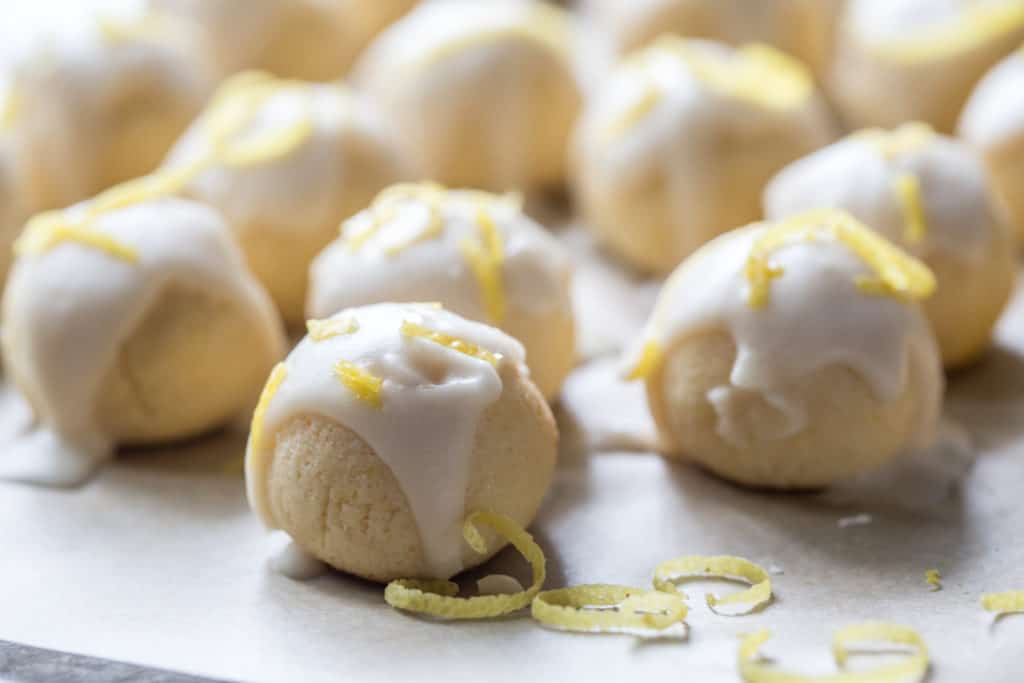 Low Carb Cookies
Before converting to keto I was a cookie fanatic! My personal favorite were golden oreos and anything shortbread. Eating a sleeve of cookies with a glass of milk was standard for me throughout my childhood, so finding replacements has been my mission since day one.
Some must try's from the dessert section of our food blog are:
That's just scratching the surface as far as cookies go. We've got lots more keto remakes and some you probably didn't even know you needed in your life!
Why Are My Keto Cookies Crumbly?
This is a very common question that I can answer for you with two main reasons. I've made the mistake of making cookies with only coconut flour and found that they come out dry, dense and crumbly.
The second mistake that I've also made is not being patient and picky them up too quickly. It's is crucial that you let your keto baked goods, whether it's cookies and bread loafs, to cool entirely prior to handling. Almond and coconut flour don't handle that same way you're used to with a standard all purpose baking flour.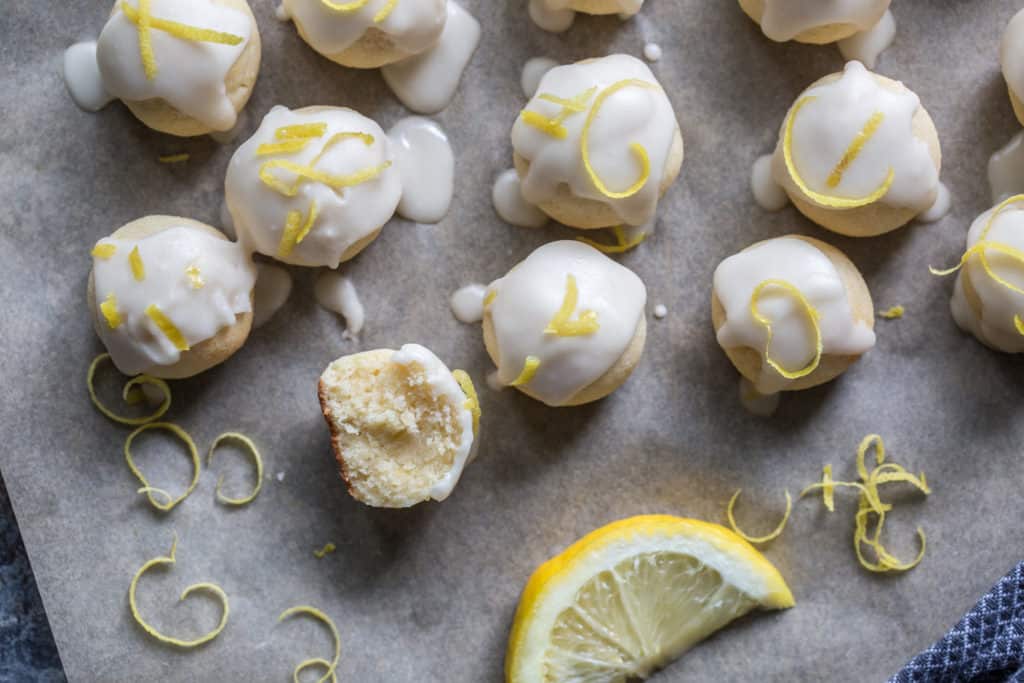 Cookies That Hold Their Shape
I find it interesting when I pull my keto dessert out of the oven and it has held it shape instead of spreading like I had expected. Sometimes that is the goal, such as with these keto lemon cookies, but often it's not. \
So, what in this particular recipe causes the keto cookies to keep their shape? Once you get familiar with keto baking it's an easy spot. The ratio of almond flour to coconut flour is a lot higher than other baked goods you might have made in that past.
With a higher ratio of coconut flour (1:3) the cookies maintain their shape. Coconut flour on it's own is very dry and absorbent yielding dense, crumbly baked good. However, in the case of these keto lemon cookies that's a good thing because the cookie balls won't spread when baking!
Quick And Easy Topping
Glaze and frosting can elevate any dessert to that next level of deliciousness. It's also very easy to make and only ever requires two, at most 3 components.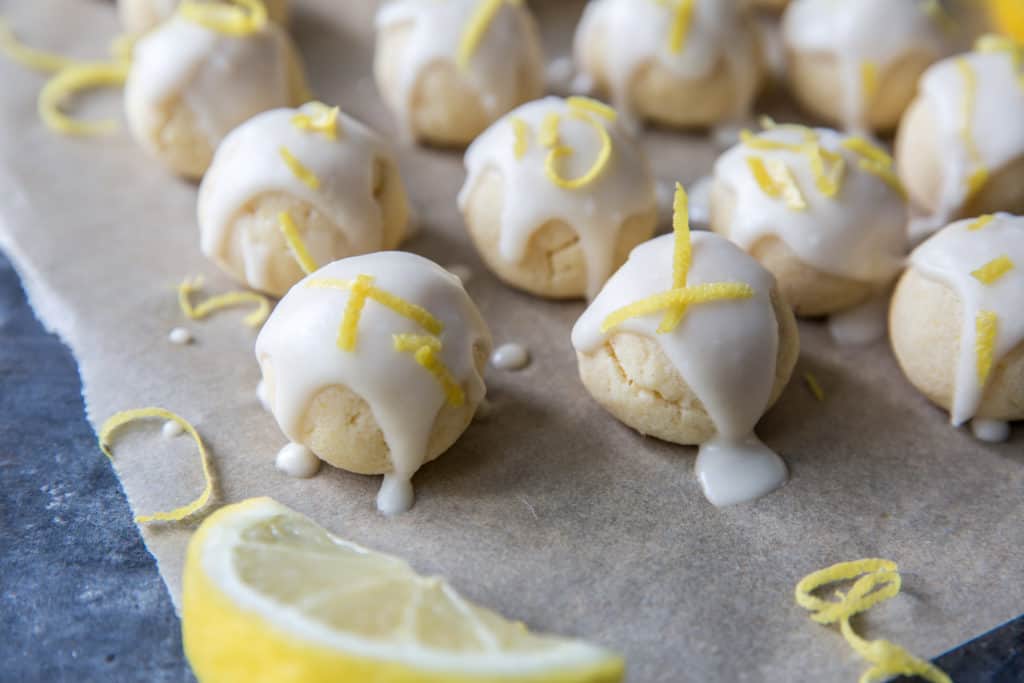 This glaze for example is two ingredients and takes a couple minutes to whip up. It transforms these keto lemon cookies with no additional effort. Frosting is similar in ingredients and ease!
So, what does an easy topping come down to? Fat, plus sweetener, plus liquid of choosing (cream, water, nut milk). Sometimes you need just two and sometimes all three, but you can't go wrong with a simple topping to your dessert!
Keto Lemon Cookies
Everyone needs an easy, summertime dessert in their arsenal and this is the one! The keto lemon cookies are bite sized for a quick grab and go treat and also freeze well so you can meal prep these for the week when cooking dinner is all you have time for. With or without the lemon glaze these keto lemon cookies are sure to satisfy that sweet and refreshing taste you crave during the summertime!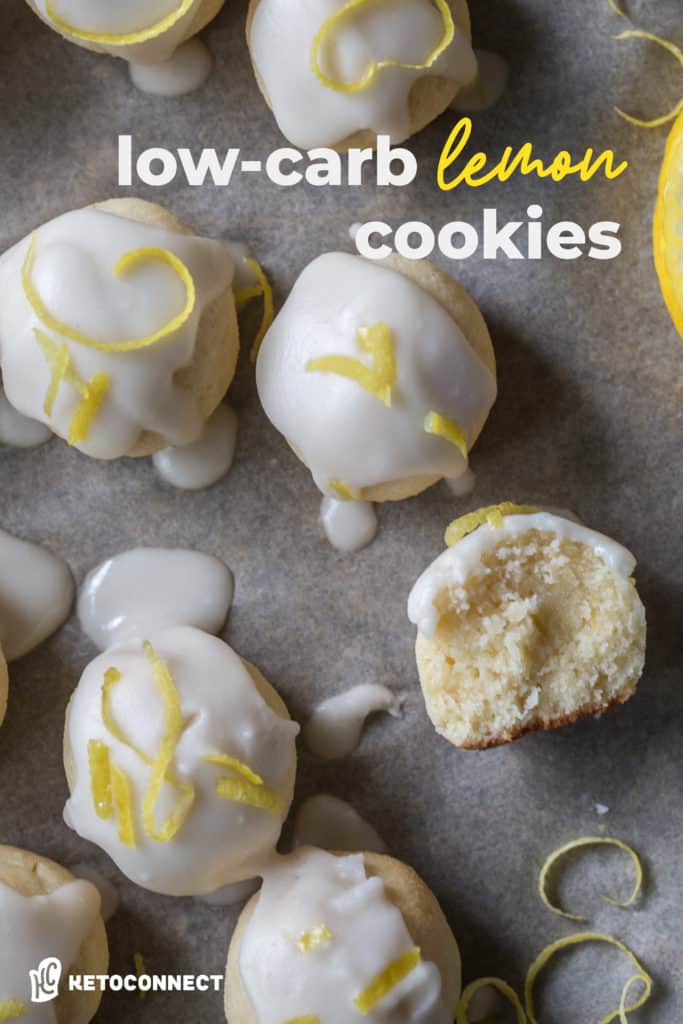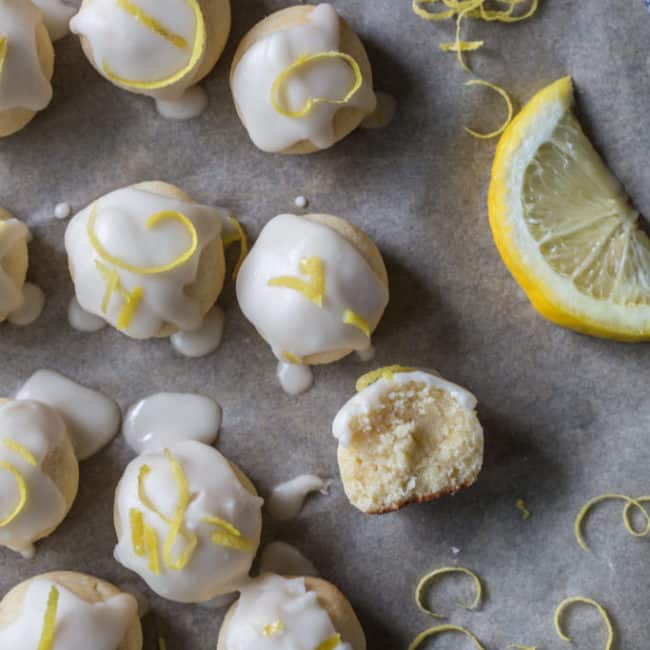 Keto Lemon Cookies
These keto lemon cookies come topped with a sweet, lemony glaze and are light and refreshing perfect for a summertime dessert!
Total Time 55 minutes
Servings 20 small cookies
Calories per serving 65kcal
Prep Time: 20 minutes
Cooling Time: 20 minutes
Cook Time: 15 minutes
Instructions:
Preheat oven to 350°F and line a baking sheet with parchment paper.

In a medium bowl, add almond flour, coconut flour, baking powder, and salt. Whisk until combined and smooth in consistency.

In a separate bowl, beat softened butter and erythritol until fully incorporated. Add the egg and beat well. Add the lemon juice, zest, and stevia, whisking until combined.

Add the dry ingredients and combine until a soft dough forms. Chill in the fridge for 10 minutes.

Roll the cold dough into small balls, about 1-1.5 inches in size, and place on the baking sheet.

Bake for 10-14 minutes, removed from oven and allow to cool while making the glaze.

Combine the powdered sweetener with 1 tablespoon lemon juice in a small bowl. Stir until smooth. Add additional lemon juice if needed. Spread on the cooled cookies.

If desired, garnish with lemon zest prior to serving. Best stored in an air tight container in the fridge up to 1 week.
Notes
Net Carbs: 2g per cookie ball
Yields: 20 cookie balls
Nutrition Facts
Keto Lemon Cookies
Amount Per Serving
Calories 65 Calories from Fat 54
% Daily Value*
Fat 6g9%
Carbohydrates 3g1%
Fiber 1g4%
Protein 2g4%
* Percent Daily Values are based on a 2000 calorie diet.