Sandwiches are not something common on the ketogenic diet. After all, we can't eat bread or bagels since they are high in carbs. Even one piece of bread can raise your blood sugar and surely kick you out of ketosis.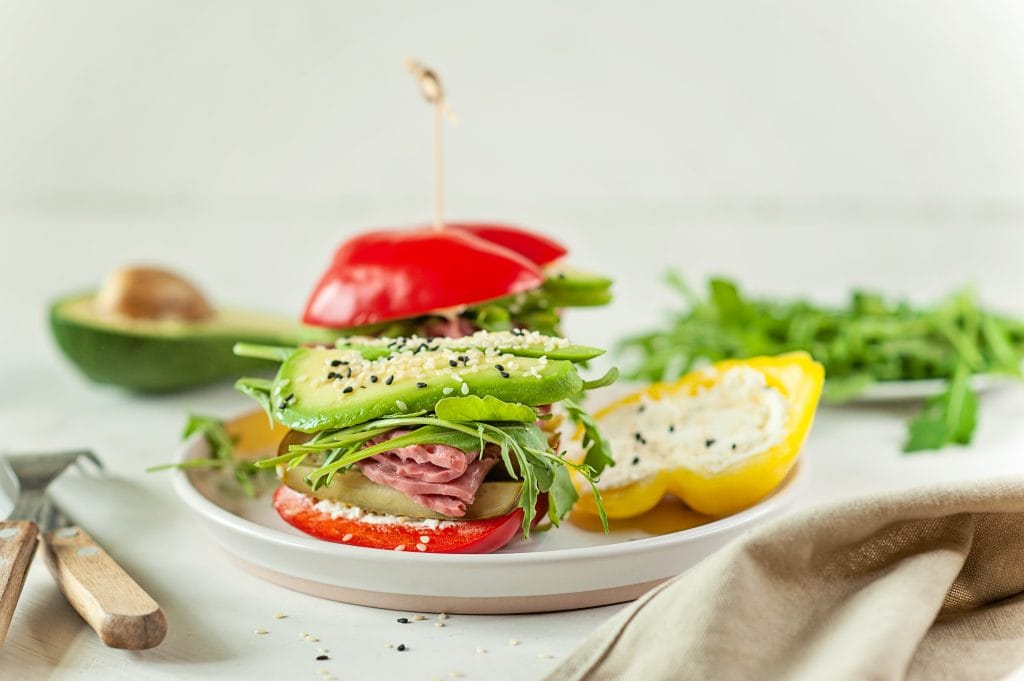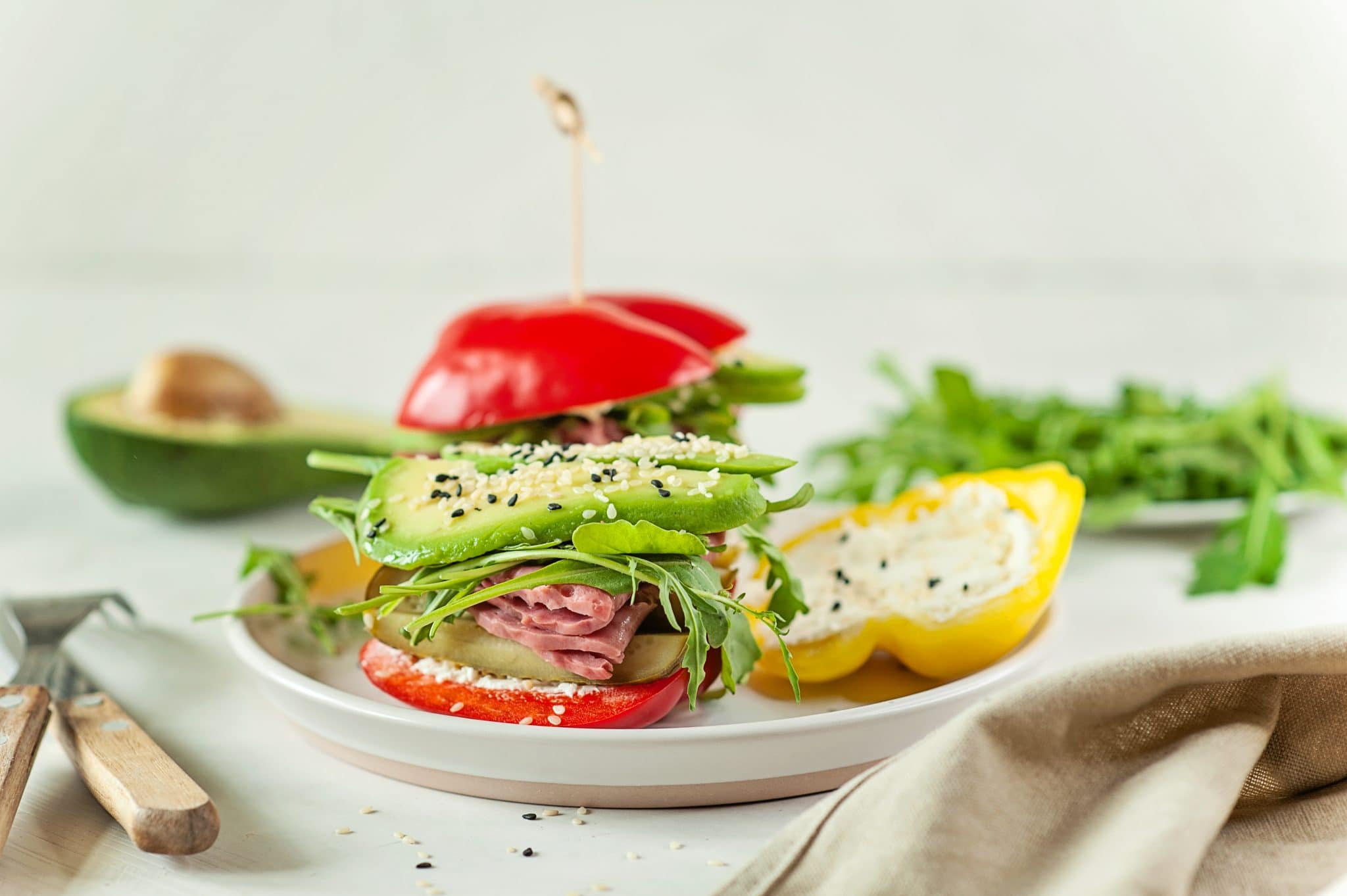 I'm sure you've seen all the tiktok bell pepper sandwich videos and I must say, it was pretty difficult for us to resist trying it out at home since it's so easy to make. One of the coolest keto recipes for sure!
Plus, it's a perfect keto and low carb alternative to a regular sandwich!
Are bell pepper sandwiches keto?
As long as your bell pepper sandwich contains keto friendly, low carb ingredients you're good to go. The bell pepper sandwich itself has this ridiculously good crunch, it's fresh and full of flavors depending on whatever you add inside.
Fill it with deli meats, roast beef, slices, cheddar cheese, cooked bacon and then top with low carb fixings such as shredded carrots (yes, they're nutritious and keto when eaten in moderation!), diced tomatoes, cucumber slices, alfalfa sprouts and spices.
For an ultimate bagel-like bell pepper sandwich, take a bell pepper half and smear it with cream cheese, then sprinkle on the everything bagel seasoning.
Red, yellow, or green bell peppers?
Have you ever wondered if there is a significant difference between a red bell pepper, a green bell pepper or a yellow one?
In my opinion, not really. The differences between these bell peppers are not huge, so as long as you eat them often you're still getting all the nutrients.
However, just if you were wondering, here are the main differences between all bell peppers:
Green bell peppers – these are green in color because they were simply harvested earlier. They're a bit more sharp in taste, less sweet and have a longer shelf life than the red, orange or yellow kind.A green bell pepper is slightly lower in carbs, but also less nutrient dense.
Yellow bell peppers – this kind of bell pepper falls in the middle. It's yellow because it was picked a little later than the green one and contains slightly more nutrients and as a less bitter taste.
Red bell peppers – these are the most nutritious peppers, have ten times more the amount of vitamin C than their green counterparts. In addition, they also contain vitamin A and B6.Taste-wise, a red bell pepper is also much sweeter. No worries though – they're still low in carbs and fine to eat on a ketogenic diet. The carb difference between a green bell pepper and a red bell pepper is only 1g of net carbs, so it's not that significant.
How to make a bell pepper sandwich
Ingredients
To be quite honest, you can use just about anything you like here. A bit of softened cream cheese, deli meat, provolone cheese, crispy bacon – anything you want to make a quick sandwich without bread slices!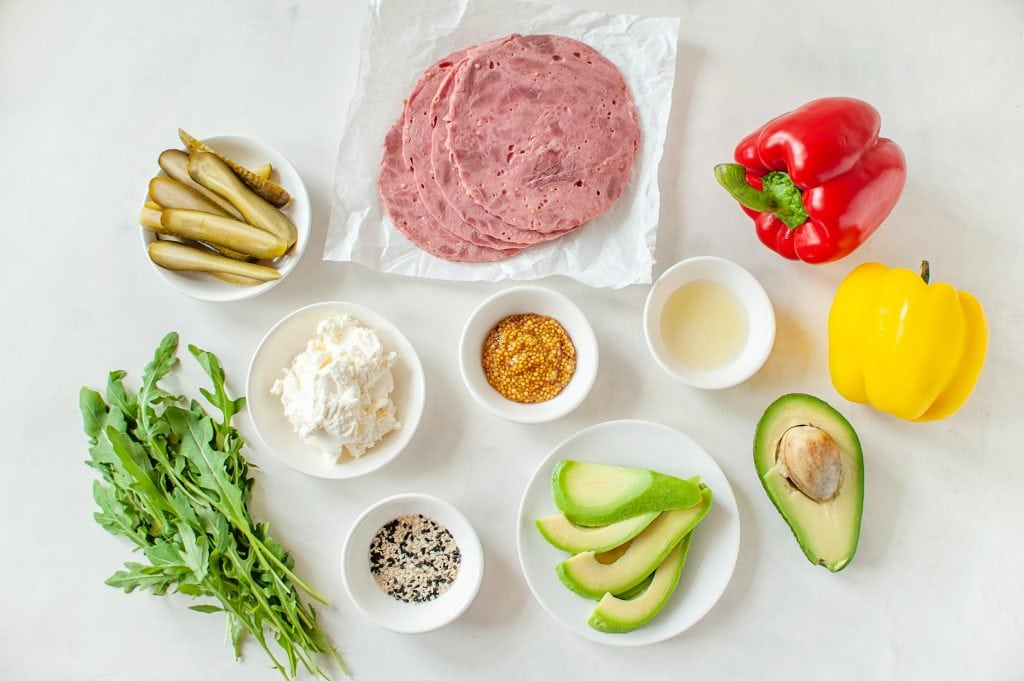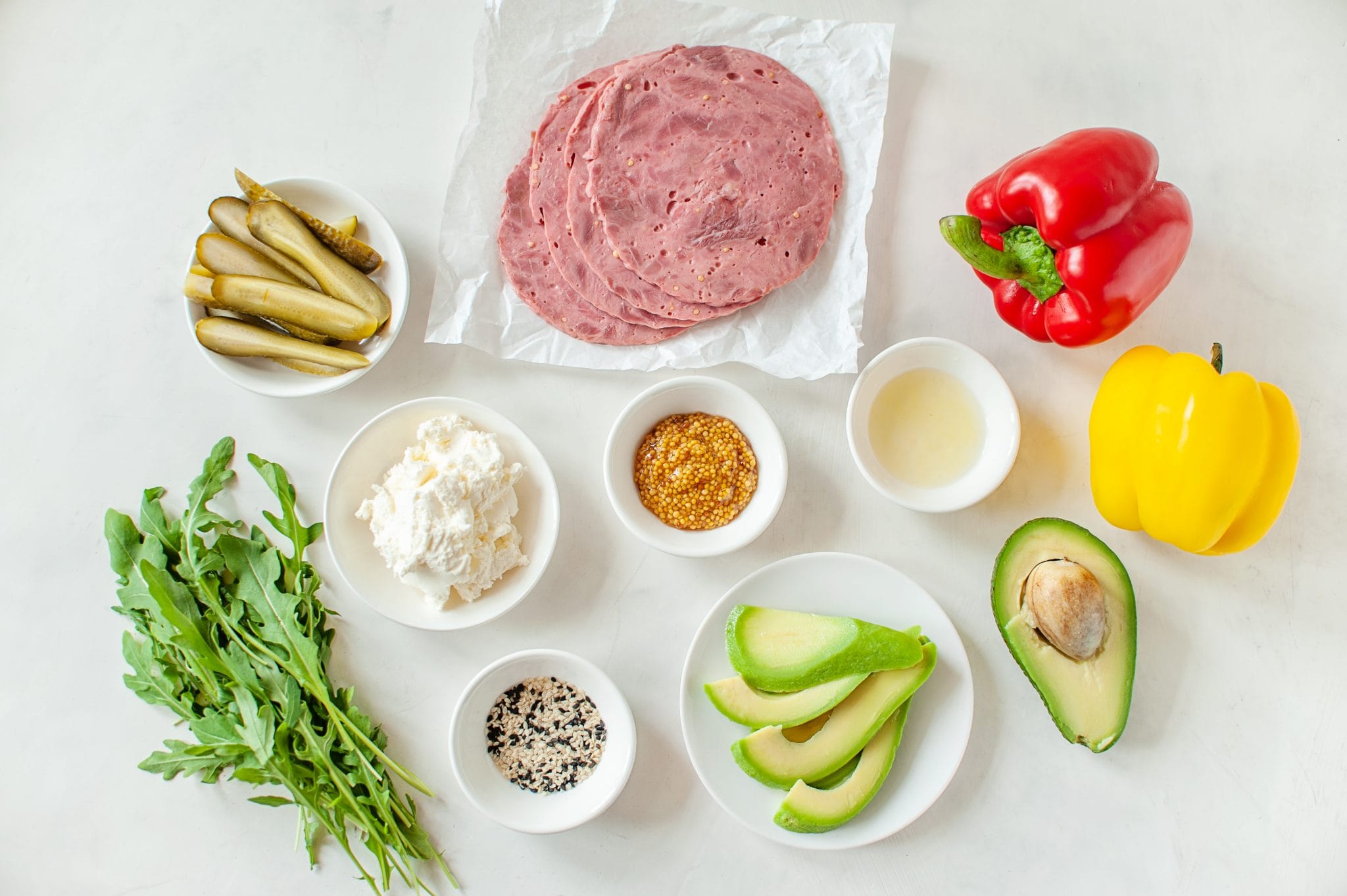 Bell pepper halves
You can pick any kind of bell pepper halves for your low carb "sandwich". I love bell peppers, but my absolute favorite are red bell peppers.
A medium bell pepper has 6.2 grams of total carbs and only 4 grams of net carbs. It's also full of beta-carotene and vitamin C!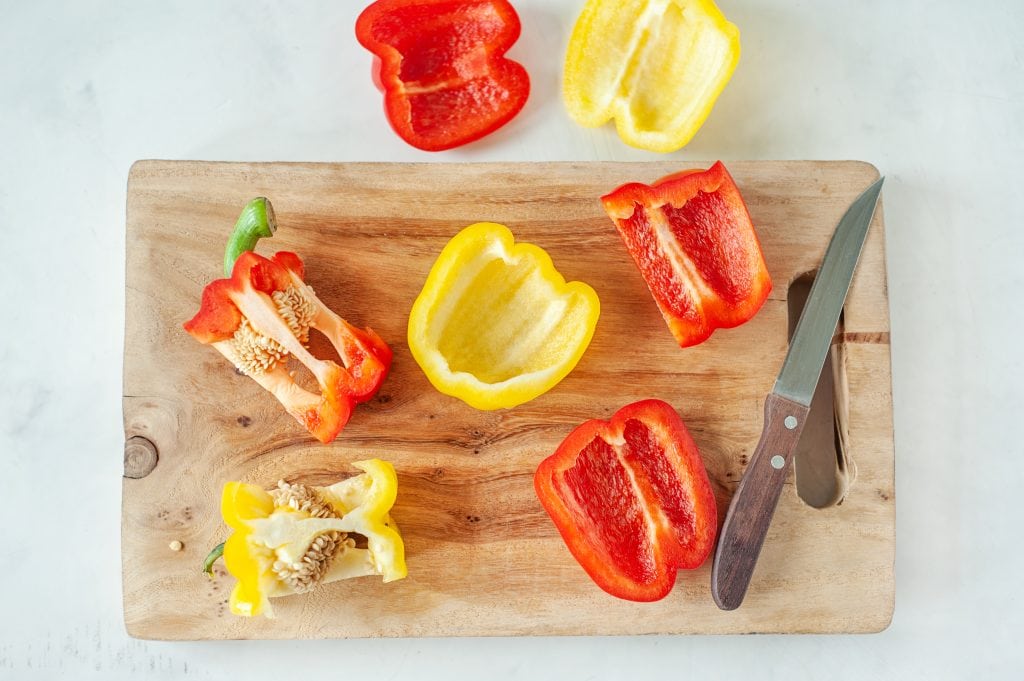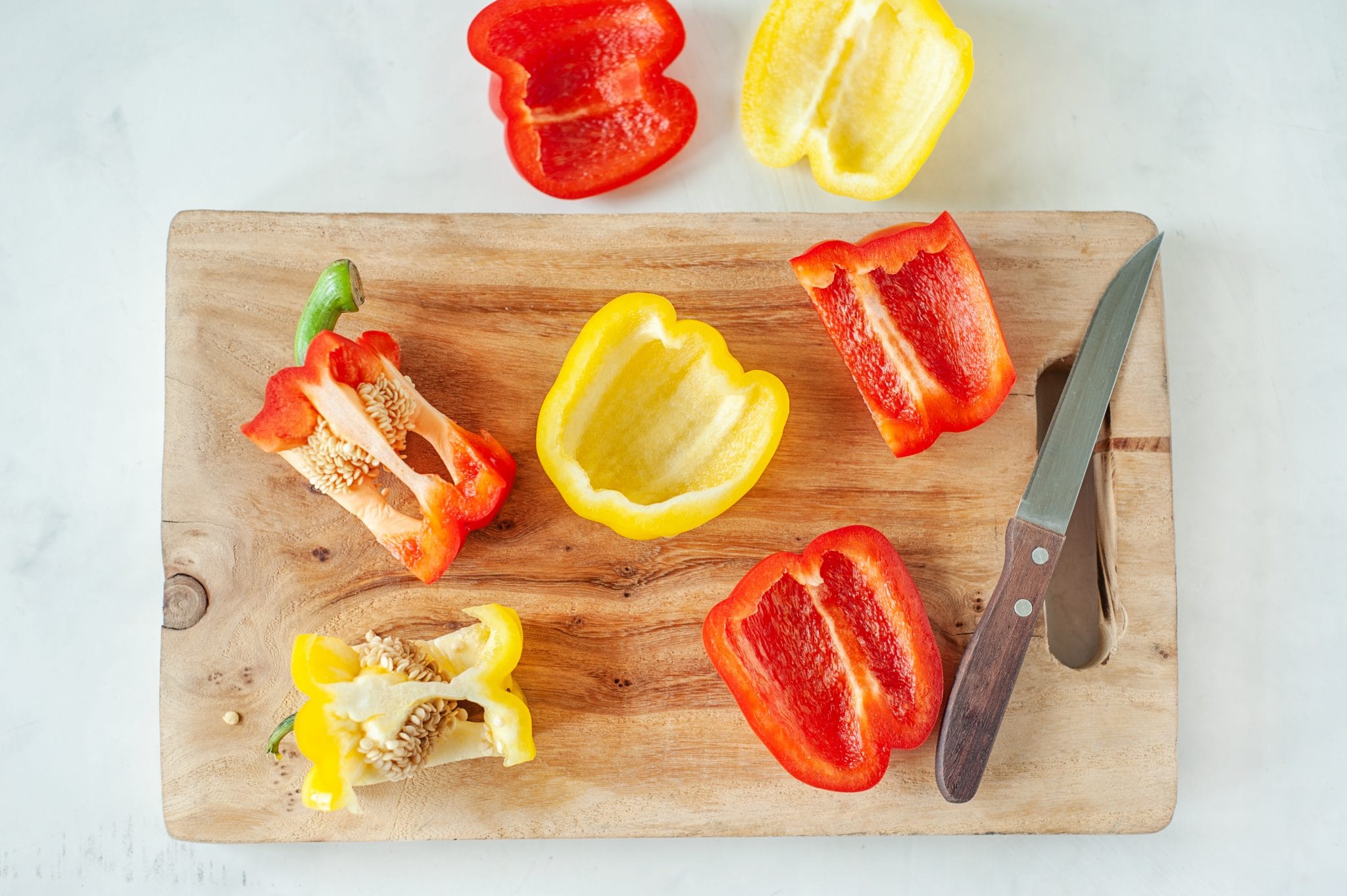 Cream cheese
Whenever I think of cream cheese, I get an image of Philadelphia cream cheese in my mind. However, there are plenty of other brands that are healthier and more nutritious, such as Organic Valley.
Cream cheese is also high in fat, which is perfect for the ketogenic diet. It is high in calories though, so remember to eat it wisely if you're on the keto diet for weight loss.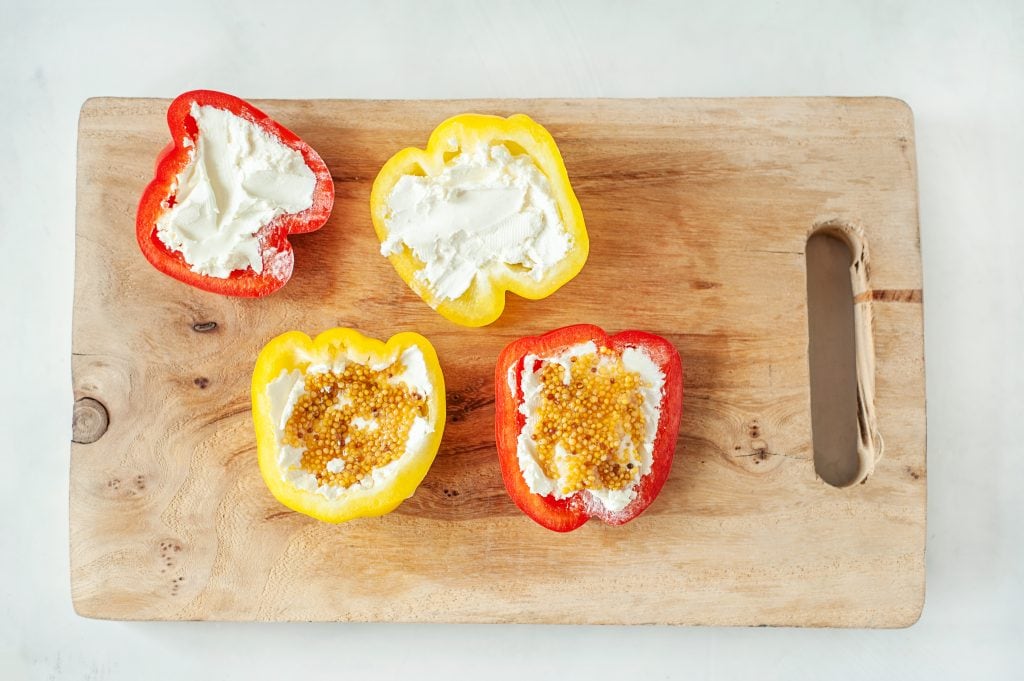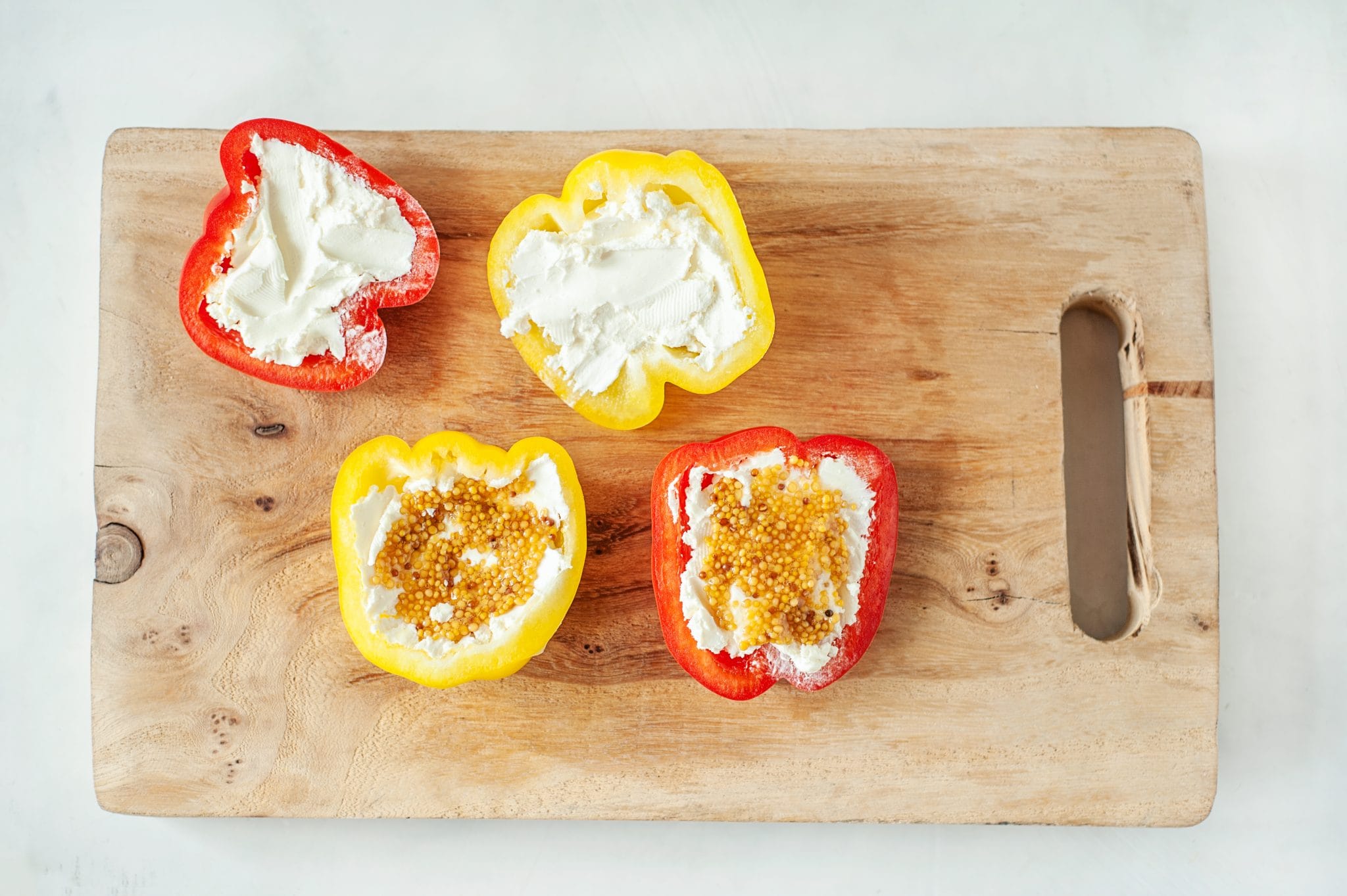 One tablespoon of cream cheese contains 51 calories and only 0.6g of net carbs.
Pickled cucumbers
I am obsessed with pickles! To be honest with you, I can't imagine having a sandwich or a burger without one. Although they're high in salt, remember that sodium is an important electrolyte that helps your body stay hydrated!
Keep in mind that a lot of store-bought pickles contain added sugars. Read all the labels carefully and find one that's low carb and suitable for keto sandwich fixings.
Mustard
One of the first things I've learned on the keto diet is that mustard is keto, ketchup is not. It's kind of ingrained in my brain already, but it's something that took me a while to comprehend.
Mustard doesn't have a significant amount of carbs, so it's perfect for any low carb meal. However, there are tons of varieties of mustards so read the labels carefully and avoid mustards with added honey or sweeteners.
Stick to dijon mustard or a whole grain mustard to keep it low carb.
Ham
Deli meat is perfectly fine on keto, but watch out since it often contains added sugars. You want to make sure the deli ham you get doesn't contain any artificial ingredients, nitrates and is processed as little as possible.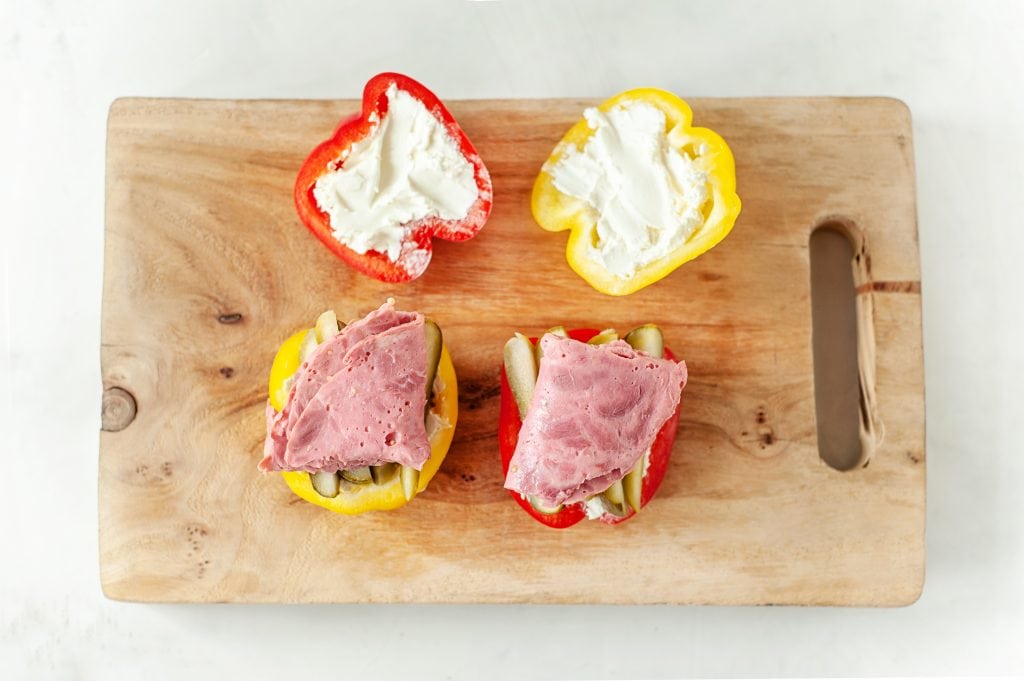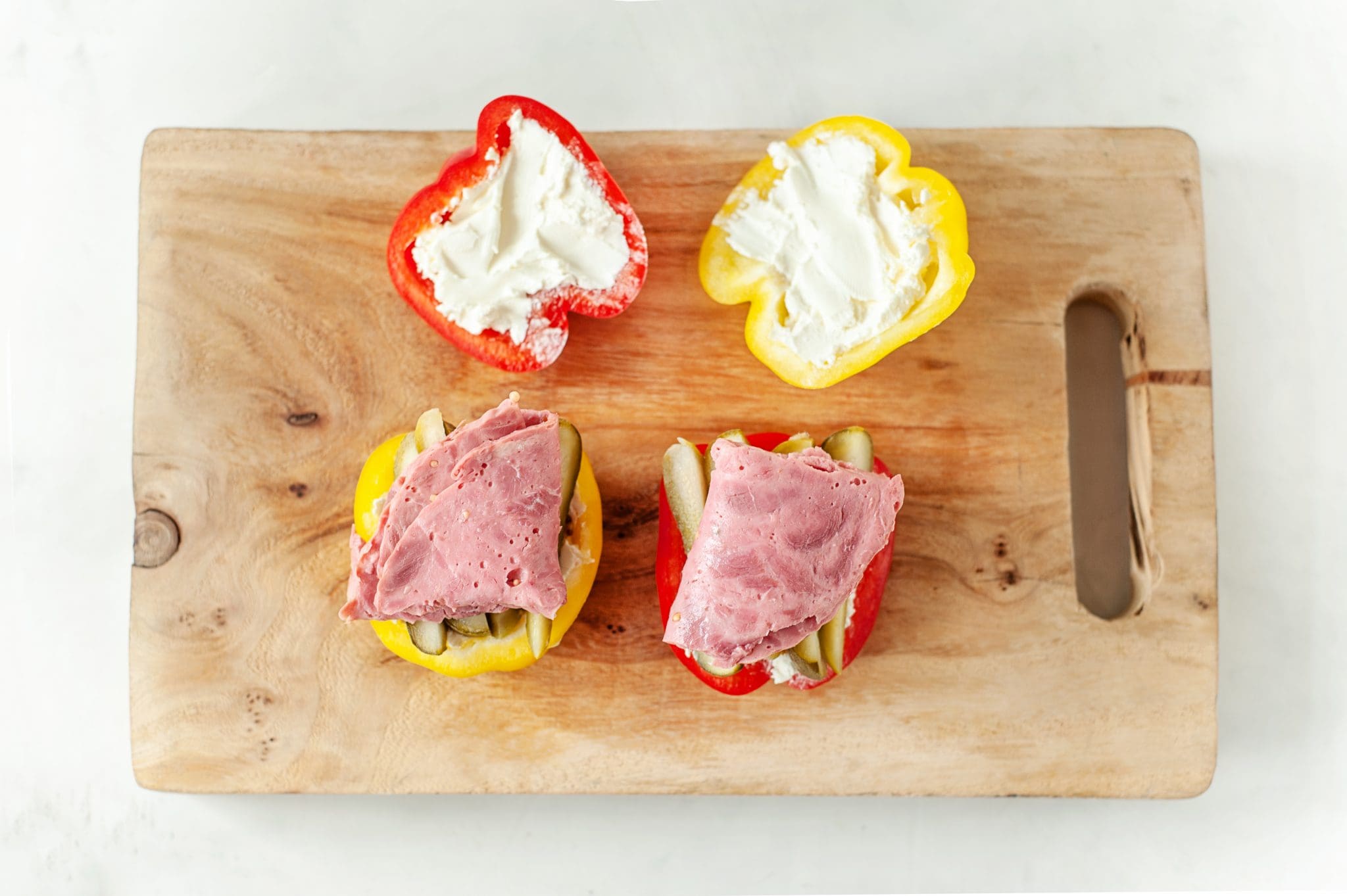 Arugula
I enjoy all kinds of salads, but there's something about arugula that I love the most. It's peppery and slightly bitter, which pairs up perfectly with all the other flavors of our bell pepper sandwich.
Arugula is also full of fiber and antioxidants, which protect us against cell damage. Two cups of raw arugula contain only 0.8g of net carbs and 10 calories, so eat away!
Avocado
The most popular fruit on keto for sure. Avocado has a smooth and creamy texture, plus it's packed (really, really packed) with healthy fats, fiber, vitamins and minerals such as vitamin B, C, E, K, potassium and copper.
Avocado slices are rather high in total carbohydrates, but contain a lot of fiber so one whole avocado is only 3.5 grams of net carbs.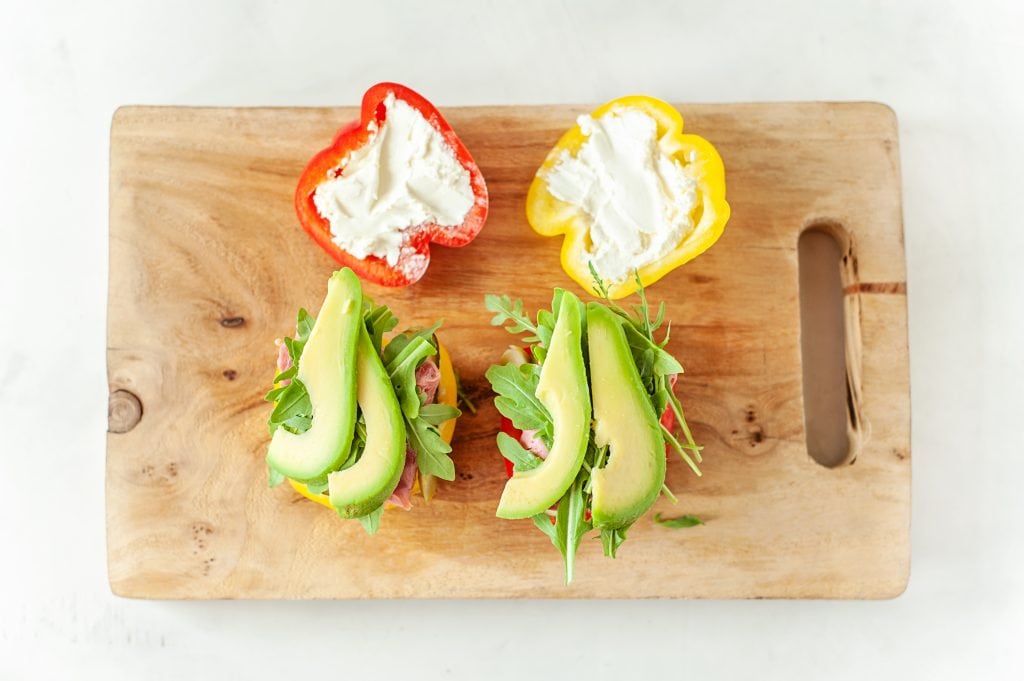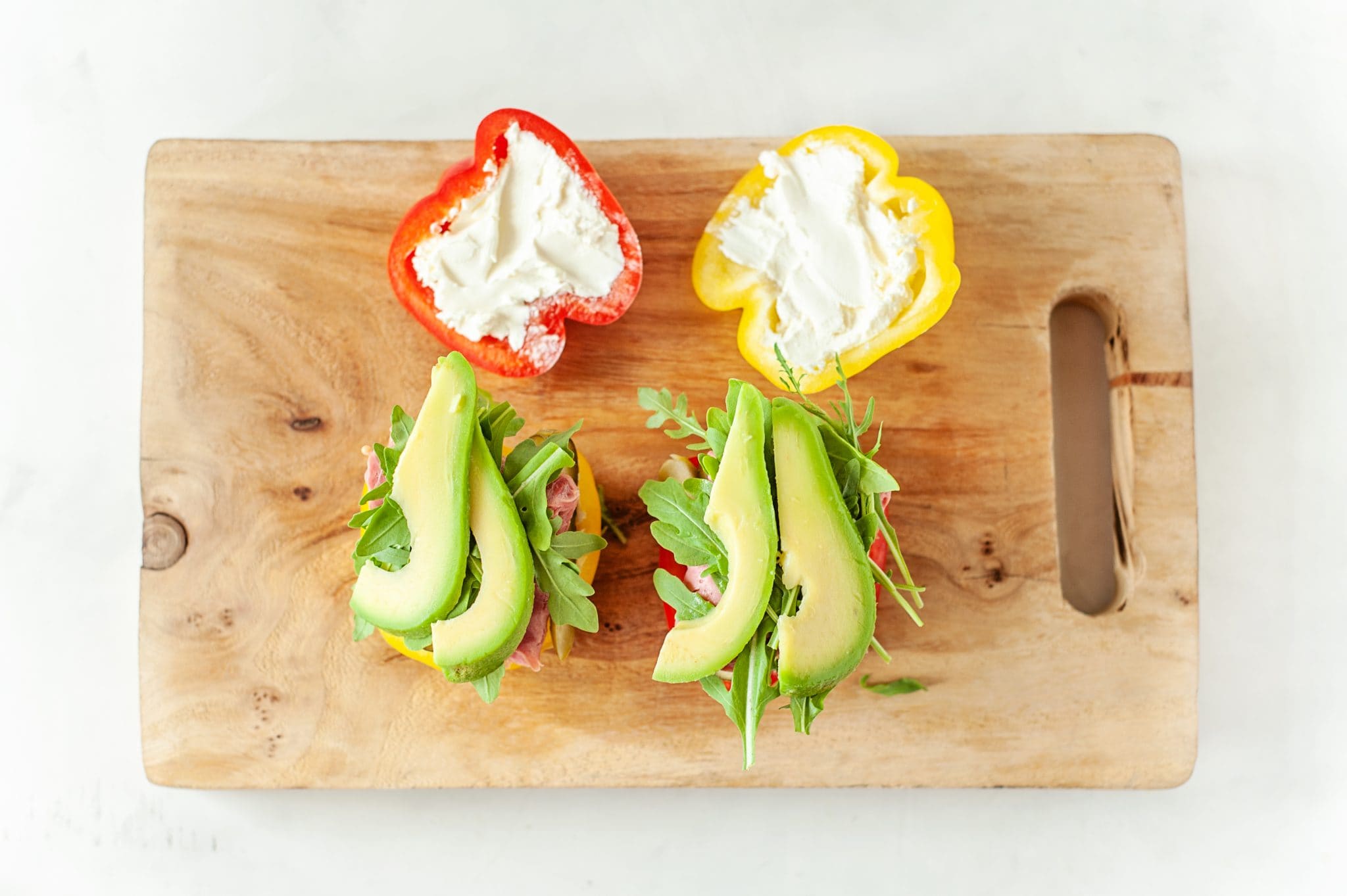 Lemon juice
Strongly bitter and sour, lemon juice adds a nice punch to our bell pepper sandwich recipe. It also prevents the avocado from turning brown quickly, so you can keep your keto bell pepper sandwiches fresh for longer.
Sesame Seeds
Did you know that sesame seeds are a perfect addition to any keto recipes? They're a wonderful source of healthy fats, protein, antioxidants, fiber and minerals.
Several health benefits of sesame seeds include help with lowering cholesterol, improving heart health, support healthy bone formation and aid in blood sugar control.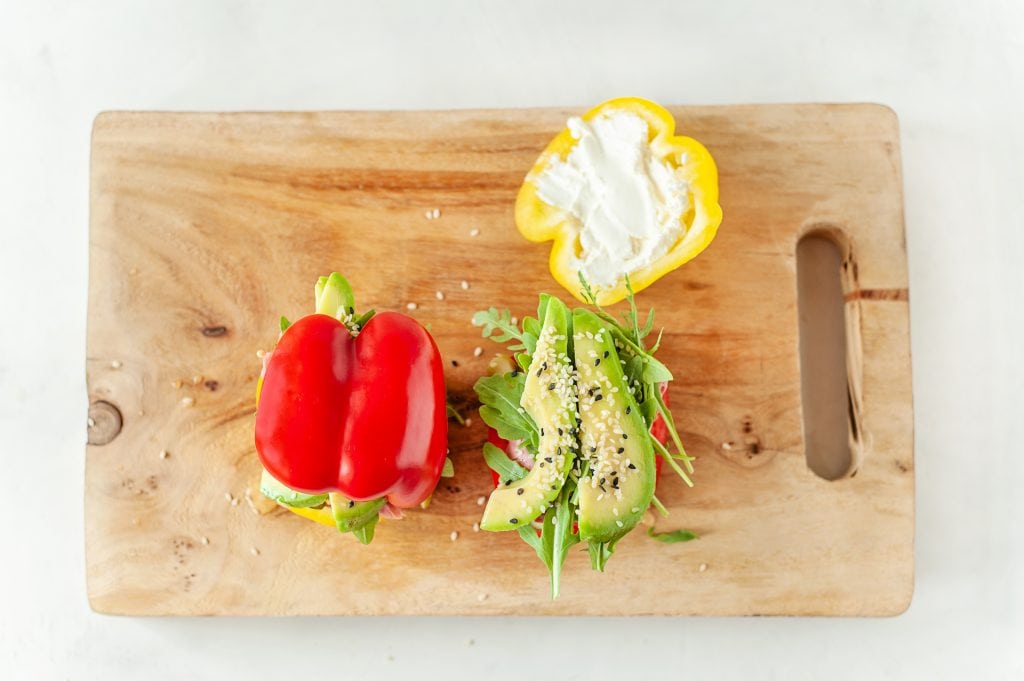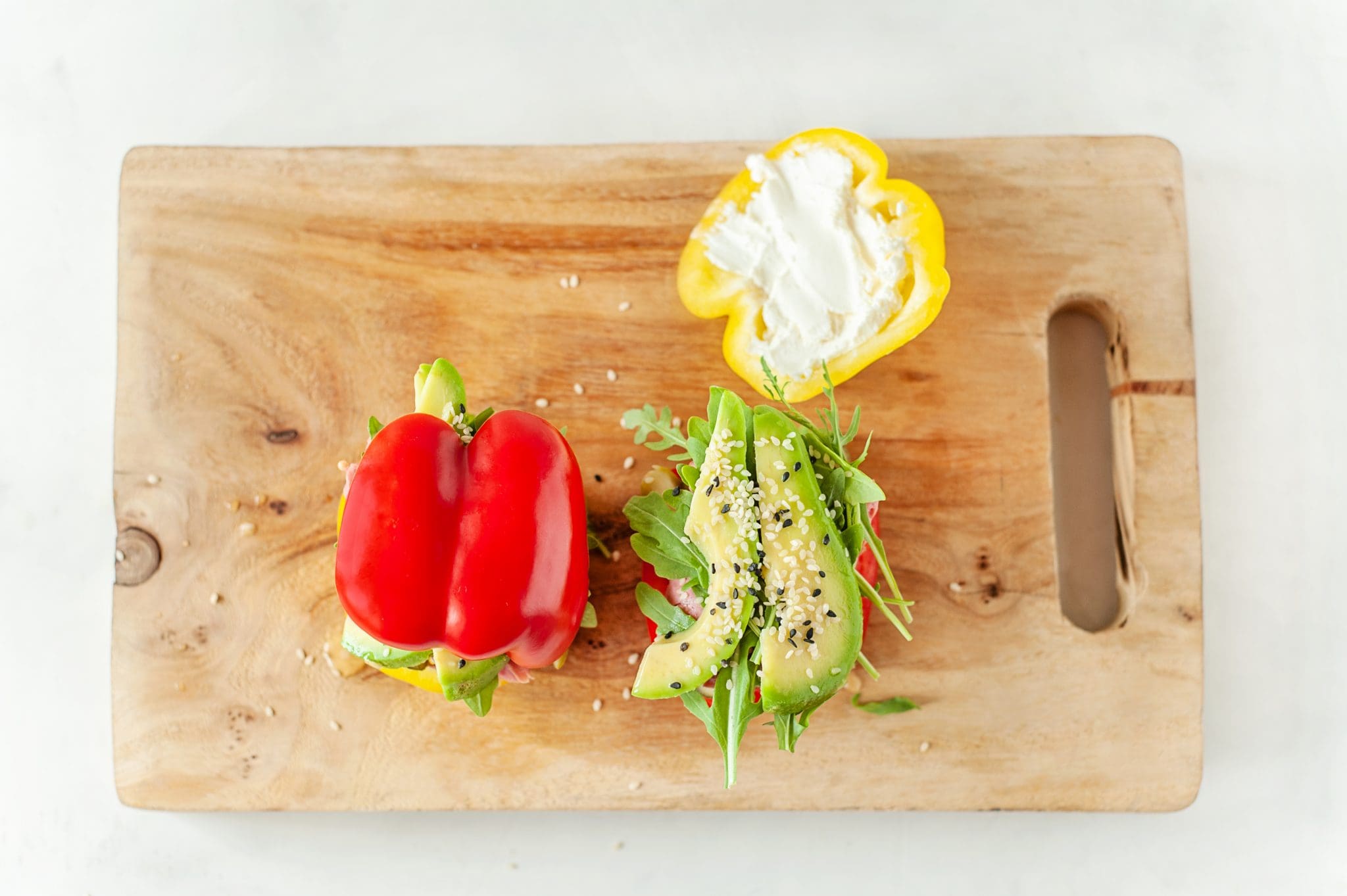 Bell pepper sandwich directions
Prepare bell peppers – cut your peppers in half and clean out the insides. Take out all the seeds until you get a clean pepper half.
Fill it on both sides – smear one half with cream cheese and the other half with mustard.
Layer ingredients – evenly layer ham, pickles, arugula and avocado slices.
Finish off with spices – drizzle with lemon juice and sprinkle with sesame seeds. Add salt and pepper too.
You're all set. Go ahead and enjoy your keto and low carb bell pepper sandwich!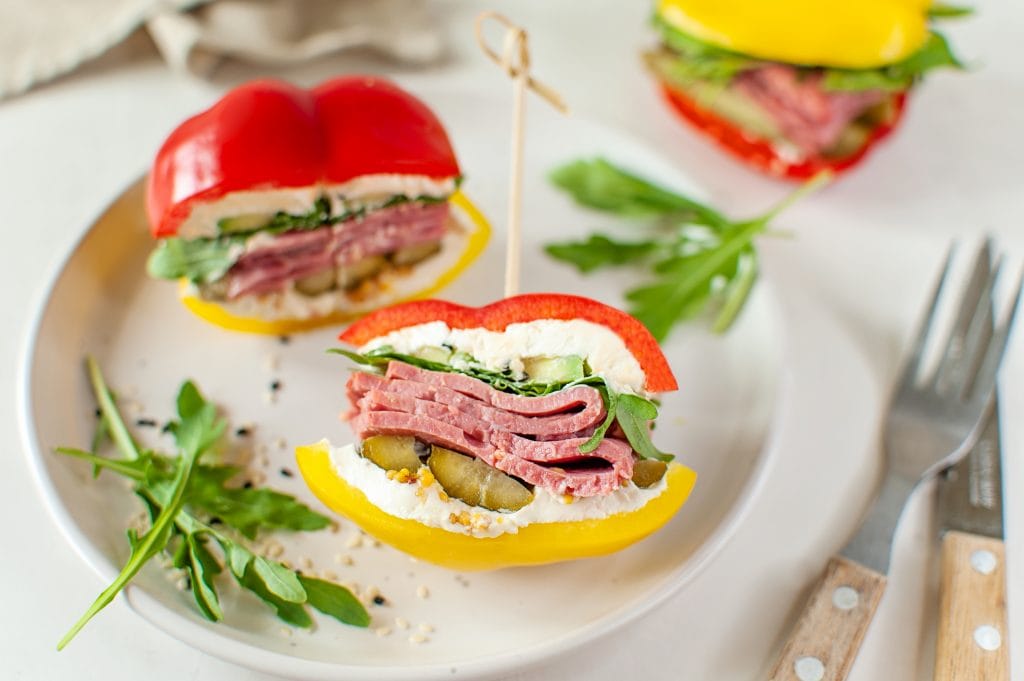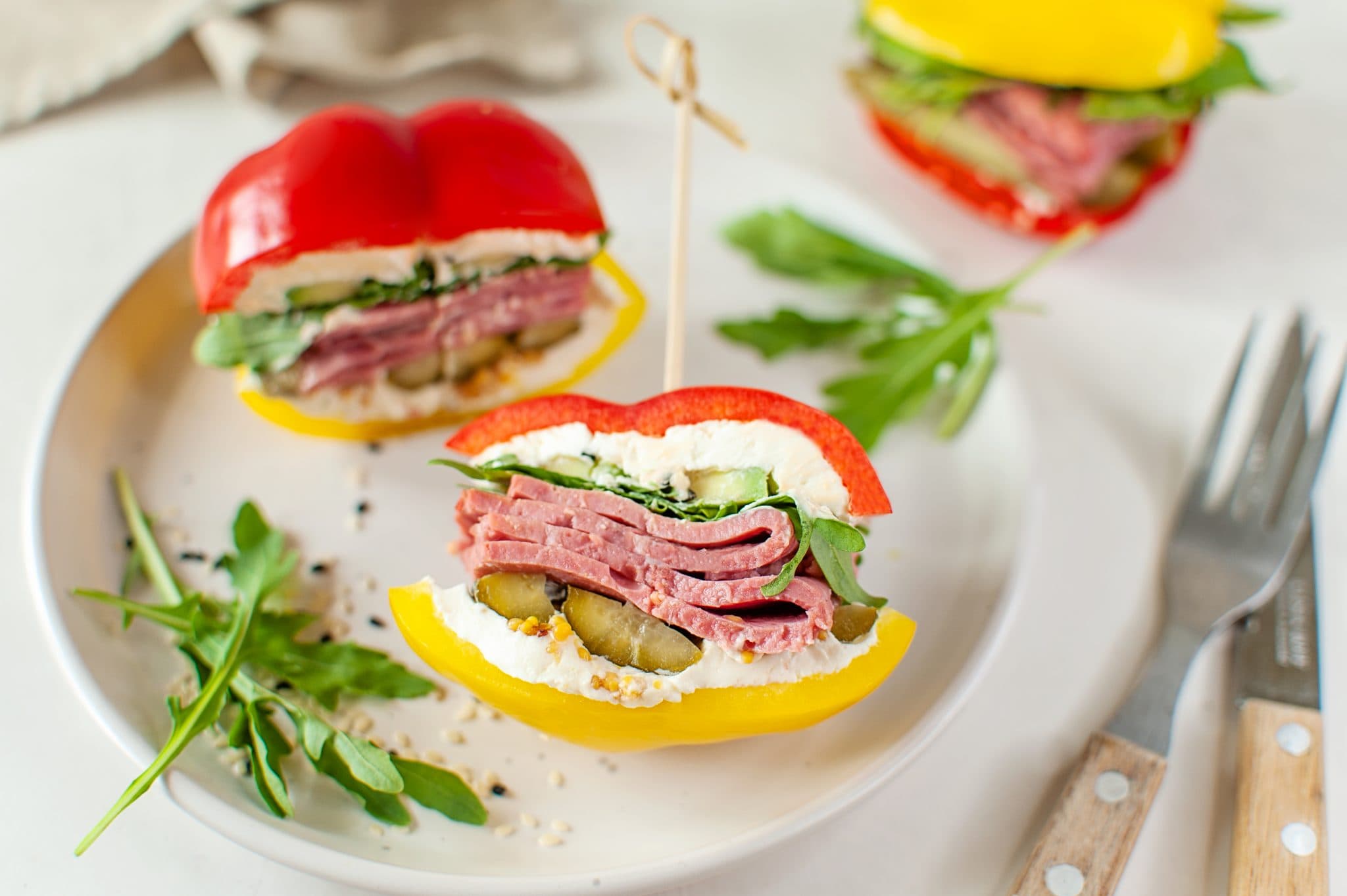 How can I store bell pepper sandwiches?
You can store your bell pepper sandwich in the fridge in an airtight container. Keep in mind that some ingredients might brown, such as avocado, if you keep it out for too long.
Bell pepper sandwiches are also perfect for meal prepping. You can make them ahead of time and have them always within reach whenever you want a low carb sandwich.
Under no circumstances, do not freeze this bell pepper sandwich recipe. Since they're so easy to prepare, it's pointless to freeze them and they will come out mushy when thawed.
Plus, if you add cream cheese inside it will separate since you should never freeze any kind of dairy either. Simply put, no freezing allowed here.
Bell pepper sandwich recipe variations
Bagel sandwich – cut your favorite kind of pepper in half, fill both sides with cream cheese and bagel seasoning.
Ham and Swiss – stack ham and cheese slices in your halved bell pepper. You can add whole grain mustard and mayo there too, with a bit of salt and pepper.
BLT – add bacon, lettuce and sliced tomatoes in your bell pepper sandwich. Add mayo, a bit of vinegar, salt and pepper.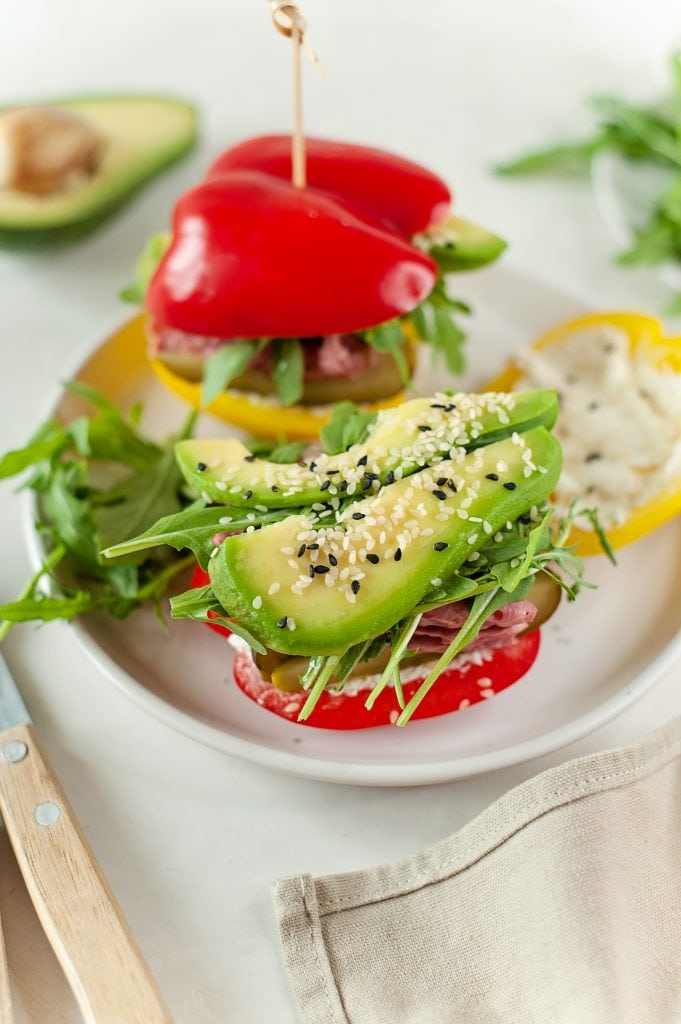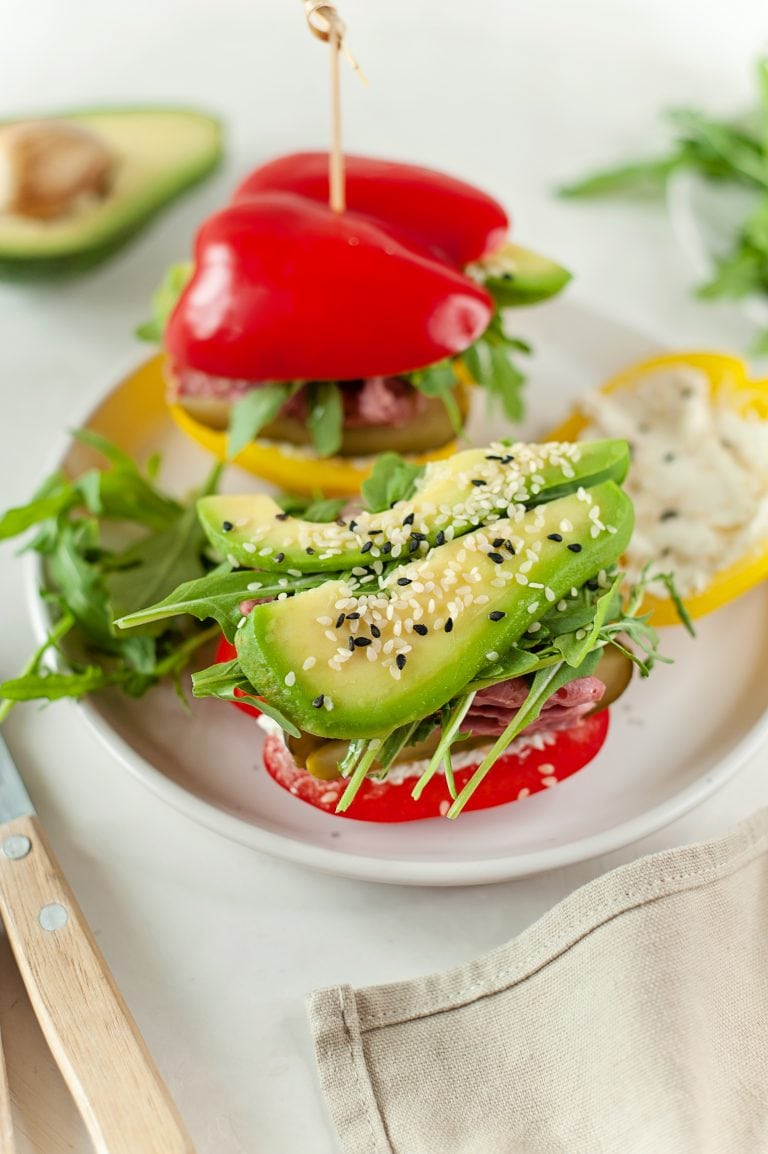 More low carb recipes with bell peppers
Keto Stuffed Peppers – all you need is 30 minutes of your time to make a delicious low carb bell pepper meal. It's a protein-packed with ground meat and perfect for both meal prep and dinner for the whole family.
Easy Keto Fajitas – craving something fresh, flavourful and low carb? This Keto Fajitas recipe takes less than half hour to make and will make your taste buds go wild. With only 246 calories per serving, you can enjoy it without worrying about weight gain.
Keto Chicken Stir Fry – now that I think of it, all the dishes with bell peppers are so quick to make and easy to clean up! Including this one, of course. Make it for dinner in no time and enjoy it with your whole family, even if they're not keto.
What's your favorite way to eat a bell pepper sandwich?
Let us know which ingredients are your favorite in a bell pepper sandwich. Do you like them thin with only cream cheese, or maybe packed with different ingredients?
Can't wait to hear all of your bell pepper sandwich ideas!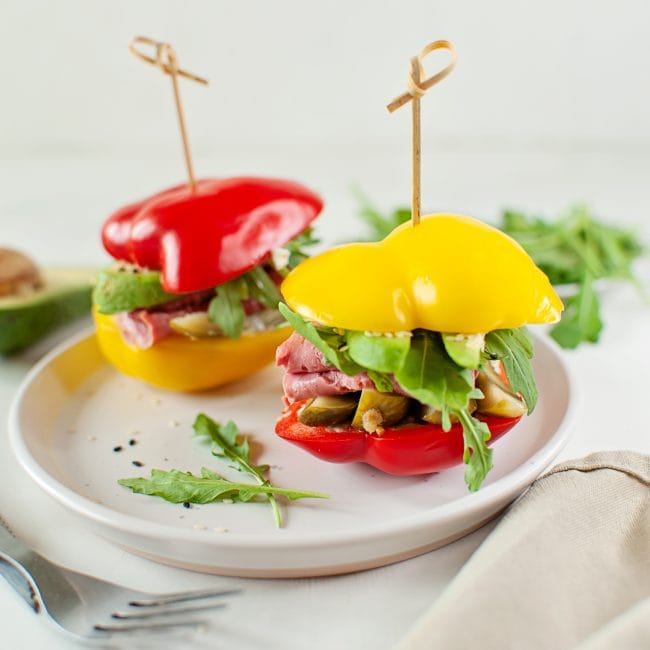 Bell Pepper Sandwich
It's a perfect keto and low carb alternative to a regular sandwich!
Total Time 20 minutes
Servings 4 servings
Calories per serving 196kcal
Prep Time: 15 minutes
Cook Time: 5 minutes
Ingredients:
2 Bell Peppers
4 tbsp Cream Cheese
2 tsp Mustard
4 Pickled Cucumbers cut into quarters
4 slices Ham
1/2 bunch Arugula
1/2 Avocado sliced
4 tbsp Lemon Juice
2 tsp Sesame Seeds
Instructions:
Cut bell peppers into four pieces on each sideto make a "bread" for the keto sandwich.

Remove and discard the pith.

Fill all parts of the bell peppers with 1/2 tablespoon of cream cheese. Set half of them aside.

Fill the rest of the bell pepper parts with 1/2 teaspoon mustard.

Then evenly layer the rest of the ingredients – pickles, ham, arugula, and avocado.

Drizzle them with lemon juice and sprinkle with sesame seeds.

Cover with the other bell pepper parts.
Notes
Under no circumstances, do not freeze this bell pepper sandwich recipe.
Nutrition Facts
Bell Pepper Sandwich
Amount Per Serving
Calories 196 Calories from Fat 135
% Daily Value*
Fat 15g23%
Saturated Fat 5g25%
Polyunsaturated Fat 2g
Monounsaturated Fat 6g
Cholesterol 32mg11%
Sodium 939mg39%
Potassium 495mg14%
Carbohydrates 10g3%
Fiber 4g16%
Sugar 5g6%
Protein 9g18%
Vitamin A 2551IU51%
Vitamin C 88mg107%
Calcium 93mg9%
Iron 1mg6%
* Percent Daily Values are based on a 2000 calorie diet.