Ready for a low-carb Keto Zuppa Toscana soup? It's full of flavorful cooked sausage, diced bacon, turnips instead of starchy potatoes, fresh kale, and a touch of parmesan cheese at the end. I'm convinced this keto version will become a staple in your household once you try it out. Let's get to cooking!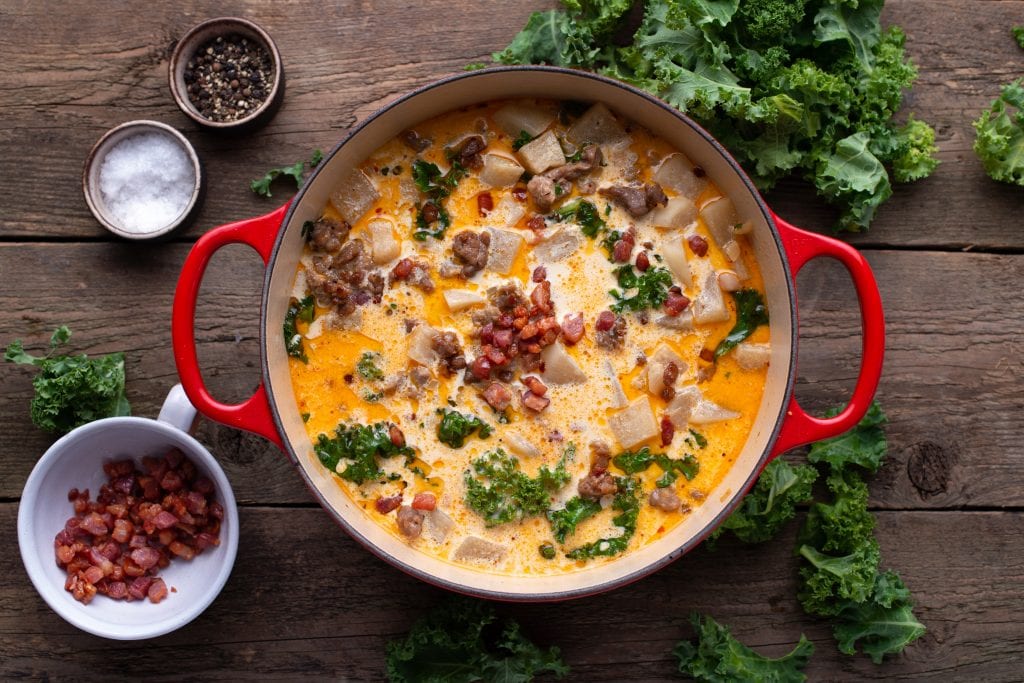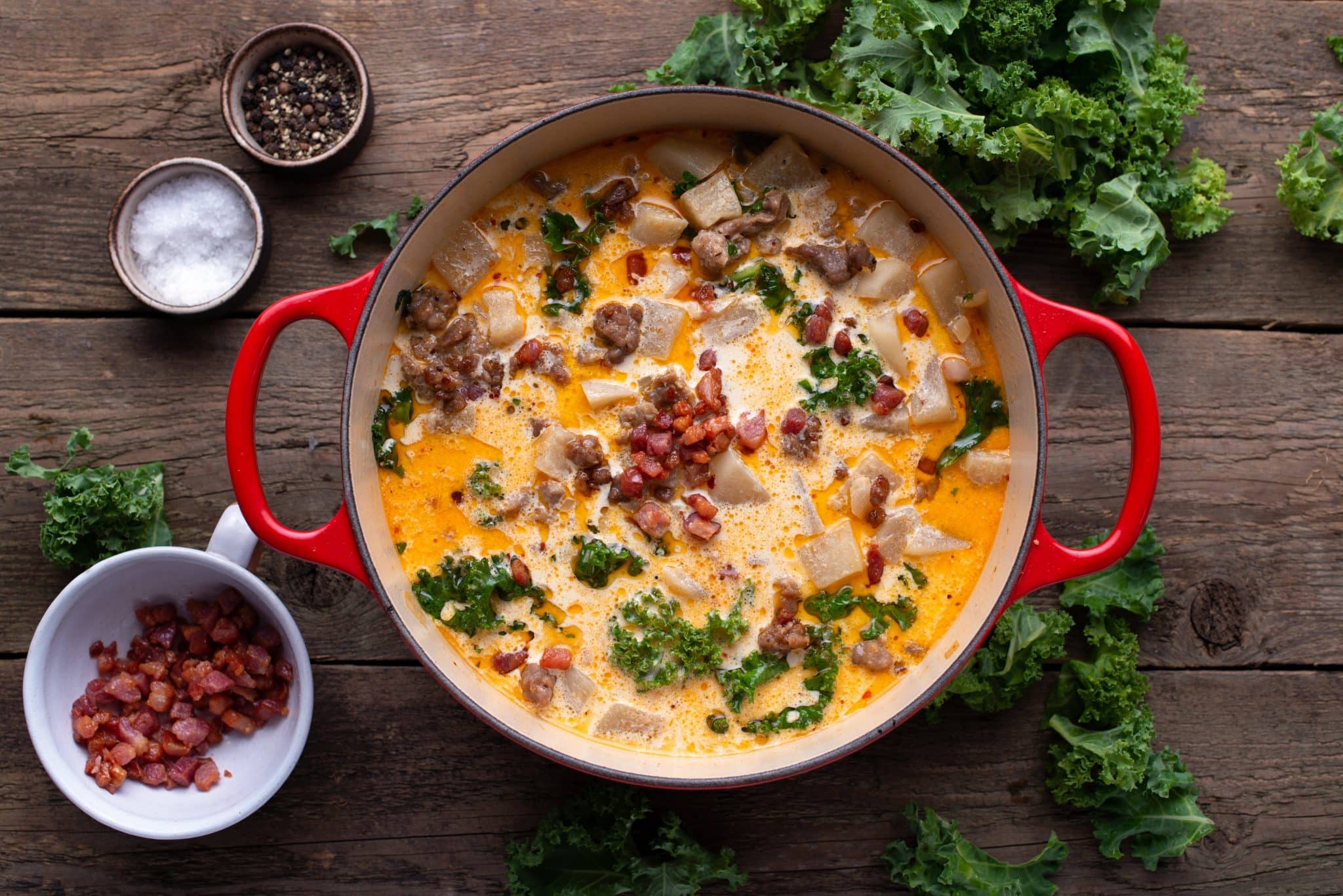 How to Make the Keto Zuppa Toscana Soup?
Ingredients
Mild Italian Sausage
I don't know about you, but I can't survive without Italian sausage on the daily. I can eat it for breakfast, lunch, and dinner, so this soup got an instant "I love you" from me. All jokes aside, if you prefer more heat in your soups you can add hot Italian sausage, and if you want to cut down on calories and up the protein opt for turkey Italian sausage.
Thick Cut Bacon
There goes my guilty pleasure! Thick-cut bacon always adds a kick of flavor to any dish. I actually like using bacon lardons with a bit of pancetta as well for a mix of fats, but you're more than welcome to choose any bacon you'd like.
Want to cut down on fat? Choose turkey bacon instead – it has 14 grams of fat, compared to 22g in pork bacon. Remember, it won't be as flavorful though.
Onion
Although onions have a bit more carbs, we're only using one per the entire recipe so you don't have to worry about going over your carbohydrate limit for the day. Also, regular onion consumption has been known to lower cholesterol levels and improve cardiovascular health, so it's a vegetable I'd never cross out of my diet.
Garlic
No Keto Zuppa Toscana soup is complete without adding a flavorful kick from garlic. Same as onion, garlic has incredible health benefits such as aiding digestion and reducing inflammation and high cholesterol. I wouldn't recommend swapping it for garlic powder so you don't lose any of the flavors.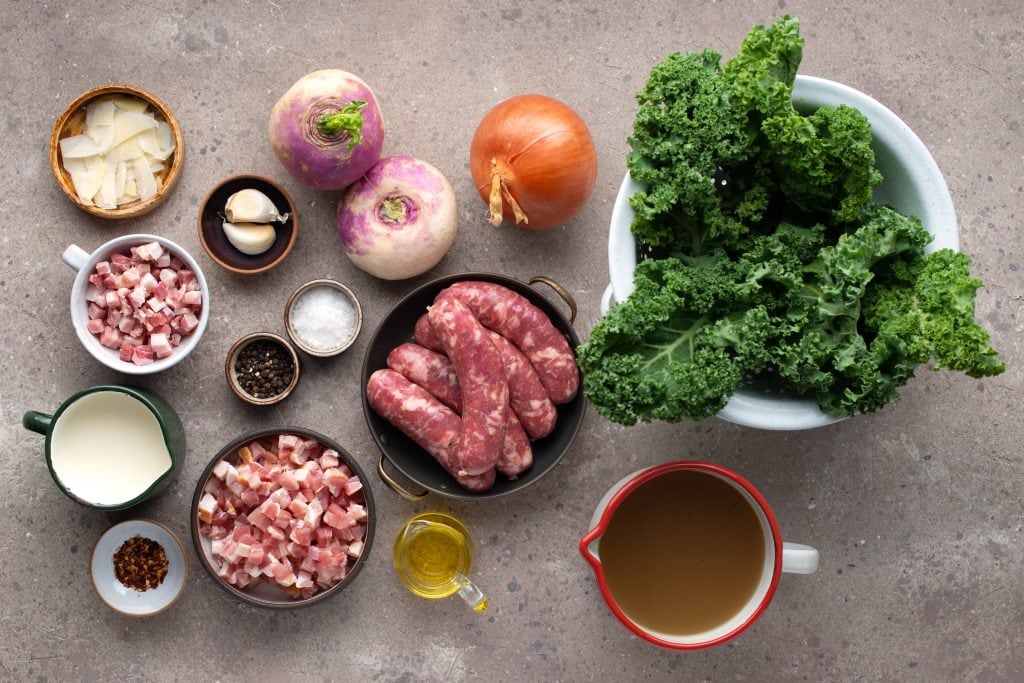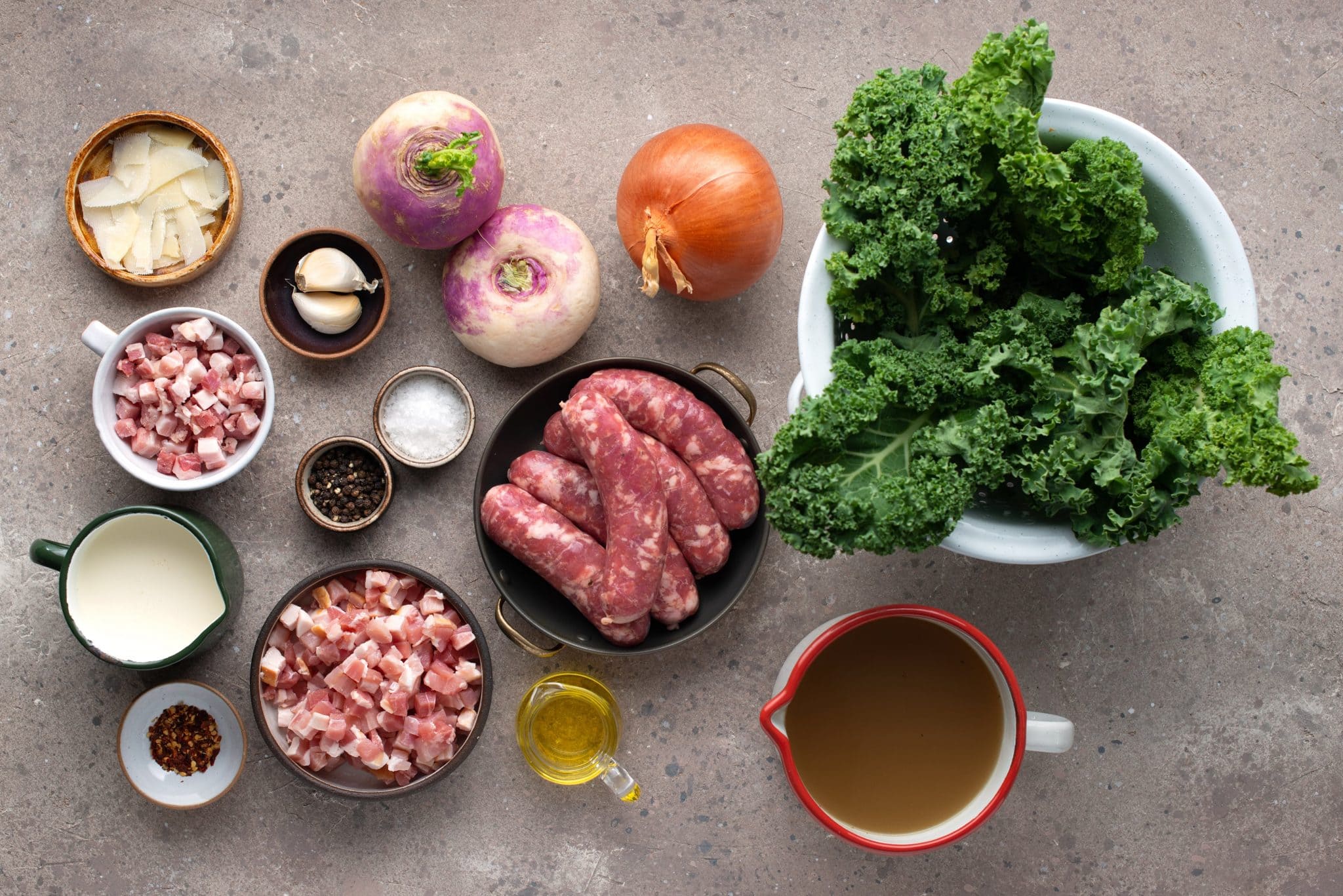 Chicken Broth
We wanted to add chicken broth to this dish to enhance the flavor and make it into a hearty soup. If you want to make it even more intense, add beef bone broth instead – although chicken stock will have more minerals such as potassium, magnesium, and phosphorus, the beef broth will have more flavor and collagen.
Turnips
In lieu of potatoes, we're using turnips instead. They're perfect for a low-carb, keto diet since 1 medium turnip has only 5.8g of net carbs! When you divide it uniformly across the entire Keto Zuppa Toscana soup, you don't need to worry about getting kicked out of ketosis at all.
Turnips are a bit sweeter in taste than regular potatoes, but when cooked correctly they'll taste more earthy than anything else.
Heavy Cream
Isn't creamy broth the best kind of flavor known to man? Whenever fall comes around, all of my favorite recipes feature a good, comforting soup. You can also use heavy whipping cream instead, it doesn't really make any difference in this low-carb, keto Zuppa Toscana soup.
Kale Leaves
A traditional Zuppa Toscana soup recipe can't be complete without chopped kale. With a zesty flavor, kale adds taste to any soup plus it's quite nutritious. Kale has twice the amount of vitamin C as fresh spinach. It also contains vitamin A, which is important for eye and bone health, and folate – a vitamin responsible for healthy brain development.
Parmesan Cheese
This ingredient is optional, but it's a cherry on top. It's rich, nutty, and sharp and will add that perfect umami taste to our Keto Zuppa Toscana soup recipe.
Spices
Be generous with spices. I added smoked paprika and red pepper flakes to spice it up a bit, along with salt and pepper. I like my Tuscan soup on the spicy side, and if you're like me, you can add a few drops of hot sauce.
Step-by-Step Guide
Gather Ingredients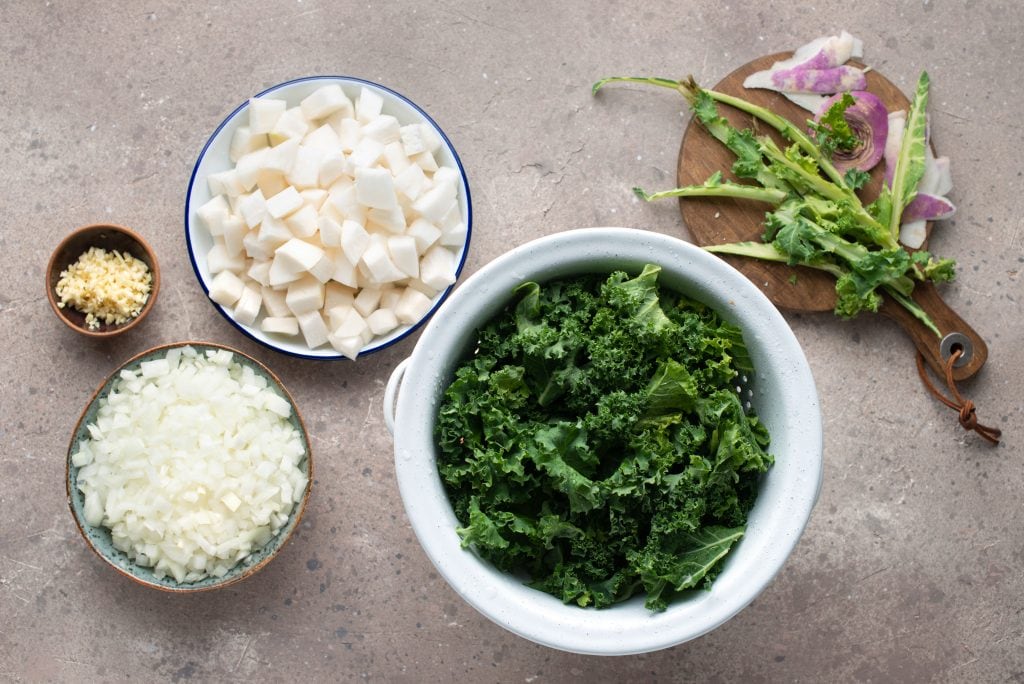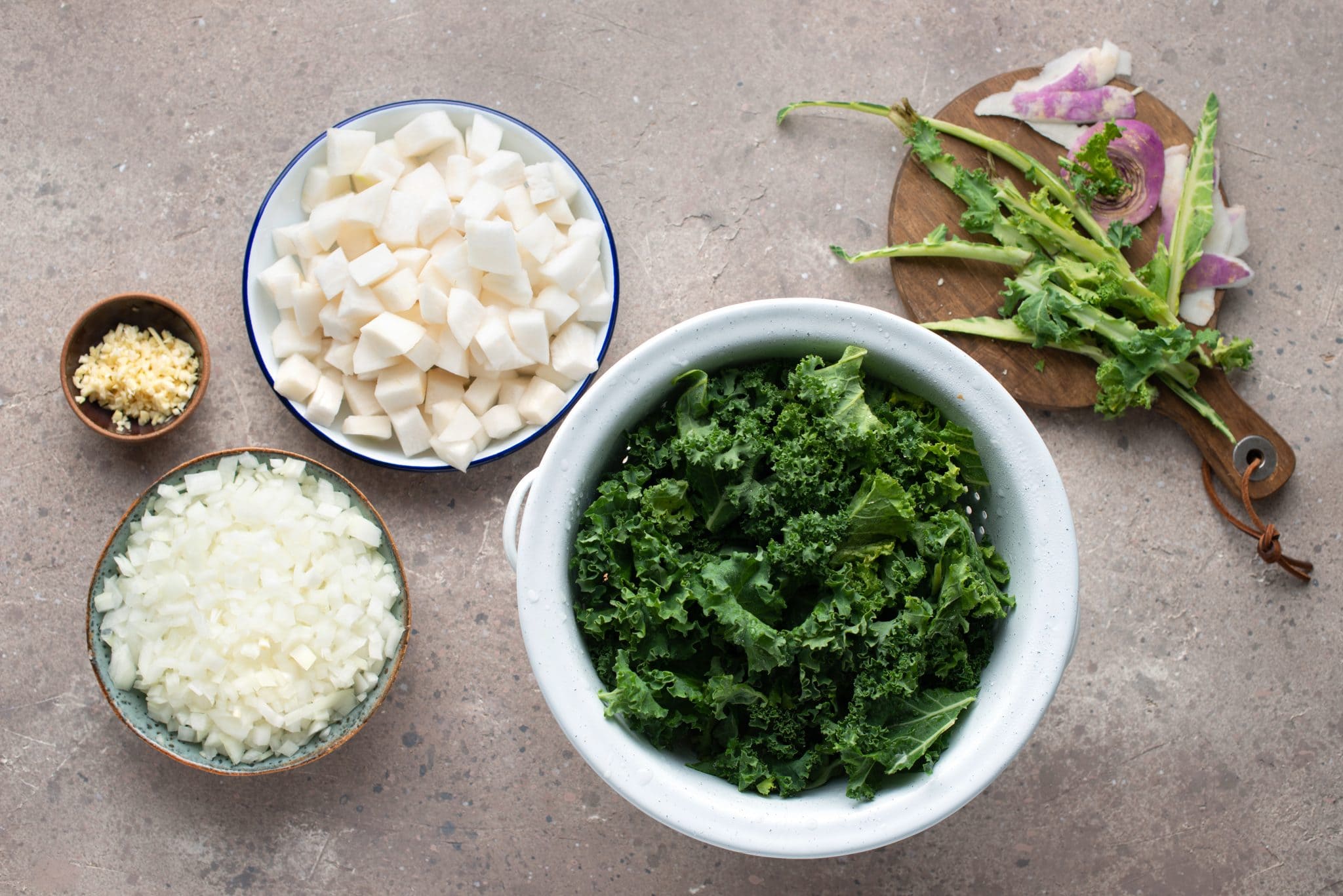 Prepare kale by removing stems and chopping it into smaller pieces, peel and cube turnips, chop onions, and mince garlic. Additionally, remove sausage skins and cut bacon into small pieces.
Heat a Dutch Oven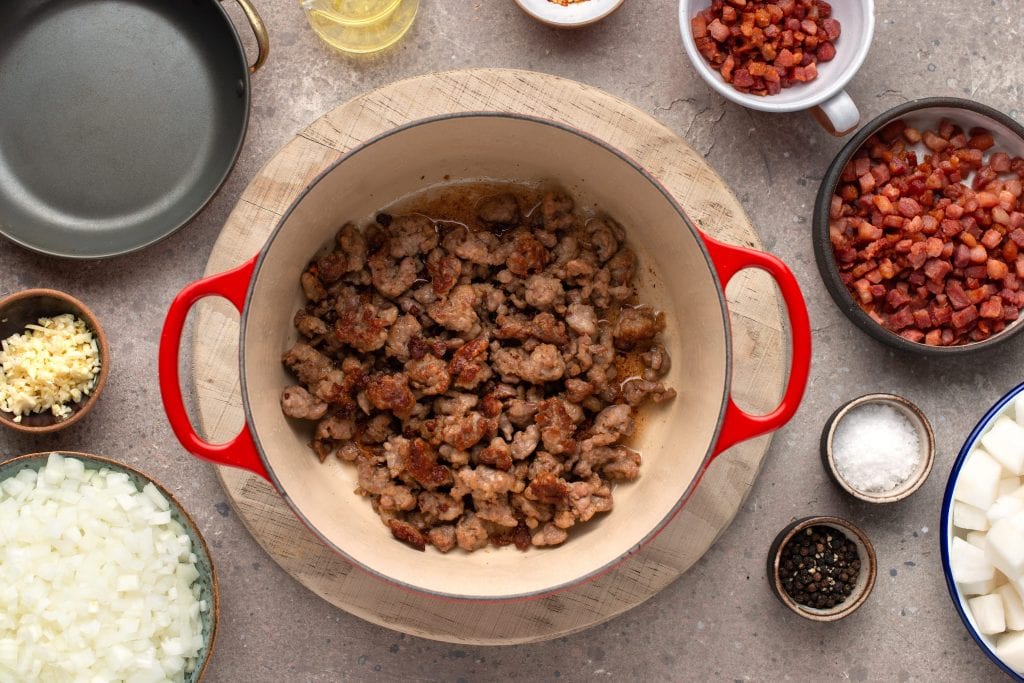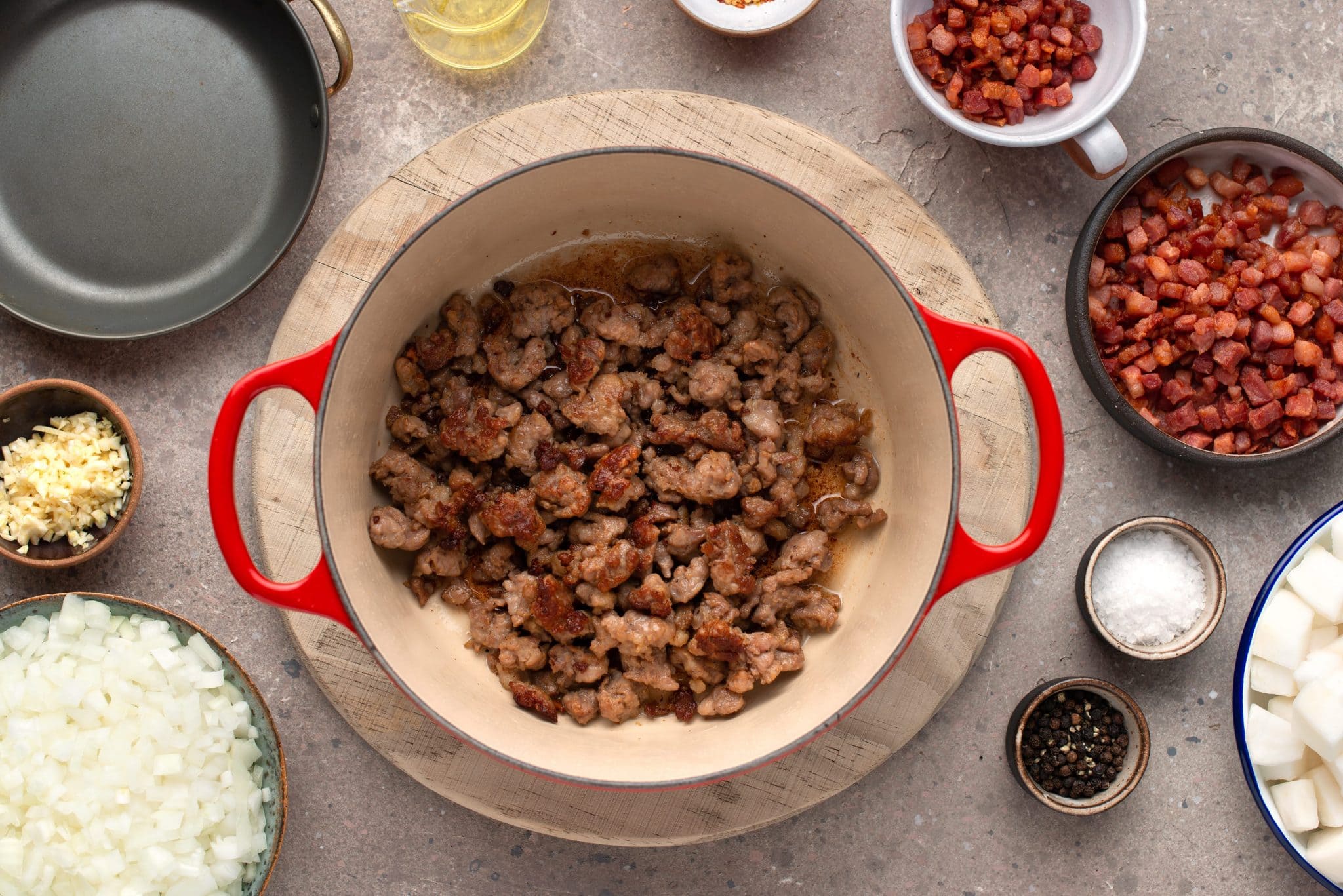 Add a little bit of olive oil, add bacon and cook until crispy. Remove to a bowl, then brown sausage. If there's too much oil, remove it until you have about 1-2 tablespoons in the entire dish. Remove to a plate.
Add More Ingredients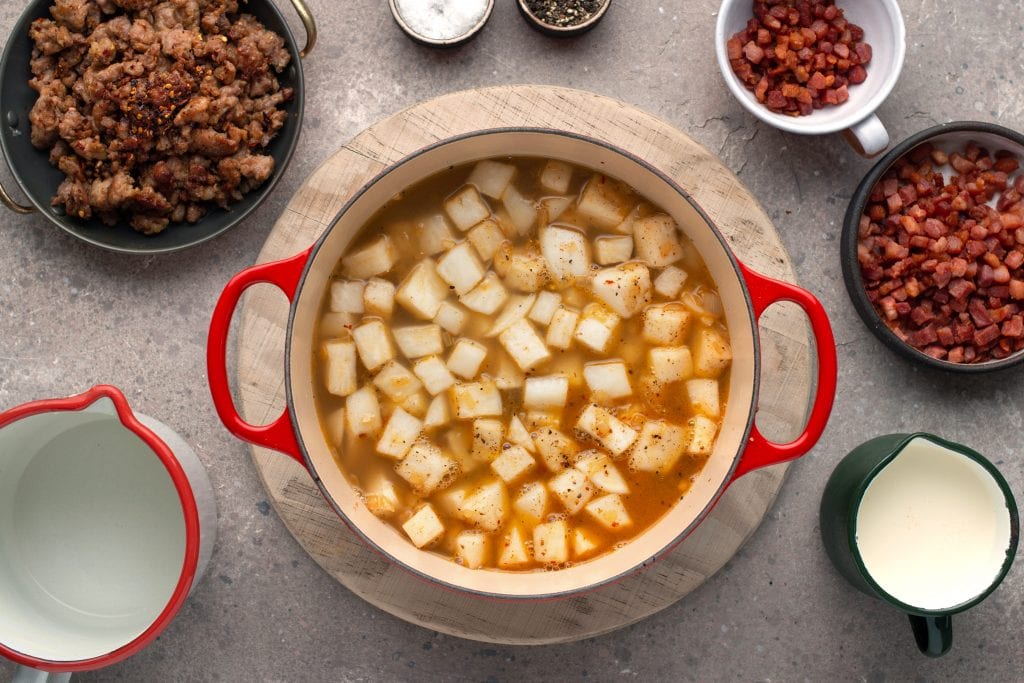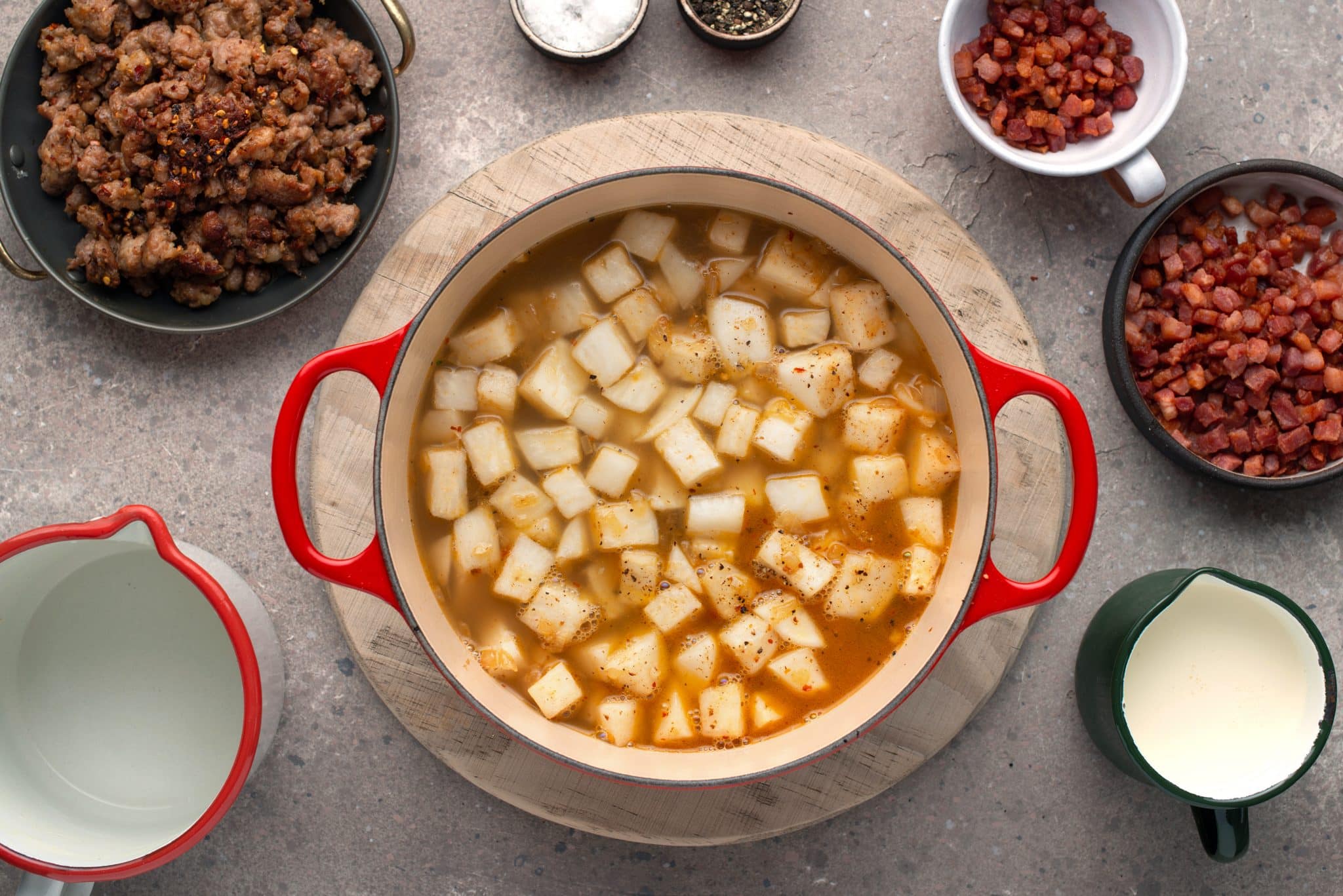 Begin making the best part of the Keto Zuppa Toscana soup – add turnips (previously seasoned with salt and pepper), onions, chicken broth, and bring to a boil. Reduce until done.
Complete the Soup Pot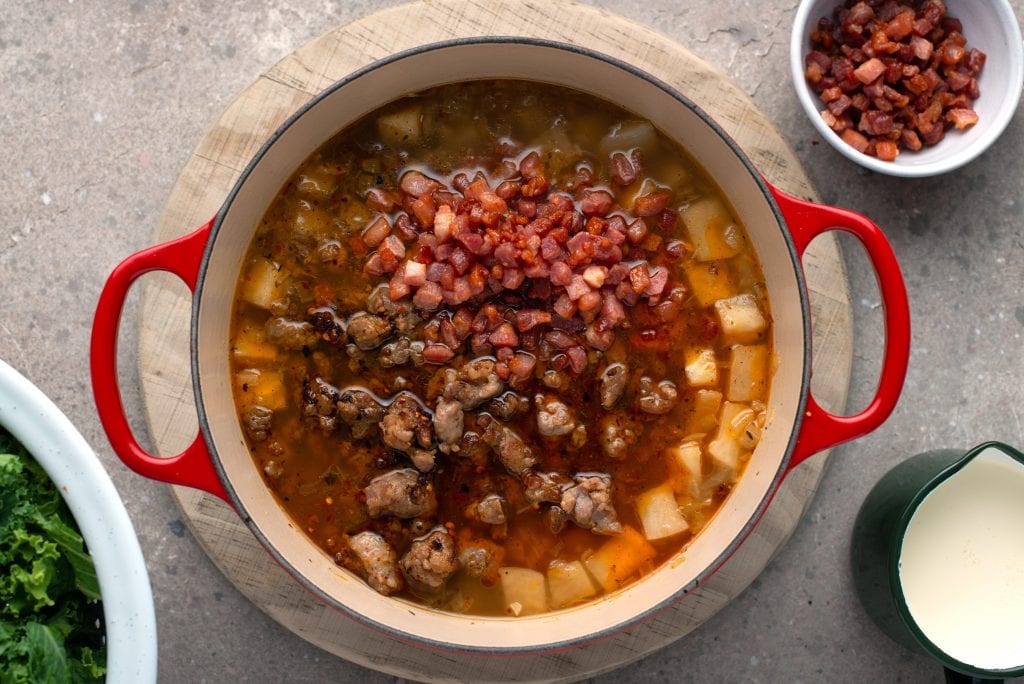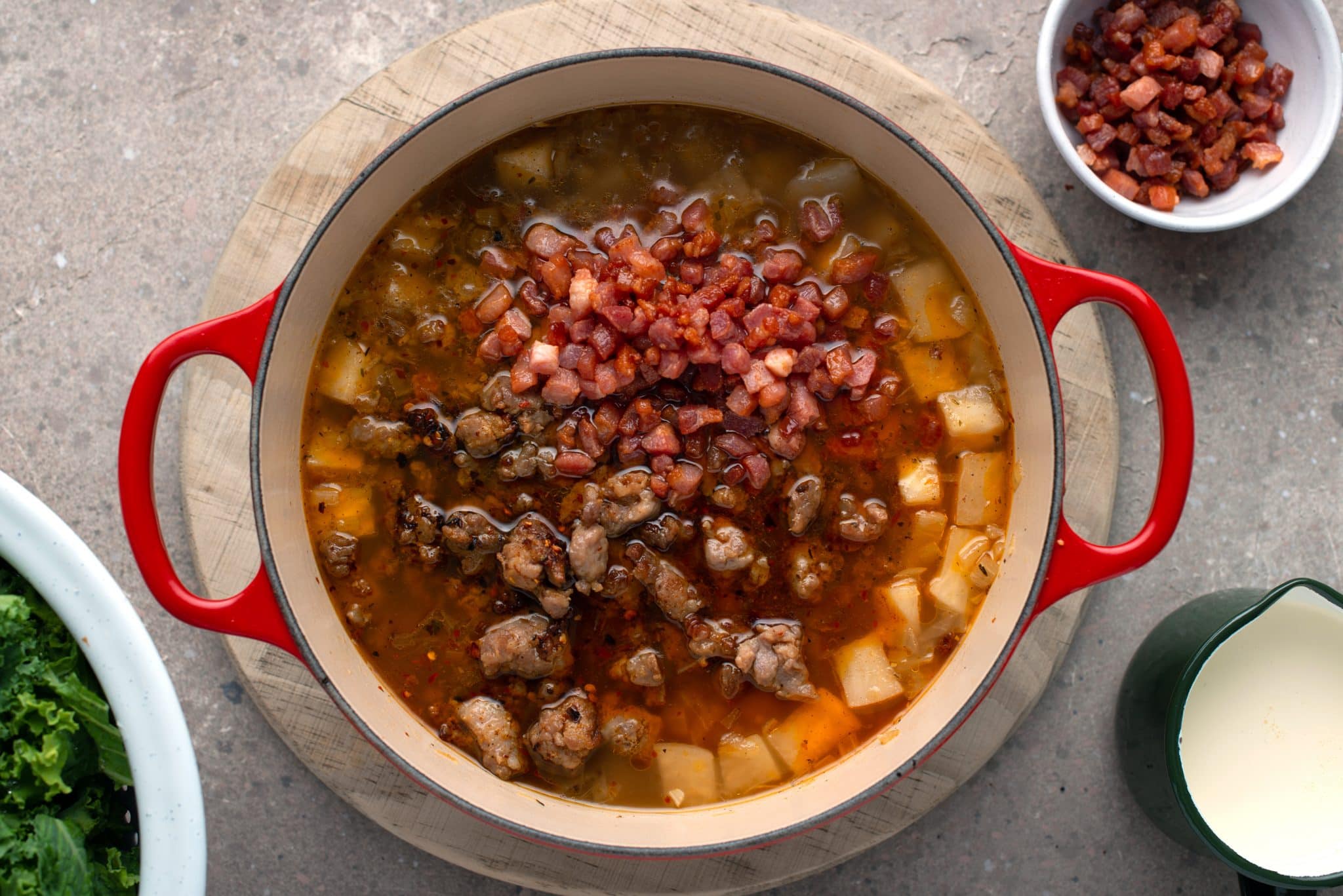 Add cooked sausage and bacon back to the broth, add heavy cream, garlic, and kale until it's wilted. Salt and pepper to taste.
Serve and Enjoy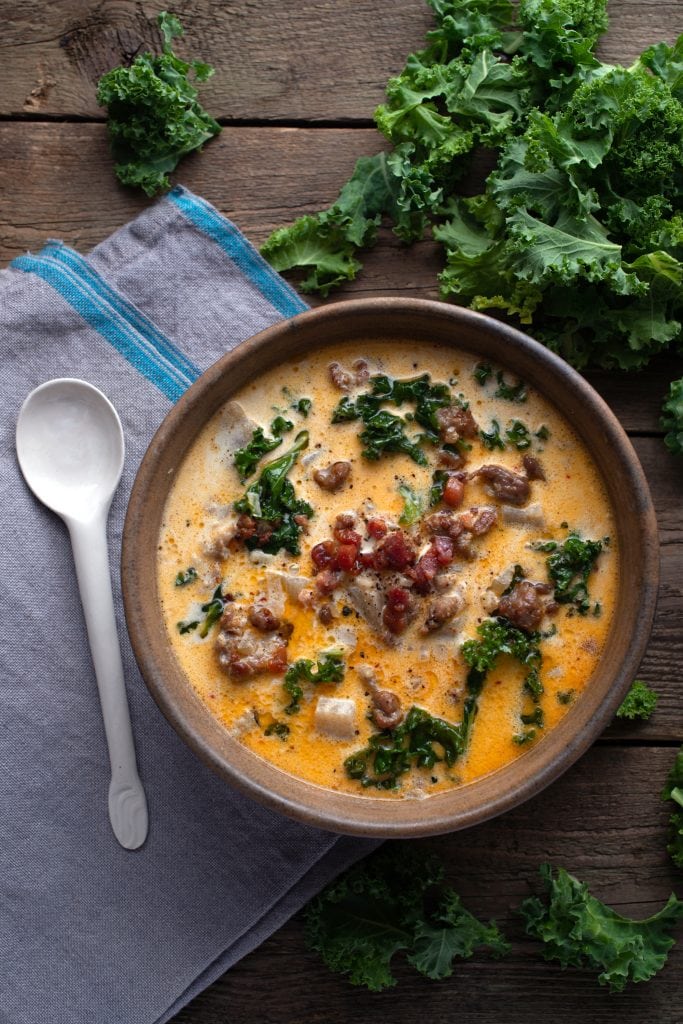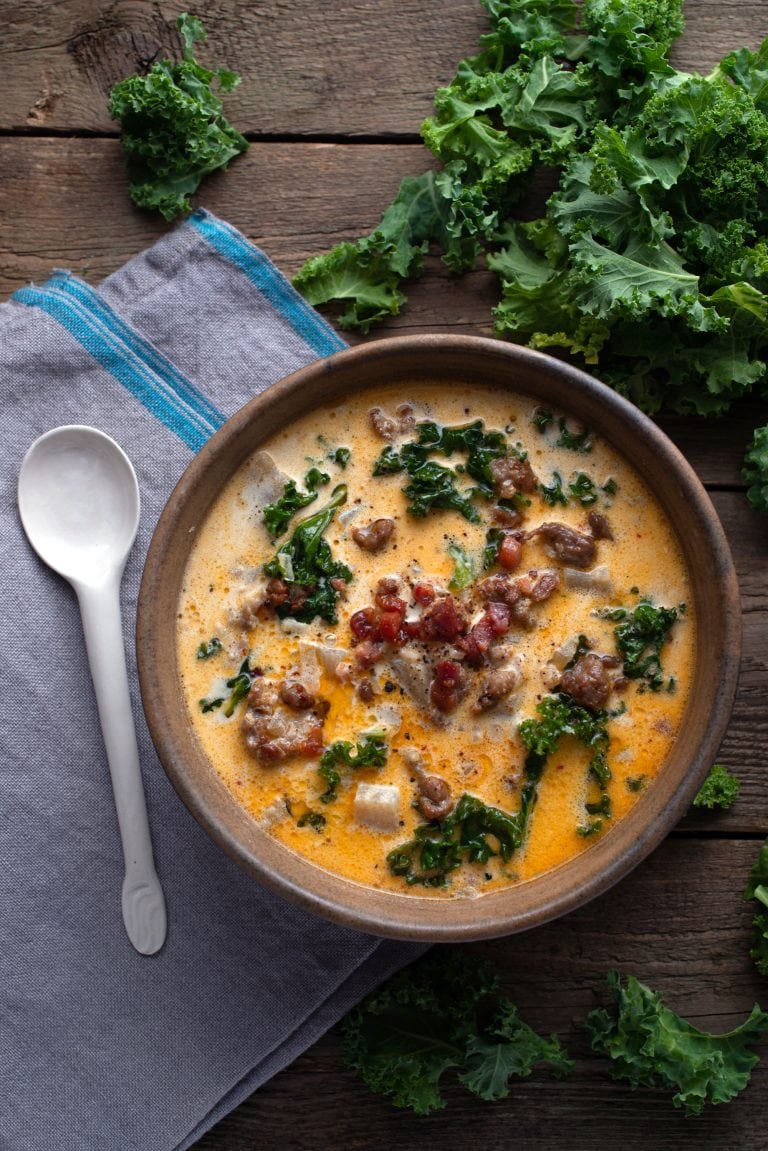 Your Keto Zuppa Toscana soup is done! All you need to do is sprinkle it with bacon bits, add a pinch of crushed red pepper flakes and enjoy.
FAQs
Is this an Olive Garden copycat recipe?
Ha! It's close! You have to keep in mind that Olive Garden's menu has some of the most unhealthy items when it comes to fast food restaurants – which comes as a surprise since it's not a Mcdonald's or Burger King.
Olive Garden adds insane amounts of sodium and gluten to their recipes. So there's no way to make a true copycat of the Zuppa Toscana soup without these ingredients – and that's not something we want, especially in keto recipes which are supposed to be healthy!
In conclusion, it's close. But I'd say it tastes more like the absolutely delicious, traditional Zuppa Toscana soup rather than the one from Olive Garden.
Can I add full-fat coconut milk instead of heavy cream?
If you want to make this Keto Zuppa Toscana recipe dairy free, I'd recommend skipping heavy cream altogether or finding a lactose-free version. I don't think coconut cream, or even coconut or almond milk would taste good here.
However, if you are going to try doing so, let us know in the comments how it went! Now that I think of it, maybe you can use a dash of xanthan gum to thicken it up, but I'm just speculating here since we haven't tried it ourselves.
Looking for More Keto Soup Recipes?
Keto Bacon Cheddar Soup
If the Keto Zuppa Toscana soup isn't your thing, check out our Keto Bacon Cheddar Soup Recipe. It's rich, creamy, super filling, and a great recipe for chilly winter afternoons. At less than 3g of carbs per serving, it's a wonderful keto-friendly addition to your dinner repertoire.
Keto Taco Soup
If you're missing the taste of tacos and can't find something to satisfy your taste buds, here's a low-carb, keto alternative. This Keto Taco Soup features avocados, diced tomatoes, onions, parsley, and a powerful kick of cilantro. Spoon it over with a dollop of sour cream and enjoy!
Keto Egg Drop Soup
Ready to add this banging keto-friendly dish to your favorite soups of all time? Make this Keto Egg Drop Soup in only ten minutes! Plus, one serving is less than 1 gram of carbs so fill yourself up without any guilt. I love adding extra liquid aminos and even a splash of hot sauce.
What's Your Favorite Soup?
Let us know in the comments which soup stole your heart and whether or not you were able to satisfy your craving with keto recipes!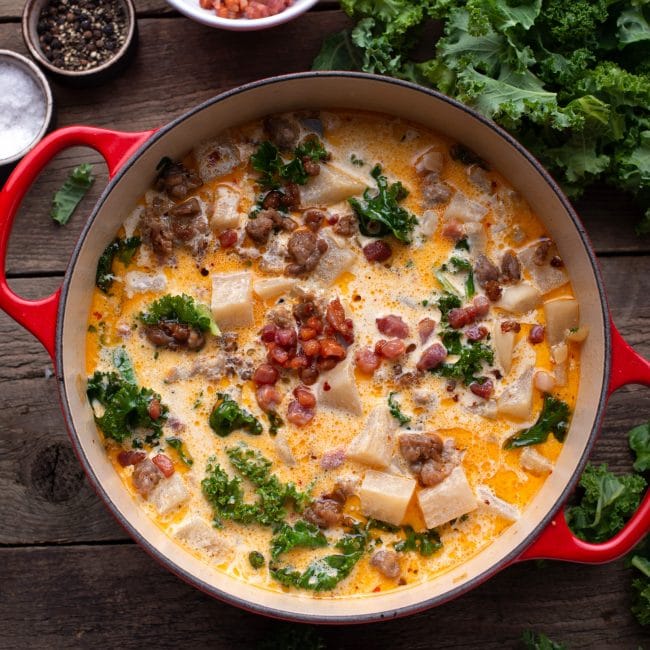 Keto Zuppa Toscana Soup
It's full of flavorful cooked sausage, diced bacon, turnips, fresh kale, and a touch of parmesan cheese at the end.
Total Time 50 minutes
Servings 4 servings
Calories per serving 951kcal
Prep Time: 10 minutes
Cook Time: 40 minutes
Ingredients:
500 g mild Italian sausage
300 g Thick cut bacon cut bacon lardons
1 tsp chilli flakes red pepper flakes
1/2 tsp smoked paprika
370 g large onion chopped
2-3 garlic pods finely chopped or minced
3 cups chicken broth
500 g medium-large turnips
1/2 cup heavy cream
3 cups kale leaves chopped and destemmed
Salt and pepper to taste
Parmesan for Garnish Optional
Instructions:
Gather the ingredients

Prep the kale, remove stems and chop into smaller pieces. Wash and place in colander to drip dry. Chop onions, garlic. Peel and Cube the turnips.

Remove the sausage skins. If bacon isn't already cut, cut bacon into small pieces.

Heat a Dutch oven (3.3L) or heavy bottom pot with a little bit of cooking oil.

Add the chopped bacon and pancetta and cook until crispy.

Remove the bacon to a bowl (keeping aside some crispy bacon for garnish)and cook the sausage meat until browned. If there is allot of oil, remove half.

Remove the sausage meat and place aside. Don't Cover the meat, so they stay crispy.

Reduce the heat to medium and cook the onions to translucent, and then add the garlic.

Add the diced turnips and salt and pepper them. Cook for a few minutes with the onions.

Add the chicken broth into the the Dutch oven and bring to a boil. Reduce heat to medium and simmer and cook the turnips until nearly done.

Add the cooked meat to the broth. Keeping aside the bacon for garnish.

Add the heavy cream and Kale to the broth, stirring to let the Kale wilt. Salt and pepper to taste.

Serve with some crispy bacon bits.
Notes
If you want some heat to the soup add some chilli flakes or use chilli flavoured Italian sausage. I personally also like a dash of smoked paprika with the heat.
Nutrition Facts
Keto Zuppa Toscana Soup
Amount Per Serving
Calories 951 Calories from Fat 729
% Daily Value*
Fat 81g125%
Saturated Fat 31g155%
Trans Fat 0.1g
Polyunsaturated Fat 11g
Monounsaturated Fat 34g
Cholesterol 182mg61%
Sodium 2195mg91%
Potassium 1095mg31%
Carbohydrates 23g8%
Fiber 6g24%
Sugar 11g12%
Protein 33g66%
Vitamin A 5762IU115%
Vitamin C 83mg101%
Calcium 244mg24%
Iron 3mg17%
* Percent Daily Values are based on a 2000 calorie diet.
Written By