You've been asking for an Indian recipe, so we decided to give it to you! We are starting with this simple Keto Butter Chicken.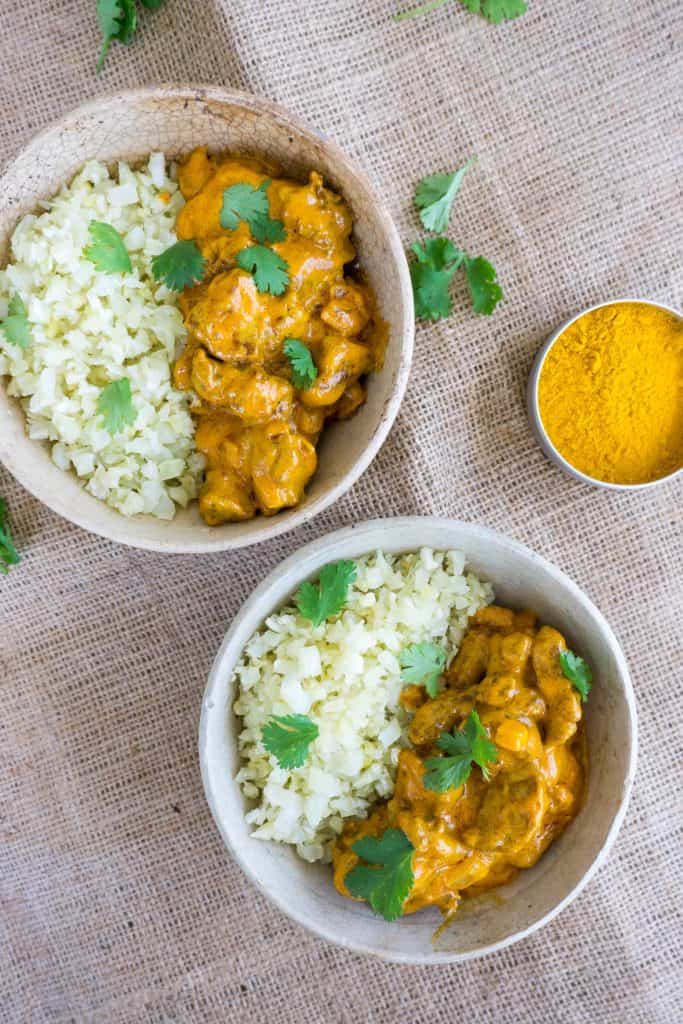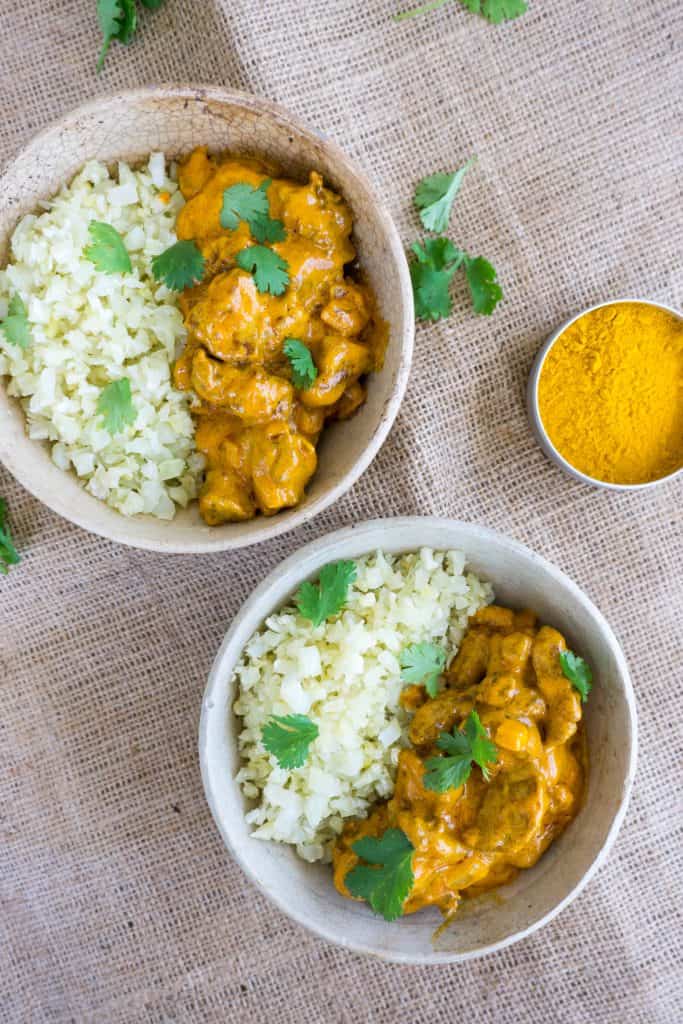 You will honestly be surprised how delicious and exact this recipe is given the minimal seasonings we use. We wanted to create a dish that would be easy to make any night of week, taking no longer than 30 minutes with everything easily found in your kitchen. Watch me make it below!
The Easiest Butter Chicken Recipe
Growing up in an Indian household, I watched my mom cook a lot of Indian food. She was constantly taste testing, tossing in different spices, adding water to loosen up the sauce, and cinnamon sticks and bay leaves were always a must. However, it seemed a bit more complicated than I was ever willing to take on. With that said, I present to you the easiest butter chicken recipe you are ever going to make and want to make. I cut down heavily on the amount of spices used for ease without sacrificing flavor, and it's keto-friendly!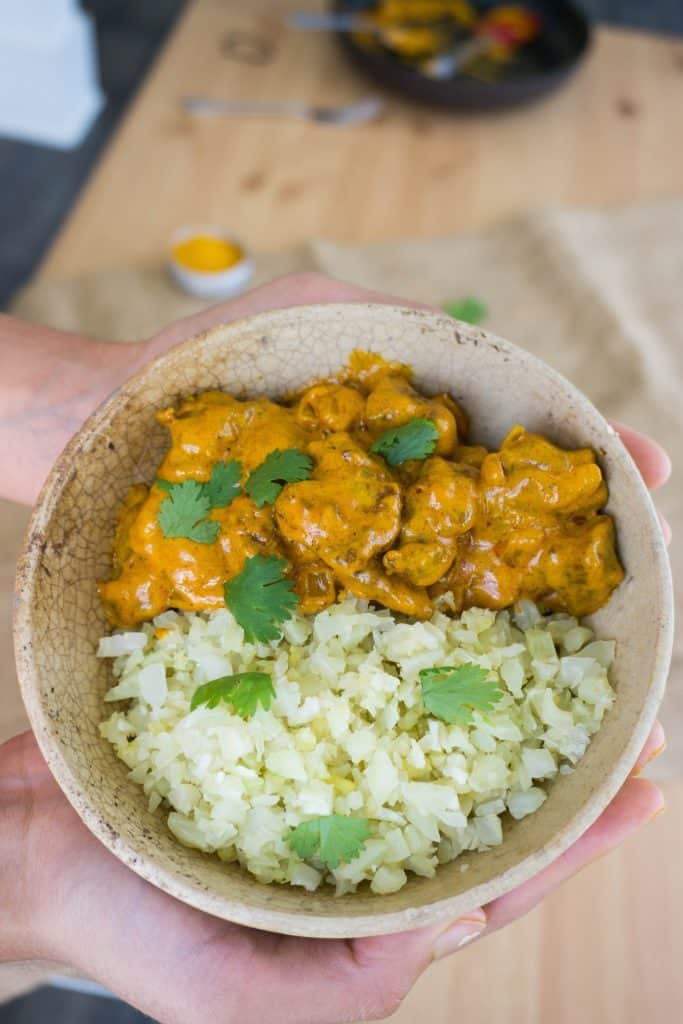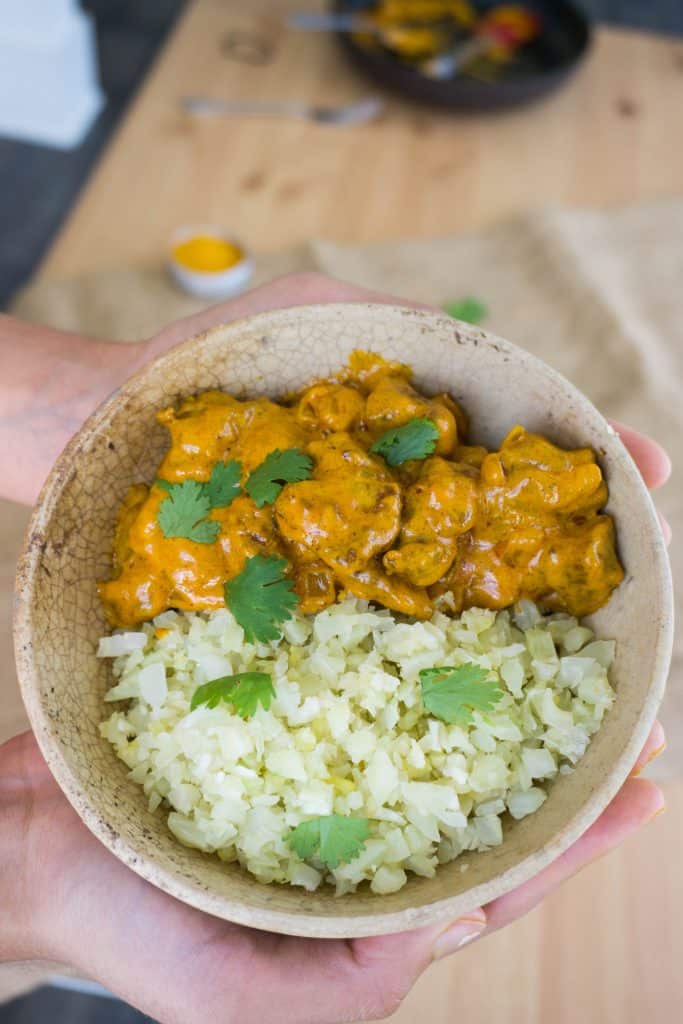 Incredible Chicken Recipes!
Of course you can use any meat you want in this recipe, lamb is always a favorite or paneer for a vegetarian route, but I love chicken most because of how versatile it is. The simplicity of chicken, regardless of the cut, allows you to transform it into pretty much anything you want. Some of my favorite chicken transformations are our Keto White Chicken Chili, Low Carb Chicken Chili, Keto Orange Chicken, Keto Teriyaki Chicken and Cashew Chicken! We even have another curry based chicken recipe that is a fan favorite – Coconut Curry Chicken.
Keto Butter Chicken
If you've never tried your hand at Indian food, this is a great place to start. Eating out can be tricky because a lot of the time sugar is added to the curries and even some non keto-friendly thickening agents. Many beginners even have questions about eating rice on keto.
I can almost guarantee that you will not only find this Butter Chicken recipe easy to make, but you'll find new love for Indian food! If you do find yourself making this Keto Butter Chicken one night make sure to serve it with some cauliflower rice or with our low carb naan!
​Tip: If you don't have any turmeric on hand you can replace it with some curry powder!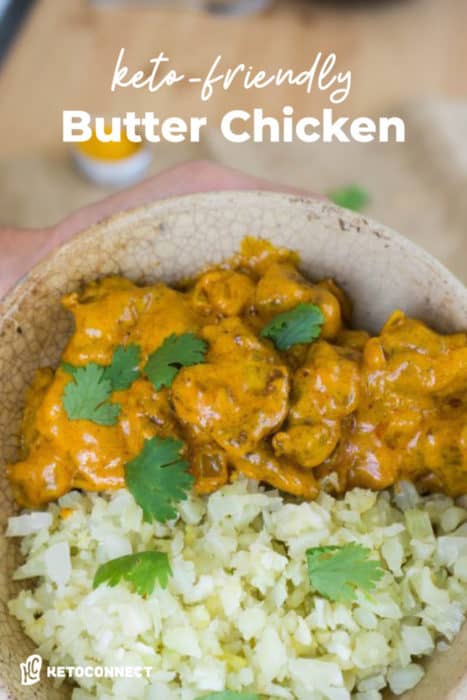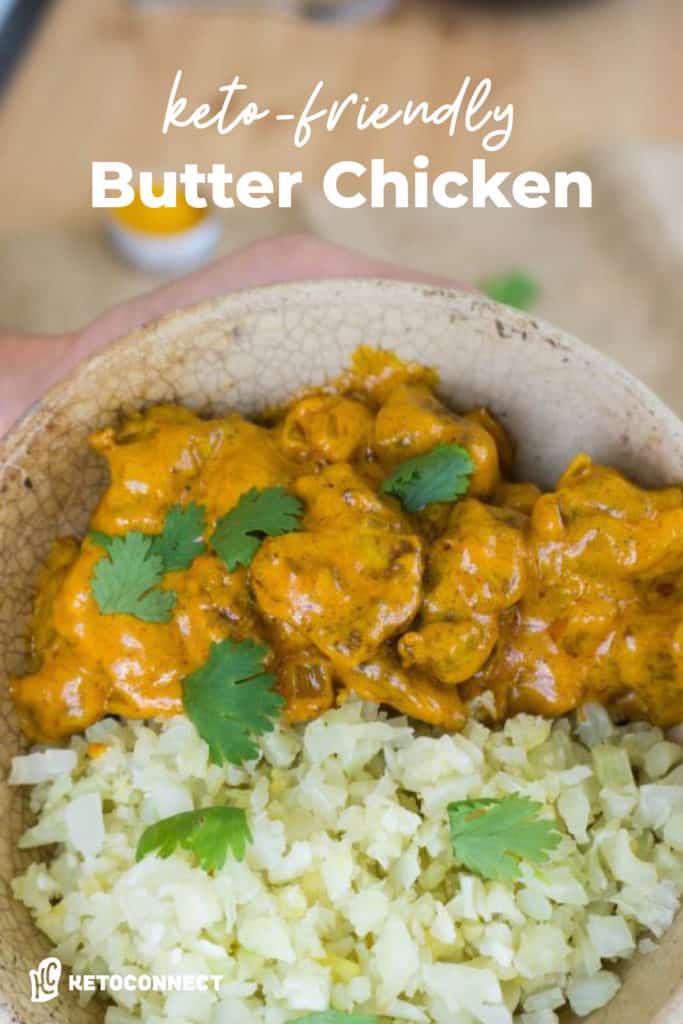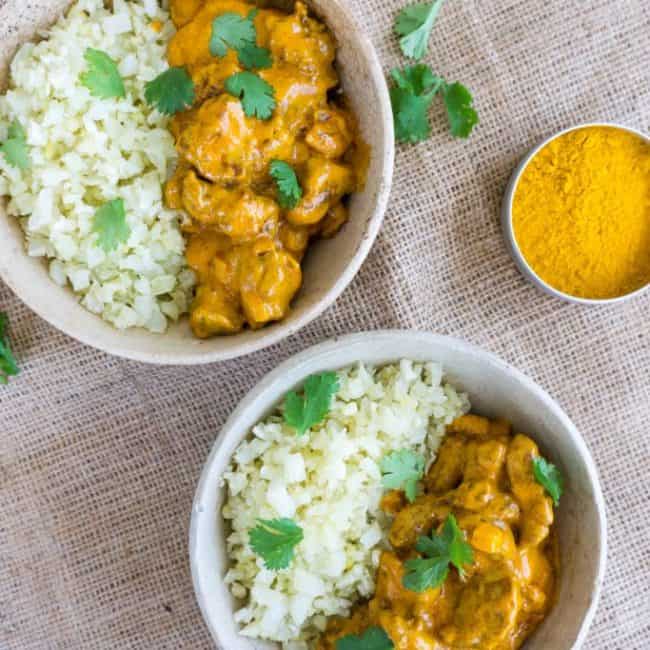 Keto Butter Chicken
Our keto butter chicken is a long standing favorite for its simplicity and authentic flavor.
Total Time 30 minutes
Servings 4 servings
Calories per serving 385kcal
Prep Time: 10 minutes
Cook Time: 20 minutes
Instructions:
Cut the chicken up into bite sized chunks and generously coat them in the turmeric, ginger, salt, chili powder and cinnamon. Set aside in a bowl.

Heat a skillet to medium heat and add the butter. As the butter melts dice the onion and garlic and add it to the pan. Cook for 2-3 minutes until the onions are translucent and fragrant.

Increase the pan heat to medium-high and add the chicken. Cook it almost entirely through – the outside should be white and this will take about 3-5 minutes.

Once the chicken looks almost fully cooked add in the heavy whipping cream and tomato paste. Using a spatula mix in the tomato paste so it runs smooth through the heavy whipping cream. It should be an orange color at this point. Turn the heat to medium-low and cover with a lid for 5-7 minutes.

Remove lid and combine. The chicken is fully cooked and you should be able to eat it. However, if you like a thicker curry sauce allow it to reduce with the lid off until it reaches the consistency you like.

Serve with low carb naan or over cauliflower rice. Enjoy!

NOTE: You can store the butter chicken in a sealed container for up to 10 days in the fridge and 2 months in the freezer. You can also use chicken thighs instead of breast for a higher fat content.
Nutrition Facts
Keto Butter Chicken
Amount Per Serving
Calories 385 Calories from Fat 241
% Daily Value*
Fat 26.75g41%
Carbohydrates 6.25g2%
Fiber 0.25g1%
Protein 26.5g53%
* Percent Daily Values are based on a 2000 calorie diet.
Written By