Got a craving for Japanese takeout, but can't handle another plate of keto-friendly sashimi? Step away from the takeout apps and reach for this Keto Teriyaki Chicken recipe instead!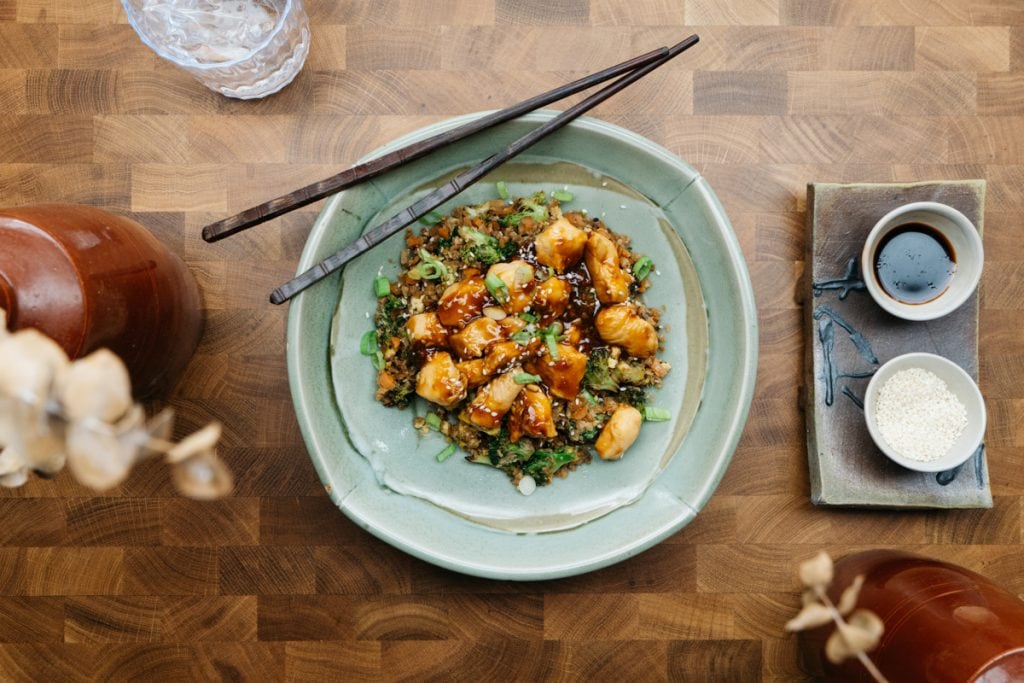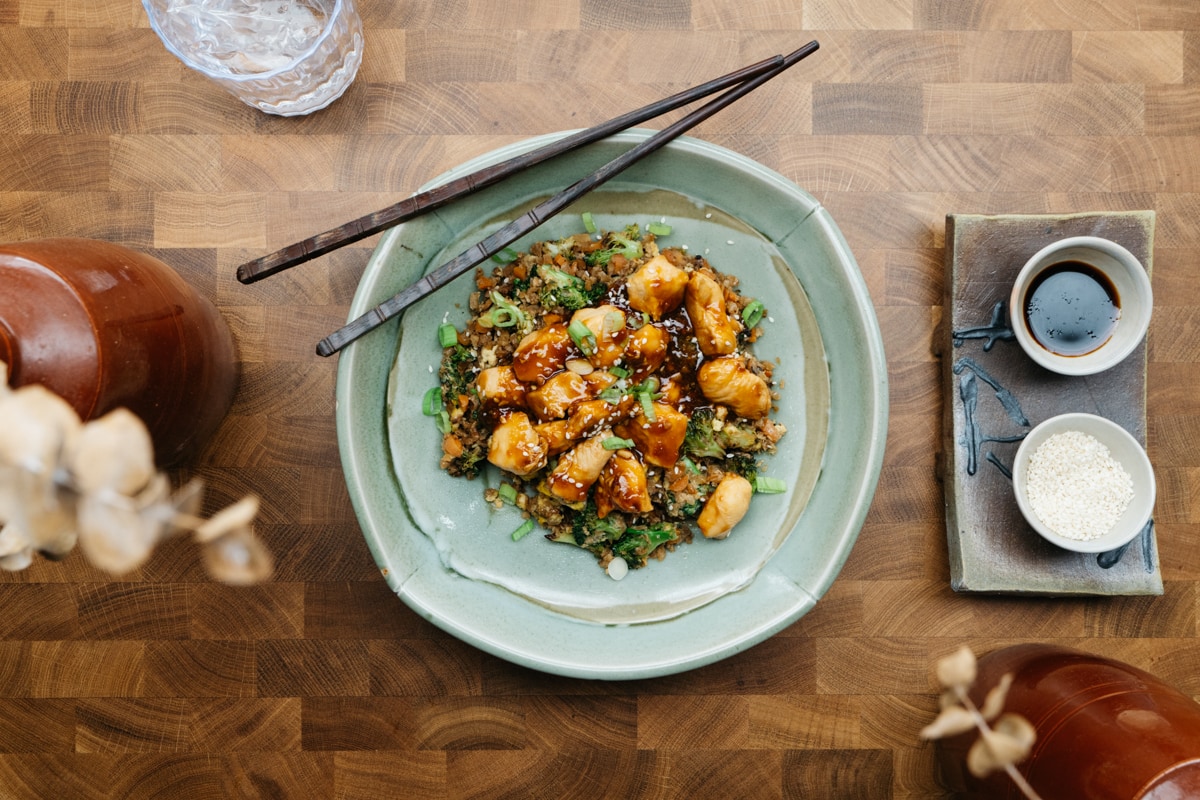 Rice bowls might be off the menu for a keto diet. But succulent chicken coated in sticky-sweet keto teriyaki sauce on top of cauliflower rice – that's tonight's dinner. We just know this Japanese recreation will become a staple in your kitchen.
What You Will Need to Make This Keto Teriyaki Chicken Recipe
The good news is, you should already have everything you need to make this Keto Teriyaki Chicken in your kitchen.
Here's what you'll be using:
A frying pan
A knife
A meat thermometer
A large spoon (such as a wooden spoon)
A saucepan
A whisk
If you want to get a little more technical, choose a heavy-bottomed saucepan. A heavier bottom means the heat will distribute evenly.
Translation? There's less chance your delicious keto teriyaki sauce will burn!
How to Make Keto Teriyaki Chicken
This Keto Teriyaki Chicken can be thrown together quicker than it takes to find something low-carb on the takeout menu. Ready to make your new favorite Asian keto comfort dish?
Step 1: Make the Sauce
For this recipe, you'll first need to make our famous Keto Teriyaki Sauce. Once you've done this, set it aside to use later.
Step 2: Cook the Chicken
Add the oil to a pan over medium heat. Sautée until cooked through, or reaches 160°F. This should take around 4-8 minutes.
Step 3: Prepare Your Garnish
Finely slice the green onion while the chicken cooks. Set aside for now.
Step 4: Add the Sauce
Pour your prepared teriyaki sauce over the cooked chicken. Again, make sure the chicken has reached 160°F before adding the sauce to ensure it's cooked through!
Step 5: Reduce the Sauce
Continue to cook the chicken and sauce over medium heat, stirring as you go. When the sauce is sticking to the chicken and has coated everything like a glaze, turn off the heat.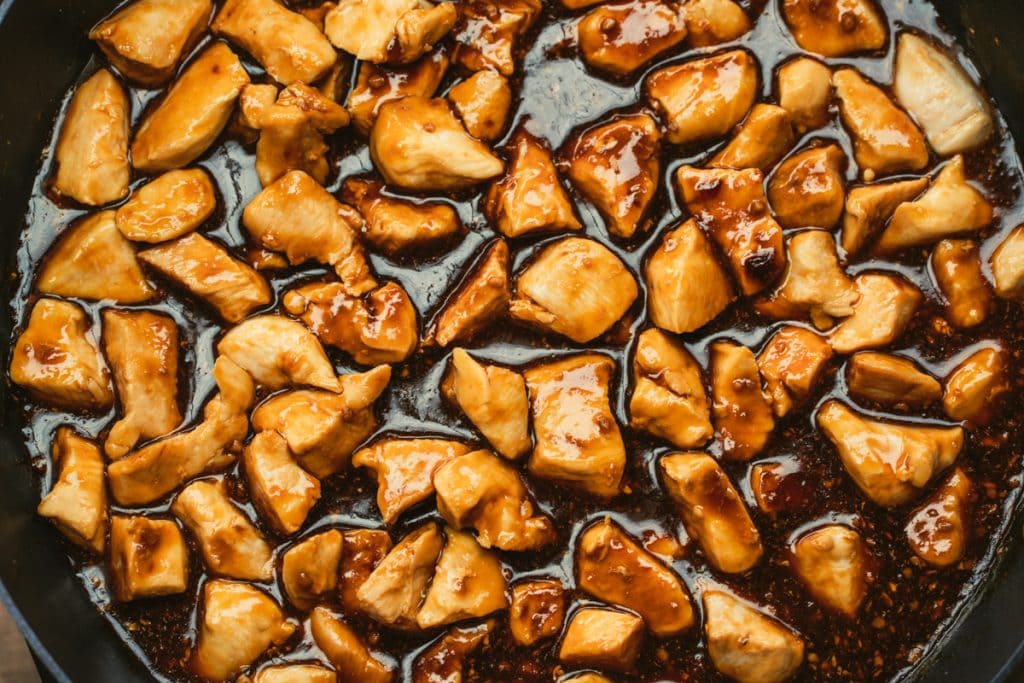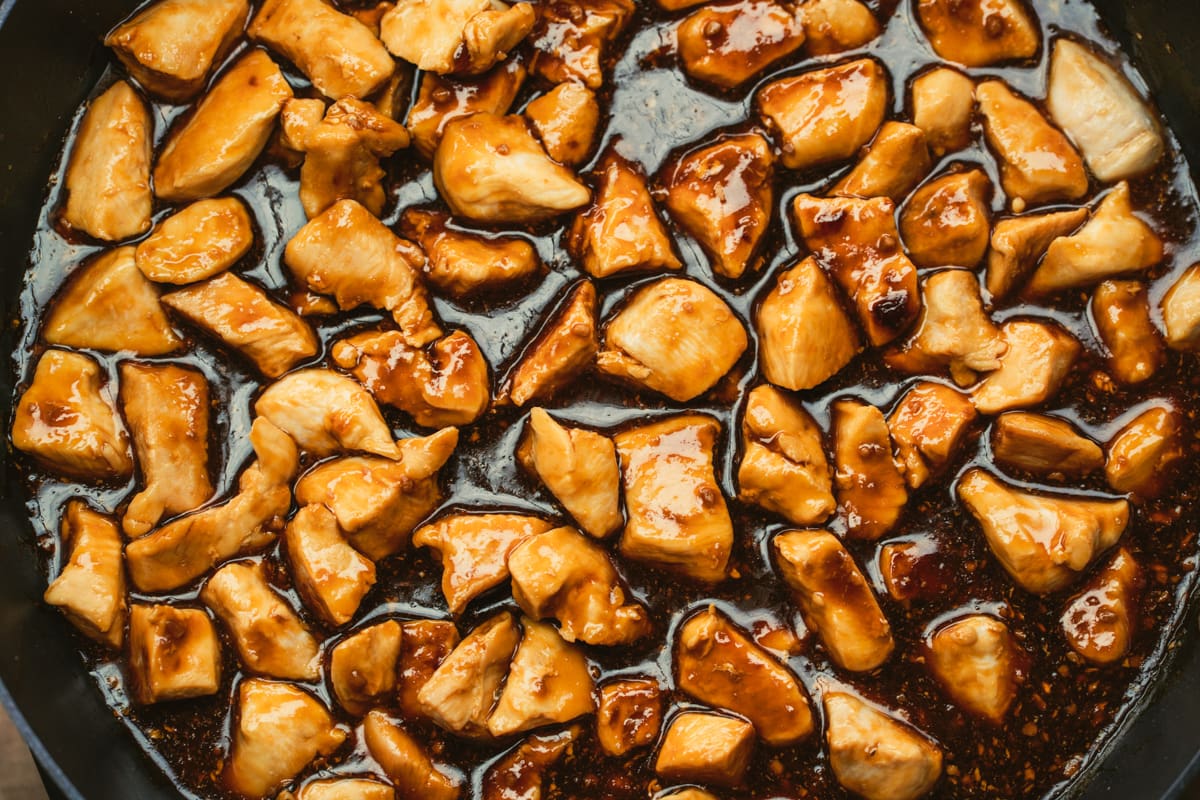 Step 5: Season and Garnish
Season with salt and pepper to your liking. Serve your Keto Teriyaki Chicken with a sprinkling of sliced green onions and crunchy sesame seeds.
Common Questions
Still can't believe we managed to make teriyaki chicken keto-friendly? Didn't even know teriyaki chicken wasn't low-carb? Let's break it down and answer those burning questions.
Is Teriyaki Chicken Keto-Friendly?
Normally, no. Your "regular" teriyaki chicken is absolutely loaded with sugar and hidden carbs!
In fact, one bowl of restaurant teriyaki chicken might blow your entire carb allowance for the day.
When it comes to Asian dishes, you've got your obvious sources of carbs from the noodles and rice. We always recommended swapping these for something low-carb. Shirataki noodles, cauliflower rice and zoodles are our top picks.
However, the hidden sugar comes from the teriyaki sauce. It's often loaded with sugars like honey, brown sugar or pineapple. Or worse – high fructose corn syrup!
Teriyaki is traditionally a glaze sauce. A glaze is created by caramelizing those sugars to become sticky and, well, delicious.
And given the amount of sauce in one bowl of teriyaki chicken, it's enough to kick anyone out of ketosis.
That's why we created our Keto Teriyaki Chicken. It's sweet, thick and syrupy, just like teriyaki sauce should be – without the unnecessary carbs and sugar.
Instead, we use a low-carb, keto-friendly sweetener. Check out our guide here for the best keto sugar substitutes.
And what it lacks in sugar, it makes up for in flavor. You can thank the grated ginger for that!
Can You Have Soy Sauce on Keto?
Yes, you can have soy sauce on a low-carb or keto diet. But as with anything that comes in a packet or a bottle, you need to watch out for added carbs.
While soy sauce can have less than one gram of carbs per tablespoon, you need to avoid soy sauce with added sugar, such as sweet soy sauce.
In other words, always check the ingredients and nutrition label before buying!
What Can I Use Instead of Soy Sauce?
Soy sauce is an important ingredient in teriyaki. It adds the perfect umami flavor.
But most soy sauce also contains gluten to make it thicker, which isn't suitable for people on a gluten-free diet. Make sure to check the ingredients if you're allergic or intolerant.
Soy sauce is also not suitable for a paleo diet, as it's made from legumes.
So if you can't have soy, you have two options for this Keto Teriyaki Chicken dish: tamari or coconut aminos.
Tamari is just soy sauce without little to no added gluten. Be sure to double-check the bottle if you have a soy intolerance or allergy.
Coconut aminos tastes very similar to soy sauce. It's also free from gluten, legumes and of course, soy. This makes it the perfect Asian condiment for anyone on a gluten-free or paleo diet.
This sauce is slightly higher in carbs – around two grams per tablespoon – so make sure you factor it into your daily carb allowance.
Can't I Just Use Store-Bought Teriyaki Sauce?
Sure! While we think ours is way more delicious, there are definitely a few low-carb teriyaki sauces available in stores and online that would work for this low-carb Keto Teriyaki Chicken dish.
You can find our recommendations for low-carb teriyaki sauces listed in the original sauce recipe post here.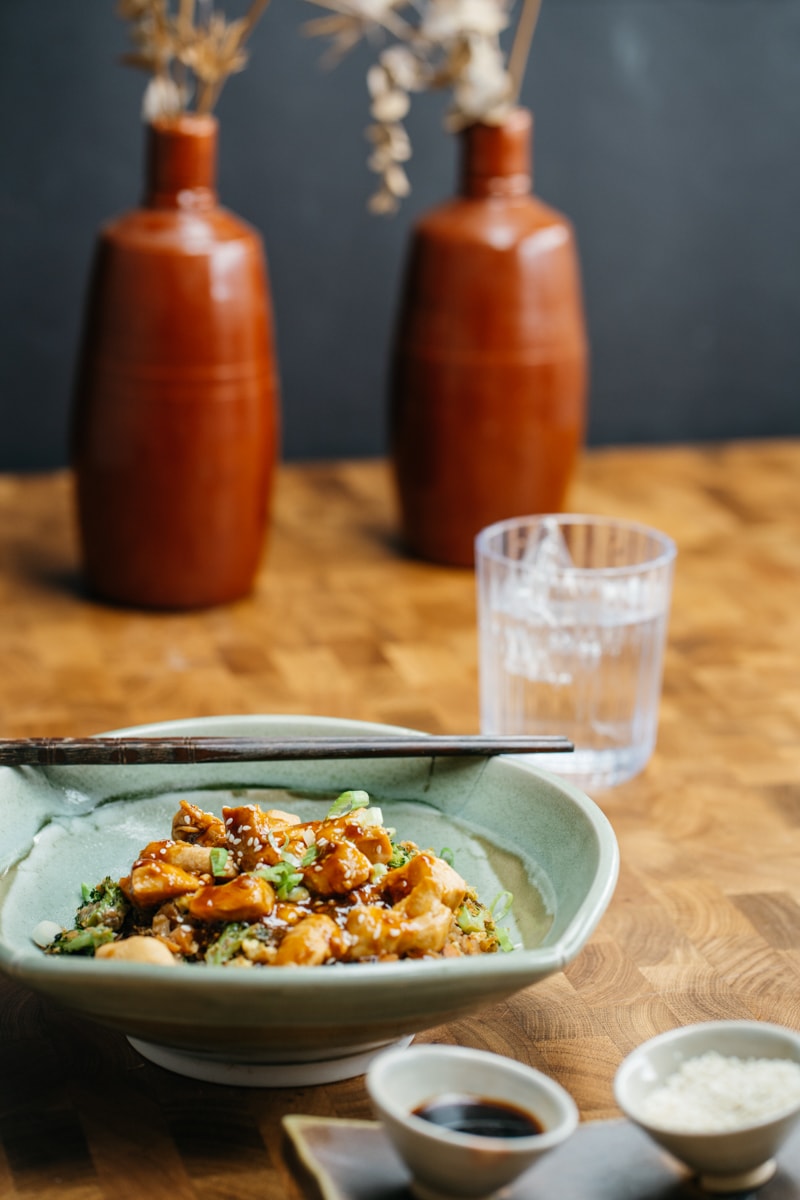 Can I Use Chicken Breast Instead?
Of course. We use chicken thigh as we think it's much juicier (and tastier) for a sauce-based dish like this. Chicken thigh also works great for Asian dishes.
But you can definitely swap in the chicken breast if you prefer.
What Kind of Sweetener Should I Use?
We go over our keto sugar replacement options in the sauce recipe post.
But just to be safe, we recommend using a sweetener that can be used on a one-to-one ratio with sugar. This is because it helps in the caramelization process and creates the right texture and consistency.
Some appropriate sweeteners might be allulose, xylitol, erythritol or an erythritol-monk fruit blend.
Will the Sauce Be Runny or Thick?
Just like the real deal, this sugar-free teriyaki sauce is super thick and sticky. So how'd we do it?
We used a little magic keto ingredient called xanthan gum. This nifty addition is amazing at thickening everything from smoothies to soups! And when it comes to xanthan gum, a little goes a long way.
The sugar-free teriyaki sauce is also able to caramelize using trace amounts of carbs from the ginger and soy sauce. Don't worry – the actual amount is negligible. This low-carb Keto Teriyaki Chicken won't blow your carb budget for the day!
What Should I Serve With Keto Teriyaki Chicken?
We recommend serving this Keto Teriyaki Chicken over a low-carb base that will create that authentic Asian dish experience. Some of our favorites are:
Cauliflower rice
Zoodles
Shirataki noodles or rice (also known as "miracle noodles")
Hearts of palm rice or noodles
While the zoodles and cauliflower rice already provide some vegetables, there are plenty of other keto veggie options you could go for.
Try these for some added greens and flavor:
Steamed broccoli
Grilled eggplant
Sautéed Asian greens, such as pak choy
How Do I Store It?
Once cooled, simply refrigerate in a sealed container. Consume within three days for the best freshness. No one likes old meal prep!
You can also freeze this Keto Teriyaki Chicken for up to two months.
Related Recipes
We love creating low-carb versions of our favorite keto dishes, and we think you might, too!
Already mastered Keto Teriyaki Chicken and eager to find more delicious keto recipes? Check out some of these similar creations:
Conclusion
Adopting a keto or low-carb diet doesn't mean giving up your favorite high-carb foods. Yes, even Asian dishes! With recipes like our delicious Keto Teriyaki Chicken, you never have to feel like you're missing out.
Remember: it's all about swaps, not sacrifices.
If you tried this recipe, we'd love to hear what you thought! Share your thoughts in the comments below, and let us know which cuisine you'd like us to try next.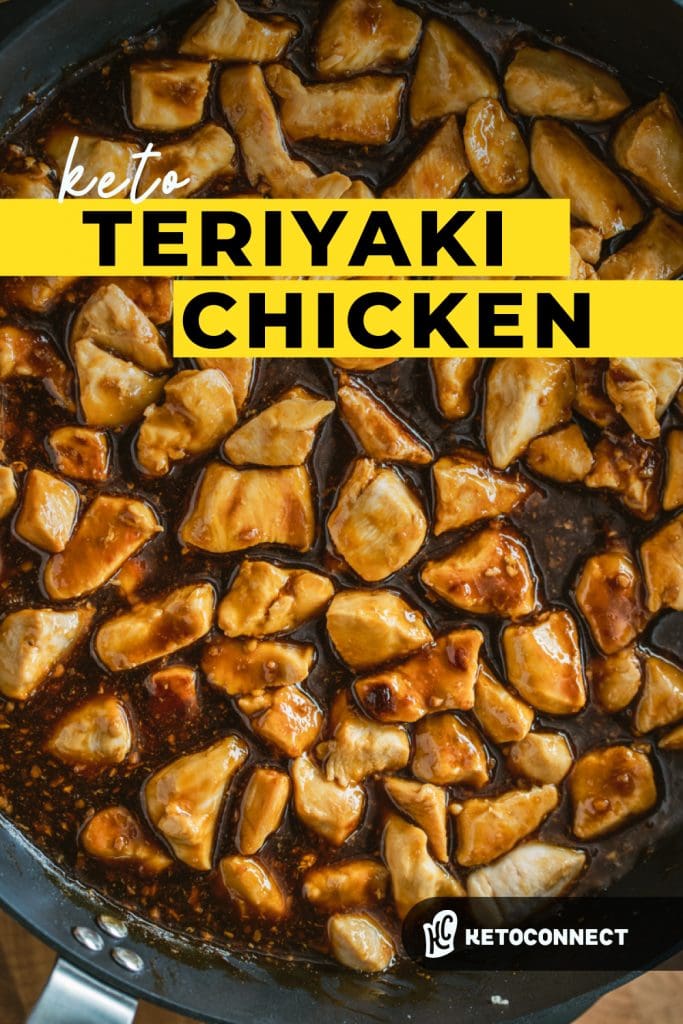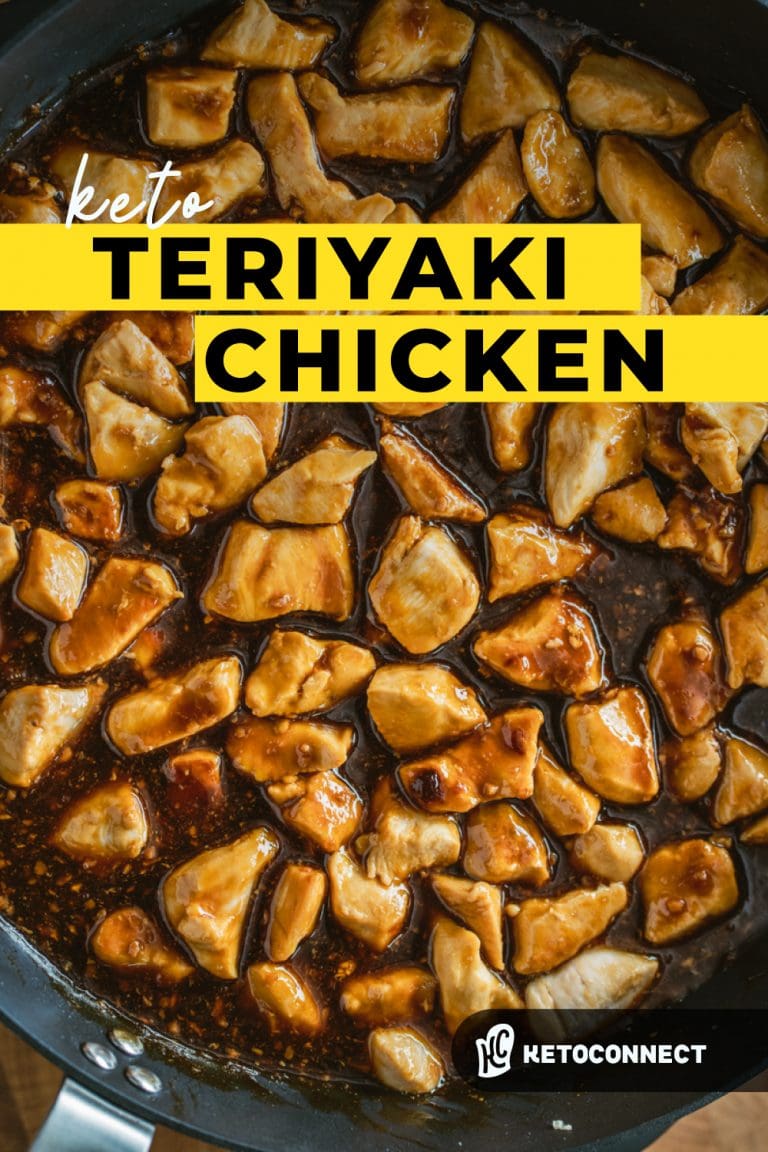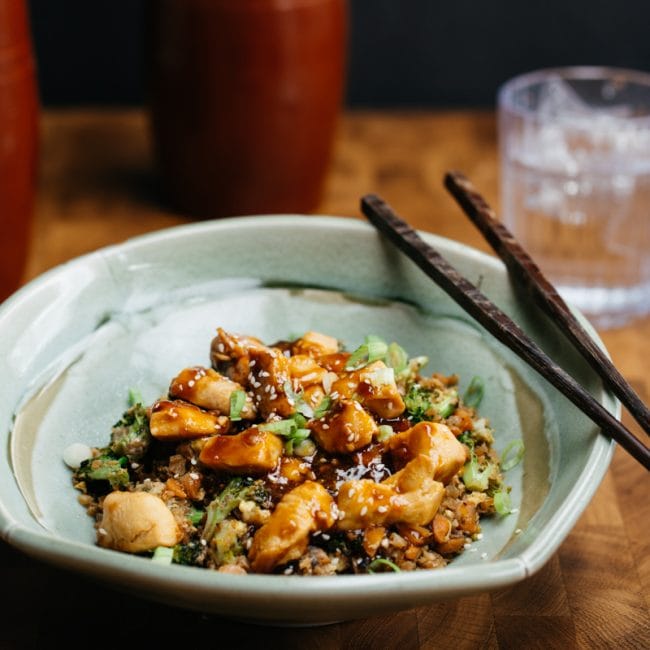 Keto Teriyaki Chicken
Succulent chicken coated in sticky-sweet keto teriyaki sauce on top of cauliflower rice – that's tonight's dinner that your family will love!
Total Time 20 minutes
Servings 4 servings
Calories per serving 289kcal
Prep Time: 10 minutes
Cook Time: 10 minutes
What You Need:
Frying pan

Knife

Meat thermometer

Wooden spoon

Whisk
Ingredients:
2 lbs Chicken Breasts Cubbed into 1" pieces
Salt and pepper To taste
1 tbsp Oil
Instructions:
Make sauce

In a pan on medium heat sautée the chicken and oil until cooked through. Chicken should be at 160 BEFORE adding in sauce (4-8 minutes)

Add the prepared sauce to the chicken and continue cooking until the sauce has stuck to and glazed all the chicken (2-3 minutes)

Season with salt and pepper to taste

Top with sesame seeds and sliced green onions
Nutrition Facts
Keto Teriyaki Chicken
Amount Per Serving
Calories 289 Calories from Fat 81
% Daily Value*
Fat 9g14%
Saturated Fat 2g10%
Trans Fat 1g
Polyunsaturated Fat 2g
Monounsaturated Fat 4g
Cholesterol 145mg48%
Sodium 263mg11%
Potassium 839mg24%
Protein 48g96%
Vitamin A 68IU1%
Vitamin C 3mg4%
Calcium 11mg1%
Iron 1mg6%
* Percent Daily Values are based on a 2000 calorie diet.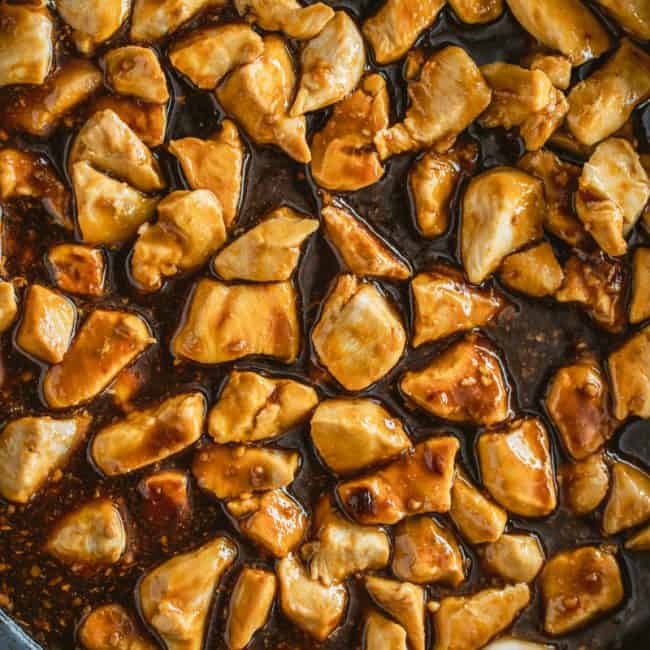 Keto Teriyaki Sauce
A simple yet delicious keto teriyaki sauce, a perfect way to add some Asian flavor to your next dish!
Total Time 15 minutes
Servings 4
Calories per serving 28kcal
Prep Time: 5 minutes
Cook Time: 10 minutes
Instructions:
Combine all ingredients except for xanthan gum in a sauce pan

Cook on medium heat until mixture starts to bubble

Once it starts to bubble, add xanthan gum and continue to whisk until it is thick enough to coat a spoon
Nutrition Facts
Keto Teriyaki Sauce
Amount Per Serving
Calories 28 Calories from Fat 9
% Daily Value*
Fat 1g2%
Carbohydrates 3g1%
Fiber 1g4%
Protein 3g6%
* Percent Daily Values are based on a 2000 calorie diet.
Written By