Do you love the Emerald Cocoa Roast Almonds, but hate how pricey they can be? Well, we got you covered with our Cocoa Roasted Almonds recipe! Fore warning, they aren't as good as the store bought ones, but they are easy to make and even easier to eat. Watch Matt make them below and then make them and throw your own twist on them - i'm thinking cinnamon!
Roasting Almonds Doesn't Get Easier!
We always like to start any nut recipe, from cocoa roasted to nut butters, with raw nuts. It allows for you to have the most control over the flavor and the end result. Roasting is one of the simplest processes so if you find nuts in bulk for cheap definitely buy them and roast them up for quick, on the go snacks! All that you really need to do is lay them flat on a baking sheet and roast for 15-20 minutes. They'll come up perfect every time.
All Kinds Of Roasted Almonds
Now that you know how easy roasting nuts is you can roast all your favorites and even have fun with different coatings and spices! We've also tried cinnamon which is a great route, but I think my personal favorite would be spicy roasted nuts. There's also BBQ, wasabi and soy, and salt and vinegar, all of which can also be bought in stores or online! Anything you think of can ultimately be roasted into a nut of your choosing!
Cocoa Roasted Almonds
If you're just as bug nut fans as we are you should give our homemade sprouted and roasted peanut butter a try! Once you make it at home, you will no longer be buying the store bought kind. We also have a keto granola that uses several different kinds of nuts and is great for a shelf stable, on the go snack. Also, be on the look out for Matts favorite recipe - Dream Butter - it is a dreamy mix of different nuts turned into a delicious nut butter. If you're new to the nut game, definitely give these cocoa roasted almonds a try since they are quick and easy to make!
Recipe can be quickly added to MyFitnessPal - Search "KetoConnect - Cocoa Roasted Almonds"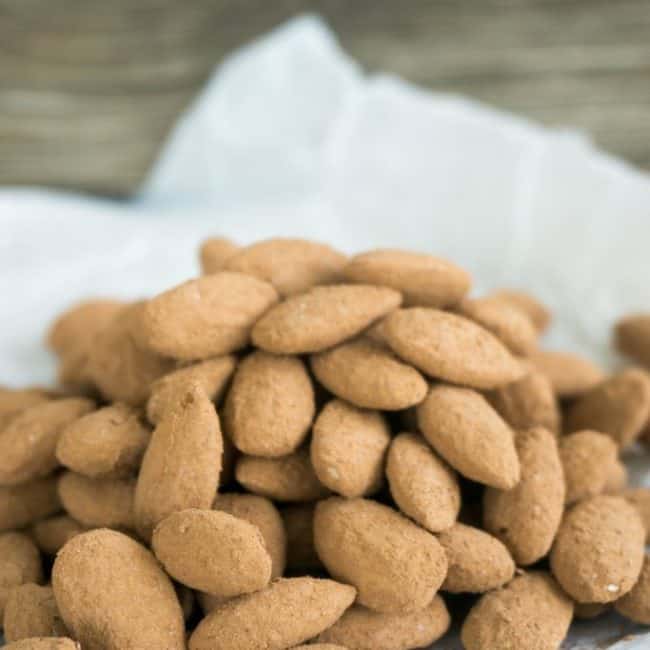 Cocoa Roasted Almonds | Sugar Free!
Try these cocoa roasted almonds for a sugar free snack!
Total Time 35 minutes
Servings 5 - 30g servings
Calories per serving 196kcal
Instructions:
Spread the almonds onto a baking sheet and roast at 300 degrees for 20 minutes.

Place the roasted almonds in a bowl and add the cocoa powder and erythritol. Combine well.

Lay the coated almond out in an even layer back on the baking sheet to cool. Enjoy!

TIP: We like to sift out the almonds to leave behind any unused cocoa powder and erythritol when laying them on the baking sheet to cool.

NOTE: Store these nuts in a cool, dry place in a ziploc bag or seal-able container for best keep. They will stay fresh for up to 6 months.
Nutrition Facts
Cocoa Roasted Almonds | Sugar Free!
Amount Per Serving
Calories 196 Calories from Fat 142
% Daily Value*
Fat 15.8g24%
Carbohydrates 7.6g3%
Fiber 4.8g19%
Protein 6.8g14%
* Percent Daily Values are based on a 2000 calorie diet.