Matt grew up eating lemon bars, so naturally we had to make a keto version for old times sake! These Keto Lemon Bars combine the tangy-ness of lemon and the sweetness of a sugar cookie base for the perfect sweet and tart dessert. Make these bars for the holidays or for meal prep and watch them be devoured.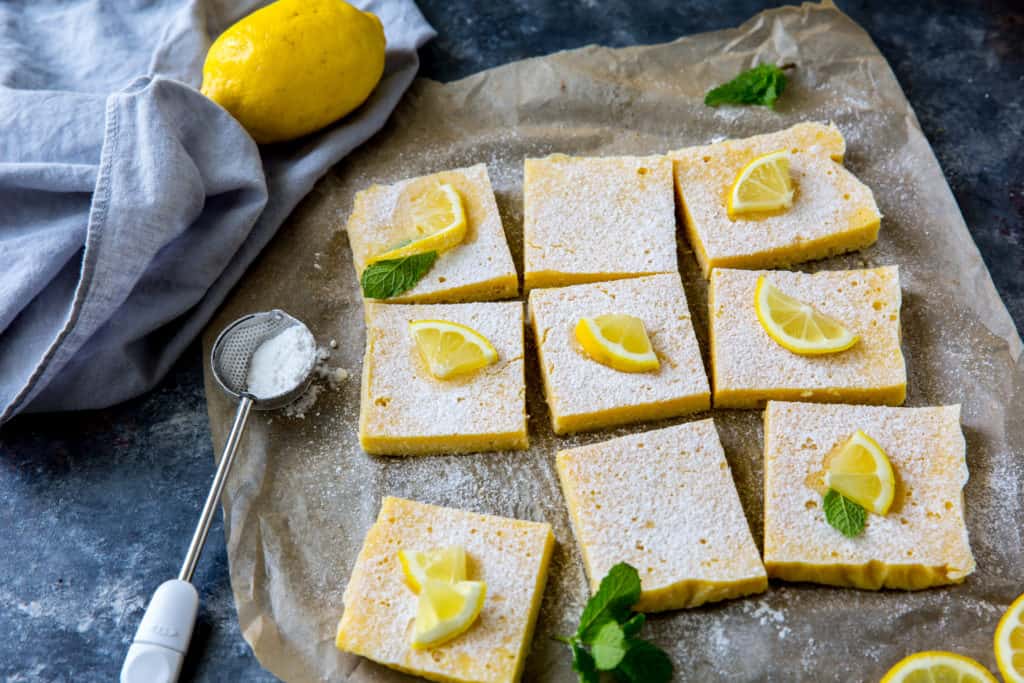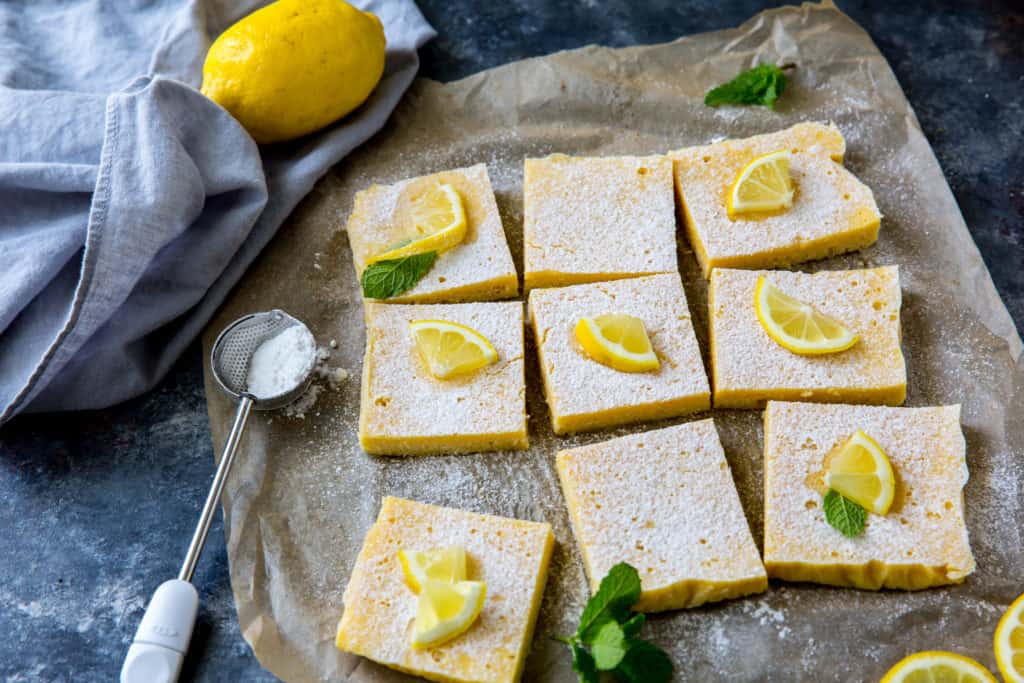 More Keto Bars?
We've got plenty of those on our food blog that you can check out, but i'll do you a favor and list some of our best ones below. The benefit to bars is they are easy to portion out and fit into your macros if tracking is something you like to do. It's also a great finger food that requires no plates or utensils – less clean up for you!
Make A Simple Cookie Base
A simple cookie base as shown in the video and the recipe below makes the perfect start to any dessert. You can use it in place of a crust for pies, bake it on its own in cookie shape or use it for these keto lemon bars!
Keeping it simple will allow the lemon in this recipe to shine! You also don't want to cook it all the way when your first bake it stand alone. Since we'll be baking it a second time once the filling has been added a partial bake will ensure it doesn't come out dry at the very end!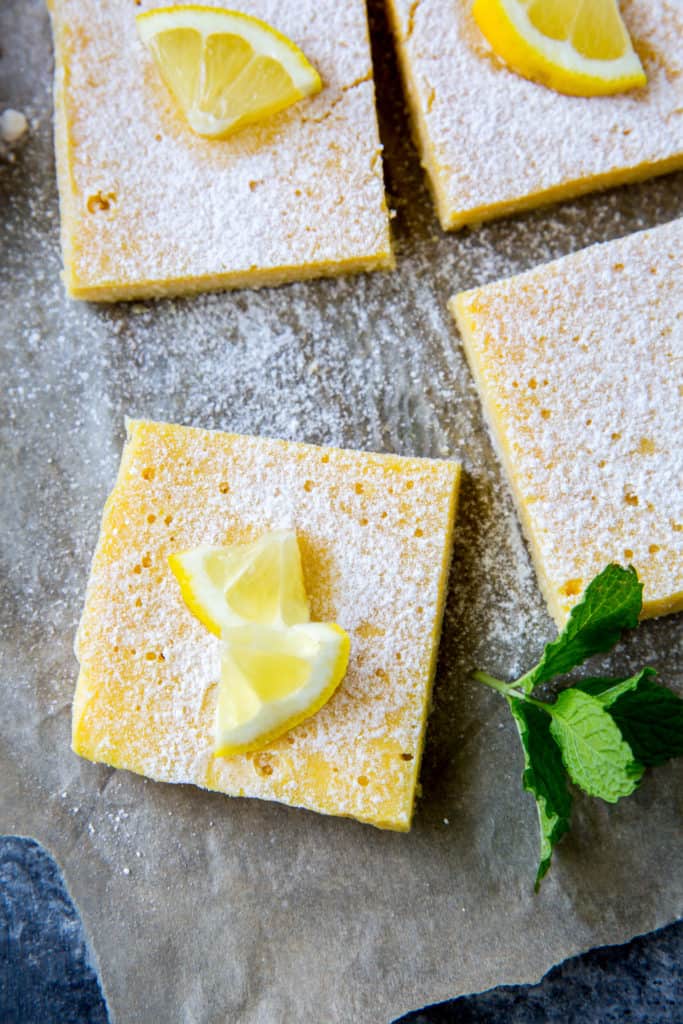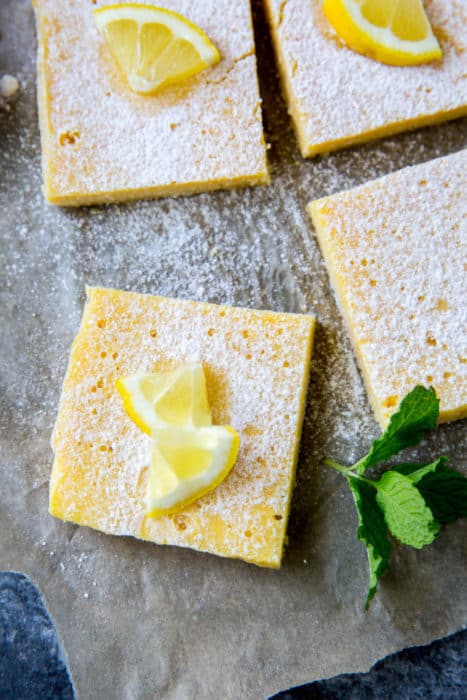 Don't Skimp On The Lemon
You don't want to get just a hint of lemon when you're biting into a lemon bar. You want to be hit with it and to ensure that you need to use enough lemon.
To make sure you get the perfect sweet to sour ratio you using the lemon juice and zest is essential. The zest gives the bars a fresher taste and makes the lemon flavor pop. The cookie base and use of erythritol and stevia in the filling can be over powering so don't be scared to use a little extra lemon in the filling.
Our Favorite Keto Bars
Looking to purchase some keto bars for the kids or to keep in the snack stash? We've got a list of great keto bars you're going to love.
Easy Keto Lemon Bars
Whether or not you are a lover of lemon you ARE going to love these keto lemon bars! They are dense and decadent like any good dessert should be, but they also have a freshness to them from the lemon juice and zest. If you have a time and want to impress top these with a some powdered erythritol prior to serving. It will add just the slightest sweet compliment to the tartness of the lemon!

Tip: You can even do a quick swap out for lime and make keto lime bars for your friends and family.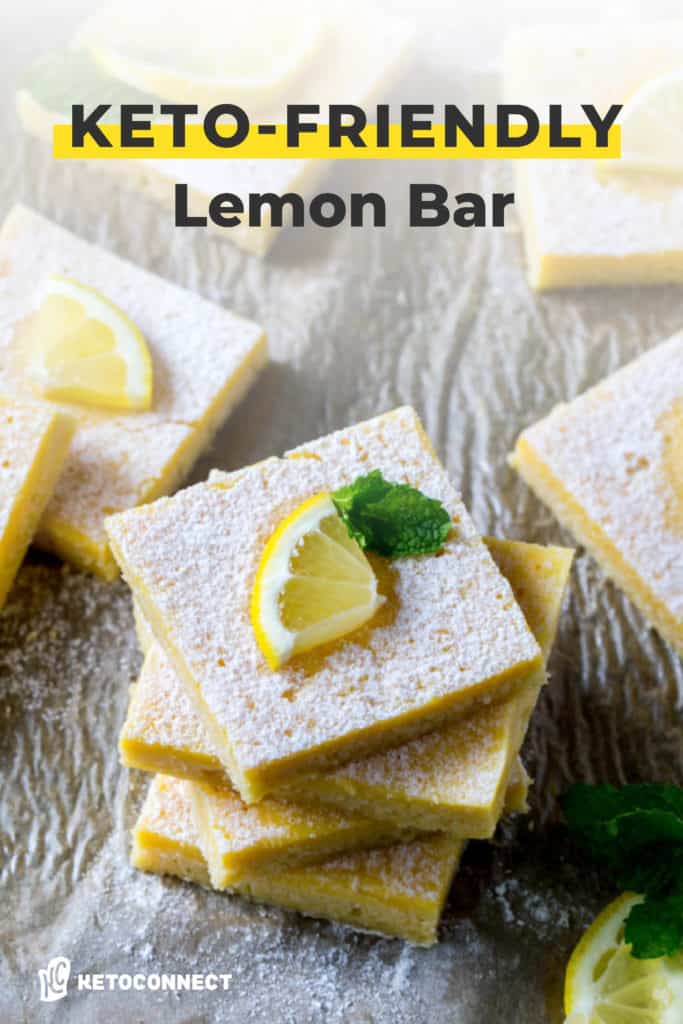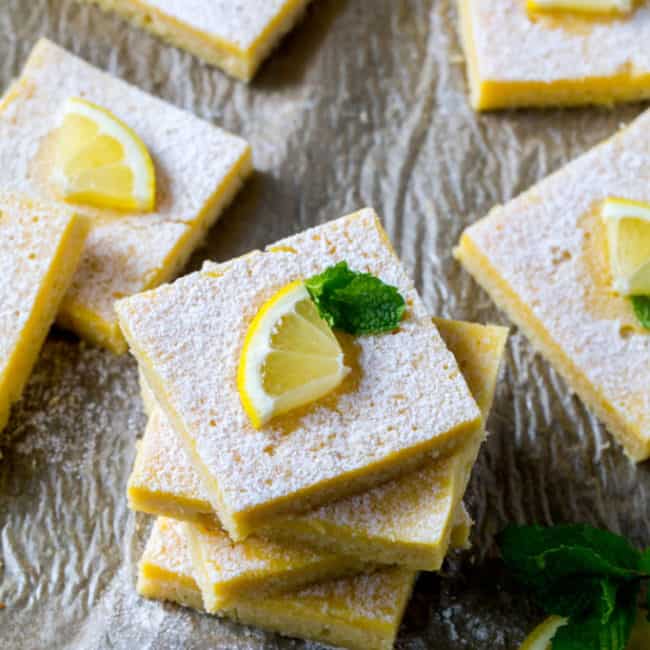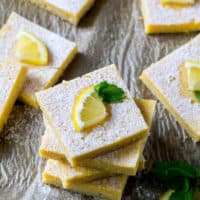 Keto Lemon Bars
A sweet cookie crust topped with a tart lemon layer.
Total Time 2 hours 40 minutes
Servings 9 bars
Calories per serving 175kcal
Prep Time: 15 minutes
Chill Time: 2 hours
Cook Time: 25 minutes
Instructions:
Lemon Bar Base
Combine almond flour, erythritol, baking powder and salt. Mix until well combined.

Add vanilla, stevia, egg and butter. Mix with hand mixer or food processor. Add flour mixture into butter mixture in 2 batches.

Refrigerate dough for at least 1 hour.

Pre-heat oven to 375F and line a 8×8 baking pan with parchment paper or spray the pan with non-stick
spray.


Transfer the chilled dough to the baking pan and press down the dough with your hand or a spatula.

Bake for 6-8 minutes – base should slightly be under cooked. Make the filling while the base cools.
Lemon Bar Filling
Turn the oven down to 350F.

In a large bowl add eggs, egg yolk, lemon juice, lemon zest, erythritol, stevia and vanilla extract. Mix
until well combined. Then add coconut flour, almond flour, and gelatin. Combine and allow to thicken for 5
minutes.


Pour filling into cooked crust and bake for an additional 12-15 minutes.

Remove the bars from oven and allow to cool. Once room temp, transfer to the refrigerator for 1 hour to continue setting.

If desired, top with powdered erythritol prior to slicing and serving. Best served cold and stored in an air tight container in the fridge up to one week.
Notes
Net Carbs: 3g Serving Size: 1 Bar Yields: 9 Bars
Nutrition Facts
Keto Lemon Bars
Amount Per Serving
Calories 175 Calories from Fat 135
% Daily Value*
Fat 15g23%
Carbohydrates 5g2%
Fiber 2g8%
Protein 7g14%
* Percent Daily Values are based on a 2000 calorie diet.