Matt grew up eating lemon bars, so naturally we had to make a keto version for old times sake! These Keto Lemon Bars combine the tangy-ness of lemon and the sweetness of a sugar cookie base for the perfect sweet and tart dessert. Make these bars for the holidays or for meal prep and watch them be devoured.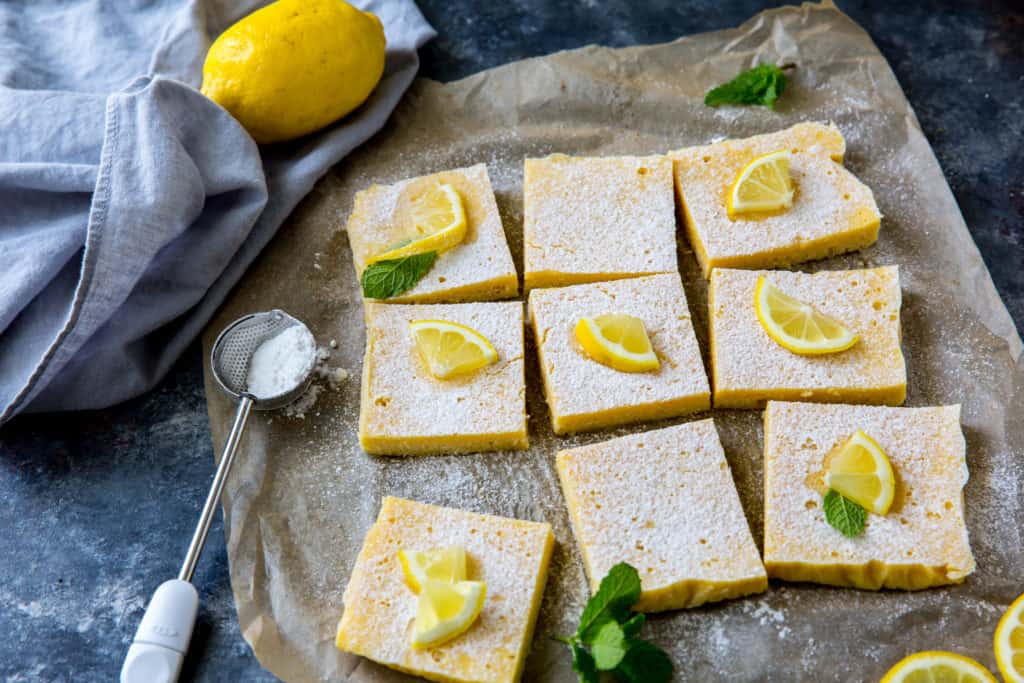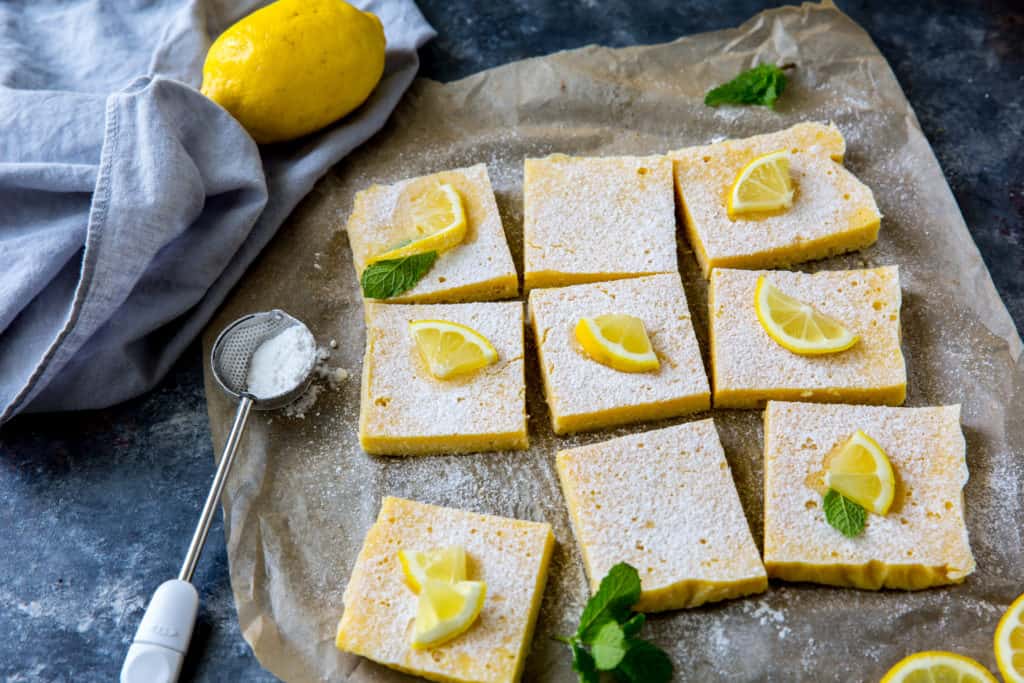 Gluten Free Lemon Bars
We keep these diabetic friendly by using powdered sugar free sweetener, but what about those who are gluten free? Don't worry we have you covered with a blanched almond flour cookie base to keep gluten out of your kitchen!
A simple cookie base as shown in the video and the recipe below makes the perfect start to any dessert. You can use it in place of a crust for pies, bake it on its own in cookie shape or use it for these keto lemon bars!
Keeping it simple will allow the lemon in this recipe to shine! You also don't want to cook it all the way when your first bake it since we'll be baking it a second time once the filling has been added. A partial bake is essential to ensure it doesn't come out dry at the very end!
Don't Skimp On The Lemon
You don't want to get just a hint of lemon when you're biting into a lemon bar. You want to be hit with it, and to ensure that you need to use enough lemon.
To make sure you get the perfect sweet to sour ratio you will be using lemon juice and zest. Freshly grated lemon zest is essential in a lemon bar recipe. The zest gives the bars a fresher taste and makes the lemon flavor pop.
The cookie base and use of erythritol and stevia in the filling can be over powering so don't be scared to use a little extra lemon in the filling of this lemon bar recipe.
How to Make Low Carb Lemon Bars
Lemon bars are a must make recipe at least once in your life. Most people skip them because they aren't a chocolatey dessert, but the bright and poppy lemon flavor is an absolute showstopper!
Ingredients
To make our low carb lemon bars you will need to make a lemon bar base, and a lemon filling. The lemon bar base uses almond flour and coconut flour for the perfect crisp sugar cookie like texture. It also has a bit of low carb powdered sugar substitute, baking powder for rise, and vanilla for added flavor. Finally we add a bit of liquid stevia, an egg, some melted butter, and a pinch of salt to balance the sweetness.
To make the lemon filling in this keto lemon bars recipe you will need eggs and an extra egg yolk, vanilla extract, low carb sweetener, liquid stevia, coconut flour, almond flour, and of course lemon juice and lemon zest. The final ingredient you may not expect is actually beef gelatin powder. This will give the bar its jelly like consistency without extra sugar or carbs.
Gelatin provides a bit of protein as well as collagen which helps with overall hair skin and nail health for a youthful look.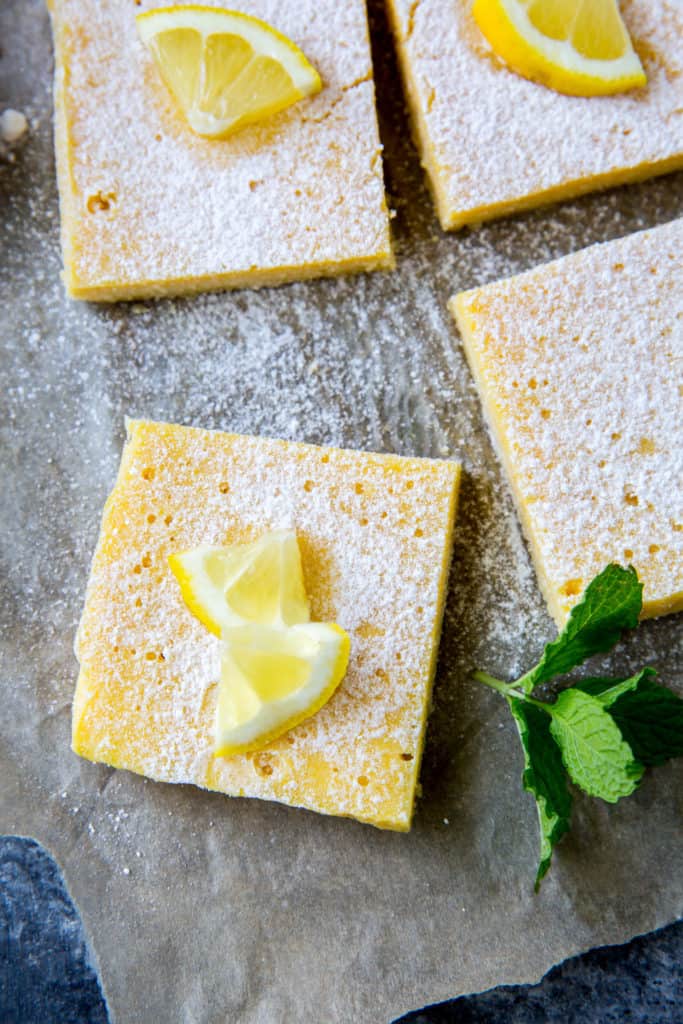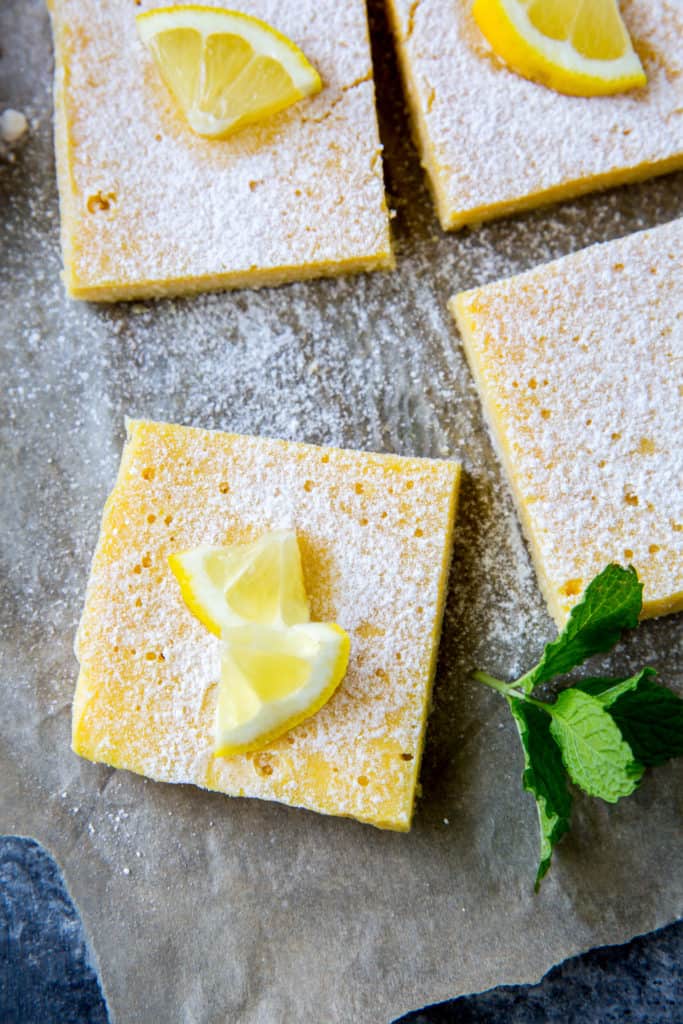 Making Low Carb Lemon Bars
This keto lemon bar recipe is going to make the best keto lemon bars you've ever had in your life! The almond flour shortbread crust is sure to knock your socks off, so let's get cooking.
Shortbread Crust
This is a pre baked crust recipe to make the perfect almond crust lemon bars. Just how lemon bars can't have too much lemon, you also can't have too delicious of a crust so let's start baking this fantastic recipe!
To make the keto crust begin by combining the flours, erythritol sweetener, baking powder and salt.
Mix the vanilla, liquid stevia, unsalted butter, and egg. We like to mix with a food processer to ensure everything is well combined and the egg is distributed throughout the mix.
Now add in half the flour mixture, pulse, and repeat with the rest of the flour mixture. A dough should come together in the food processor. Wrap the dough in plastic wrap and refrigerate for an hour.
Preheat the oven to 375 and remove the dough from the fridge. Grease an 8×8 baking pan, or line it with parchment paper.
Press the chilled dough evenly into the baking dish and spread it around the bottom. Bake 6-8 minutes, the base dough should be a little undercooked. Prepare the filling while the crust cools.
Lemon Filling Recipe
To make the low carb lemon filling for this shortbread crust begin by lowering the heat to 350 degrees.
In a large mixing bowl add the eggs, egg yolk, lemon juice, sweeteners, and vanilla. Mix very well until the eggs are fully incorporated the the batter.
Now add the coconut flour, almond flour, and gelatin. Leave to thicken after stirring well for 5 minutes. Gelatin takes time to bloom and thicken the mixture.
Pour the filling into your prebaked crust and then bake for another 12-15 minutes. Remove the baked bars from the oven and allow to cool. The crust should be slightly golden brown and smell absolutely delicious!
Once the bars have cooled move them to the fridge to chill and set for another hour.
We love topping these bars with powdered sweetener and slicing before serving. We recommend serving them cold.
How to Store the Best Keto Lemon Bars
Thanks to the fresh lemon juice in this recipe there is already a bit of a natural preservative, citric acid. You will still need to store these bars in the fridge, but like most of our easy keto recipes, simply pop them in an airtight container and they'll be fine!
You can also freeze lemon bars if desired just make sure they cool completely before going into the freezer. Now you will have a pre-made healthy low carb recipe to enjoy your favorite keto dessert any night of the week.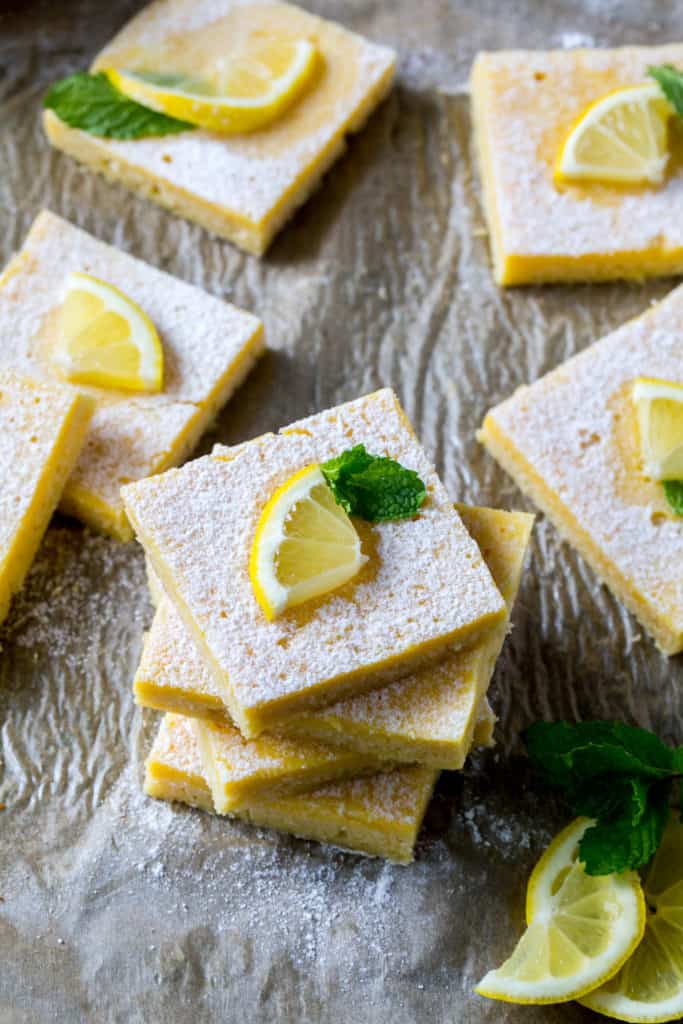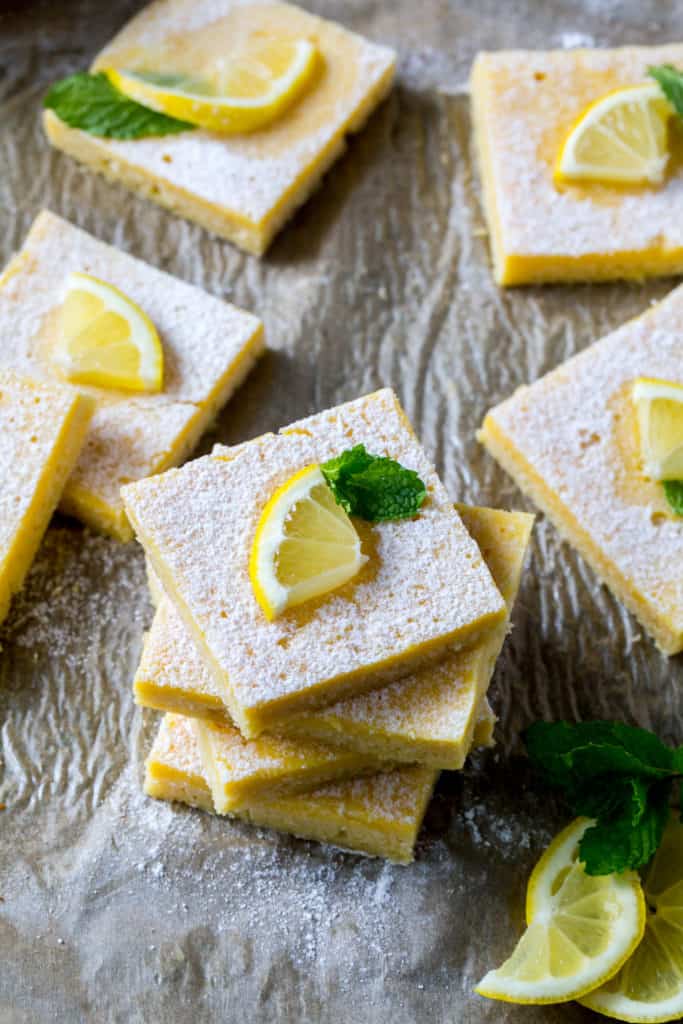 More Keto Lemon Desserts
We love lemon recipes because they're perfect for the summer months when you want something a little lighter and brighter, without sacrificing on a decadent flavor and texture. Some of our go to low carb keto desserts are:
Lemon Cookies– If you think our almond flour crust is good, you're going to love these almond flour low carb lemon cookies.
Sugar Free Lemonade– Our sugar free lemonade is gluten free, refreshing, and super low in net carbs. Plus, you can add a little ice and make your own frozen lemonade treat!
Lemon Blueberry Cheesecake Popsicles– Trying to cool off in the hot summer months? These sugar free lemon bars are sure to help cool you down with only 4.8 net carbs each!
Now that we've made lemon bars keto it's time to get creative and make more keto dessert recipes. Make keto lemon bars for fall, lemon cookies for the holidays, and lemonade on a hot summer day! The options are endless when you have a sweet tooth on the keto diet.
Easy Keto Lemon Bars
Whether you are a lover of lemon or not, you ARE going to love these keto lemon bars! They are dense and decadent like any good dessert should be, but they also have a freshness to them from the lemon juice and zest. Who knew making lemon bars keto could be so simple with this healthy lemon bars recipe.
If you have a little extra time and want to impress your friends, top this sweet treat with some powdered erythritol prior to serving. It will add just the slightest sweet compliment to the tartness of the lemon, without increasing the net carbs per serving.
Tip: You can even do a quick swap out for lime and make keto lime bars for your friends and family.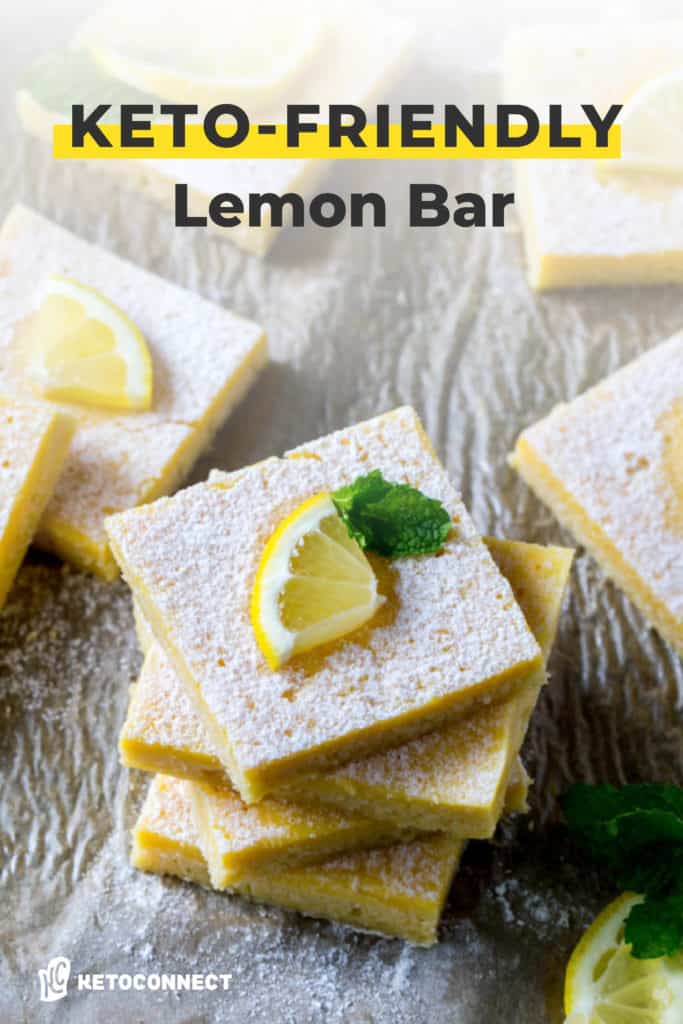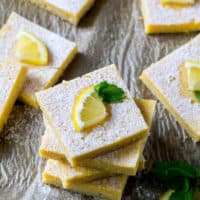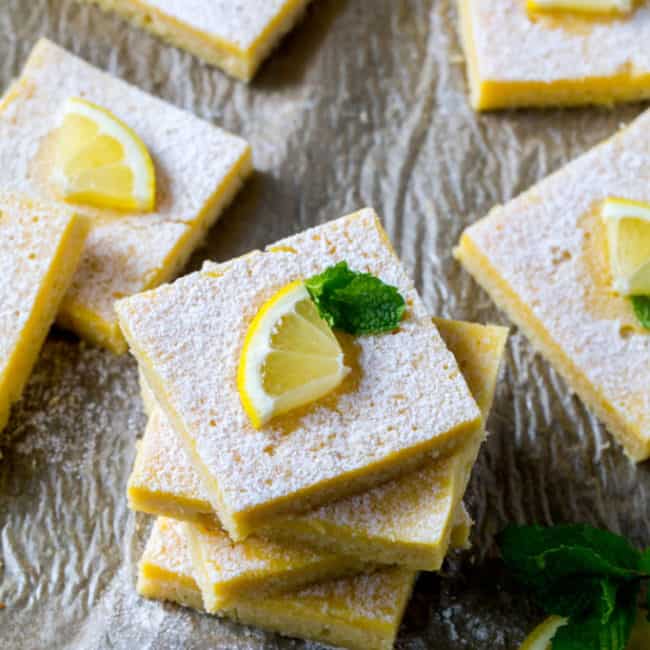 Keto Lemon Bars Recipe
A sweet cookie crust topped with a tart lemon layer.
Total Time 2 hours 40 minutes
Servings 9 bars
Calories per serving 175kcal
Prep Time: 15 minutes
Chill Time: 2 hours
Cook Time: 25 minutes
Instructions:
Lemon Bar Base
Combine almond flour, erythritol, baking powder and salt. Mix until well combined.

Add vanilla, stevia, egg and butter. Mix with hand mixer or food processor. Add flour mixture into butter mixture in 2 batches.

Refrigerate dough for at least 1 hour.

Pre-heat oven to 375F and line a 8×8 baking pan with parchment paper or spray the pan with non-stick
spray.


Transfer the chilled dough to the baking pan and press down the dough with your hand or a spatula.

Bake for 6-8 minutes – base should slightly be under cooked. Make the filling while the base cools.
Lemon Bar Filling
Turn the oven down to 350F.

In a large bowl add eggs, egg yolk, lemon juice, lemon zest, erythritol, stevia and vanilla extract. Mix
until well combined. Then add coconut flour, almond flour, and gelatin. Combine and allow to thicken for 5
minutes.


Pour filling into cooked crust and bake for an additional 12-15 minutes.

Remove the bars from oven and allow to cool. Once room temp, transfer to the refrigerator for 1 hour to continue setting.

If desired, top with powdered erythritol prior to slicing and serving. Best served cold and stored in an air tight container in the fridge up to one week.
Notes
Net Carbs: 3g Serving Size: 1 Bar Yields: 9 Bars
Nutrition Facts
Keto Lemon Bars Recipe
Amount Per Serving
Calories 175 Calories from Fat 135
% Daily Value*
Fat 15g23%
Carbohydrates 5g2%
Fiber 2g8%
Protein 7g14%
* Percent Daily Values are based on a 2000 calorie diet.
Written By