Everyone grew up eating McDonalds so what better way to change up breakfast than to make a keto quiche, McGriddle Style! While my upbringing consisted of McDonalds orange juice, hash browns and pancakes, Matt always got the McGriddle and after trying this recipe, boy, do I feel like I missed out!
Make An Easy Quiche With A Keto Crust:
While making a quiche may seem straightforward, the goal with this keto quiche recipe is to come away with a very smooth, and creamy egg finish. The combination of the salty bacon and cheese, creamy eggs and sweet, dense crust is the perfect way to start off any morning with the family. The steps below will land you the perfect McGriddle style keto quiche!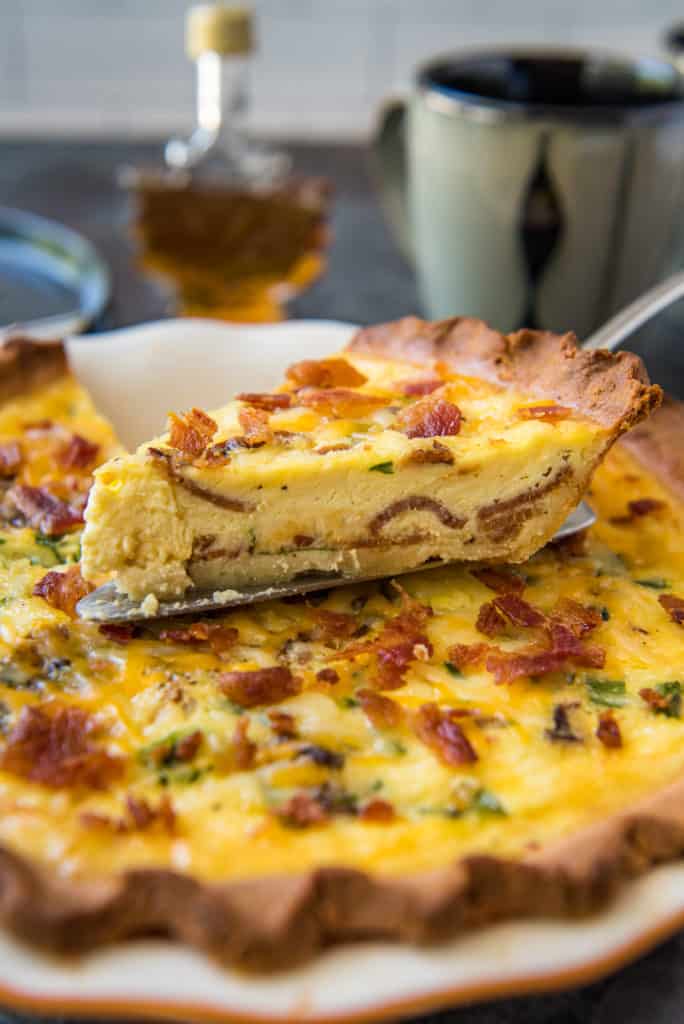 Find The Perfect Low Carb Crust
Having a solid base is always key in any recipe, and in this recipe that calls for a sweet low carb crust. When you're trying to recreate a healthier, tastier version of the McDonalds McGriddle a crust is mandatory. So, we've pulled out our perfect every time, sweet and dense, low carb pie crust and put it to use to bring you your new favorite keto recipe! Pro Tip: You can easily prep this pie crust ahead of time and freeze for up to a 1 month or refrigerate up to three days if you want to get ahead on this keto quiche. It takes less than 30 minutes!
Make The Quiche Filling
The key to a delicious quiche filling is finding the right ratio of egg to heavy cream, and I guarantee you'll be surprised at what the perfect ratio is. I originally thought more eggs would be best, but I've come to realize that you want a higher portion of the filling to the made of heavy cream. This creates a creamier, softer filling texture. A 4:1 ratio will create the perfect filling base without overpowering the the other ingredients with an eggy flavor.
Keep The Add-Ins Simple
Before we assemble all that is left to do is choose your add-ins. Some people like to go heavy, and normally I would be one of those people, but with this McGriddle remake we kept it simple with crumbled bacon and shredded cheddar cheese. Keeping it simple highlights all aspects of this keto quiche from the subtly sweet crust and creamy filling, to the salty bacon and cheese. Anywhere from two to three add-ins is the perfect ratio to filling. It allows all the different flavors and textures to be highlighted equally and won't overwhelm your taste buds!
Add The Right Amount Of Cheese
For any quiche recipe that calls for using four large eggs, including this keto quiche, you want just the right ratio of cheese and that is exactly one cup. It not only adds a lot of flavor, but creates the perfect "mouth feel" for the final product. The secrets to a great quiche make all the difference when you've been making them wrong for so long!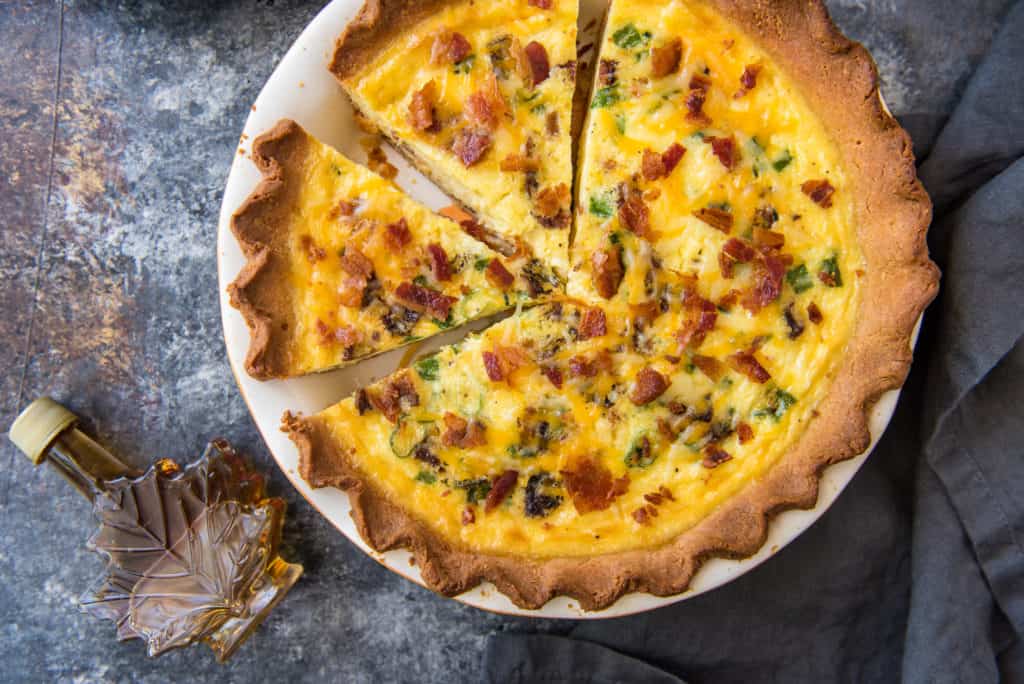 Assemble Your Easy Low Carb Quiche
Now, the fun part. So you've placed your crust in the bottom of you pie dish and poked holes in the crust or topped it with a weight. Poking holes in the crust is a must, unless you use pie weights, to prevent it from rising and cracking. Once the crust has baked and cooled for a bit you get to place your add-ins in the bottom and pour over the cream and egg mixture. Bake, cool, and slice up for family and friends. It's as simple as that!Note: Quiches are one of the easiest and sometimes most impressive meals to serve at a brunch or gathering. Keep this recipe handy along with our Keto Bagles and Cauliflower Hash Browns for the perfect spread!
The Best Keto Quiche!
The combination of the creamy, cheesy eggs with a sweet crust and drizzle of maple syrup you can close your eyes and envision your pre-keto, McDonald eating days! We've made quiches before, but most of them turned out dry and lacked substance. If you want to give them a try we recommend you change up the egg to cream ratios on our low carb quiches and swap out the original pie crust for our improved low carb savory crust!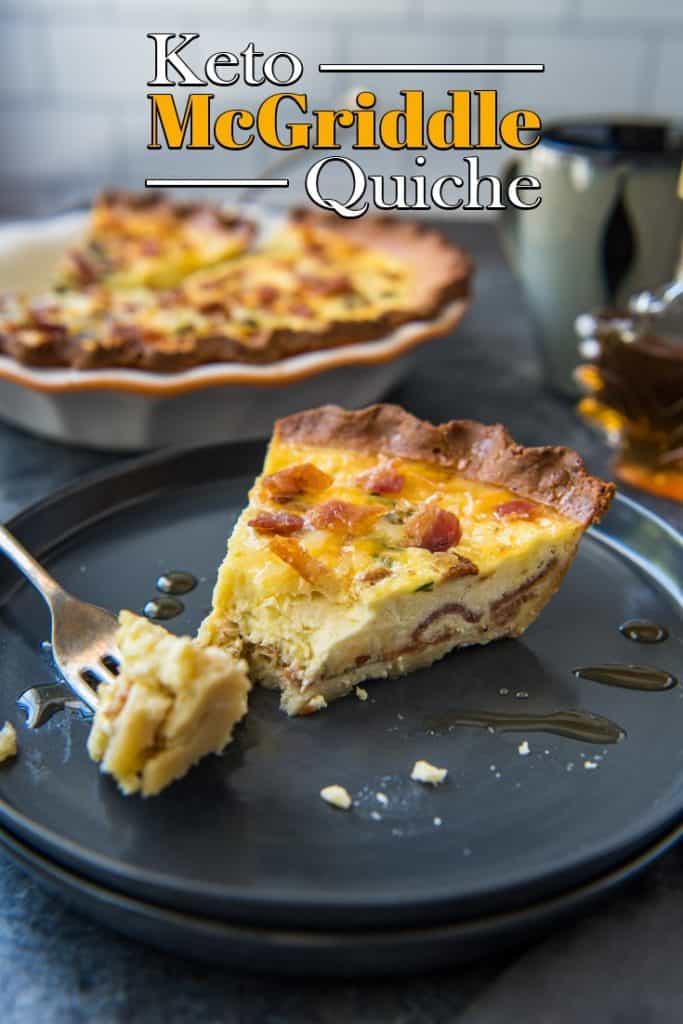 Recipe can be quickly added to MyFitnessPal – Search "KetoConnect – Keto Quiche"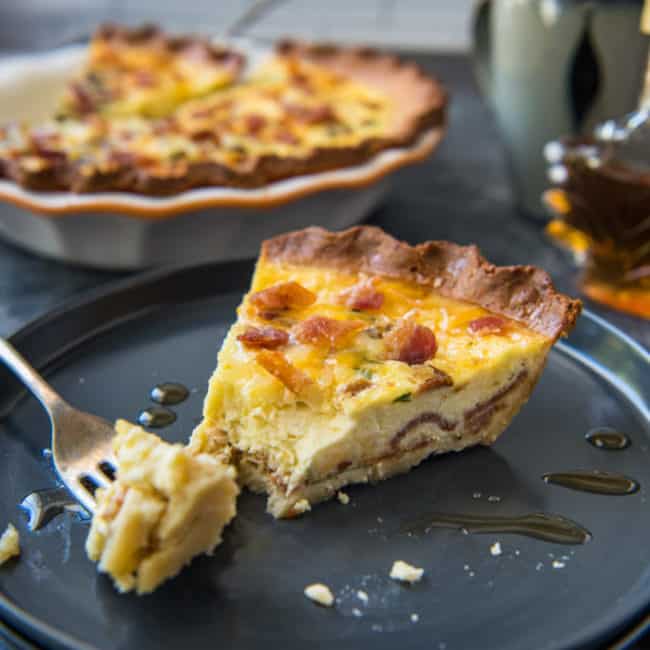 Keto Quiche | McGriddle Style
A savory egg, bacon, and cheese quiche drizzled with a sugar-free maple syrup.
Total Time 1 hour 35 minutes
Servings 8 Servings
Calories per serving 499kcal
Prep Time: 45 minutes
Resting Time: 5 minutes
Cook Time: 45 minutes
Ingredients:
Crust
Filling
1 cup heavy cream
4 large eggs
1/2 tsp pink salt
1/4 tsp black pepper
8 oz bacon, cooked and crumbled
1 cup shredded cheddar cheese
Instructions:
Crust
When making the sweet pie curst add in 2 teaspoons vanilla extract. Chill for 30-60 minutes in the fridge to firm up prior to rolling out.

Preheat oven to 375 degrees F.

Roll the chilled pie crust between two sheets of parchment paper and transfer to your pie/tart pan. Form the crust to the sides of the pan and remove any excess.

Line the inside of the pie crust with a square of parchment paper and fill to the edges with pie weights or use another oven safe pan/pot (as shown in video) to prevent crust from inflating.

Bake the crust for about 15 minutes, until pale golden. Remove from the oven and allow to cool. Reduce oven temp to 350 degrees F.
Filling
Combine the eggs, heavy cream, salt, and pepper in a large bowl. Using a hand mixer, blend until well combined.

Layer the bacon and cheese in the bottom of the pie crust, then pour the egg mixture on top.

Cover the edges with foil or a pie crust shield if they are very exposed, then bake for 40-45 minutes, or until a knife inserted 2 inches from the edge comes out clean.

The center will be set but still slightly jiggly. Allow to cool for 10 minutes before cutting and serving.

Best stored in the fridge in glass container up to 5 days.
Notes
Net Carbs: 3g Serving Size: 1 Slice
Yields: 8 Slices **For a higher protein, lower fat version feel free to change the ratio of heavy cream to eggs!
Nutrition Facts
Keto Quiche | McGriddle Style
Amount Per Serving
Calories 499 Calories from Fat 378
% Daily Value*
Fat 42g65%
Carbohydrates 6g2%
Fiber 3g12%
Protein 22g44%
* Percent Daily Values are based on a 2000 calorie diet.
Written By