The Skillet
One of our greatest purchases was a 7-inch non-stick skillet that can go directly from the stove top into the oven! It's allowed us to cook many delicious keto meals, including our most delicious dessert by far, the Chocolate Skillet Cookie. It's dense, fudgey, subtly sweet and has just the right amount of crunch. We promise you'll love it like a fat kids loves cake, or should we say cookie?!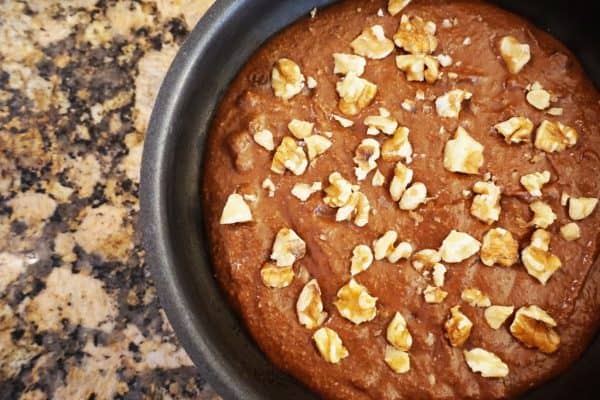 Putting the dessert aside for a moment, we highly recommend everyone go out and purchase a skillet right now if they haven't already done so! One of the greatest tragedies is when flavor, texture and appearance are compromised during the transferring process from skillet to oven pan. Not to mention you have extra dishes to clean. So please help us change the system – trust us, this purchase will change your life forever!
Moving Onto Dessert
Lately, most of our recipes have been totally unplanned and some of our best. And, this dessert was no different. Matthew and I were sitting around working on other parts of Keto Connect when I got an itching for something sweet. You know that itch i'm talking about?? Well, I headed to the kitchen with "I need brownies" replaying in my mind. Probably not the best way to enter any kitchen!
We tend to make dessert recipes in small batches because 1) if it turns out bad we've wasted a ton of ingredients and 2) if it turns out great we'll wind up eating it all in one sitting. So, I pulled out the one and only, handy dandy, 7-INCH SKILLET! Looking back on the night I can't recall much about the mixing and baking , but you know what that means – I was in the zone.
ZONE: when one is so immersed in whats in front of them its almost guaranteed they will have no recollection of it after the fact, but it will turn out amazing beyond words.
Don't Forget The Additions
You know what's another tragedy of our time? When someone says dessert additions are "optional." OPTIONAL?! How are walnuts and chocolate chips optional?! More like MANDATORY! So for this dessert recipe, yes, chocolate chips (we used Lily's) and walnuts are mandatory. Unless you're allergic to nuts. If that's the case this dessert isn't for you because walnuts are MANDATORY! Without these so called "optional" additions you lose the crunch and gooey goodness – now can you see why it would be such a tragedy to make them "optional?"
I think I've pretty much covered the additions sections. However, you can definitely add more than just these two additions. A little cinnamon here, a little coconut flakes there. Possibilities are endless when it come to the Chocolate Skillet Cookie.
The Cookie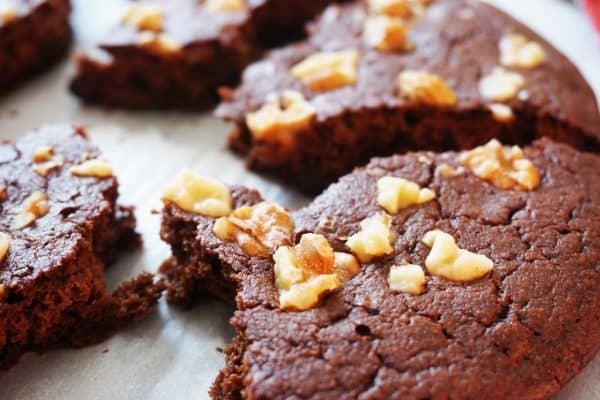 Besides the giant chocolate skillet cookie itself the best part is the clean removal. The bottom of the cookie doesn't stick to the skillet and you don't need to edge it out with a knife. You can simply flip the skillet over and it will pop right out! Not only is the clean up quick and easy, but so is the devouring of the chocolate skillet cookie! I dare you not to eat the whole thing!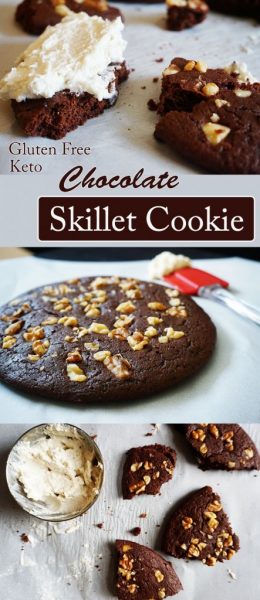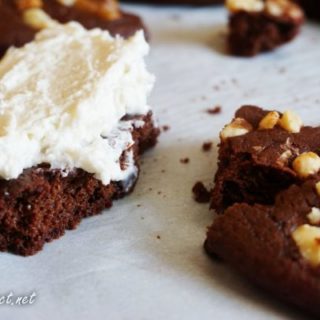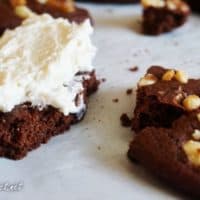 Chocolate Skillet Cookie
A moist chocolate cake filled with delicious walnuts.
Total Time 35 minutes
Servings 6 Servings
Calories per serving 155kcal
Prep Time: 10 minutes
Cook Time: 25 minutes
Instructions:
Combine all ingredients in a food processor except the chocolate chips and walnuts.

Mix until combined well.

Fold in the chips.

Transfer mix from processor to 7 inch non-stick skillet (if it is not non-stick make sure to grease it).

Toss on as many or as few walnuts and place into a 350 degree oven for 24-27 minutes. Using a toothpick check if it fully cooked through.

Let cool and then flip over onto a plate and then back over onto another so it is upright. Serve and enjoy!
Nutrition Facts
Chocolate Skillet Cookie
Amount Per Serving
Calories 155 Calories from Fat 117
% Daily Value*
Fat 13g20%
Saturated Fat 3g15%
Cholesterol 41mg14%
Sodium 150mg6%
Potassium 157mg4%
Carbohydrates 5g2%
Fiber 3g12%
Protein 4g8%
Vitamin A 165IU3%
Calcium 70mg7%
Iron 1mg6%
* Percent Daily Values are based on a 2000 calorie diet.