Red light therapy reduces inflammation, increases collagen production and is even found to reverse brain damage in football players.
So what are the best red light therapy devices available?
This detailed guide goes through everything you need to know about red light therapy. I'll cover the 10 best devices while looking at how does red light therapy work.
1. Best Overall Red Light Therapy Device: JOOVV Solo Full Body Panel
Best Red Light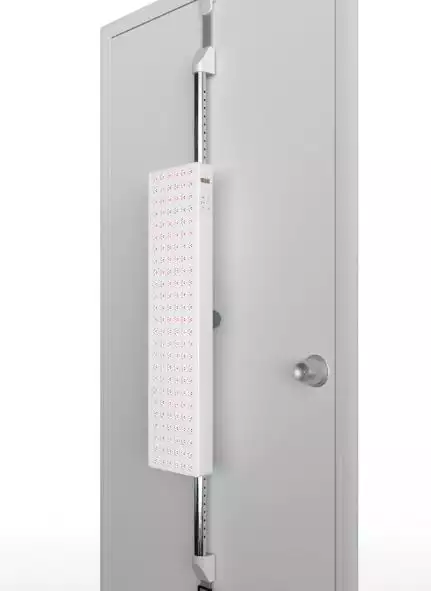 Joovv Solo
4.8
The Joovv Solo is the best introductory light on the market. It is affordable and offers a good amount of power and light coverage. This light is modular so it can be expanded in the future.
Pros:
Best value for those new to red light therapy
Single Joovv light allow for adequate exposure
Able to expand with additional panels later
Check Price
We earn a commission if you make a purchase, at no additional cost to you.
Best For: New red light enthusiasts looking for an advanced, full-body panel that offers all the bells and whistles.
This JOOVV full-body panel is nine inches wide and 30 inches high. It contains 150 LED lights, 76 of which are 660 nanometer red light, while 74 are in the 850 nanometer range.
JOOVV offers handy features like:
A mobile app
Recovery and ambient modes
Bluetooth capabilities
When unboxing this JOOVV, you'll notice how sleek the box and packaging are. There's a detailed manual going through how to use the JOOVV and some wavelength basics. This is helpful when you're new to red light therapy.
Another thing that stood out to me was how light the panel is. It weighs 14 pounds because the sides and back are plastic. There are also handles on the sides to make carrying easy. So even though it's a full-body panel, it's still portable.
JOOVV offers a mobile app that lets you:
Turn your LED red light panel on and off
Set an alarm that wakes you with red light
Adjust the brightness
Create an automatic timer
You'll also find a heavy-duty metal floor base in the box. This sets the JOOVV apart from the competition. With other full-body panels, it only attaches to the door or wall, making for inconvenience positioning.
But with the JOOVV, simply slide the floor base around the house with you. So you can do red light therapy in the lounge, kitchen, dining room or bedroom.
The last addition that stood out to me is the eye-protective glasses. Most brands don't offer this, and the ones that do usually give goggles that break within a few weeks. But these aren't goggles; they're glasses, so it's less likely to break. They also block 93% of red light and 42% of near-infrared red light.
Pros
It comes with glasses, a heavy-duty metal base and a mobile app
The app allows you to control your panel via Bluetooth
It's lightweight and portable
The rear bracket and metal base lets you position your panel with ease
Cons
The sides and back are plastic
Make sure to check out our detailed Joovv Red Light Therapy Review.
2. Best Value Red Light Therapy Device: Mito Mega
Best Value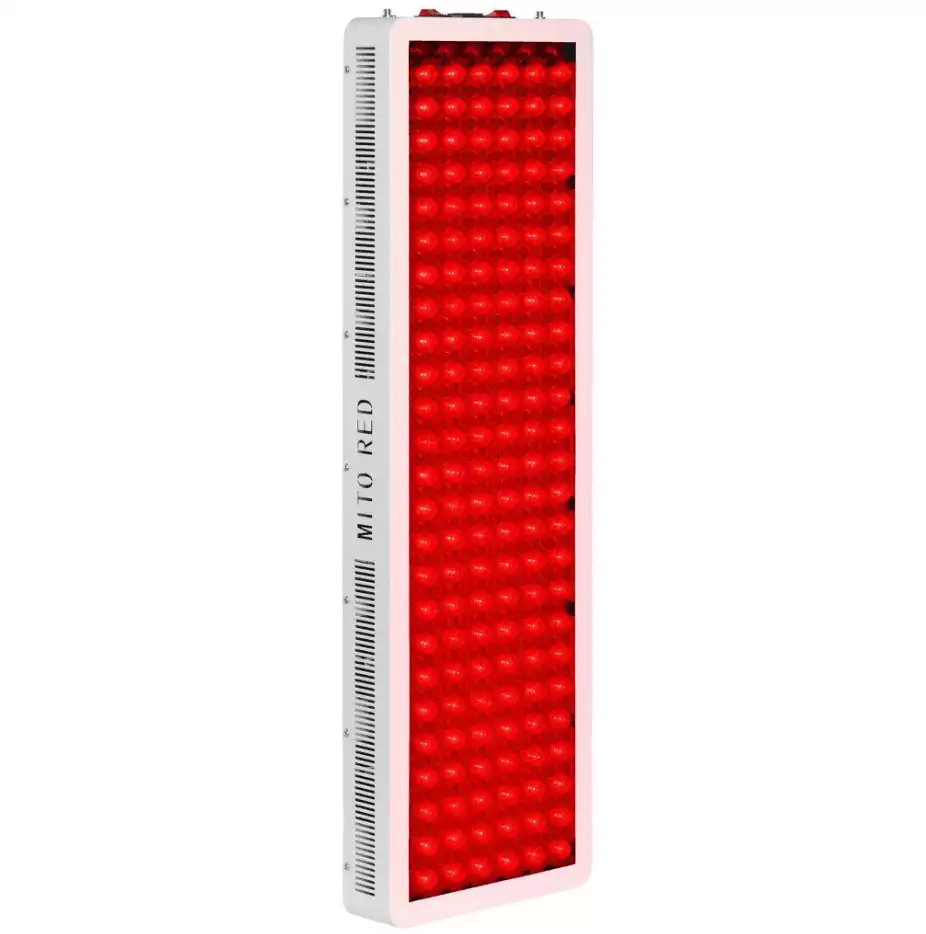 MitoMega Red Light
4.5
Mito is a trusted brand in red light therapy. This is their flagship light which offers an ample amount of red light power for a very reasonable price.
Pros:
Best value option for beginners
630, 660, 830 and 850 nanometer wavelengths
Check Price
We earn a commission if you make a purchase, at no additional cost to you.
Best For: Anyone looking for a red light panel with the most affordable dollar to power ratio.
The Mito Mega offers similar features to the JOOVV, but it's more affordable, making it the best option if you're on a budget.
It costs $8.02 per watt of power, the lowest of any red light device. Average panels are around $10, while more exclusive devices can go up to $12 and $15. The dimensions of the Mito Mega are:
42 inches high
10 inches wide
Three inches thick
It contains 300 lights, with each light-emitting five watts of power. It's only 25 pounds heavy, so even though it isn't the lightest full-body panel, you can carry it around the house for convenient positioning.
Mito offers a 60-day free trial, so if you find this panel isn't for you, simply contact Mito and return it for a full refund. There's also a three-year warranty ensuring you'll get a new panel if your current one breaks.
The Mito Mega offers additional features like:
Auto cooling
An advanced control panel
Various light modes
But what sets the Mito apart is it emits four different wavelengths. These are 650, 660, 830 and 850 nanometers. 25 percent of the Mito's power goes to each wavelength. So you're getting the full spectrum of red light instead of just one wavelength.
Pros
It's easy to set up and operate
The EMF levels are low, meaning this panel is 100% safe
It only costs $8.02 per watt
The LED light emit 630, 660, 830 and 850 nanometers
It doesn't have hotspots
Cons
International shipping can get expensive
It doesn't offer bells and whistles like a mobile app
You may also like our Mito Red Light Therapy Review!
3. Best Portable Red Light Therapy Device: Mito Mobile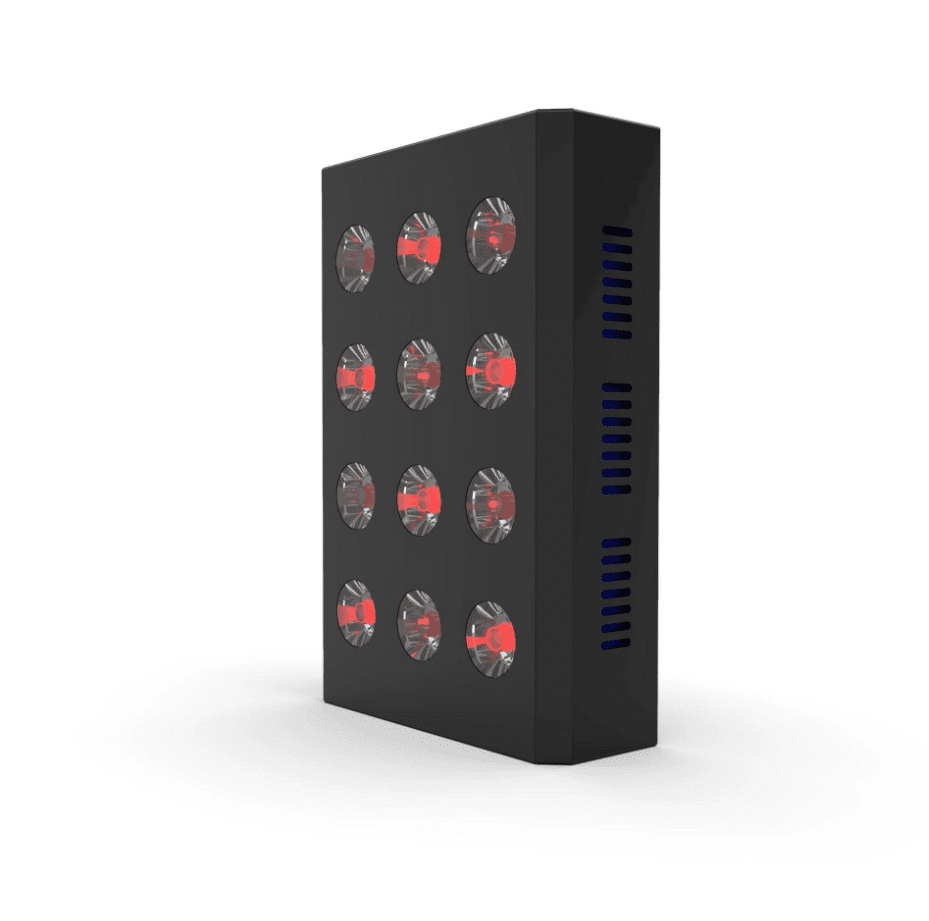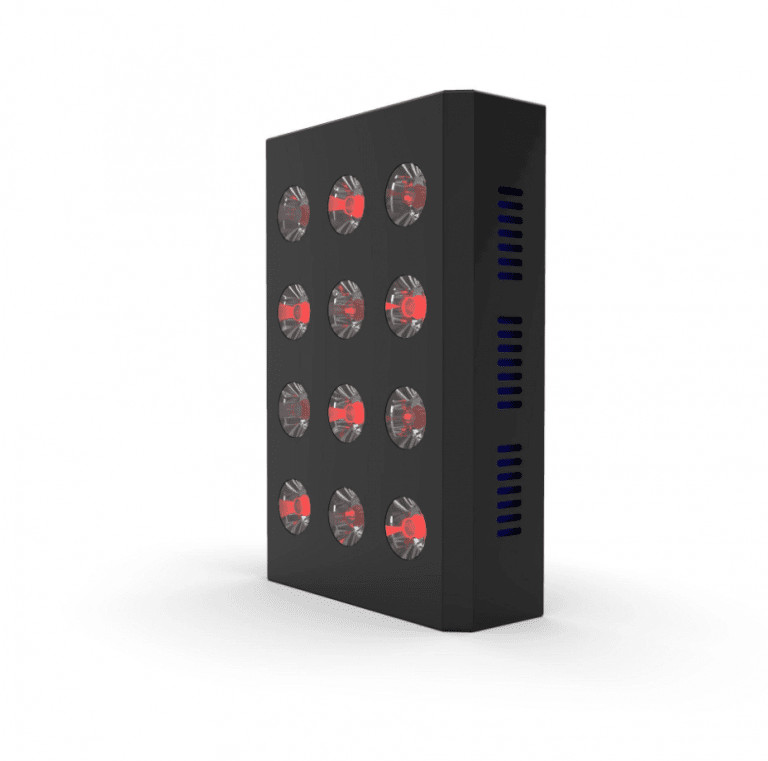 Best For: Individuals who want the benefits of red light therapy while being able to travel with their device.
If you're looking for something more portable, consider the Mito Mobile. Mito offers a broad range of products, and the Mito Mobile is by far the most popular portable device. You'll find it in three different colors:
Black
Silver
Red
It comes with a travel case, so when you're out of town for a few days, simply put the light in your travel bag and pop it in your suitcase. Or, if you're an athlete and play a game away from home, take it with you without any fuss.
In the zipping bag, you'll find a charger and manual, making the setup and operation of the Mito Mobile seamless.
It offers additional features like:
A 30-degree lens angle for long distance use
5,000-hour battery life
Wavelengths of 660 and 850 nanometers
What sets the Mito Mobile apart is it has two different LED chips in the same lens. It contains a near-infrared and red light chip.
A setting on the bottom allows you to change the light from 100 percent red light or near-infrared light to a 50/50 combination. So, if you're looking to clear acne and improve skin, opt for the red light. And if you want to speed up recovery from an injury, use the near-infrared light.
Pros
You can choose between red light, near-infrared light or both
It's portable and comes in a travel zipper bag
The battery life is 5,000 hours
The concentrated 60-degree beam allows for long-distance use
Cons
It doesn't come with eye protection goggles
4. Best Red Light Therapy Face Mask: HigherDose Red Light Face Mask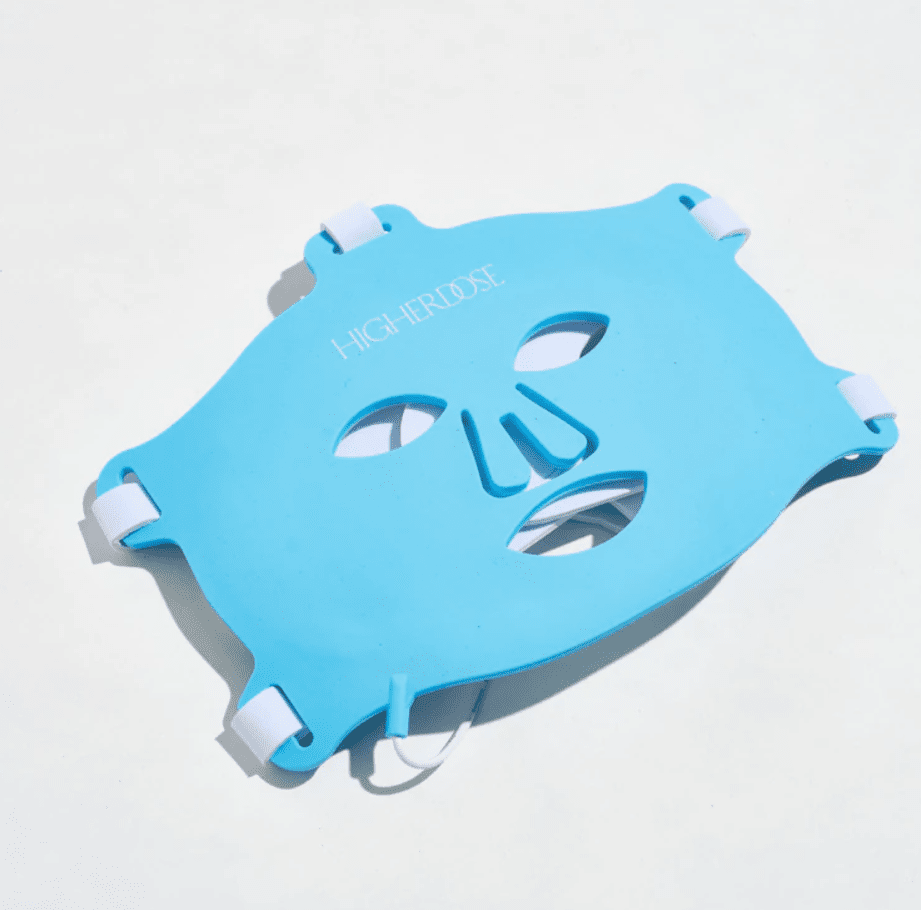 Best For: Busy individuals who don't have time to stand in front of a red light panel.
If you don't feel like holding a portable light in front of your face, consider the HigherDose red light face mask. Simply put it on your face and enjoy the red light skin benefits. You can complete some work on your laptop or phone while wearing the mask.
It contains 62 LED bulbs with red light in the 630-nanometer wavelength and near-infrared light in the 830-nanometer range.
Using red light face masks offer benefits like:
Reduced acne causing bacteria
Improved mood
Glowing skin tone and less dark circles
Faster recovery time from injuries
This mask fits your face perfectly, so all the light hits your face, and nothing goes to waste. The soft silicone is also flexible, so it'll work regardless of the size and shape of your head.
If you frequently use red light to treat injuries, you might think this mask isn't for you. But HigherDose designed it to also fit around elbows and knees, making it perfect for injury recovery and prevention.
Here are the additional items you'll find in the box:
A little control panel
The power cord and country-specific adapter
A USB-C to USB adapter
Extra head straps
A small travel bag
Eye protective goggles
Pros
It's small and portable
You can use it on any part of your body
The medical-grade silicone ensures the mask fits all face sizes
It allows you complete work and other tasks with the face mask on
Cons
Face masks aren't as effective as panels
5. Best Targeted Red Light Therapy Device: Photon Therapy Light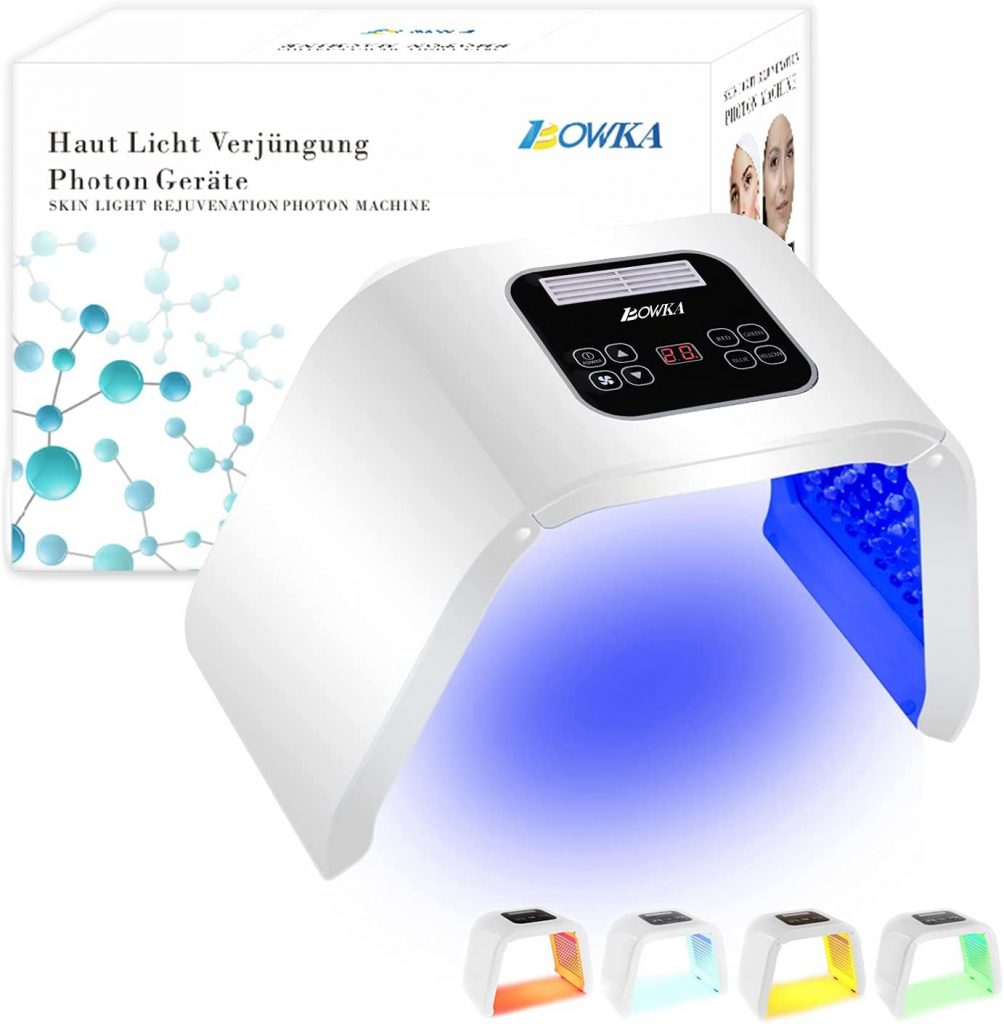 Best For: Red light enthusiasts who want access to a diverse range of colors and wavelengths.
This seven-in-one Photon Therapy Light targets each skin type using photodynamic therapy. These different colors help clear acne, revamp your skin and maintain even-toned skin.
With 287 LED bulbs and seven color adjustment modes, you can customize the light to target your specific skin condition using the user manual. You'll find helpful features like:
Auto timing function
Built-in eye protection
Automatic cooling
This targeted photon light isn't just for your face. Feel free to use it on your wrists, elbow and knees if you're trying to recover from an injury.
But what's unique about this light is it comes with built-in eye protection, so you don't have to wear goggles. There's also a cooling feature that notices when the surface gets hot. This way, you have peace of mind knowing your eyes are safe and the surface won't get too hot.
Pros
It comes with built-in eye protection
The 287 LED bulbs give you a wide range of wavelengths
It shines green light which helps with migraines
You can set an auto timer, so it shuts down automatically
The cooling functions ensure the light doesn't get too hot
Cons
It doesn't offer a mobile app
6. LightStim For Wrinkles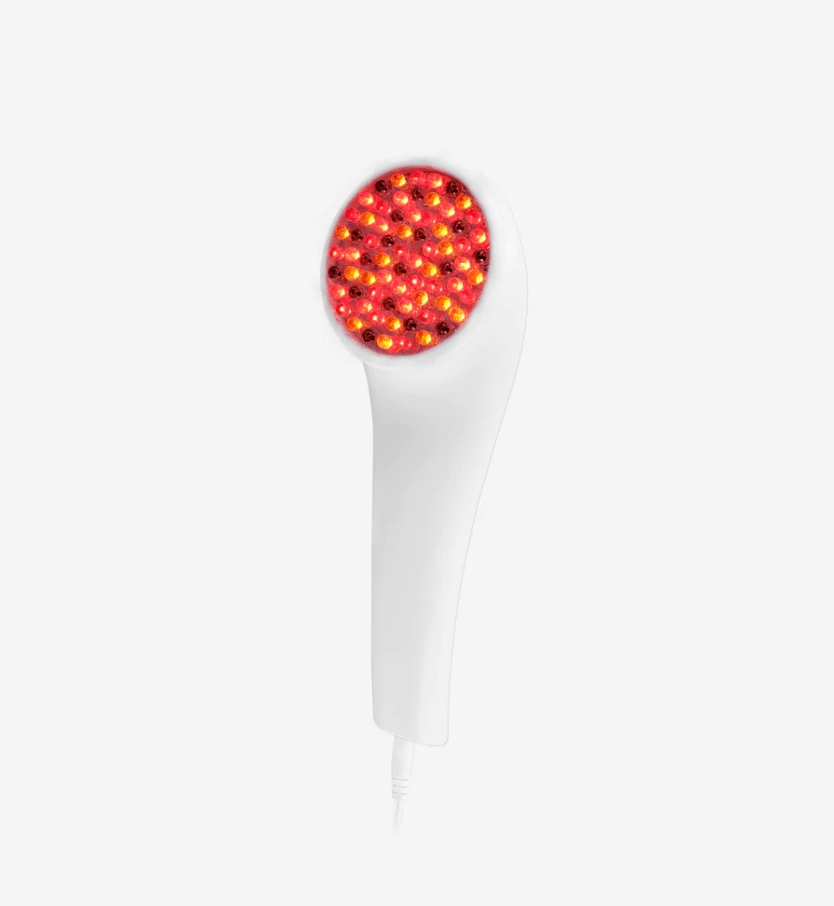 LightStim is an FDA-approved LED light therapy device developed to improve skin and heal injuries faster. It's been around since 2002 and has won awards like:
American Spa Professional's Choice Award
Pure Beauty Award
When unboxing this red light device, you'll find goggles, antioxidant cream, a power plug and a handy travel bag.
It has different colors like amber, light red, deep red and infrared, targeting multiple skin conditions. Each light also penetrates the skin to various degrees.
The wand is three inches in diameter and has 72 LEDs on the surface, maximizing red light coverage.
7. Norlanya Red Light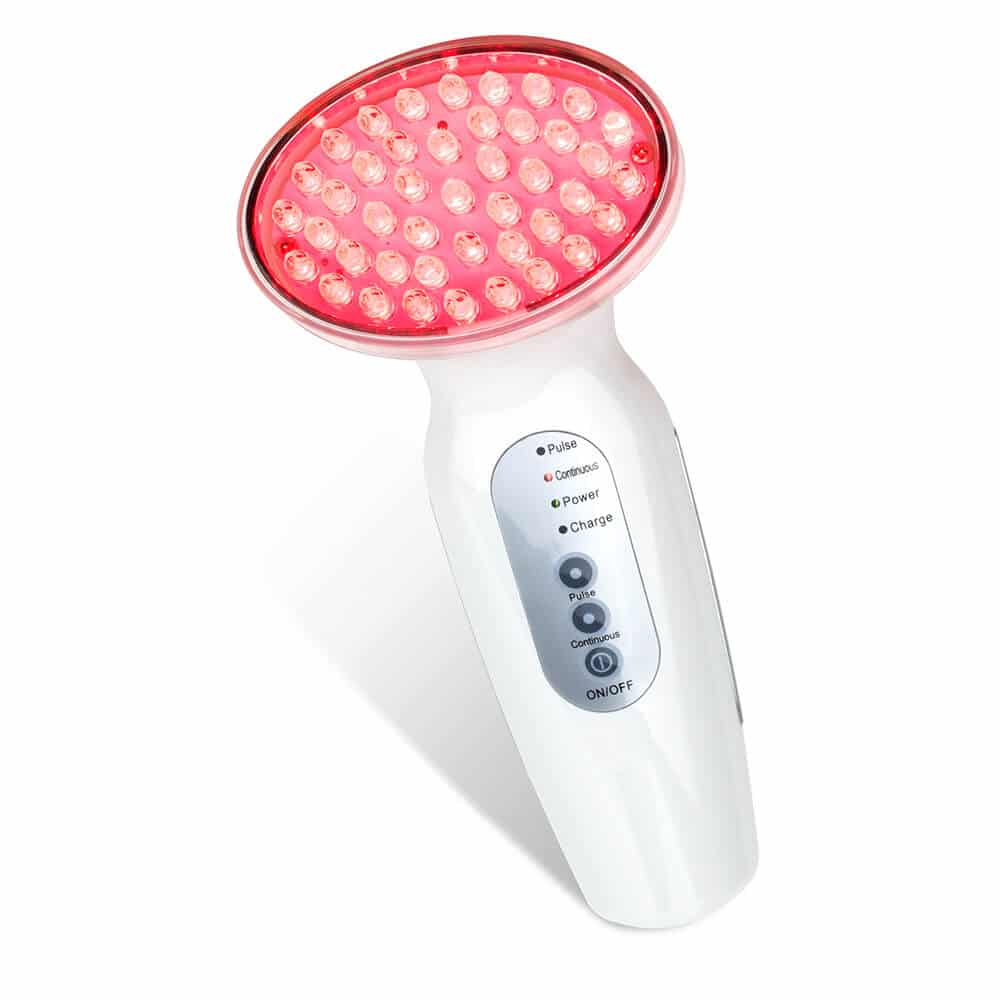 This Norlanya red light aims to improve your skin within four to eight weeks of consistent use. It emits a 660-nanometer wavelength light to boost elastin and collagen production.
It's a battery-powered, handheld device so feel free to carry it around the house when doing red light therapy. Or, simply pop it in your suitcase if you're traveling, and you're good to go.
A slight drawback is that you can't use the Norlanya wand when plugged in. This is due to safety reasons.
8. Baby Quasar Red Light Wand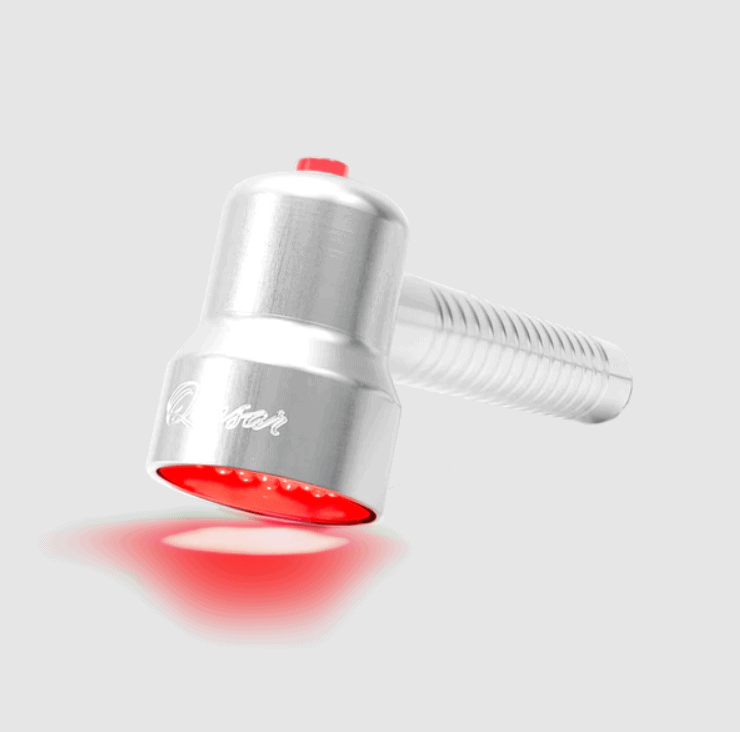 According to QuasarMD, 91 percent of users reported better skin, 84 percent saw a reduction in wrinkles, while 76 percent found their skin was smoother after using this wand.
This makes the Baby Quasar an effective red light wand if you're on a budget. It requires zero effort to use because you can simply turn it on and place it in front of your face while watching TV or listening to music.
9. Trophy Skin RejuvaliteMD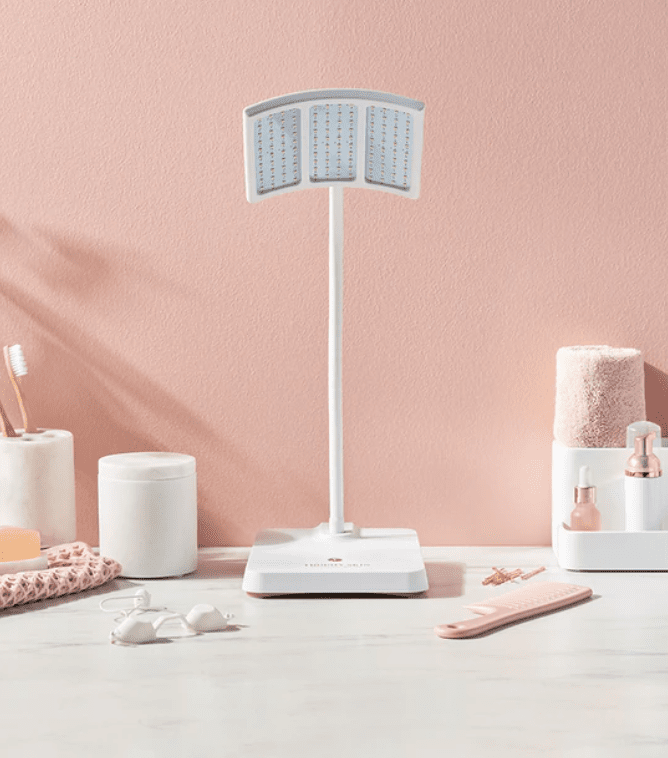 The Trophy Skin RejuvaliteMD looks like a regular desk lamp, but it emits light that boosts collagen production and improves skin.
It only weighs six pounds and comes in three sections. The first emits red light in the 660 wavelength, the second shines yellow light in the 590 range and third offers infrared light with a wavelength of 880. It also comes with a power adapter and user manual, making it easy to set up and operate.
To use this red desk lamp, first wash your face to remove all oils and products. Next, switch your red light on and relax under it for five to 10 minutes. It doesn't matter if you fall asleep since the timer will automatically shut the light off.
Once you're finished, feel free to apply any products like moisturizers and face wash.
10. reVive Light Therapy DPL II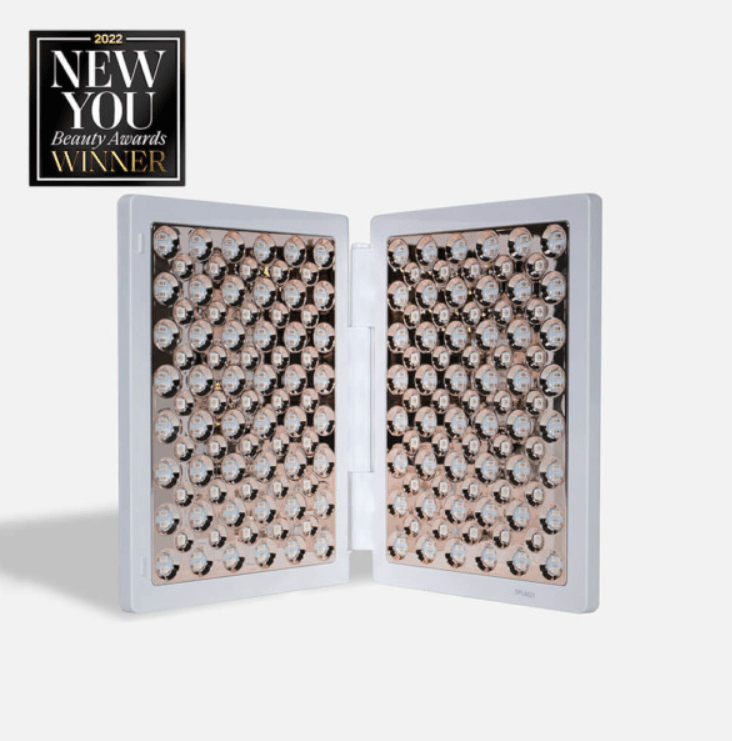 The reVive red light panel is a complete face wrinkle reduction device. But it doesn't just work on your face; use it on your chest, back, arms and hands. According to reVive, 97 percent of users experience a significant reduction in wrinkles after consistent use.
The reVive contains two foldable panels that you can adjust to your liking for easy red light therapy at home. This way, you're optimizing the benefits since little red light is being wasted.
The reVive sets itself to three minutes with the auto-timer and switches off. This makes it perfect for busy professionals looking for a light salon boost.
Read our guide covering the benefits of infrared sauna!
What Is Red Light Therapy And How Does It Work?
Light is essential to our well-being since it's necessary for proper cellular function. However, we use artificial and blue light in the modern world and are rarely exposed to red light.
Like we become malnourished from a poor diet, we get mal-illumination after long periods of improper light exposure.
This is where red light therapy can help. Red light LED therapy is a treatment that uses low wavelength light to stimulate adenosine triphosphate or ATP production in our cells.
Unlike harmful UV rays, studies show red and near-infrared light can:
Increased energy
Quicker hair growth
Optimize collagen production and improved skin tone
Boost testosterone
Faster wound healing and muscle recovery
Low level laser therapy works by using specific wavelengths of light and exposing your body to it. The mitochondria absorb this and convert it into cellular energy or ATP.
As the production of ATP increases, so does the ability of cells to perform, leading to a noticeable difference in health and quality of life.
What is Red Light Therapy used for Treating?
Although red LED light can help with several conditions, here are some benefits that stood out to me:
Reduced inflammation
Improved skin, joint and hair health
Higher-quality sleep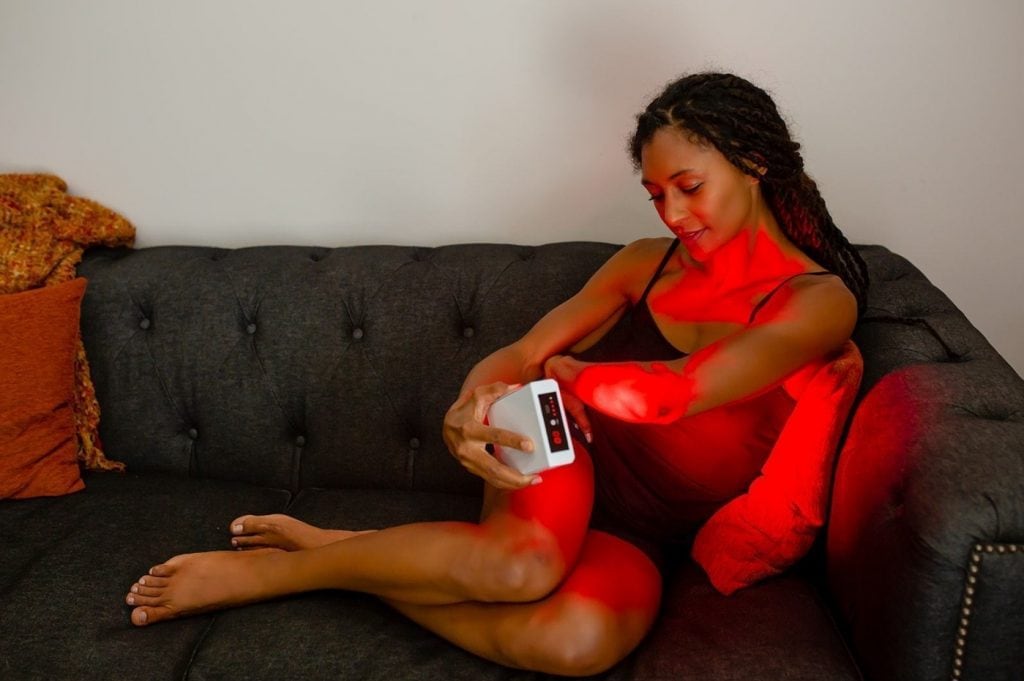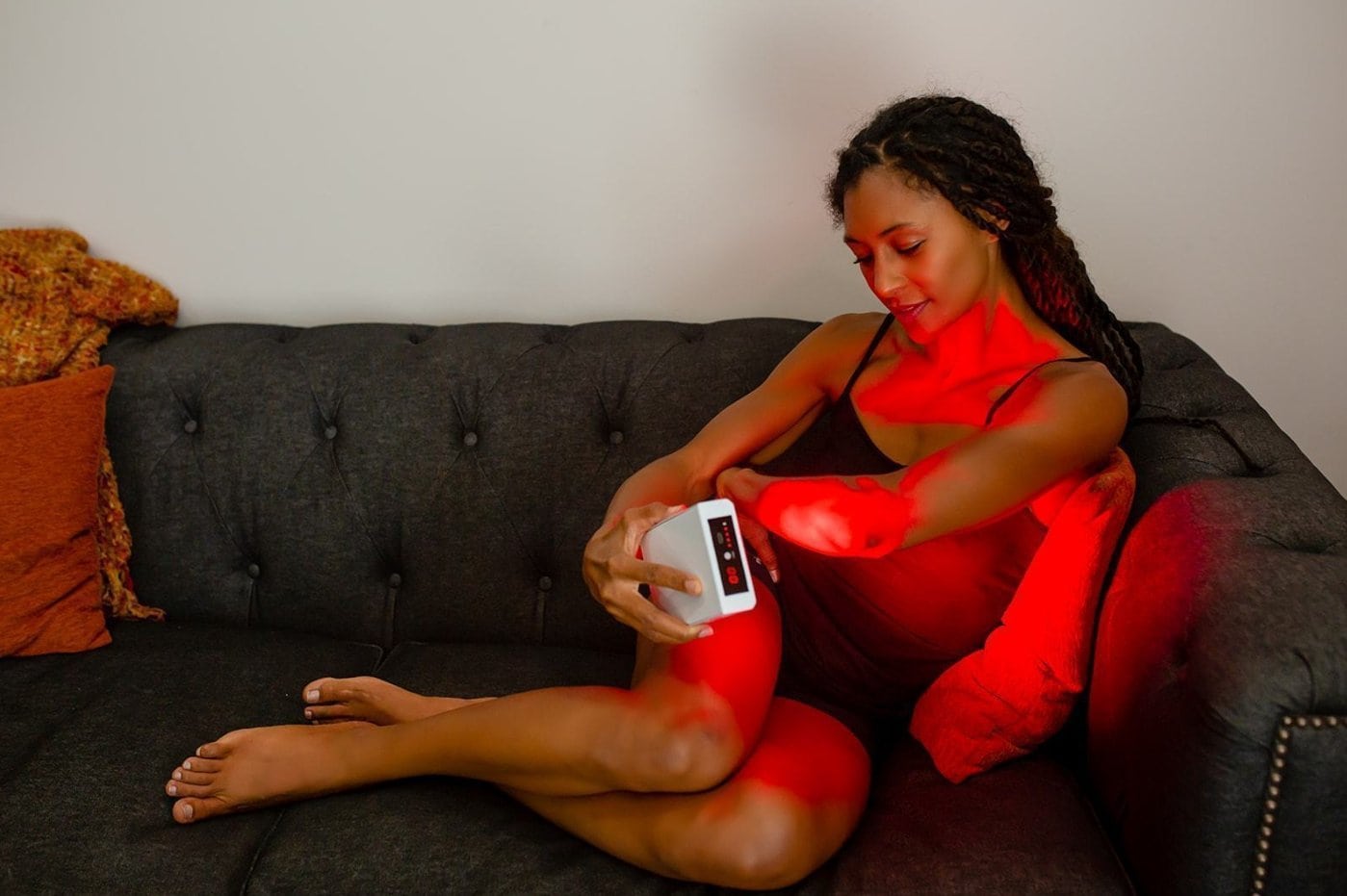 Reduced Inflammation
Chronic inflammation is a significant factor behind every disease, including heart disease, diabetes and cancer.
This is because inflammation is your body's natural defense system. It helps get rid of toxins, but if you're eating harmful food and your body is always in this state of defense, it can cause adverse health effects.
This is where red light therapy can help.
Recent studies show that if you use a red light therapy session significantly decreases inflammatory cytokines.
Improved Skin, Joint And Hair Health
The main reason why red light is so popular is because of its skin benefits.
Red light therapy offers these powerful skin benefits because it boosts collagen and elastin production. It does this by improving platelet-derived growth factor, meaning collagen comes straight from our blood plasma and red light therapy applies it to the skin cells.
Red light therapy also optimizes fibroblast, increasing the collagen's ability to go to the site and do its job.
Higher-Quality Sleep
There's a part of our brain called the suprachiasmatic nucleus responsible for regulating melatonin production and body temperature, and both factors are essential for sleep quality.
The Journal of Athletic Training conducted a study where they took two groups of volunteers and exposed one group to red light therapy and the other to a placebo.
They looked at each group's quality of sleep, melatonin serum levels and athletic performance.
Researchers found that the red light therapy participants showed a massive improvement compared to the placebo group. The main reason behind this is that red light optimizes your suprachiasmatic nucleus, improving sleep and overall quality of life.
The Three Science-Backed Specifications To Look For In Any Red Light Therapy Device For Home Use
Before buying a red light therapy device, first consider these three factors:
Wavelengths
Irradiance or power
Size
Wavelengths
The most crucial factor to consider is the wavelength of your red light. Most red light panels emit a wavelength around 620 nanometers to 750 nanometers. This wavelength is found to reduce acne, wrinkles, redness and scars.
You'll also find devices with longer red light wavelengths, around 780 nanometers to 1200 nanometers. This is called near-infrared light, and it penetrates deeper into your skin. Light at the top end of this spectrum can penetrate right through the skin. This makes near-infrared light better for treating injuries.
In comparison, the blue light emitted from your phone and computer have short wavelengths, typically between 450 nanometers to 495 nanometers.
Irradiance Or Power
Next, look at how much power your device emits. Although low-powered devices are cheaper and might still offer some benefits, it takes longer to see results.
Size
Size is another crucial factor to consider. If you're looking to reap full-body benefits from red light therapy and aren't planning to travel with your device, opt for a full-body panel like the JOOVV.
But let's say you just want to get rid of some acne, consider something more concentrated and portable. The Mito Mobile might be a good option since you can pop it in your travel bag without fuss.
Make sure to check out our guide to the best home saunas!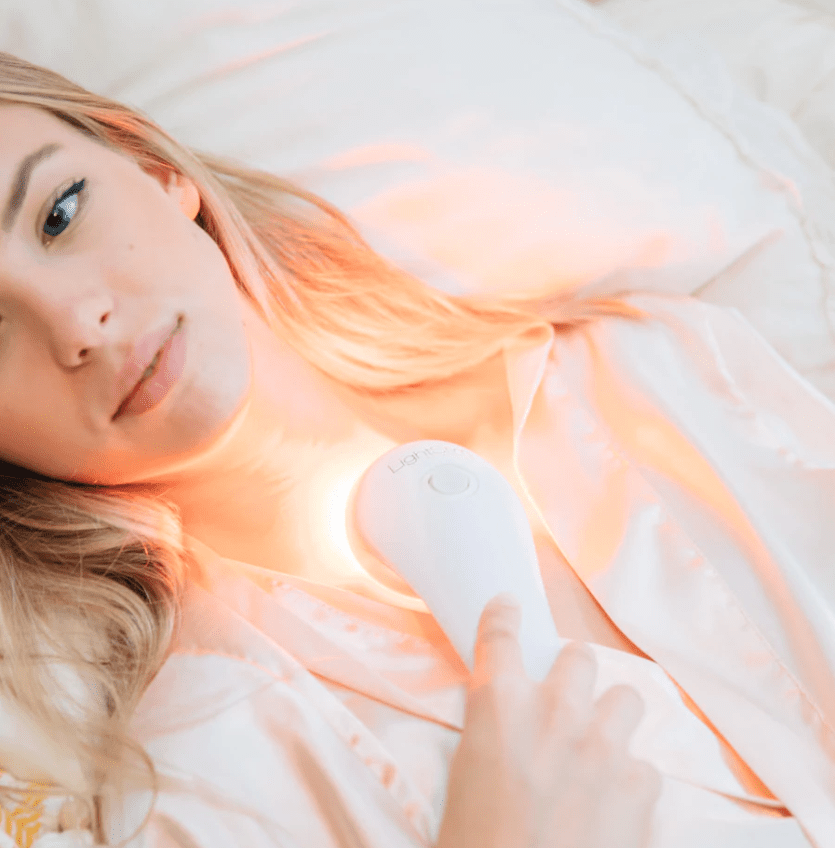 FAQ
Why Masks and Face Wands Don't Work As Well As Panels?
Although LED masks and face wands are a practical and affordable way to get into red light therapy as a beginner, it limits the benefits you receive from red light.
It's easy to think that the closer a red light LED is to your skin, the better. However, research shows this isn't the case. The optimal distance for red light therapy is six to 18 inches since it allows for concentrated irradiation while covering the most surface area.
Because panels cover the most surface area, you maximize the red light benefits.
Also, recent studies show LEDs on masks and wands aren't as powerful as panels since the irradiance and energy output are often lower.
When should I use red light therapy devices?
The best time to do red light therapy is immediately after a workout or hot shower since your pores are open and you can absorb more red light. This optimizes red light benefits.
Is red light therapy safe?
Red light therapy is safe and isn't associated with any side effects. But one thing to watch out for is eye protection. Some studies show red light therapy can benefit your eyes, while others say it's harmful. So just to be safe, I'd suggest wearing eye protection goggles or glasses.
Final Thoughts On Finding The Best Red Light Therapy Devices
Red light therapy treatments are an effective tool that improves skin health, boosts brain power and reduces inflammation. You can experience all these benefits by simply sitting in front of red light for three to 10 minutes per day.
If you're looking for affordable, high-quality red light therapy devices, consider JOOVV, Mito or HigherDose. These brands offer value for money and advanced features to make your red light therapy journey easy.
Make sure to check out our keto lifestyle products guide!
Written By