Just when we thought our only options were fat head and cauliflower pizza, we came up with this single serve, deep dish Low Carb Pizza recipe! It defies everything you believe about keto pizza – if you've forgotten what "real" pizza tastes like, get ready to remember.
Low Carb Pizza Base
How deep you want this keto pizza to be, is really up to you and the skillet you choose to make it in. We packed this low-carb deep dish with three different meats, mozzarella cheese and a low carb pizza sauce we found in the grocery! Based on the nutrition, you can tell how hearty and filling it's going to be, but it's worth every single calorie and then some.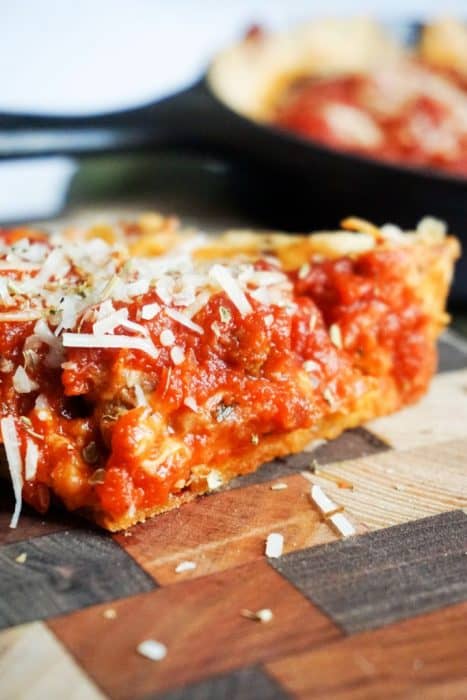 Low Carb Pizza Crust
The pizza crust recipe is the most important aspect of this low carb pizza. To ensure it is cooked through, you'll need to cook it in the oven on its own first. This is why it's so important to use a skillet that can go into the oven! If you don't have one, you can still make this, although we highly recommend getting one. We used our 6-inch cast iron skillet for this keto pizza! The crust is a simple, three ingredient mixture that works great with almond flour or almond meal. I'm partial to the gritty, nutty texture of almond meal while Matt prefers almond flour. This is an almond flour pizza crust that is different than your traditional fat head variety.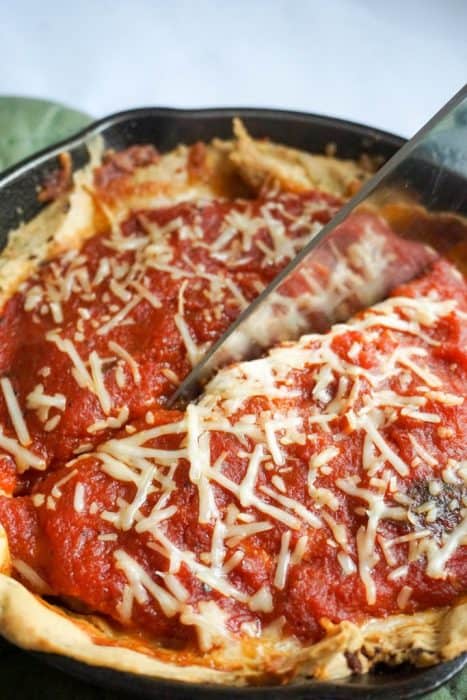 The Best Keto Pizza?
So we've tested out all three: fathead crust, cauliflower crust and now the fabled deep dish crust. And, the best low carb pizza has to be….drum roll please….deep dish! Let us revisit our old pizza friends and look at the nutrition of all three crust side by side.
Calories: 535
Fat: 43g
Net Carbs: 5g
Protein: 33g
Calories: 275
Fat: 15g
Net Carbs: 8g
Protein: 24g
Deep Dish Crust:
Calories: 472
Fat: 39g
Net Carbs: 7g
Protein: 25g
Seems pretty clear that deep dish takes the win right there, and I know Matt would have to agree! This pizza is the real deal, we kid you not!! If you don't believe us, just put it to the true test and give it a try – you won't ever see low carb pizza the same!


Search "KetoConnect – Low Carb Pizza(crust only)" on MyFitnessPal
Search "KetoConnect – Low Carb Pizza – Deep Dish" on MyFitnessPal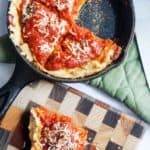 Low Carb Pizza
Total Time:
1
hour
10
minutes
For a 12 inch skillet the crust recipe should be multiplied by 3! Recipe video in body of blog post.
Print Recipe
Ingredients
1/2

cup

Almond Flour

1/4

cup

Shredded mozzarella cheese

1

large

Egg

1

tbsp

bacon drippings

(from cooked bacon)

1

tbsp

Oregano
Instructions
Cook down bacon to desired crispiness. Set aside for later use. Save the drippings!

Add mozzarella to a bowl and microwave for thirty seconds.

Add almond flour and egg to melted cheese and combine well. Add oregano and bacon drippings. Combine.

Place dough in bottom of skillet and spread on bottom and up the sides. If you have difficulty place piece of parchment paper on top and press out.

Place skillet in oven (it is ok if the parchment paper is stuck) and cook at 350 degree for 17 minutes.

Layer the meat in the bottom of the crust.

Layer cheese on top of meats.

Layer on sauce and spread out to cover entire pizza, and sprinkle with extra cheese if desired.

Place back in oven for 30 minutes at 350 degree.

Serve warm and enjoy!
Nutrition
Calories:
472
kcal
|
Carbohydrates:
9
g
|
Protein:
25
g
|
Fat:
39
g
|
Fiber:
2
g
Low Carb Pizza
Total Time:
1
hour
10
minutes
For a 12 inch skillet the crust recipe should be multiplied by 3! Recipe video in body of blog post.
Print Recipe
Nutrition
Calories:
527
kcal
|
Carbohydrates:
11
g
|
Protein:
29.5
g
|
Fat:
44.5
g
|
Fiber:
3.5
g