Bagels are a staple in many households across the country. They are quick to toast and even quicker to top, but sadly they are also packed with carbs making them not so keto friendly. Don't be sad for too long though because thanks to this recipe chewy soft keto bagels are back on the menu!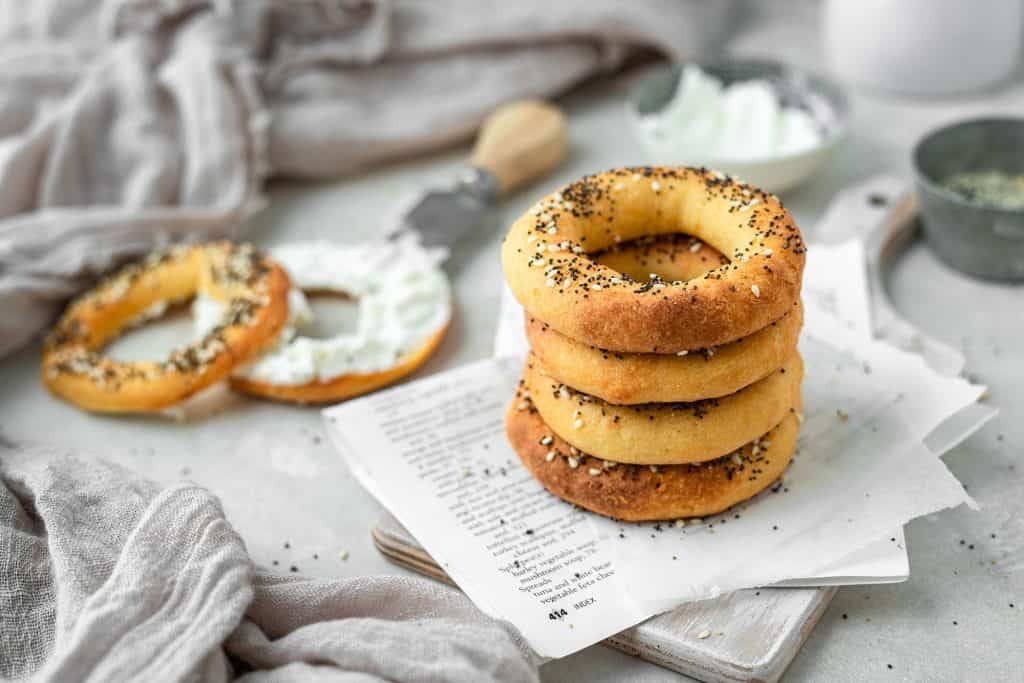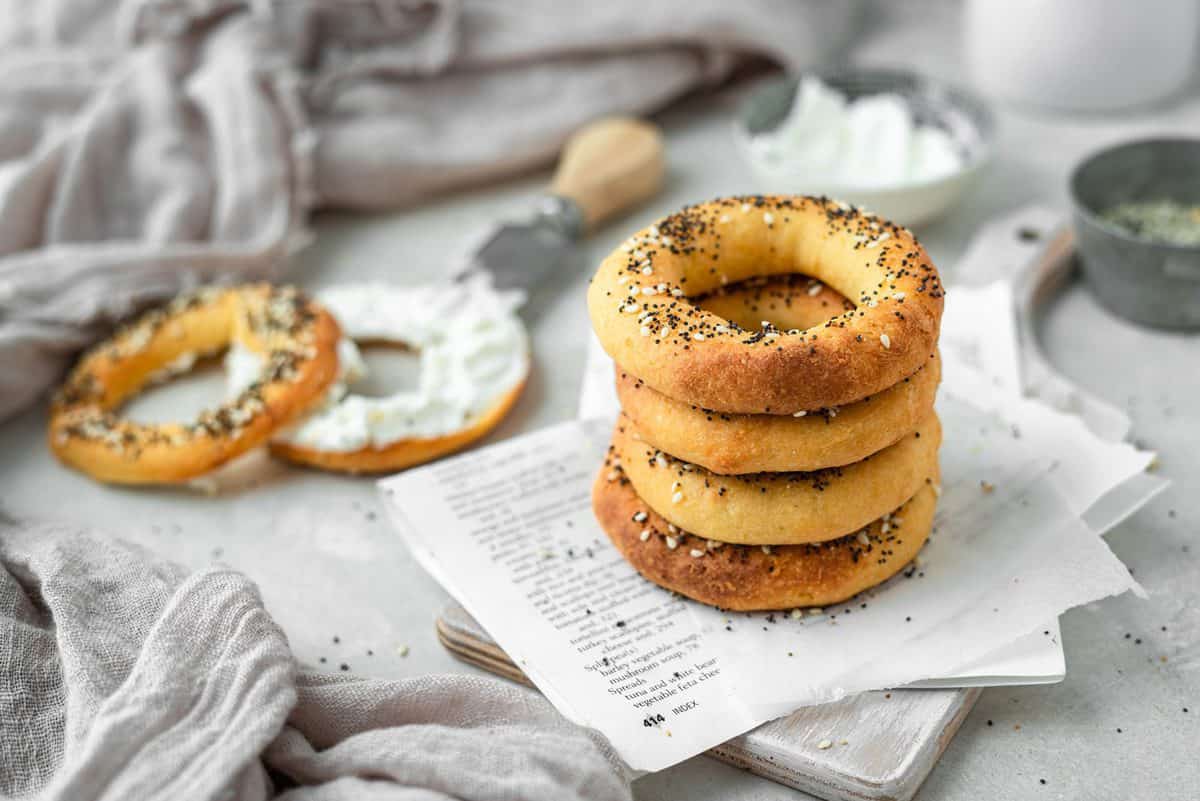 When and Why we Use Fathead Dough
While fathead dough is definitely a great recipe to have in your arsenal, especially for the kids, we don't love to use it too often. When you're making something like bagels, you're likely planning to top them with cream cheese.
That often means you are eating dough made out of cheese with cream cheese smeared on top. Not a lot of nutritional value in that meal! That being said it is delicious and there are times when they can be a great option:
Feeding a large group and you need to whip up something quick!
Feeding picky kids or family members that aren't keto, but you want to sneak it in ?
Wanting to satisfy your bagel cravings without all the carbs!
So, while they are not something we would eat everyday, they definitely are a recipe we love to have on hand!
What Does Fathead Dough Taste Like?
Fathead dough is definitely a little more flavorful when compared to normal flour. It's a bit cheesy, not overpowering. You could easily top this bagel with peanut butter or jelly and it would make a delicious sweet option. That is thanks to the mozzarella we use.
Mozzarella is a fairly bland cheese unlike cheddar or asiago making it a great option for bagels. If you did want to go full savory these bagels are great made with an extra sprinkle of asiago and everything bagel seasoning on top.
What is The Texture of Fathead Dough?
Again fathead dough will differ from the traditional bleached white flour we all know and love. White flour which is full of gluten creates a chewy texture. However, gluten can cause inflammation as well as weight gain because carbs store more water weight (1).
Thankfully, our keto bagels are made with almond flour, pre shredded mozzarella cheese, and cream cheese to form a high quality fathead dough. The texture of these bagels are chewy and slightly pillowy from the baking powder. You don't even need much baking powder get that ideal balance of fluffiness and chewiness.
The Macros of Fathead Dough
The macros for fathead dough will change depending on the amount you use for a recipe. However for each one of these bagels you are looking at 191 calories, 4 grams of carbs, one gram of fiber, or 3 net carbs per serving of a prepared bagel.
They are also rich in fat from the almond flour and protein from the cheese. Each bagel has 10 grams of protein and 15 grams of fat. Thus making this low carb bagel recipe a great option to take on the go so you can stay full all day.
Gluten Free Bagel
Like I said above these bagels are 100% gluten free. We prefer our low carb bagel recipe to be made with high quality ingredients. It will save you from excess carbs as well as a stomach ache and carb crash later. Fathead dough works great on its own for many recipes, but in this case we did need just a little extra flour.
The flour we chose to use was almond flour. Almond flour is low carb and high fiber which will help to make these low carb bagels satiating(2). Dairy alone doesn't provide any fiber, so without added almond flour these bagels might not keep you satiated until lunch.
Almond Flour vs. Coconut Flour in This Recipe
Almond flour and coconut flour are both keto friendly flours that work great in a ton of different recipes. Heck, often times you are better off using a combination of both to get the best overall texture and taste in a recipe. In this case though we tried and tested the recipe a few different ways; but still found almond flour to be best. It bulks up the dough so you get enough total bagel in each serving.
Can I Use Coconut Flour Instead?
Sadly coconut flour alone will not work in this recipe. These low carb bagels rely on the bulk almond flour brings to the table. Plus, coconut flour is highly absorbent meaning you need 3x less the amount of almond flour compared to coconut flour.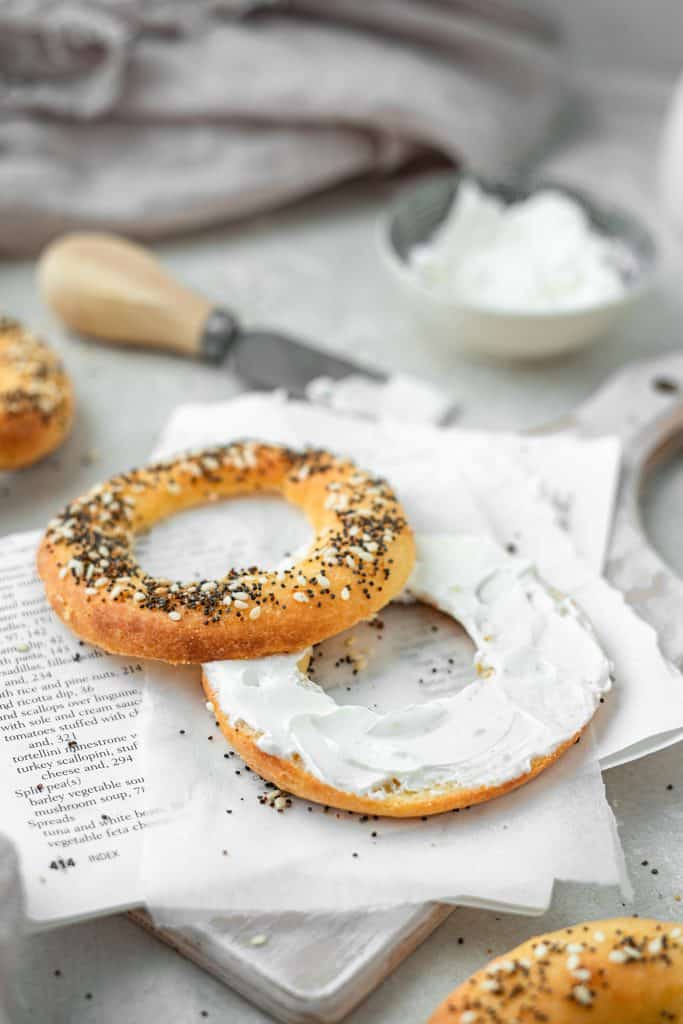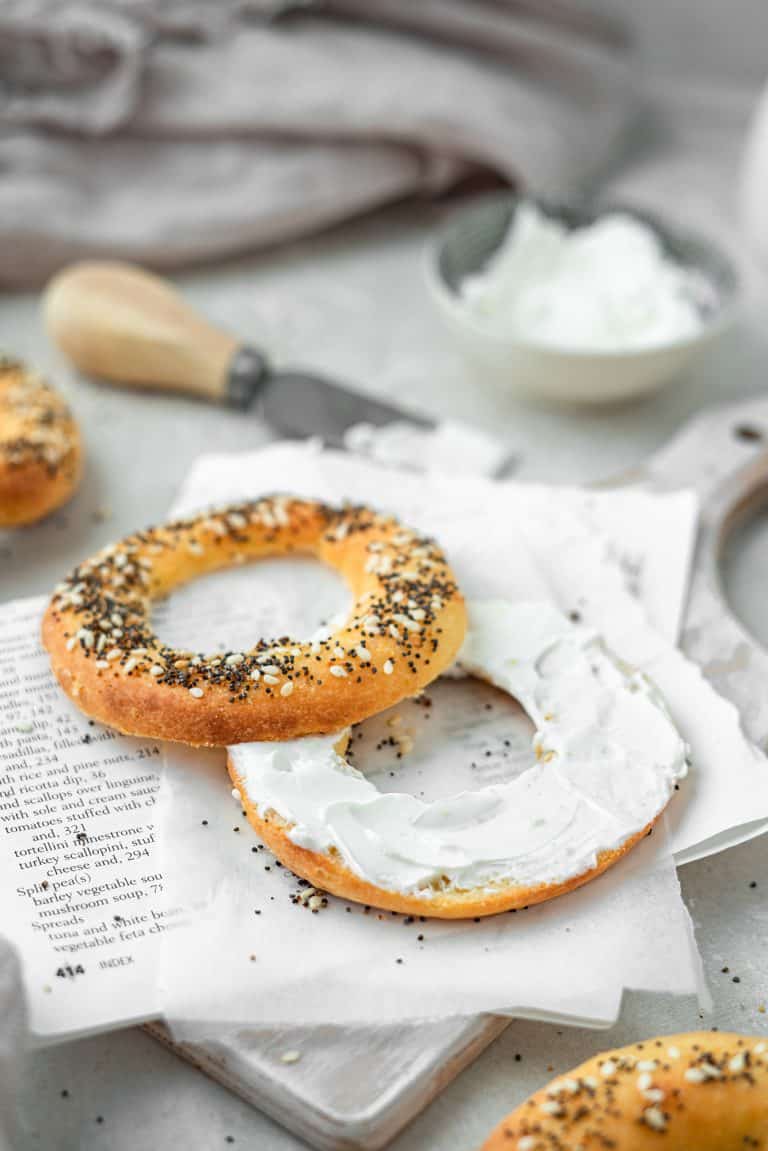 Tips and Tricks for Fathead Dough
Fathead dough is delicious, but can sometimes be a bit tricky to work with. We went ahead an compiled a list of a few common issues that may come up when making fathead dough, and how to fix them.
The Dough is too Sticky
If your dough is too sticky don't fret. Fathead dough can tend to stick because it's made of melted cheese, cream cheese, and large eggs. All things that are a bit runny. A few ways to combat this:
Pop your mixed together dough into the fridge or freezer for a few minutes. The cold will help to set the cheese inside the dough and make it easier to work with.
Put a little oil on your hands. Olive oil on your fingers will help you to form the bagels themselves. Cheese is less likely to stick to something that's already greasy, so just get about a teaspoon of oil on your fingers and go back to working.
The Dough Ingredients are NOT Combining Well
Have no fear this is 100 percent normal! When you are trying to combine eggs and something hot it doesn't always end well. So here's what you will need to know:
Begin by melting the cheese and cream cheese. Once melted but not overcooked (hard golden brown cheese) give it a stir.
Now you can add in the eggs. Work quickly to prevent the eggs from cooking in the hot cheese. If it does have trouble mixing you may need to stick it back in the microwave.
TO MICROWAVE: Make sure you are reheating the dough in 5-10 second intervals and then stirring, NO LONGER. If you try to heat it again too fast the eggs will scramble and your bagel dough will be ruined!
Simply repeat this process until all the eggs and cheese has incorporated, then repeat after adding in the almond flour or almond meal.
You want the low carb bagel dough to be pretty uniform because chunks might mean cheese pockets later. Unless you want that, in which case you do you! A few unmixed bits here and there are okay, but you would like to have it as smooth and uniform as possible.
How to Make Keto Bagels
It's the time you've been waiting for. Warm and delicious bagels smeared with an excessive amount of cream cheese! So without further ado let's get cooking.
Ingredients
To make these low carb bagels we're going to need 5 simple ingredients, and one extra optional one. The dough will require shredded mozzarella cheese which should be pre shredded. Any fresh mozzarella will have too much moisture resulting in a water filled dough.
You will also need cream cheese and a large egg. Often times cream cheeses can have extra fillers which up the net carbs so be sure to check the macros before buying. And finally for the dough you will need baking powder and almond flour.
Baking powder is double acting so it will give these low carb bagels a quick rise. Baking powder is different from baking soda so remember to keep that in mind when purchasing. As for the almond flour your are welcome to use almond meal, but know it may slightly change the texture of your keto bagel.
Finally, the last ingredient you may want but don't need is Everything Bagel Seasoning. Everything bagel seasoning has everything you need to make an everything bagel, boy was that a mouth full! Everything bagel seasoning is a blend of onion flakes, sesame seeds, garlic, and salt. You can also use salt and regular sesame seeds if you don't want to use the pre-made mix.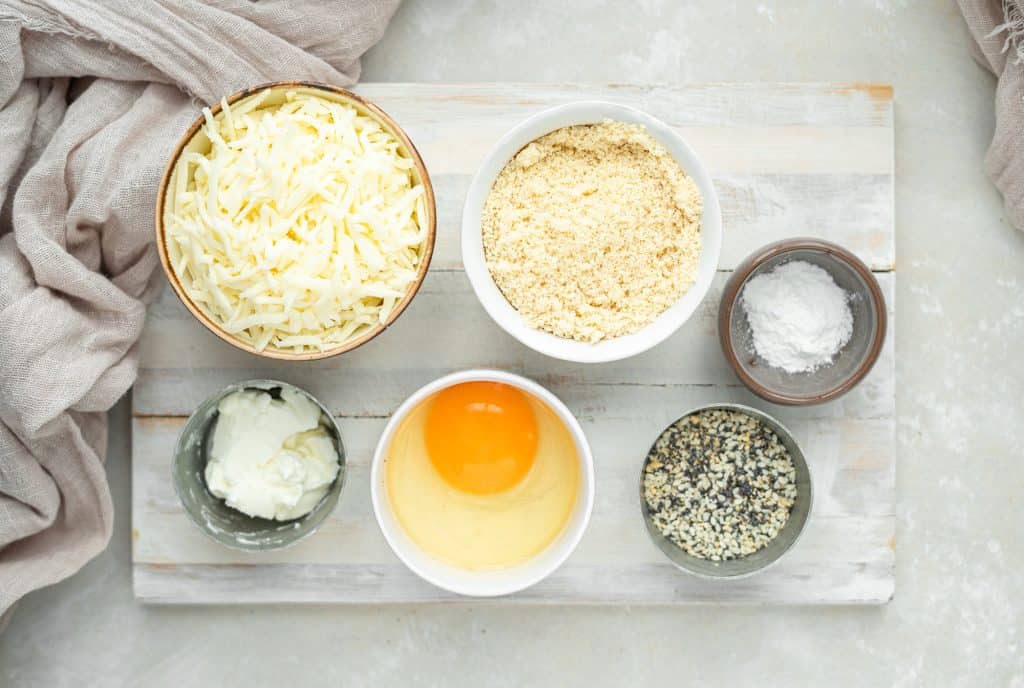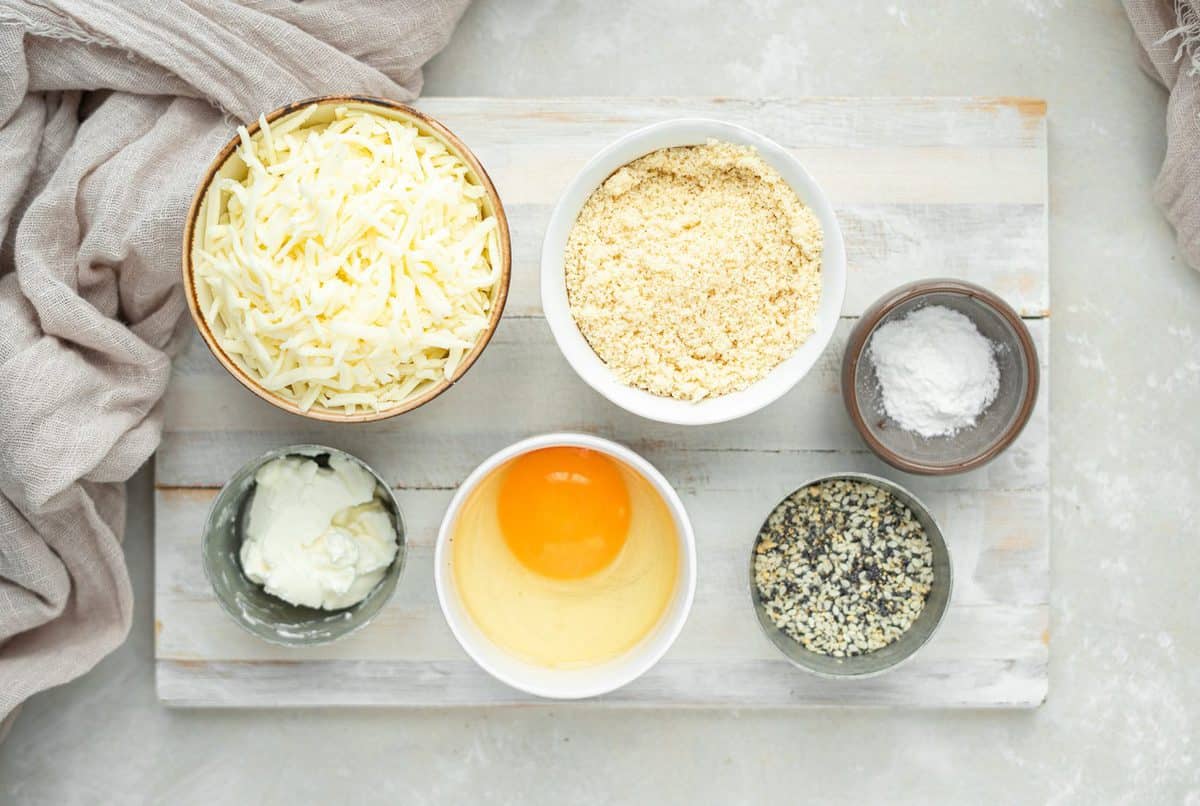 Making Delicious Keto Bagels (Low Carb Friendly!)
Now to prepare and bake the bagels. These low carb bagels are baked instead of boiled and then baked because the cheese in a fathead dough will dissolve in water. Don't worry though making bagels keto is a breeze and might I say even easier than regular bagels!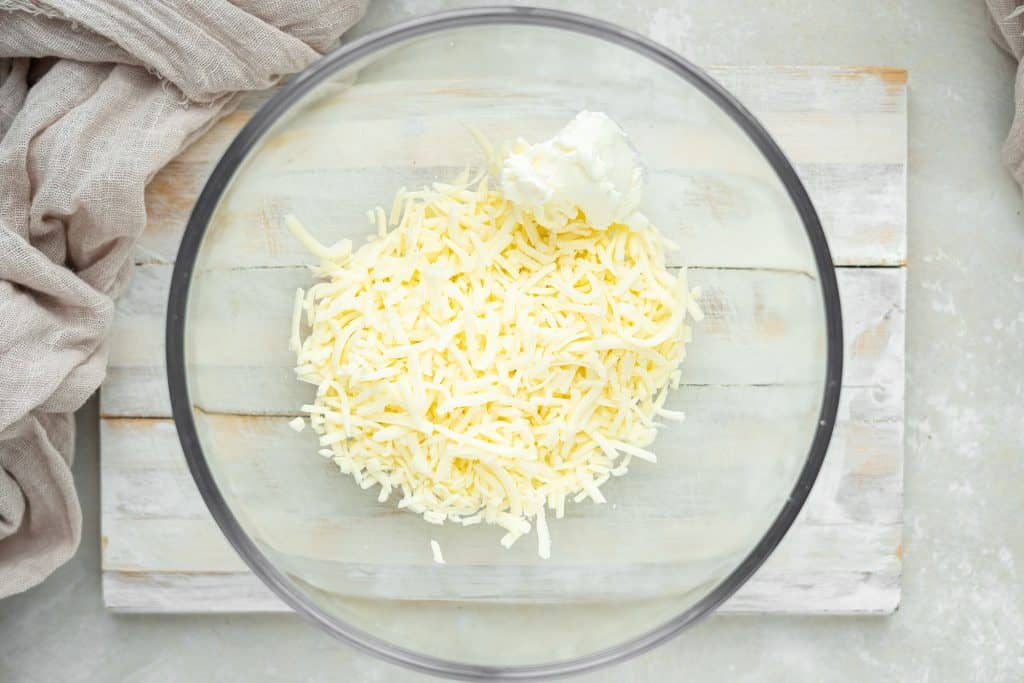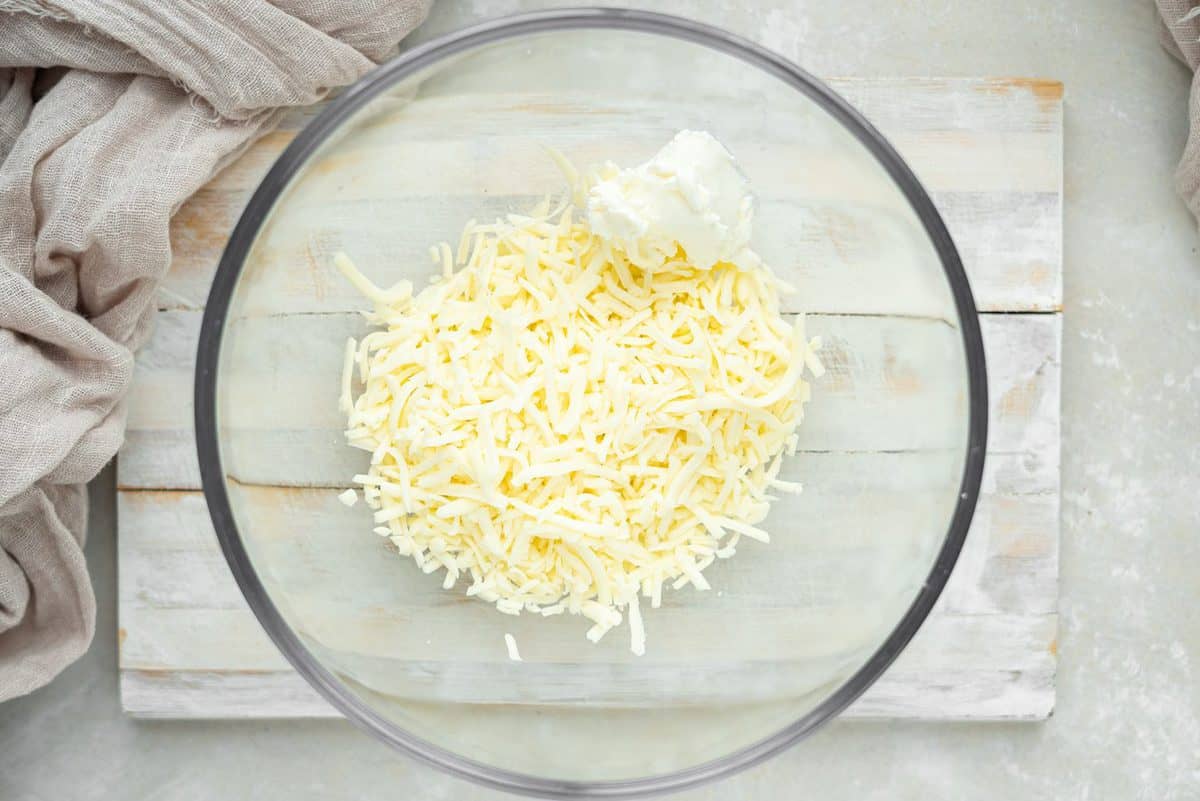 For starters preheat your oven to 400 degrees and line a baking sheet with parchment paper. Then in a microwave safe bowl combine your cream cheese and mozzarella. You will want to microwave it in 30 second intervals mixing in-between until fully melted. Careful not to burn the cheese!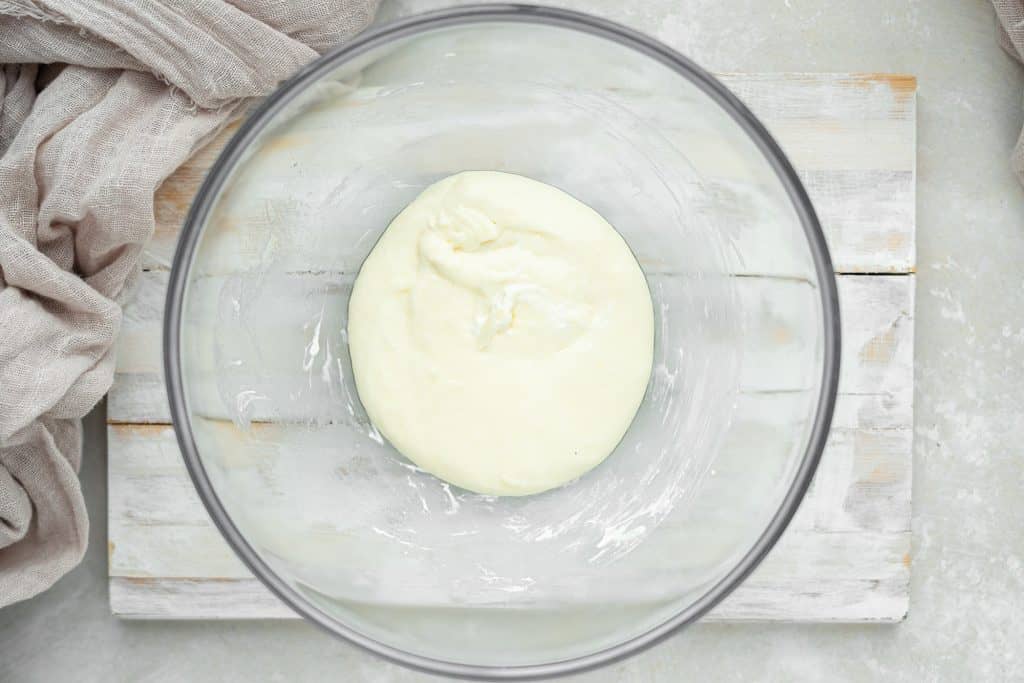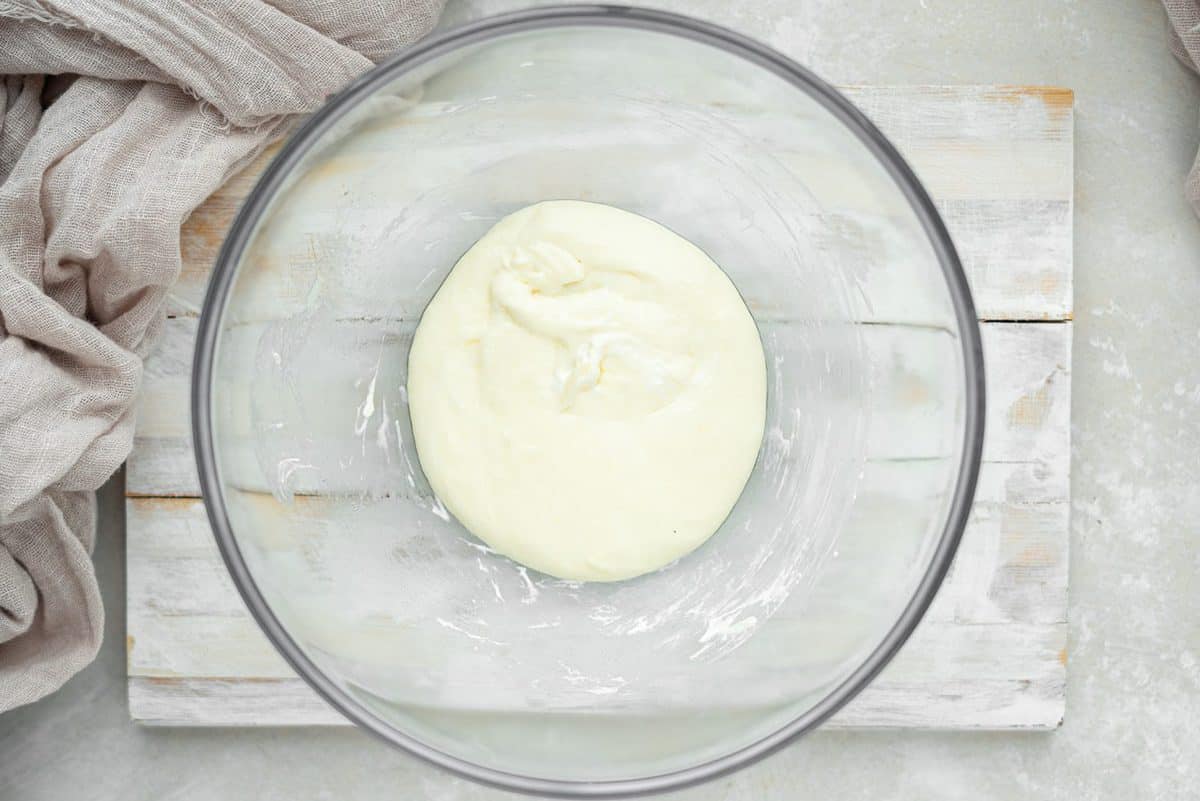 Then add in the egg, almond flour, baking powder, and any extra mix-ins. This could be cinnamon raisin, chocolate chip, ect.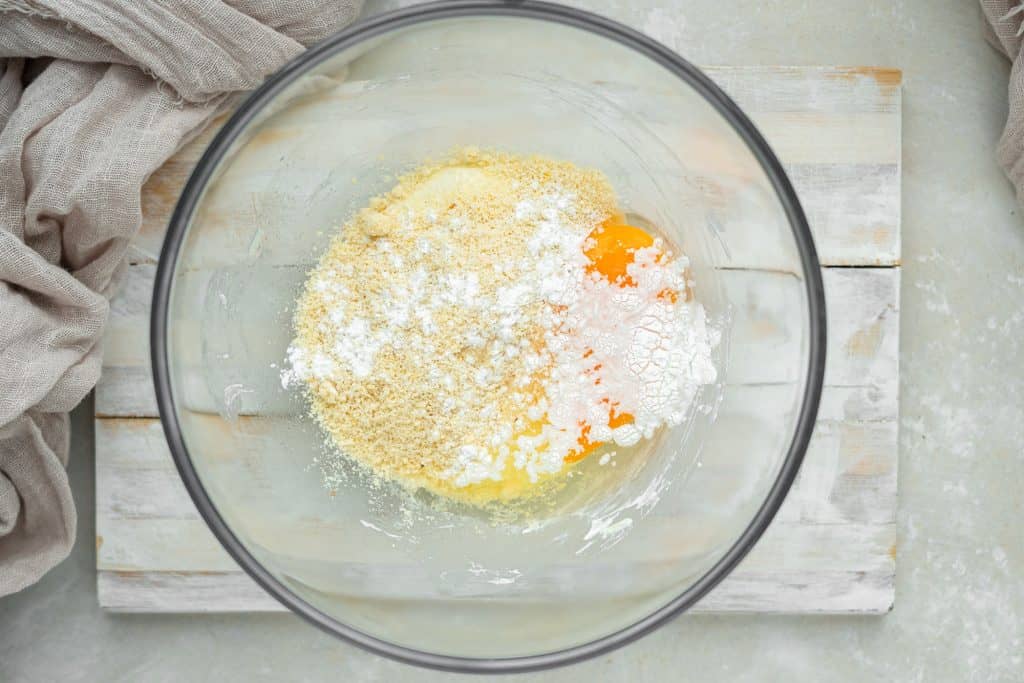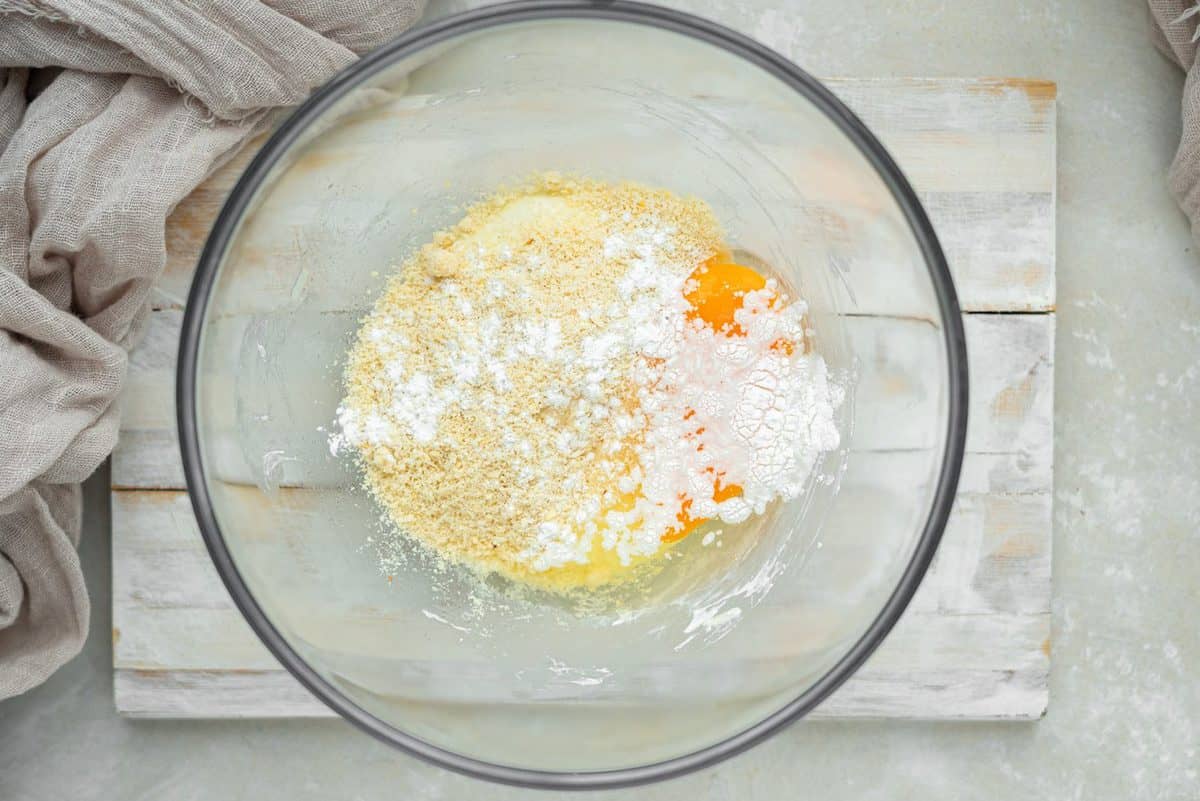 Combine using a fork and then your hands or a spatula until it becomes uniform in texture and consistency.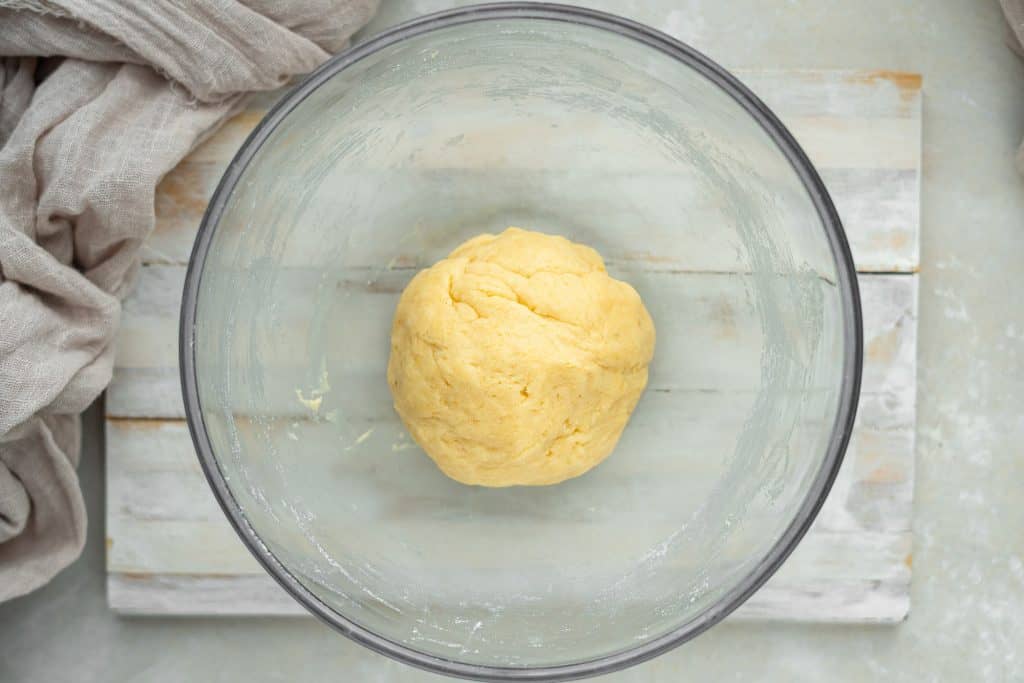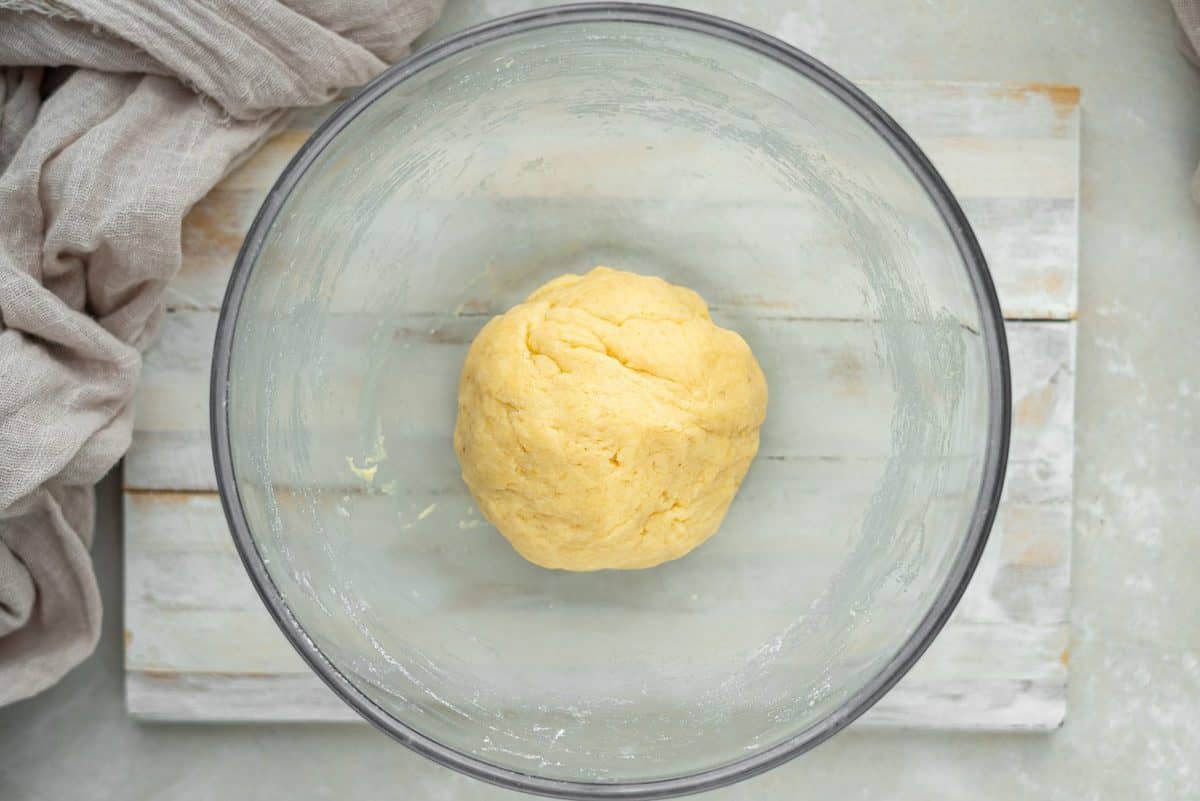 Now cut the dough into equal portions. This can be done using a knife or a pastry cutter.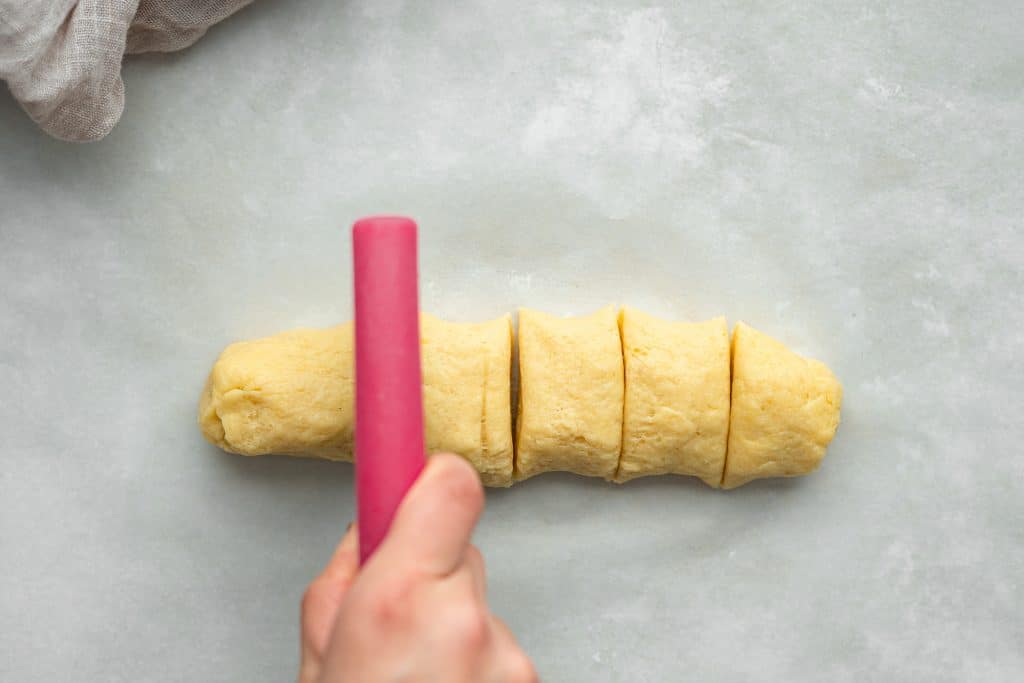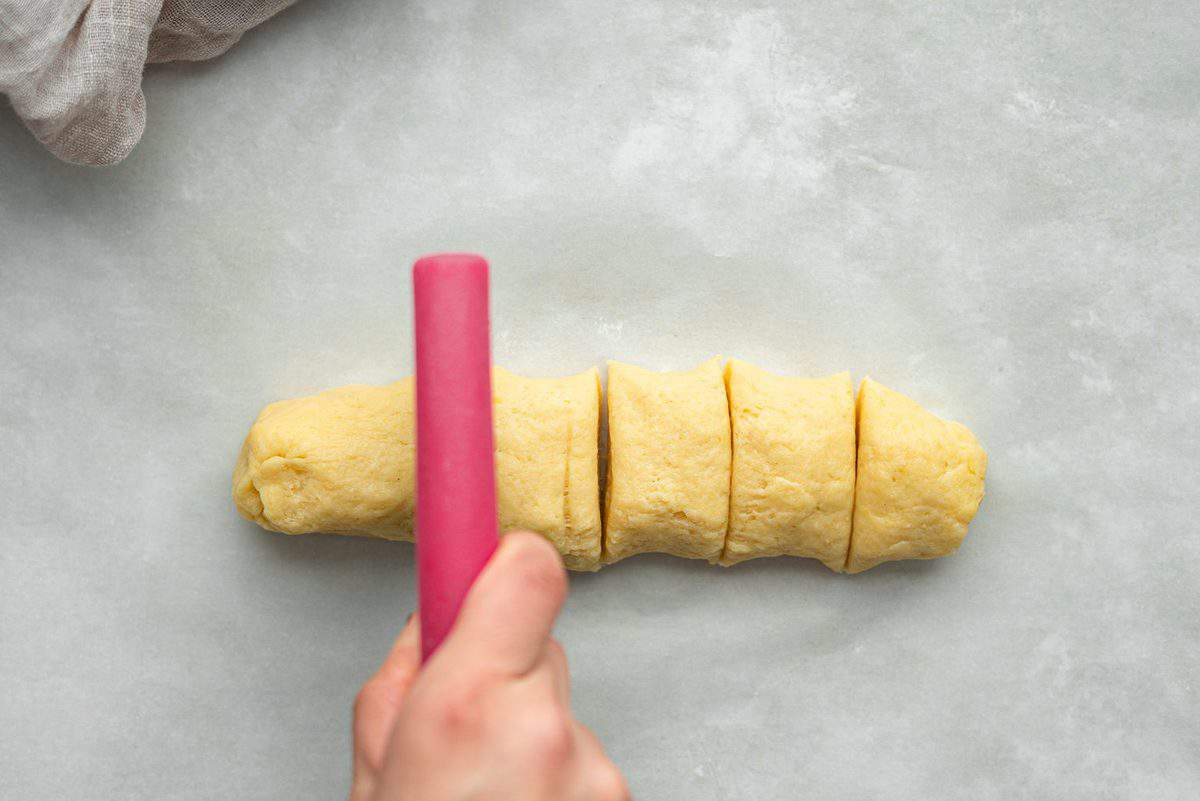 Divide the dough into 6 even balls. Roll each ball out into a thin log using your hands and form a circle onto the parchment paper. Repeat with the remaining dough.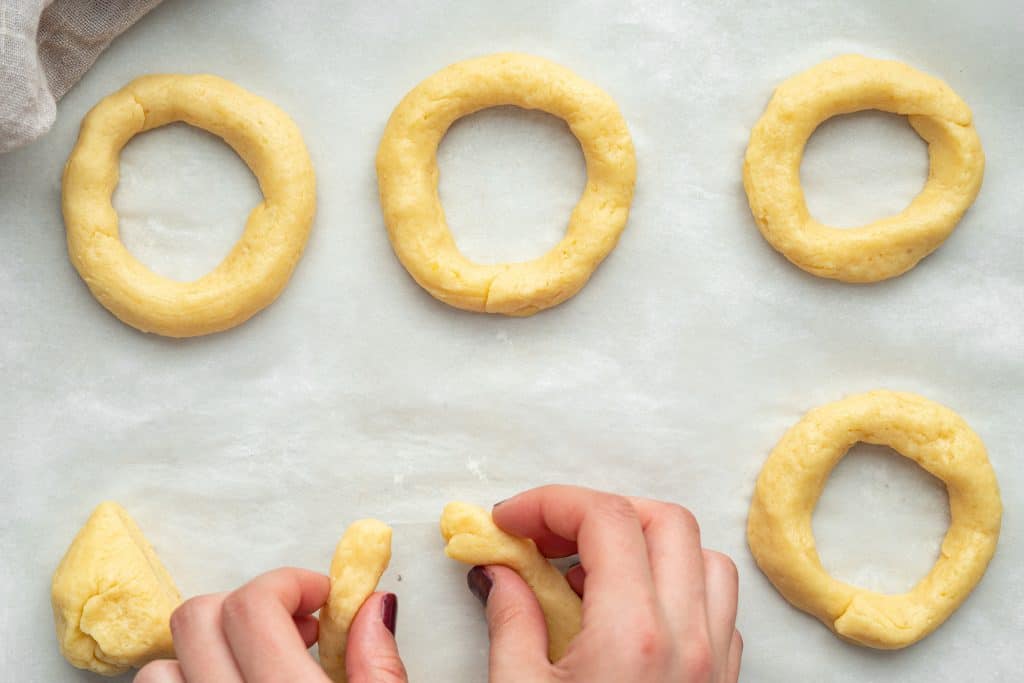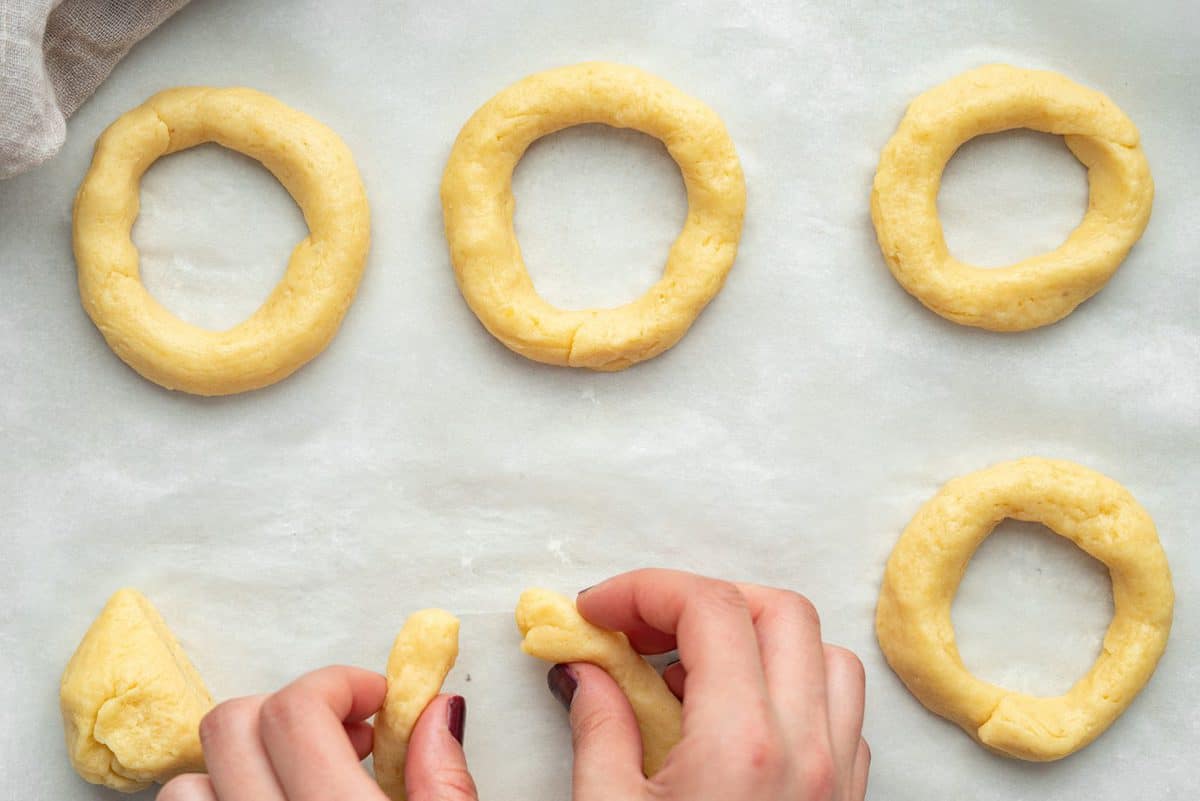 Now if you want a topping lightly brush the top of each bagel with some water to help the seasoning stick better. Sprinkle your desired seasoning like sesame seeds, poppy seeds, or asiago cheese and press down lightly with your fingers.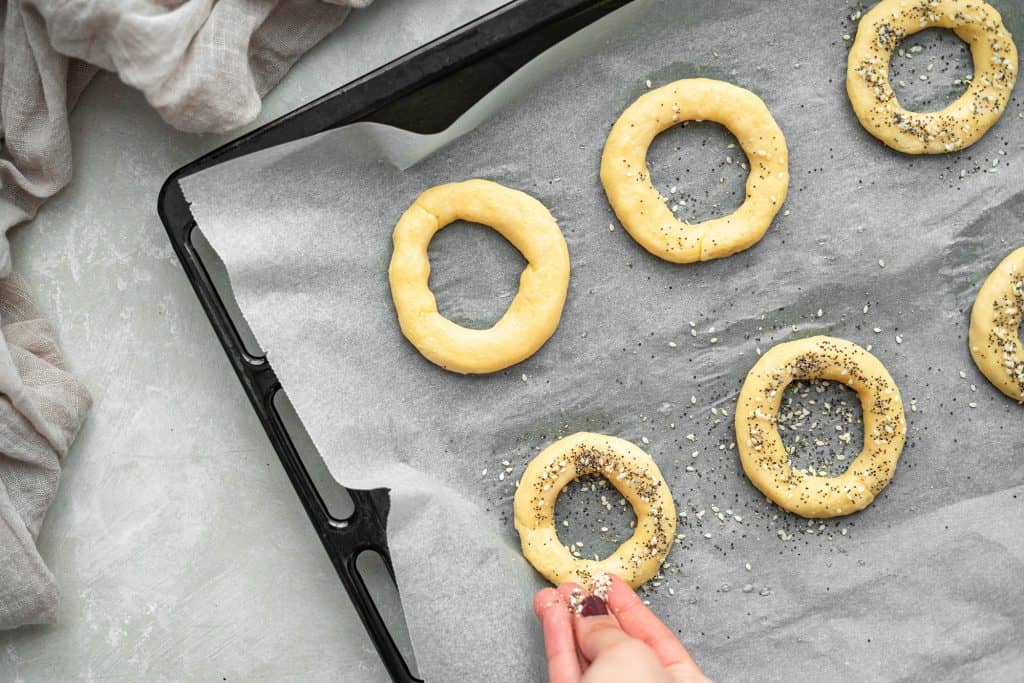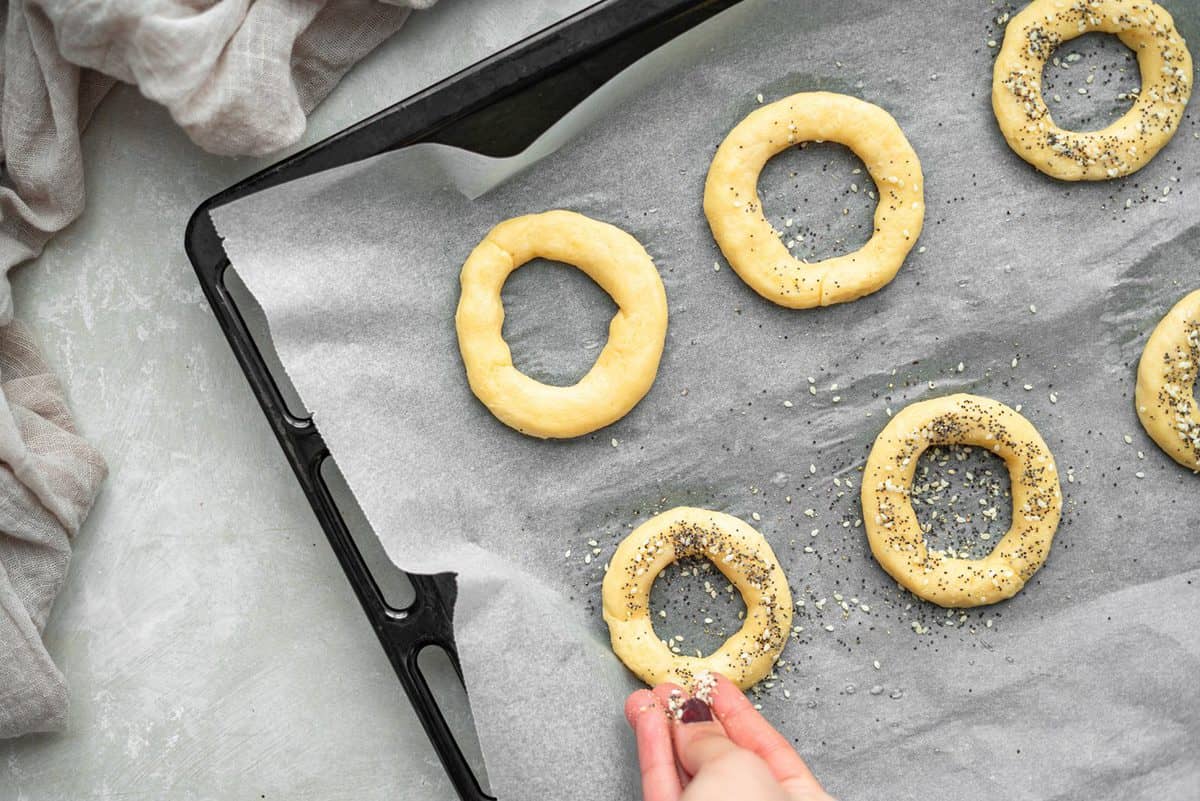 Bake the bagels for 12-14 minutes and then let cool on the lined baking sheet before slicing. If you followed the recipe correctly you should have beautiful golden brown bagels.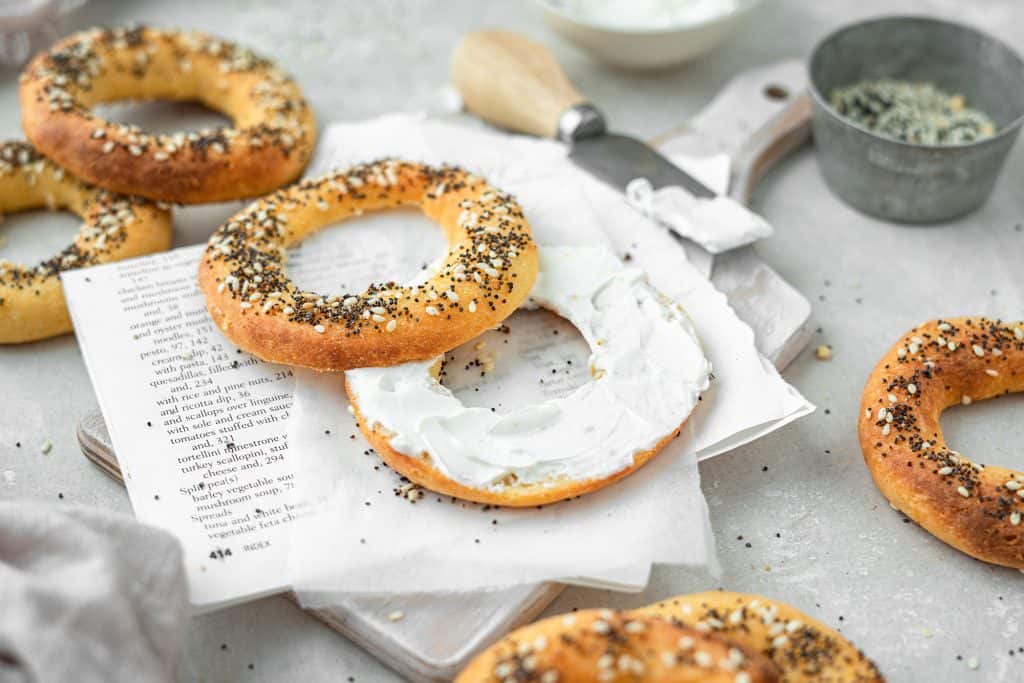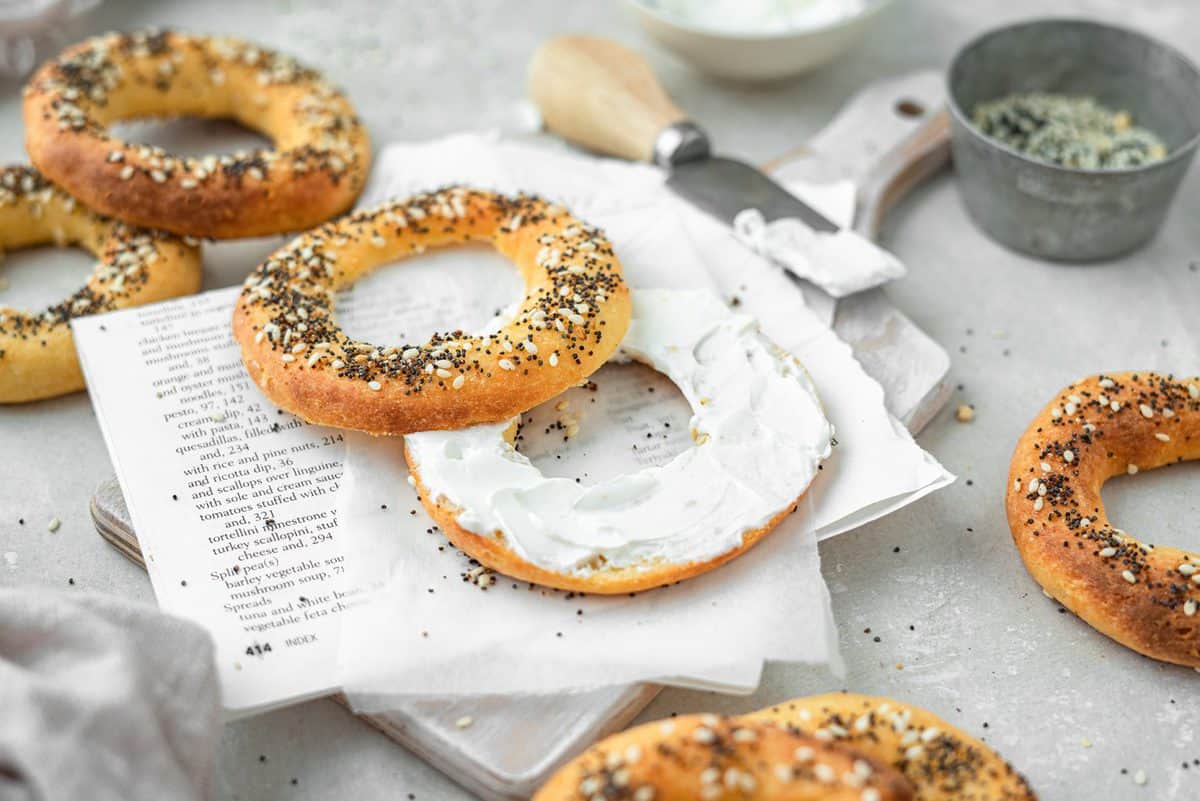 Storing Keto Bagels
Once the keto bagels are out of the oven it's time to think about storing the leftovers, if you have any! Pop your golden brown keto bagels into a airtight container and store them in the fridge for up to a week. Simply pull one out, slice, and then toast when you are ready to enjoy another.
Note: These bagels should not be left on the counter. Since they are made with fathead dough you run the risk of all the dairy going bad and molding. It's best to play it safe and store them in the fridge!
Freezing Keto Bagels
If you love these keto bagels like us you will probably want to make a double batch and freeze half. To do this simply place cooled keto bagels into an airtight freezer safe gallon zip top bag. Freeze until solid. They will last about 2 months in the freezer.
Reheating These Keto Bagels
When you are ready to enjoy a delicious bagel remove one from the freezer bag and place it into the fridge to defrost. For an even quicker method pop it into the microwave for 15-20 seconds until it is soft enough to slice. Then slice the keto bagel and toast once or twice. The recipe will taste just like new!
What to Top Keto Bagels With
If you made and followed the recipe you already know these bagels are delicious. However, while you can make bagels keto; healthy bagels turned into breakfast sandwiches are even better! Whatever you put on this low carb recipe is up to you, just make sure the recipe stays low carb! Some of our favorite toppings on a keto bagel are:
Peanut Butter– Where are my peanut butter jelly fans at! This bagel recipe is delicious with peanut butter and the total time to smear a little peanut butter is about two seconds.
Salmon and Cream Cheese– Everyone knows cream cheese is good on bagels, but salmon and cream cheese is even better! If you have made this recipe before you know the blend of everything seasoning with bagel and salmon is truly legendary.
Butter– This may be my favorite way to make a bagel. It's simple, delicious, and really showcases high quality butter.
Avocado and Egg– Smashed avocado and a runny egg are the perfect combination with a sprinkling of everything seasoning. It's creamy, fatty, and rich in protein. An all around perfect breakfast.
All of these are great options on a keto diet so don't feel limited to always making your bagel one type of way. Experiment a bit and who knows, maybe you'll even find a combination you love more.
Our Favorite Keto Breakfast Recipes!
Both of us are breakfast lovers! Before keto we had some of our best bonding moments over crazy breakfast sandwiches we would whip up on Sunday mornings. Now, we can relive those memories with these keto bagels. Some of our other favorite breakfast meals, that we often even eat for dinner are:
Macro Muffins– Just like they sound! Macro muffins prioritize keto macros giving you a heft dose of protein and fat to start off your keto day.
Low Carb Breakfast Casseroles– Casseroles are a fantastic option for those who prefer to prep one meal and have it ready to go all week. Get creative and make your perfect breakfast casserole that's low in net carbs.
Breakfast Bowls– Having a breakfast bowl is probably our favorite type of meal. They are super quick and easy to make, as well as super versatile allowing you to put in any fillings you like.
If you're not a breakfast lover, no big deal! Don't forget that you can always have dinner for breakfast. Sometimes a bowl of keto chili is the perfect way to start off my Monday, so I'll enjoy just that!
Keto Bagels
We love to make keto bagels low carb because it keeps us full and satiated much longer than the original bagel variety would. Plus who doesn't love a warm toasted everything bagel that's easy to make and slathered with cream cheese. Make a big batch of these bagels and store them in the fridge for easy breakfasts all week!
Quick and easy keto bagels made with fathead dough and Everything Bagel Seasoning.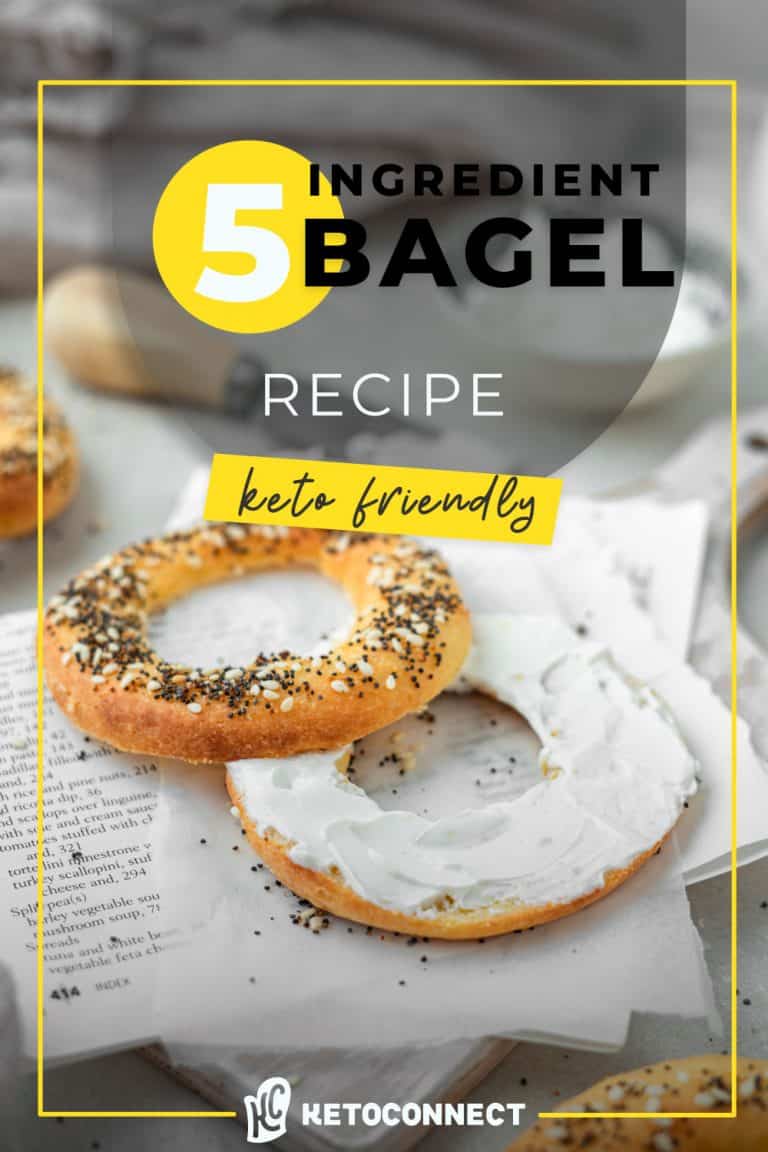 Recipe can be quickly added to MyFitnessPal – Search "KetoConnect – Keto Bagels"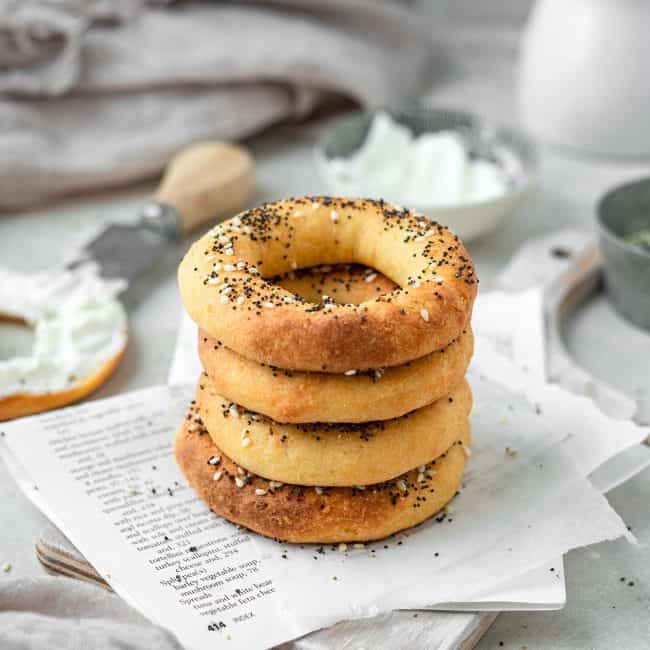 Keto Bagels
Quick and easy keto bagels made with fathead dough and Everything Bagel Seasoning.
Total Time 17 minutes
Servings 6 Bagels
Calories per serving 191kcal
Prep Time: 5 minutes
Cook Time: 12 minutes
Instructions:
Preheat your oven to 400 degrees and line a baking sheet with parchment paper.

Add the mozzarella and cream cheese to a microwave safe bowl and microwave on high for 30 seconds. Stir to combine using a fork and then microwave for another 30 seconds until fully melted.

Add in the almond flour, egg and baking powder and combine using the fork and then your hands or a spatula until uniform in texture and consistency.

Divide the dough into 6 even balls.

Roll each ball out into a thin log using your hands and form a circle onto the parchment paper. Repeat with the remaining dough.

Lightly brush the top of each bagel with some water to help the seasoning stick better. Sprinkle on desired seasoning and press down lightly with your fingers.

Bake for 12-14 minutes.
Notes
Net Carbs: 3g
Serving Size: 1 Bagel
Nutrition Facts
Keto Bagels
Amount Per Serving
Calories 191 Calories from Fat 135
% Daily Value*
Fat 15g23%
Carbohydrates 4g1%
Fiber 1g4%
Protein 10g20%
* Percent Daily Values are based on a 2000 calorie diet.
Written By