Ultimate breakfast sandwiches are back on the menu using these Keto Bagles and we are pumped! We are both huge breakfast lovers so anything remotely related and we are on board. Make these low carb bagels for your family and no one will even know the difference.
Why We Don't Love Fathead Dough.
While fathead dough is definitely a great recipe to have in your arsenal, especially for the kids, we don't love to use it too often. When you're making something like bagels, you're likely planning to top them with cream cheese, which means your are eating dough made out of cheese with cream cheese smeared on top. Not a lot of nutritional value in that meal. That being said, there are times it would be a great option:
Feeding a large group and you need to whip up something quick!
Feeding picky kids or family members that aren't keto, but you want to sneak it in 😉
Wanting to satisfy your bagel cravings without all the carbs!
Not something we would eat everyday, but definitely a recipe we love to have on hand!
FREE PRINTABLE: Keto Food List
Join 150,000 others to get a FREE keto food list and new recipes every week!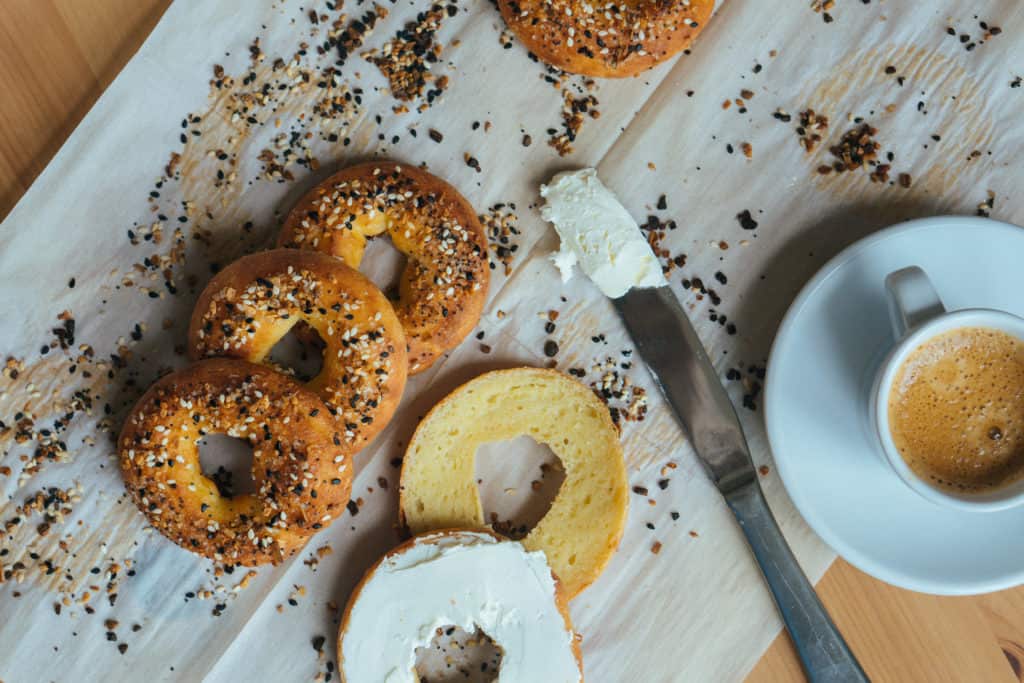 Our Favorite Keto Breakfast Recipes!
Both of us are breakfast lovers! Before keto we had some of our best bonding moments over crazy breakfast sandwiches we would whip up on Sunday mornings. Now, we can relive those memories with these keto bagels. Some of our other favorite breakfast meals, that we often even eat for dinner are:
Breakfast Bowls (our all time favorite)
If you're not a breakfast lover, not a big deal! Don't forget that you can always have dinner for breakfast. Sometimes a bowl of keto chili sounds like the perfect way to start my Monday off, and I do just that!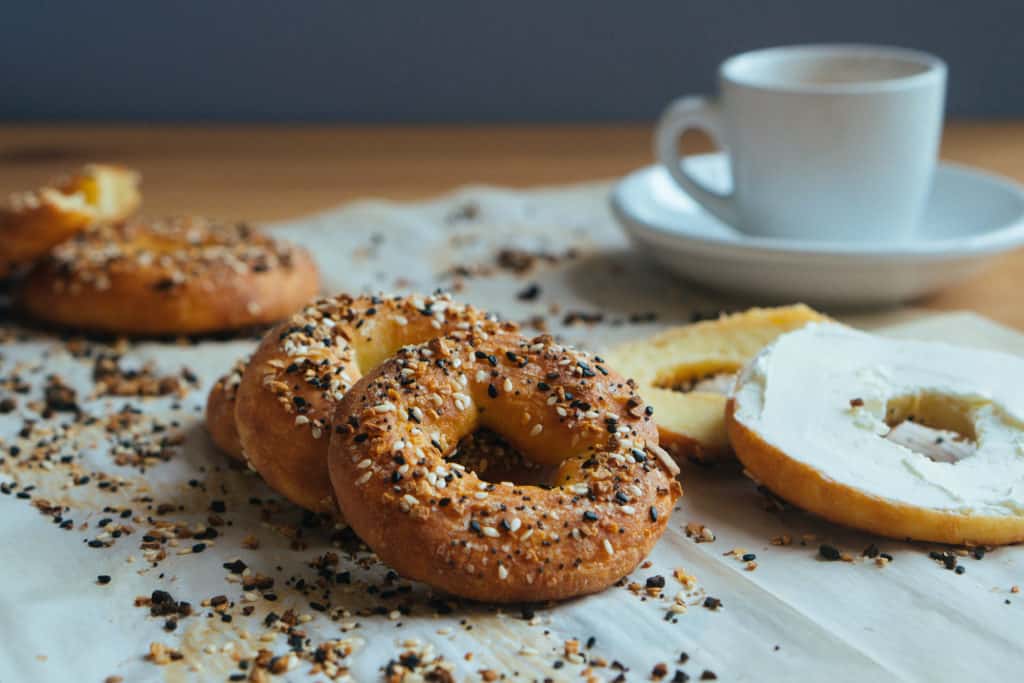 Fathead Dough Keto Bagels!
Fathead dough isn't just for pizza. You can seriously make anything you want using this dough and it will turn out good! Whoever created the original recipe, we have you to thank because people are always using fathead dough to create delicious recipes all the time. Bagels were always one of those foods I could never have just one of, but always felt a little bad when I did. I had to remind myself "I'm eating 5 slices of bread" whether or not that was true. Now, I can eat keto bagels without the guilt or the carbs.

Recipe can be quickly added to MyFitnessPal – Search "KetoConnect – Keto Bagels"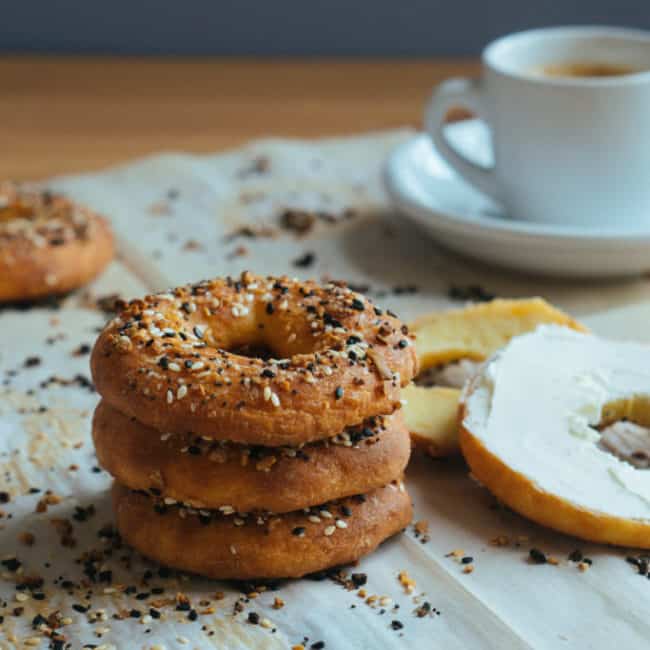 Keto Bagels
Quick and easy keto bagels made with fathead dough and Everything Bagel Seasoning.
Total Time 17 minutes
Servings 6 Bagels
Calories per serving 191kcal
Prep Time: 5 minutes
Cook Time: 12 minutes
Instructions:
Preheat your oven to 400 degrees and line a baking sheet with parchment paper.

Add the mozzarella and cream cheese to a microwave safe bowl and microwave on high for 30 seconds. Stir to combine using a fork and then microwave for another 30 seconds until fully melted.

Add in the almond flour, egg and baking powder and combine using the fork and then your hands or a spatula until uniform in texture and consistency.

Divide the dough into 6 evenly balls.

Roll each ball out into a thin log using your hands and form a circle onto the parchment paper. Repeat with the remaining dough.

Lightly brush the top of each bagel with some water to help the seasoning stick better. Sprinkle on desired seasoning and press down lightly with your fingers.

Bake for 12-14 minutes.
Notes
Net Carbs: 3g
Serving Size: 1 Bagel
Nutrition Facts
Keto Bagels
Amount Per Serving
Calories 191 Calories from Fat 135
% Daily Value*
Fat 15g23%
Carbohydrates 4g1%
Fiber 1g4%
Protein 10g20%
* Percent Daily Values are based on a 2000 calorie diet.