If you're looking for a deliciously creamy, low-carb keto pumpkin soup to add to your list of keto recipes, this is it!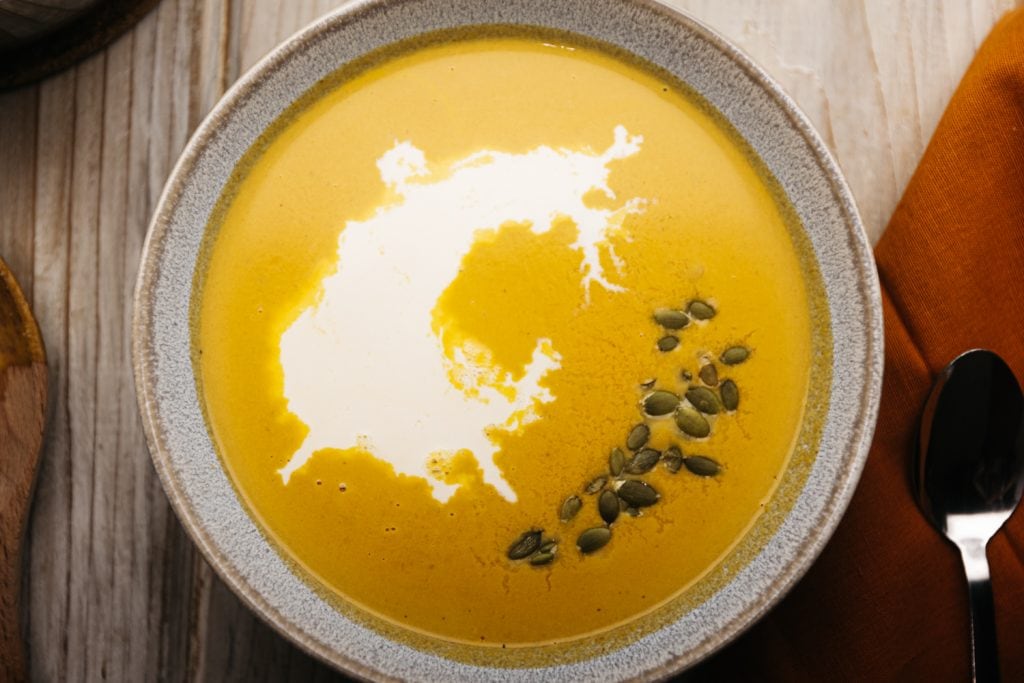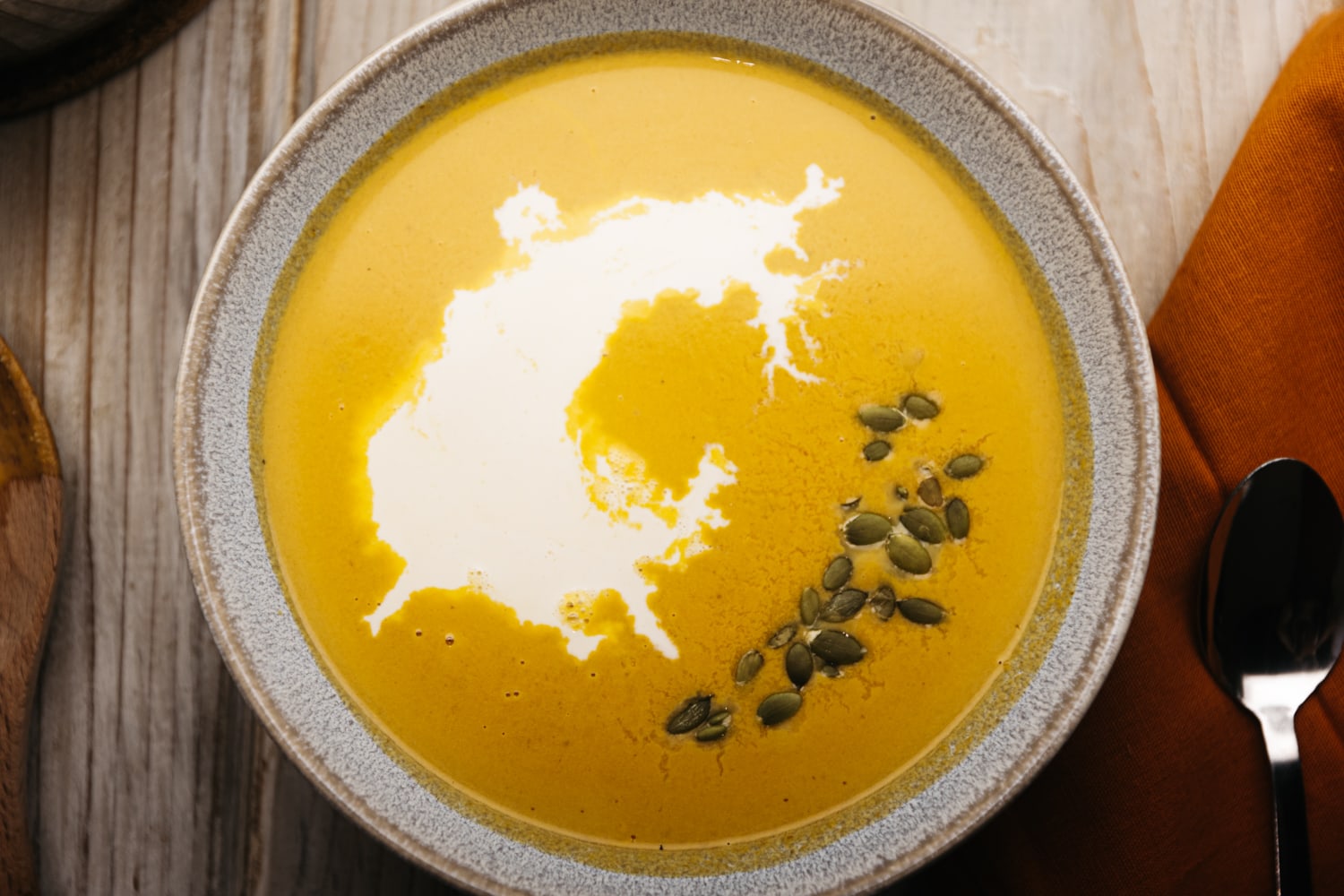 It's easy to make, even for beginners, and it packs healthy fats, vitamins, and minerals into your diet without the risk of pulling you out of ketosis. Best of all, you probably have most of the ingredients you need in your pantry already.
A Delicious and Versatile Meal
Keto pumpkin soup is the kind of soup you can serve year-round. We love it as a chilled option on hot summer days almost as much as we enjoy the rich flavor and thick texture to warm us up in the winter.
We've served this soup to guests as a first course, and we've eaten it ourselves for quick lunches with a side salad or half of a low-carb keto sandwich. You can even make it a stand-alone meal by adding some hot sausage and chopped mushroom. Either way, it will be a delicious and hearty addition to any low-carb diet.
Is Pumpkin OK for Keto?
Keto dieters can rejoice: pumpkin is perfectly acceptable to add to a keto diet. Pumpkin is naturally high in carbs, but some of the carbohydrates come from dietary fiber. The sugar content is very low, and there are few net carbs that will help you maintain ketosis.
Pumpkin not only has a low glycemic load, but it's also super nutritious. It's packed with vitamins and minerals, including vitamin A.
All-in-all, pumpkin is a wonderful addition to a low-carb diet, adding flavor and nutrition while helping you stay in ketosis. It does contain some sugar and complex carbohydrates, so just make sure you carefully monitor how much keto pumpkin soup you eat while following a keto diet.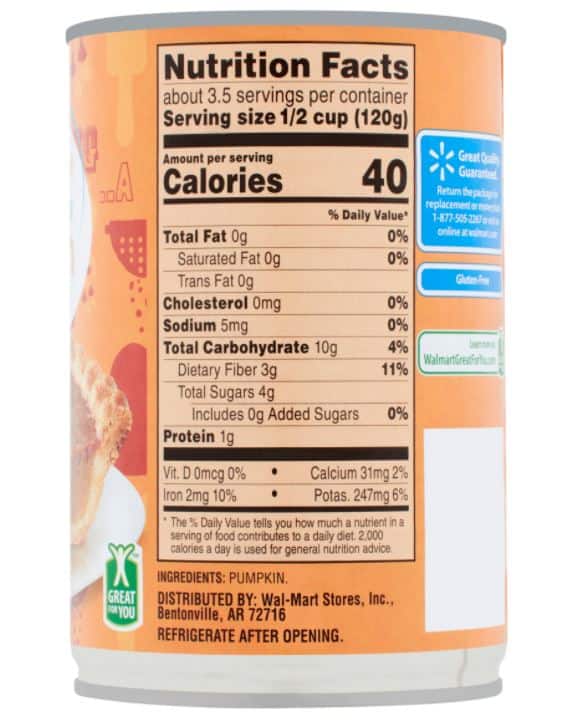 How Many Carbs Are In Keto Pumpkin Soup?
Pumpkin soup is naturally low in starch and sugar, with most of the carbs coming from dietary fiber. The primary source of carbs in this keto pumpkin soup is the pumpkin puree you'll be using, so it will be very easy to track how many carbs you consume with each serving.
This recipe calls for a cup of pumpkin puree, which will add 10g of total carbohydrates, 3g of dietary fiber, and 5g of sugar. You can expect 7g of net carbs from the pumpkin in this entire recipe.
The cream we used had a total of about 5g of net carbs.
In total, you can expect this entire keto pumpkin soup recipe to deliver 24g of total carbohydrates, 5g of sugar, 3g of dietary fiber, 5g of sugar alcohols, and around 18g of net carbs. We usually split this recipe into two servings and still get a modest portion, so each serving will contain 9g of net carbs. Not bad for a soup this delicious!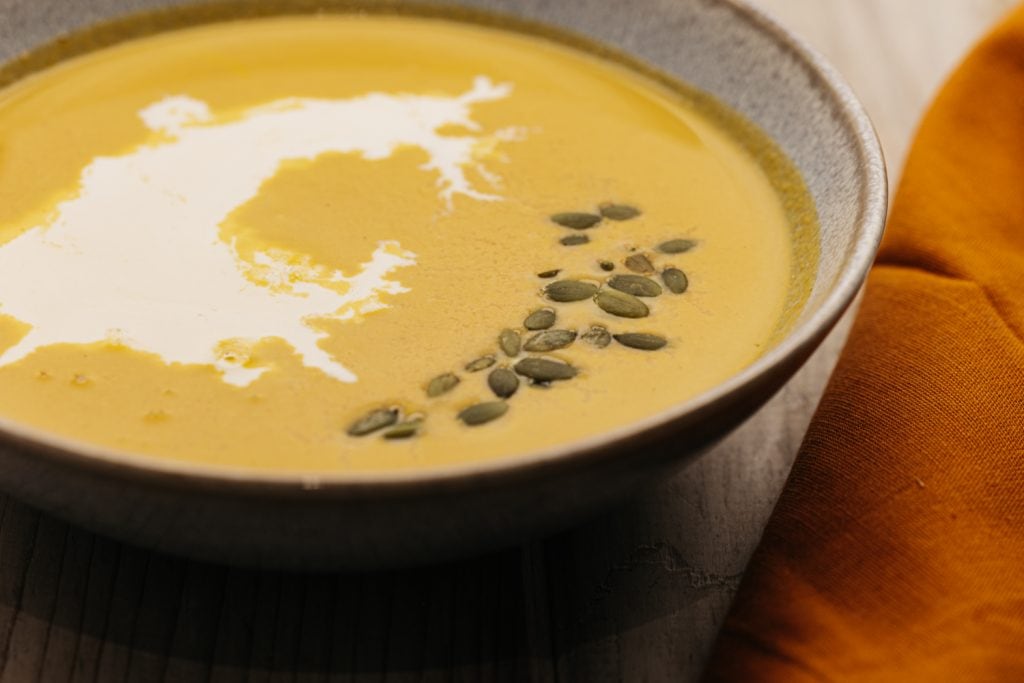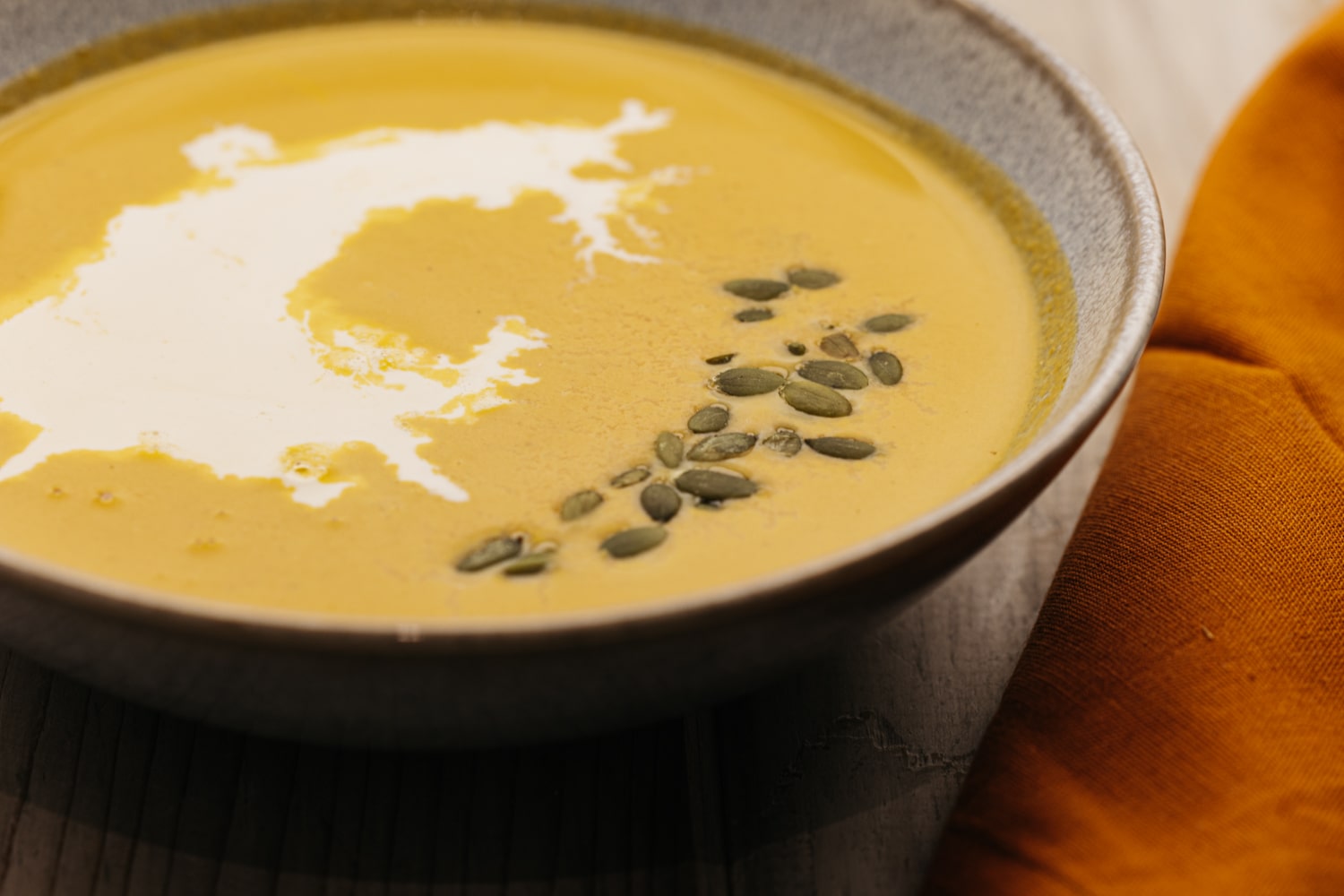 Ingredients In Keto Pumpkin Soup
One of the best parts about this keto pumpkin soup is that the ingredients are simple, and you probably won't even have to go food shopping before diving into cooking.
Below is a list of everything you'll need:
1 cup Canned Pumpkin Puree
2.5 Cups Chicken Broth or Chicken Stock
1/2 Cup Cream or Heavy Cream
1/4tsp Garlic Powder
1/4-1/2 tsp Salt (to taste)
1/4 tsp Pepper
1/4 tsp Ginger Powder
1/4 tsp Thyme
Optional Ingredients and Substitutions
If there's one thing we love about this keto pumpkin soup — other than the flavor, of course! — it's the fact that it can be tweaked and customized to suit your liking, the time of year, and how you'll be serving it. Below are some optional changes you can make to your keto-friendly pumpkin soup.
Mushrooms
We've never met a keto dieter who didn't love mushrooms, and this keto pumpkin soup is the perfect opportunity to add some to your diet! Pumpkin soup is naturally earthy and savory, and chopped mushrooms just add to the complexity and provide a very enticing texture and meatiness.
If you're adding mushrooms, you can sautee them in the pot with the garlic and some olive oil or an olive oil substitution before you add the other ingredients. Cook until they're soft, then continue with the rest of the steps.
Sausage
If you're looking to add a little protein and heartiness to your keto pumpkin soup, consider adding some sausage crumbles to the mix. Including sausage or both sausage and mushrooms will instantly transform this soup into one fit for a main course.
The saltiness of the sausage will cut through the creamy texture of the soup, and the flavors of pumpkin and sausage just seem to be made for each other. Serve this on Thanksgiving, Christmas, other holidays, or just any old weekday, and you'll have any guest asking for more!
Our favorite option is to cook the sausage crumbles and mushrooms in the pot first before you add the heavy cream and other ingredients. Just make sure the meat is thoroughly cooked before adding other ingredients, and ensure the mushrooms are nice and soft.
Looking for a complimentary dish to serve alongside this hearty soup? Try our Cauliflower Mac and Cheese as an easy appetizer.
Pepitas
Pepitas, better known as pumpkin seeds, can be added into your keto pumpkin soup as a nice garnish. Not only will it make your dish look professional and enticing, but the pepitas will also add a satisfying crunch to your spoonful's of savory soup.
We recommend lightly salted and roasted pumpkin seeds; these will add some complexity to the creaminess and earthiness to the taste.
Bacon
Every keto dieter loves bacon, and we find ourselves adding this high-fat, no-carb meat to at least one meal a day! What better way to get your bacon fix than in a delicious and nutritious keto pumpkin soup?
We have found that the best way to add bacon to this recipe is to pan fry it beforehand. We like to get the bacon nice and crispy so that it adds a little crunch to the soup. Once it's fried up and ready to go, you can let it cool while you prep the pumpkin soup.
We recommend chopping the crispy bacon and adding it as a garnish to the top of the soup just before you serve it. The salty meat will be a welcome addition to the creamy dish, and the crunch will deliver a desirable texture that can't be beaten.
Coconut Milk
If you're a dairy-free keto dieter, you can still make this keto pumpkin soup by substituting coconut milk or coconut cream for the regular cream in equal quantities.
We recommend using coconut milk over coconut cream, as the texture is better and the coconut flavor isn't overwhelming. However, if you're looking for a really creamy texture, you can include a bit of coconut cream in addition to a half can of coconut milk.
The best option we've found is unsweetened coconut milk. That will provide some healthy fats, vitamins, and a thick texture without adding too many carbohydrates or sugars. This is a great way for dairy-free keto dieters to remain in ketosis and still enjoy this amazing recipe.
How to Make This Keto Pumpkin Soup With Fresh Roasted Pumpkin
Another one of our favorite substitutions is fresh pumpkin. If you're making this soup in the fall or early winter, you should have no issue finding real pumpkins to use, and doing so will add some complexity to the cooking process, as well as some fun!
You'll want to use sugar pumpkins for this recipe, as it will add a bit of natural sweetness without bumping up your carbohydrate content too much. Preheat your oven to 350 degrees (F). While your oven is heating up, cut the pumpkin in half so that the stem is divided between the two halves.
Take some time to scoop out all of the pumpkin seeds and the stringy part of the inside. This is a similar process to how you clean out a spaghetti squash. Make sure that you're thorough, as baked seeds and the guts of the pumpkin can both add some undesirable flavors to your soup.
Use a basting brush to apply an oil of your choice to the insides of the pumpkin, and then place them face down on a lightly-oiled baking sheet. Bake for about 50 minutes.
Once the pumpkin is done baking and soft enough where you can push a fork through the skin without too much trouble, remove from the oven and let it sit for 10-15 minutes. You want the pumpkin to be cool enough to handle without an issue but still warm so that you can easily mash the innards.
Peel the skin off of the pumpkin and throw it away. Mash the remainder, and set aside about 1½ to 1⅔ cups for this recipe. Simply add the fresh pumpkin puree in place of the canned puree.
Our Favorite Keto Pumpkin Recipes
Keto Pumpkin Bars – This has been our favorite keto pumpkin recipe this fall. The flavorful bars are topped with the most delicious cream cheese frosting.
Keto Pumpkin Pancakes – We love cooking these up on the weekends. Pancakes are great to begin with, but adding in a little pumpkin flavor is always a winner.
Easy Keto Pumpkin Pie – You need a good pumpkin pie recipe if you're going to stick to your diet this holiday season!
Keto Pumpkin Bread – This is not your typical pumpkin bread. We've filled this moist and flavorful bread with a ribbon of cheesecake to make it the perfect sweet treat for fall.
Keto Pumpkin Muffins – Look no further than this slightly sweet and incredibly flavorful muffin recipe that is perfect for the holidays.
Ready to Cook?
With the mouth-watering options above, we're sure you're ready to dive in and get this meal started! Below are the super simple steps to get this keto pumpkin soup recipe on the table.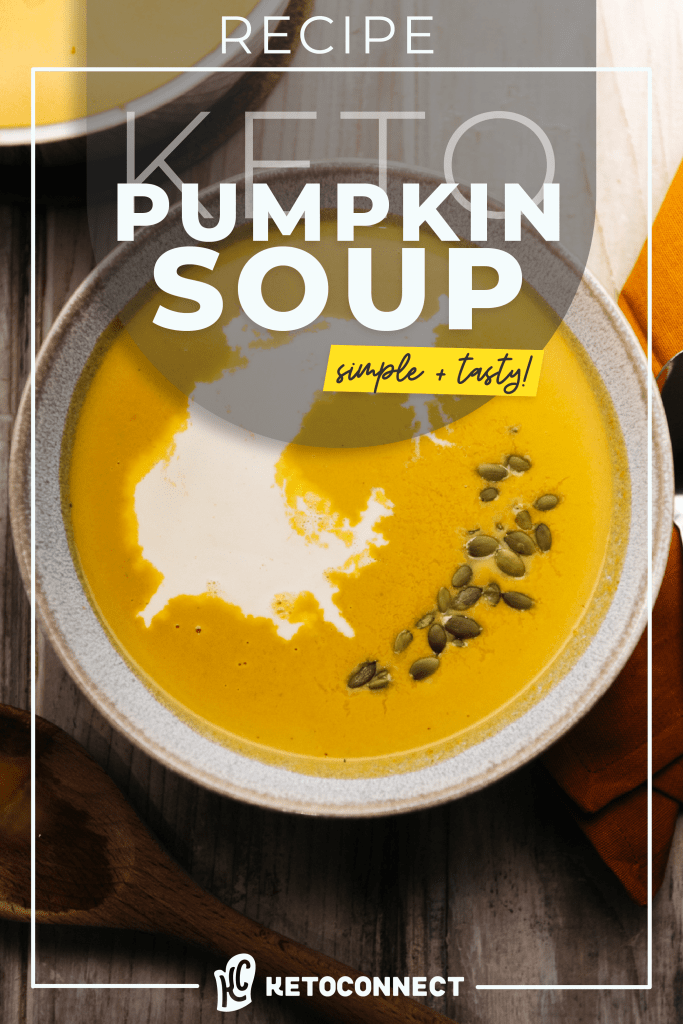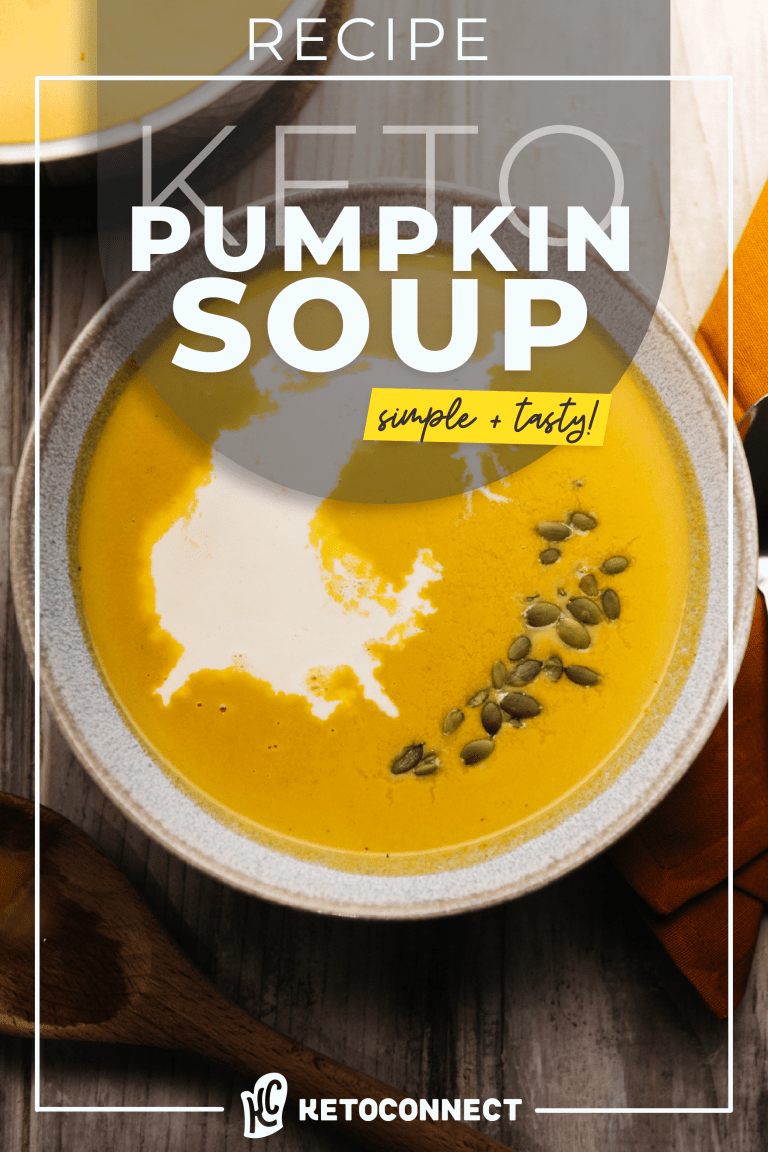 Easy Keto Pumpkin Soup Recipe
This warm and tasty keto pumpkin soup recipe is perfect for the fall. Keeping it low carb during the holidays is easy when you have recipes like this one.
Total Time 15 minutes
Servings 2 servings
Calories per serving 265kcal
Prep Time: 5 minutes
Cook Time: 10 minutes
Instructions:
In a medium sized pot or saucepan combine the pumpkin puree, chicken broth, cream, salt, pepper, garlic, ginger and thyme.

Cook over medium heat for 10-15 minutes, or until the soup is warm and fragrant. Be sure to taste the salt level before serving.

Remove from heat and allow to cool for 5 minutes before serving. Top will a splash of cream and roasted pumpkin seeds (optional).
Nutrition Facts
Easy Keto Pumpkin Soup Recipe
Amount Per Serving
Calories 265 Calories from Fat 207
% Daily Value*
Fat 23g35%
Saturated Fat 14g70%
Polyunsaturated Fat 1g
Monounsaturated Fat 7g
Cholesterol 82mg27%
Sodium 1686mg70%
Potassium 545mg16%
Carbohydrates 14g5%
Fiber 4g16%
Sugar 4g4%
Protein 4g8%
Vitamin A 19959IU399%
Vitamin C 26mg32%
Calcium 91mg9%
Iron 2mg11%
* Percent Daily Values are based on a 2000 calorie diet.
Written By