No matter what kind of diet you follow, everyone needs a super low-prep recipe up their sleeve. The kind of delicious dish you can throw together in just a few minutes, with as few ingredients as possible. And of course, bonus points if it's tasty and healthy! So what's our recipe that ticks every one of those boxes? This easy Keto Coleslaw recipe.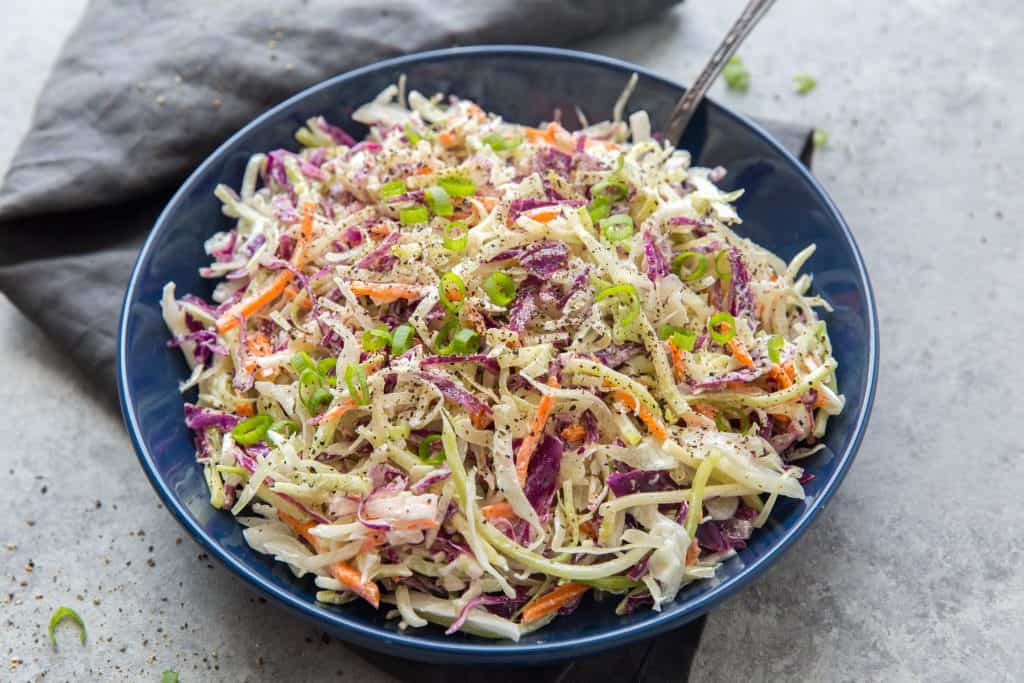 Easy Keto Cole Slaw
It's barbecue season, which can only mean one thing: all the sides! Nothing beats a smorgasbord of delicious, fresh summer dishes on a hot afternoon – and this low-carb Keto Coleslaw recipe is no exception.
The Best Keto Barbecue Side Dish Recipe
Picture this: you're gathered with friends and family on a beautiful summer day. The tunes are playing, the sun is shining, and maybe the beers are flowing, too.
Everyone's loading up their plate with a selection of tasty dishes from the food table, but there's one dish everyone keeps going back for: the coleslaw. The one you made – and no one even knows it's keto and sugar-free!
Sounds pretty great, right? Well, here's the best part of your perfect summer day fantasy: you whipped up that gluten-free, homemade Keto Coleslaw just five minutes before you left the house.
Our Keto Coleslaw recipe isn't just great for barbecues. It's also the perfect no-cook keto recipe that even the most inexperienced cook can throw together.
Hey, maybe your idea of a perfect summer is getting dinner on the table in under 15 minutes – and this perfect BBQ side dish will definitely get you halfway there! Just add a rotisserie chicken and you're good to go.
Because as much as we love making delicious keto recipes, sometimes you really just need a quick, easy dish the whole family will love.
Can You Eat Coleslaw on Keto?
You might be thinking – "wait, isn't coleslaw already keto?" Unfortunately, most store-bought coleslaw is not.
Yes, the main ingredient in coleslaw – cabbage – has as little as three grams of net carbs per cup. And the dressing is high-fat. But it's also high in something else.
Sugar
Can you guess where the sugar might be hiding in your regular bagged coleslaw? If you said the dressing, you're correct!
That little sachet of coleslaw dressing is often loaded with sugar, which is your number-one source of carbs.
So how many carbs are in coleslaw dressing? To give you some perspective, one bagged Organic Coleslaw Kit from Trader Joe's has 20 grams of added sugar alone! Now that's a lot of net carbs.
By making your own Keto Coleslaw dressing, you can avoid the unnecessary added carbs. Just another reason to enjoy this easy low-carb coleslaw recipe as part of your keto diet.
Vegetable Oil
Conventional coleslaw dressing isn't just packed with sugar. It's often made with vegetable oils – which, despite being low-carb, are a big no-no on a keto diet.
We've mentioned why we're not fans of vegetable oil before, and you can read all about our thoughts on cooking oil in our guide here.
In a nutshell, the highly processed vegetable oils you find in coleslaw dressing like canola, soy and sunflower aren't so great for your health. They've been linked to increased inflammation in the body, which is why we prefer to make Keto Coleslaw that doesn't contain any nasty oils at all.
Can You Eat Mayo on Keto?
Mayo is a staple of many Keto Coleslaw recipes. The majority of mayonnaise you'll find in the store does contain vegetable oil, which again, isn't recommended on a keto diet.
However, we've found a workaround. Instead of mayo, we've used yogurt for an extra-tangy dressing base.
If you want to make your Keto Coleslaw dressing dairy-free, you can use mayonnaise. Just be sure to use one that doesn't contain vegetable oil, and instead uses avocado, coconut or olive oil.
Carrots
Here's something that might surprise you. While this low-carb coleslaw might contain carrot – a higher-carb vegetable – we think it's perfectly acceptable in your sugar-free Keto Coleslaw.
Why? Well, the amount of carrot in an entire bag of keto-friendly coleslaw is pretty small, which turns out to be even less per serving. A little carrot can go a long way!
In fact, this is a great way to include higher-carb vegetables in your keto diet. Think of them as a garnish. Not to mention the carrot adds an amazing little crunch and pop of color to your dish.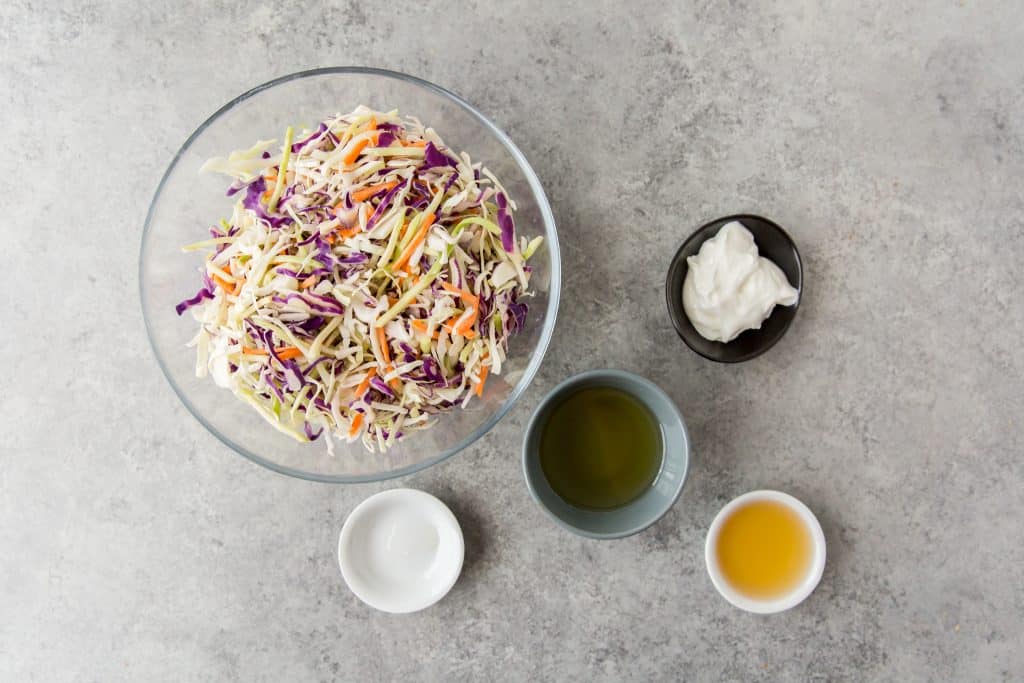 What Makes This Low-Carb Keto Coleslaw Recipe So Great?
We think this is the tastiest keto-friendly coleslaw we've ever tasted, though we might be a little biased. But trust us – one bite and you'll be convinced!
Here's why we think you should skip the sugar-laden store-bought dressing and make this amazing Keto Coleslaw recipe instead:
No Added Sugar
Avoiding added sugar is essential to keeping carbs low on a keto diet. Making your own dressing, like the one provided in this recipe, is an easy way to recreate your favorite dishes without all the extra carbs.
We've also used stevia in this low-carb Keto Coleslaw recipe to add that slight touch of sweetness while keeping the dish totally sugar-free. No sugar doesn't equal no sweetness!
No Vegetable Oils
This recipe switches out potentially inflammatory vegetable oils for a far healthier option: avocado oil.
Antioxidant-rich avocado oil has a ton of health benefits, from potentially lowering inflammation to helping your body to absorb other nutrients. Plus, it's delicious.
It's Super Tangy
The combination of yogurt and apple cider vinegar makes for a flavor sensation that will have you coming back for seconds (and thirds!).
It's Easy to Make
This recipe requires absolutely no cooking and, if you buy your own bagged mix, no chopping, either! It doesn't get any easier than that.
What we really love about this recipe is how common the ingredients are. You shouldn't have any issues finding a packet of shredded cabbage at the grocery store. Just make sure you discard that packet of sugar-laden dressing!
It's Healthy!
Need a tasty new way to get your greens in? Our Keto Coleslaw has you covered! It's loaded with fresh, crunchy vegetables like red and green cabbage, a little carrot and, depending on the mix you use, a touch of spring onion.
Here's a tip: got leftover broccoli stalks? Don't throw them out! Grate or finely chop into strings and add to your mix for extra crunch.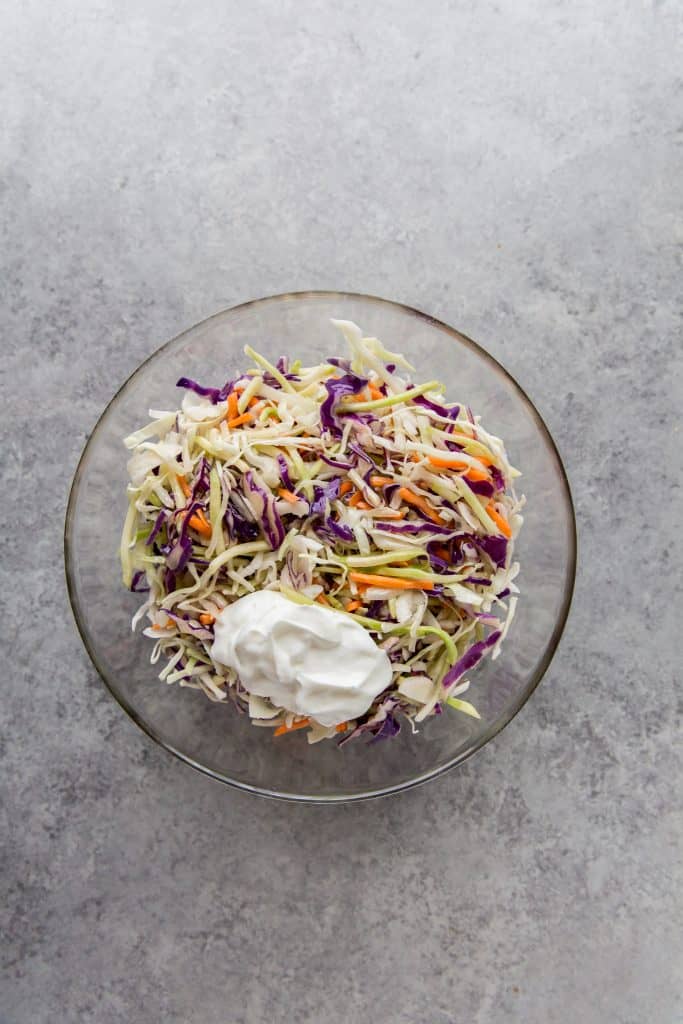 What You'll Need to Make Low-Carb Coleslaw
Whether you're using a packet or chopping up your own, you won't need much at all to make this crowd-pleaser recipe.
If you already have a bagged mix, all you'll need is:
A large mixing bowl
A spoon or pair of tongs for mixing
Chopping up your own fresh greens? You'll need a grater or vegetable peeler for the carrot, a chopping board, and a large, sharp knife. That's it!
How to Make Keto Coleslaw
Ready for the easiest keto recipe you'll ever make? Set aside just five minutes and get ready to enjoy delicious low-carb coleslaw for days!
Add all dressing ingredients to a large bowl and mix until combined.
If using a bag of coleslaw mix, remove and discard the sachet of dressing.
If you're making your own fresh, finely slice some green and red cabbage. Grate one carrot, or use a vegetable peeler to create ribbons.
Add your shredded cabbage to the bowl with the dressing and toss to thoroughly coat. A pair of tongs works best to ensure every bit of cabbage is covered.
Sprinkle with chopped spring onions before serving.
How to Store Your Coleslaw
You know how pre-dressed salad goes all soggy and, well, gross when stored in the fridge? You don't have to worry about that with this recipe.
Unlike other salads, you can dress and store this dish in the fridge and still enjoy it for up to three days. So don't be afraid to make a little extra and enjoy your keto low-carb coleslaw for your next couple of lunches and dinners, too!
More Keto Recipes Like This
Whether you're hosting a summer barbecue or need to use up some leftover cabbage, we've got plenty more keto recipes to keep you on track and loving your low-carb diet.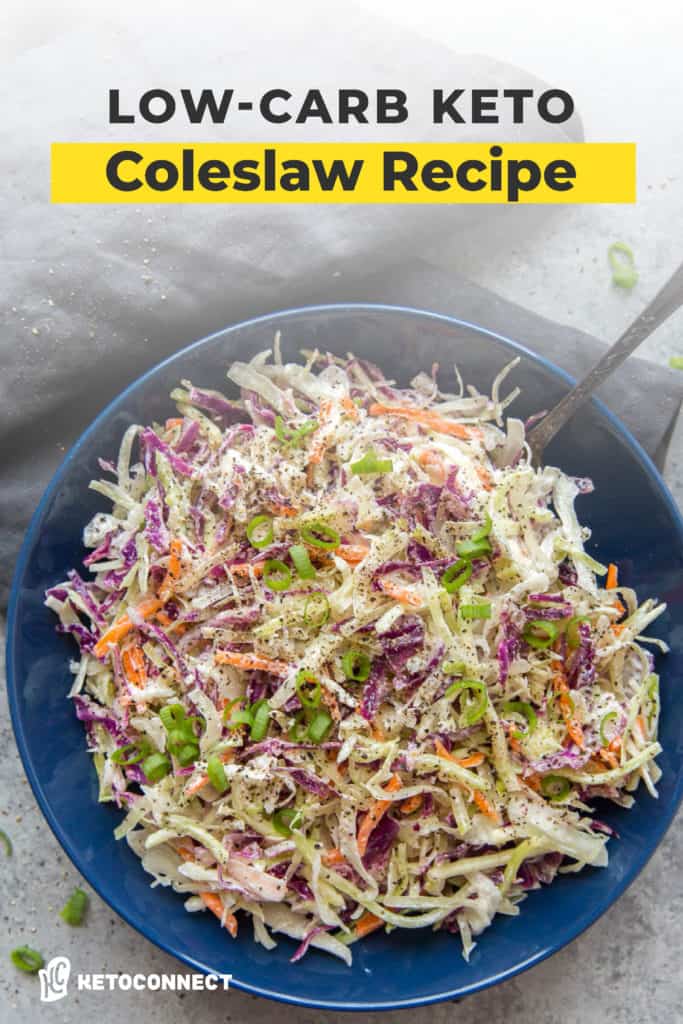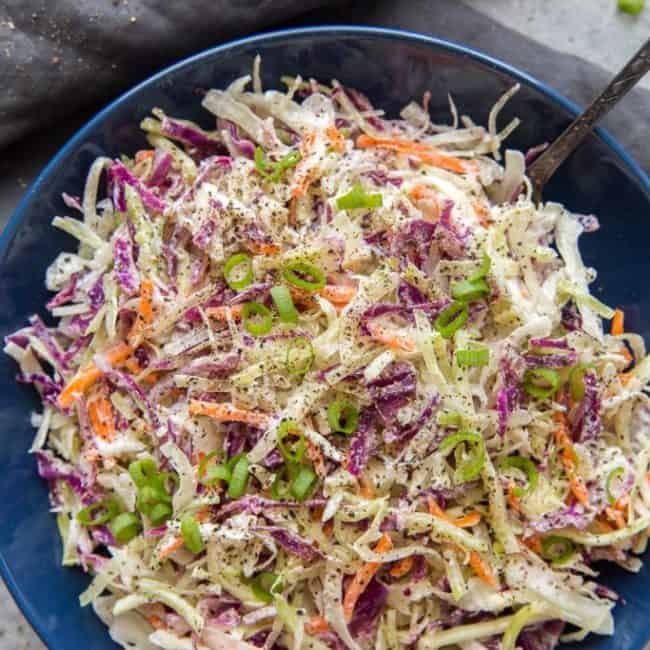 Simple Keto Coleslaw Recipe
This Keto Coleslaw takes under 10 minutes to whip up and is the perfect high fat side dish to any lunch or dinner!
Total Time 40 minutes
Servings 6 servings
Calories per serving 186kcal
Prep Time: 10 minutes
Chill Time: 30 minutes
Instructions:
Combine everything, except the cabbage, in a small bowl using a whisk until fully combined.

Add coleslaw mix or chopped cabbage to a large bowl, drizzle the avocado oil mixture over top and toss using a large spoon until fully incorporated.

Place in fridge 30 minutes prior to serving.

Best stored in an air tight container in the fridge up to 3 days.
Notes
Net Carbs: 3g per serving
Yields: 6 servings
Nutrition Facts
Simple Keto Coleslaw Recipe
Amount Per Serving
Calories 186 Calories from Fat 162
% Daily Value*
Fat 18g28%
Saturated Fat 2g10%
Cholesterol 1mg0%
Sodium 17mg1%
Potassium 128mg4%
Carbohydrates 5g2%
Fiber 2g8%
Sugar 3g3%
Protein 2g4%
Vitamin A 74IU1%
Vitamin C 27mg33%
Calcium 39mg4%
Iron 1mg6%
* Percent Daily Values are based on a 2000 calorie diet.
Written By