We're back at it with our keto versions of favorite Asian recipes, and this time we have our Easy Lemon Chicken for you! From breading the chicken to making the lemon sauce that coats the chicken you'll find this dish extremely easy to replicate and in no time at all! It's great for family dinner any night of the week, and classy and impressive enough to make for your next dinner party. No one will even know it's low carb, sugar free and keto friendly!
Why Lemon Chicken?
Well, I'm always in the market for Asian recipes to ketofy and I had honestly never had lemon chicken until this recipe. Also, it was immediately clear that I couldn't do orange chicken and I was up for something new! As soon as I had made the dish, even before trying it, I knew I had made the right choice, and Matt agreed. Then we took pictures, snaps, Instagram story pics, and dug in. It hit the sweet, lemony spot I had been needing to fill with something. During the breading process I was contemplating doing a double coating, but I'm glad I didn't. I think it would have weighed down the chicken instead of producing the light zesty recipe that it had!
Breaded Chicken
For the breading we did a light coating of coconut flour. No need for an egg wash or to add pork rinds or Parmesan cheese to the coconut flour. A simple, light layer of coconut flour creates the perfect fried, yet moist chicken for this dish. It even trumps almond flour in my opinion. Additionally, the taste of the coconut flour doesn't come through too strong, and it easily absorbs any sauce or flavoring you put it in, which is essential for this recipe.
Easy Lemon Chicken
Usually a recipe like this would be served alongside some rice to soak up the lemon sauce, but we have something even better, our Cauliflower Fried Rice. It would be the perfect bed for this chicken, replacing all your favorite take-out restaurants. You could even do a family style Asian food night and also cook up a big portion of our Easy Cashew Chicken for some variety! To make our easy lemon chicken you only need a few essential ingredients so why not make it for dinner tonight?
Nutrition (per serving)
Calories: 345
Fat: 25.5g
Protein: 27.5g
Carbs: 8.5g
Fiber: 5g
Net Carbs: 3.5g
Recipe can be quickly added to MyFitnessPal - Search "KetoConnect - Easy Lemon Chicken"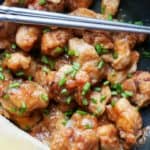 Low Carb Easy Lemon Chicken
Print
Instructions
Chicken
Cut you thighs into bite sized chunks and set aside.

Add coconut flour to a bowl and I'm small batches add the chopped chicken pieces into the flour fully coating them.

Add coconut oil to medium-high heat pan. Once it is hot add the chicken pieces in batches until all are fully cooked through.
Sauce
Add lemon zest to a pan and turn it onto high heat.

Add broth and swerve to a high heat sauce pan and combine until swerve is fully dissolved (erythritol may not full dissolve).

Add the lemon juice and xanthan gum and bring to a boil.

Reduce to a simmer and allow to reduce until desired thickness.

Once thickened to liking, add chicken into sauce and coat.

Serve warm with cauliflower rice and enjoy!