Nothing is better than a fresh glass of keto sugar free lemonade on a hot day, except for this refreshing keto frozen lemonade!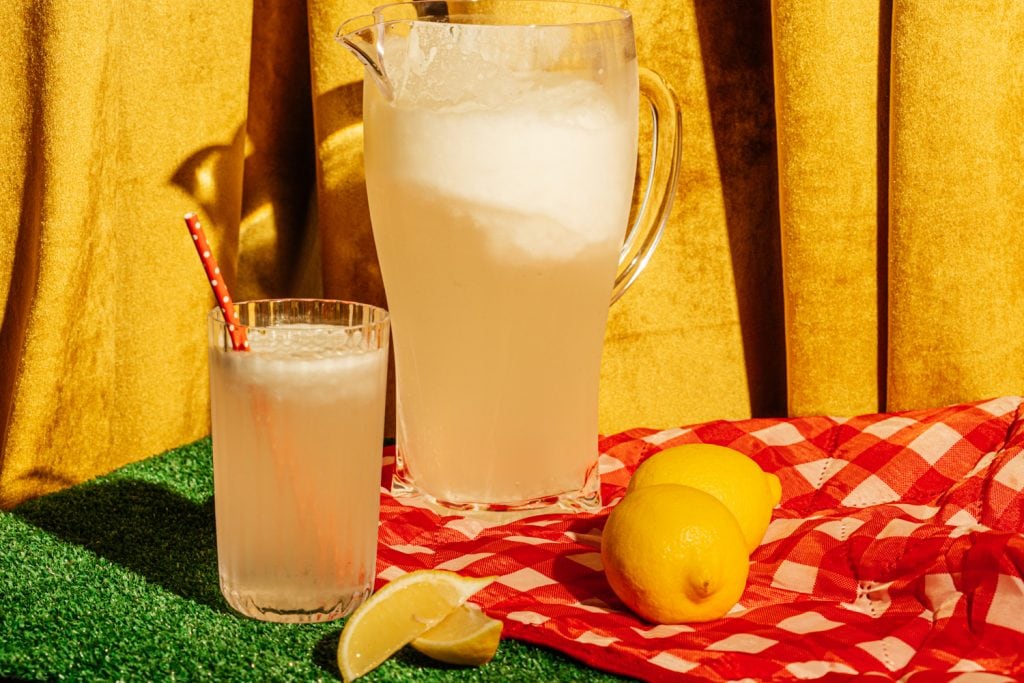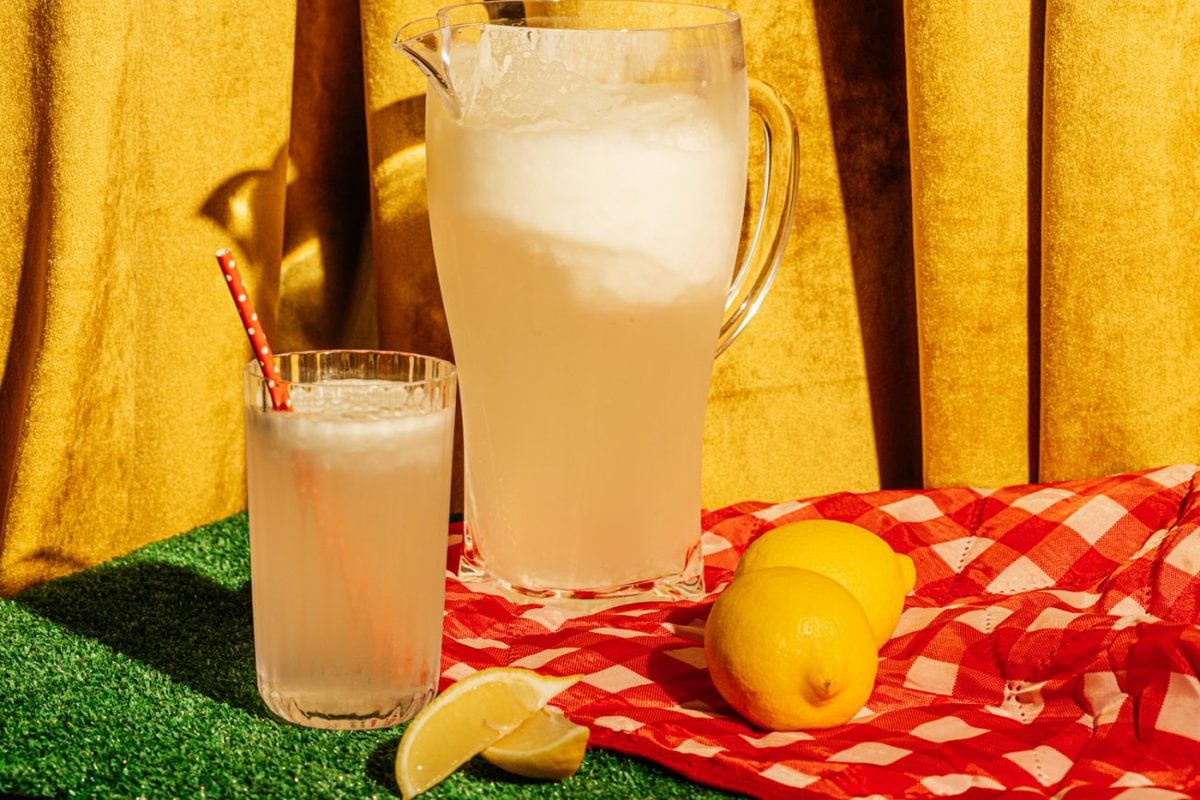 Is Lemonade Keto?
Homemade lemonade and store bought lemonade is usually made with a lot of sugar and a little bit of fresh lemon juice or lemon flavoring.
Because of this, traditional lemonade would NOT be considered keto due to the high sugar and carb count.
Our sugar free lemonade recipe however, uses a keto friendly sweetener that is low carb, sugar free, and pairs great with the fresh lemon juice to remind you of your favorite childhood drink.
Is Store Bought Sugar Free Lemonade Keto?
Store bought lemonades can be a huge hit or miss. While it may sound really enticing to grab the premade sugar free option, take a look at the carbs and ingredients before checking out.
Higher quality brands will use sweeteners like erythritol and stevia in their recipes making the product a little more expensive, but well worth the cost.
Other companies will make their product more expensive, but then pack the pitcher with cheap sweeteners like sucralose and acesulfame k to make their lemonade sugar free. These cheap sweeteners usually have added carbs and a few grams of sugar, which can come from fillers and non traditional sweetening agents.
If you want lemonade sugar free your best bet is making homemade lemonade that you know exactly what went into it.
Are Lemons Keto?
Yes, lemons can be keto. Traditional keto dieters know that when you cut out carbs, you often have to cut out some of your favorite fruity flavors along with it. While you may have to say goodbye to oranges, lemons are another story.
Per lemon there are about 3.3g of carbs in the fresh lemon juice with only 1.2g of sugar. That makes lemons a great option for those cutting back on sugary drinks and want a light lemony flavor in their water instead.
It also means you can fill up a pitcher with a few cups of lemon juice and not really have to worry. Bottomless glasses of keto lemonade anyone?
Can I use Bottled Lemon Juice?
This is quite a common question and one I will answer quickly, no. Well yes but no. Can you? For sure, but is it recommended for a lemonade where the star is lemon? Nope!
The nutrition is about the same for fresh lemon juice versus bottled varieties, however the flavor just doesn't hold its own when matched up in a head to head competition.
I recommend just walking down to the grocery store, buying a few lemons, and then giving them a good roll with light pressure before cutting to get out all the juice possible.
Is Chick Fil-A Frosted Lemonade Keto?
While our keto frozen lemonade is definitely 100% low carb and sugar free, the same can't be said for all lemonades. The Chick Fil-A frosted lemonade has 330 calories 65g of which are carbs and 51g that are pure sugar. Even their diet frosted lemonade has 46 grams of carbs in a serving!
Standard lemonade is made with water, lemon juice, and sugar. Sugar being the main reason their lemonade is not keto friendly.
That's why our frosted keto lemonade uses erythritol or stevia as sugar free sweeteners instead of cane sugar. As well as pure lemon juice for the best possible flavor when making lemonade sugar free.
Keto and Sugar Free Lemonade
It's sometimes hard to believe just how simple keto swaps can be. All we had to sub was a keto sweetener like erythritol to achieve the same final product.
Fresh squeezed lemon juice is totally keto friendly and if you take out the cane sugar you'll immediately have a delicious sugar free lemonade.
Keto Sweetener Options
If you are looking to create the best tasting keto lemonade we've got you covered. Our favorite keto sweetener options that make great subs for sugar are:
Erythritol – This is going to be most similar to sugar in terms of consistency, but it is a little less sweet than regular sugar hence why we used stevia too.
Stevia – Stevia is extracted from a plant making it a great sugar free natural sweetener that doesn't normally have any artificial additives.
Monk Fruit Sweetener – Monk fruit is going to be the most similar to sugar because it is combines both a natural plant sweetener and erythritol to make a substance as sweet as sugar.
Liquid Monk Fruit – Liquid varieties of products like monk fruit and stevia are more concentrated so you need a lot less per serving to get the same level of sweetness.
This will cover most of the ketogenic and low carb sweetener options so you can be on your way to creating a delicious frozen lemonade.
A Simple Syrup Free Recipe
Homemade sugar free lemonade should be easy to prepare without a lot of extra steps. That is why we chose to make our sugar free lemonade without any simple syrup.
Simple syrup is normally made by heating sugar, or sugar substitute with water in a pan until thick and dissolved. That takes extra time that we found really wasn't necessary to make a delicious sugar free lemonade.
Sugar Free Lemonade Nutrition
As listed in the notes of this recipe there are very few carbs, meaning you can enjoy a few cups or even a pitcher without really doing any damage to your diet.
Each serving has about 1-2 grams of net carbs and 10 calories (approx.). Since the carbs and calories are so low it does give a little extra room to spike your lemonade if you feel so inclined.
Just make sure everything is properly blended and dissolved for the smoothest taste.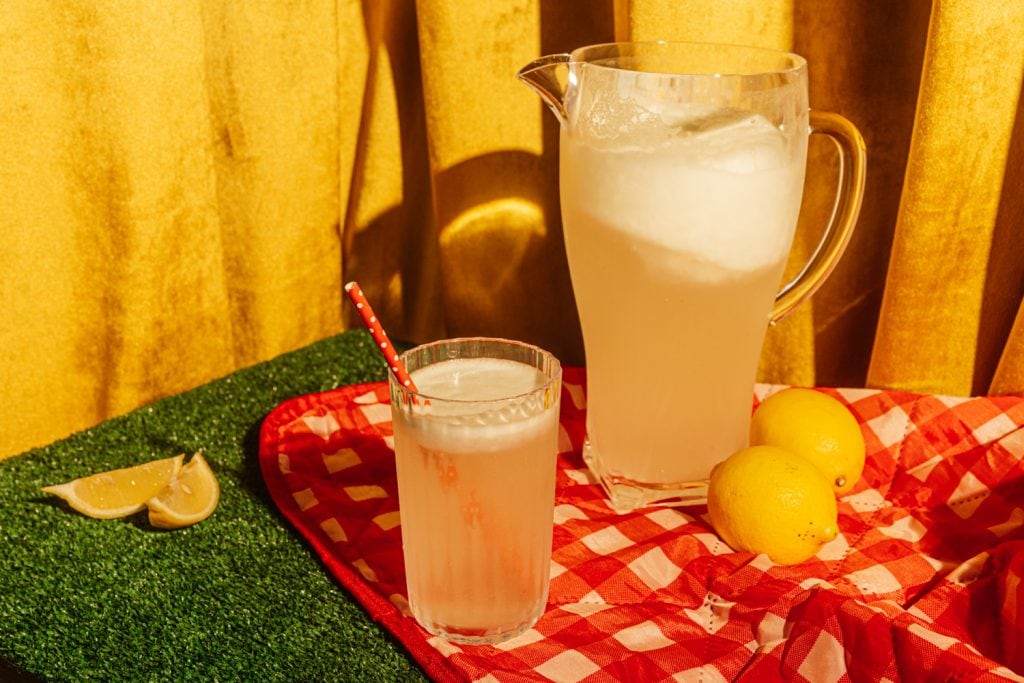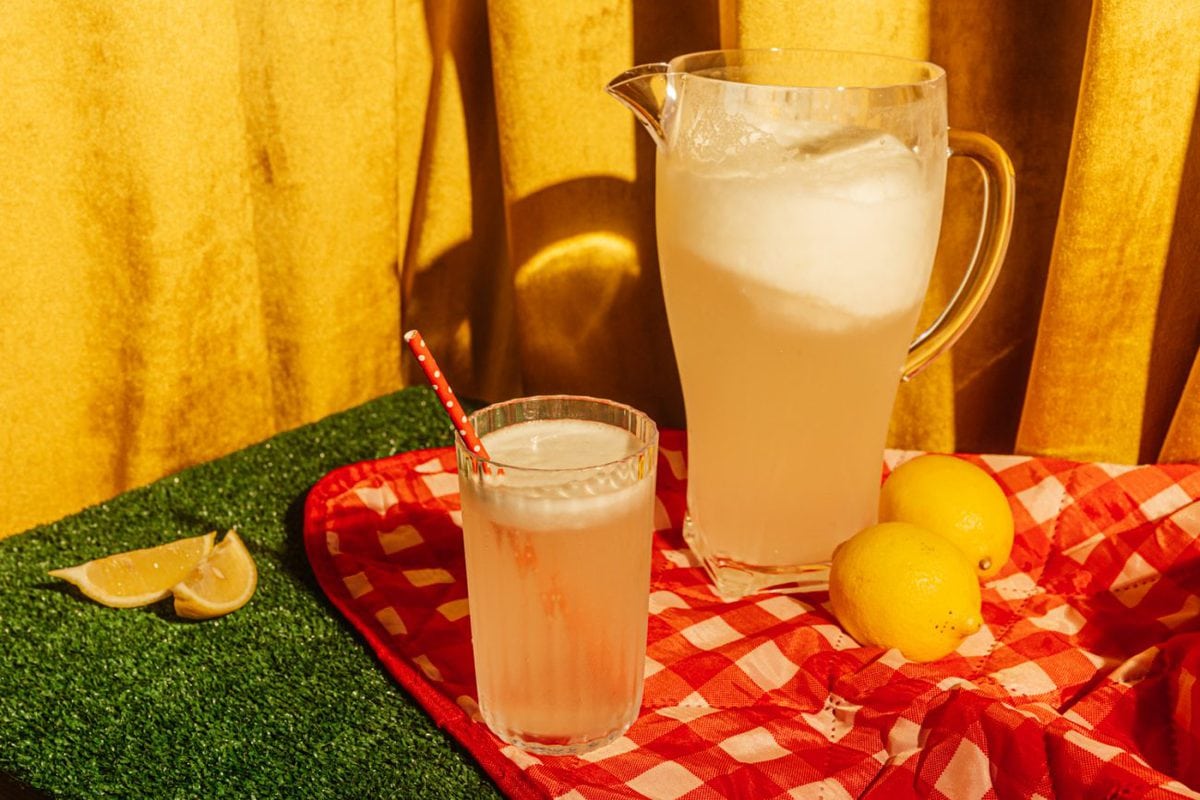 Possible Fruity Mix-Ins
Lemonade is delicious, but don't always feel limited to making a sugar free lemonade plain. Instead, spice up your lemonade with fruity options like:
Strawberries – Strawberry lemonade is another classic base that is super tasty and really refreshing. It is also low sugar and low carb to make sticking to your keto diet easy.
Blueberries – This is definitely less common but turns your lemonade into a blueberry refresher. The lemon blueberry base is the perfect summer drink that can even be spiked with a keto friendly liquor.
Cucumber Mint Limeade – Sub lime juice for the lemon juice in this recipe and add a little mint and cucumber. It will bring an extra light mojito vibe to the party.
These are just a few of the low sugar fruity varieties that you can make by adding just a bit of fruit into the blender with your lemonade base. Feel free to come up with new ideas to invent even more flavorful recipes.
How to Make Keto Frozen Lemonades
Now that you've gotten the scoop on lemons, it's time to take what life gave us and turn some lemons into lemonade!
Ingredients
To make this lemonade you will need ice, water, fresh lemons (for freshly squeezed juice!), and your keto friendly sweetener of choice. We used a blend of erythritol and stevia to get our preferred level of sweetness, but feel free to use monk fruit or erythritol as another healthy option.
Making Keto Frozen Lemonades
For this easy keto recipe simply combine all ingredients including your cups of water into a high powered blender and blend until your drink becomes a smooth consistency.
You can pulse the drink to break up any extra ice chunks, but we find a minute on high usually does the job. If it's too thick you can always add extra cups of water. Serve immediately.
Storing Frozen Lemonade
Storing regular lemonade is easy, but frozen lemonade will be a little extra work. We don't often recommend trying to store leftovers due to the texture change, but there are a few tricks you can try.
Freeze Lemonade Ice Cubes
A great tactic if you want to make frozen homemade lemonade again is to let this batch melt, pour it into ice cubes, and freeze it.
Then when you're ready for another glass of sugar free lemonade pop your ice cubes into a blender and re-mix.
Make a Cold Lemonade Sugar Free Slushy
A frozen sugar free lemonade is pretty close to a slushy, but not quite there. So, add the leftovers into a plastic cup/ glass and freeze again for an hour or two to achieve the perfect slushy consistency.
Tips for Making Sugar Free Lemonade
Sugar free lemonade is simple to make, but that doesn't mean there aren't things you change change to make it extra tasty!
Taste and Sweeten – This is a zero sugar recipe so don't be afraid to balance out the lemony tang with more sweet notes. Taste your product and make sure to serve it how you like.
Add Ingredients – Like we said above get creative and try new flavors like strawberry sugar free lemonade.
Dissolve Excess Sweetener – Blend your sugar free lemonade very well to ensure it is not grainy or has extra sweetener at the bottom. When you break apart the grains enough you will start to dissolve them in water and gain a better consistency.
Keep it Cold – Chill your glass ahead of time or pop it into a pitcher in the fridge until ready to enjoy. No one wants the heat melting their frozen lemonade!
Buy Fresh Ingredients – When we say fresh we really just mean the lemon juice. Please, please, please, if you can help it use fresh lemon juice. This is one of the best tips because it's the biggest flavor enhancer in the recipe.
Lemonade recipes are easy to make, but follow along with these tips and you'll have the best lemonade around.
More Keto Summer Recipes
Homemade sugar free lemonade is a great keto recipe to enjoy any time of the year. However, there is no denying that it is especially good during the hot summer months.
Enjoy some of our other summer meals when you make this recipe for the perfect BBQ. Our favorite summer recipes are:
Keto Strawberry Smoothie – While we're on the topic of drinks, our sugar free lemonade recipe is amazing, but our added sugar free strawberry smoothie is even better! It's made without simple syrup or cane sugar and only sweetened with natural ingredients.
Keto Cheddar Cornbread – It's BBQ season and while refreshing drinks are important, so are the mains! Give your BBQ sauce smothered meat the perfect side with our keto cornbread.
Keto Margaritas – Need a refreshing summer cocktail that isn't loaded with sugar and carbs? This keto margarita recipe is exactly what you're looking for.
All of our recipes are super healthy and filling, perfect for getting you in shape to enjoy the final summer months. So what are you waiting for? Make our sugar free lemonade recipe and pair it with a platter of fresh keto BBQ recipes too!
Keto Frozen Lemonade
Keto frozen lemonade is the perfect low sugar treat that you can enjoy any day of the week guilt free. Low carb lemonade takes just 5 minutes to whip up and tastes just like the Chick Fil-A frosted lemonade.
Try this keto lemonade recipe and be sure to make a few for your kids too. It only makes a serving size of one, and if they see it you might not have any leftover lemonade!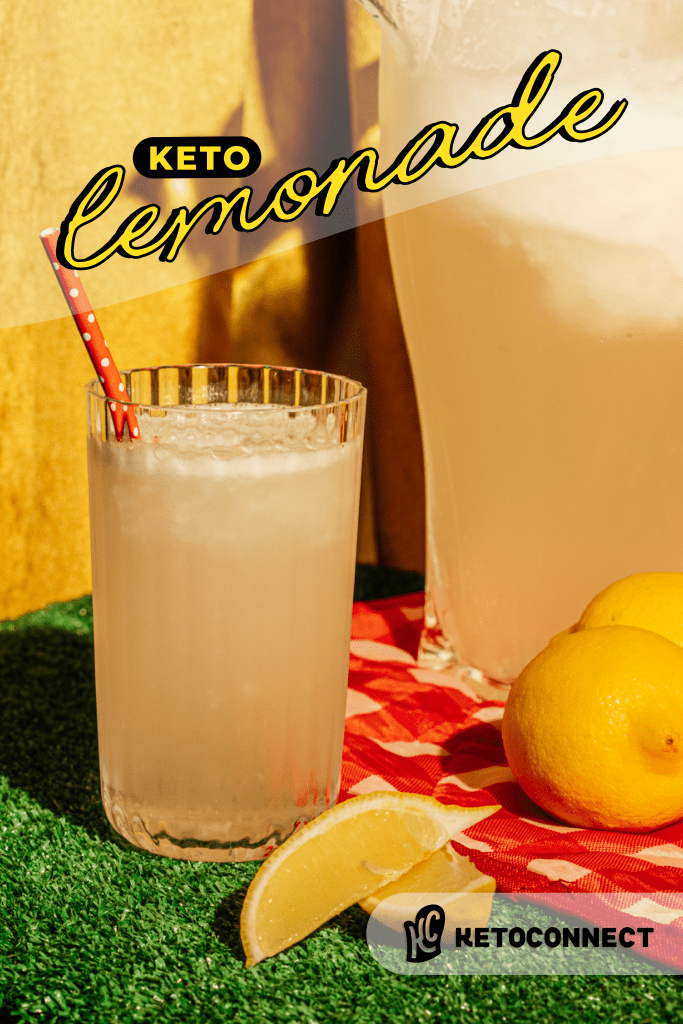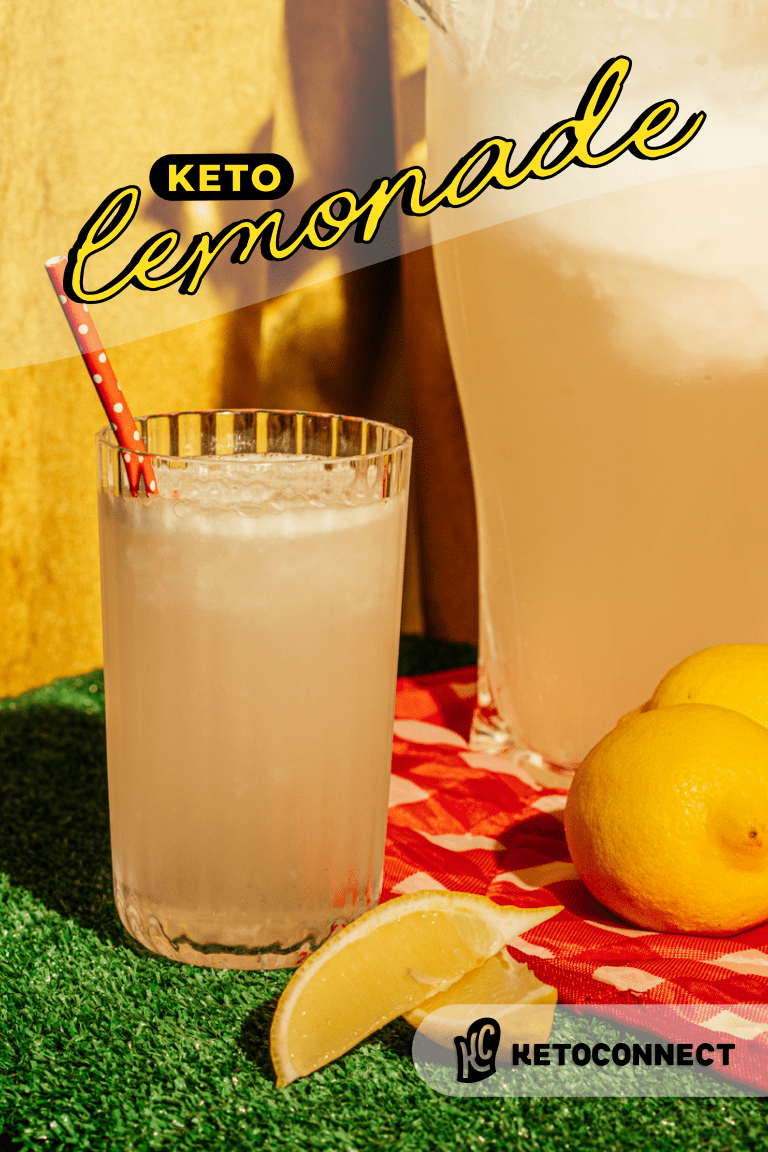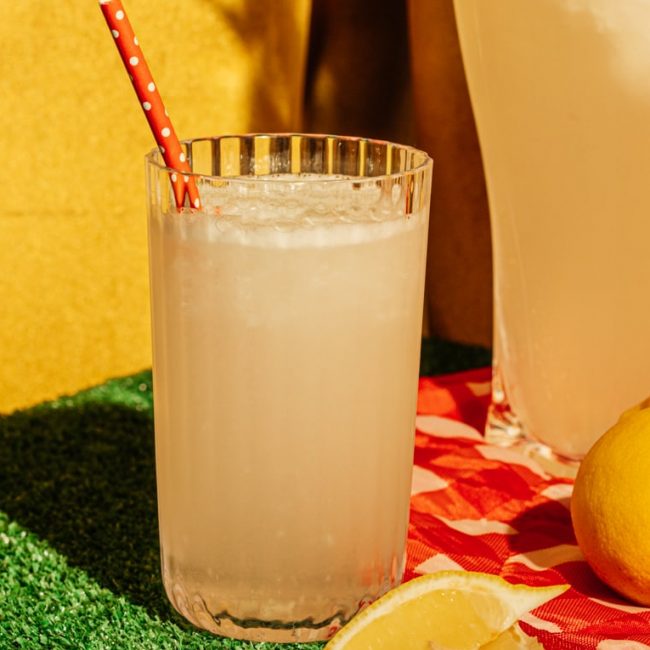 Keto Sugar Free Lemonade Recipe
Make this classic refreshing summer drink without the sugar. Sugar free keto lemonade is easy to make and even easier to enjoy!
Total Time 5 minutes
Servings 6 servings
Calories per serving 9kcal
Prep Time: 5 minutes
Cook Time: 0 minutes
Ingredients:
1 cup lemon juice From lemons or bottled lemon juice
1 cup powdered sweetener
10 drops Liquid Stevia
3 cups Water
2 cups Ice
Instructions:
Add all ingredients to a blender and blend on high until everything is evenly mixed (about 45 seconds).

Serve and enjoy! Add more ice and blend further to create a frozen lemonade slushie.
Notes
Add as much or as little ice as you want to create your desired consistency. 2g net carbs per serving
Nutrition Facts
Keto Sugar Free Lemonade Recipe
Amount Per Serving
Calories 9 Calories from Fat 9
% Daily Value*
Fat 1g2%
Saturated Fat 1g5%
Polyunsaturated Fat 1g
Monounsaturated Fat 1g
Sodium 10mg0%
Potassium 42mg1%
Carbohydrates 3g1%
Fiber 1g4%
Sugar 1g1%
Protein 1g2%
Vitamin A 2IU0%
Vitamin C 16mg19%
Calcium 8mg1%
Iron 1mg6%
* Percent Daily Values are based on a 2000 calorie diet.
Written By