Matt's Favorite Asian Take-Out
Creating this Keto Pad Thai recipe brought me back to 2 years ago. When I met Matthew in San Francisco he was a man of simplicity. He loved routine and ate the same couple things rotated throughout the week. Needless to say, I was excited to expose him not only to indian cuisine, but the cuisine of many different regions.
Despite his nervous demeanor towards trying new foods, there was one unexpected surprise – he loved pad thai! I, for one, would never order Pad Thai at a restaurant when I could get Panang Curry or Pad See Ew! Yummmm! But, since we've started dating and I've seen more things form his point of view, I've opened my mind and palate to the flavor profiles he tastes in his favorite take-out, Pad Thai. Maybe I have a simple side to me too!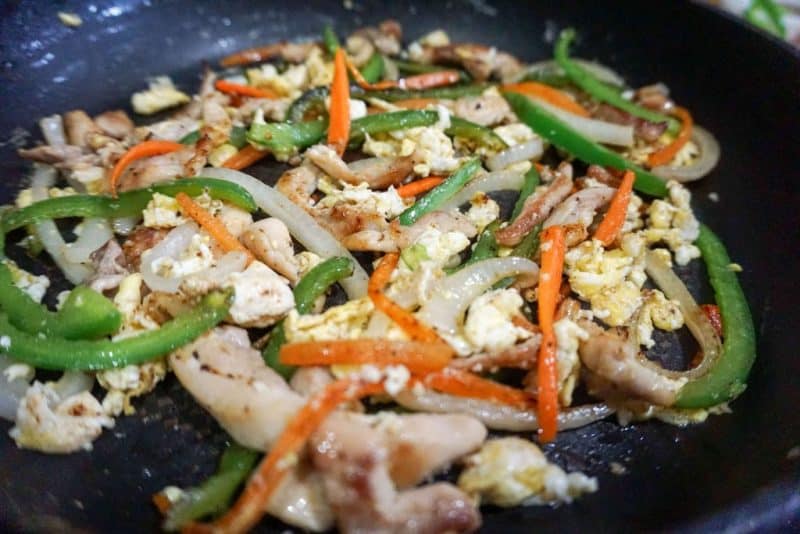 Recipe No. 4 From My Asian Inspired Weekend – Keto Pad Thai
When Matthew was away I planned on making my favorite asian dishes, but I couldn't be selfish all weekend. I decided that I wanted to make a Keto Pad Thai and surprise him when he got home! As expected, he loved it ?. The recipe uses the well-known Tofu Shirataki Noodles, and if cooked correctly resemble pasta in every way possible! I could honestly eat them for every meal! If you are interested in trying them you can find them online or in most grocery stores near you.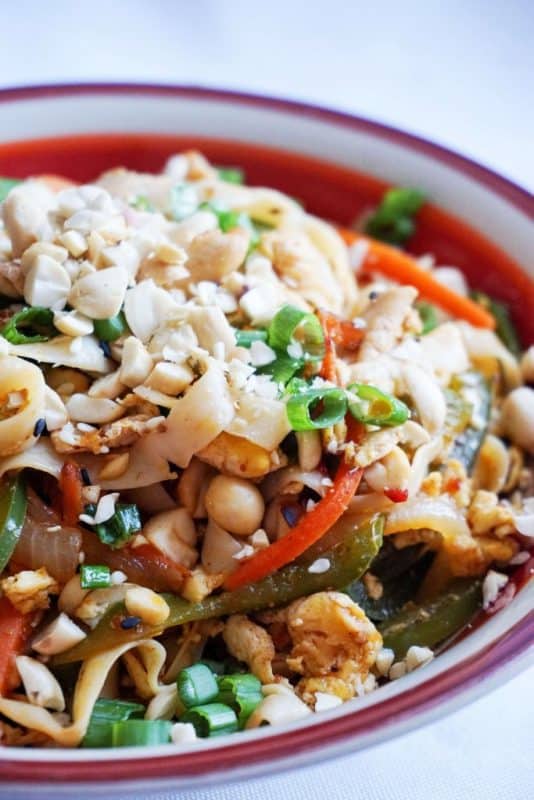 Sadly, this is my fourth and final dish of the Asian inspired weekend! I thoroughly enjoyed rolling the keto sushi, but this Keto Pad Thai is by far my favorite recipe of the weekend! The crunch from the peanuts combined with the sweet and salty profiles from the sauce make this not only the perfect replica of take-out Pad Thai, but your favorite new recipe.

Search "Ketoconnect – Keto Pad Thai" On MyFitnessPal.comNet carbs can be reduced by omitting or substituting some of the vegetables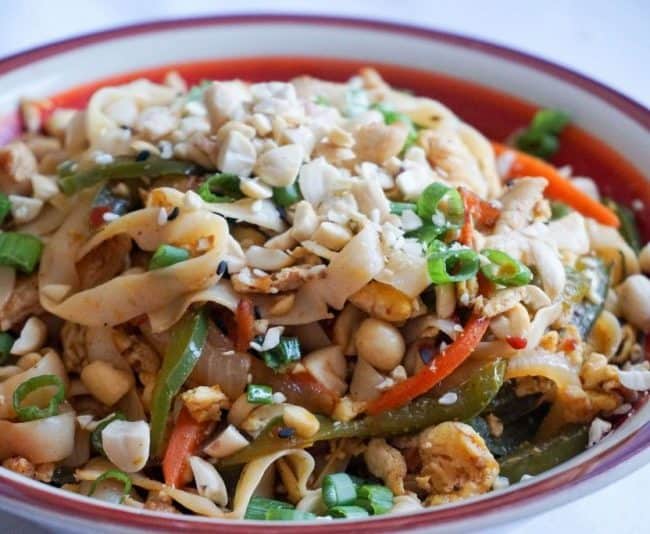 Keto Pad Thai
This Keto Pad Thai tastes just as good as the carb filled original, and you'll love how easy it is to throw together.
Total Time 30 minutes
Servings 2 servings
Calories per serving 289kcal
Prep Time: 10 minutes
Cook Time: 20 minutes
Instructions:
Drain Shirataki noodles and heat in a pan over medium-high heat for 10 minutes. Set aside.

Thinly slice carrot, bell pepper and onion. Set aside.

Slice up chicken thigh in long pieces like the vegetables. Heat coconut oil in a pan and cook chicken fully through.

Add sliced vegetables to chicken and heat through for 3-5 minutes. Add egg and scramble together with chicken and vegetables.

Add noodles to the chicken and vegetables.

Combine all ingredients in sauce and pour over the noodle mixture.

Mix well. toss in peanuts and green onions. Serve warm and enjoy!
Nutrition Facts
Keto Pad Thai
Amount Per Serving
Calories 289 Calories from Fat 221
% Daily Value*
Fat 24.5g38%
Carbohydrates 13.5g5%
Fiber 5g20%
Protein 17.5g35%
* Percent Daily Values are based on a 2000 calorie diet.