Keto Pad Thai is a great healthy low carb meal to keep you full for hours. It has a toasty sesame oil base with layers of soy sauce and peanut butter in the keto pad thai sauce.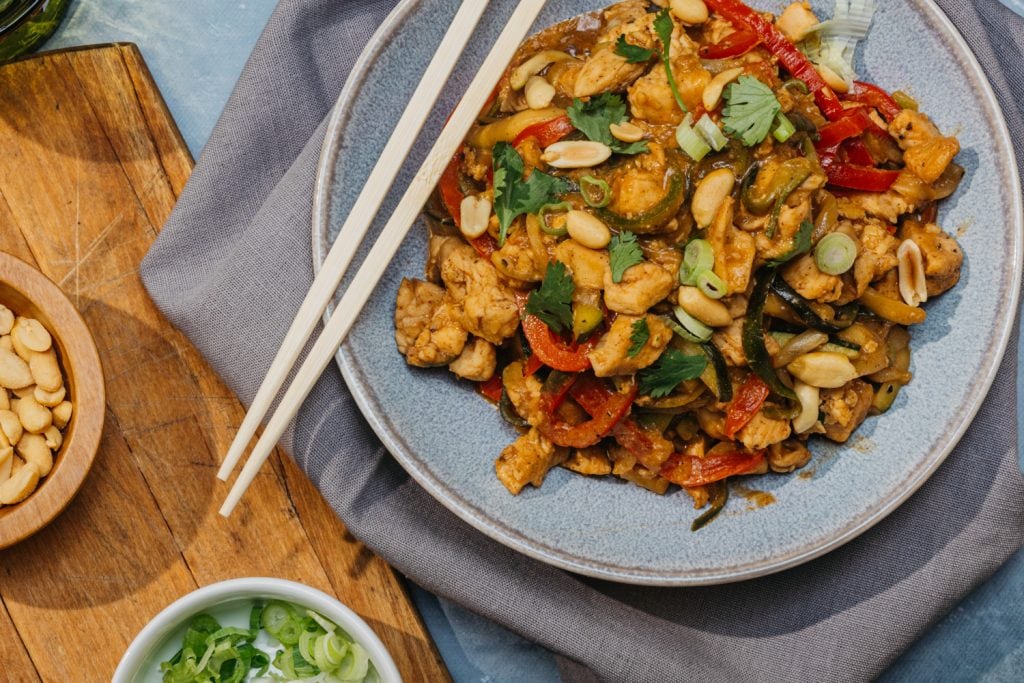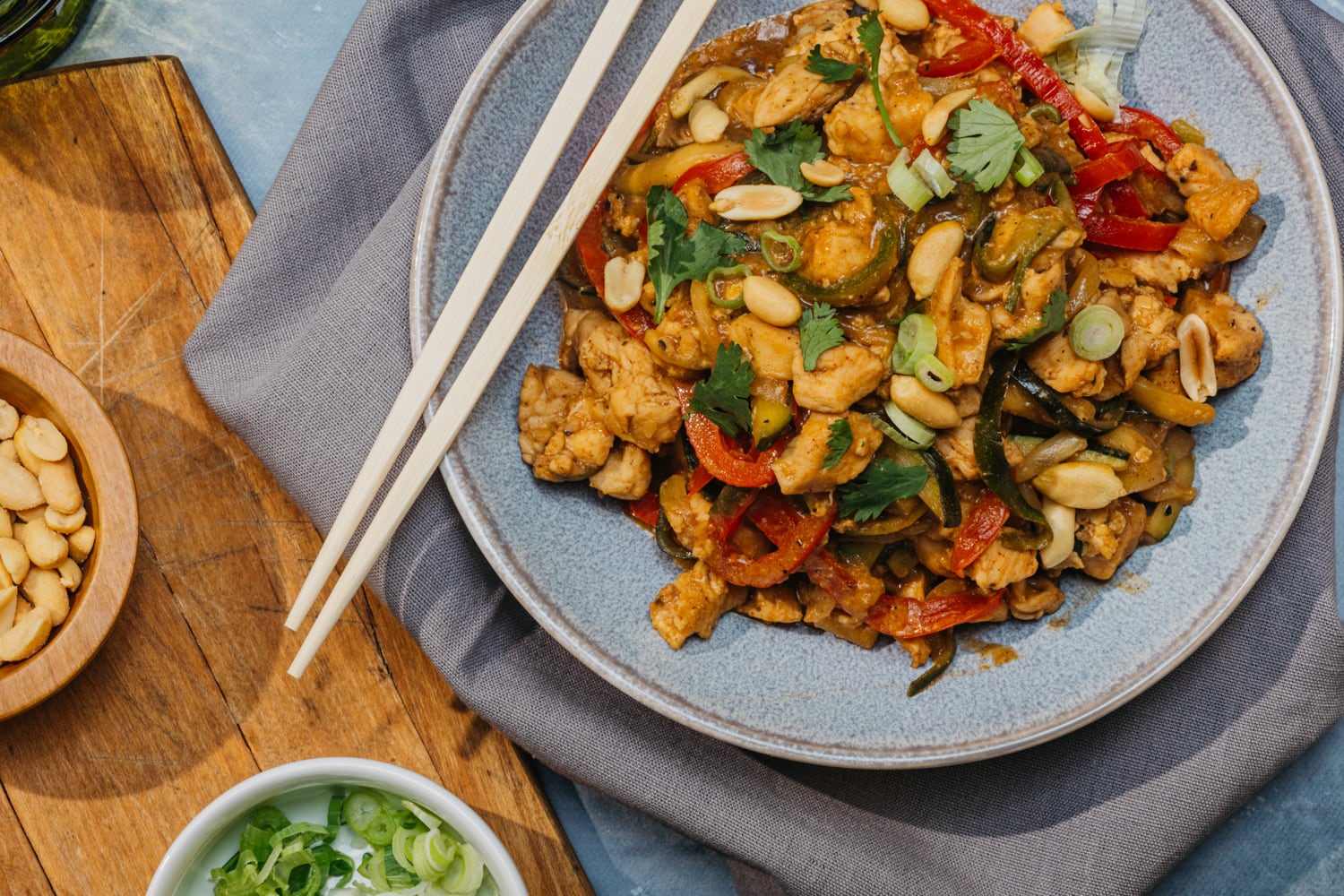 Is Pad Thai Low in Carbs
Regular pad thai is not low carb because it contains rice noodles. One serving, just 176 grams of rice noodles has 41 grams of carbs. And trust us when we say that's barely enough to even fill you up. They nay be complex carbs, but that doesn't mean they will be longterm satiating.
Substitutes like shirataki noodles help make this pad thai recipe lower in carbs and more enjoyable on a keto diet. However, traditional pad thai made with noodles just isn't a viable option on keto.
Is Pad Thai Good for a Keto Diet?
Traditional pad thai, as we established above is not good for a keto diet. This low carb pad thai and pad thai sauce on the other hand is a great keto option. Our low carb pad thai has just 8.5 net carbs a serving, where regular pad thai clocks in at 48 net carbs a serving.
Almond Butter vs. Peanut Butter
We used peanut butter in this recipe as it is more traditional to the dish, however id you prefer to stay away from crushed peanuts and it's creamy counterpart you may prefer an almond butter base.
Peanuts are technically a legume making them a little bit inflammatory and not truly keto. However, they can have keto macros if you buy a low sugar natural peanut butter without any cheap oils and fillers.
Peanut butter is pretty common in thai food so you may want to invest in a good one like this natural peanut butter from Santa Cruz with only 2 net carbs a serving. It makes the perfect peanut butter for any stir fry or thai dish.
How to Make Keto Pad Thai
Now that you know rice noodles should be subbed with shirataki noodles it's time to get cooking our keto pad thai.
Ingredients
This keto chicken pad thai has two parts, the sauce and the base ingredients. To make this pad thai sauce you will need natural peanut butter, minced garlic, soy sauce, brown sugar substitute, two limes, salt + pepper, and xanthan gum.
Xanthan gum is used to thicken the sauce and isn't recommended to skip. If you can't have xanthan gum try thickening the recipe with a teaspoon of coconut flour or simply letting it evaporate longer.
To make the chicken you will need two pounds of chicken breast, sesame oil, eggs, red bell pepper, green onion, peanuts, chili flakes, garlic powder, and cilantro.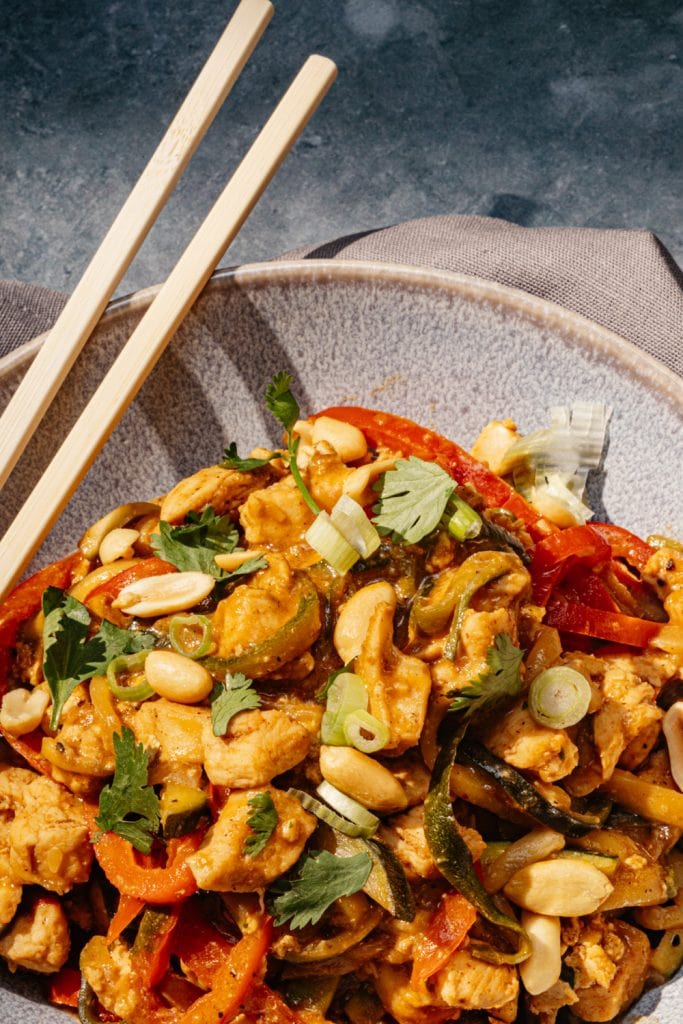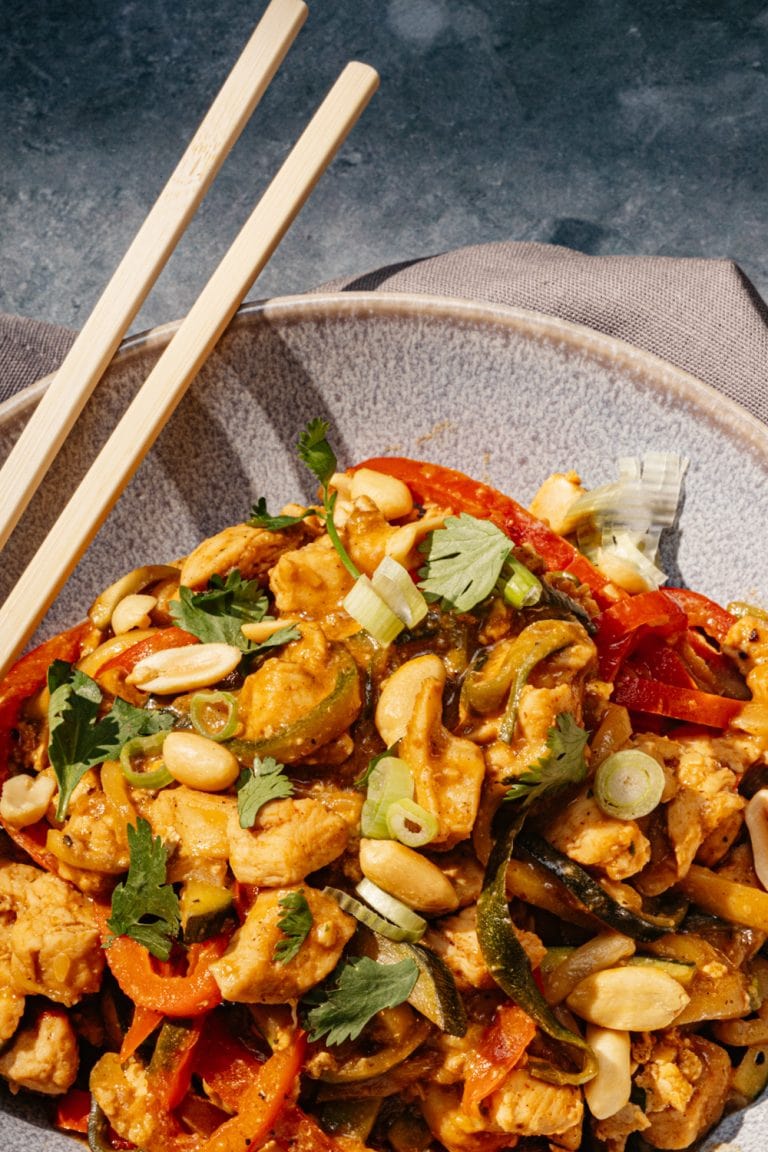 Making Keto Pad Thai
To begin, spiralize your zucchini noodles and set aside. If not using zucchini noodles you can use shirataki noodles and prepare them per package instructions.
Next thinly slice the red bell pepper and mince your garlic. Pad thai is normally made with carrots, onion, and peppers thinly sliced, , but for the sake of carbs we stuck to just bell peppers and optionally bean sprouts to keep the carbs low.
Next cube the chicken thighs or chicken breast into bite sized pieces and add into a preheated skillet over medium heat with sesame oil. Cook for 5-10 minutes or until the chicken breast is cooked through and reaches 165 degrees.
Remove the chicken from the pan and add in the peppers cooking for another 3-5 minutes. Add in the zucchini noodles and season with salt and pepper.
While the noodles cook mix together your sauce ingredients to season the keto chicken pad thai. In a bowl combine peanut butter, garlic, soy sauce/ coconut aminos, lime juice, and swerve for the sauce. If you don't have coconut aminos soy sauce can be used but be mindful of the gluten and carbs.
Now push the vegetables to the side and scramble in two eggs. If desired add a like avocado oil or olive oil to the pan to prevent the eggs from sticking.
Add the sauce into the vegetables with the chicken and xanthan gum. Stir and continuing to cook for 2-5 minutes until thickened. Toss in the peanuts and green onions, then serve warm with mung bean sprouts, extra green onions, and chopped peanuts. You can also add lime juice on top, or a squeeze of lime juice into the pad thai recipe itself.
Storing Keto Pad Thai
This is a really good pad thai recipe that when made fresh tastes like it could very well be from a thai restaurant. However, unlike most low carb recipes the noodles in this dish don't reheat the best. The flavor will still be amazing the next day, your noodles just might loose some of their texture.
Pad thai is made pretty easily so we reccomend making it fresh, or storing leftovers in a tupperware container for up to a week and just cooking new noodles with each batch.
Serving Low Carb Pad Thai
We love to serve our low carb pad thai with green onions, a drizzle of sesame oil, crushed peanuts, cilantro, and fresh lime. Feel free to change up the toppings to highlight your favorite flavors in the dish.
What to Serve With Keto Pad Thai
This low carb pad thai is a show stopper all on it's own, but pair this stir fry with traditional noodles and you've got a winner. What do you do on keto though when a noodle dish isn't an option? You make it one!
Keto noodles are plentiful nowadays and are super easy to prepare. Try low carb zucchini noodles, miracle noodles (aka shirataki noodles), or soybean noodles. All of these are great keto friendly options.
Another great pairing is roasted vegetables or cauliflower rice cooked over medium high heat to brown it slightly. Both of these options will soak up the sauce ingredients well so you get the whole flavor experience.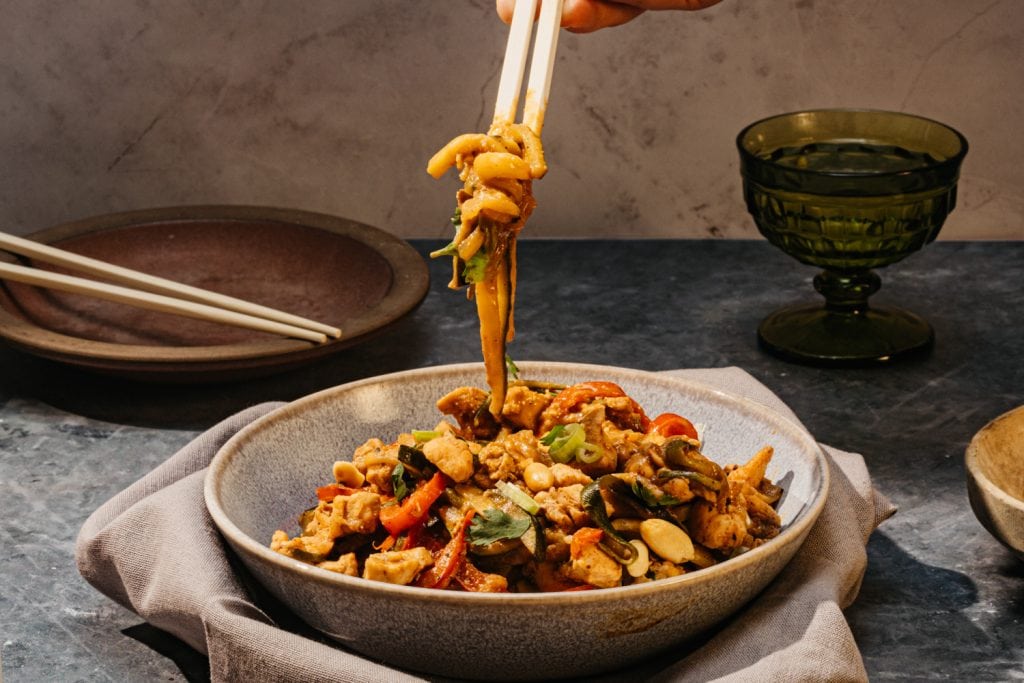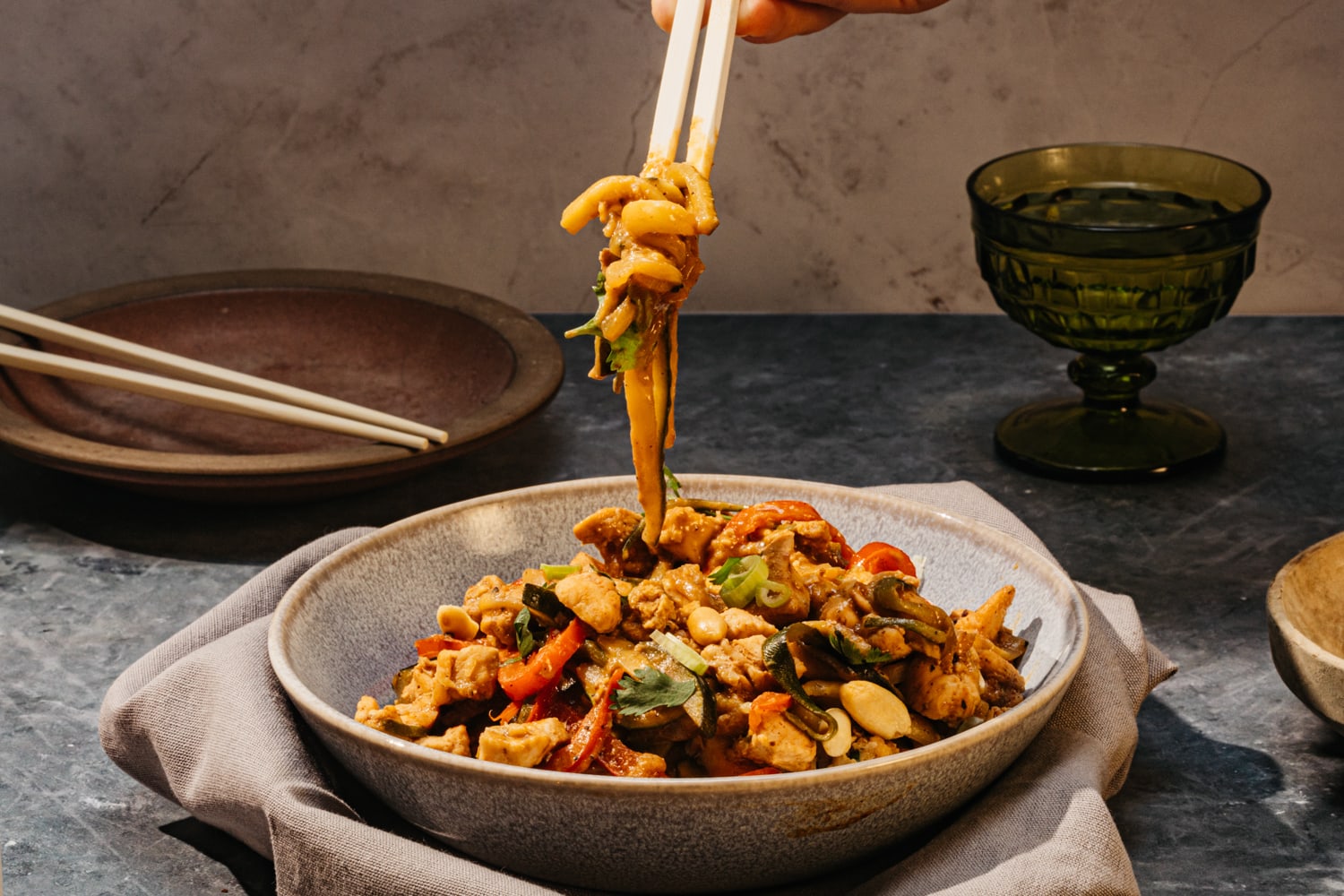 More Asian Keto Recipes
We love asian recipes. Everything from bean sprouts and green onion, to tamarind paste and soy sauce. This has led us to create tons of new asian inspired dishes to enjoy the diversity of flavors and blends. Some of our person favorite gluten free easy keto recipes are:
Veggie noodles like zucchini noodles make the perfect addition to thai food so you can enjoy all your favorites without the extra carbs.
Keto Pad Thai
While this keto chicken pad thai may not use the same rice noodles as traditional pad thai, that doesn't make it any less delicious. Enjoy this keto pad thai recipe with your own personal additions and variations.
Our keto pad thai sauce is sure to impress even the fanciest of culinary geniuses. It provides the sweet, salty, umami flavor you look for in a dish all while balancing a creamy texture with crunchy chopped peanuts as an accent.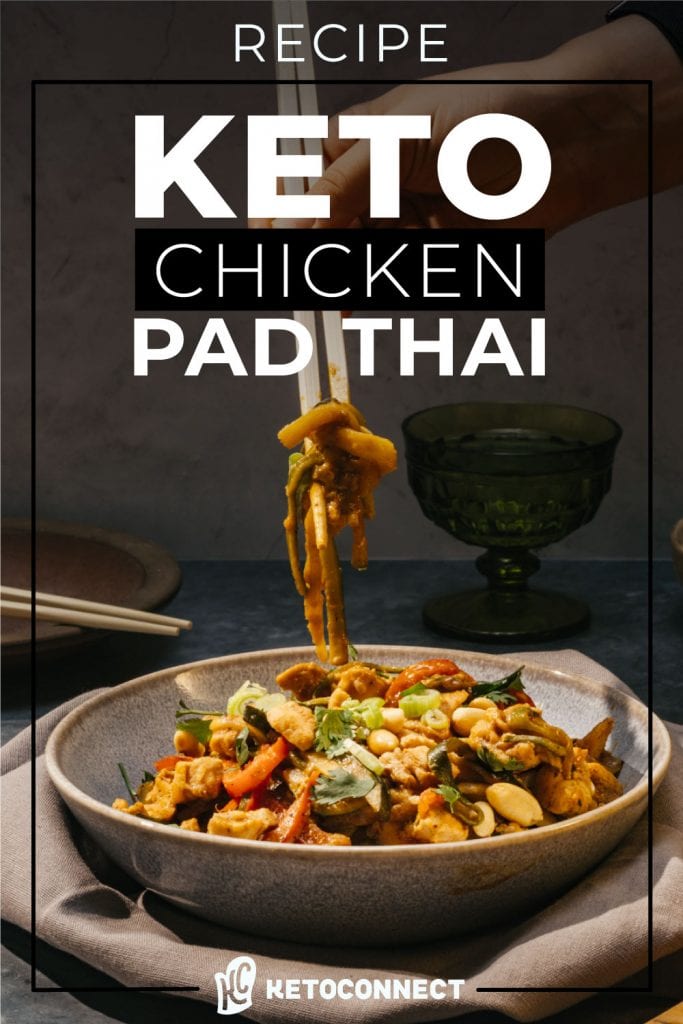 Search "Ketoconnect – Keto Pad Thai" On MyFitnessPal.com. Net carbs can be reduced by omitting or substituting some of the vegetables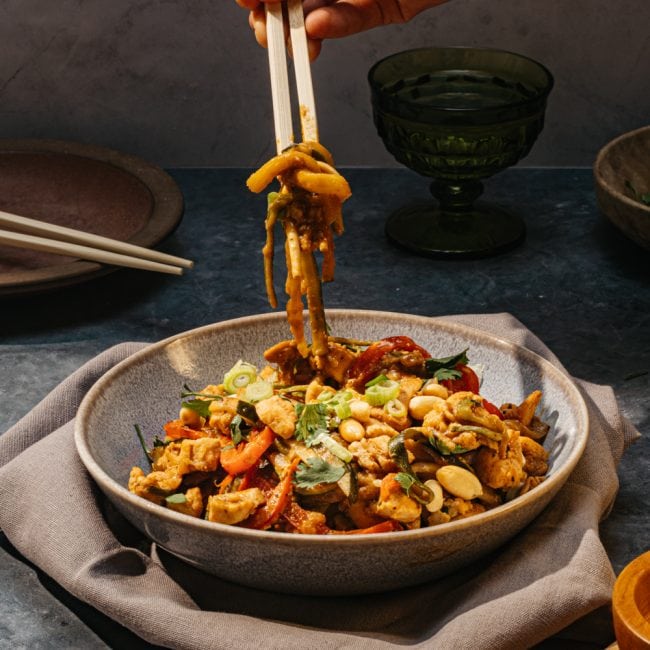 Keto Pad Thai
This Keto Pad Thai tastes just as good as the carb filled original, and you'll love how easy it is to throw together.
Total Time 30 minutes
Servings 2 servings
Calories per serving 289kcal
Prep Time: 10 minutes
Cook Time: 20 minutes
Instructions:
Drain Shirataki noodles and heat in a pan over medium-high heat for 10 minutes. Set aside.

Thinly slice carrot, bell pepper and onion. Set aside.

Slice up chicken thigh in long pieces like the vegetables. Heat coconut oil in a pan and cook chicken fully through.

Add sliced vegetables to chicken and heat through for 3-5 minutes. Add egg and scramble together with chicken and vegetables.

Add noodles to the chicken and vegetables.

Combine all ingredients in sauce and pour over the noodle mixture.

Mix well. toss in peanuts and green onions. Serve warm and enjoy!
Nutrition Facts
Keto Pad Thai
Amount Per Serving
Calories 289 Calories from Fat 221
% Daily Value*
Fat 24.5g38%
Carbohydrates 13.5g5%
Fiber 5g20%
Protein 17.5g35%
* Percent Daily Values are based on a 2000 calorie diet.
Written By