The creamy texture and yumminess of hummus make it a worldwide favorite. I'm a big fan of dipping celery sticks and chicken bites in it since it's tasty and keeps me full throughout the day.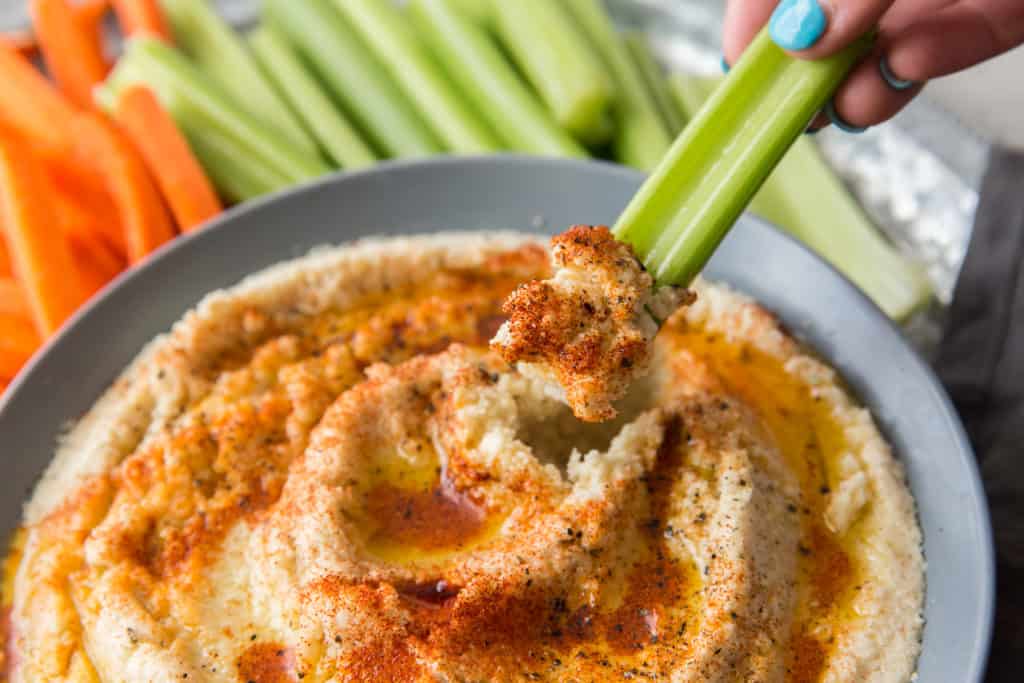 But can you eat hummus while staying in ketosis?
Below, we'll talk about everything you need to know when eating hummus on keto. We'll look at its carb content and some delicious recipes and alternatives.
Is Hummus Keto-Friendly?
Store-bought hummus is keto-friendly because a two-tablespoon serving only contains four grams of net carbs. So feel free to use hummus when snacking since you'll have to eat several tablespoons before it starts interfering with ketosis.
But it's important to read the label before buying. Many companies add soy oil, dangerous preservatives and sweeteners that may inhibit ketosis and trigger gluten intolerance symptoms.
Luckily, if you make hummus at home with keto ingredients, you can reduce carbs to almost zero.
How Many Carbs Are In Hummus?
The amount of carbs in hummus depends on the brand you're buying. Low-quality hummus that uses sweeteners can contain over six grams of carbs per serving.
But if you prepare your hummus at home with natural ingredients, the net carb count will hover around three to four grams.
How To Make Keto Hummus?
Low-carb hummus is the perfect dip for keto dieters because it's healthy and delicious. Whether you're having friends and family over for dinner, or you're just looking to dip your snacks in a yummy sauce, hummus is for you.
So instead of buying hummus from a brand that adds vegetable oil and corn syrup, consider these homemade recipes:
Keto cauliflower hummus
Avocado hummus
Keto Cauliflower Hummus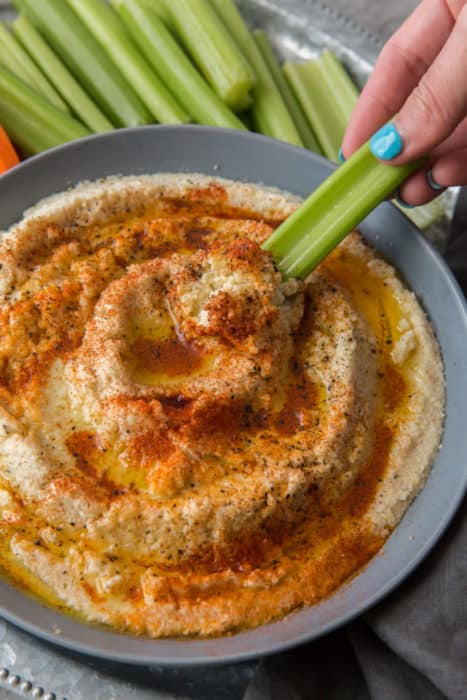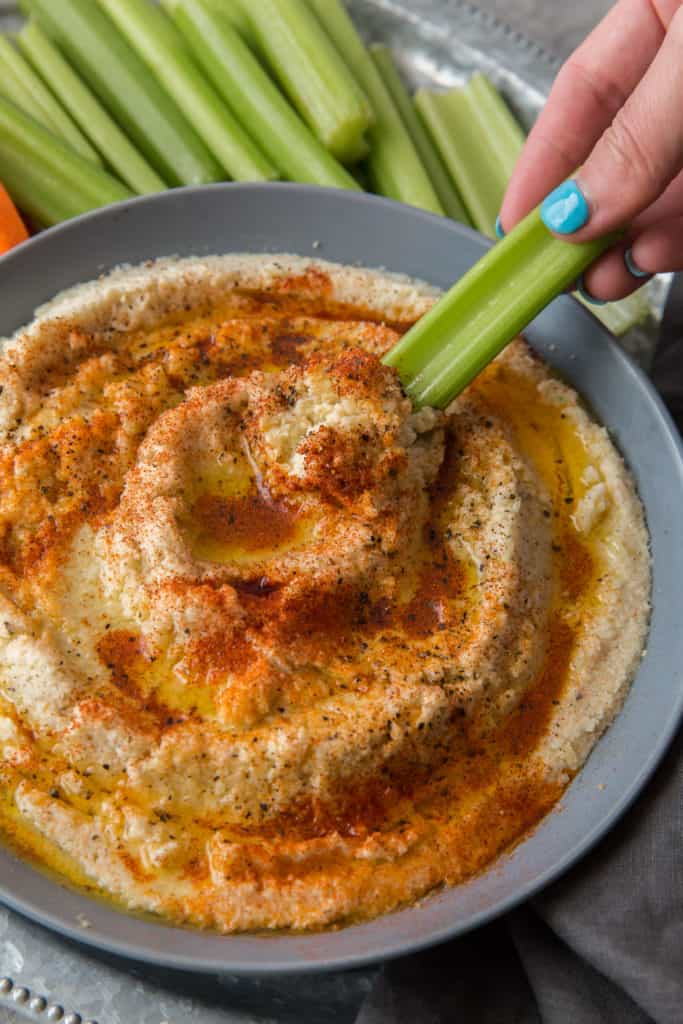 Go To The Recipe
Grabbing some hummus from the store is convenient, but I feel like whipping up this cauliflower hummus recipe is just as easy.
It also helps that you have complete control over the ingredients that go into your homemade hummus. Knowing that you're feeding your family with nutritious and healthy products gives you peace of mind.
This recipe requires:
Three cups of raw cauliflower florets
Four cloves of garlic
¼ cup of avocado or olive oil
¼ cup of lemon juice
¼ cup tahini
¼ cup of warm water
¾ teaspoon of Italian seasoning
½ teaspoon of pink Himalayian salt
½ teaspoon of ground cumin
¼ teaspoon of black pepper
Paprika and olive oil to garnish
You'll also need a food processor to ensure everything is well-mixed.
Start by preheating your oven to 400 degrees Fahrenheit. Cut your cauliflower in half and remove the florets from the stem. Toss these florets and garlic cloves into a large baking tray and drizzle one tablespoon of avocado oil to prevent it from sticking. Place the baking tray in the oven for around 15 minutes.
Combine this roasted cauliflower and garlic mixture with lemon juice, tahini, water and seasonings and pop them in a food processor. Once it's ground, add a few tablespoons of water and process until it has the desired consistency.
Since this recipe uses natural ingredients, we recommend you consume it within a week as it can go off quickly.
Avocado Hummus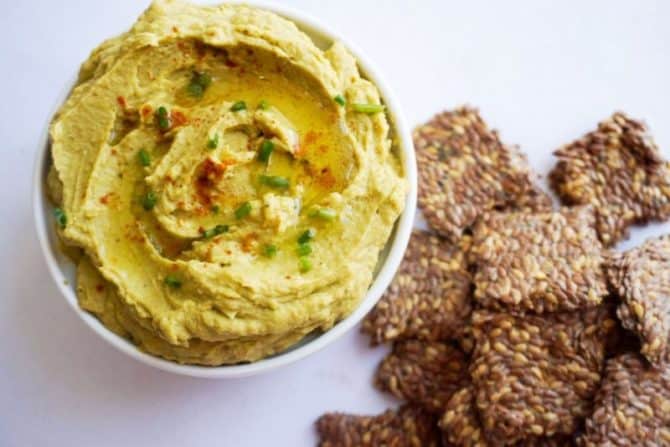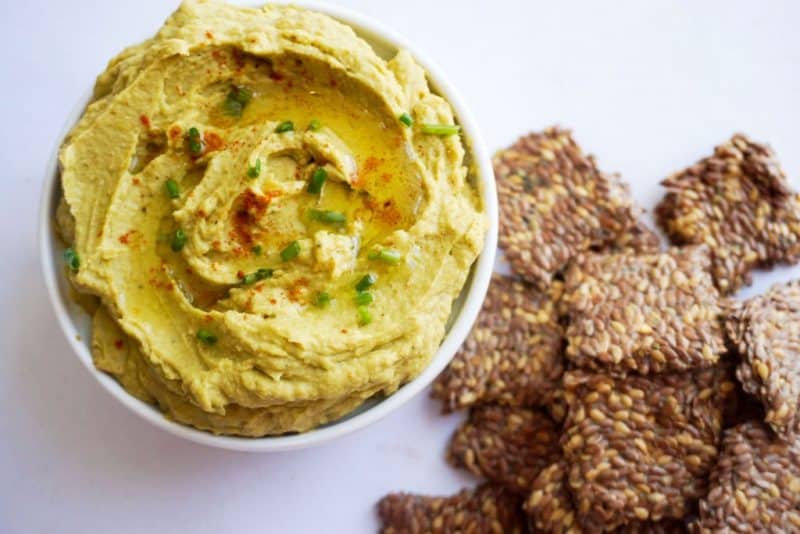 Go To The Recipe
Avocado hummus contains four grams of net carbs per serving and has ample amounts of fat. It goes especially well with keto pita bread and roasted veggies.
Preparing avocado hummus takes less than 15 minutes, and this recipe produces 22 servings. You'll need:
A 15-ounce can of garbanzo beans
One large avocado
Four cloves of garlic
One tablespoon of olive oil
The juice of a lime
One teaspoon of cumin
One teaspoon of pink Himalayan salt
½ teaspoon of paprika
½ teaspoon of cayenne pepper
½ teaspoon of pepper
All you have to do is pop your ingredients in a food processor, blend until everything is well combined and dig in!
Hummus Nutrition
One serving of keto hummus contains:
Three grams of carbs
50 calories
2.5 grams of protein
2.6 grams of healthy fats
One gram of fiber
What stood out to me was the high protein content. A two-tablespoon serving provides you with 2.5 grams of protein. Although plant protein isn't as bioavailable as animal protein, it'll keep those dreaded hunger pangs at bay.
This high protein content is handy for athletes. Without adding extra meals to your diet, you can increase protein intake.
Hummus is also nutrient-dense, consisting of nutrients like:
Potassium
Sodium
Calcium
Vitamin E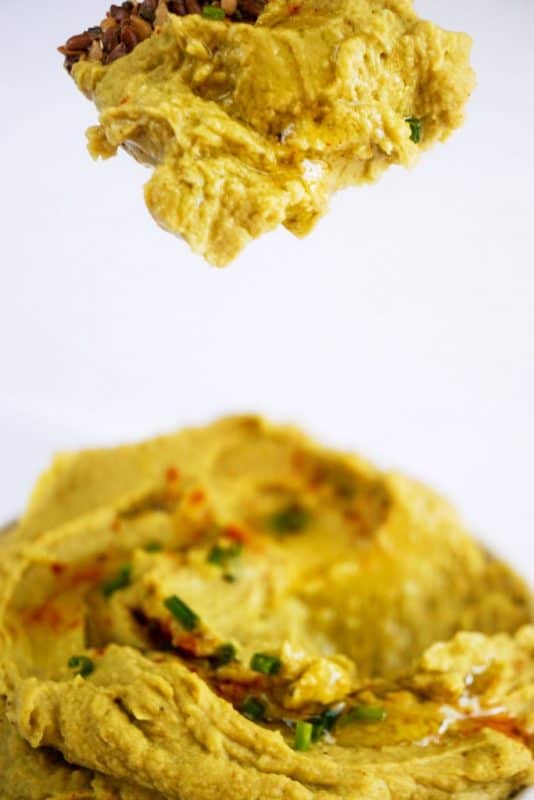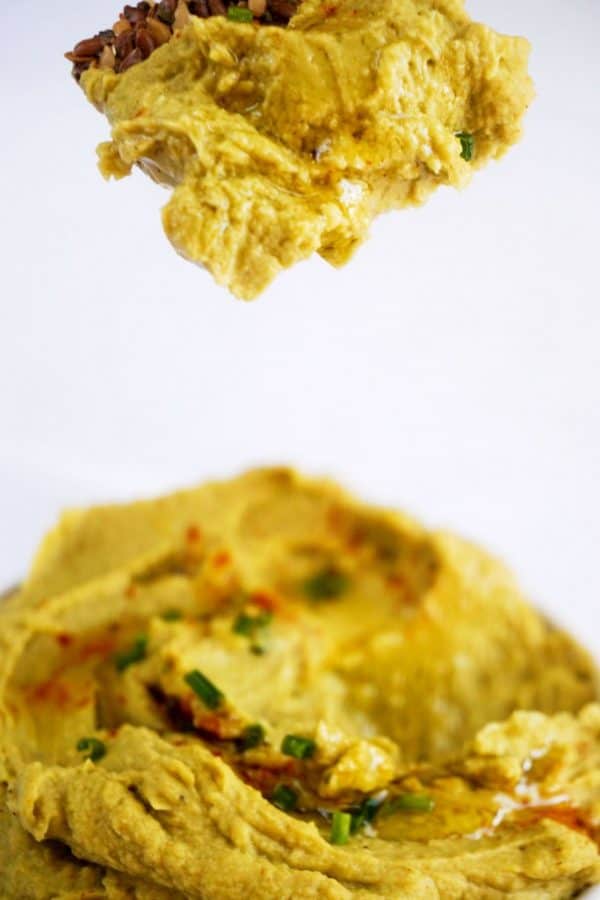 This makes hummus the perfect dip if you're new to keto and recovering from keto flu. The high amounts of potassium, calcium and sodium fuels your body with electrolytes helping you fight the keto flu.
But what sets hummus apart from other dips is that it contains tahini, which has ample amounts of vitamin E. Although vitamin E is an essential fat-soluble nutrient, it's surprisingly hard to consume in significant quantities.
So by using hummus as a dip for snacks, you're boosting your vitamin E intake, positively impacting your overall quality of life.
However, hummus still has carbs and if you're on a strict keto diet and looking to avoid it altogether, consider these alternatives.
Low-Carb Alternatives To Hummus
Here are some lower-carb yet equally tasty alternatives to hummus on keto:
Baba ganoush
Greek yogurt
Black soybean hummus
Tahini
Nut butter
Baba Ganoush
Baba ganoush looks and tastes like hummus, but it has under one gram of net carbs per serving. So it won't kick you out of ketosis or trigger inflammation.
Preparing baba ganoush is easier than hummus. All you need is roasted eggplant, tahini, olive oil, lemon juice, garlic and salt. Simply pop these ingredients in a food processor, and enjoy!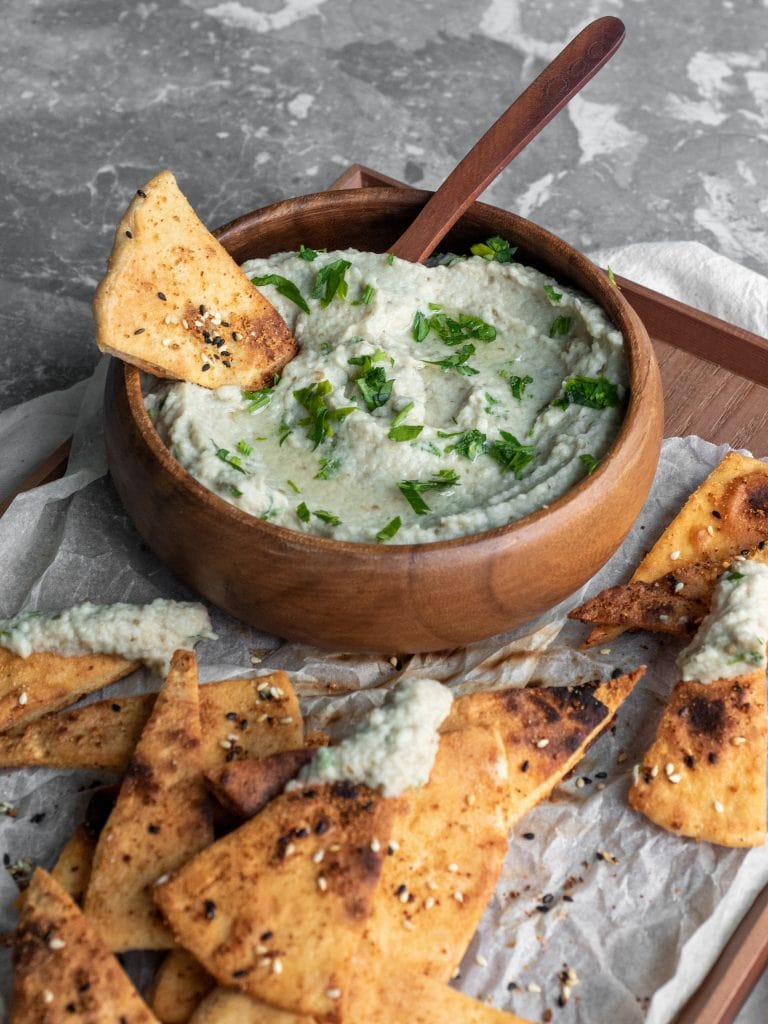 Baba ganoush offers powerful benefits for those struggling with constipation. The high fiber content allows you to meet your recommended fiber intake after only a few dips.
Eggplant is also way lower in carbs than chickpeas, making baba ganoush a healthy option when cutting carbs as low as possible.
Greek Yogurt
Greek yogurt only has six grams of carbs per container, so you can eat as much as you want. I like sprinkling black pepper, salt, lemon juice and fresh parsley to give it extra flavor.
Black Soybean Hummus
Since black soybeans have fewer carbs than chickpeas, black soybean hummus is another low-carb alternative to traditional hummus. One serving has three grams of net carbs.
To prepare black soybean hummus, gather the following ingredients:
A garlic clove
A can of organic soybeans
Four tablespoons of lemon juice
Three tablespoons of olive oil
One and a half tablespoons of tahini
A teaspoon of salt
Smoked paprika and olives for garnish
Mix these ingredients in a food processor and add a tablespoon of water at a time until it reaches your desired consistency.
Tahini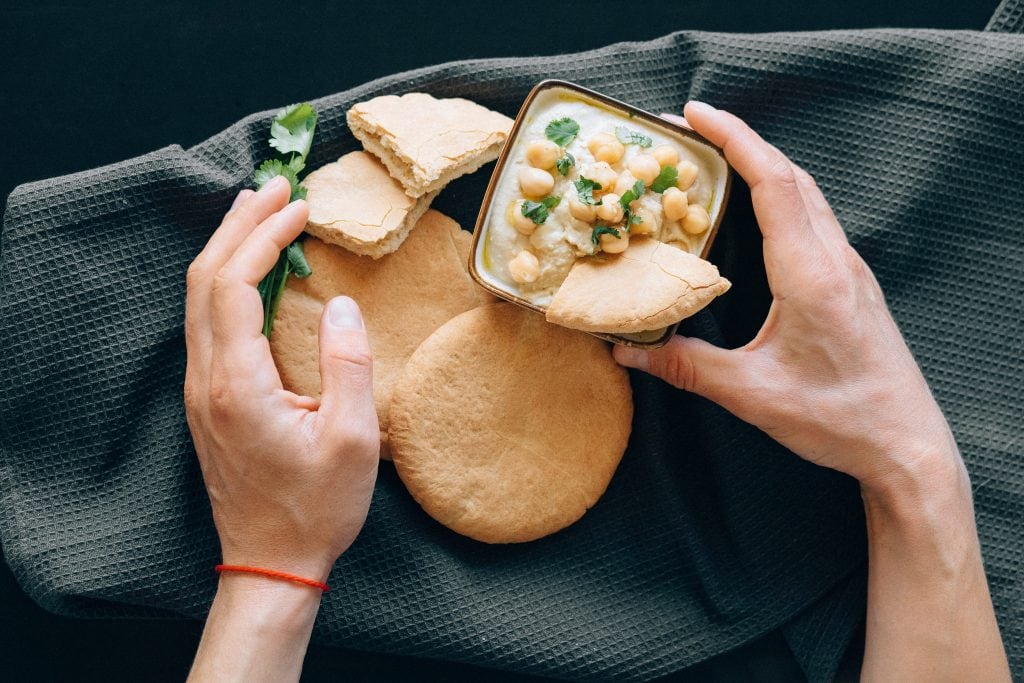 Tahini is a middle eastern condiment that tastes like hummus and is made with toasted ground hulled sesame. Although it's a major ingredient in baba ganoush, it's yummy when served on its own.
You can make tahini with only three ingredients: sesame seeds, olive oil and salt. Roast your sesame seeds in a pan on high heat, and once it's nicely toasted, pop it in the food processor with a touch of salt.
After it reaches a powdery consistency, pour a few tablespoons of olive oil at a time until it has the texture of hummus.
Nut Butter
Most nut butters are tasty and low in carbs. The high fat and protein content also helps you catch up on your macros.
My favorite types of nut butter are:
Peanut butter
Almond butter
Sunflower seed butter
But it's still important to read the label if you opt for store-bought products. Many brands add sugar and dangerous oils to make their hummus taste better and last longer, but this has devastating consequences on your body.
Instead, shop for all-natural keto brands, or whip up your own at home. It's super simple. All you need is your favorite keto nuts like macadamia nuts, oil, salt and a food processor, and you're good to go.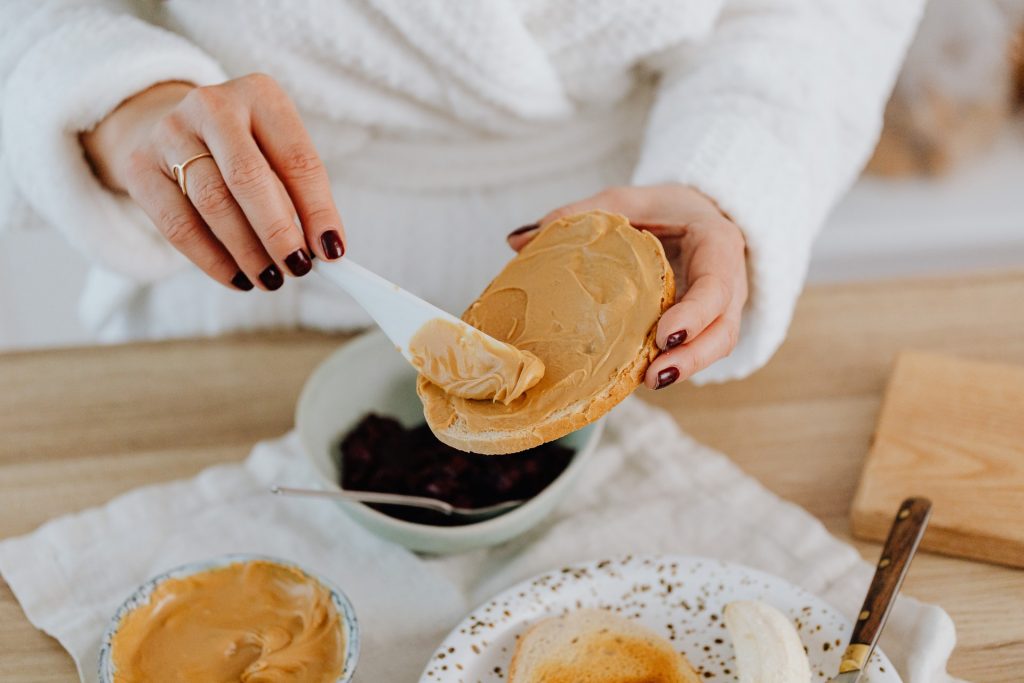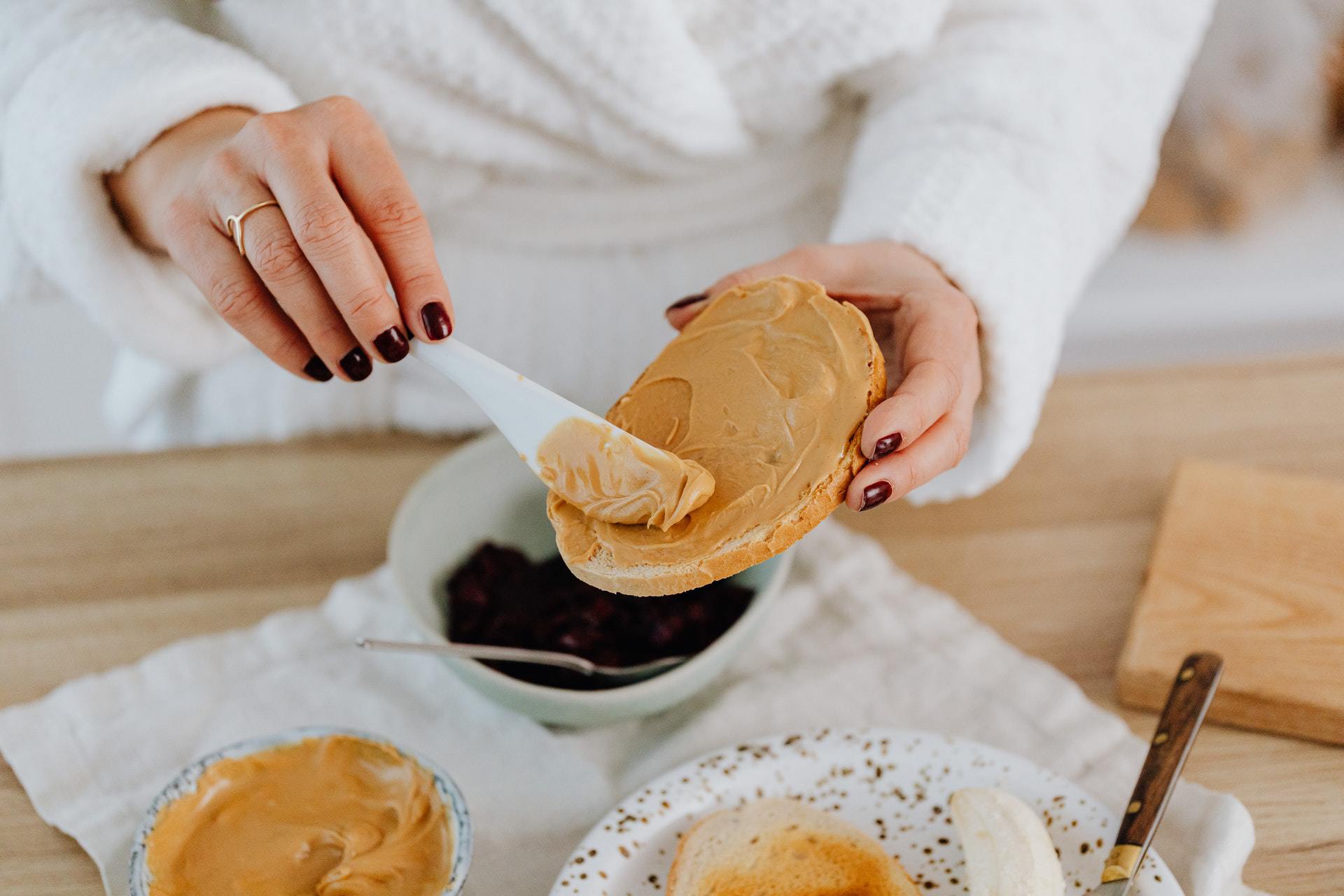 Final Thoughts On Eating Hummus On A Ketogenic Diet
Hummus is one of my favorite dips when snacking on keto since it's mouth-watering and only has around three to four grams of carbs per serving.
The surprisingly high nutrient density also provides your body with essential nutrients like sodium, potassium, and vitamin E, helping you beat keto flu and improve overall immune function.
And if you're looking to shake up your low-carb diet, swap your hummus out for keto-friendly alternatives like baba ganoush, Greek yogurt, black soybean hummus, tahini or nut butter.
Searching for more guides on keto friendly foods? Check out our posts on are chickpeas keto?, is rice paper keto?, is quinoa keto?, are lentils keto?, is imitation crab keto?, is peanut butter keto?, is tofu keto? and is mayo keto?
Written By