Dinner For One
One weekend while Matt was away I put in a substantial amount of time to making new recipes and videos. For me a nice treat is fast food so I thought, hey why not do a "dinner for one" Keto Fast Food trip to Wawa. Matt has never had it nor is he really thrilled about the idea of pumping your gas and then walking into the convenience store and purchasing a meal from their deli counter. I, on the other hand, couldn't live without Wawa's cheap gas or delicious food!
 
My Meal
Although Wawa has incredible food across the board there aren't many keto options. However, my favorite food there just so happens to be extremely keto friendly – chicken salad! And, though it may be hard to believe the quality is 5 star worthy. The salad has big chunks of chicken, the perfect ratio of celery to chicken, gobs of mayo and simple, yet tasty seasoning!
They also give you a large portion (3 scoops). I top the chicken salad on a bed of lettuce with cheese, cucumbers, onion, olive oil and a sprinkle of salt and pepper. It's my perfect after pumping gas meal, and never disappoints.
Nutrition and More Options
What I love about this meal is how fatty it is, but how healthy it feels! And, that's hard to come by at a fast food spot. The meal I ordered and the nutrition on it is:
Meal: Chicken Salad, Lettuce, Cucumber, Onion, Peper Jack Cheese, and Olive Oil
Calories: 720
Fat: 60grams
Carbs: 8grams
Fiber: 0grams
Protein: 70grams
Some of you may not love chicken salad as much as me and that's okay because when you get a deli bowl there are options beyond options! You can also get egg salad or tuna salad, which have 8g and 12g net carbs stand alone, respectively. You can also get deli meats on your deli bowl which would cut down on the carbs significantly, but also one the fat. Adding olive oil and cheese is always a great option!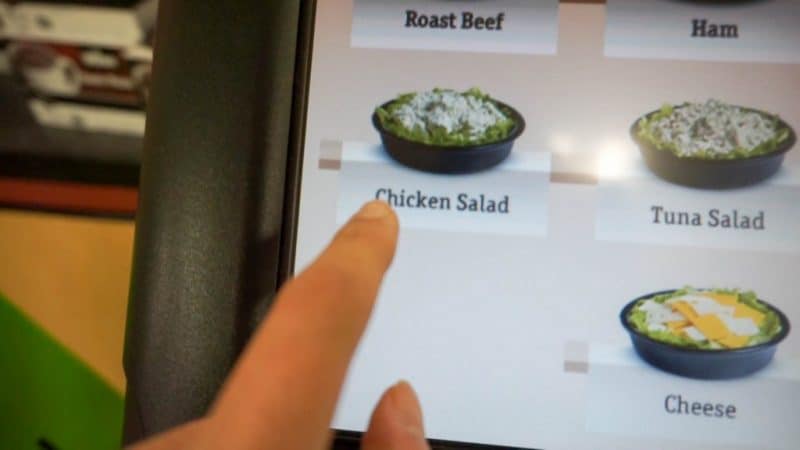 Unfortunately, they don't have any pork rinds in their large chip selection, but they do have other on the go options, such as packs of two hard boiled eggs and celery and peanut butter! If you live near a Wawa and or are now interested in eating there based on my video hehe, you can always go to their site and check out the nutrition before ordering!