Are you a fan of green tea and matcha drinks? If yes, then you'll absolutely love this low carb Keto Matcha Latte! This recipe takes only a few minutes to prepare and it is simply delicious.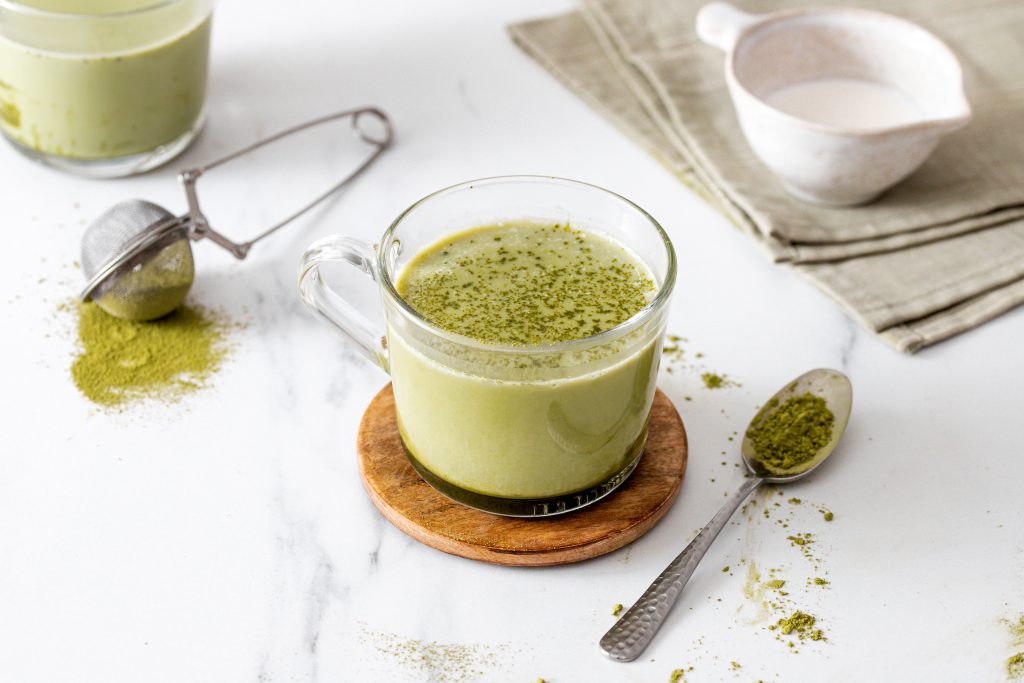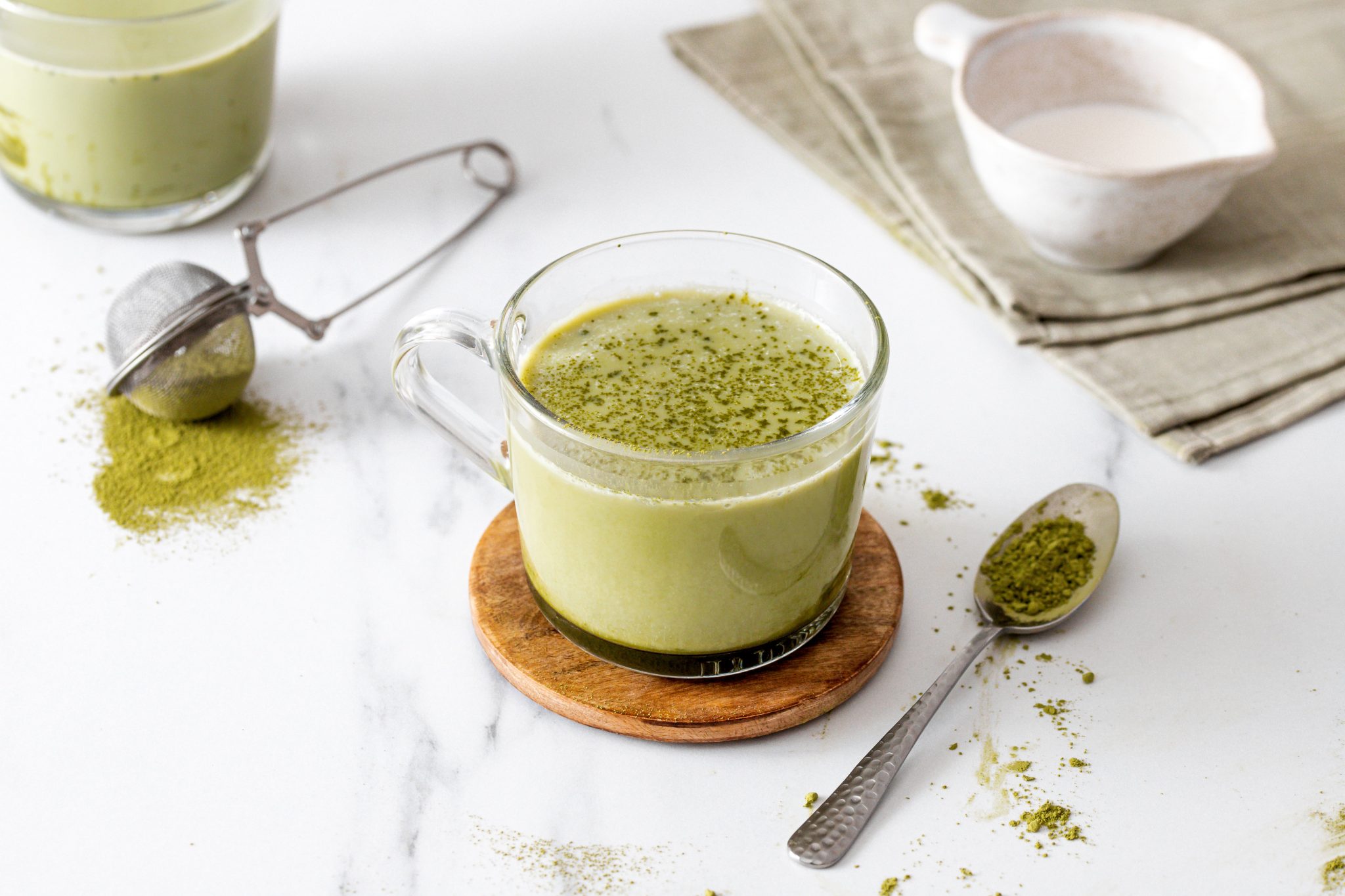 What is matcha powder?
Although matcha is a relatively new trend in the United States, it's been around for centuries in Japan.
Matcha is made from finely ground green tea leaves which are then mixed with hot water before consuming. In simple terms, it's basically just really concentrated green tea without any added sugars or flavors.
Speaking of history, green tea powder has been consumed for centuries as a part of the Japanese tea ceremony and it's also becoming more and more popular in the West as a coffee alternative since it doesn't contain any caffeine.
All the health benefits of matcha powder
Did you know that matcha powder is healthy? It's not only high in powerful antioxidants, but also contains an amino acid called l-theanine which is known to have calming properties.
Matcha powder also contains chlorophyll, which helps your body get rid of all the toxins and boost your metabolism, which in turn aids with weight loss as well.
Last fun, but important fact before I dive into our delicious recipe – matcha contains ten times the amount of EGCG (a fat burning plant compound) compared to the regular green tea you've been used to.
How to make the Keto Matcha Latte
Ingredients
In this simple recipe, all you will need is matcha powder, almond milk, heavy cream, hot water and erythritol.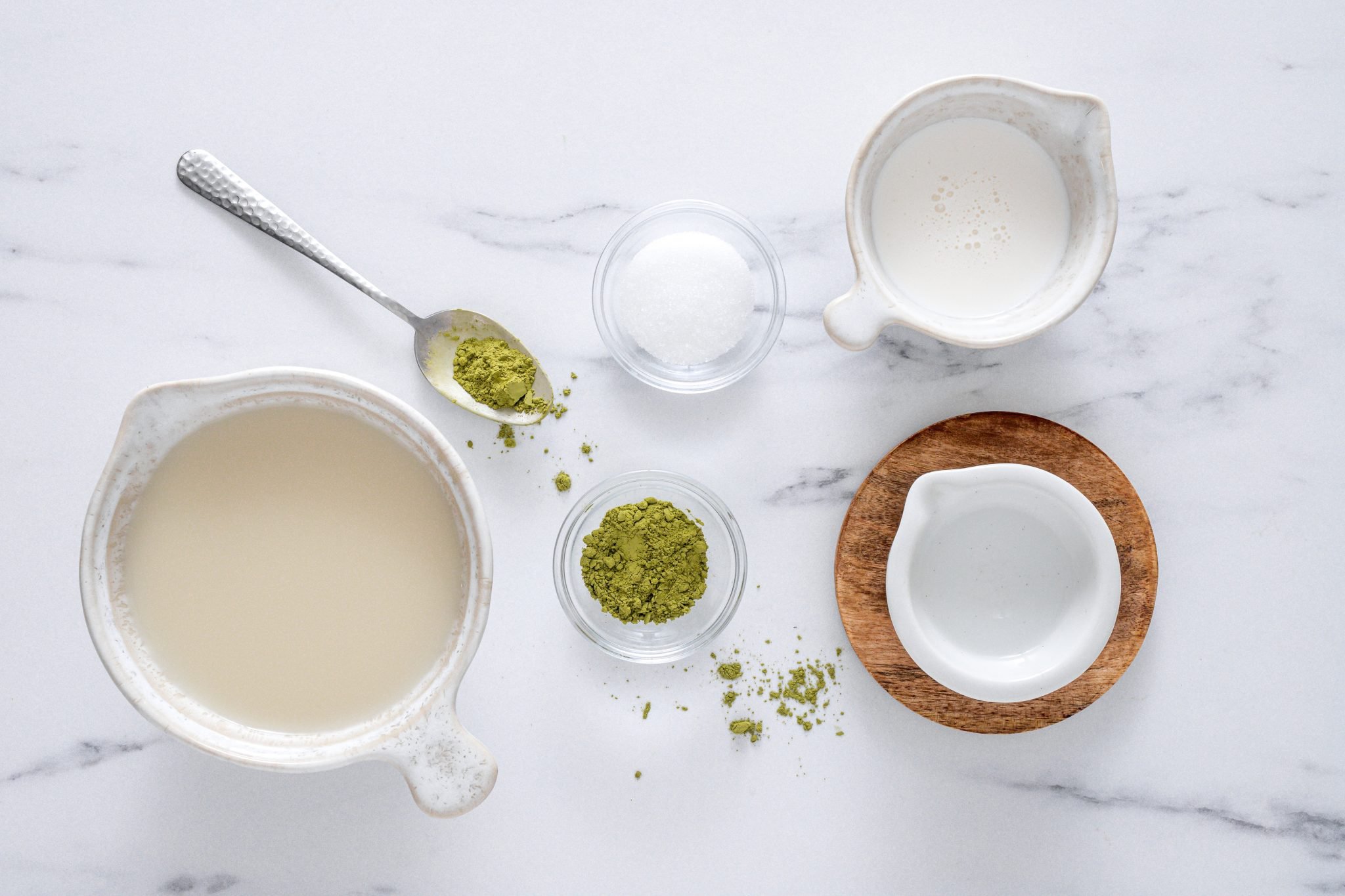 Matcha powder
Good quality matcha powder should be bright in color and green. If the hue is more of a dull olive or has brown undertones, that means it doesn't have much of the antioxidant rich chlorophyll and its quality is subpar.
When it comes to the smell, it should be a bit vegetal, with some pine, chocolate, nutty and creamy aromas. Getting high quality matcha will ensure your Keto Matcha Latte will taste wonderful.
Hot water
In order to make our Keto Matcha Latte, we need to mix our green tea powder with some hot water. I know this may sound counterintuitive, but DO NOT use hot boiling water! It will destroy both the taste and nutritional properties of the matcha.
Instead, boil the necessary amount of water and wait about 2-3 minutes before mixing in matcha. This will ensure your recipe will be as delicious as it gets with all the umami flavors of the matcha.
Unsweetened almond milk
Unsweetened almond milk is nutritious, low in calories and won't raise your blood sugar. Since it's dairy-free, it won't upset your stomach if you're lactose intolerant.
There's only about 1.5-2 grams of carbs per 1 cup, depending on the company. With carbs so low, this drink is perfect for the ketogenic diet.
Heavy cream
This cream is basically the milk fat that comes from regular milk. Don't worry though – it doesn't have the same carb count as milk and in fact, there's less than 2 grams of carbs in 1/4 of a cup.
Scroll down to see what you can use as an alternative if you still want to keep it low carb, but you are lactose intolerant.
Erythritol
As one of the most keto friendly sweetener alternatives, you can use as much or as little as you want in your Keto Matcha Latte. We used only a little bit to prevent the unnecessary cooling effect of erythritol.
Not sure what I'm talking about? If you add too much erythritol to anything, it will start tasting similar to winterfresh gum – not in a good way.
We haven't tried it with stevia so I can't tell you how it will taste, but you can substitute erythritol for another keto friendly sweetener such as monk fruit or even xylitol if you're not worried about blood sugar spikes.
Make it in 3 easy steps
Mix matcha with water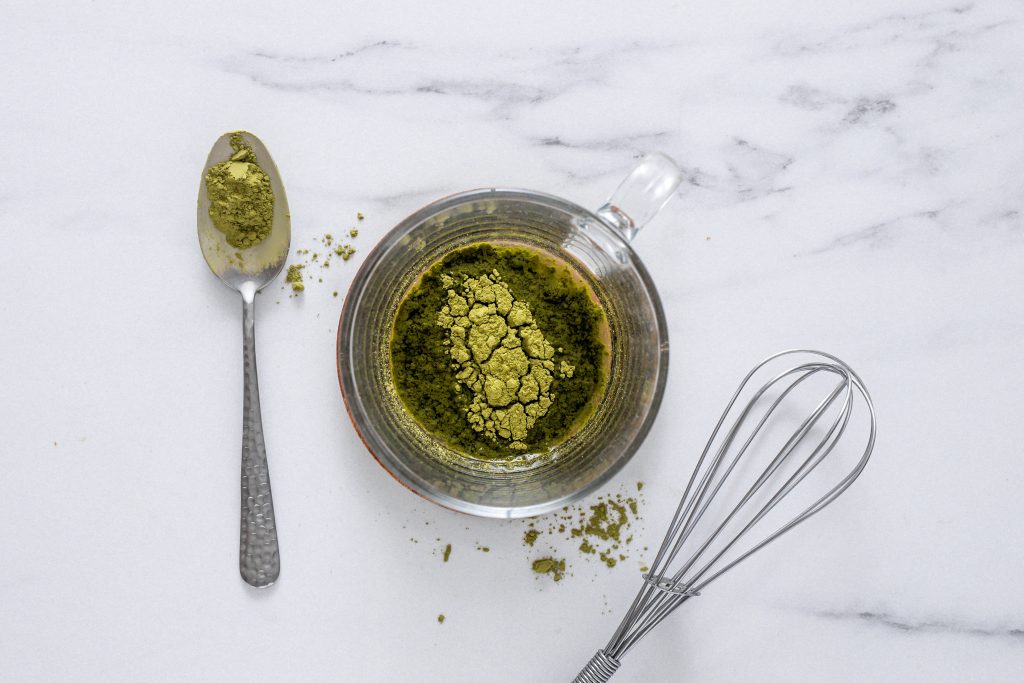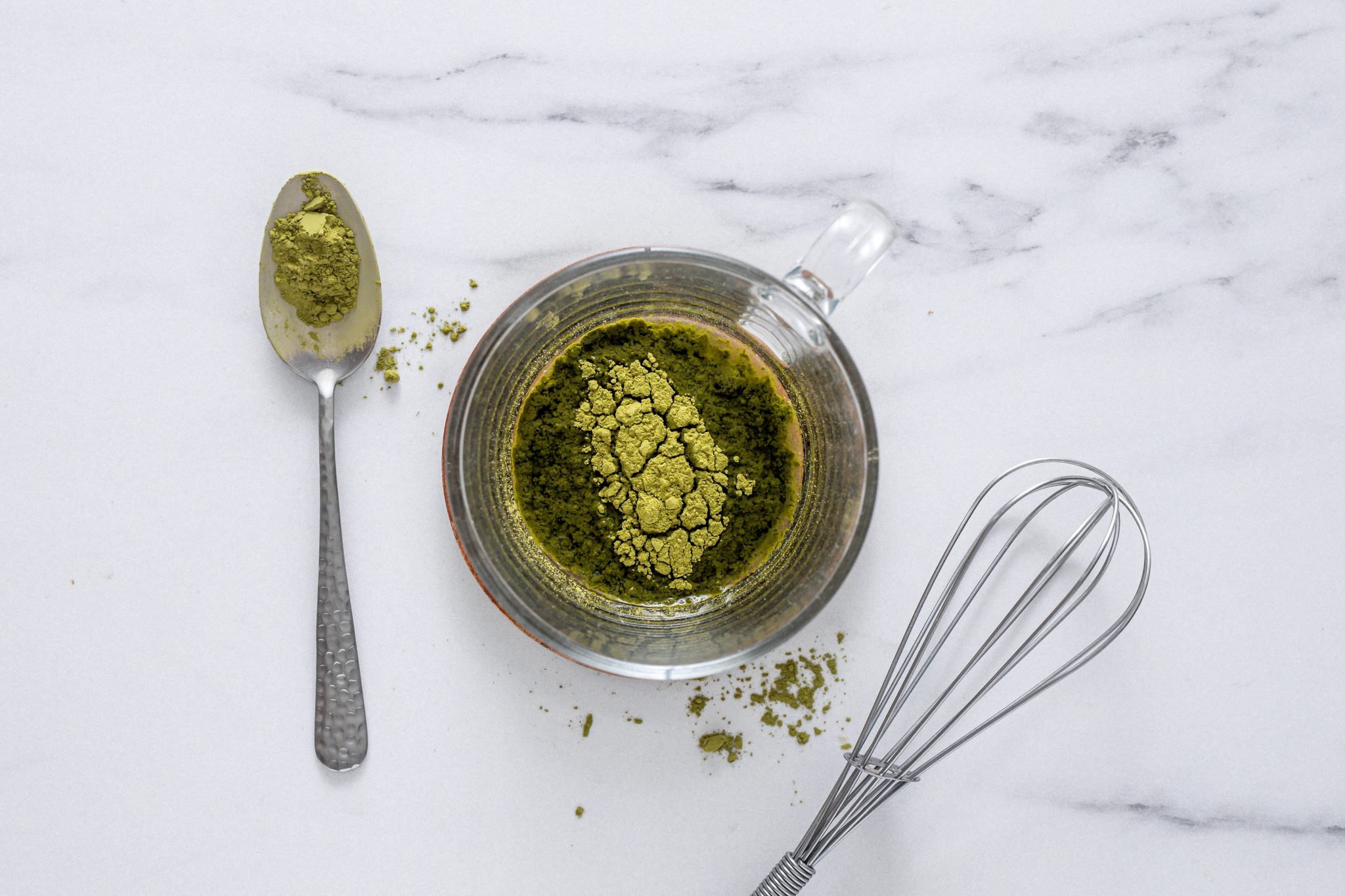 Take your matcha powder and whisk it together with hot water. Make sure it's not boiling water, since using it will destroy the umami taste and take away some of the nutritious properties of matcha.
Add erythritol and almond milk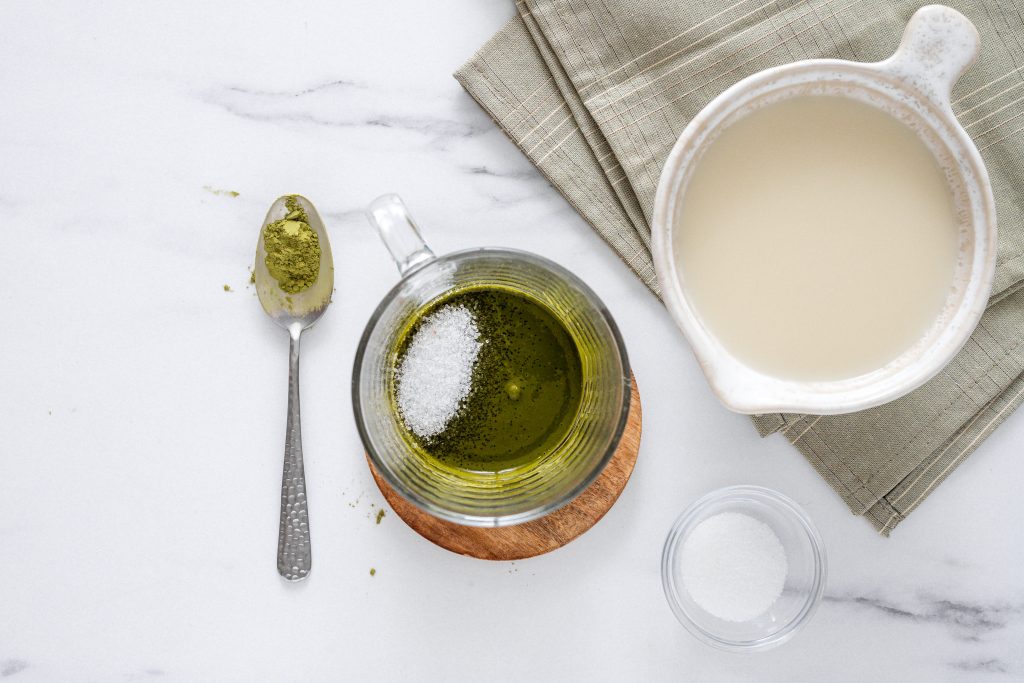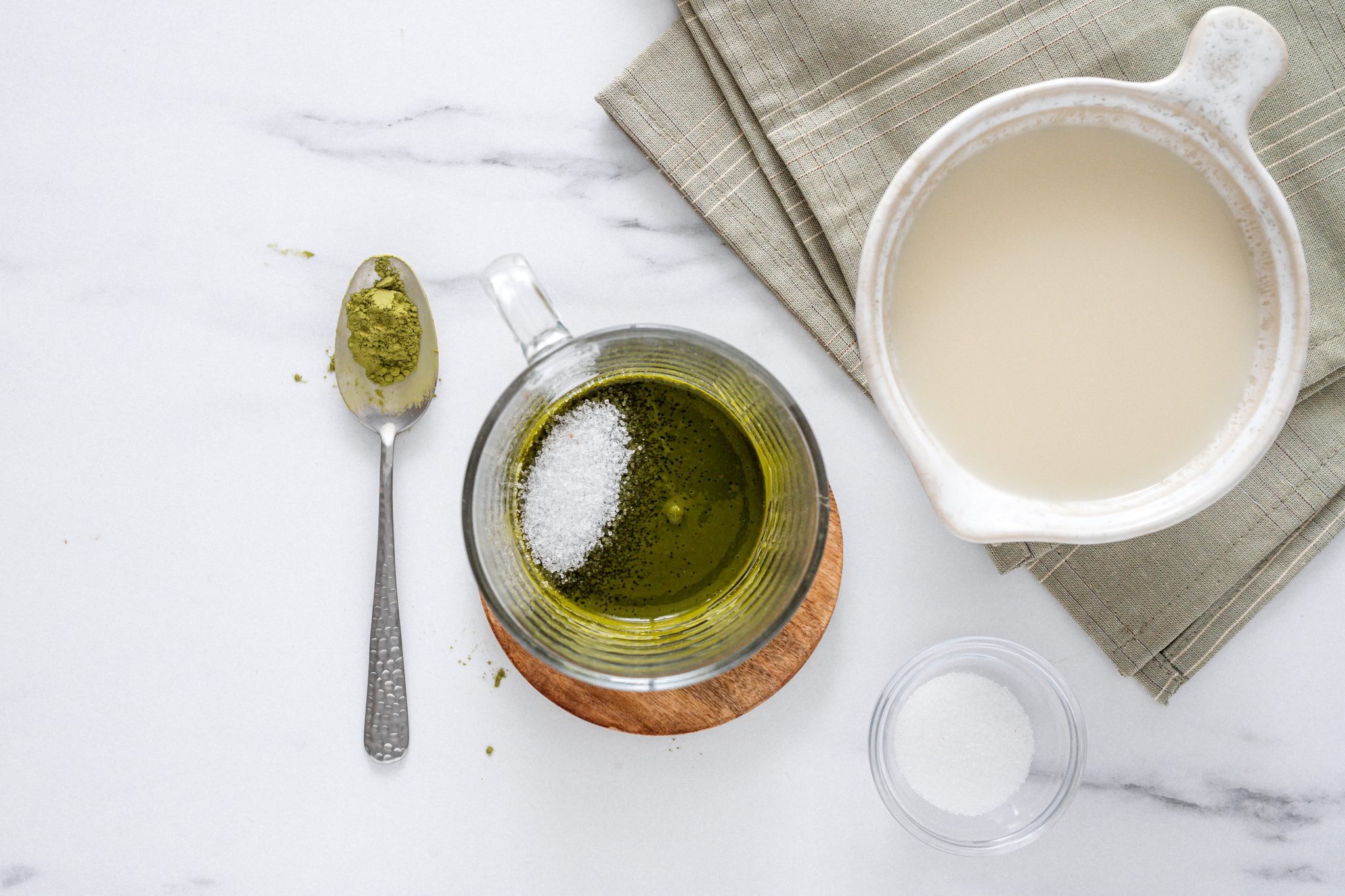 Then, add erythritol or a different keto friendly sweetener together with unsweetened almond milk. Mix well until sweetener is dissolved throughly.
Add cream and serve
Once all the ingredients are mixed together, add heavy cream and serve. You can sprinkle some extra matcha powder on top or make it into an iced latte by adding ice cubes.
To add extra fat into your latte, simply mix in some coconut oil or mct oil. Even one serving will give you an energy boost. Enjoy!
FAQs
Can I use coconut milk instead of almond milk?
You can! If you have a nut allergy or simply prefer the taste of coconut milk, you can easily swap one for the other and it won't affect the texture of the Keto Matcha Latte.
It will change the taste a little bit, especially since coconut milk is more distinct and stronger in taste than almond milk.
I don't eat dairy. Can I skip heavy cream?
Heavy cream is more neutral in taste than its alternatives, such as canned coconut milk. I wouldn't substitute it for almond milk either since the whole purpose of cream is to add richness to your Keto Matcha Latte.
If you don't mind the taste of coconut, go right ahead and use its canned version. Just keep in mind the taste will not be the same.
Is matcha keto?
Absolutely! Powdered green tea matcha is not high in either carbs or sugar, so it's a perfect addition to the keto diet.
As I've mentioned earlier in this post, matcha tea is full of antioxidants and helps increase metabolism and fat burning, which may help you with weight loss. Without a question, matcha is a perfect drink to have on a low carb diet.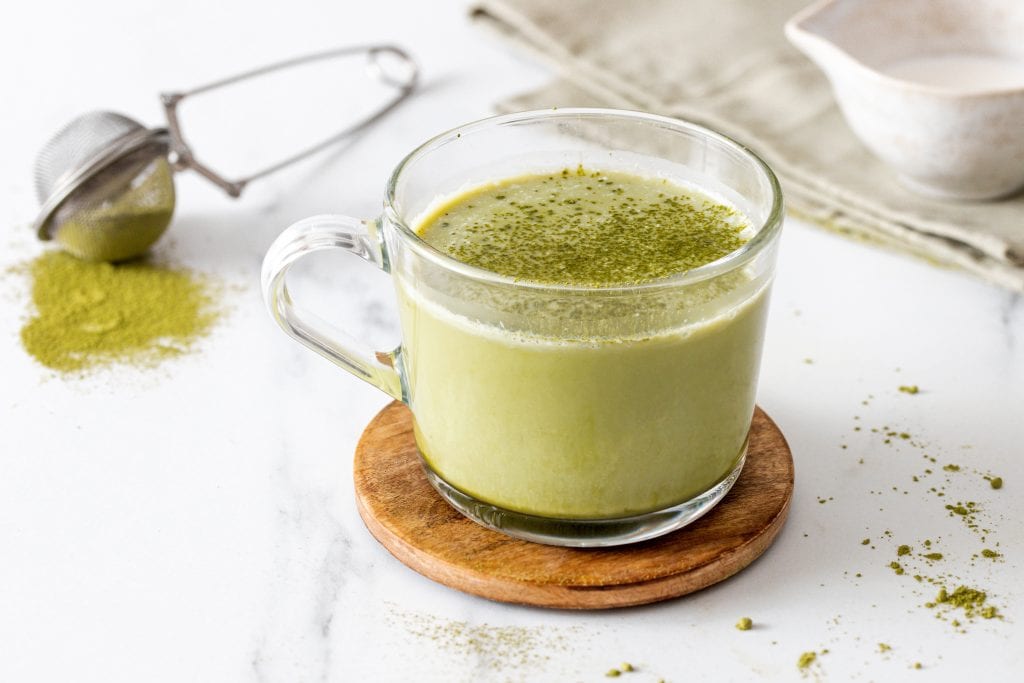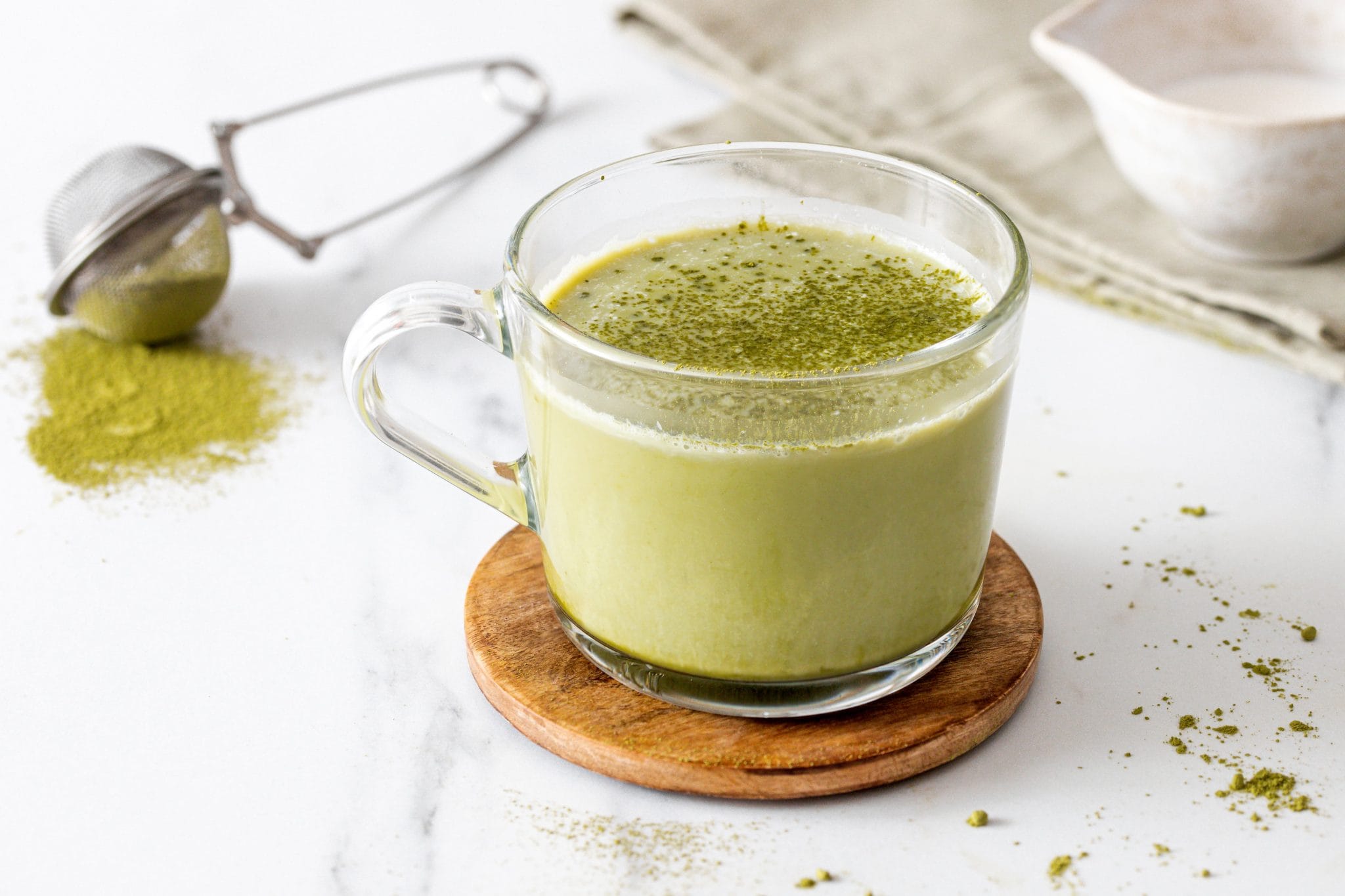 Can I make it into an iced matcha latte recipe?
That's a 100% yes. Before going on the keto diet, I used to be a true fanatic of the Starbucks matcha frappuccino. That, with whipped cream on top was my absolute holy grail. Now, I've got this Keto Matcha Latte which tastes nearly the same so no complaints here.
If you want an iced matcha latte, simply make the drink and cool it down. Take out another glass, put ice cubes inside and pour the drink over.
However, if you want to make the Starbucks matcha frappuccino copycat recipe, simply put the cooled matcha latte into a blender with ice cubes and a few drops of vanilla extract.
Blend until you reach your desired consistency, transfer to a cup and top with keto friendly whipped cream.
Want to try out more lattes? Check out our Keto Pumpkin Spice Latte recipe and the Keto Dirty Chai Tea Latte!
Ready to try this Keto Matcha Latte recipe?
Let us know in the comments! It's one of our favorite drinks to make, so we hope you'll love it as much as we do.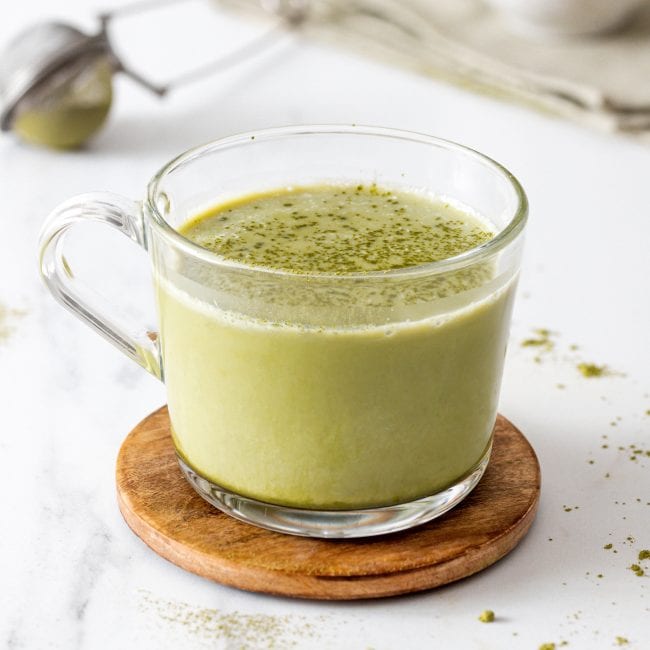 Keto Matcha Latte
This Keto Matcha Latte recipe takes only a few minutes to prepare and it is simply delicious.
Total Time 5 minutes
Servings 1 serving
Calories per serving 141kcal
Ingredients:
1 tsp matcha powder
10 ml hot water
10 g erythritol
180 ml almond milk lukewarm
30 ml heavy cream
Instructions:
Mix matcha powder and water with a whisk.

Add erythritol and milk and stir well.

Add cream and serve.
Notes
DO NOT use hot boiling water! It will destroy both the taste and nutritional properties of the matcha.
Nutrition Facts
Keto Matcha Latte
Amount Per Serving
Calories 141 Calories from Fat 117
% Daily Value*
Fat 13g20%
Saturated Fat 7g35%
Polyunsaturated Fat 2g
Monounsaturated Fat 4g
Cholesterol 34mg11%
Sodium 256mg11%
Potassium 29mg1%
Carbohydrates 2g1%
Fiber 1g4%
Sugar 1g1%
Protein 4g8%
Vitamin A 644IU13%
Vitamin C 0.2mg0%
Calcium 248mg25%
Iron 1mg6%
* Percent Daily Values are based on a 2000 calorie diet.
Written By