Matthew and I have started a new tradition in our household. Every day when we get home from work, we go to the gym, take a shower, and then make ourselves some Turmeric Tea.
It's something we look forward to everyday especially since it has made a positive impact on our lives. We've created this recipe because we think it's important to share fun, delicious recipes, but also recipes that have health benefits. It's important to have balance and this tea is the perfect addition!
Turmeric Tea and Black Pepper
This recipe can be made by anyone, at anytime of day. You can even jazz it up with heavy whipping cream, other herbs, or stevia. However, it's important to note that the black pepper in this recipe is essential.
Without use of the black pepper you are losing out on all the benefits of turmeric. The black pepper helps inhibit the breakdown of turmeric compounds in the liver, thus allowing it to remain in the body longer, potentially increasing its effects.
Turmeric Tea Side Effects
Turmeric tea is something that you may want to ease into. Start with a lower dosage and gradually increase it as your body adjusts. Look for some common turmeric side effects to help identify if you're taking too much or you have some kind of intolerance.
Some turmeric tea side effects:
Nausea
Gallbladder contractions
Hypotension
Read about the side effects to make sure you're taking the proper dosage.
Turmeric Tea
We drink turmeric tea, not only for all the benefits, but because it helps prevent snacking. Something about drinking warm tea in the middle of the day excites me.
You don't even have to worry about the caffeine keeping you up all night because there isn't any! Other drink recipes that we highly recommend are Keto Coffee and our Keto Green Smoothie! Whether or not you like turmeric tea, we are sure you can find a variation drink that will be your mid-day go to!
Recipe can be quickly added to MyFitnessPal - Search "KetoConnect - Turmeric Tea"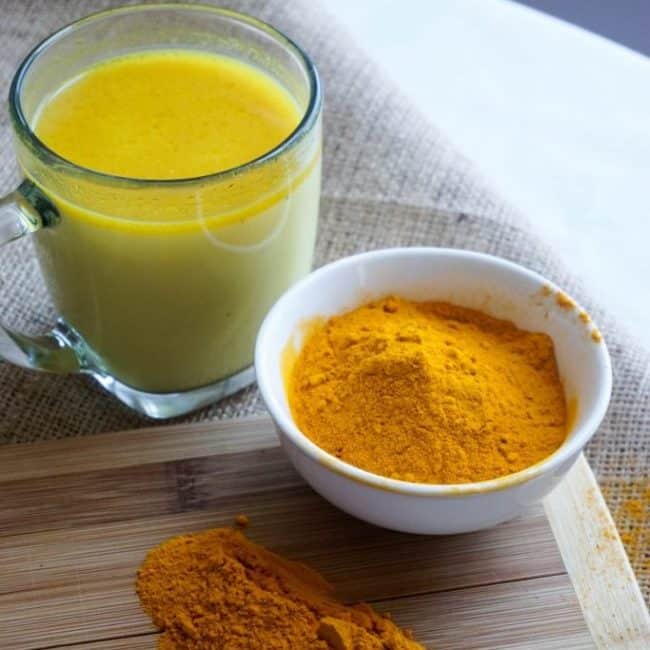 Turmeric Tea
Try this turmeric tea for a warm and comforting treat.
Total Time 15 minutes
Servings 1 serving
Calories per serving 128kcal
Instructions:
Add water, turmeric, black pepper and coconut oil to a sauce pan and bring to a boil.

Once boiling, reduce to simmer for 10 minutes.

Pour into a glass and enjoy!

Optional: add 1 tbsp of heavy whipping cream.
Nutrition Facts
Turmeric Tea
Amount Per Serving
Calories 128 Calories from Fat 126
% Daily Value*
Fat 14g22%
Carbohydrates 1.5g1%
Fiber 0.5g2%
* Percent Daily Values are based on a 2000 calorie diet.
Written By