Tuna salad is the perfect easy meal, and this recipe just got a whole lot easier using only 5 ingredients!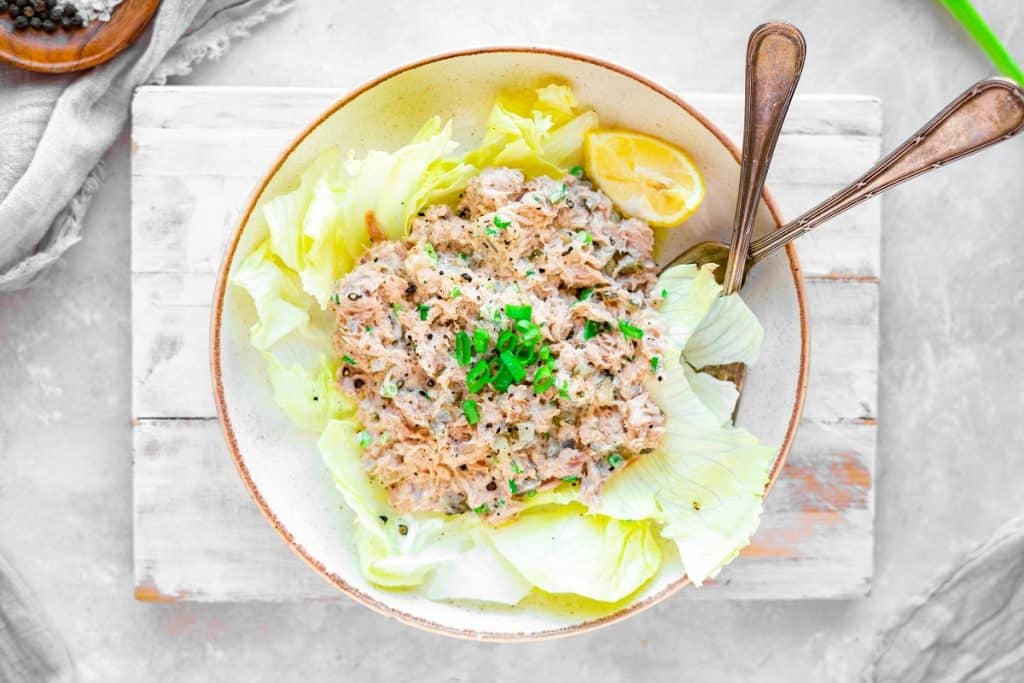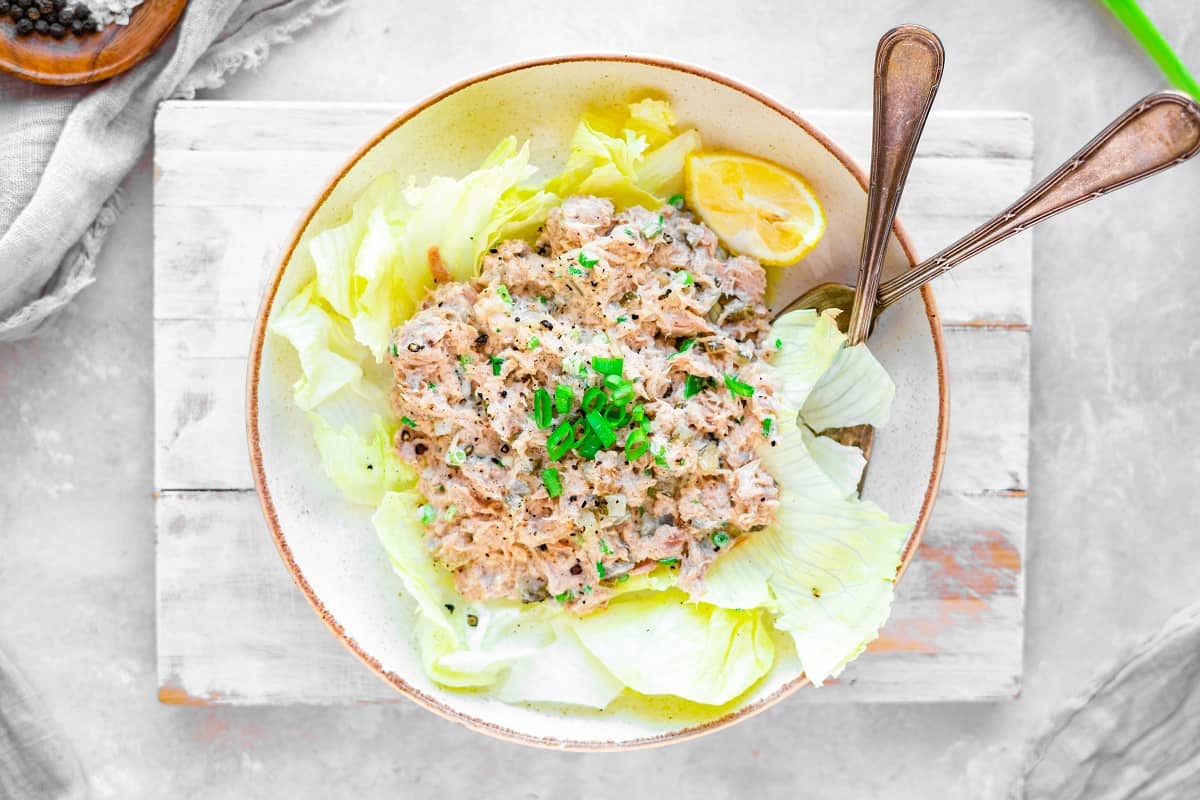 If you want to make keto tuna salad low carb you have to try this super simple recipe. All you need to make this keto tuna salad recipe is canned tuna, mayo, green onion, pickle, and lemon juice. If you're feeling extra fancy you can even spice it up with paprika, garlic, salt, and pepper.
Low carb tuna salad is perfect for even the laziest keto diet. Anyone can make it and have their high quality dinner done in 5 minutes.
Is Mayo Keto?
Technically, all mayos are okay on a keto diet because they have low carb macros. However, most standard mayos will use low quality, high inflammatory oils.
Examples of these oils would be vegetable oil, peanut oil, canola oil, and soybean oil. Instead search for mayo that's made with olive oil or avocado oil. Olive oil mayos can be a little more expensive, but they are well worth the cost to avoid any extra inflammation.
Some of our favorite brands to buy mayo from for keto tuna salad are:
These are all great mayo options to use in a variety of keto recipes. They will work in everything from keto tuna salad recipes to casseroles and keto sandwiches.
Olive Oil or Avocado Oil Mayo
Above we did say that you can use avocado oil or olive oil in low carb mayo. The only reason most options above were avocado oil is because it's difficult to find a clean olive oil mayo. Most companies are cutting their mayo with cheap oils to lower the cost, hence why avocado oil brands are so expensive.
So, either will be fine it's just a matter of finding a brand that isn't cutting their high quality oil with a cheap less expensive option.
What to Add to Your Keto Tuna Salad
Need a good keto meal but are tired of not having customizable options for delicious recipes? Our keto tuna salad is low in net carbs, delicious, and 100% customizable to fit your likes and dislikes.
We've compiled a list of all our favorite spices, ingredients, and tuna salad meal ideas to make your meal prep super easy.
Spices
Everyone knows behind each good dish there is salt/pepper to taste, but did you know you can spice up the same base and turn it into 100's of different flavor profiles?
We love playing around with spices once we have the tuna salad base to create a variety of new tasting meals. Some of our favorite spices to use are:
Curry Powder– Make a delicious curried tuna salad with sugar free cranberries and curry powder.
Salt and Pepper- This is an obvious classic, but don't be afraid to really salt and pepper to taste.
Paprika– Like a little spice? Paprika is the perfect little spicy little smokey ingredient to deck out your tuna salad.
Thyme– Thyme will make for a more herby tuna salad that's light and poppy.
Basil– Similar to thyme basil brings in an almost Italian flavor that pairs really well when making keto tuna salad low carb but flavorful.
Don't be afraid to really get creative with your flavors and spices, these are just some of our go to's. If you try any new combinations be sure to let us know down below!
Vegetables + More
When looking at what ingredients to add to keto tuna salad your options are pretty endless. You can chuck in your favorite ingredients, or follow a whole theme to make a well rounded fancy keto tuna salad. Some of our favorites are:
Diced Celery– This is by far my favorite mix in to any keto tuna salad recipe. It's super refreshing and super crunchy for a nice blend of textures.
Bell Pepper– Finely dicing bell pepper gives you a similar crunch to celery without as much fiber, which may be easier on some people's stomach. Green peppers will be the most keto friendly, but if you use a small serving size any bell pepper should work.
Red onion– Red onion or pretty much any onion adds a lot of delicious flavor and crunch to keto tuna salad.
Boiled Eggs– Boiled Eggs mixed into keto tuna salad adds extra protein and makes for a egg salad tuna salad hybrid
Thanks to this recipes' minimal prep time you can have delicious tuna salad done in minutes to enjoy all week. Start customizing and create your perfect dish.
Make It Into a Meal
This keto tuna salad recipe molds perfectly into a high quality meal by adding a few extra ingredients. Some of our favorite meal themes are:
Greek Tuna Salad– Follow this base recipe minus the pickle and then add in red onion, feta, kalamata olives, and cherry tomatoes.
Mexican Tuna Salad– Use this base minus the pickle and add chili lime or tajin seasoning, avocado chunks, cojita cheese, and a little cilantro.
Tuna Melt Salad– Follow this keto tuna salad, but make sure to use tuna in olive oil or water. Then finely dice the pickle and some white onion. Press your tuna salad down flat into a bowl when finished and top with lots of cheddar cheese. Microwave until cheese is melted and gooey.
You can always make the base low carb tuna salad keto and then meal prep in order to add in toppings and customize it later.
How to Make Keto Tuna Salad
Now that we've talked about how to secure the best low carb tuna salad/ keto option it's time to get to prepping.
Ingredients You Need
We are able to keep this recipe 1 gram of net carbs unlike most salad recipes because we use mainly protein and fat. The only carbs come from the pickle and onion.
For this recipe you will need, tuna, mayo, green onion, pickle, lemon juice, and salt and pepper to taste. We use tuna fish canned in water, but you can also use the type packed in olive oil.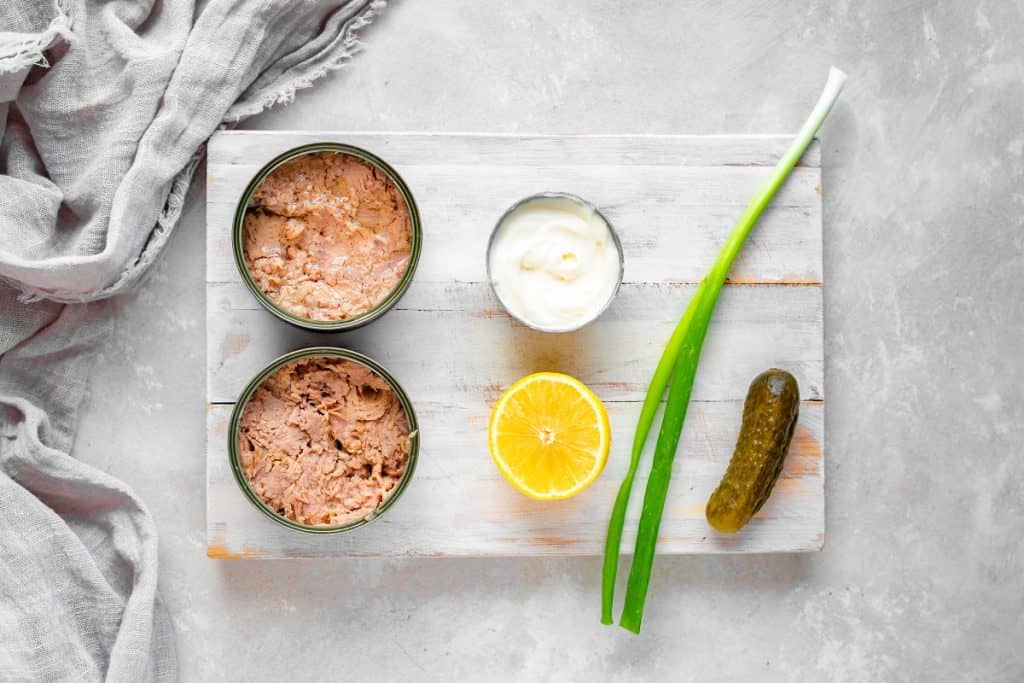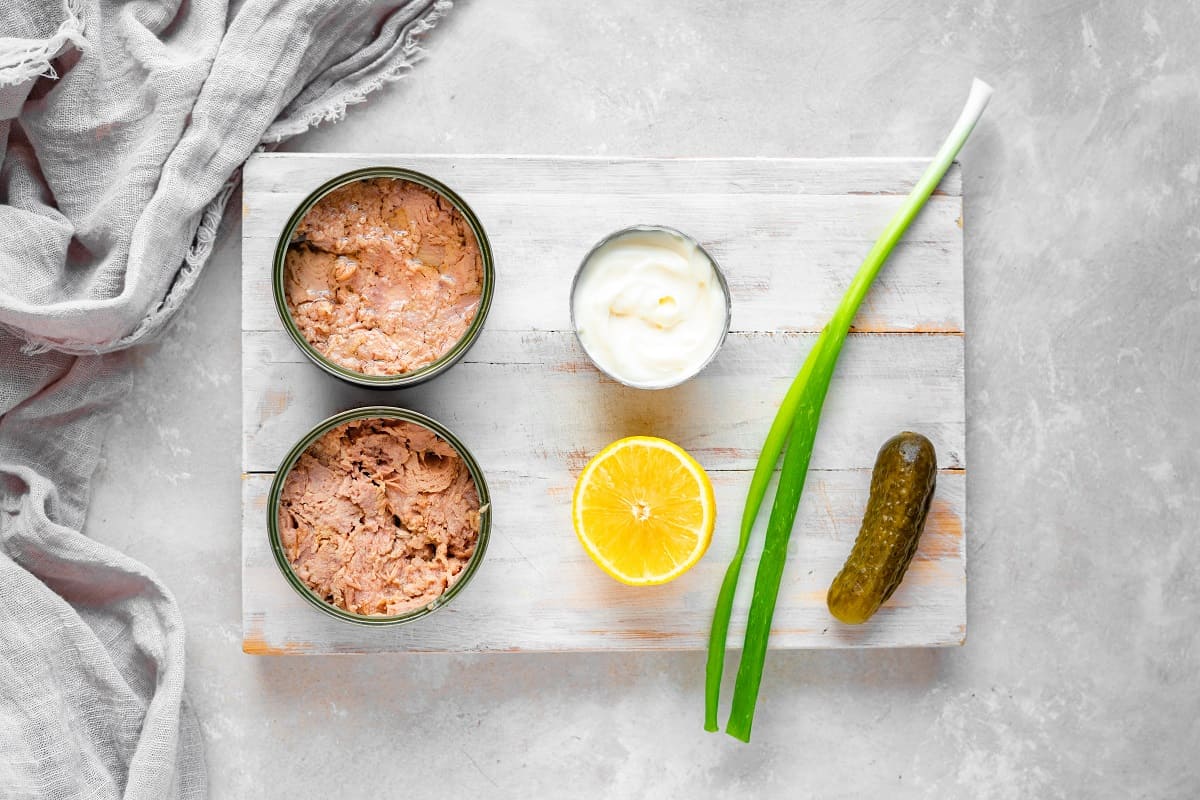 Chop Ingredients To Uniform Size
It's time to make the perfect keto diet lunch that's low in carbs and sugar, but still super tasty.
To make this delicious recipe begin by chopping the green onion and pickle into a fine dice. Then transfer to a bowl.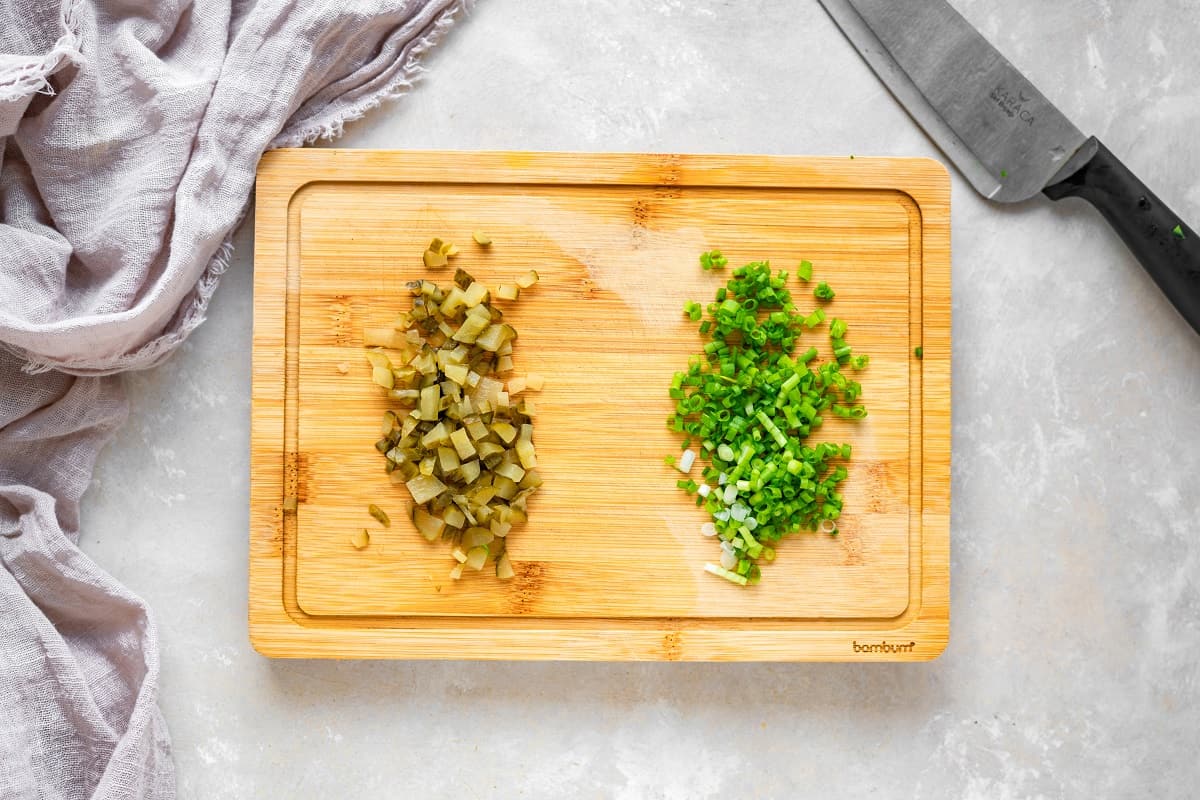 To the bowl add your two cans of drained tuna along with the mayo and lemon juice. Now's the time to add any additional ingredients you want like celery or avocado (see blog post for ideas).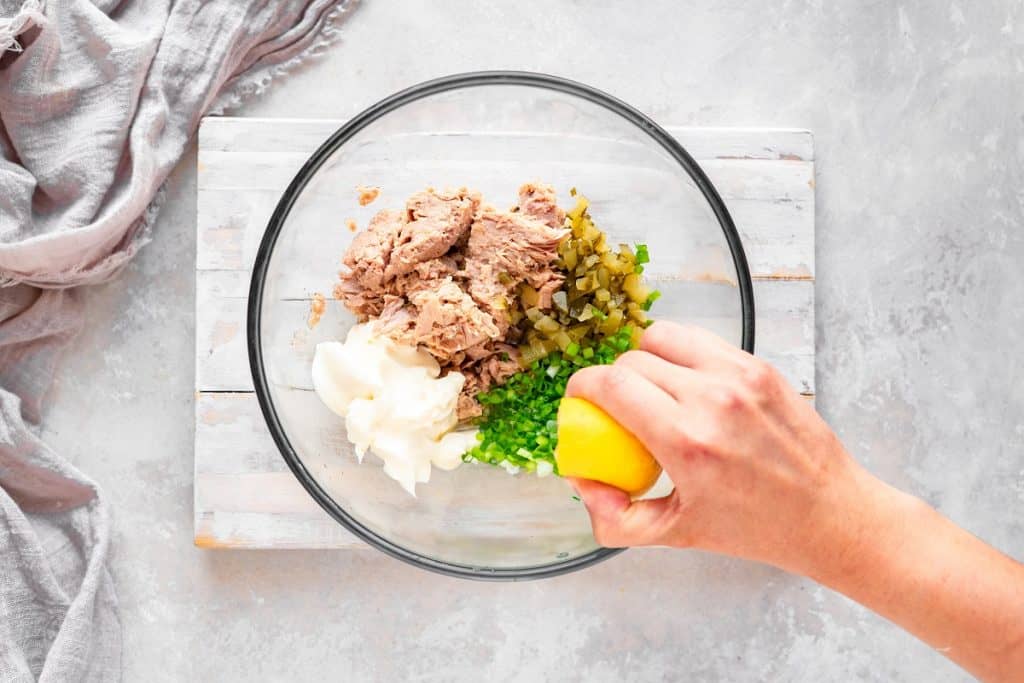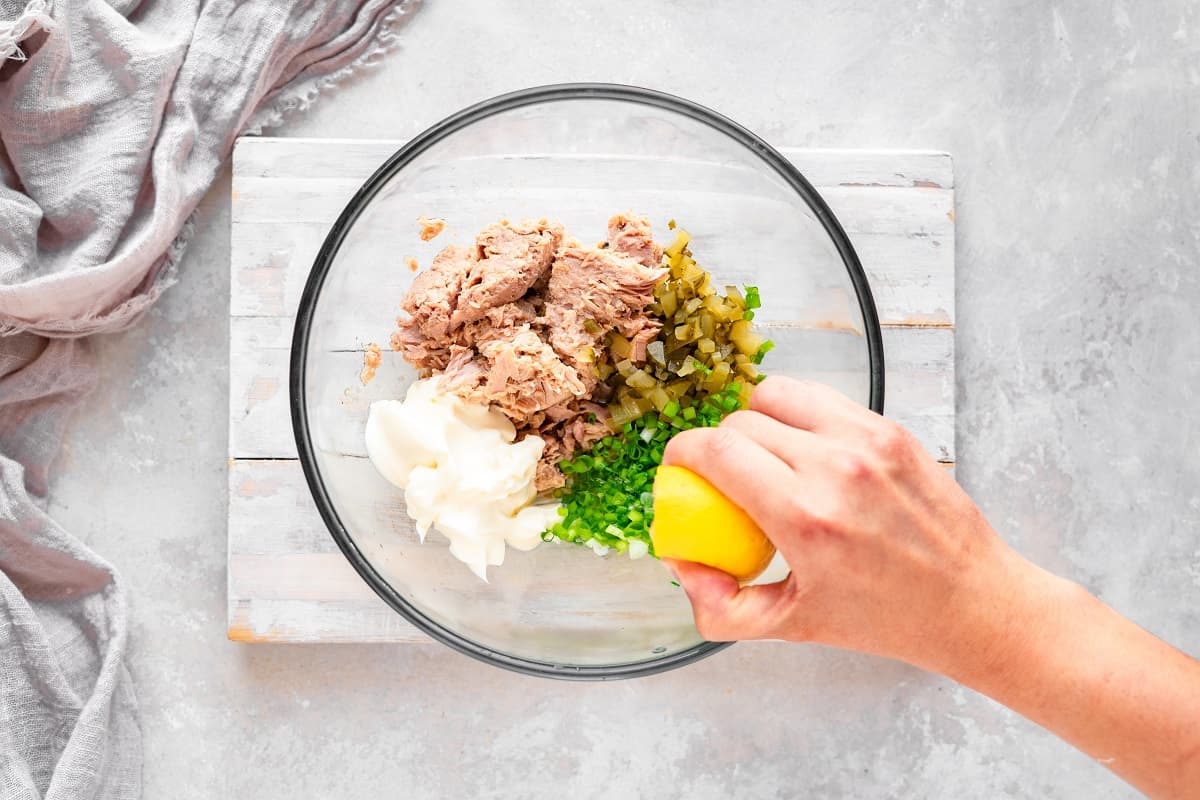 Mix everything well with a fork and add salt and pepper if desired.
You can enjoy this tasty recipe alone or with some of the topping options below.
Serve It Up With Keto Friendly Dippers
Low carb tuna salad can be served a variety of different ways depending on how quick and easy you want serving to be. Some tasty lunch ideas to serve this delicious tuna salad are:
Lettuce cups– The classic keto diet serving boat.
Pork Rinds– This is my favorite because it gives a nice light crunch to a creamy meal. Plus it's easy to make because you don't even have to "make" anything!
Keto Crackers– We have a whole blogpost talking all about keto crackers, our favorites and original recipes. They are easy to make and add an extra salty element.
Cucumber and Celery– These are the most refreshing by far. They are full of water which makes them light and hydrating.
Bell Pepper– Slicing up bell pepper into 1″ cracker sized pieces makes for a great low carb tuna boat.
All of these are great low carb serving options if you make this recipe. They are great for a keto diet and have a minimal amount of prep work.
Can I Eat Canned Tuna on a Keto Diet?
Canned tuna is perfect for a keto diet. While there is nothing specific to a keto diet that you need to worry about, there are some larger concerns with eating canned tuna in excess. Canned tuna contains mercury, which can be problematic in high amounts. Another concern is the can itself, which tends to contain high levels of BPA.
What Kind of Tuna for Keto Tuna Salad?
What type of tuna you use for this recipe comes down to personal preference. The two major types you will find at the grocery store are albacore tuna and skipjack tuna. Many people prefer albacore tuna, but I personally enjoy either type in the keto tuna salad recipe.
Can You Freeze Keto Tuna Salad?
No, it is not recommended to freeze keto tuna salad. Mayo will lose it's texture and flavor when frozen. This recipe should be made to order or refrigerated for 1-2 days.
More Easy Meal Ideas
We're all about super easy recipes, and we know you are too. That's why the keto recipes on KetoConnect are simple and nutritious. No one should have to pay an arm and a leg to eat healthy, or struggle to know what to use.
Some of our favorite simple meal ideas are:
Keto Caesar Dressing– Keto Salad topped with this caesar dressing and meal prepped chicken is a great easy meal idea that's high protein and high fat to keep you full after lunch.
Chicken Crust Pizza– All you need for this recipe is a large bowl for mixing and a baking sheet to cook with. These pizza is zero carb, gluten free, cheesy, and super duper delicious!
Easy Air Fryer Meatballs– Meatballs make a great lunch or dinner, plus store really well in an airtight container as meal prep. Top them with low carb sauce and parmesan for a filling Italian meal made keto.
Whether you're preparing a quick lunch or fancy weekend dinner, these tasty recipes are sure to impress. We know our low carb tuna salad will never let you down, but it's always good to have a couple options!
Easy Keto Tuna Salad
Now that you know how to make this simple keto tuna salad recipe it's sure to pop into your weekly rotation. It's the perfect recipe to prep the night before, or in the morning before work. Taking under ten minutes to prepare you can have this meal anytime of the day!
The best part is that you know you're consuming high quality ingredients to help fight inflammation. Who knew a simple keto tuna salad recipe could be so rich in fat, protein, and overall nutrition!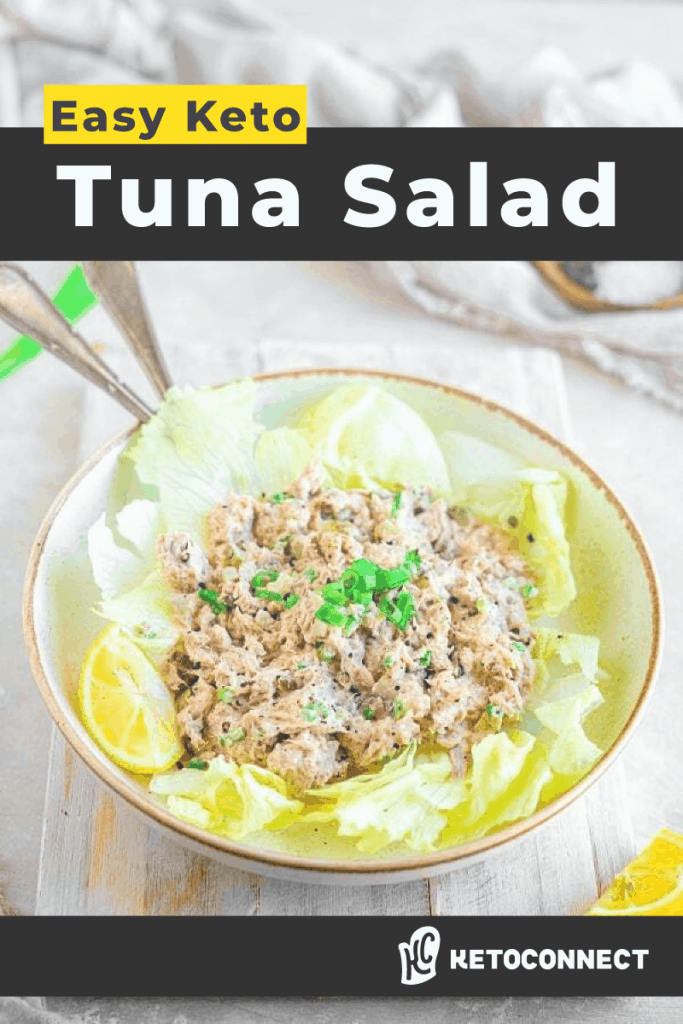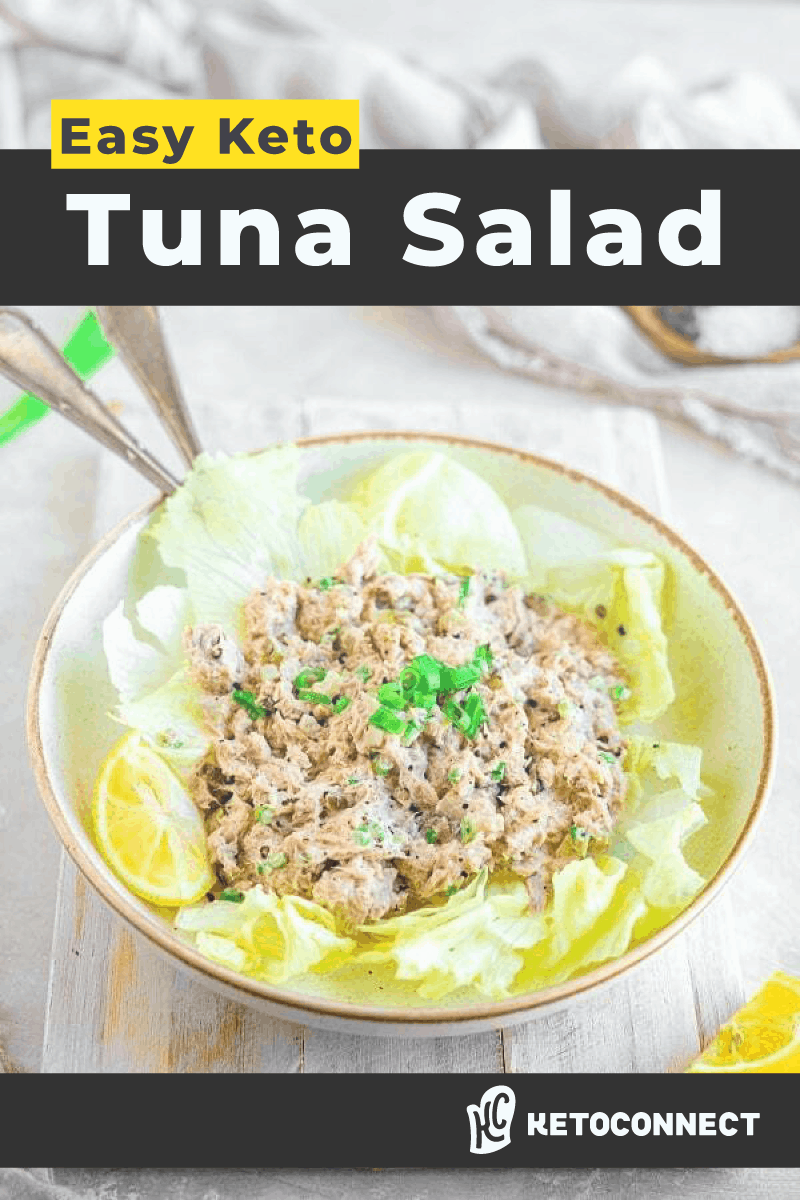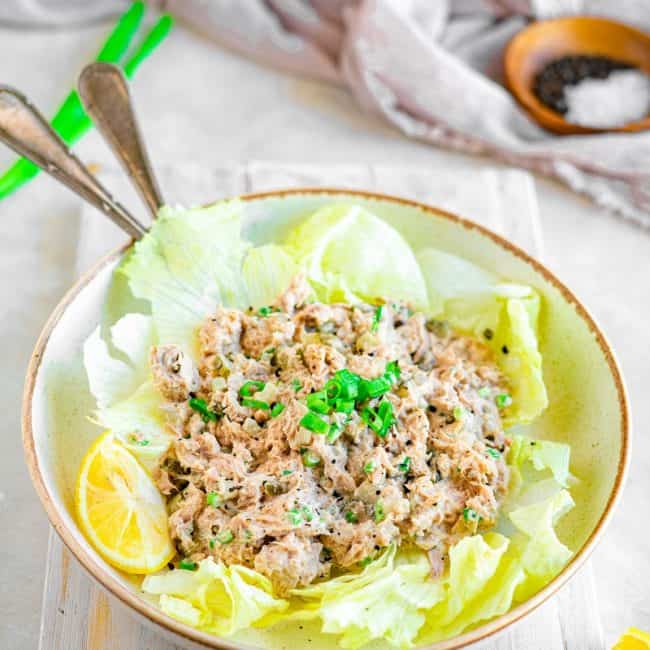 Keto Tuna Salad
This is a simple keto tuna salad recipe that is rich in fat, protein, and overall nutrition!
Total Time 5 minutes
Servings 4
Calories per serving 146kcal
Ingredients:
2 cans canned tuna fish, drained
3 Tbsp mayonnaise
2 Tbsp lemon juice
1 each minced green onion
1 each dill pickles
Instructions:
On a cutting board, finely chop the green onion and pickle, transfer them to a bowl.

Open the tuna cans, and drain them of excess oil. Add the tuna to the bowl, along with the mayo and lemon juice.

Mix well using a fork. Add salt and pepper if desired.

You can eat it on its own, or serve it in lettuce cups.
Nutrition Facts
Keto Tuna Salad
Amount Per Serving
Calories 146 Calories from Fat 81
% Daily Value*
Fat 9g14%
Carbohydrates 1g0%
Fiber 1g4%
Protein 17g34%
* Percent Daily Values are based on a 2000 calorie diet.
Written By