Sugar free chocolate avocado brownies are always a good choice. They are rich and fudgy with the perfect balance of sweet gooey melted chocolate chips and flakey salt. The best part is that they are a gluten free low carb recipe that requires just 5 minutes of prep time. You'll have delicious keto avocado brownies with just 3 net carbs each in no time!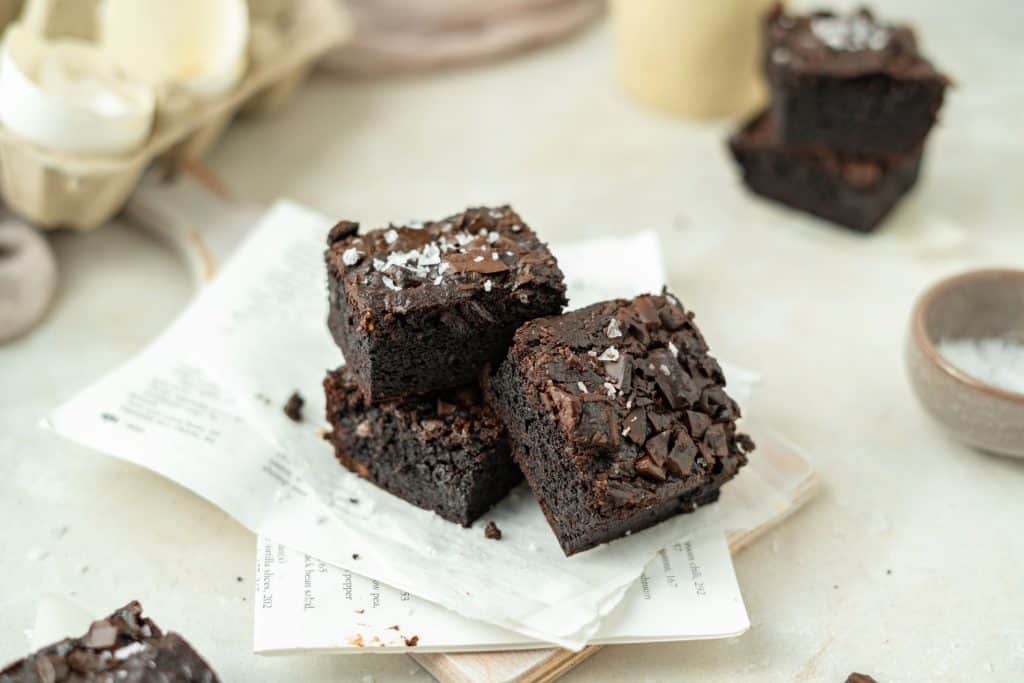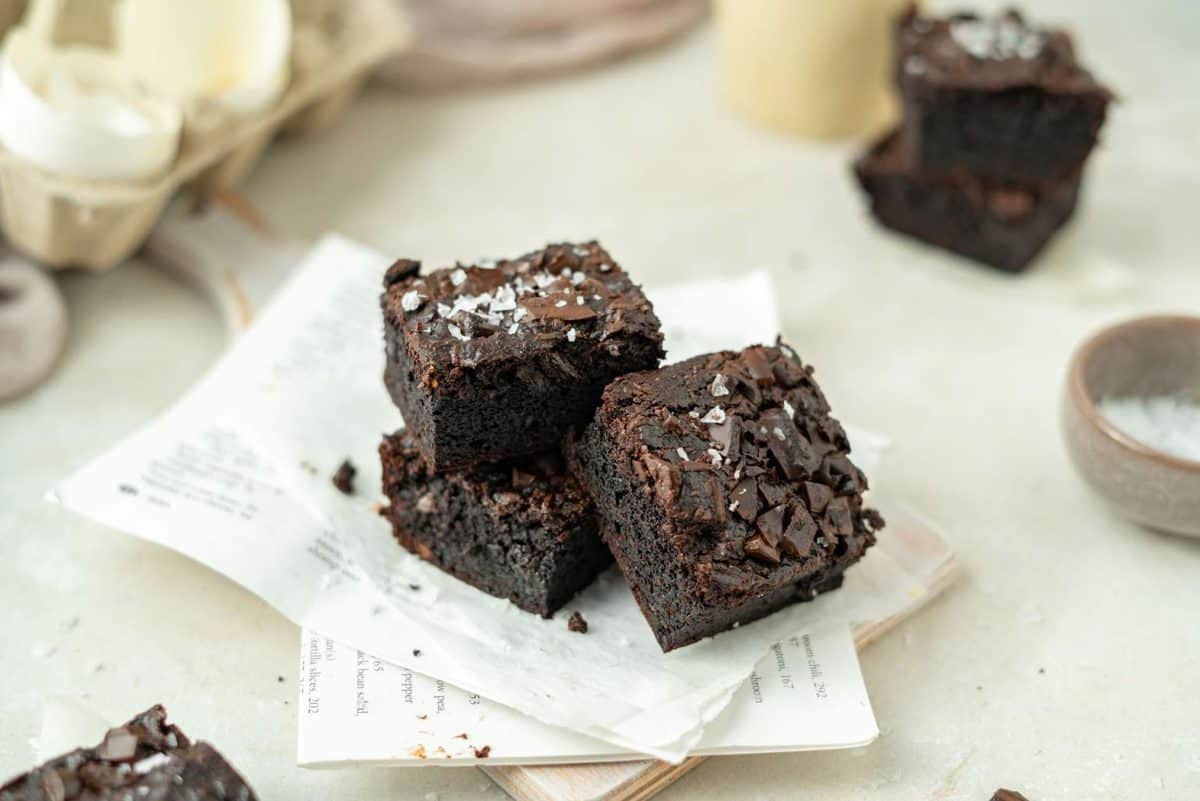 Avocado Brownies?
You read right! These rich chocolate brownies are practically flourless because they have a base secret ingredient, avocado! Avocado adds fat and fiber to help these brownies stay moist and filling. Don't let the idea of avocado scare you though. Avocado has a really subtle flavor when paired with chocolate and almond butter so you won't even taste it. Who knew being healthy could be so simple, yet so delicious!
A One Bowl Brownie Recipe
This is a one bowl recipe, or more accurately a one food processor recipe. We chose to use a food processor to make this recipe because it creates a smooth and even batter that distributes the avocado without any unwanted chunks. If you don't have a food processor you can always use a high speed blender, but we can't promise it will blend as evenly.
The Best Nut Free Keto Brownies
These keto avocado brownies are by far the best nut free brownies you will have ever tried. They are so dense and fudgy with just one single teaspoon of coconut flour. Coconut technically isn't classified as a nut like peanuts and almonds, so if you do have a nut allergy these brownies shouldn't cause you any problems(1). There IS nut butter in this recipe, however for nut free brownies simply sub the almond or peanut butter for some sunflower seed butter.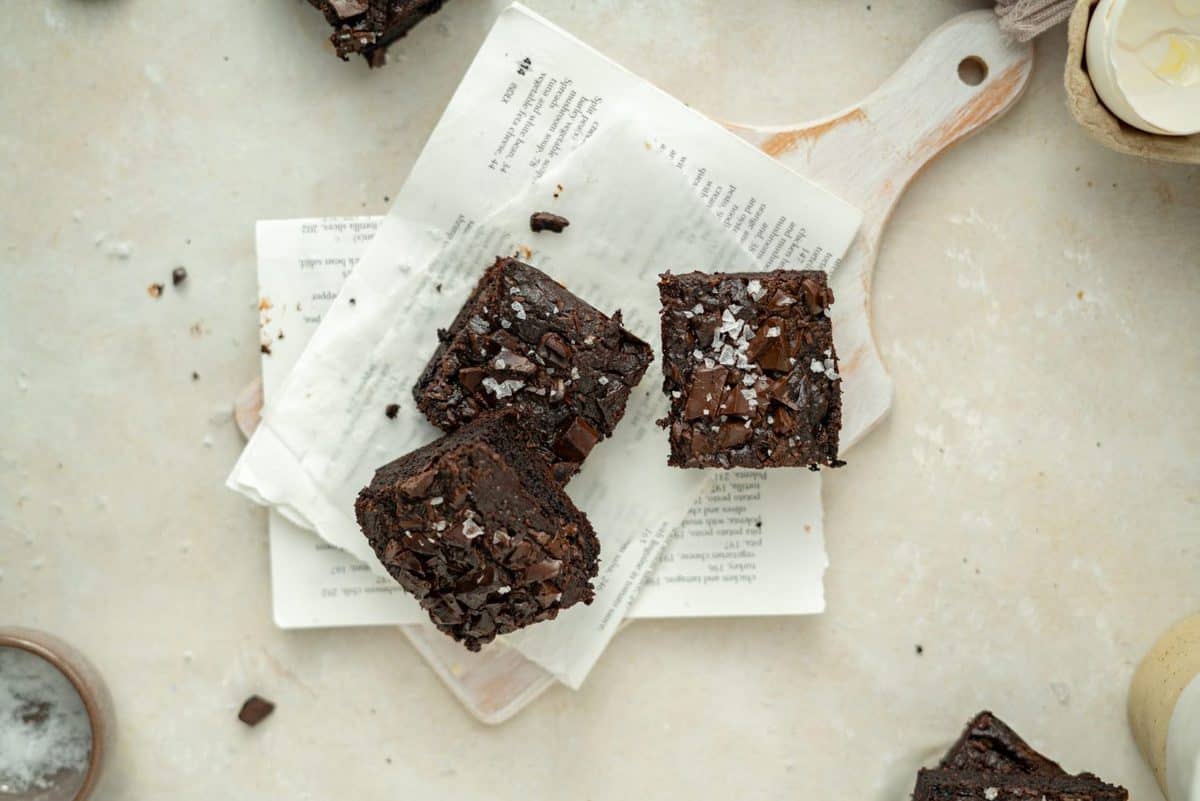 Flours for Gluten Free Brownies
Our avocado brownies recipe is practically flourless meaning you don't have to worry about nuts, or gluten. We feel that a true keto diet should be grain free in order to really get the full benefits of a low carb and keto diet. If you do include gluten on a keto diet you may find you have more inflammation and bloating as our bodies don't always digest it well(2).
Coconut vs Almond Flour
Almond flour is one of our favorite ingredients to use when doing any kind of baking. It works well to get that bready and dense texture you'd want in normal brownies, and has a slight nutty flavor that's rich in fiber. However, we've made delicious brownies with almond flour in the past and just felt it was time to make a delicious keto avocado brownie nut free.
CAN I USE ALMOND FLOUR?
Often times we are asked if it is okay to sub almond flour for the coconut flour in keto recipes, using just one flour instead of the other. Unfortunately, coconut flour is very different from almond flour. Unlike coconut and almond milk, these two flours are not interchangeable. Almond flour is less absorbent requiring more flour to make the same keto recipe. If you do want to make this recipe with almond flour you will have to use three times the amount of coconut flour (that's one teaspoon coconut flour for 3 teaspoons of almond flour). This is because almond flour adds overall bulk to absorb moisture whereas coconut flour is already highly absorbent in small dosages.
If you are looking for a good coconut flour we get ours from Amazon. As for almond flour we've found Costco to have one of the best deals for a 1lb bag. If you are not a Costco shopper Amazon does still carry a variety of almond flours as well.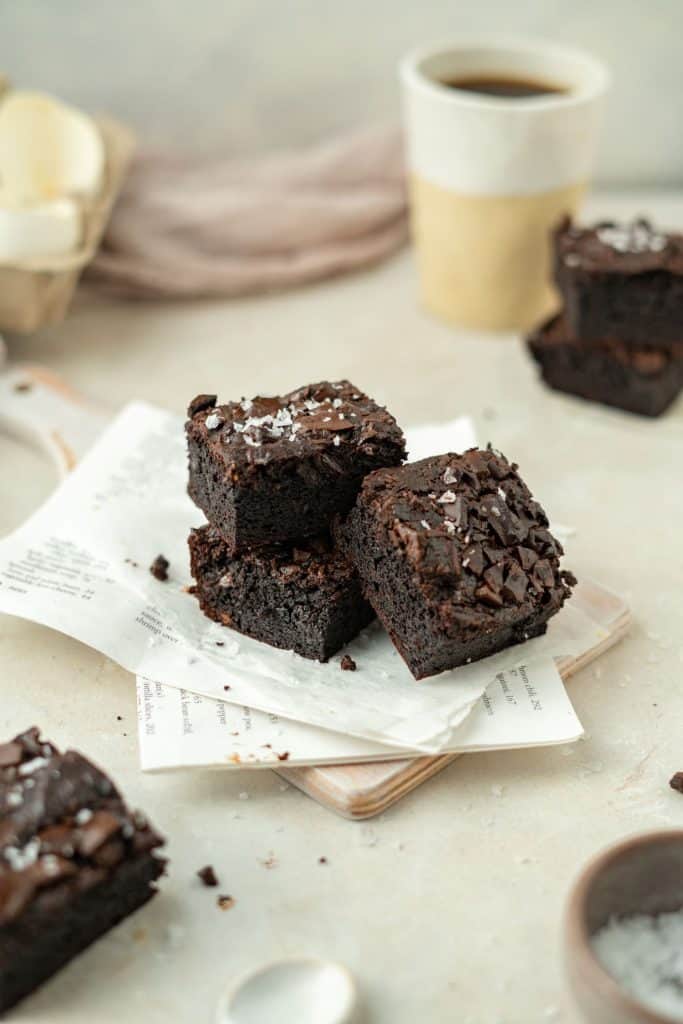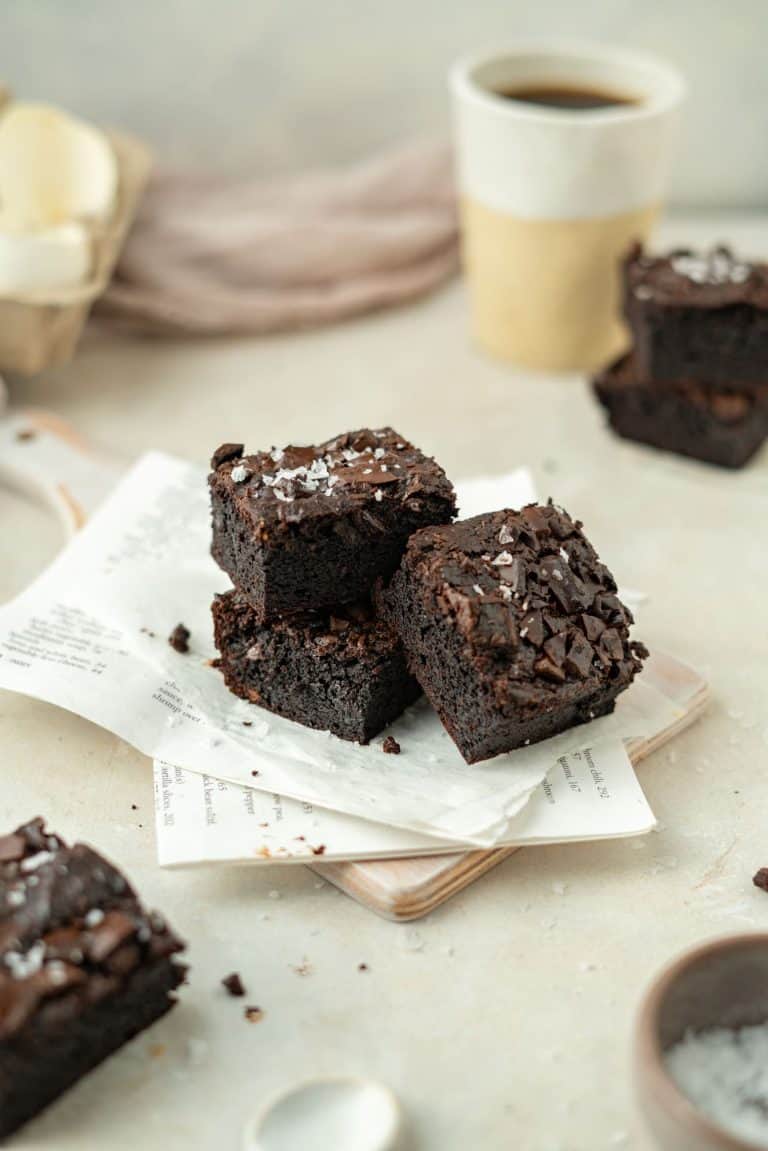 Making Sugar Free Keto Brownies
In order to be keto these low carb brownies needed to be sugar free. To make a low carb keto recipe that is also low in net carbs you will need a 100% sugar free sweetener. We've decided for this recipe there are two big contenders, but then two additional options on top of the main two. Our favorite keto sweeteners are:
Extra Sweetener Options
If those first two sweeteners weren't for you, one of these three are sure to be.
Each sweetener can be used to make delicious low carb recipes, it really just depends on your budget. Make sure whichever sweetener you choose you check our sweetener guide to ensure you use the right ratios. Desserts are easy to make keto once you have a solid sweetener foundation.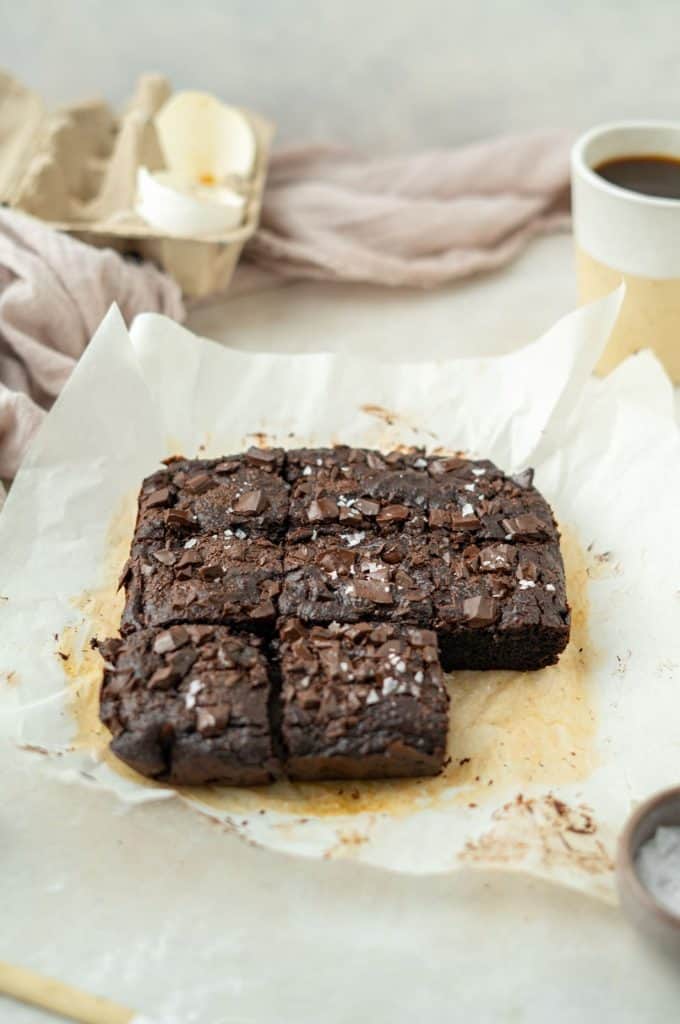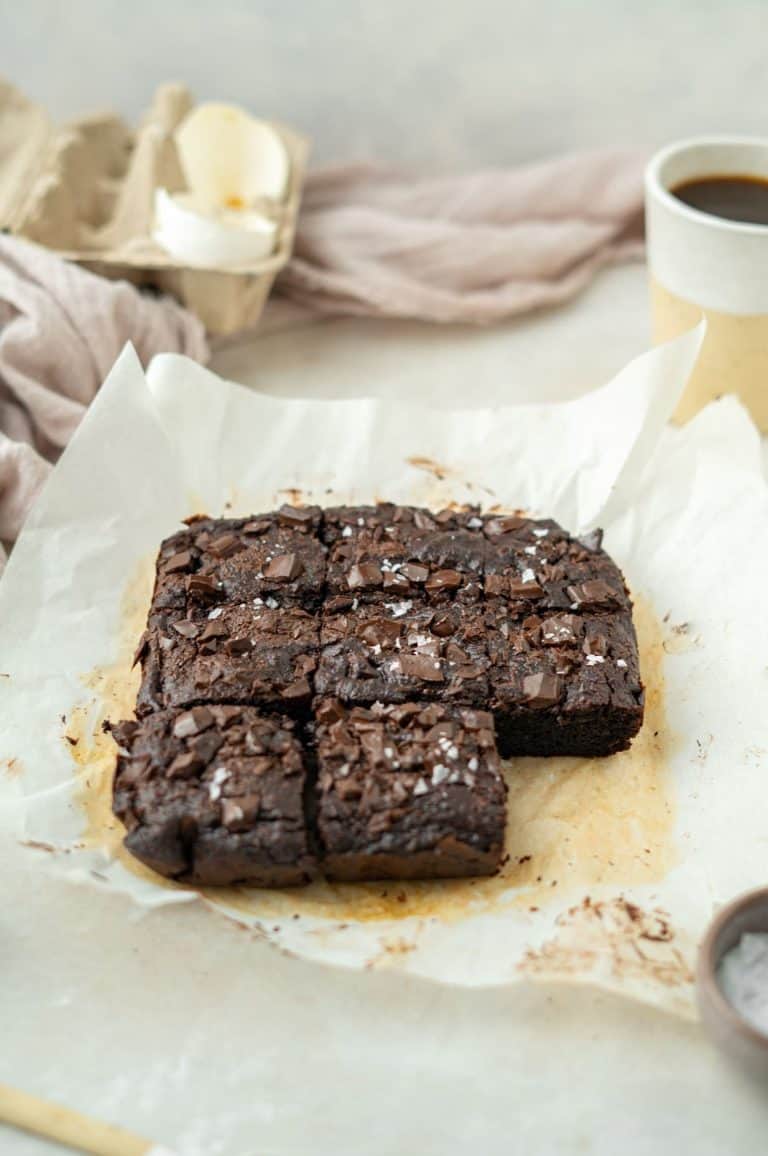 Gelatin in Brownies?
We know this sounds a little weird, but trust us. Adding any kind of gelatin (beef or pork) makes for a fantastically fudgy and chewy brownie. Making avocado brownies keto is nice because they don't have flour, but can still sometimes lack that glutenous texture. Gelatin is an animal sourced way to add back in that chewiness without any extra carbs. Since gelatin is an animal product it has 0 net carbs. If that doesn't make these the best low carb brownies we don't know what will!
How to Make Low Carb Brownies Dairy Free
If you love brownies, but don't love all the butter that goes into them, these tips are for you! For starters these keto brownies have a base of butter so you will want to sub it out for melted coconut oil. It's important you do sub it for a fat instead of pumpkin because avocado on it's own isn't enough fat to make good keto avocado brownies. Coconut oil won't have a strong flavor so don't worry about it masking the chocolate. If you don't like or don't have coconut oil you can use vegan butter. Vegan butter is a little more expensive per ounce and is always made with lower quality oils, but it is an option.
The chocolate is the simple part. Simply purchase dairy free chocolate, or keto chocolate without any added milk products. If you are having a hard time finding keto chocolate that is also dairy free, stick to the basics and buy 100% bakers chocolate. It's made with just cocoa so you don't have to worry about extra milk.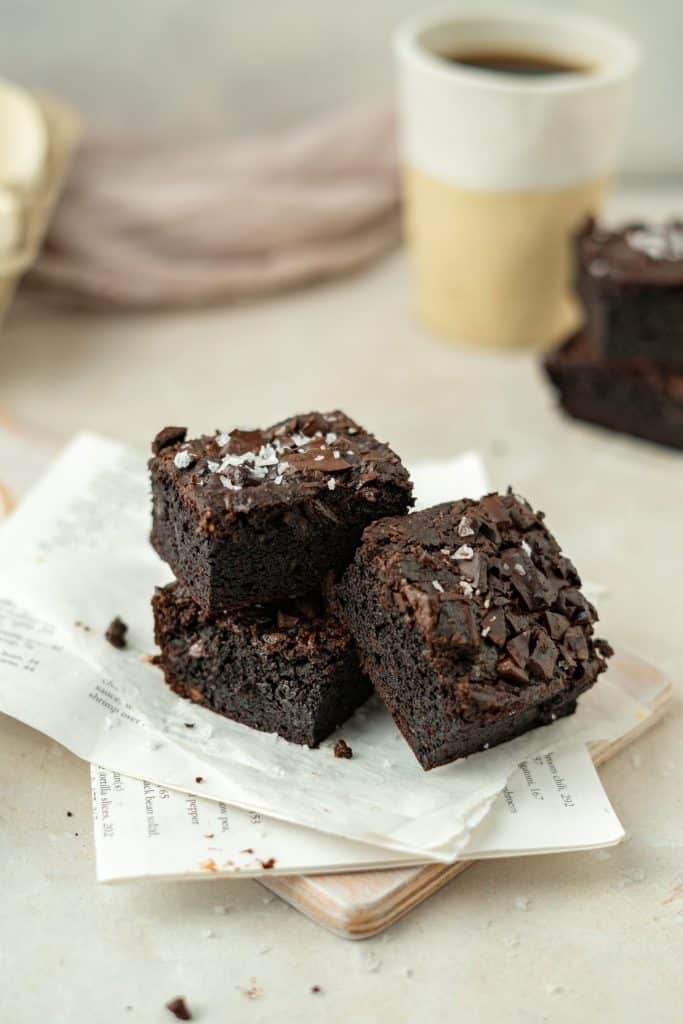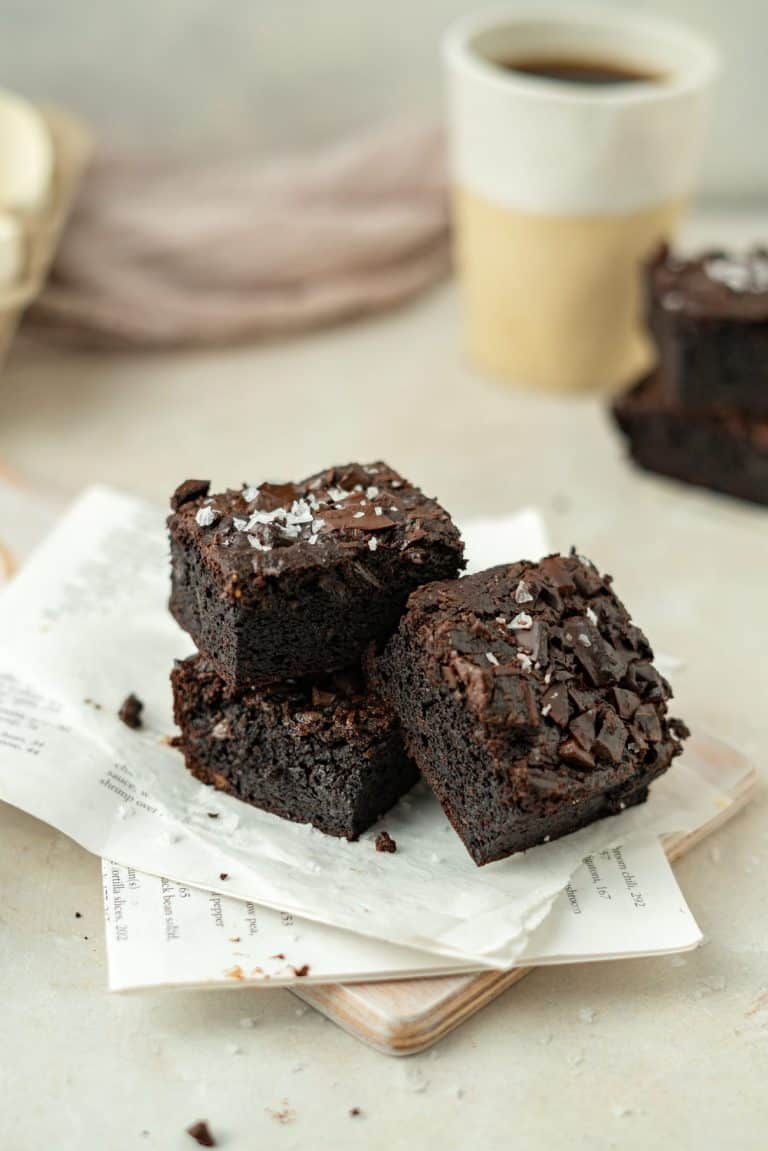 Getting Choco- Loco
These sugar free brownies are made with delicious sugar free cocoa powder. It's rich, decadent, and lacks any added carbs. Still, most people know about unsweetened cocoa powder because it's pretty easy to find at the grocery store. What's a little more difficult though is finding sugar free chocolate chips that are actually made with good ingredients. You can go two routes to make these avocado brownies keto and still contain extra chocolate toppings.
Use a keto friendly chopped bar of chocolate
Use sugar free dark chocolate chips
Either method you decide to use you will want to make sure you are buying the best low carb dark chocolate out there for this avocado brownie recipe.
The Best Store Bought Keto Chocolates
Thankfully for you we made a list of all our favorite bars and chips and added them below. Our favorite low carb chocolate brands are:
Any of these chocolate bars will work great in our keto friendly avocado chocolate brownies. If you don't want extra chocolate no harm no foul, BUT we might just consider you crazy!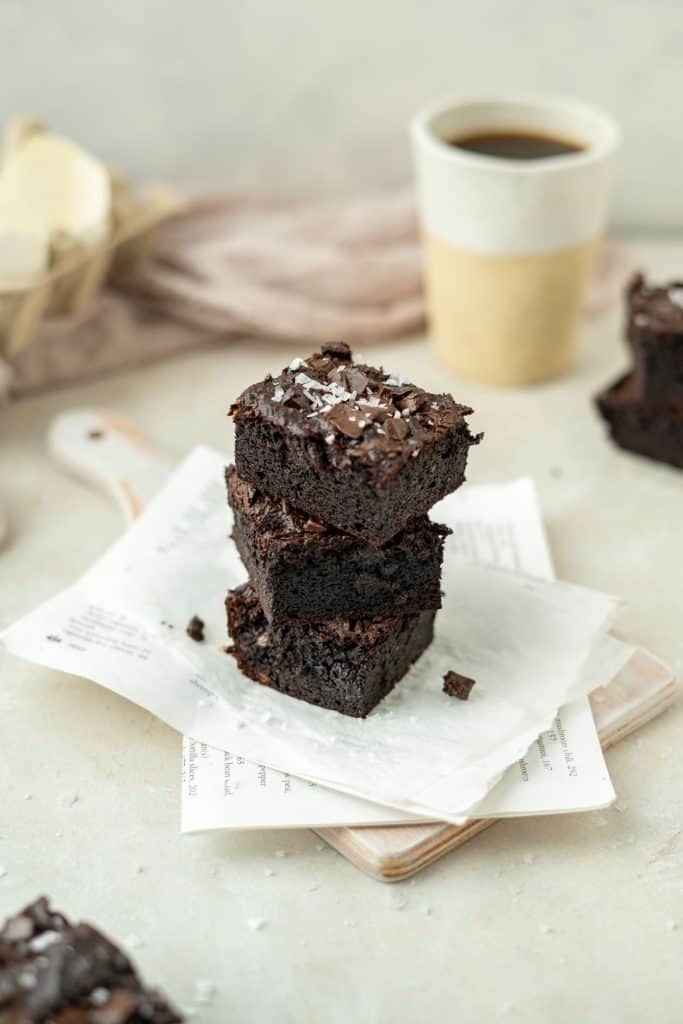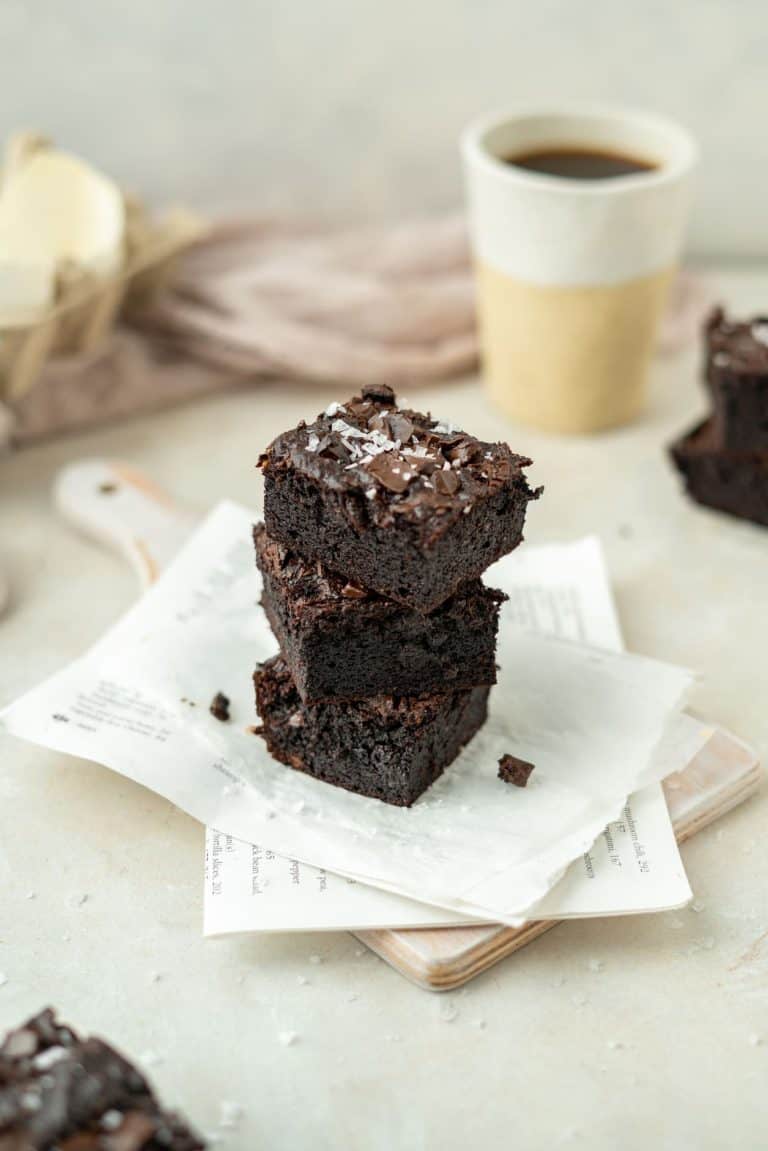 How to Make Keto Avocado Brownies
Now that you know everything that goes into making the best keto brownies out there, it's time to start baking.
Ingredients
To make these avocado brownies you will need avocado, baking soda (baking soda is different from baking powder so be sure to check), cocoa powder unsweetened, coconut flour, erythritol, salt, and unflavored gelatin. For the wet ingredients you will need melted butter or coconut oil, eggs, vanilla extract, and almond butter. We used almond butter because it has less flavor than peanut butter, however you can use whichever nut butter you have on hand.
Finally you will need chopped dark chocolate OR keto friendly chocolate chips, and flakey salt. Flakey salt is optional, but is it really? Let's be honest we're all suckers for a good sweet and salty combo!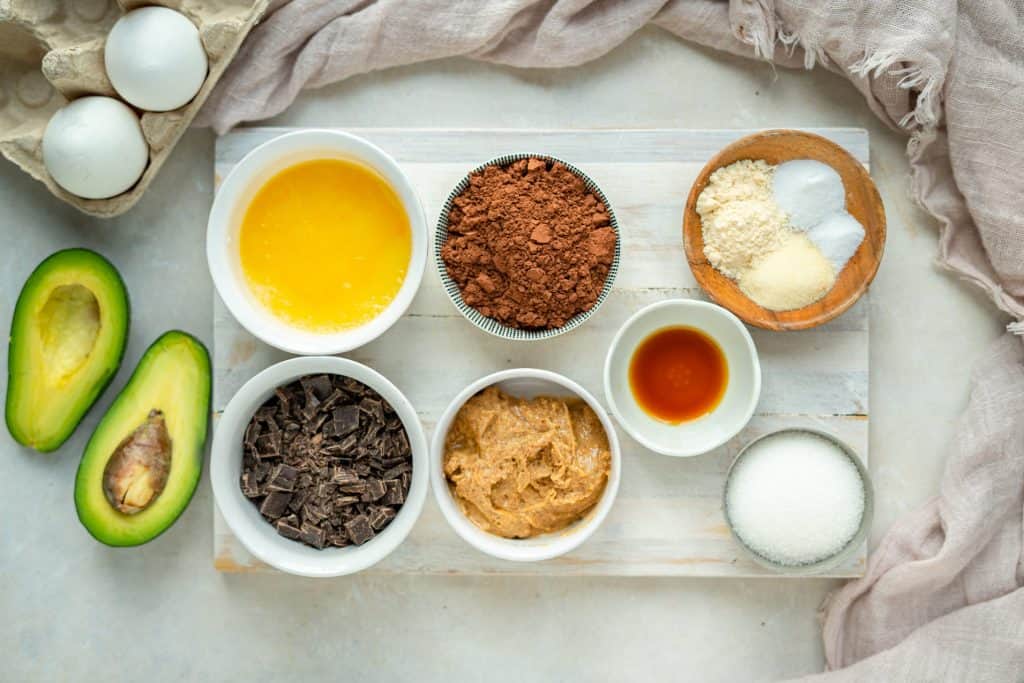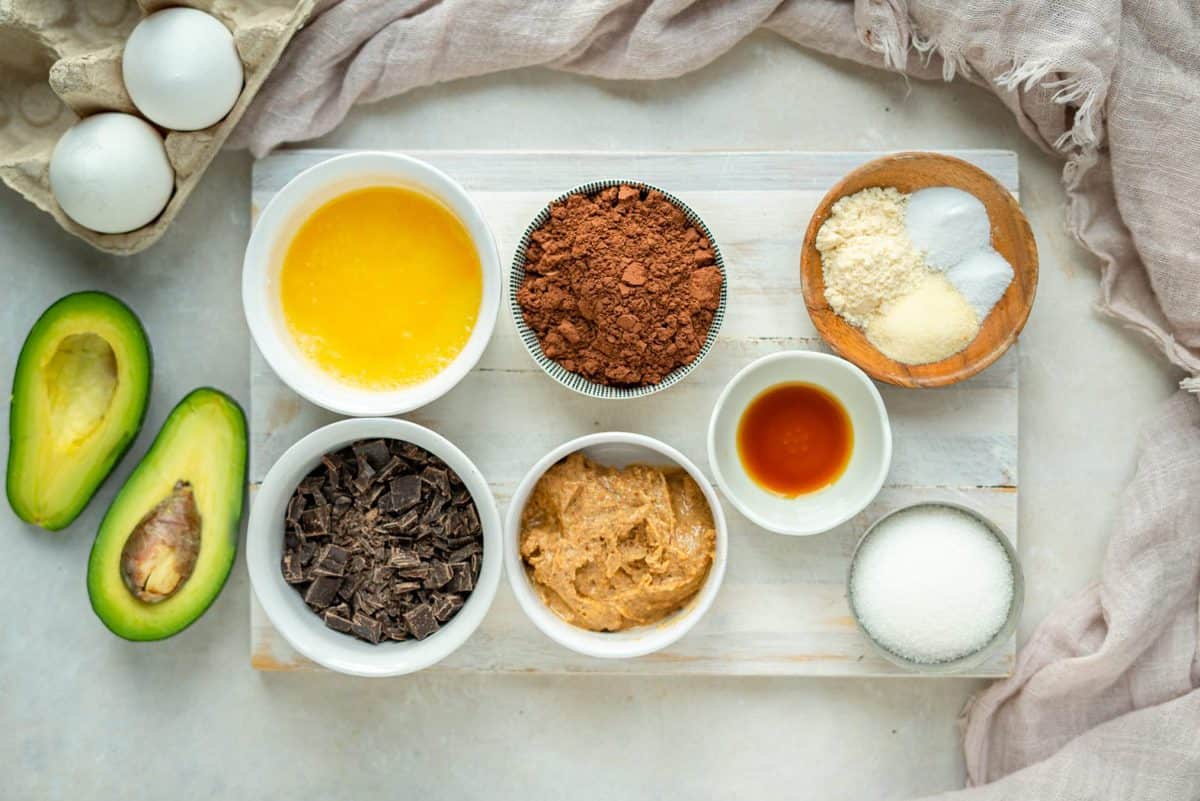 Making Keto Avocado Brownies
To begin making the brownies preheat the oven to 350 F. Then line a 8×8 baking pan with parchment paper. In a food processor combine all the ingredients except your chopped chocolate and flakey salt.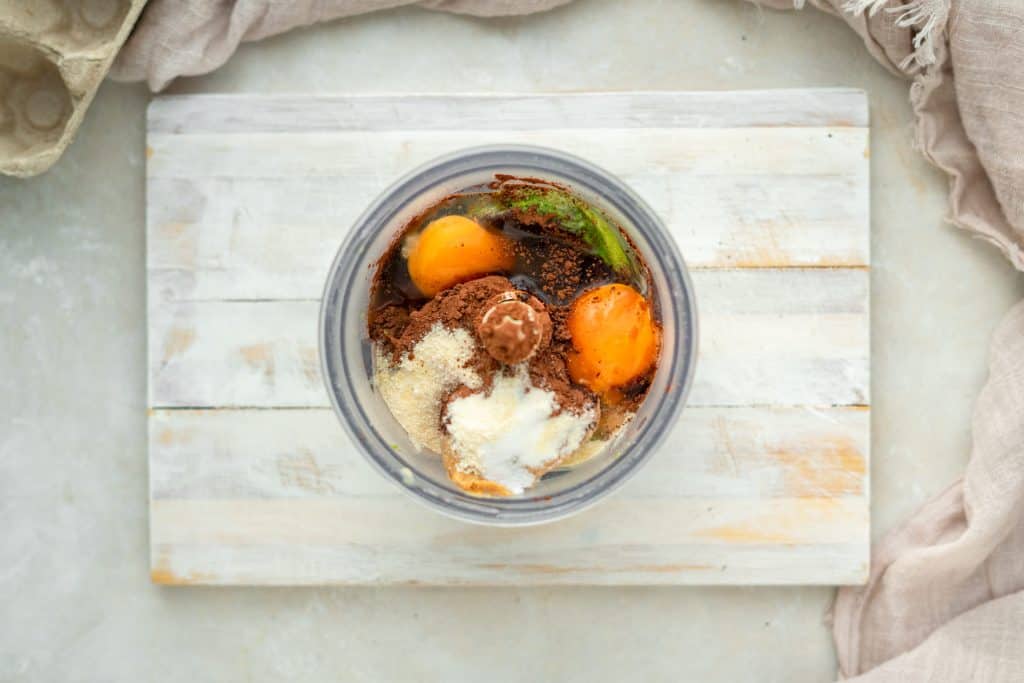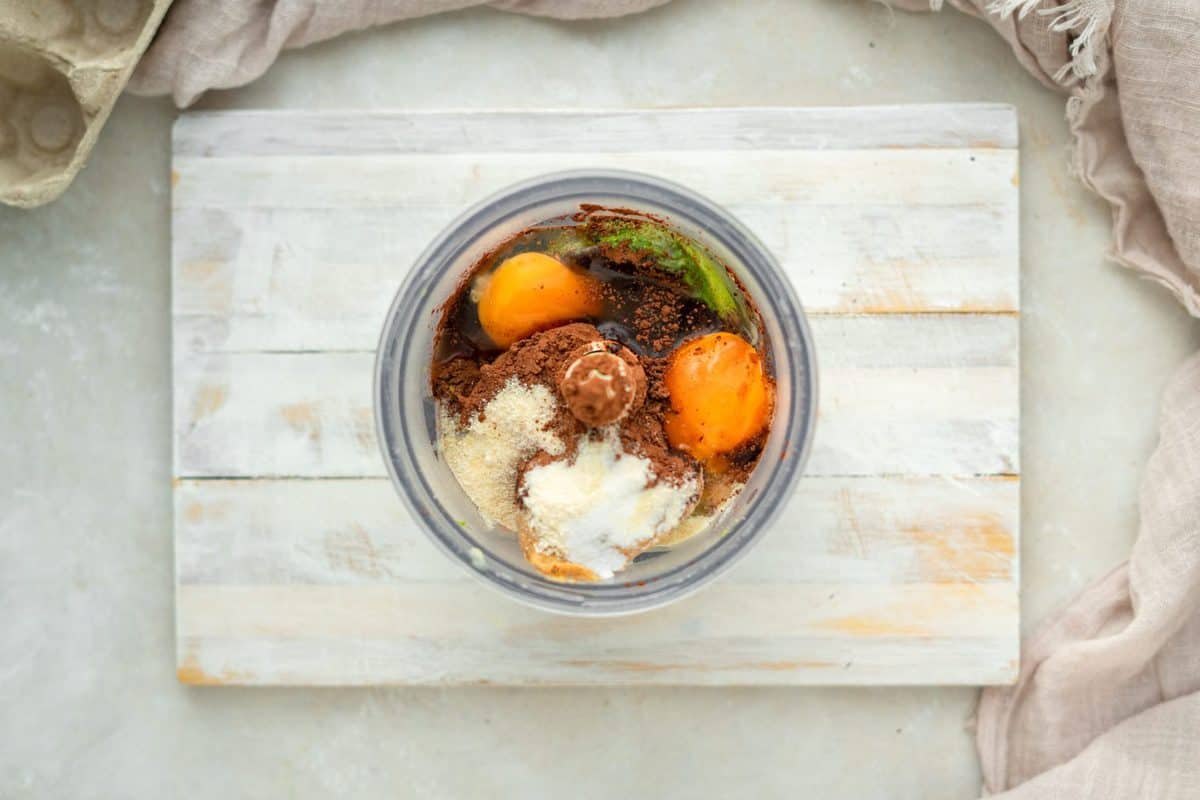 Blend the ingredients for 20-30 seconds, or until the batter is smooth and uniform. Don't over mix the batter or your brownies might end up a bit cakey. You can fold in any unmixed ingredients using a spatula.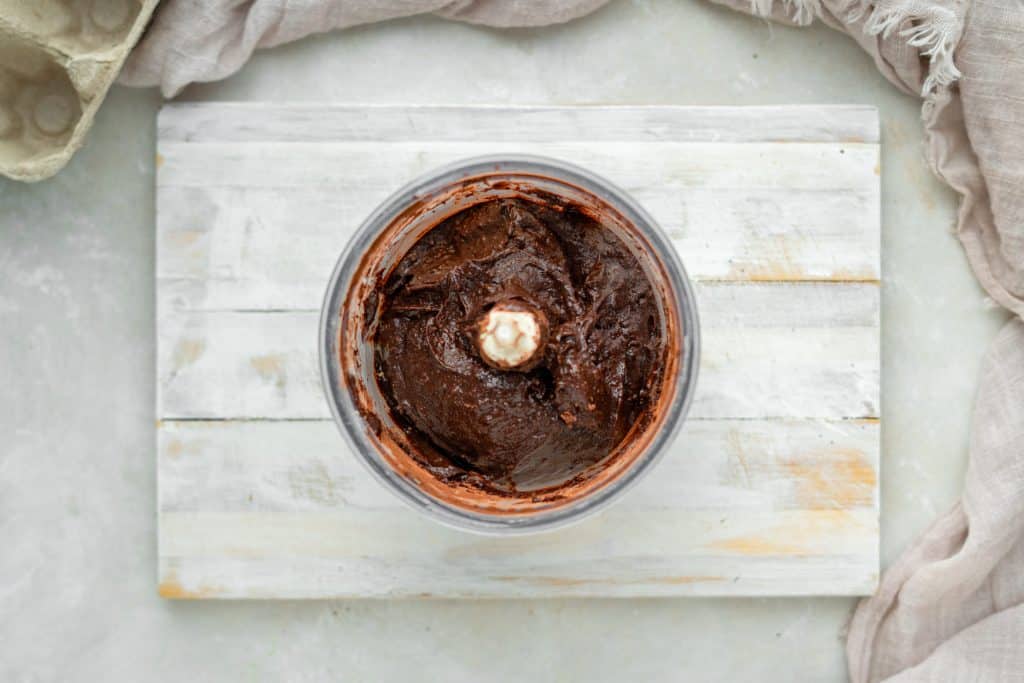 Now move the brownie batter into your lined baking dish and spread it evenly with a spatula or spoon back. Add your chocolate and sea salt/ flakey salt.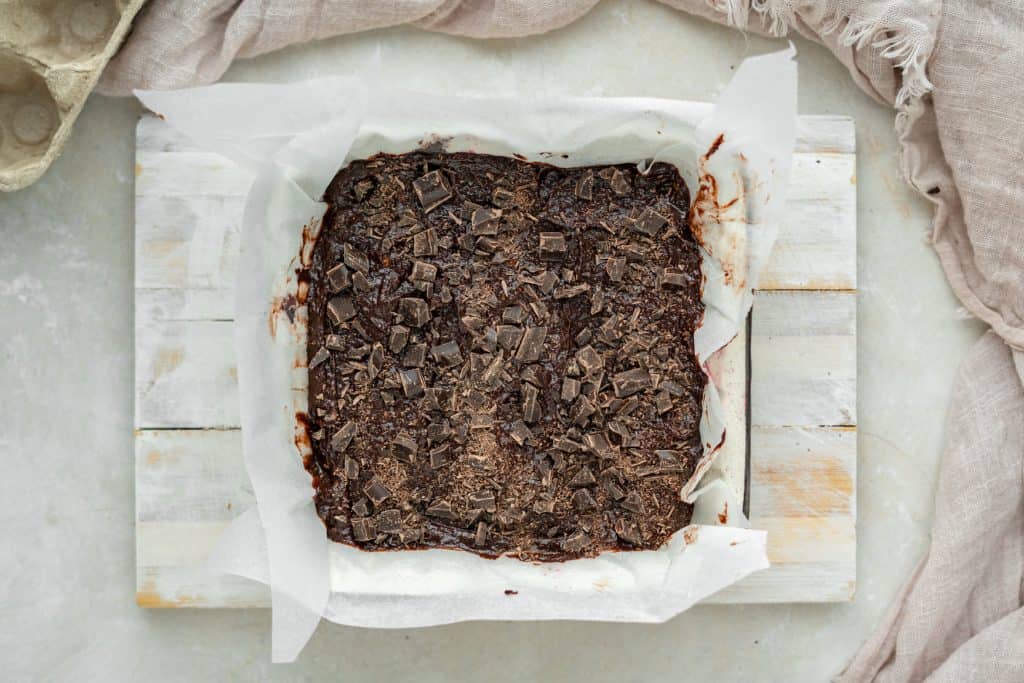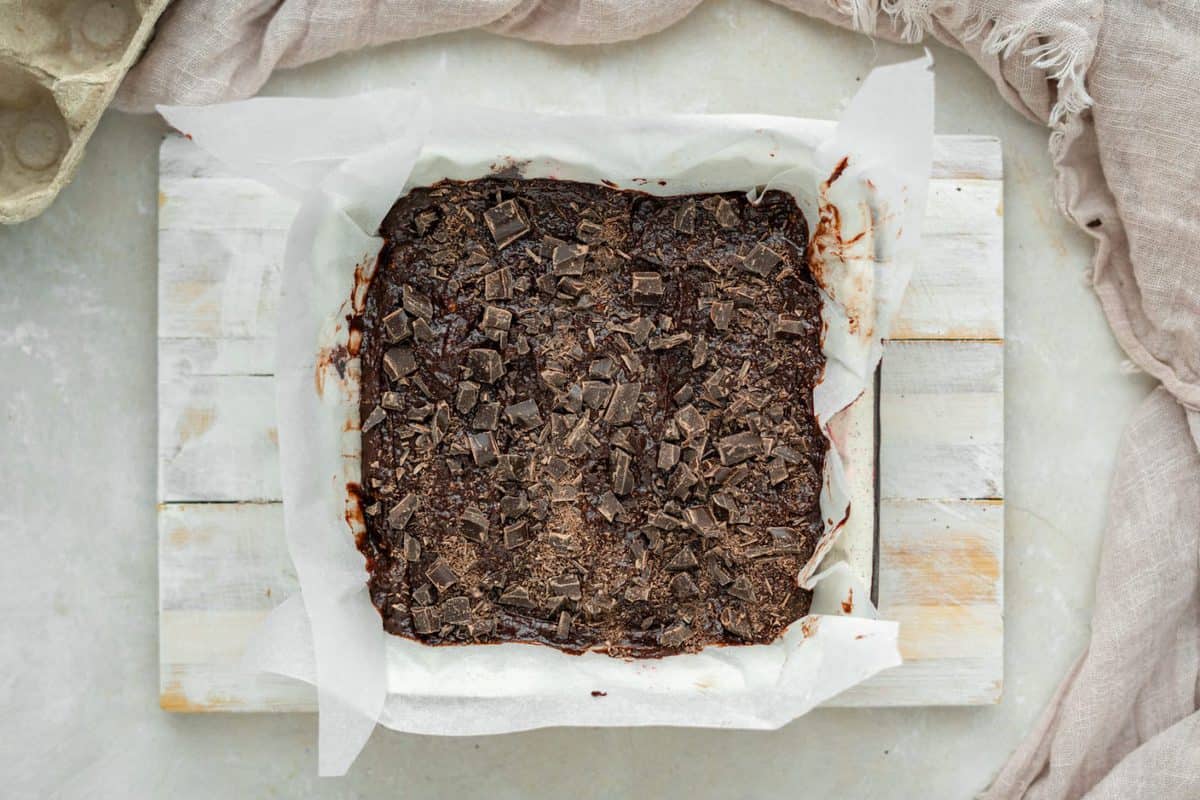 Bake for 20-25 minutes or until the edges have gone firm but the center still has a slight wobble. Remove from the oven and allow to fully cool (or at least 15 minutes!) before slicing.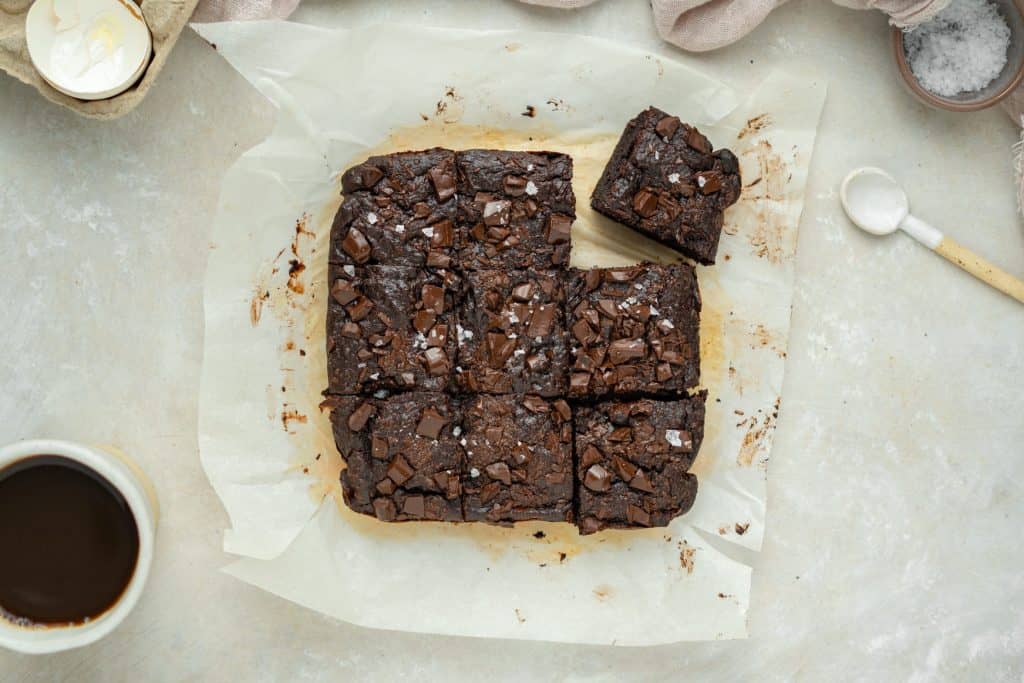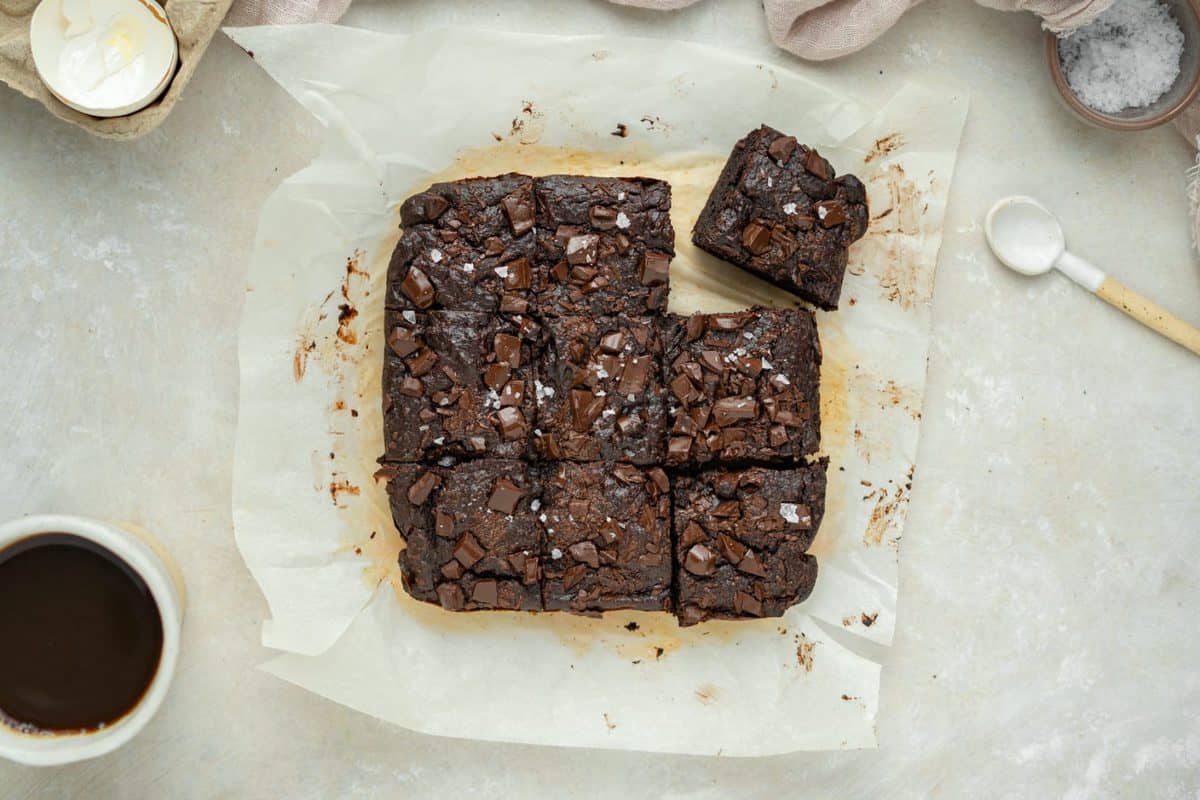 Cut the brownies into 9 squares and store any leftovers in an airtight container inside the fridge for up to a week.
Freezing Keto Brownies
These avocado brownies should not be sliced before cooling. They are too delicate and will crumble into bits. Once the brownies have cooled you can freeze them by placing slices into a ziplock bag and storing them in the freezer until fully solid. They will last up to 3 months. To defrost simply place into the fridge for a few hours, or microwave the brownie for 20-40 seconds until warm.
The Best of Keto Brownies
We are definitely brownie fanatics. Chocolate anything is my language and brownies are no different. Throughout our time working on this blog we've created a plethora of brownie hits. Some of our favorites are:
Keto Avocado Brownies
Don't let being on a keto diet stop you from enjoying your favorite treats. Make your treats fit into your diet in order to keep it sustainable. This is such an easy keto recipe because it requires just a few ingredients and only 5 minutes prep time. As long as you have a blender or food processor you'll be able to make it. So blend, sit back, and enjoy the smell of warm brownies baking in your oven for the next 20 minutes. Trust us, waiting is worth it.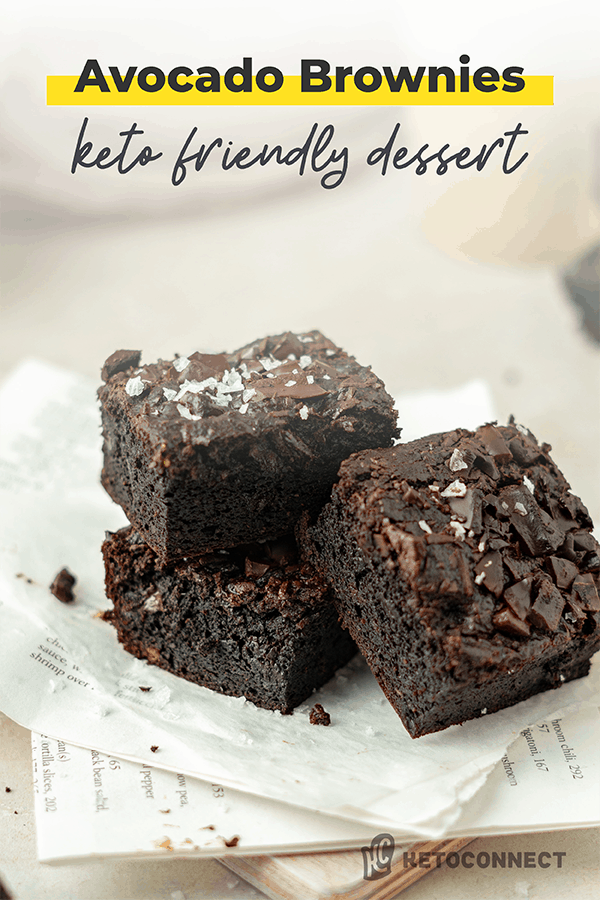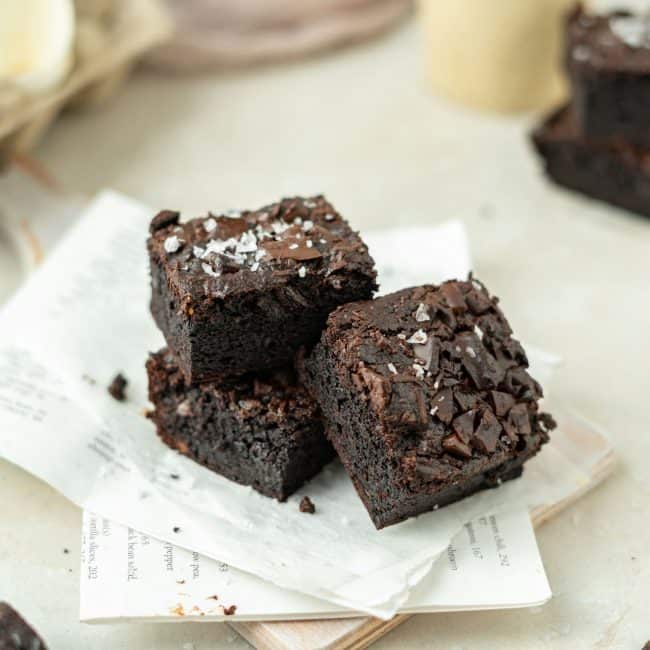 Keto Avocado Brownies
These avocado brownies are rich, dense, and super chocolatey.
Servings 9
Calories per serving 207kcal
Prep Time: 5 minutes
Cook Time: 25 minutes
What You Need:
8×8 Baking Pan

Food Processor
Instructions:
Preheat the oven to 350 F, and line a small baking dish with parchment paper.

In the bowl of a food processor, add in all the ingredients except the chopped chocolate and flaky salt.

Blend for around 20-30 seconds until smooth. Don't overmix the batter or else the brownies will end up cakey. You can fold in any unmixed ingredients using a spatula.

Transfer the batter into the lined baking dish, and spread it to even it out.

Add your choice of toppings.

Bake for 20-25 minutes or until the edges are firm and the center is a little wiggly.

Remove from the oven and let it cool for at least 15 minutes before slicing.

Cut into 9 squares! Store leftovers in tupperware in the fridge for up to a week. Enjoy!
Notes
The gelatin is optional, but highly recommended. It provides a nice slight chewiness to the recipe.  Net Carbs: 3
Nutrition Facts
Keto Avocado Brownies
Amount Per Serving
Calories 207 Calories from Fat 153
% Daily Value*
Fat 17g26%
Saturated Fat 8g40%
Trans Fat 1g
Cholesterol 55mg18%
Sodium 202mg8%
Potassium 290mg8%
Carbohydrates 7g2%
Fiber 4g16%
Sugar 4g4%
Protein 6g12%
Vitamin A 251IU5%
Vitamin C 2mg2%
Calcium 69mg7%
Iron 1mg6%
* Percent Daily Values are based on a 2000 calorie diet.
Written By