Following a keto diet may mean giving up carb-laden breakfasts and treats, but it doesn't mean you have to completely give up your favorite foods – all thanks to keto-friendly alternatives like Catalina Crunch.
Whether eaten for breakfast or as a snack, cereal is a much-loved part of most people's childhoods and in some cases, even adulthood! However, the high amount of sugar and overall carbohydrates in traditional cereal means it's not the healthiest choice – and definitely not a keto-friendly option.
Making a keto diet sustainable often comes down to finding replacements for all your favorite (and traditionally high-carb) foods. While we offer plenty of easy recipes to make your own delicious alternatives for everything from cookies to bread, there are premade keto substitutions like Catalina Crunch coming out all the time.
So is Catalina Crunch a worthy replacement? Grab a spoon, put on your favorite cartoon and let's find out in this review.
Best Crunch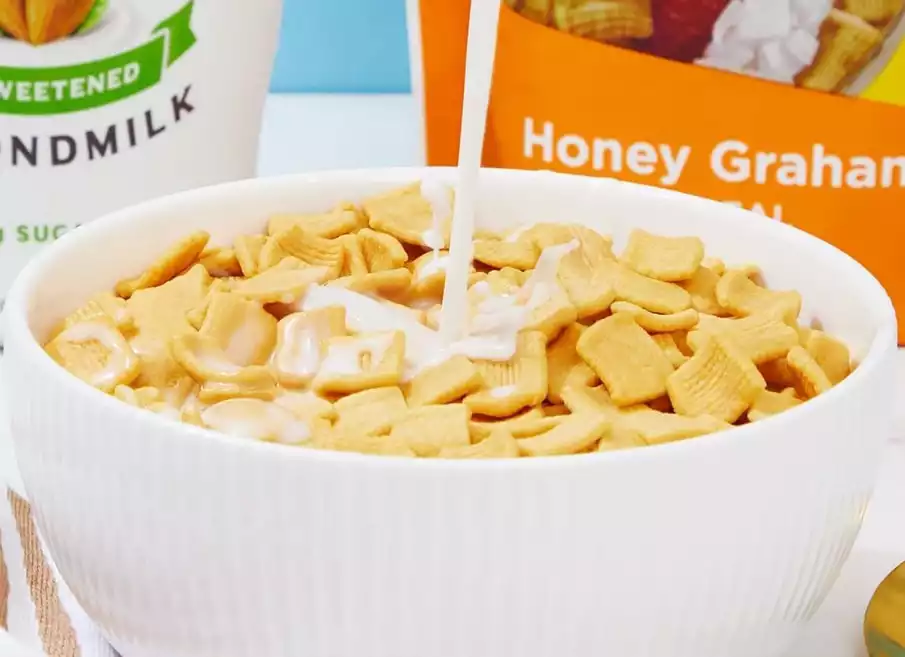 Catalina Crunch
4.5
Catalina Crunch is the most filling keto cereal and probably uses the best ingredients. It is not quite as sweet as traditional breakfast cereal, but is our go to snack while relaxing and watching movies.
Pros:
Most filling
Best combination of quality ingredients + taste
Buy Now
We earn a commission if you make a purchase, at no additional cost to you.
Is Catalina Crunch Cereal Keto?
Yes! Catalina Crunch is suitable for a keto diet. The brand is famous for its low-carb cookies, smoothies, and cereal – and their products don't break the calorie bank, either.
So how many carbs are in Catalina Crunch keto cereal exactly? Per each ½ cup (36 gram) serving size, it contains 14 grams total carbs and 9 grams fiber, which equals 5 net carbs.
Each serving also contains:
110 calories
11 grams protein
6 grams fat
0 grams of sugar
With macros like these, it's easy to see why this cereal is so keto-friendly.
Ever felt like you could eat bowl after bowl of sugar-filled cereal? You might struggle to do the same with this low-carb cereal! It's this combination of fiber and protein that makes it so filling– you might be surprised at how one serving size really hits the spot.
How to Make Catalina Crunch Higher Fat
We recommend serving your cereal with cold almond milk to keep the carbs (and calories) low. But if you wanted to increase the fat content, you could use coconut milk instead, and even add nuts, nut butter, heavy whipping cream, or coconut yogurt as a topping.
Catalina Crunch Ingredients
Is Every Ingredient in Catalina Crunch Keto-Friendly?
While Catalina Crunch's macros are definitely keto-approved, there are a couple of ingredients that may make you wonder if it's truly suitable for a keto diet.
The first three ingredients are Pea Protein, Potato Fiber, and Non-GMO Corn Fiber. Peas, potato, corn – aren't these high-carb?
Fortunately, these are not the pure form of the plant, but refined versions that have been made lower in carbohydrates through processing, leaving mostly protein or fiber.
As you may know already, fiber isn't absorbed by the body, so it shouldn't kick you out of ketosis. Think of how some foods you eat on keto have high total carbs, but low net carbs thanks to all the fiber.
An All-Natural Keto Cereal Alternative
Catalina Crunch does not contain any of the following:
Sugar
Sugar alcohols
Nuts
Gluten
Dairy
GMO ingredients
Artificial ingredients
Instead, it's made from plant-based, non-GMO ingredients such as cocoa and natural sweeteners Monk Fruit and Stevia. And besides the Honey Graham flavor, it doesn't contain any animal products. This means it's a cereal suitable for so many diets, including keto, low carb, vegan/plant-based, and gluten-free.
Is Catalina Crunch Paleo?
Catalina Crunch claims to be grain-free, but their cereal does contain prebiotic fiber from corn, which is technically a grain (even if it's just the fiber of a grain). So while Corn Fiber is keto, it isn't technically paleo.
If you follow a paleo or grain-free way of eating, you'll have to make the call on whether Catalina Crunch fits – or if you'd rather save it for an occasional cheat.
What About Sunflower Oil?
It's true: Catalina Crunch keto cereal contains High-Oleic Sunflower Oil, which some people (keto or otherwise) avoid due to its potential for causing inflammation in the body. This is due to the linoleic acid, which is unstable at high heats (such as baking).
The type of Sunflower Oil used in Catalina Crunch is High-Oleic Sunflower Oil, which does contain far less linoleic acid than standard Sunflower Oil. This makes it much more stable when heated. There's also a very small amount of fat per serving – only 6 grams, which is around one and a half teaspoons.
Dark Chocolate, Cinnamon Toast and Maple Waffle: How Many Flavors Does Catalina Crunch Come In?
Catalina Crunch keto cereal comes in eight sweet but sugar-free flavors – some of which might sound familiar! They're intended to mimic your favorite high-carb cereals, but with totally keto-appropriate macros.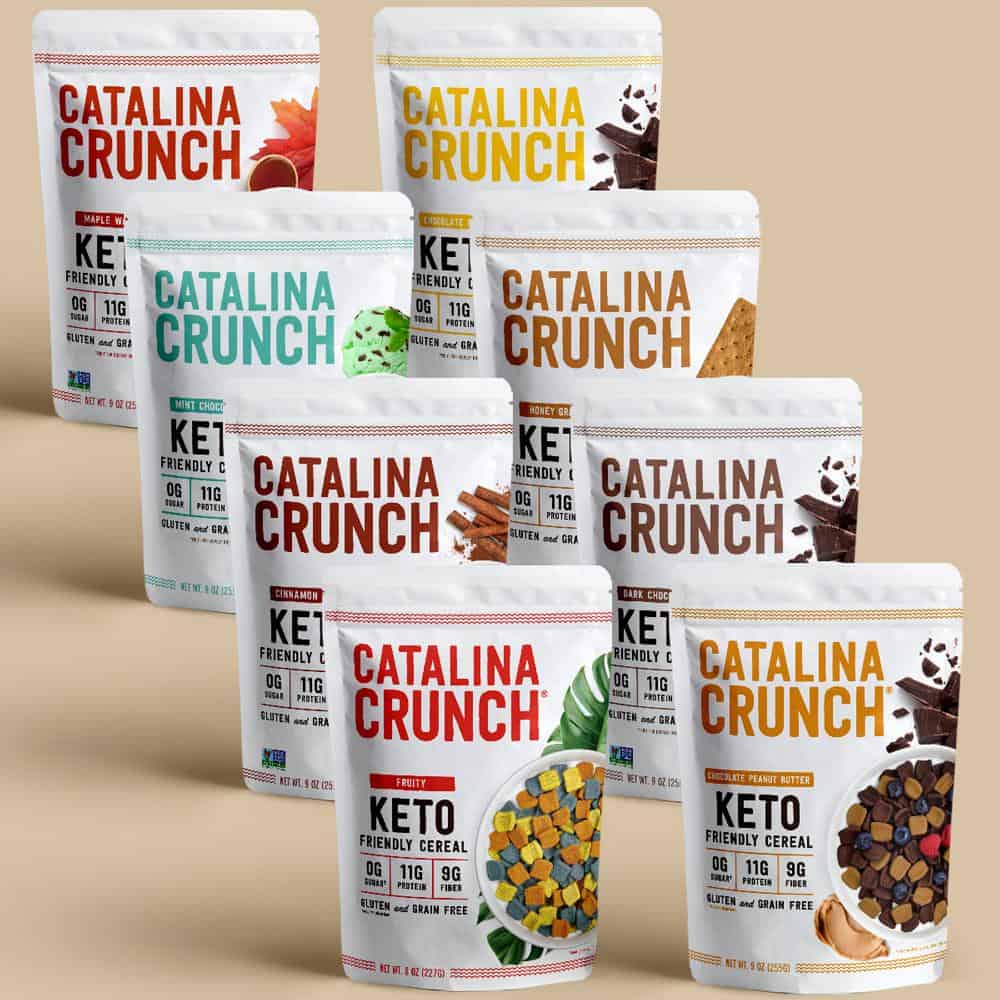 Those flavors are:
Chocolate Peanut Butter
Cinnamon Toast
Chocolate Banana
Fruity
Dark Chocolate
Honey Graham
Maple Waffle
Mint Chocolate Chip
The Dark Chocolate flavor is a great substitute for Cocoa Pops, while Chocolate Banana is an out-of-the-box but super tasty option. Our personal favorite flavor? It has to be Cinnamon Toast – there's no debate there.
It not only tastes like you're eating traditional cereal, but looks like it, too. They've reformulated their recipe from pellets to pillow-shaped pieces to trick your brain into thinking you're getting the real deal. The Fruity flavor even comes in rainbow shades to give you that true Fruity Pebbles experience!
Catalina Crunch Taste and Texture: Our Honest Opinion
Texture
Move over, sugary Cap'n Crunch: there's a new cereal in town. Catalina Crunch definitely lives up to its name – after all, it's long-baked for maximum crunch. That trademark texture will give in slightly when left to soak in milk, but expect to wait a while.
It's worth noting that they recently reformulated their recipe to be ever-so-slightly less crunchy. It seems like some people just couldn't handle it. Maybe they'd prefer some of the Catalina cookies or smoothies instead?
Taste
As we've seen with so many sugar-free product reviews before, things don't always taste as good as they look. Given the complete lack of sugar and artificial flavors, does it manage to mimic old-school favorites like Fruity Pebbles?
Our review is surprisingly, yes. Unlike some other keto cereal brands, each flavor is bold and obvious. This is why Catalina Crunch gets our vote in the taste department and may just win the prize for high-protein cereal that actually tastes like real cereal. The Dark Chocolate flavor really nails it.
In terms of sweetness, this cereal does contain Stevia but isn't going to be quite as intense as your favorite fruit-colored cereal. However, you may find your taste buds adjusting to slightly less-sweet food the longer you abstain from sugar. You can always sprinkle a little bit of extra keto sweetener on top for a frosted feel if you so wish.
Does Catalina Crunch Have an Aftertaste?
There is one topic of debate in many Catalina Crunch reviews: the aftertaste.
It's important to note that certain ingredients, such as Pea Protein, Stevia, Monk Fruit and even Natural Flavors, can have a lingering aftertaste. However, it's these ingredients that make Catalina Crunch all-natural, dairy-free, and high in protein.
Some reviews and people (like us!) don't notice or mind an aftertaste at all, so it's definitely not a deal-breaker.
Is Catalina Crunch Sold in Stores?
Yes! Catalina Crunch is sold in many stores across the United States, from small health food stores to Whole Foods.
You can also order online through Catalina Crunch's website with free shipping Their website offers cases, variety packs, and subscriptions.
A bag of Catalina Crunch is around 9 oz. They're even resealable to conserve freshness or take with you on the go! You can expect to get 6 servings from each pouch.
Cost
If you buy through their website, you're looking at spending:
$39 for four pouches of one flavor (1.40 per bowl)
$55 for a 6-flavor Variety Pack (1.35 per bowl)
$69 for an 8-flavor Variety Pack ($1.25 per bowl)
Did we mention they also sell low-carb Oreo dupes? That's right: there are four flavors of delicious cookies on their website, including chocolate. And while you're grabbing your cookies, don't forget to check out their smoothies, too.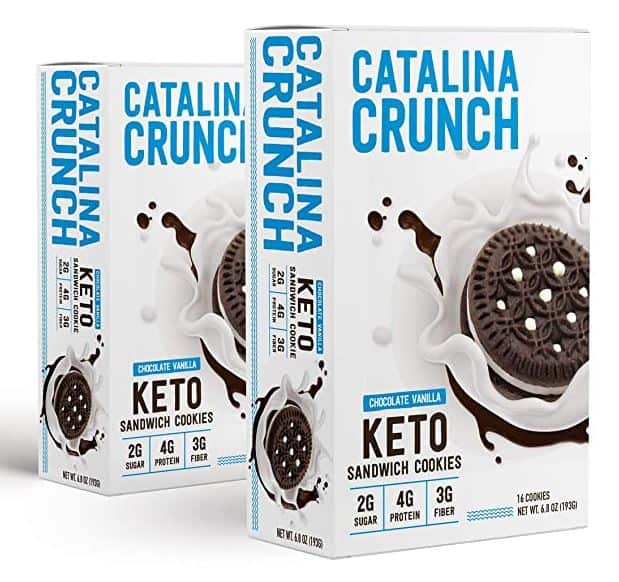 Our Final Opinion
Let's be honest: we might be waiting a long time until we get high-protein, sugar-free keto cereals that perfectly match our childhood favorites in taste and texture. But in the meantime, our review is that Catalina Crunch is a very close replacement.
Not only does this keto cereal come in so many amazing flavors like Dark Chocolate and Peanut Butter, but it really does help to satisfy the occasional craving – we highly recommend checking out Peanut Butter, Fruity, Dark Chocolate, and Honey Graham.
For another great tasting alternative to traditional cereal we often turn to Magic Spoon cereal also.
Not to mention that with higher protein, non-GMO ingredients, far lower net carbs and free from sugar, it's by far the healthier alternative and a delicious swap for anyone transitioning to a ketogenic diet.
If you can't justify the cost of a premade low-carb, sugar-free cereal (no matter how good the reviews), you can always try one of our recipes. Our keto Cinnamon Toast Crunch recipe is just as good as the original and contains two very surprising ingredients.
After something that can keep up with Catalina Crunch in the crunch department? Try our Crunchy Keto Granola, which is a great healthy breakfast option that's also paleo.
More Keto Product Reviews
If you liked this full review, you are in luck because we have in depth reviews of the most popular keto products on the market today.
Best Keto Cereal Review
Ultimate Keto Meal Delivery Options
Greatest Keto Subscription Box
50 Best Keto Fast Food Options
Best Keto Protein Powder